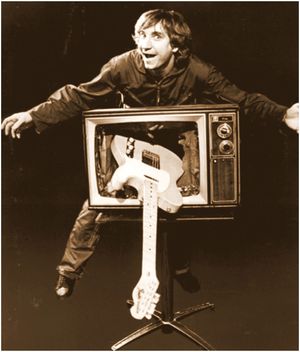 Track List 
01.  Here We Go 
02.  Midnight Visitor 
03.  One and One 
04.  Giant Bohemoth 
05.  Mother Says 
06.  Birdcall Morning 
07.  Home 
08.  I'll Tell The World 
09.  Turn To Stone 
10.  Comin Down
Ah, the Joe Walsh album, Barnstorm, is one of the gems in my record collection to be sure. It belongs to an era of rock music when artists were not only allowed to experiment outside of the styles in the popular record charts, they were encouraged to do it! Records like Barnstorm and, say, Sgt. Pepper by The Beatles exist in realm where imagination is king.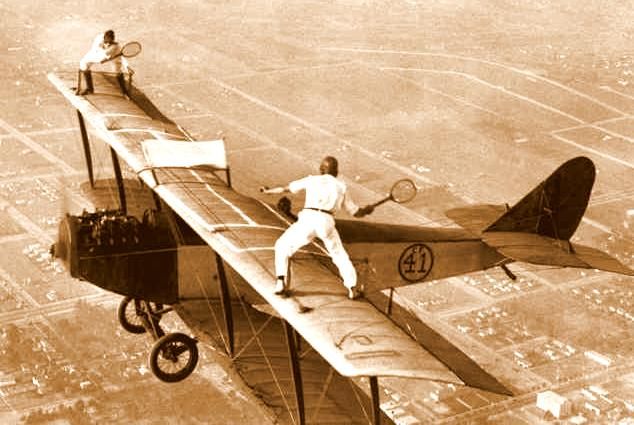 What's in a name? This record's name is derived from a term used in the 1920's --- Barnstorming -- which referred to a popular style of entertainment that involved stunt pilots performing wild tricks with airplanes.My first impression of the Barnstorm album left me feeling that Joe Walsh and company had indeed taken this name to heart by creating a record that took creative risks in the style of those daredevil pilots.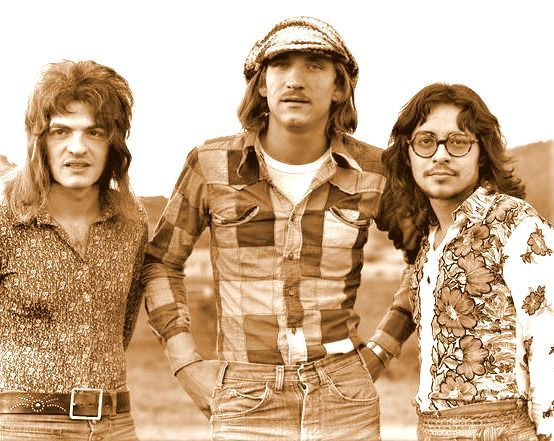 Left to Right: Joe Vitale, Joe Walsh & Kenny Passarelli
In fact, Walsh, after leaving the James Gang in 1971, had gathered together Kenny Passarelli (bass) and Joe Vitale (drums/multi-instruments) to form a new entity which he called (gasp!) Barnstorm! Thus, this album is actually a self-titled group album and not really a Joe Walsh solo album per se.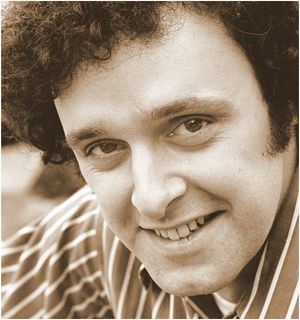 Bill Szymczyk (Barnstorm Producer)
The Barnstorm album, produced by Bill Szymczyk, who had worked with Walsh on several James Gang albums, sports a multi-layered, open bucolic sound.  It's almost as if you're strolling across a great lawn that stretches out before you. Each song is enhanced with textures of acoustic guitars and synthesizer; all done in tasteful balance in a manner that supports the songwriting more than the performer; an act that is frequently lost in today's modern record production.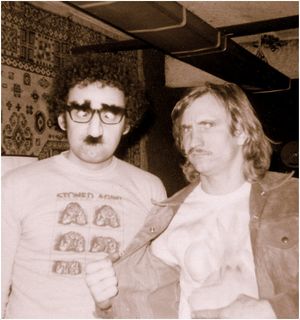 Bill Szymczyk & Joe Walsh 1972
"Walsh moved to Colorado to work with Szymczyk, who had heard rumors about Caribou Ranch, but the studio was unfinished. Szymczyk pleaded with owner James William Guercio to record at Caribou Ranch, which was still unfinished. The location would inspire one of Walsh's biggest hits, "Rocky Mountain Way," and Caribou would be the center of Szymczyk's operations for the rest of the decade. Meanwhile, Szymczyk used Walsh, Joe Vitale and Kenny Passarelli in the Tumbleweed house band." (Colorado Music Experience site)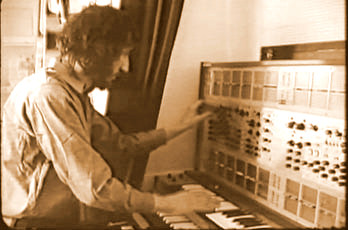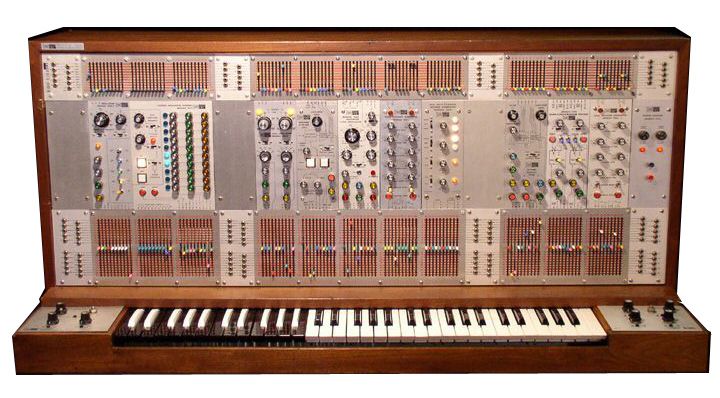 In some rock journals, it's been noted that Walsh's primary musical influence during this album was the work being done by Pete Townshend (of the Who) with the ARP Synthesizer (pictured above). A closer look at Townshend's work on the Who's 1971 masterwork Who's Next reveals the elements that probably entranced Walsh to go on to create the Barnstorm record in the first place --- elegant sounds of layered acoustic guitars and ARP synthesizer riffs that were paired off against harder rock sounds of bass, drums & electric guitar.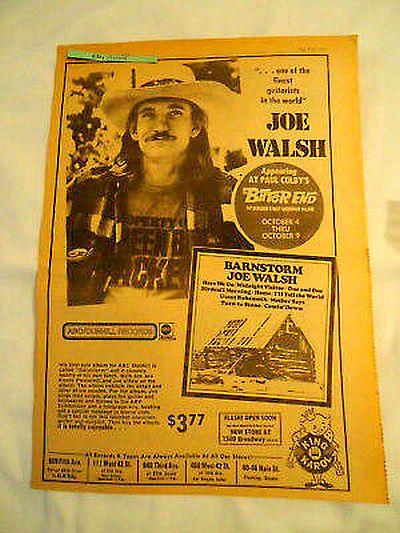 When Barnstorm was released in 1972, the record received a mediocre response from the rock & roll crowd.  It's been noted that of all of the songs on this record, only the hard rock styled Turn To Stone has (ironically) emerged over the years as a popular favorite in the Joe Walsh songbook.  Ah, further proof that many of the truly great records are always ahead of their time, eh?
Here's an excerpt from a 2013 article in The Paris Review: The Tao of Joe Walsh by Matt Domino: "Barnstorm was recorded in 1972 after Walsh left the James Gang (his first group with whom he made the legendary riff-rock track Funk 49) and moved to Colorado to regroup...Even though Barnstorm has no true hits, it is not a particularly difficult or extremely subtle album—the kind that needs time and repeated listens. Instead, there is something fundamental in its music, in the way that the album flows—at times, songs are linked by the sound of blowing wind—that makes you say, 'Yes, this is a rock 'n' roll album as an ideal; something sturdy and lasting that Plato would have approved of. There really was once an art to this.' Joe Walsh deserves to be placed in the same category as Jimmy Page and Led Zeppelin when it comes to the contribution of the album as art form...The opening track is called Here We Go, which, as a title for a first song, speaks for itself. The first sounds on record are ominous acoustic guitar strums, with subtle touches of electric guitar. Then, the aforementioned perfectly recorded drums rumble and thunder into the mix—but only for a brief moment. The song quiets down again for a few bars, before taking off with Walsh, in his trademark light-molasses whine, singing the titular line of the track while the electric guitar crunches, the acoustic guitar hums, and an organ line lifted straight from the Beatles' Let it Be–era propels the song and gives it a glowing, late-summer radiance. Once the theatrics end, the track turns into an extended guitar and synthesizer jam—with searing solos that hit you from every angle—that slowly becomes a haunting piano meditation complete with mountain-wind sound effects. And that's just the first song. Here We Go segues seamlessly into Midnight Visitor, which is replete with high-register, twanging Walsh vocals covered in echo and backed by lonesome trail acoustic guitar before turning into an organ-based, wordless chorus that sounds like a carnival on the last weekend in August—the kind you bring a denim jacket to, just in case. Through the course of Barnstorm, you get a chance to revel in the thick, devil's food cake funk, of Mother Says, with its suddenly popping bass lines and incredibly chunky guitar and organ and intervals of absolutely soaring—there is no other word—piano- and guitar-based instrumental breaks. Then, there are the melodic dynamics of Birdcall Morning, full of textbook slide guitar playing and staggering drum sounds. The fluid and near-pastoral nature of the song bring to mind the overwhelming sensation of the last beach day of the year, when the waves are choppy and strong, but the water is warm and the beer back on the shore is cool and ringed with sand. And later, there is the McCartney/Brian Wilson on steroids ballad, I'll Tell the World with plenty of the playful and stacked backing vocals that you would want from one of those two pop masters. This all leads to the album's denouement—the back-to-back of Turn to Stone and Comin' Down. The former is an epic guitar rocker that rides on the back of a furious, hair-of-the-dog lead guitar line and supportive but still aggressive slide playing. The entire song is menacing, slightly desperate with the residue of the night before and full of dark guitar fireworks. But it lacks the smiling, winking buzz of Walsh's later hits, which makes it no surprise that it only reached number ninety-three as a single. Meanwhile, Comin' Down is a perfect album ender just as Here We Go is a perfect album opener. It is a barely-two-minute acoustic meditation with vaguely poignant lyrics such as, Comin' down, comin' round to see you / To see if maybe you know who I am. The song, and entire album, ends on a fading harmonica and lightly picked acoustic guitar."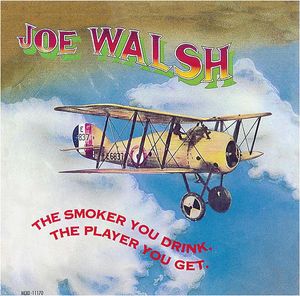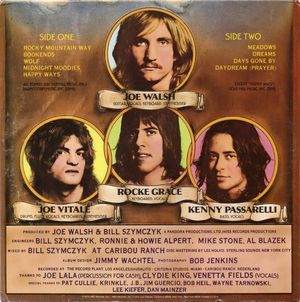 In 1973, after the Barnstorm produced meager sales, Walsh was convinced by his management to make his next record a solo effort even though Walsh used the same band members that appeared on the Barnstorm album.  Added to the mix was keyboard player, Rock Grace.  Ironically, the album produced the hit single, Rocky Mountain Way which finally established Joe Walsh as a solo artist.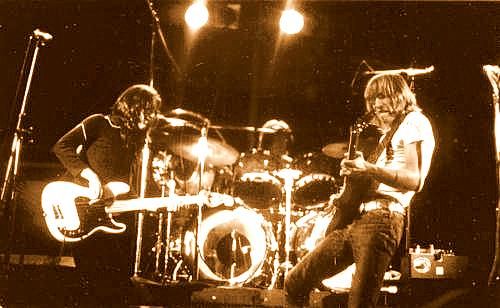 I still have fond memories of having caught this lineup at a concert in Cincinnati in 1973.  The band was truly amazing as they played the first side of the Barnstorm album.  Time is a river and the music lasts forever.
Joe Walsh, Kenny Passarelli and Joe Vitale
perform at their induction into the Colorado Hall of Fame.
8-13-17, Fiddler's Green Amphitheatre.
---

---