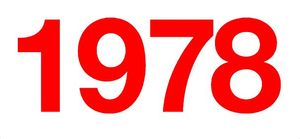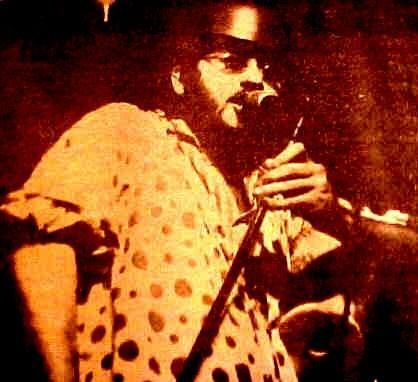 Johnny Pierre on stage with the Freelance Vandals circa 1978
"In 1978, rock music resembled a combat zone more than a community. The divisions had been visible for most of the decade, with the fraying of any notion that the factions of rock fans could peacefully coexist, but in '78, that notion seemed like an illusion. On the Rolling Stones album released that year, there was a track called Shattered, and that's how rock felt: broken up into shards, strewn all over the landscape. Everyone chose sides: corporate rock vs. punk rock, sophisticated rock vs. crude rock, rock vs. disco, old guard vs. new wave, prog vs. metal, MOR vs. AOR, divisions within divisions. The stakes for the music industry were never higher, because sales for mainstream rock albums in the mid-'70s were booming.  Frampton Comes Alive, Rumors, Hotel California, Boston, Bat Out Of Hell — it was the era of the rock blockbuster. But not everyone was thrilled by the institutionalization of rock: by what was perceived as slick, formulaic, and timid. And by '78, the year after Elvis Presley died, the year after Elvis Costello, the Ramones and the Sex Pistols made their debuts, the separation was complete. The sound of 1978 was the door slamming shut on pop consensus…What the best albums of 1978 have in common, I think, is a type of defiance, a stubborn and unshakable belief in a set of musical values entwined with philosophical and ethical values. Every album is, in a way, a response to or a critique of other albums: this is how music should be, this is what it should aspire to—and in 1978, artists like Springsteen, Petty, Patti Smith, Blondie, the Ramones, and even the Cars and Cheap Trick in their ways, were providing a cultural corrective.."  -- The Year Rock Went to Pieces (Mitchell Cohen, Music Aficionado)
"1978 was a swirling mass of genres; disco, punk, funk, R&B, rock, and New Wave all banging beautifully into each other as the seeds of hip-hop were being sown..." (NPR World Cafe)
Despite the groundbreaking music that occurred in 1978, 
you'd never know it by looking at the Hot 100 Billboard Charts!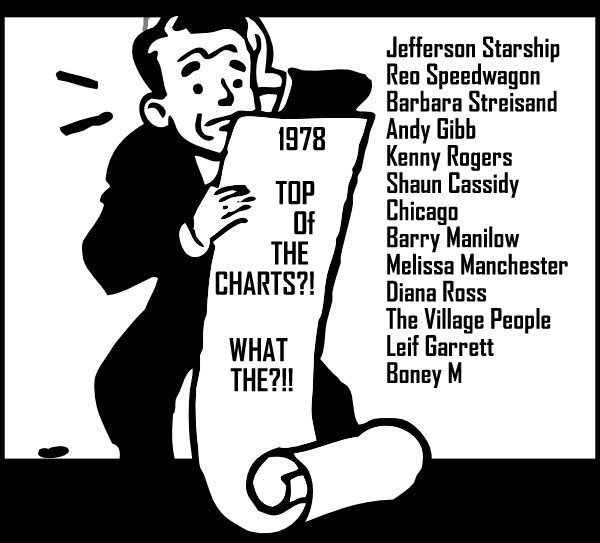 1978 Essential Singles
Elvis Costello & The Attractions - Pump It Up
Ramones - I Wanna Be Sedated
Plastic Bertrand - Ca Plan Pour Moi
Elvis Costello & The Attractions - Radio Radio
Tonio K - Funky Western Civilization
Warren Zevon - Werewolves of London
Rolling Stones - Respectable 
Talking Heads - Take Me To The River
The Only Ones - Another Girl, Another Planet
Johnny Thunders - You Can't Put Your Arms Around A Memory
The Undertones - Teenage Kicks
The Records - Starry Eyes
The Cars - Just What I Needed
Squeeze - Take Me I'm Yours
Dr. Feelgood - Down At The Doctors
The Clash - Clash City Rockers
Ian Dury & The Blockheads - Hit Me With Your Rhythm Stick
Hanging On The Telephone - Blondie
Tom Petty & The Heartbreakers - I Need To Know
Bruce Springsteen - Badlands
Ace Frehley - New York Groove
1978 Essential Albums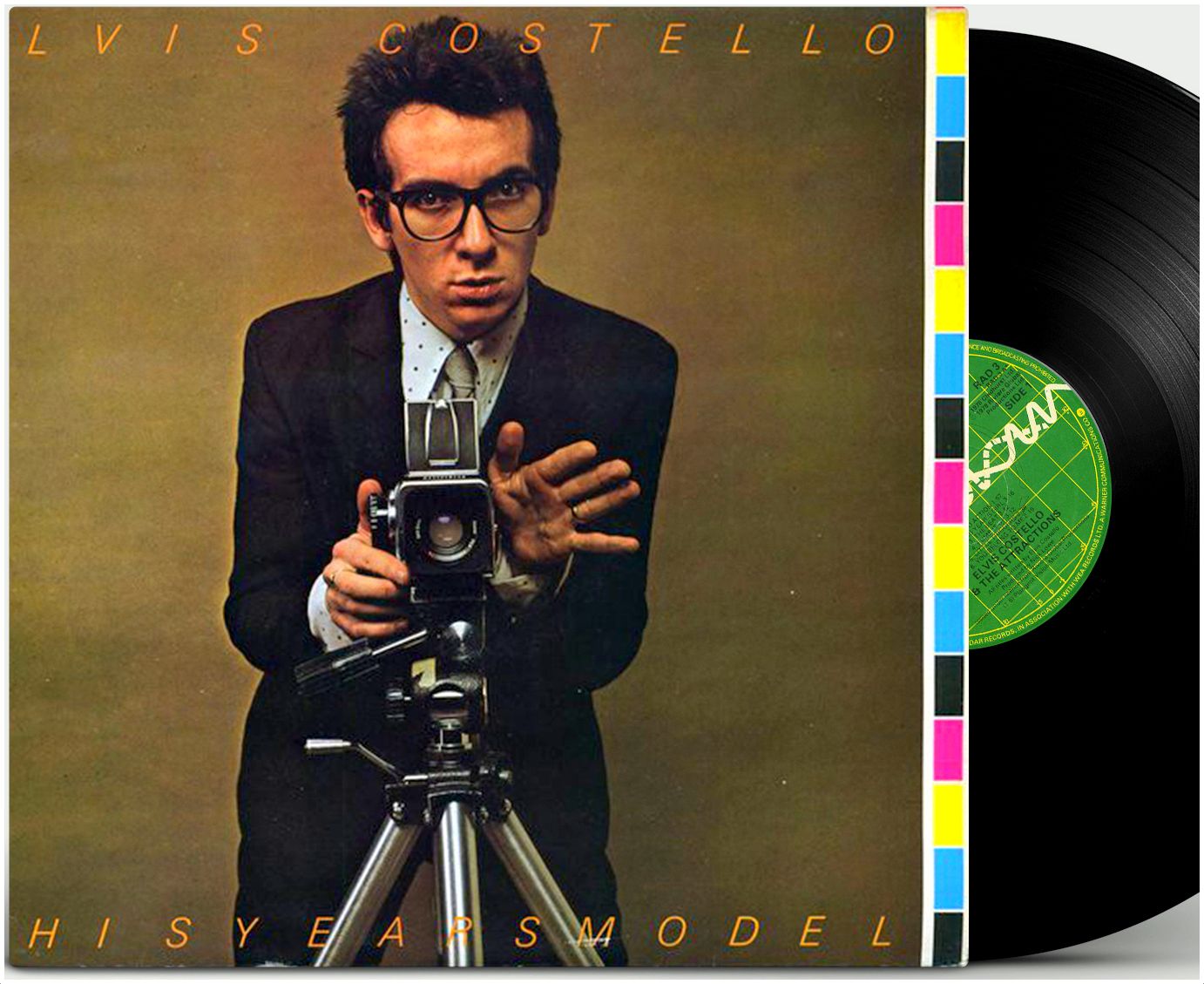 "The album that showed a generation that pop and punk could co-exist...a whip-smart pop rock masterpiece that took its predecessor's flare for cutting wit and tuneful guitar pop and injected it with a generous dash of punk rock venom. It might have been his second record overall, but This Year's Model was Costello's first with The Attractions, and that's an important distinction. The band Clover might have supported Costello's songs capably on My Aim Is True, but his debut was very much a solo record. This Year's Model, on the other hand, was the work of a band. Costello now had what would quickly prove to be one of the best backing bands in rock history augmenting his literate lyrics and razor-sharp pop instincts, and the combination proved deadly. As such, This Year's Model doesn't just earn its claim as one of the best rock records of the '70s...it was the first in a murderer's row of classics Costello would tear off with The Attractions during their influential eight-year run. What makes This Year's Model so great, even after 40 years, is the way it effortlessly balances out sound and mood. It's a pretty-sounding pop record that's actually anything but. The Attractions' technical dexterity is something to marvel at, nowhere more so than on the record's frenzied opening track "No Action". But there's a perfect give and take between Costello and his band that makes the record fly. While the band works its damndest to keep things musically upbeat, Costello's lyrics are driven by a darker but equally volatile energy. I don't wanna kiss you/ I don't wanna touch, he whispers with near-palpable nervousness to start the track. I don't wanna see you 'cause I don't miss you that much. Despite the efforts of keyboardist Steve Nieve, bassist Bruce Thomas, and drummer Pete Thomas, Costello can't dig himself out of the mire of a toxic relationship where he's doomed to come off as the jerk. Every time I phone you, I just wanna put you down, he sings with cold truth. When the band goes high, Costello more often than not goes low. But the two make perfect foils...." (Consequence of Sound)
"The concept of him behind a camera for the sleeve of This Year's Model had already been chosen, so I decided to equip Elvis with exactly the same tripod and camera as I was using to create a 'mirror' for him. Alongside a powerful stereo I kept a large record collection at my Camden Studio, and artists would choose music they enjoyed or were interested in for their sessions. Just as we were about to start shooting, Elvis asked me if I had "Hotel California" by The Eagles, and could I play it? I was puzzled by his choice – until he told me that he loathed the record but wanted to look really pissed off and angry in the shots! We played the record several times during the session and whilst I directed him, I was also aware of his copying some of my own actions as I took the photographs." (Chris Gabrin, photographer)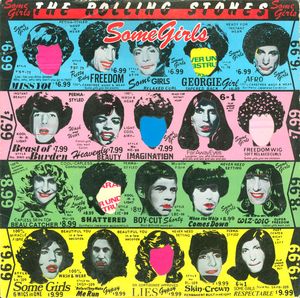 "By 1976, the Rolling Stones' popularity was in decline as the charts were dominated by disco music and newer bands such as Aerosmith and Kiss. In the UK, the punk rock movement was a rising force and made most artists connected with the 1960's era seem obsolete. The group had also failed to produce a critically acclaimed album since 1972's Exile On Main St.  At least as important for the band's re-invigoration was the addition of Ronnie Wood to the line-up, as Some Girls was the first album recorded with him as a full member.  His guitar playing style meshed with that of Keith Richards, and slide guitar playing would become one of the band's hallmarks. His unconventional uses of the instrument featured prominently on Some Girls and he contributed to the writing process. In addition, Jagger, who had learned to play guitar over the previous decade, contributed a third guitar part to many songs. This gave songs like Respectable a three-guitar line-up.  For the first time since 1968's Beggars Banquet, the core band — now Jagger, Richards, Wood, Charlie Watts, and Bill Wyman — would be the main musicians on a Rolling Stones album, with few extra contributors. Ian McLagan, Wood's bandmate from the Faces, played keyboards, and harmonica player Sugar Blue contributed to several songs. In addition to saxophonist Mel Collins and Simon Kirke, who played percussion, Jagger's guitar contributions caused the band's road manager, Ian Stewart, to be absent from many of the sessions as he felt piano would be superfluous, making this a rare Rolling Stones album on which he did not appear...The album cover for Some Girls was conceived and designed by Peter Corriston, who would design the next three album covers,[3] with illustrations by Hubert Kretzschmar.[8] An elaborate die-cut design, with the colours on the sleeves varying in different markets, it featured the Rolling Stones' faces alongside those of select female celebrities inserted into a copy of an old Valmor Products Corporation advertisement. The cover design was challenged legally when Lucille Ball, Farrah Fawcett, Liza Minnelli (representing her mother Judy Garland), Raquel Welch, and the estate of Marilyn Monroe threatened to sue for the use of their likenesses without permission. Similarly, Valmor did take legal action and were given a monetary award for the use of their design.  The album was quickly re-issued with a redesigned cover that removed all the celebrities, whether they had complained or not. The celebrity images were replaced with black and punk style garish colors with the phrase Pardon our appearance – cover under re-construction. Jagger later apologized to Minnelli when he encountered her during a party at the famous discothèque Studio 54. The only celebrity whose face was not removed was ex-Beatle George Harrison.". (Wikipedia)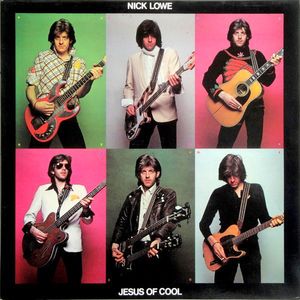 In March 1978, Nick Lowe released Jesus of Cool, his debut album.  Columbia Records, which had the rights to distribute the album in the US, made a number of changes to the record; they retitled it Pure Pop For Now People along with replacing some tracks with other songs.  One prevalent theme throughout the album is a statement against the commercialism of the music industry which is reflected in such songs as "They Called It Rock", Music For Money" and "Rollers Show" (a sly satire of the Bay City Rollers). 
"The original vinyl album cover features five pictures of Nick Lowe and one of his Rockpile bandmate Dave Edmunds, disguised to look like Lowe, with the UK and US versions featuring a slightly different selection of photos. On both covers, the phrase "PURE POP FOR NOW PEOPLE" is spelled out in small letters across the photos. PURE was small yellow print in the top left photo, POP was small red print in the top middle, FOR was small blue print in the top right, NOW was small blue print bottom left, PEO was small yellow print in the bottom middle and PLE was small red print in the bottom right." (Wikipedia)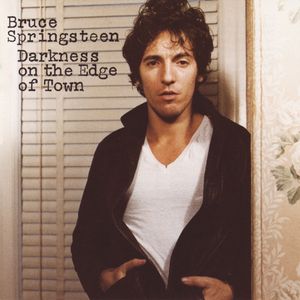 The June 1978 release of Bruce Springsteen's Darkness On The Edge Of Town came at the end of a ferocious 3 year legal battle with his former manager Mike Appel during which Springsteen was not allowed to record any new music.  After the wild success of the Born To Run album, Springsteen was unable to build on the momentum of that album's success.  When Springsteen returned to the music scene with the Darkness album, it was obvious that his music had matured.  Many of the songs contained elements of the stark reality of daily life as Springsteen abandoned the colorful characters that once inhabited many of his earlier songs.  
"During the Darkness sessions, Springsteen wrote or recorded many songs that he ended up not using on the album. Keeping the album's thematic feel was very important to him, and the songs piled up because the sessions continued for almost a year. An album concept named Badlands was prepared in October 1977, complete with album covers, but was rejected at the last minute by Springsteen, because he was not comfortable with the release, and wanted to continue recording. Sessions finally concluded in January, but mixing continued three additional months. According to Jimmy Iovine, Springsteen wrote at least 70 songs during this period, and 52 of those songs recorded were complete, with 18 not fully completed.  Some of the unused material became hits for other artists such as Because the Night for Patti Smith; Fire for Robert Gordon and The Pointer Sisters; Rendezvous for Greg Kihn; and two tracks for Southside Johnny and the Asbury Jukes, Hearts Of Stone and Talk To Me." (Wikipedia)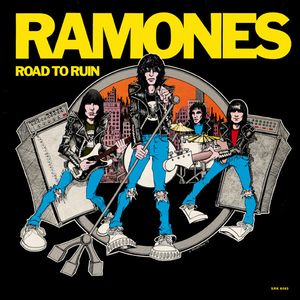 "When the Ramones started work on their fourth album, Road to Ruin, in early 1978, they were in something of a bind. Their previous three albums had helped spark the punk revolution and established them as one of the greatest bands in the long and checkered history of rock & roll, but they weren't getting the sales that their label wanted or breaking out in the mainstream the way some of their N.Y.C. compatriots like Blondie had. The Ramones also wanted those things, so they made some major moves. One switch was personnel-based, as Tommy Ramone passed the sticks to Marc Bell, who had played with Dust and Richard Hell. Tommy stayed on as producer, though, and he and Ed Stasium enacted the biggest revamp. Once the band had laid down the basic tracks for the new batch of songs, the pair painstakingly added guitar, bass, and keyboard overdubs and mixed them to get a much fuller and polished sound. By the time they were done, sometimes barely anything from the original sessions remained. This approach worked well with the more diverse songs the band brought to the album....The classic I Wanna Be Sedated is a perfect example of how well the new approach worked for the band. The guitar overdubs give the song a huge sound, the massive handclaps and Bell's thumping drums drive the beat home like jackhammers, and Joey's voice comes through like a 1,000-watt beacon. His vocals reached their peak right around this time; he carried the faster songs with authority and dug into the ballads completely, transmitting an almost painful amount of emotion. It's clear throughout that Tommy and Stasium definitely had the best interests of the band in mind as they aimed the sound a little closer to the mainstream, and the changes they made served to open it up in interesting ways." (All Music)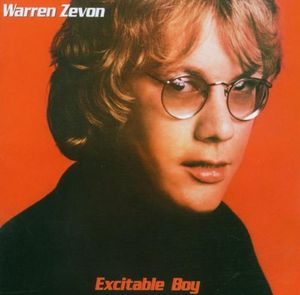 In 1978, Warren Zevon released Excitable Boy, his breakthrough album. Many of the songs, such as "Lawyers Guns & Money", "Werewolves of London", "Roland The Headless Gunner" and the title song,  revealed a sarcastic darkness that reflected much of the cultural chaos that was in the air in 1978.
"What makes the album gripping is that...it treads the line between pleasurable contemporary trends, manic self-indulgence and macabre imagery delivered with a snide drawl. Dark humour was the name of Zevon's game, and Werewolves of London the (big single) is a pretty good index of his sound, even if he would later deride it as a joke song written to get a dance hit out the door. A tasty rhythm backed up by a piano riff which we all know by heart by this point sees a fusion of old and new, classy and tacky, as Zevon rambles a stream of consciousness story about horror monsters mingling with modern day icons, with a hint of Victorian flair clashing obviously with the rock and roll excess dressing everything up. There's a very 'in the moment' instant energy to the story even though the delivery, both from the band and from Zevon himself, is riding one groove for the entire song. But it's the jubilant manner through which this wry, dark subject matter is presented that gives the song a unique edge, and though Zevon would be more serious to varying degrees on other songs and albums, this rambling dark humor is a motif that would come to define him...Elsewhere, Zevon delivers more straightforward stories, such as Roland The Headless Thompson Gunner, a murder ballad not too far divorced from a classic outlaw country ghost story, where violent foreign politics and personal revenge fantasies collide. This is much more directly underlined on Veracruz, a song directly invoking Woodrow Wilson's invasion of the country and describing loss of both human life and social pride as a result. Both of these tracks are delivered very starkly, with Roland's tale sung with a lot of range and power for a man generally known only to sit behind a piano. Zevon was unafraid to showcase his versatility, but was also careful to remain grounded and   maintain as much willingness to throw himself in the dirt alongside whatever subject matter he would sing about." (Sputnik Music)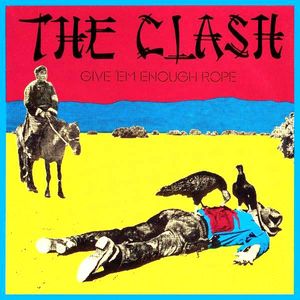 "If you never had a chance to experience The Clash while they were in full swing, it may be a little difficult to understand what all the fuss was about. So much has been written about the punk explosion that first erupted in England in late 1976; the names of the players—the Sex Pistols, The Damned, The Slits—were as confrontational as the music they played, but right from the beginning there was something that set The Clash apart. They were serious and on a mission from the get-go. Sure, there were some songs of happy destruction, but the band never went in for the nihilism that seduced many of the other early punk bands. The Clash were all about social and cultural change, and even though Give 'em Enough Rope didn't stray too far from the loud, crashing, DIY ethics that distinguish early punk, there was something different about them even then. Perhaps it was the intensity of their lyrics or the breadth of their musicality, pr the sense they were willing to push their musical vision and commit themselves to radical social change." (Paste Magazine)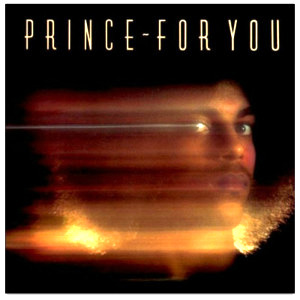 "The arrival of a wunderkind...In 1978, when he was 19 years old, Prince signed with Warner Bros. and released his debut album, For You. Prince is credited with playing every instrument and singing all of the vocals on the album, which ran contrary to recording albums during the beginning of the megastar boom that would define the music of the 1980's.  Albums of this period typically relied on an army of producers, arrangers, composers and musicians. Michael Jackson's album Off the Wall (1979), for example, credits nearly 40 session musicians and over 15 composers and arrangers. While it wasn't a major success, For You revealed Prince's budding genius and his desire to exert control over all elements of his work, allowing him to stay true to his artistic vision." (The Conversation.com)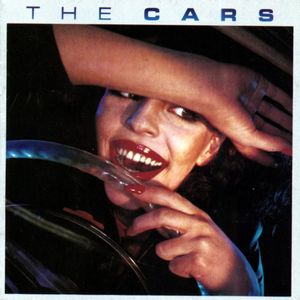 The Cars released their debut self-titled album which revealed a fresh approach to pop music.  I would say that it was this particular album that succeeded in bringing the "new wave" rock genre to the suburban masses.  "The hybrid of traditionalism and technological advances proved to be a knockout combination for The Cars, as roughly 80 percent of its songs would go on to become classic radio staples, including three tracks that charted on the Billboard Hot 100: Just What I Needed (peaking at No. 27), My Best Friend's Girl (reaching No. 35) and Good Times Roll (which ascended to No. 41). The side 2 highlight Moving in Stereo, driven by the slinky synth work of keyboardist Hawkes, was immortalized in a particularly scintillating scene in the 1982 teen comedy Fast Times At Ridgemont High." (Billboard.com)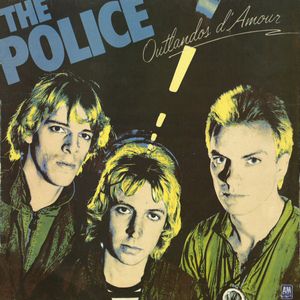 Another notable debut release in 1978 was Outlandos d"Amour by The Police.  On the album, the band crafted a smart mix of reggae, pop, blues and rock that eventually morphed into the unique sound of The Police.  "Roxanne, the album's lead single, was written by Sting after visiting a red-light district near the band's hotel in Paris, France. The Police had been staying there in October 1977 to perform at the nearby Nashville Club. The song's title comes from the name of the character in the play Cyrano de Bergerac, an old poster of which was hanging in the hotel foyer. Sting had originally conceived the song as a bossa nova, although Stewart Copeland has been credited for suggesting its final rhythmic form as a tango. During recording, Sting accidentally sat down on a piano keyboard in the studio, resulting in the atonal chord and laughter preserved at the beginning of the track. The Police were initially reluctant about the song, but Miles Copeland was immediately enthusiastic after hearing it; he became their manager and got them their first record deal with A&M Records, for whom Roxanne was their debut single. Although it failed to chart in the UK upon its original release, Roxanne also became the band's first single in the United States and quickly charted on the Billboard Hot 100 in February 1979, peaking at No. 32 in April of the same year." (Wikipedia)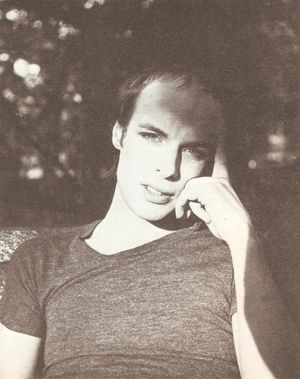 Brian Eno
In 1978, one of the most active music producers whose various projects helped define many of the changes that were occurring in rock music was Brian Eno.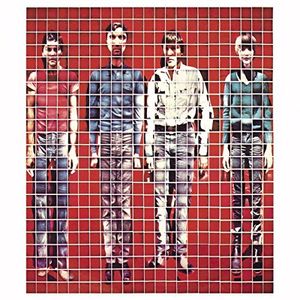 "On July 14, 1978, Talking Heads released their second album, More Songs About Buildings and Food, a backwards exorcism of frozen-brittle guitars, smeared textures and super-ecstatic vocals. The record brought forth an essential darkness and didn't try to extinguish it. These were songs about emotions that lurk, about the secret part of ourselves that knows people can see right through us on buses, planes and subways...It was a kind of State of the Union address, examining the nation's health from a dozen different angles, including the sky. Despite its bubble-gum flavor, their freshman effort suggested what would come, a white funk that was driven and earnest enough to become a real thing all its own...The songs were for the most part from the same set that populated their debut. Written by David Byrne and performed by himself, drummer Chris Frantz and bassist Tina Weymouth around the New York City clubs four years or so previously when the Heads were just a skeletal trio. Ex-Modern Lover Jerry Harrison beefed up the sound on their debut, but the biggest change came from record producer Brian Eno who would guide the direction of the band for their next three albums. With Eno's background of ambient music and recording experimentation came a more expansive and ultimately more danceable sound. Eno was a widely sought producer at the time, since he was known for emphasizing the strengths of the artist and bringing that out in their record. He had highlighted the inherent subversive weirdness of Devo's debut album in 1978 and the isolated European sensibilities of David Bowie's "Berlin" trilogy of albums around the same time. In Talking Heads, Eno recognized rhythm powerhouse Frantz and Weymouth as the core of the band's sound, and brought that to the forefront." (Salon.com)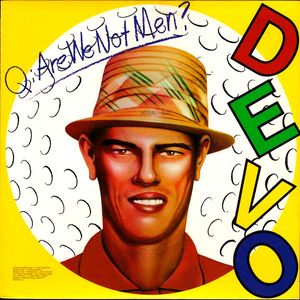 Devo's debut album, Q: Are We Not Men? A: We Are Devo!, opened the gates for the onset of what I would describe as minimalist pop music; a genre which employed layered synthesizers and, in many cases, electronic drums.
"In 1977, David Bowie and Iggy Pop received a tape of Devo demo songs from the wife of Michael Aylward, guitarist in another Akron, Ohio band, Tin Huey.  Both Pop and Bowie, as well as Brian Eno and Robert Fripp, expressed interest in producing Devo's first release.  At Devo's New York debut show in 1977, Bowie proclaimed that this is the band of the future, I'm going to produce them in Tokyo this winter. Eventually, Eno was chosen to produce the album at Conny Plank's studio located near Cologne, Germany.  Bowie was busy with filming Just a Gigolo but helped Eno produce the record during weekends.  The recording sessions were a source of frustration for Eno and Devo. Eno found the band unwilling to experiment or deviate from their early demonstrations of recorded songs.  Devo later admitted that we were overtly resistant to Eno's ideas. He made up synth parts and really cool sounds for almost every part of the album, but we used them on three or four songs. A majority of the tracks were later remixed by David Bowie." (Wikipedia)

1978 also was the beginning of what is known as "ambient music"; a style of music which was described as being 'as ignorable as it is interesting".  "Eno conceived of the idea for Ambient 1 while spending several hours waiting at Cologne Bonn Airport in Germany in the mid-1970's and being annoyed by the uninspired sound atmosphere.  The music was designed to be continuously looped as a sound installation, with the intent of defusing the tense, anxious atmosphere of an airport terminal by avoiding the derivative and familiar elements of typical canned music. To achieve this, Eno sought to create music that would accommodate many levels of listening attention without enforcing one in particular; it must be as ignorable as it is interesting.  Rather than brightening and regularizing the atmosphere of an environment as typical background music does, Music for Airports is intended to induce calm and a space to think."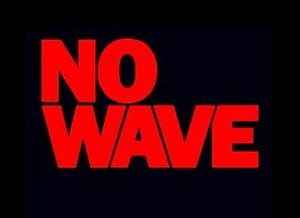 Along with the development of punk and new wave music genres, a new wrinkle emerged in 1978 which was called No Wave.  "In the first week of May, 1978, a five-day music festival was held in New York City. The venue was Artists' Space, a small gallery located in the downtown neighborhood of Tribeca. Advertisements offered no information about the participating groups or any connections between them. Flyers simply read BANDS, followed by a list of 10 acts, two per night.  Among those attending the festival were John Rockwell of  The New York Times, Robert Christgau of The Village Voice, and most significantly, Brian Eno. At the time, Eno was best known as the former keyboardist for British glam-rock band Roxy Music, as well as the creator of electro-pop solo albums like Here Come the Warm Jets. But he was also a highly-in-demand record producer and had arrived in New York just a week earlier to work on the second album by Talking Heads, More Songs About Buildings and Food.  Eno quickly saw something in these bands that the current music of his homeland lacked. 'The New York bands proceed from a what would happen if orientation; the English Punk thing is a feel situation', he told Rockwell. 'What they do is a rarefied kind of research; it generates a vocabulary that people like me can use. These New York bands are like fence posts, the real edges of a territory, and one can maneuver within it.'  Eager to document those edges, Eno convinced Island Records to commission a compilation from these groups, which he would supervise. Ten bands were to contribute, including most of the festival participants. But when the sessions began a few weeks later at Big Apple Studio, the roster had mysteriously shrunk to four: Mars, DNA, the Contortions, and Teenage Jesus and the Jerks.  Before the album came out, the chosen groups met with Eno at the Eighth Street apartment he was subletting. They decided to call the record No New York, and soon the small community of musicians and filmmakers surrounding it was dubbed No Wave.  Small, and short-lived: within a year, many No Wave groups were gone. In the New York Times, Robert Palmer wrote that 'Naming the movement just about finished it off.'  By any measure, No Wave was a blip-- a blinding flash of art that barely lasted long enough to qualify as a movement, yet left scars on underground culture still evident today." -- NO WAVE (Marc Masters, Black Dog Publishing)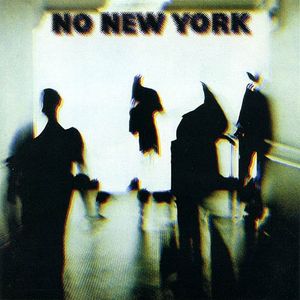 "Various Artists – No New York (1978) - It was 1978 and Brian Eno was in the city working on the Talking Heads' More Songs About Buildings and Food. In May, he attended a no wave festival at Artists Space, in Tribeca, and he liked what he saw. So Eno pitched a no wave comp to Island, and, for whatever reason, they bought it. Four bands, four songs each. Contortions. Teenage Jesus & the Jerks. Mars. DNA. No New York captured the sonic side of the scene in all its violent, disruptive, and sublime brilliance. It remains the defining statement of one of the city's most disturbingly creative moments." (Village Voice)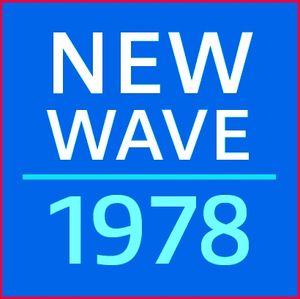 "When John Lydon announced the break up of the Sex Pistols in January 1978, it may have given ammunition to all the naysayers who claimed that punk was just a passing trend, but in reality, punk rock, after giving the moribund music scene a much needed shot in the arm, was already evolving. More and more it was being referred to as New Wave, a more palatable term to record companies and radio stations and a catch-all description that encompassed everyone from the original punk trailblazers like the Pistols, the Ramones and the Clash to acts that followed in their wake such as idiosyncratic art-rockers like Talking Heads and more pop-orientated acts such as Squeeze. It was this rich diversity of styles that helped make new wave or post-punk as it was also known, so great, with much of the music to be found on small, independent labels challenging the power of the major record companies. As such, new wave helped immeasurably in the rise of indie music in the 1980's." (The Independent)
In 1978, the most significant development in music (at least from my vantage point at that time) was that Middle of the Road rock music had been circumvented by the rise of punk music.  Punk rock, a genre which never seemed to catch on across the entire USA, gave root to new wave music; a style of what one might call "smarmy rebellion"; it was a genre of music that was influenced by punk's revolutionary energy while at the same time placing more emphasis on substance and style rather than naked aggression.  In the distance, the music of 1979 was waiting to take us to different places.
---

---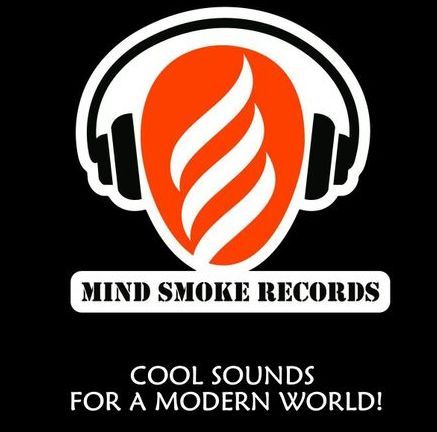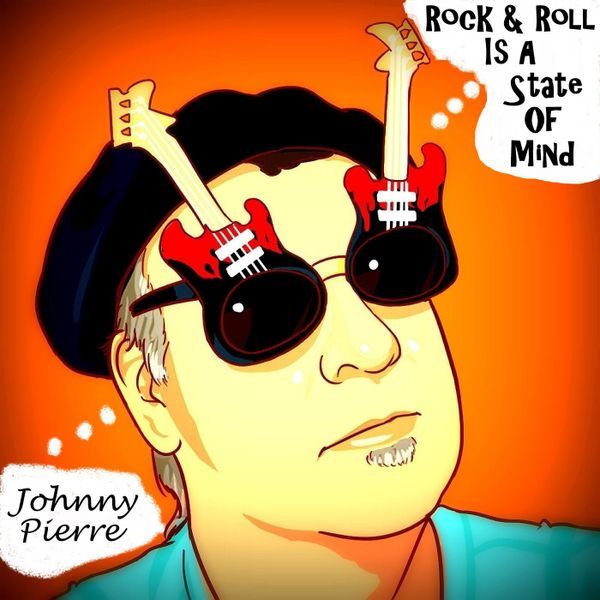 ---
BACK TO ALL POSTS