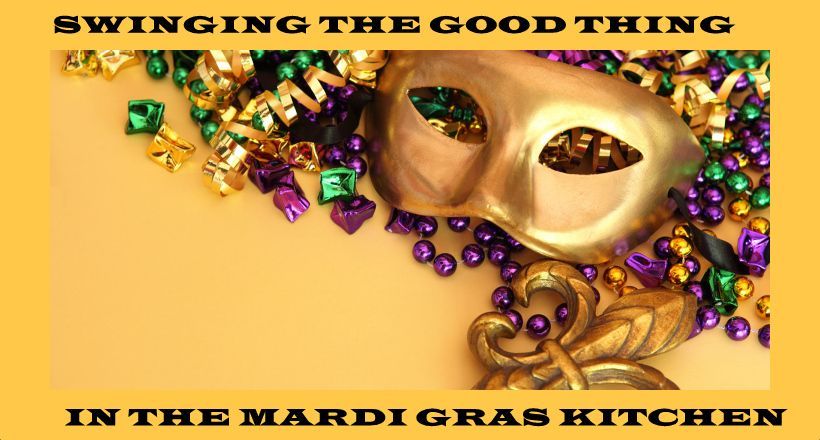 Along with costumes, music, and libations, it's important to serve up some tasty authentic Cajun/Creole dishes!  Once again, As I did last year, thought it would be fun to once again to share with all of you some of my Mardi Gras recipes that i served up my various restaurants over the years.  So without further adieu, here are some of my favorite Mardi Gras recipes along with some recipes from my dessert chef aka my wifey, Sweet Loretta.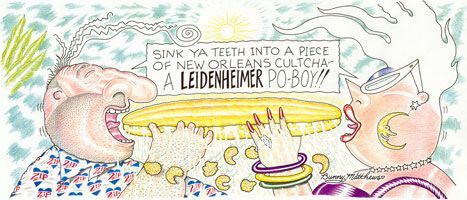 Here's a quote from one of my favorite books in my culinary library: "In the dark age before electricity and refrigeration, it took master cooks – culinary magicians – to deliver miracles out of the kitchens of the South; now, with good directions and modern equipment, it is possible for anyone with enough interest to do almost as well…when the chemistry is right, a Southern meal can still be an aesthetic wonder, a sensory delight, even a mystical experience." John Egerton SOUTHERN FOOD (Alfred A. Knopf 1987)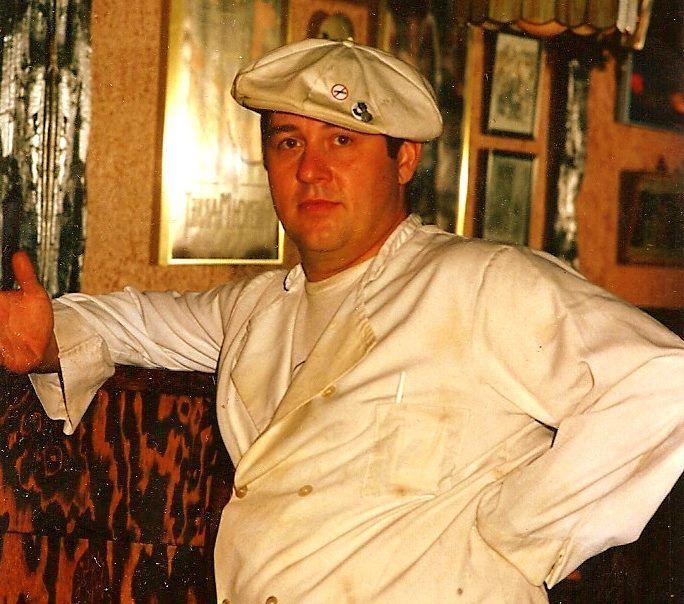 My introduction to the cuisine of New Orleans took place in 1961 in New Orleans where I was living with my family,.  My Dad was an Army doctor who was in charge of running a large medical hospital right by Lake Pontchartrain.  During my time there I became overwhelmed by the magical essence of the music, food and genuine atmosphere of the city of New Orleans.  It was pivotal moment for me (especially with regards to the music).  I saw my first Mardi Gras Parade in New Orleans in 1962.  Not bad for an 9 year old kid, eh? 
My love of the city's music would implant itself in my own music career that seriously started in 1977 when I moved to Long Island.  Years later, when I decided to take a hiatus from the music biz, I got into the food service business and eventually became a chef and a restaurant owner.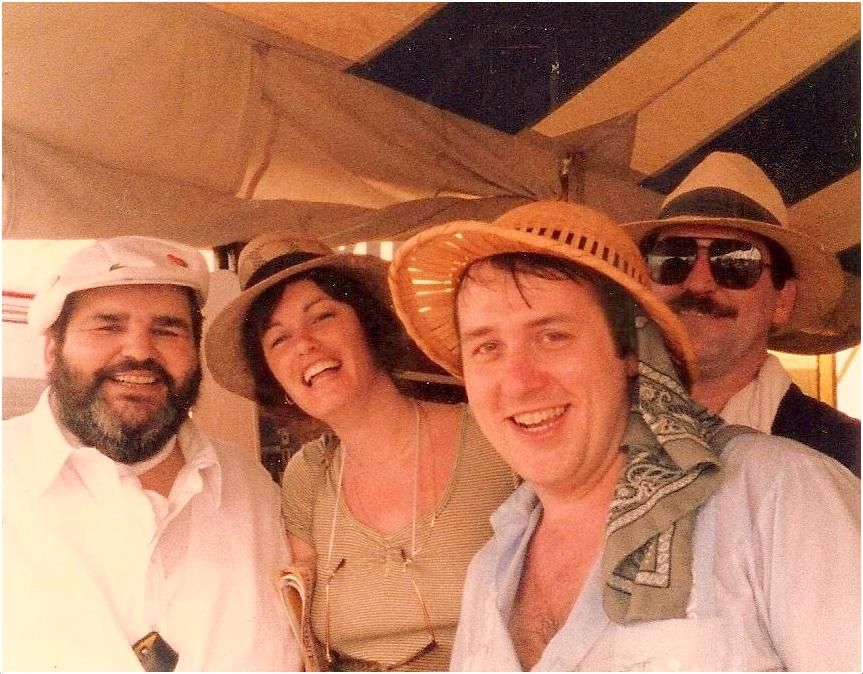 Hanging out with Paul Prudhomme (& the crazy Kerwins) @ Jazz Fest
In those days my nickname was The Chef From Hell; a moniker which was most probably due to the influence of Chef Paul Prudhomme who was a creative New Orleans chef who brought Cajun food back into the mainstream in the 80's. 
Over the years as a Chef, I had a great time creating my own Cajun / Creole dishes at my various restaurants; The Bayou in Bellmore, NY, Big Daddy's in Massapequa, NY and Yazoo City in my hometown, Lindenhurst, NY.  Throughout these years my most special time to cook was during MARDI GRAS WEEK which was a week long celebration starting on the Tuesday before Fat Tuesday and then on Fat Tuesday itself.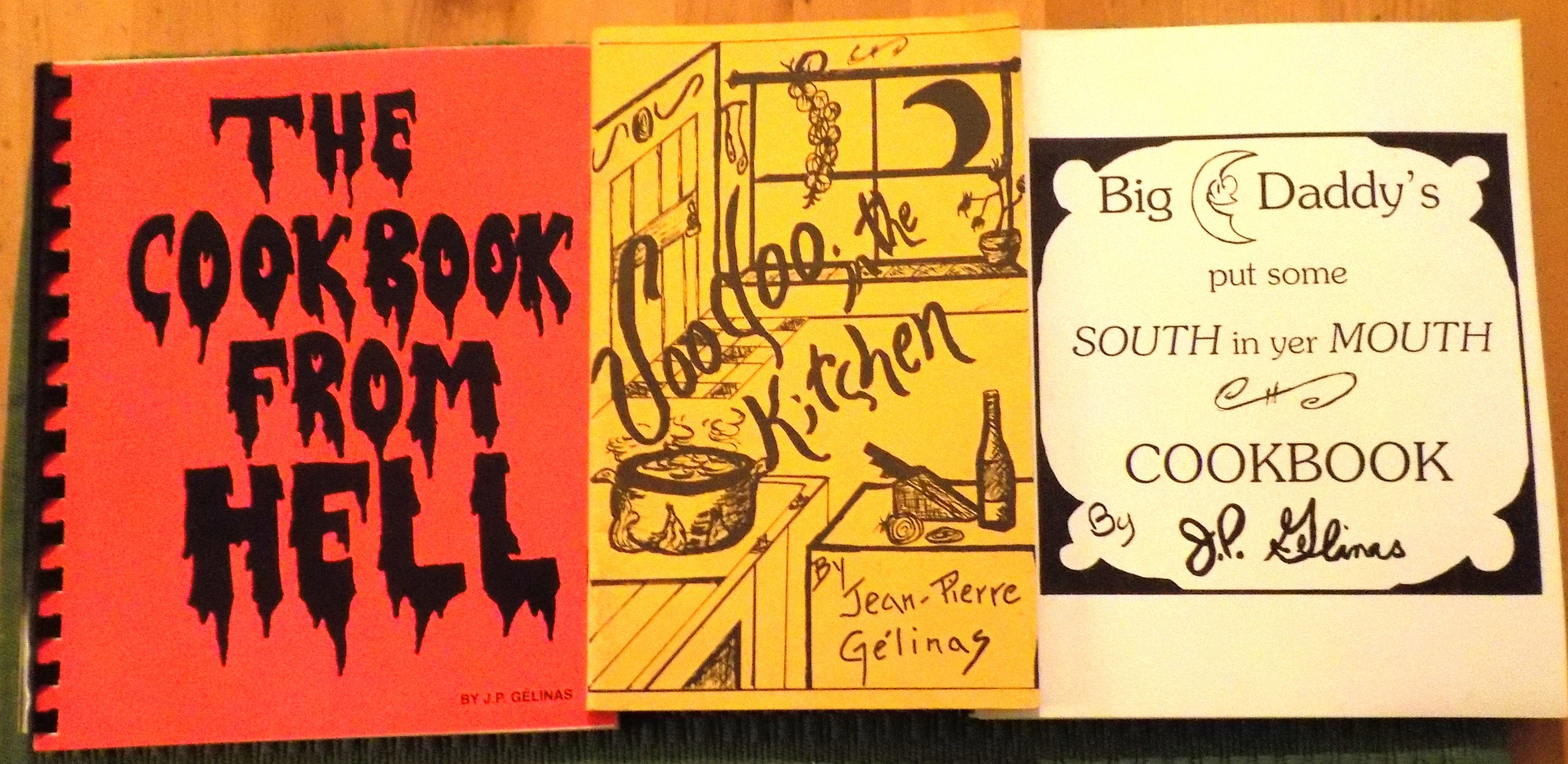 Over the years that I spent in the restaurant business, I ended up writing and self-publishing three cookbooks; Voodoo in the Kitchen, Put Some South in Yer Mouth and The Cookbook From Hell. I'm hoping to release a PDF version of my favorite recipes later this year...stay tuned!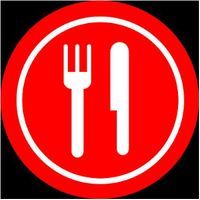 APPETIZERS
LOUISIANA CRAWFISH BOIL
"Crawfish boils are a springtime ritual in Louisiana. Large quantities of farm-raised or wild Louisiana crayfish known locally as crawfish, are boiled in highly seasoned water contained in large stainless steel or aluminum cauldrons and cooked over high-pressure propane burners. These freshwater shellfish are then served informally, often over newspapers on long tables, alongside boiled corn on the cob and red potatoes. These often-sizable outdoor gatherings are a fairly recent cultural development. In the nineteenth and early twentieth centuries, eating crawfish carried a social stigma in Louisiana. Much like lobster in the United States and the Canadian Northeast, crawfish was considered to be food for the poor, until the 1959 Breaux Bridge Crawfish Festival helped rehabilitate local perceptions of the shellfish and its consumption. Today, boil houses and drive-thru boil spots specializing in crawfish are found in both urban and rural areas of the state, typically serving either three- or five-pound portions per person.
Prior to the Civil War (1861–1865), the crustaceans generally were consumed in gumbo or crawfish bisque, a Creole soup featured in New Orleans restaurants and the homes of rural elite. Less affluent people ate them only during times of flood. After 1875, Catholics in southern Louisiana habitually ate crawfish during Lent, when religious restrictions prohibited the consumption of meat. Otherwise, crawfishing parties in rural southwestern Louisiana during the late 1870s usually served to collect bait for fishing expeditions...For much of the early twentieth century, catching crawfish remained something akin to berry picking or fishing. Still, baited twine attached to a stick and nets produced small yields that were boiled as a light meal. 
During the 1950s, the culture of crawfish became increasingly widespread. In 1958, Elvis Presley sang the praises of Crawfish in the Louisiana-based film King Creole. But the real catalyst came one year later, when Breaux Bridge in south central Louisiana launched a festival devoted to the crustacean. The Breaux Bridge Crawfish Festival, which has grown to draw more than 100,000 revelers, markets itself as the world's largest crawfish boil." (from https://64parishes.org/)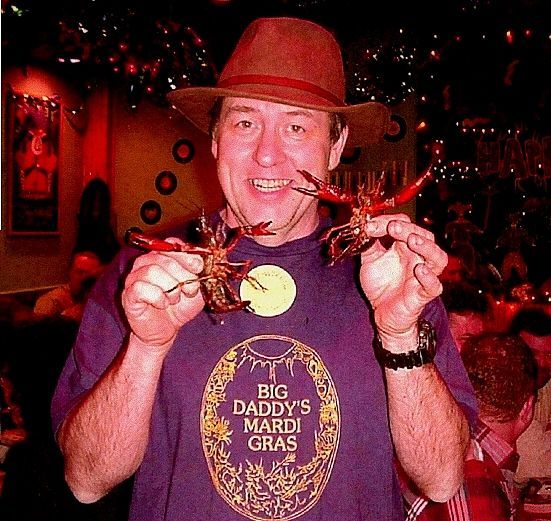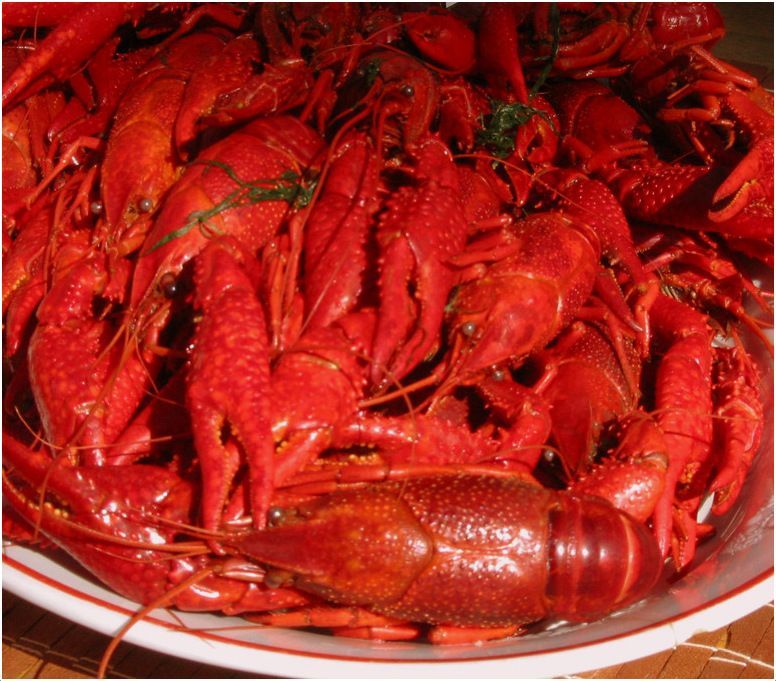 CHEF JP'S CRAWFISH BOIL
Back in the day, when Sweet Loretta and I would be doing Mardi Gras week at one of our restaurants, I always did an authentic Louisiana Crawfish Boil.  The boil became so popular with our customers that we had to increase our order of live crawfish with each passing year.  I remember one year when my kitchen staff and I ended up cooking up 800 lbs of crawfish!  Ooh la la!  Here's a recipe for a smaller amount of boiled crawfish that you can do in a home kitchen. 
Ingredients 
1/2 cup pickling spice 
1/4 cup crushed red pepper 
4 gallons of water 
1/2 cup kosher salt 
1/2 cup cayenne pepper 
1/4 cup Lea & Perrins Worcesterhire sauce 
2 cups Durkees Red Hot Sauce 
2 large yellow onions (peeled & quartered) 
2 lbs large Red A potatoes (quartered) 
4 large ears of corn (cut into thirds) 
8 lbs fresh crawfish (alive & kicking) 
Cooking Procedure 
Place 4 gallons of water in a large pot. Then, place a double layer of cheesecloth on a table and place pickling spice and crushed red pepper in the center of the cheesecloth.  Pull up all of the sides of the cheesecloth and tie it off using a thick rubberband or kitchen twine.  Make sure that this spice bag is tight and secure.  Add the spice bag, salt, cayenne, Worcestershire sauce, Frank's red hot sauce and bring this to a boil.  Let this mixture in the pot boil for 15 minutes.  Add the onions, potatoes and the corn.  Boil for another 10 - 15 minutes; until the potatoes are tender (but not falling apart).  Remove the potatoes and corn from the pot and set them aside.  While waiting for the potatoes to reach tenderness, rinse your live crawfish with cold water.  This will not only clean out any lingering mud in those crawfish (aka mudbugs) but it will also liven them up before you put them in the pot.  As you rinse the crawfish, sort through them and discard any that are dead.  Place the live crawfish in the pot and stir them around a bit.  Let the pot return to a full boil.  Cook the crawfish 7 - 10 minutes, until the crawfish turn a deep red color.  Return the potatoes and corn to the pot.  Turn off the heat and follow what I consider to be the most important part of a crawfish boil. 
The Soak 
Let the crawfish, the onions, corn and potatoes soak in the pot liquid for 15 - 20 minutes so that all of the ingredients absorb the delicious boil liquid.  Using a slotted spoon, transfer all of the crawfish, onions, corn and potatoes to bowls and serve immediately....preferably with some ice cold beer!  Note: do not discard the pot liquid!  Instead, strain the stock into containers because it can be used again as stock for some of the greatest gumbo you will ever have in your life!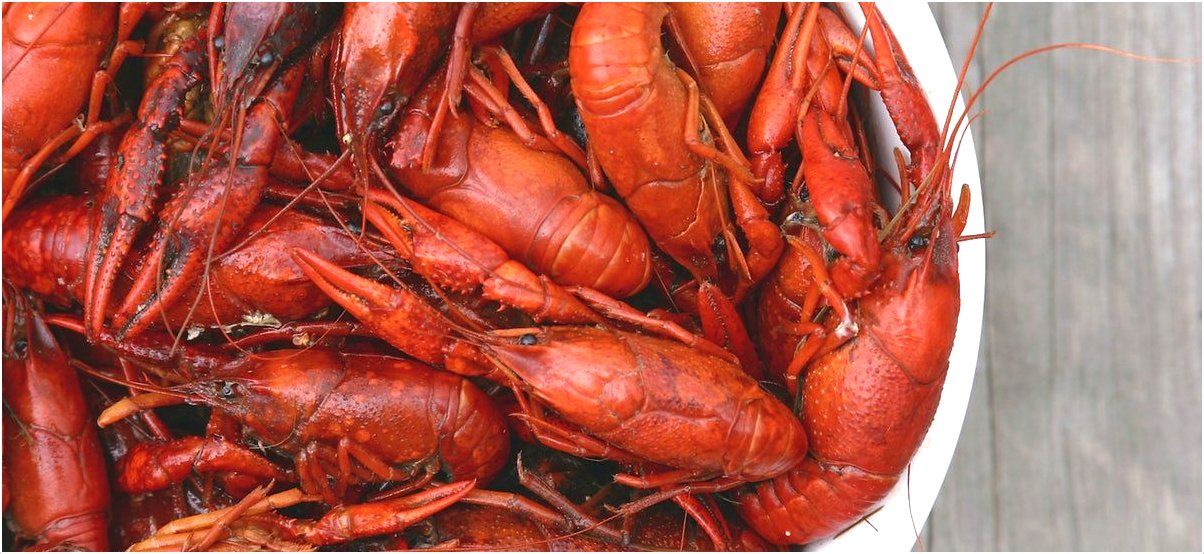 For Future Use:
Here's a couple of sites that sell live crawfish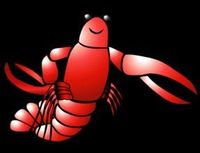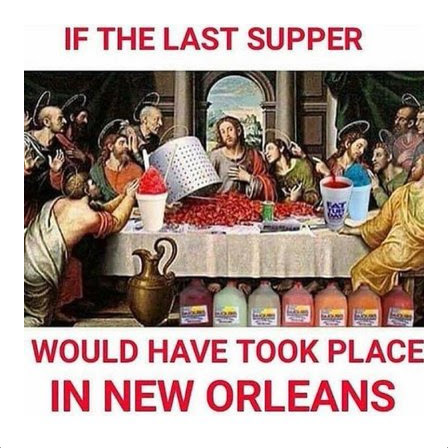 ---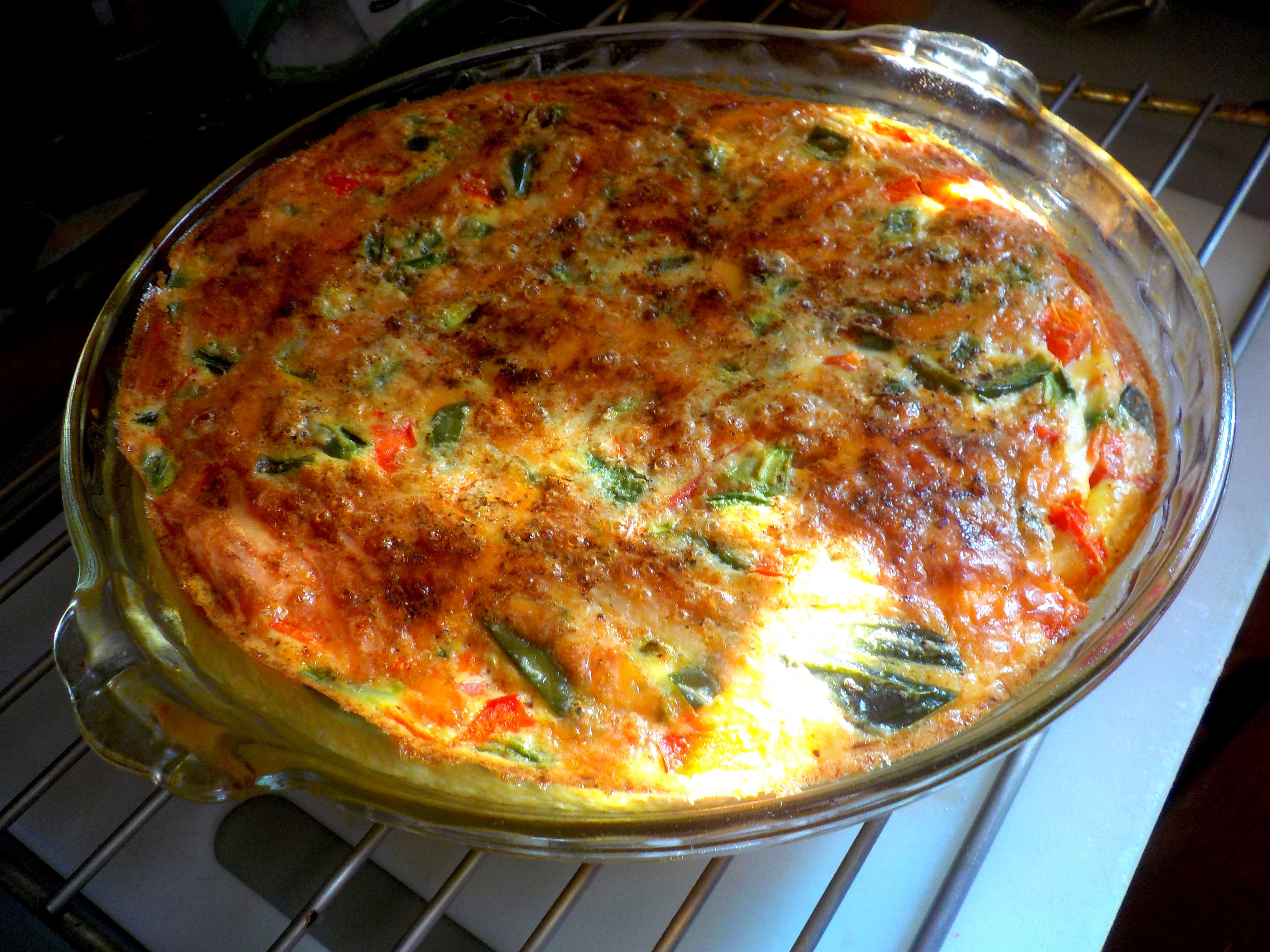 CARNIVAL JALAPENO PIE
Ingredients 
7 Lg Eggs 

1/2 Cup Whole Milk 

1/4 Cup Half & Half 

4 oz Shredded Sharp Cheddar Cheese 

4 oz Shredded Swiss or Gruyere Cheese 

1/2 cup Red Bell Pepper > chopped small (discard seeds & membrane) 

1/2 cup Jalapeno Peppers > Chopped in thin strips (discards seeds & membrane) 
Cooking Procedure 
Preheat your oven to 350 degrees 
Grease a deep 9 inch glass pie plate with a non-stick cooking spray 
Add the eggs to a bowl and beat the eggs well 
Add the milk, half & half and 1/4 teaspoon crushed red pepper flakes 
Whisk this mix vigorously for 30 seconds 
Evenly spread the shredded cheeses and chopped red bell & jalapeno peppers across the bottom of the greased pie plate 
Then pour the egg milk mixture evenly over the peppers and cheese 
Place the pie on a baking tray and then place the pie in the oven 
Bake the pie for30 minutes or until the pie is solid and is firm and fluffy.  The top of the pie should be lightly browned and when a toothpick is inserted in the pie it comes out clean.
---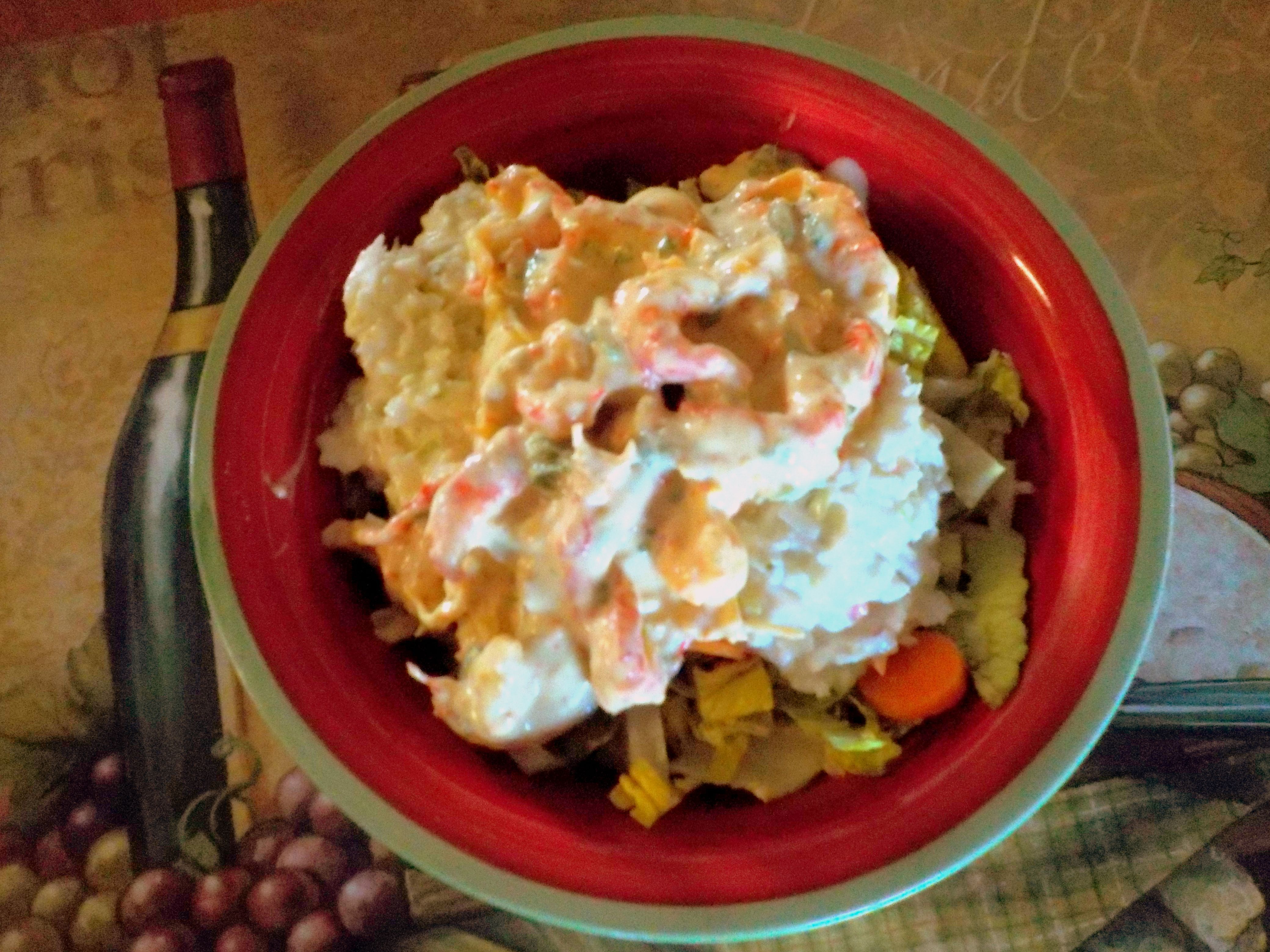 CRAWFISH REMOULADE BLANC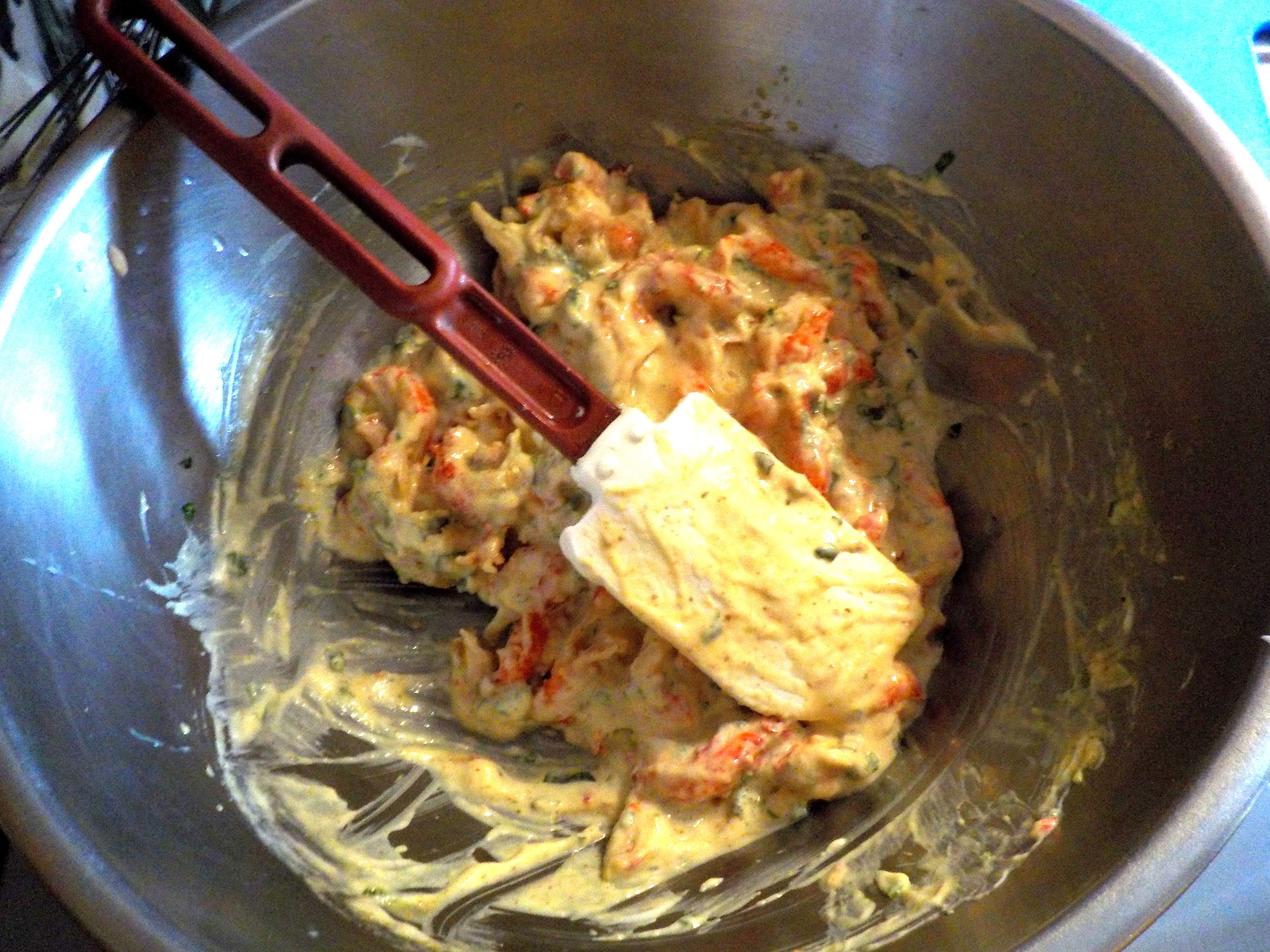 Here's one of my favorite dishes!
My favorite version of this dish is
one I learned from my better half, Sweet Loretta!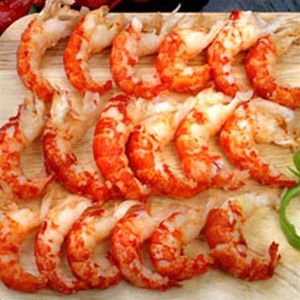 If you're looking for a place to purchase crawfish tails
here's a few online vendors who sell crawfish tails:
If you're in Long Island:
Part 1 
2 Tbs Spicy Brown Mustard 

4 scallions, chopped fine 

2 tsp parsley, chopped fine 

1 TBS Horseradish 

Juice of half a large lemon 

1 oz white wine 

Hearty pinch white pepper 

Hearty pinch cayenne 

1 cup mayonnaise 

1 lb Crawfish Tail Meat (rinsed well) 
Part 2 
Combine all ingredients in a mixing bowl.  Whisk well.  Cover and refrigerate.  Note: You can substitute chilled cooked shrimp if crawfish are unavailable.
~~~~~~~~~~~~~~~~~~~~~~~~~~~~~~~~~~~~~~~~~~~~~~~~~~~~~~~~~~~~~~~~~~~~~~~~~~~~~~~~~~~~~~~~~~~~~~~~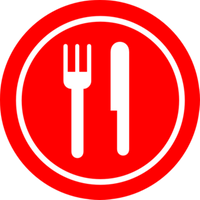 ~ MAIN COURSE ~

~ CARNIVAL JAMBALAYA ~
The history of Jambalaya dates back to the days of when there was a French and Spanish culinary influence in New Orleans.  Many of the local cooks who worked in well-to-do households were required to prepare the popular Spanish rice dish, paella.  Over time, the local cooks and chefs added their own touches and Jambalaya was became a celebrated dish, unique to Louisiana. 
Ingredients 
½ lb unsalted butter 

1 cup celery, chopped coarse 

1 cup green bell pepper; seeded & chopped coarse 

1 medium sized yellow onion; peeled & chopped coarse 

2 large jalapeno peppers; stem removed & chopped coarse 

1 lb Andouille sausage, chopped coarse 

½ lb Tasso ham, chopped coarse 

4 boneless chicken thighs, chopped coarse 

¼ cup Madeira wine 

1 cup chicken stock or broth 

½ cup scallions; ends removed & chopped coarse 

1 (28 oz) can crushed tomatoes 
6 cups Baked rice (see Recipe below) 
Seasoning Mix 
1 large bay leaf, crumbled 

1 Tbs crushed red pepper 

1 Tbs basil 

1 tsp thyme 

1 tsp Spanish paprika 

1 tsp kosher salt 

1 tsp cayenne red pepper 

½ tsp ground white pepper 

½ tsp ground black pepper 
Cooking Procedure 
In a large skillet, melt butter over high heat 
Add the "cajun trinity" (celery/onions/green bell pepper) 
Stir well and cook for 3 minutes or until onions begin to turn clear 
Lower heat to medium and add the jalapeno peppers, andouille, tasso, chicken thighs, and the seasoning mix 
Stir well and cook for 4 minutes more, shaking skillet from time to time 
Add the wine and shake the skillet vigorously 
Scrape the bottom of the skillet and cook for 3 minutes more 
Add the stock, Crawfish tails and scallions 
Cook for 4 minutes 
When the skillet mixture begins to bubble & simmer, add the crushed tomatoes 
Reduce heat to low and simmer for 15 minutes 
Scrape the bottom of the skillet from time to time to prevent sticking 
Add the baked rice and stir mixture well so that the rice is completely incorporated into the skillet mixture 
Note: see Baked Rice recipe below 
Turn of the heat and let your jambalaya simmer for 2 more minutes. 
Serve in bowls with hunks of french bread on the side. 
CHEF'S NOTE: If you are unable to find some of the ingredients at your local stores (such as andouille/crawfish tails/tasso ham), you can mail order them from online vendors. For andouille and tasso ham, I highly recommend NODINE'S SMOKEHOUSE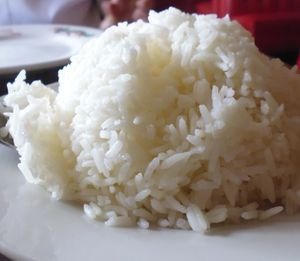 ~ BAKED WHITE RICE ~
Studying Paul Prudhomme's methodology with regards to cooking rice I was amazed at how much better baked rice is instead of the gummy version of stovetop cooked rice.  Try it out...you might really like it!
Ingredients 
2 cups uncooked converted Rice 
2 1/2 cups stock (chicken, beef, seafood or vegetable) 
1/4 cup Celery, chopped small 
1/4 cup Green Bell Pepper, chopped small 
1/4 cup Yellow Onion, chopped small 
1 tsp Bayou Seasoning (see recipe below) 
1 1/2 TBS unsalted Butter, cubed 
Cooking Procedure 
Preheat your oven to 350 degrees 
In a loaf pan, combine all ingredients & mix well 
Seal loaf pan tightly with aluminum foil 
Bake rice at 350 until rice is tender; about 1 hour & 10 minutes
---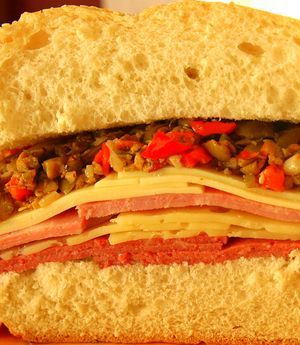 ~ NEW ORLEANS MUFFALETTA SANDWICH ~
"There are as many legends about the origins of today's muffuletta sandwich as there are ways to pronounce it. The most common theory is that it originatedin 1906 at Central Grocery (923 Decatur Street in the French Quarter) by owner Salvatore Lupo. According to his daughter, Marie Lupo Tusa, "At lunchtime farmers would go to my father's grocery and would buy small quantities of Italian cold cuts, cheese, and olive salad. My father also sold a round, puffy, Sicilian-style bread called muffuletta that was baked in small quantities by a Sicilian baker in the neighborhood. In the beginning, the farmers ate the bread along with the cold cuts, cheese, and olive salad. Eventually, my father suggested to his customers that he put it all together as a sandwich for them. The sandwich was referred to as a muffuletta because that was the name of the bread. In Sicily, there was no such thing as a muffuletta sandwich—only the muffuletta bread.
Prior to the mid-1950s, the muffuletta sandwich does not appear on written menus. The lack of the name's early mention does not mean that the sandwich didn't exist: it either had no name or existed under a different one. Some residents of the French Quarter remember asking for an "Italian Sandwich" at Central Grocery or at the neighboring Progress Grocery. Montalbano's Delicatessen at 724 St. Philip Street sold a sandwich called the "Roman" or "Roma." Clearly a muffuletta, the sandwich was described as an enormous round sandwich, made to order on a scale, with however much cold cuts, cheeses, or olive salad a customer requested. 
By the 1970s, the muffuletta was clearly established on the local and national food scene, as it was listed on menus and discussed in the media. This humble sandwich—a must-eat for tourists and the cause of cravings for many locals—stands as a reminder of the vibrant and important Sicilian community that helped to create New Orleans's rich and layered history." (From https://64parishes.org/ )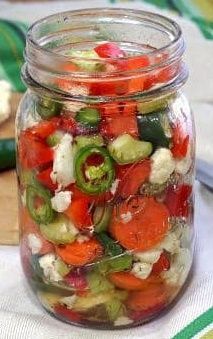 Giardiniera: Italian Pickled Vegetable Mix 
Ingredients
1 large round bread loaf, 9 inches in diameter (often referred to as a "Bishop's Loaf" 
1 cup Giardinera (an Italian pickled vegetable mix) 
1/4 cup Black Olives, chopped coarse 
1/4 cup Green Pimento stuffed Olives 
Olive Oil 
4 oz Genoa Salami, sliced thin 
4 oz Prosciutto Ham, sliced thin 
4 oz Cappicola, sliced thin 
4 oz Provolone thin, sliced thin 
Cooking Procedure 
Preheat your oven to 350 degrees 
Drain the Giardinera of any liquid and place it in a food processor 
Add the black and green olives 
Drizzle in a little olive oil & pulse the ingredients until you achieve a chunky vegetable mix 
Set this mix aside 
Slice the round loaf in half horizontally 
Layer the bottom of the loaf with the processed vegetable mix 
Layer the sliced cheese and meats over the vegetable mix 
Place the top half of the bread on top of the meats 
Wrap the sandwich in aluminum foil 
Bake the sandwich in a 350 oven until the cheese is melted and the meats are warm; about 25 - 30 minutes 
Remove the sandwich from the oven and let it rest for 20 minutes 
Slice the sandwich into quarters to serve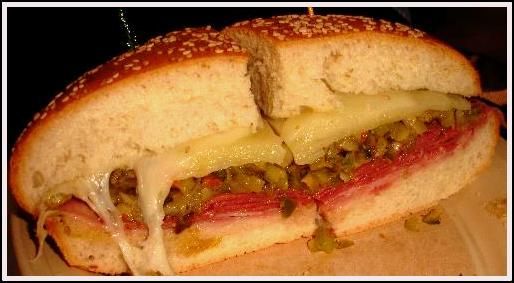 CHEF'S NOTE 
There are two schools of thought when it comes to the famous Muffaletta sandwich.  Some folks like it prepared cold much like a deli sandwich whereas others prefer the sandwich served hot.  My preference is to heat it up and enjoy all that melted cheese.  Yeah baby!
---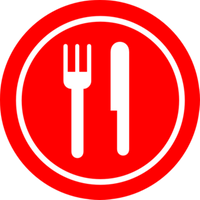 ~ DESSERT ~
~ SWEET LORETTA'S KING KAKE ~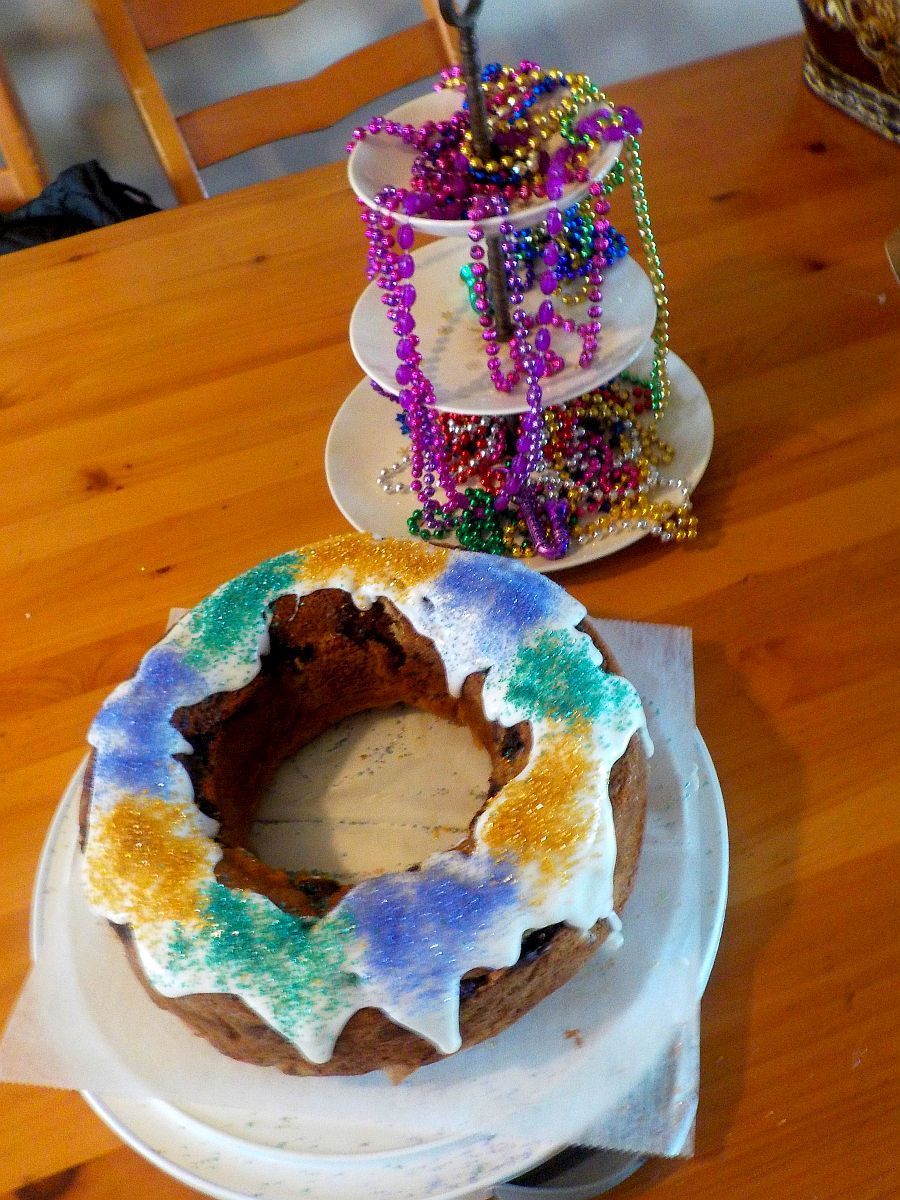 Here's a recipe that my wife, Sweet Loretta, makes every Mardi Gras.  Traditionally, a small plastic or porcelain baby is hidden in the king cake. Originally, the baby was placed in the cake to symbolize baby Jesus. Fava beans were also used to represent Jesus. Today, the baby you'll find in your piece of King Kake will most probably be plastic and symbolizes luck and prosperity to whoever finds it in their slice of cake!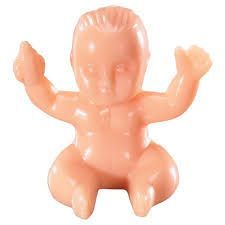 Step 1 
1 Tbs cocoa powder 
2 tsp cinnamon 
1/3 cup sugar 
Combine in a small bowl and set aside to use as ribbon through the cake 
Step 2 
3 cups flour 
1 ½ tsp baking powder 
1 ½ tsp baking soda 
Combine and set aside. 
Step 3 
1 ½ sticks butter, softened 
1 ½ cups sugar 
2 tsp vanilla 
½ tsp salt 
16 ounces sour cream 
3 eggs 
1 baby 
Preheat oven to 350 degrees 
Cream butter and sugar.  Add flour mix, then the vanilla, salt, sour cream and eggs.  Beat well. 
In a prepared bunt pan layer half of the batter.  Sprinkle the spice mixture over that half as a ribbon.  Lay in the King Kake baby.  Cover with the remaining batter.  Bake at 350 degrees for 40 to 60 minutes.  Let cool on a rack before turning out. 
Step 4 > When Your King Kake Has Cooled (about an hour) Prepare the Glaze: 
1 cup powdered sugar 
1 TBS melted butter 
Milk / or ½ and ½ to taste and texture 
Mix these ingredients until the glaze thin enough to drip over the top of the King Kake 
Pour on the glaze and decorate with Mardi Gras Colors.
---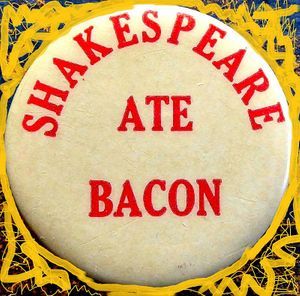 "If music be the food of love, then play on" (Billy Shakespeare)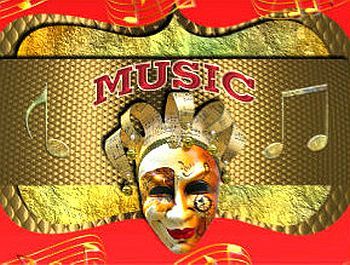 Swinging The Good Thing Kitchen Playlist
Last but not least...
don't forget to crank up some New Orleans music
while you cook your Mardi Gras feast!
Dig This Menu Please - Red Rodney Sextet
Shrimp and Gumbo - Dave Bartholomew
Stir Up The Roux - Bruce Daigrepont
Rad Gumbo - Little Feat
Red Beans - Professor Longhair
Closer To The Bone -- Louis Prima
Give Him Cornbread - Beau Jocque & The Zydeco Hi-Rollers
Zydeco Mardi Gras - Boozoo Chavis
You Eat Too Much - Harold Burrage
Plop Plop Fizz - Alka Seltzer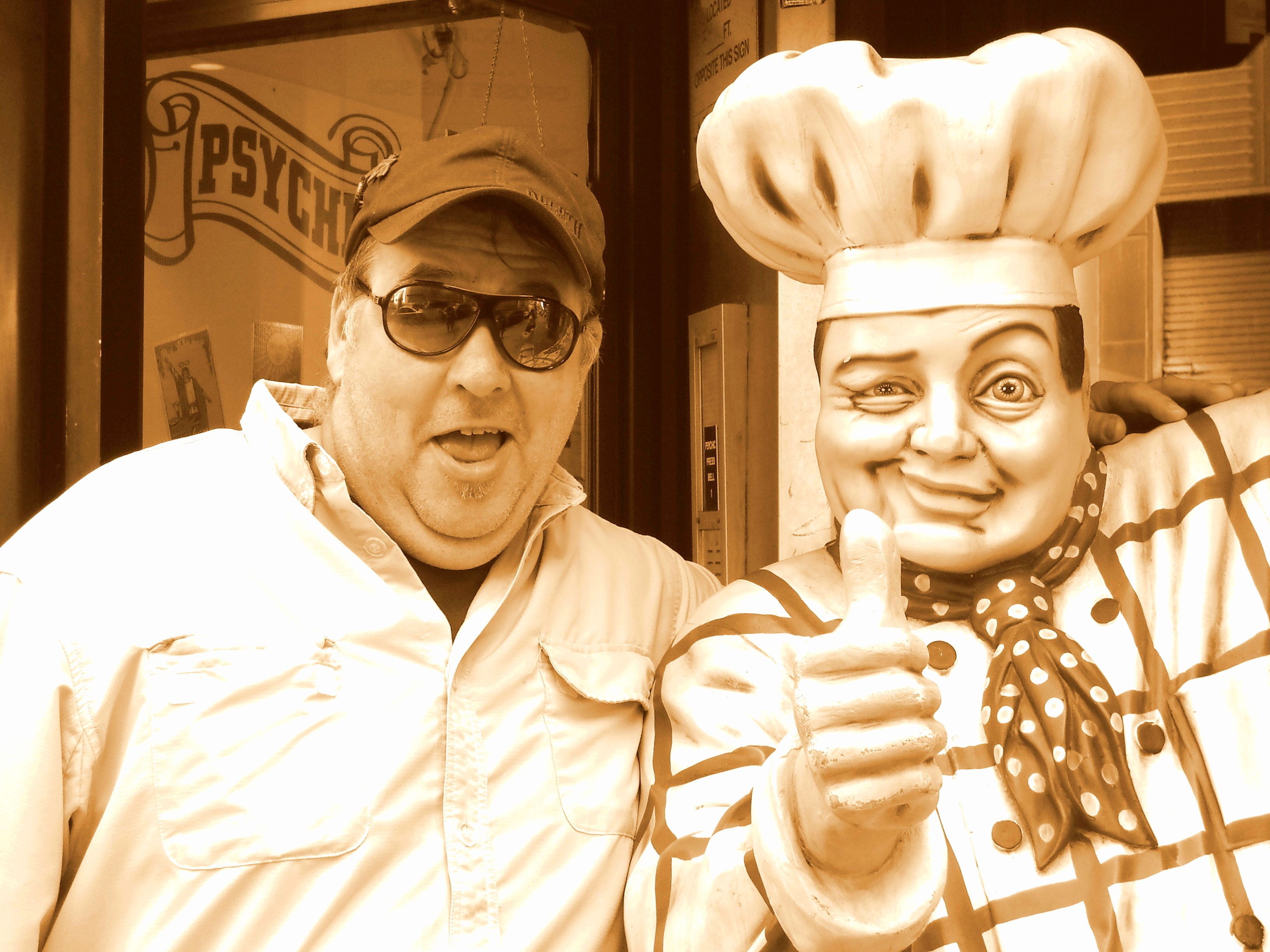 Happy Mardi Gras to all of the Cajun Creole food lovers everywhere!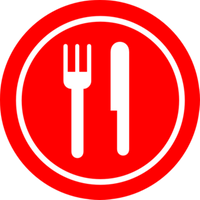 Cheers, 
Chef JP aka The Chef From Hell

Tomorrow's Blog Post:
The Legendary Mardi Gras Indians of New Orleans
---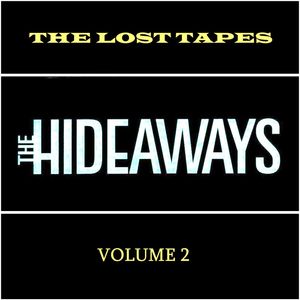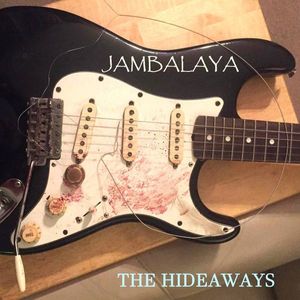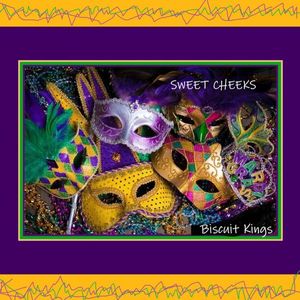 ---