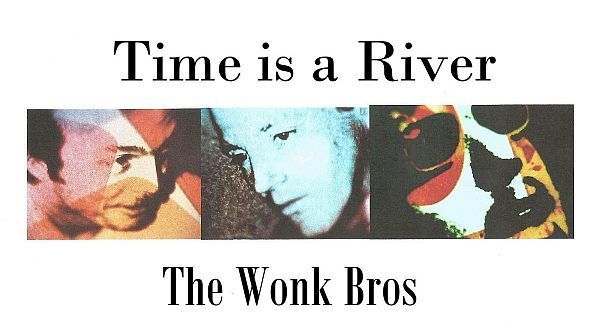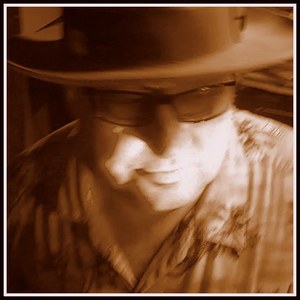 Time is a River...I'm in a boat 
Life is so funny but I don't get the joke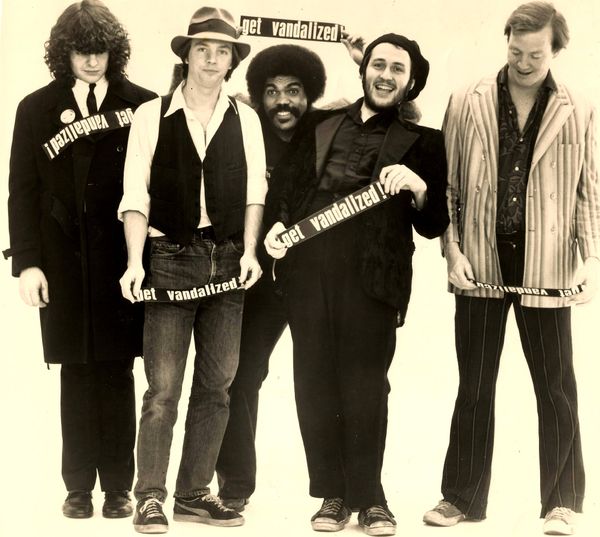 Photo Credit: Paul Colliton
The story behind this blog post is rooted in my past life as a member of the FREELANCE VANDALS; a band I was in back in the 70's and 80's.  The Freelance Vandals were what I would call a "meat & potatoes" rock band.  Our songs were pretty much to the point and had a high energy level.  We had a good career for for about 10 years or so but as so often happens, the music business chewed us up and spit us out and the band broke up in 1985.  The members of the band all went their separate ways and pursued careers outside of the music business.  Around 1995, I had gotten back in touch with my best friend and fellow songwriter, "Diamond" Ray Finch and we began talking about getting back together to write and record some new songs.  The first serious recording sessions we did since the breakup of the Freelance Vandals took place in 1996.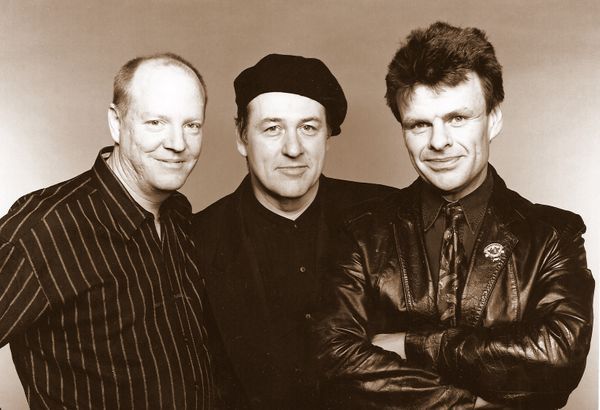 Photo Credit: George Gobes
The desire to record again was most probably inspired by the fact that during the summer of 1996, the Freelance Vandals had begun to do some  reunion shows at various clubs on Long Island.  Billy Cairns, the drummer for the Freelance Vandals, joined the party and put down some drums on several tracks during the 1996 sessions.  It was great to be making music together once again. 
After the 1996 sessions, we didn't really get back together to record new material until the fall of 2003 when Ray, his brother Jack (keyboard player for the Freelance Vandals) and myself got together and recorded six new songs in my basement studio.  During our time in the Freelance Vandals, I wrote many songs with Ray such as Roll That Rock, Box Lunch, Cocaine & Promises and Holiday.  Ray and I also wrote a lot of material with Jack as well; some of those Freelance Vandals favorites included Shirley, Dagger Man, New York Girl, Carry My Love and Lightning Rod.

I remember that the 2003 sessions were intended to establish a new musical identity apart from the Freelance Vandals.  The music we were creating fell mainly in the pop rock genre; it wasn't straight ahead rock & roll that we played in the Freelance Vandals.  At some point during those sessions, we also decided to call the new "band", The Wonk Bros.  When the 2003 sessions began, we cut the initial tracks using a drum machine with the idea that Billy would come in at a later date and lay down the drum parts. Sadly, we never were able to get that done as we all got busy with our lives outside of making music.  All of the 2003 tracks were recorded during a two week span and   after the sessions were over, it all went dark again. 
Flash forward to the summer of 2017:  I was working on a new album project in my studio when I suddenly started humming a song called Time Is A River which was one of the tracks we recorded at the aforementioned 2003 Wonk Bros sessions. In short order, recalling the Wonk Bros sessions quickly opened my memory lunchbox to those earlier recording sessions I'd done with Ray and our Freelance Vandals drummer, Billy Cairns that took place in 1996.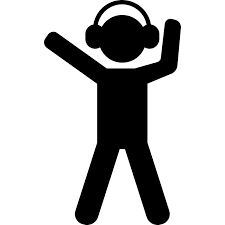 "Help!  There's a song stuck in my head!"
Have you ever had a song get stuck in your head and it just keeps playing and playing?  That's exactly what happened with regards to that Time is a River song.  As time rolled on, i would catch myself humming or singing the chorus from Time is a River.  The song kept playing and replaying in the back of my mind for several days.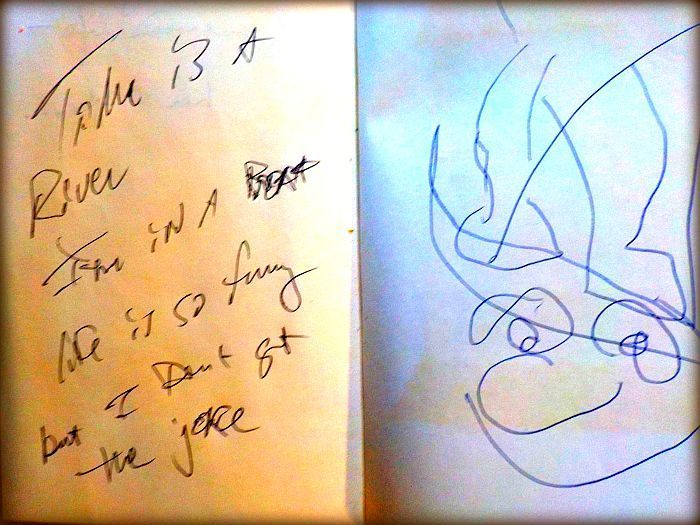 Several weeks passed when the Wonk Bros project once again reasserted itself in my imagination.  I came across a battered old cardboard box in my basement and, much to my surprise, it contained an old notebook that contained all of the song lyrics I'd written for those songs we had recorded so long ago.  When I first opened the notebook, the lyrics on the first page were for the chorus of Time is a River.  Seeing the lyrics generated yet another round of pleasant memories of those recording sessions from back in the day.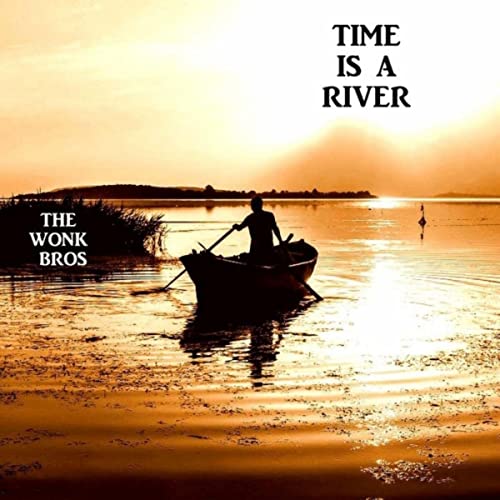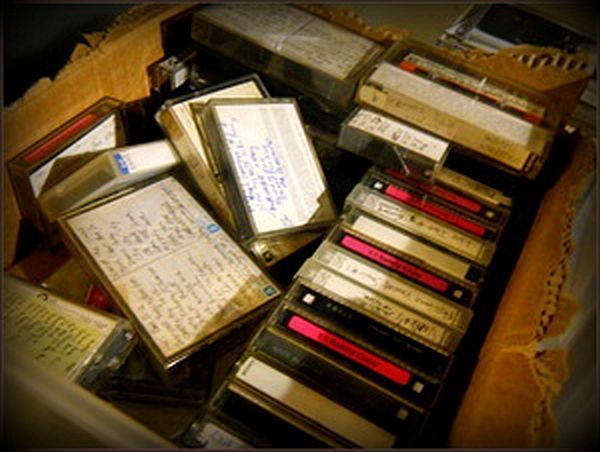 Flash Forward to March 2018: One day, when I was cleaning out an old steamer trunk down in the basement, I found a box of cassette tapes that contained many of the final demo mixes for the Wonk Bros songs we had recorded back in the day. In this box of cassettes, I'd also discovered two songs that Ray and I had recorded with Billy Cairns back in 1996. 
One of the tunes was a heavy rock song called Gravy Train, which was written around the time of the Freelance Vandals 1996 reunion shows.  To me, this particular song reminds me of how the Freelance Vandals sounded back in their heyday. 

The other song that Billy played on was a rap song called Cherry's In The Sun.  "Rap song?!!"  Yes, a rap song!  We had been sitting around in my basement studio drinking a few beers when the song just seemed to appear out of nowhere.  Ray handled the bass & guitar parts and Billy utilized a drum machine that had various pads on it while I vocalized a spontaneous jumble of words.  I think it stands as one of the most bizarre songs we've ever recorded.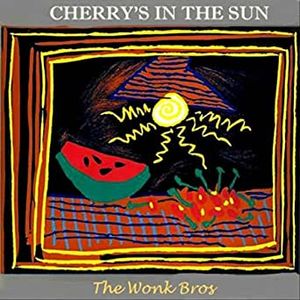 One of the other tracks from the 1996 session are Secret World, a dance track that features a catchy chorus, Ray's in-the-pocket bass parts and a groovy little trumpet solo on the bridge which is played by Ray's son, Peter.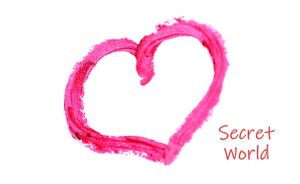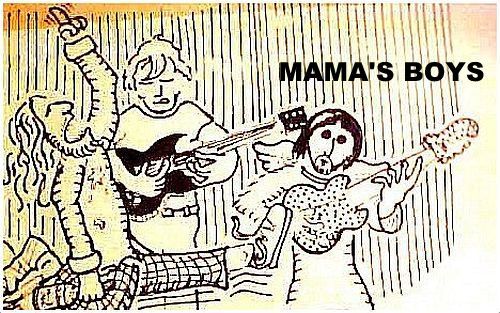 Illustration Credit: John C. Engelhardt (Longshot Photos)
The other track from the 1996 sessions is Any Old Day; a tune that has some definite Todd Rundgren influence.  Whenever I listen to the Any Old Day track, it always always reminds me of the type of music I played with Ray on the coffeehouse circuit during our college days at the University of Dayton along with our good friend, Chuck Ciany.  Years after we were in a band in Dayton called Mama's Boys, Chuck would become a card carrying member of the Freelance Vandals.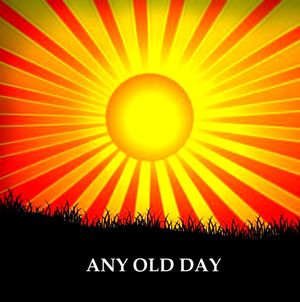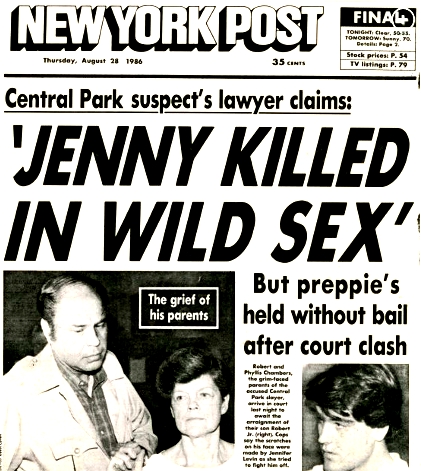 Robert Chambers aka "The Preppie Killer"
One of the stranger things about some of the Time is a River material is that, as I started writing the lyrics for some of the tunes, I somehow got fixated on the notorious "Preppy Killer" Robert Chambers. I remember seeing a news show that covered the 10th anniversary of that murder in Central Park.  While watching that program, Chambers struck me as a sociopath; devoid of feeling anything..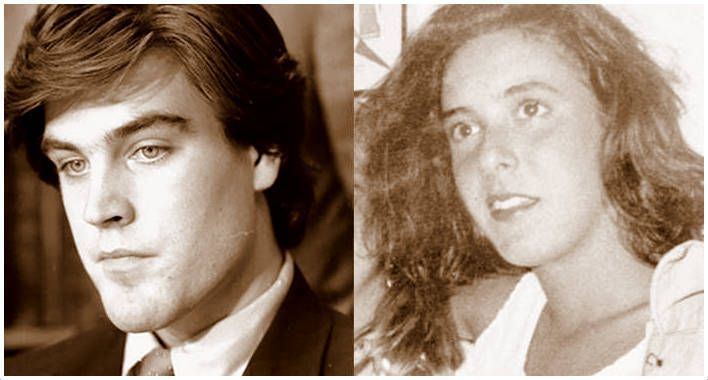 Robert Chambers and Jennifer Levin
"...nicknamed the "Preppie Killer" by the media, is an American criminal. He pleaded guilty to manslaughter in the death of 18-year-old Jennifer Levin, whom he killed in New York City's Central Park during the early morning hours of August 26, 1986.  Levin's strangled, half-naked corpse, covered in cuts, bruises and bite marks, was found by a cyclist in Central Park near Fifth Avenue and 83rd Street, behind the Metropolitan Museum of Art. Clothing from her upper body had been pushed up around her neck, and her skirt was around her waist. The Medical Examiner's office said Levin had been strangled to death. Police noted there were numerous cuts and bruises on her neck, both from the strangulation and from her own fingernails as she clawed at her killer's hands. Later, Chambers hid and watched as police officers investigated the scene. The investigators had found Levin's underwear some 50 yards away...Police were given Chambers' name by patrons at Dorrian's Red Hand bar, who had seen him leaving with Levin. When authorities arrived to question him at his home, he had fresh scratches on his face and arms, which he initially said were cat scratches...Chambers changed his story several times: his cat had been declawed; he didn't part from Levin immediately upon leaving the bar; she had parted from him to purchase cigarettes (it was later discovered that Levin did not smoke). In the final version of his confession, he claimed that some time after he and Levin had left the bar, she had asked him for rough sex, tied the 6'5" Chambers' hands with her panties, and hurt his genitals as she stimulated him, and that she had been killed accidentally when he freed his hands and pushed her off him...The rape scenario was considered to be highly unlikely in light of the fact that Chambers was more than a foot taller than the 5'4" Levin, and at 220 lb, he was almost double her weight....Chambers was sentenced to serve 5 to 15 years." (Wikipedia) 
There were three songs recorded at the 2003 sessions that incorporated the persona of Robert Chambers.  The first song was Boy Gone Bad, which attempted to draw a portrait of the spoiled rich kid who had murdered Jennifer Levin.  Ray, who played most of the music on this track, created a wonderful cinematic backdrop for the lyrics.  The next one was Sugar Hill, which was a lighthearted ditty about life in prison.  Ray and I really like the fact that the ending of this song has a definite Kinks influence.  The last song in this strange mini "rock opera" was Night Fades Away which contained lyrics like "somebody's on the line, talking in the dark, laughter on my radio; I saw you yesterday, walking through the park with the angels in the snow...take away my sadness, nail it to the wall, you got to leave it there to wither away, somebody said something, it could have been a whisper, now I'm feeling like a stranger on a train..."   At the time, most of these lyrics struck me as an experiment in musical journalism.
The moon catches fire just when I retired from the human race 
You got me cracking up but that just ain't enough to get a real good taste 
Go to California, call me on the phone, you simpleton 
Burn your bridges down now, don't make a sound, what's done is done 
Daddy says he loves you, everything he does, you think it stinks 
On the back burner, you're the night crawler by the kitchen sink 
Go to California, call me on the phone, you simpleton 
Burn your bridges down now, don't make a sound, what's done is done 
These are not the hands of a working man, these are just the hands of a boy gone bad 
These are not the hands of a working man, these are just the hands of a boy gone bad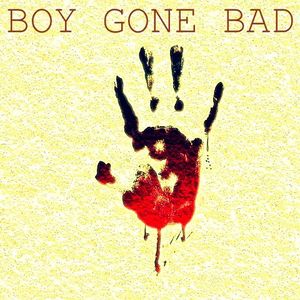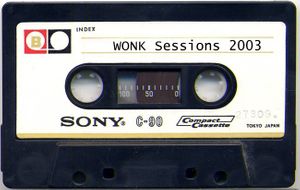 The remaining 2003 session tracks in that box of cassettes were Home By Dark, The Dark Side Of Heaven and the album's title song, Time Is A River.  Home By Dark chronicles a wild and crazy night in Freeport, NY. 
Somewhere along the line, we all decided that Home By Dark was fitting sequel to Shirley, one of our more popular Freelance Vandals songs that was about reincarnation.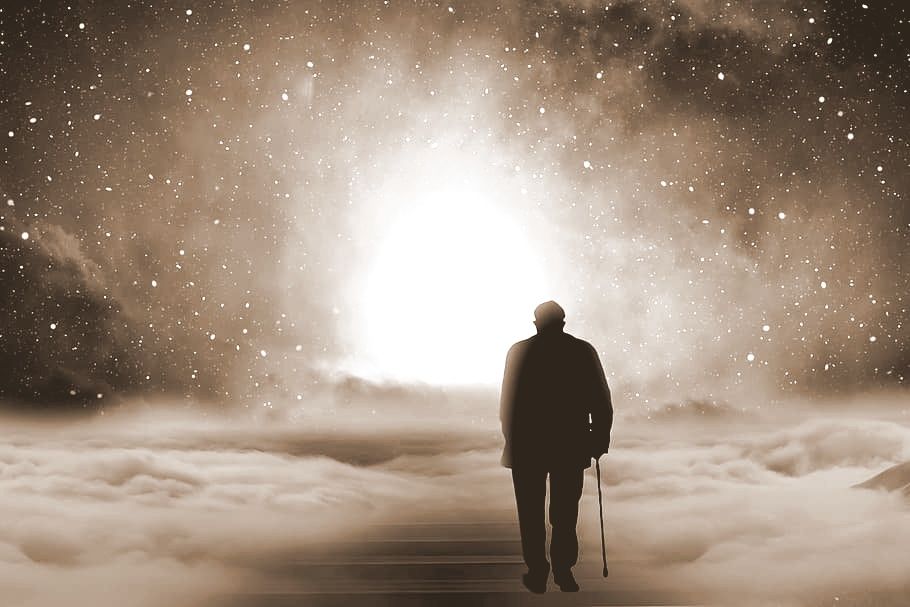 The Dark Side of Heaven is a song about a troubled love affair that takes place in Los Angeles, California. The title song, Time is a River, has a definite Brian Wilson influence and features some beautiful harmony vocals by Ray and layered harmonic keyboard parts by Jack.  My lead vocals on all of these songs were much more melodic than most of the stuff I sang on our Freelance Vandals recordings. That was most probably due to the fact that most of the material was written with a 70's pop rock sound in mind.
Billy "The Mountain" Cairns & one of his fans
Collage credit: Pete Selin
During the mastering sessions for the Time Is A River album, my old friend, Billy, was always in my thoughts.  Billy passed away in 2008 and I still think about how much his unique style of  drumming would have brought to the bulk of these recordings. However, I'm grateful to have discovered the two tracks from the 1996 sessions that Billy played on.  I believe there might be several other tracks that Billy played on but as I went through the box of tapes, none were found.  Perhaps on my next archaeological dig in my basement of boxes I'll unearth some more lost recordings.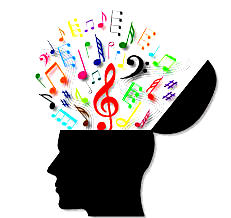 Throughout the process of rediscovering this music from my past, my imagination was filled with images and sounds from another time in my life.  As an artist, I've always had a healthy respect for completely random elements that appear out of nowhere and somehow find their way into the music.  When I discovered all of those Wonk Bros cassettes down in the basement, I felt like I was getting a message from the past.  As Ray and I began to discuss the possibility of releasing these lost recordings, we both realized that it would provide a much needed sense of closure.  This music will always remind me of what was then and what will always be.  Time is a river...yes, indeed.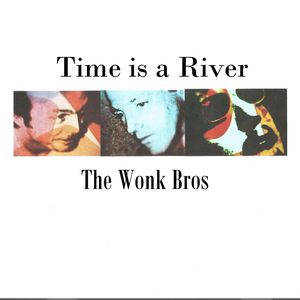 AVAILABLE NOW ON THE FOLLOWING PLATFORMS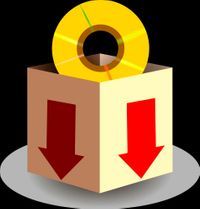 ---