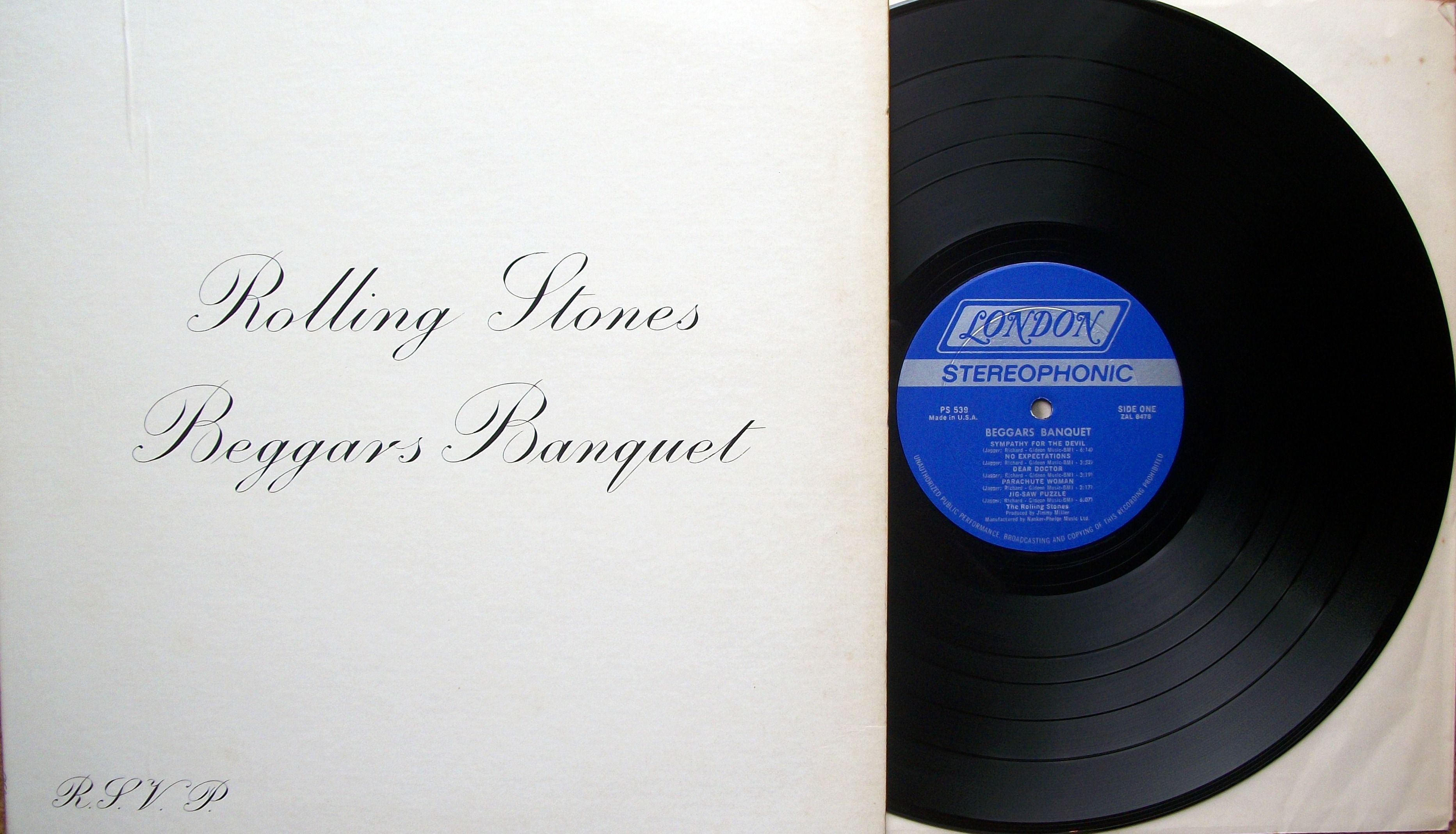 "Time flies like an arrow, Fruit flies like a banana" (Groucho Marx)  Yesterday marked the 50th Anniversary of the release of the Rolling Stones' classic Beggar's Banquet album!  In 1968, the Rolling Stones were trying to salvage their careers as rock & rollers after the awkward release of their Sgt. Peppers influenced album, Their Santanic Majesties Request.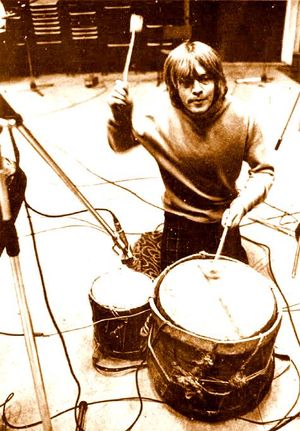 Many of the sessions for Beggar's Banquet were marred by Brian Jones' erratic behavior in the studio.  Jimmy Miller, their new producer who would help them return to their earlier sound as an R&B blues band, described the problems Jones was having during these sessions: "When he would show up at a session—let's say he had just bought a sitar that day, he'd feel like playing it, so he'd look in his calendar to see if the Stones were in. Now he may have missed the previous four sessions. We'd be doing let's say, a blues thing. He'd walk in with a sitar, which was totally irrelevant to what we were doing, and want to play it. I used to try to accommodate him. I would isolate him, put him in a booth and not record him onto any track that we really needed. And the others, particularly Mick and Keith, would often say to me, 'Just tell him to piss off and get the hell out of here'"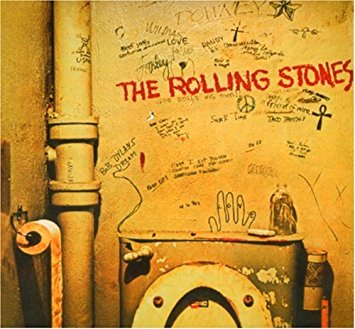 Along with engaging Jimmy Miller,the Stones also wanted to return to their earlier controversial persona they had much success with when they were managed by Andrew Loog Oldham.  Part of their plan to revive their bad boys of rock & roll image involved the original idea for the cover of the album which portrayed a run-down garage restroom.  The band's ultra-conservative record label, London Records, immediately rejected the bathroom cover.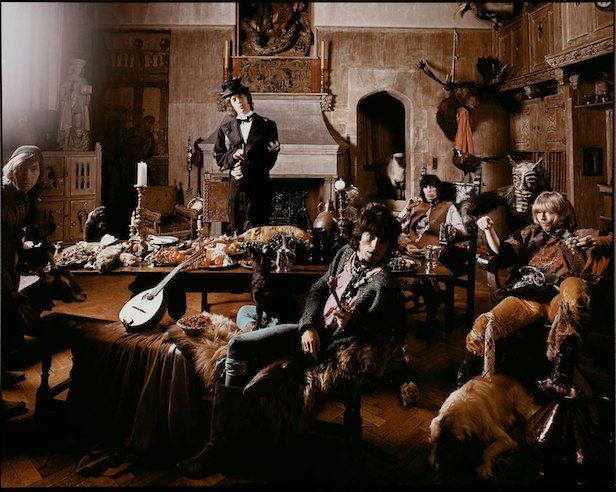 It was decided that the band would do a photo shoot for an alternate album cover which depicted them in medieval costumes that portrayed them as court jesters and beggars in a castle setting.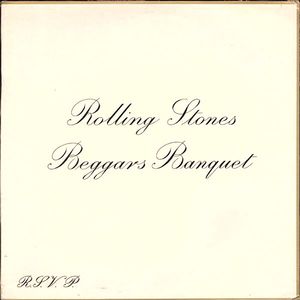 In the end, the Stones settled for the sedate simplistic cover pictured above. To me, it seemed that The Stones were once again copying The Beatles, who had released their White Album, which featured minimalist album cover art, a month before the release of Beggar's Banquet.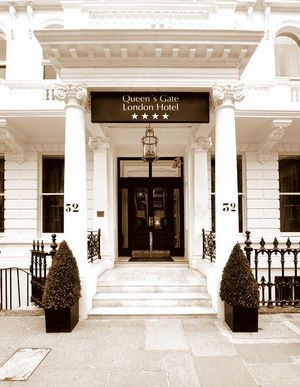 Trying to find a unique way to promote Beggar's Banquet, The Stones threw a record release launch party at the elite The Gore Hotel at 190 Queen's Gate on Dec. 5th, 1968. Today marks the 50th anniversary of their Beggar's Banquet Album Launch party.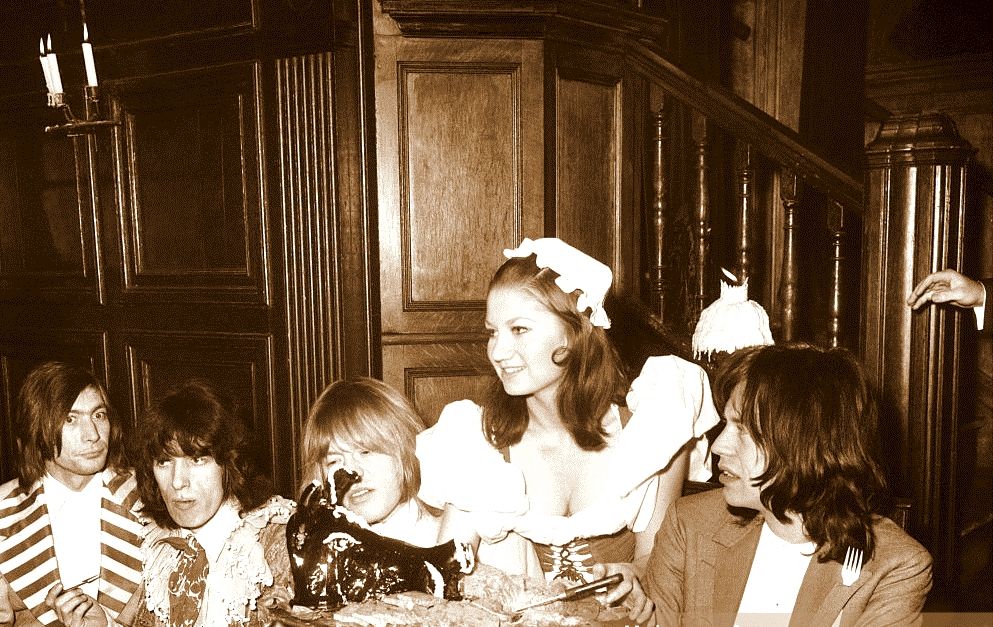 For the party, The Stones were attired in costumes that recalled British aristocracy and the waitresses served food and drink dressed as medieval wenches.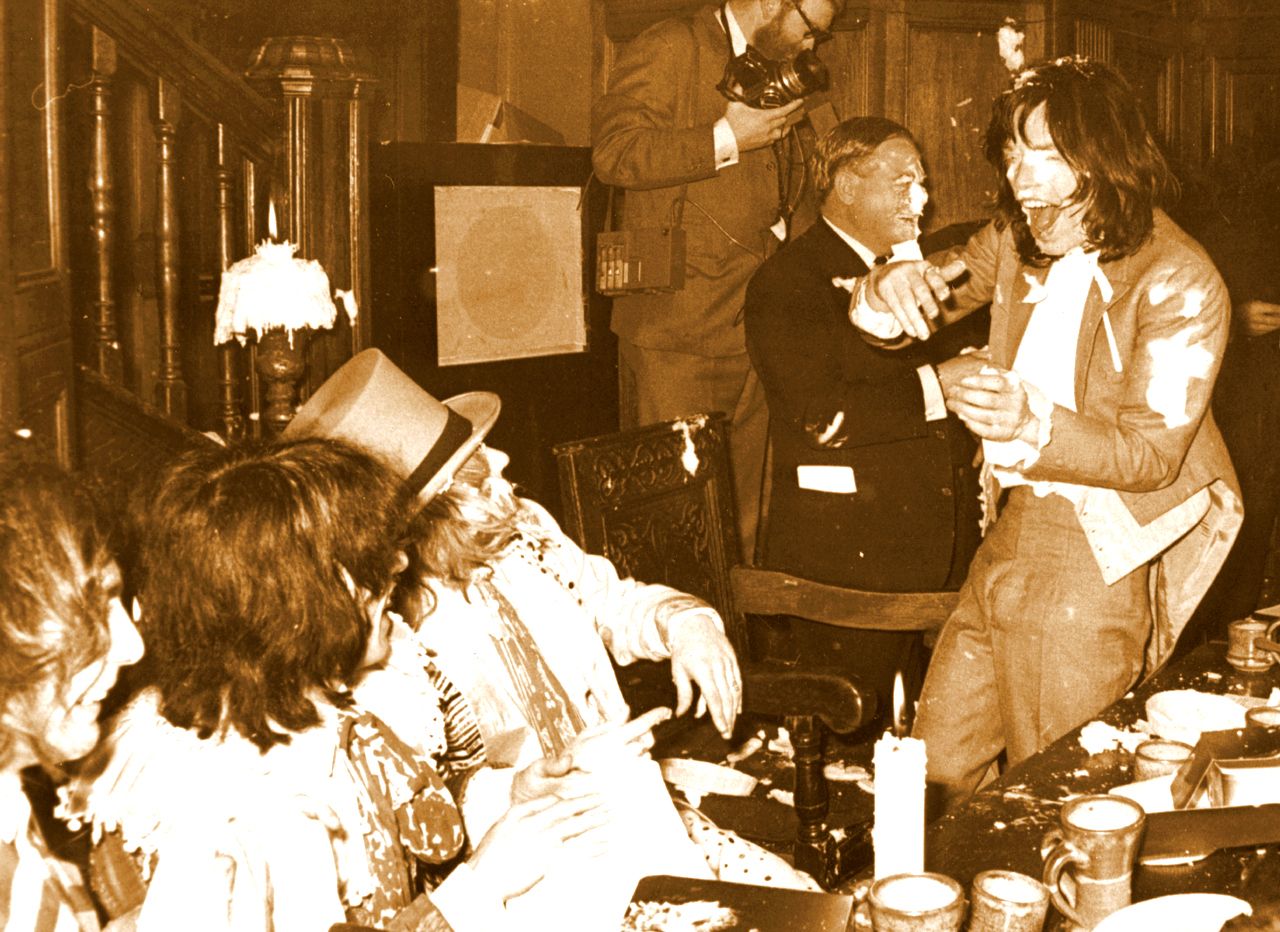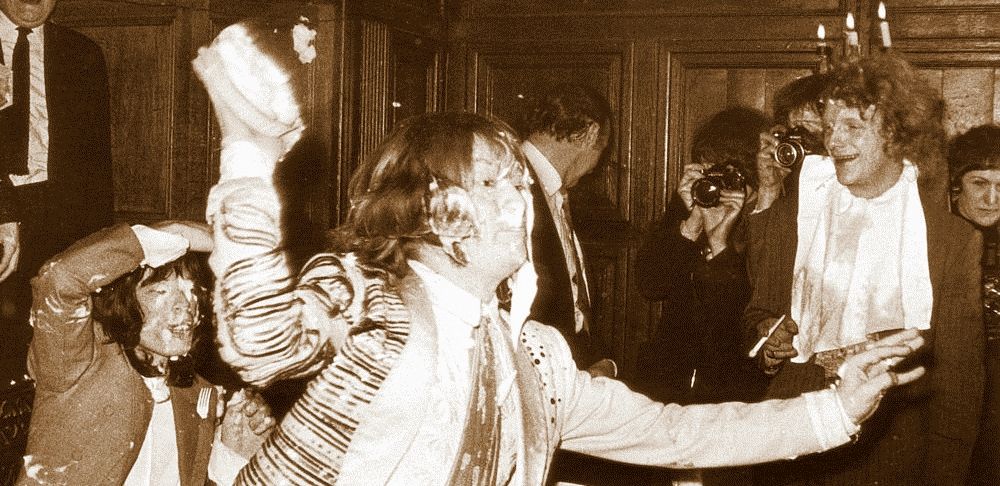 As the sound of their new album filled the banquet room, the festivities soon degenerated into a near-riot. During the dessert course, a custard pie fight broke out, with most of the pastries aimed at record label execs who vetoed the Stones' toilet cover art. Brian Jones, about to be fired by the band, delivers a few well-placed pies directly into Mick Jagger's face. Strange as it may seem, Keith Richards (the official Rolling Stones bad boy) did not attend this gala event!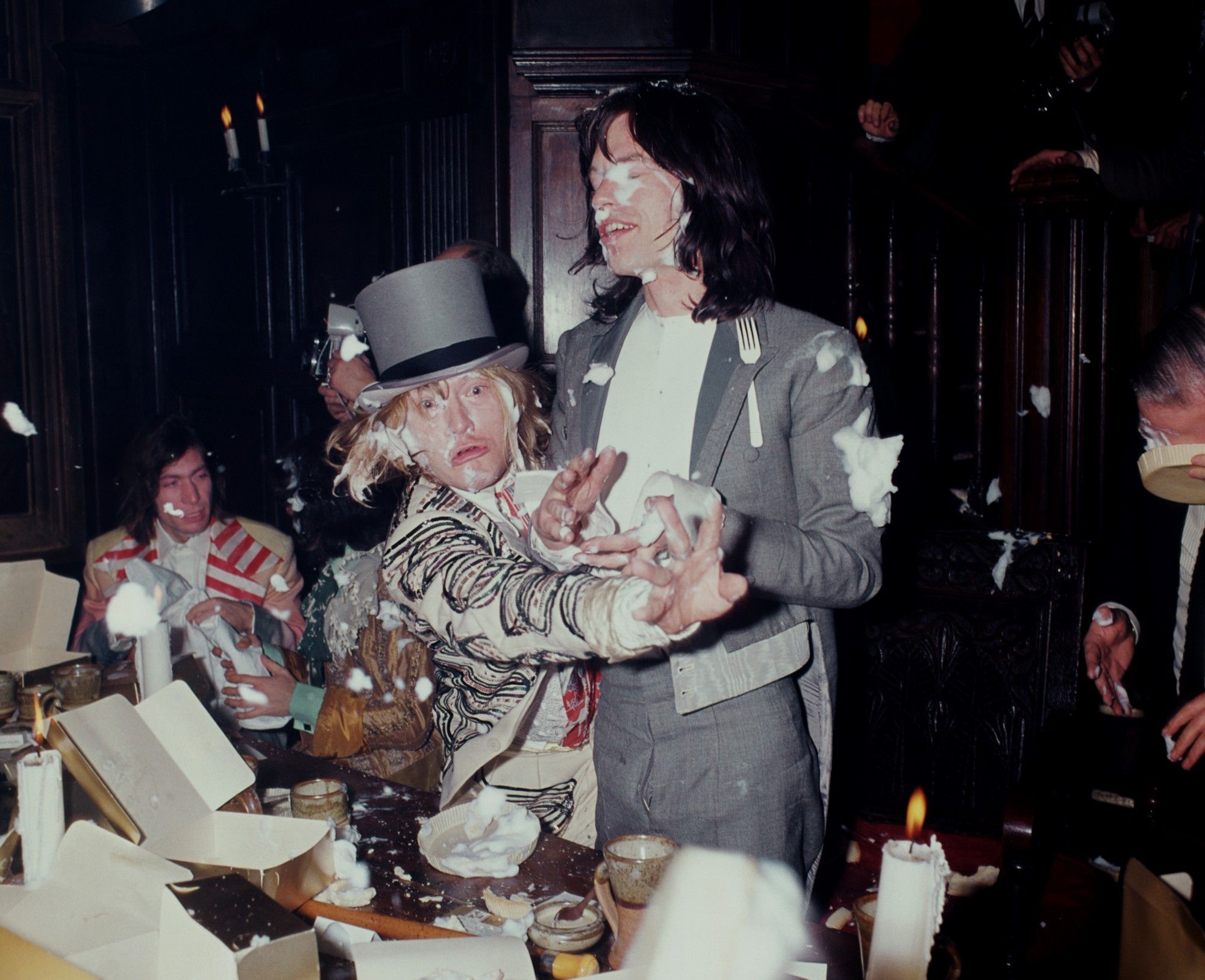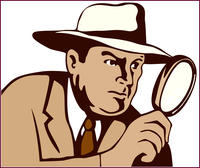 FURTHER INVESTIGATION
The Most Important Album of 1968 Wasn't The Beatles White Album,
It Was Beggar's Banquet (Slate Magazine)
---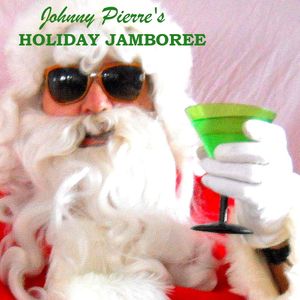 ---