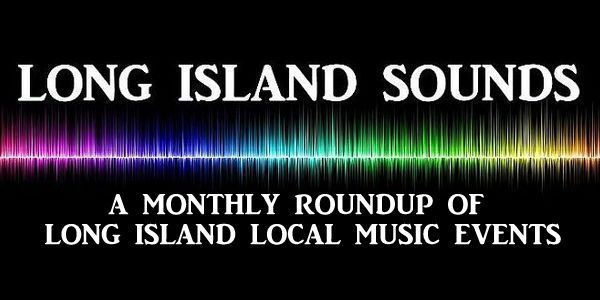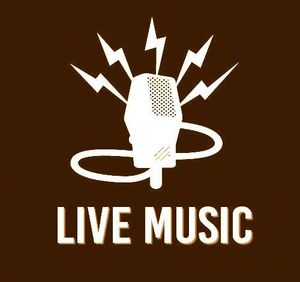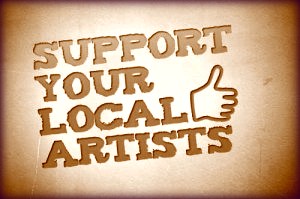 JUNE 2019
---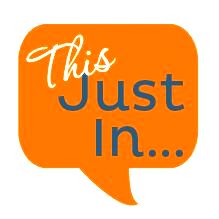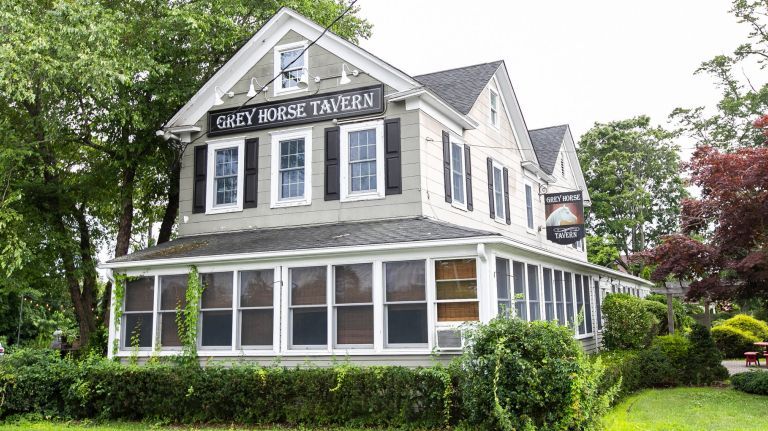 For those who haven't heard the sad news:  The Grey Horse Tavern, one of LI's most eclectic music venues which is located in Bayport, will be closing this  June.  "The Grey Horse Tavern will serve its last meal in early June. The Facebook announcement said that the business and the building are for sale, 'with hopes that a future buyer will want to continue the tradition and lift up the legacy of this building as a long-standing institution in Bayport.'"
---
1st -  Quarter Horse  Grey Horse Tavern  Bayport, NY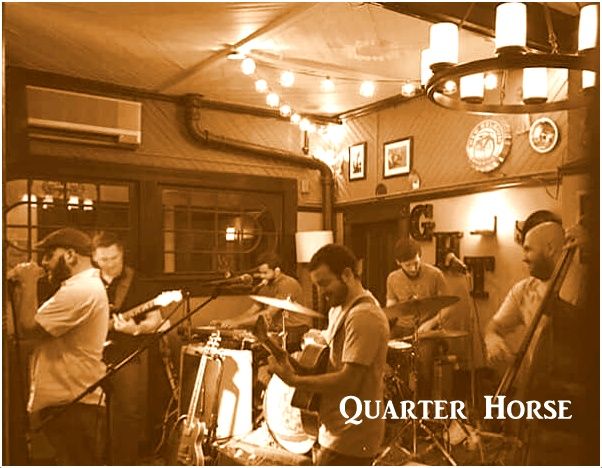 Join this sparkling Americana combo for their last show at their favorite venue before they close their doors.  Showtime: 8 pm - 11:59 pm.
---
1st - Peter Kanelous & Friends  The 3rd Rail Bar & Grille  Bellmore, NY
Peter Kanelous and his group of tasty players (Bill Palumbo, Jeff Goldstein and Rob Simone) return to Bellmore to perform an evening of acoustic folk music which will put a smile on your face. Showtime: 8 pm - 11 pm.
---
1st - Tricycle  The First United Methodist Church  Port Jefferson, NY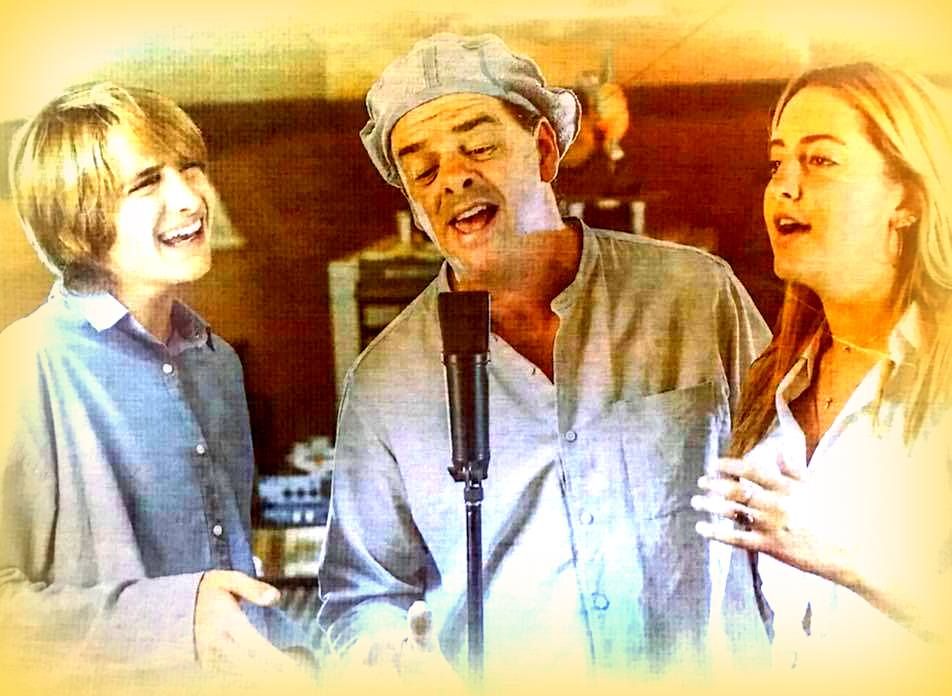 Andrew Fortier, one the Island's most accomplished songwriters, has a new family related project called TRICYCLE.  From the Tricycle Facebook Page: "Port Jefferson's own Andrew, Andie and Cole Fortier have come together as songwriters, composers and singers in a joyous expression of life, love and family ties. Daughter Andie Juliette and son Cole have created an impressive body of work in their young lives. For their dad, songwriter Andrew Fortier, the glass is always half full, and every day a blank canvas awaits."
---
1st - Gary U.S. Bonds  My Father's Place @ Roslyn Hotel  Roslyn, NY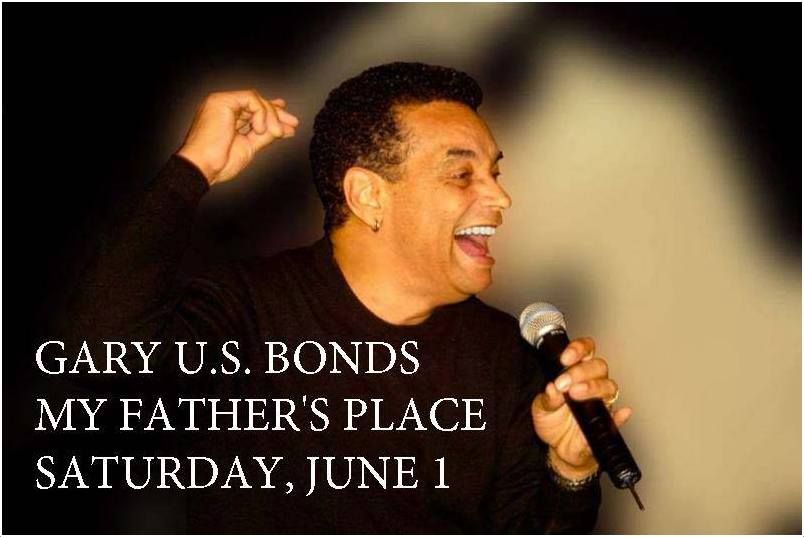 "they say it's your birthday!  Happy birthday to you!"  You know, you love him, he's one of the all-time great rock & rollers....Gary U.S. Bonds!  It just so happens that this gig @ My Father's Place takes place on Gary's 80th birthday!  Come on down and swing the good thing with Gary U.S. Bonds!  Showtime: 8 pm - 11 pm.
---
1st - Oogee Wawa's Annual Booze Cruise  Captree State Park  NY, NY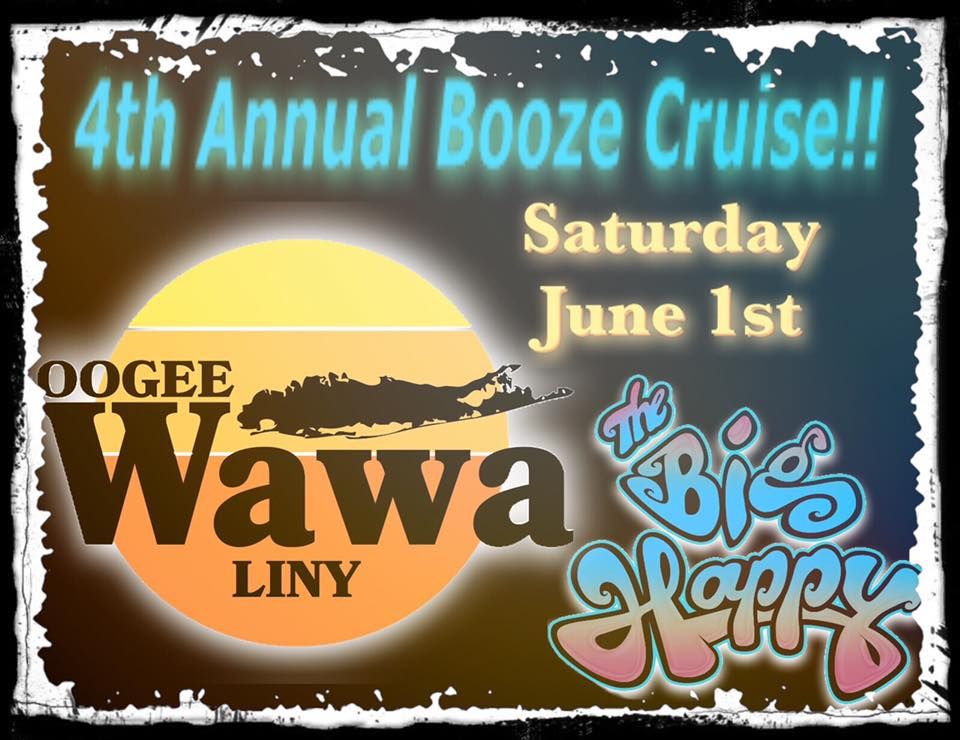 All aboard for Oogee Wawa's 4th Annual Booze Cruise that takes place on The Moon Chaser, which operates out of Captree State Park.  Oogee Wawa is a band with many different influences, fusing reggae, pop, punk rock & hip hop. Long Island New York's finest manage to bring a high energy stage show with catchy hooks and breath taking harmonies.  Also performing is The Big Happy.  The Moon Chaser leaves the dock @ 7 pm.  Purchase your tickets HERE  
---
1st - Alea 4  Viper Studios  Holbrook, NY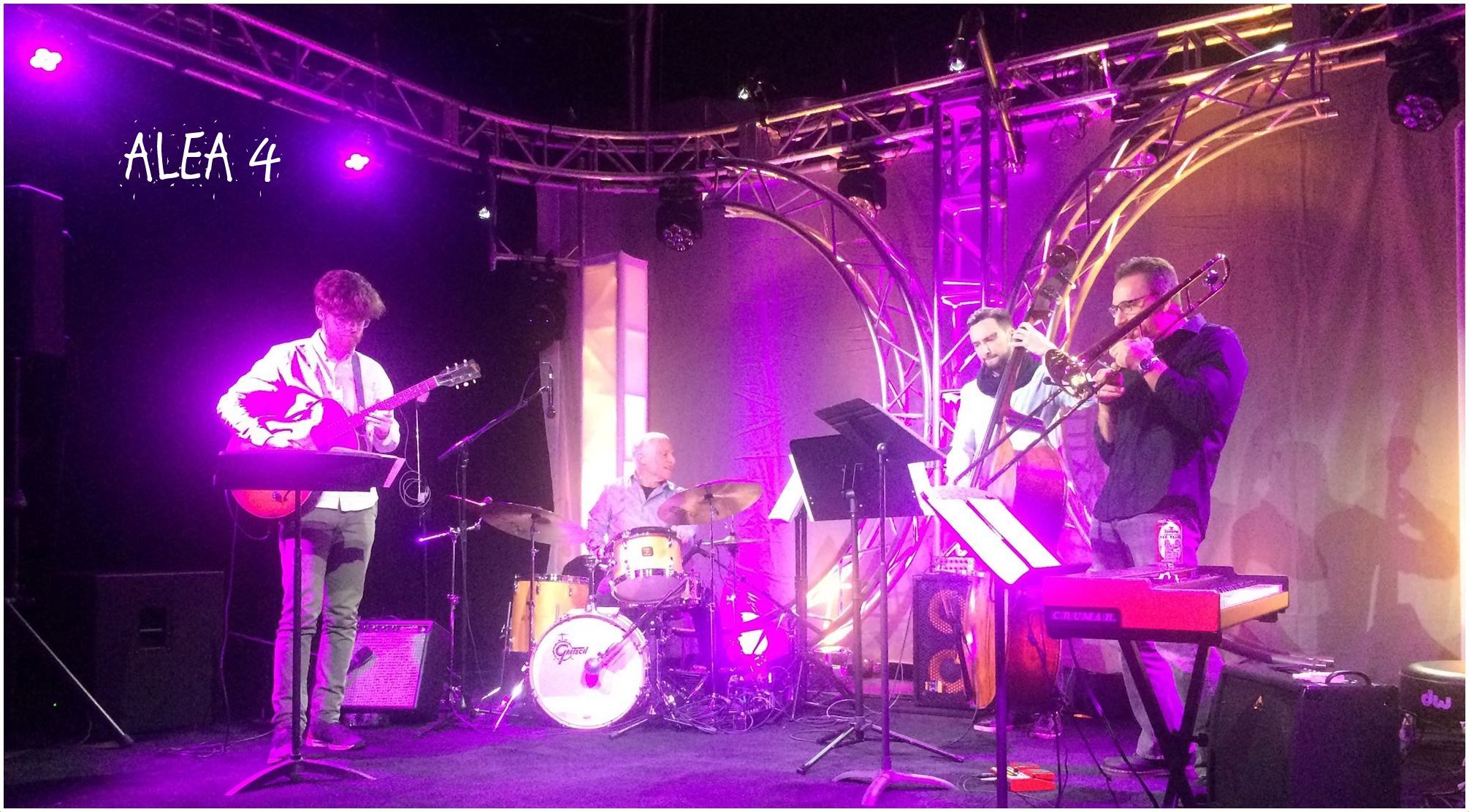 Alea 4 will perform two sets of dynamic blues, funk, and jazz inspired original music! $10 at the door.  Showtime: 3 pm - 5 pm.
---
2nd - Rocket J & The 88's  Otto's Sea Grill  Freeport, NY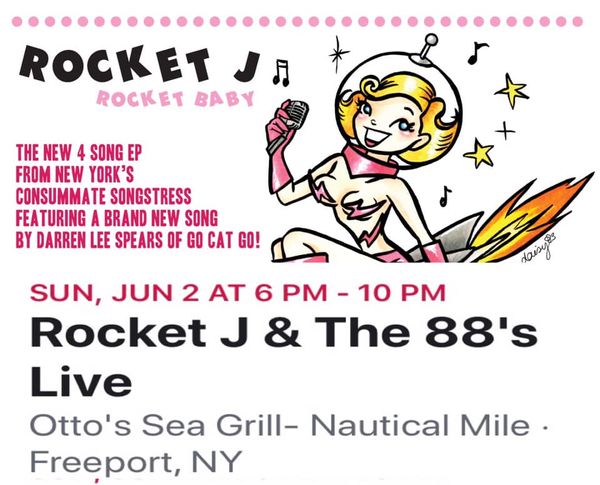 Rocket J is  a real gone, good-looking gal who can belt out a rockin' tune that'll definitely send you!  You can expect an evening of rockabilly madness that's  played  against the serene backdrop of the Nautical Mile in Freeport.  Showtime: 6 pm - 10 pm
---
2nd - The Hippie Dippy Flower Power All-Star Band  K of C Hall  Floral Park, NY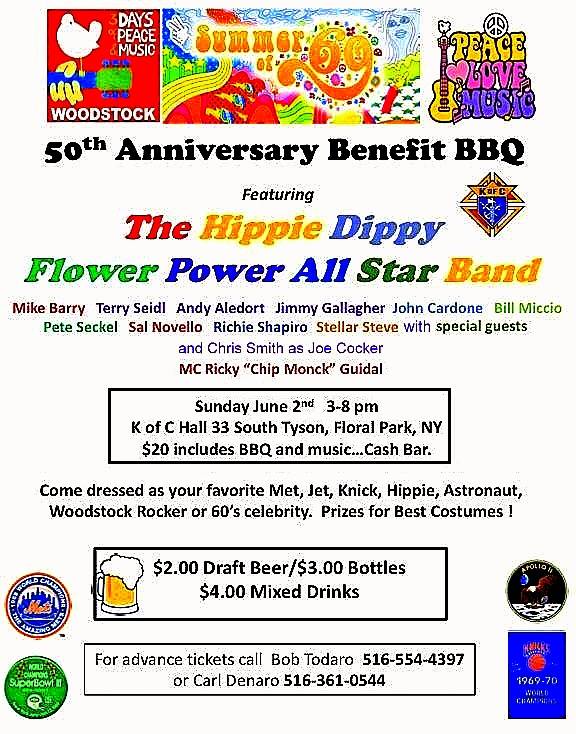 ---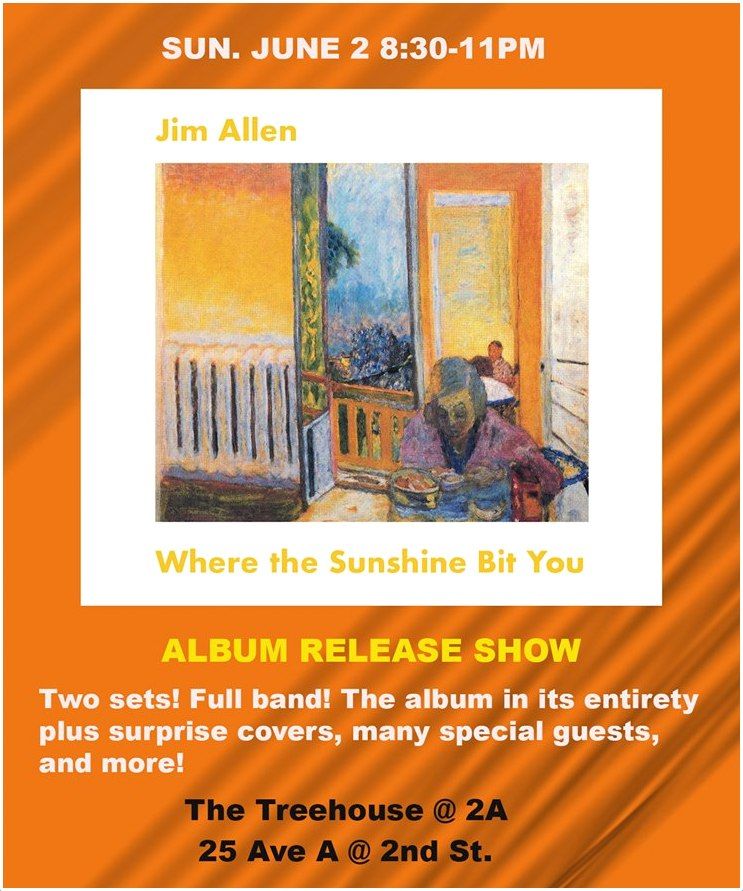 This month kicks off with a special album release show featuring singer-songwritere Jim Allen backed by a full band.  Expect two sets, the album in its entirety, along with some surprise covers.  A stellar slate of friends who will be joining in the proceedings will include Tom Clark, Emily Duff,Mike Fornatale, Pete Galub, Wes Houston, Libby Johnson, and more!  Showtime: 8:30 pm - 11 pm.
---
2nd - Dead Ringers  Beau's Bar  Greenlawn, NY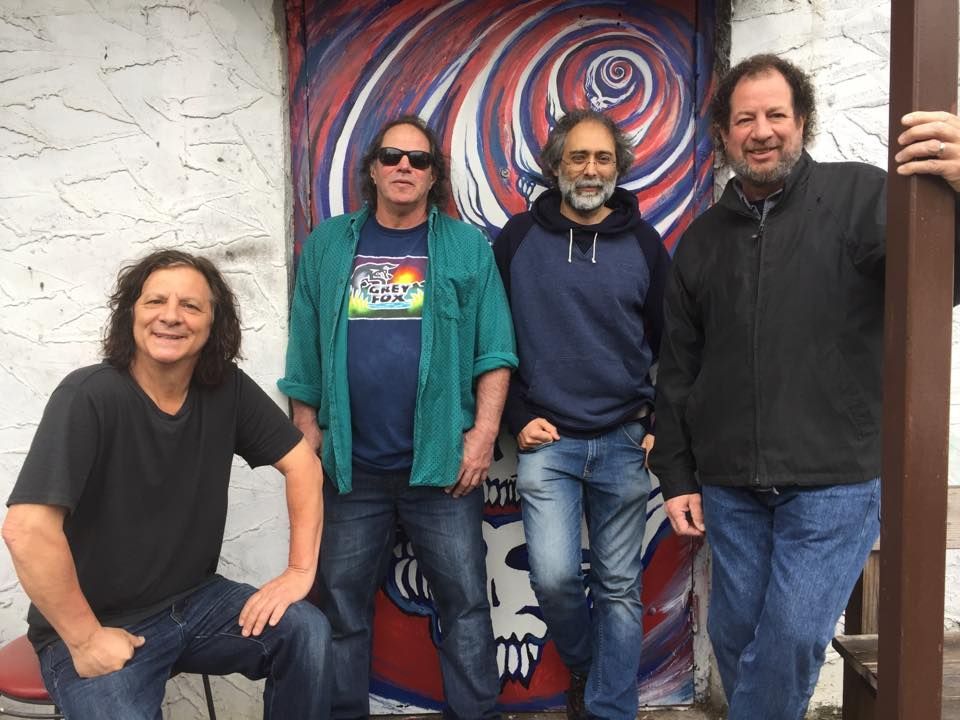 This inspired jamband combo is always moving in new directions with inspired jamming to straight ahead rock and blues!  Showtime: 4:30 pm - 8:30 pm
---
5th - Weird Wednesdays with Blue Velvo  Mr. Beery's  Bethpage, NY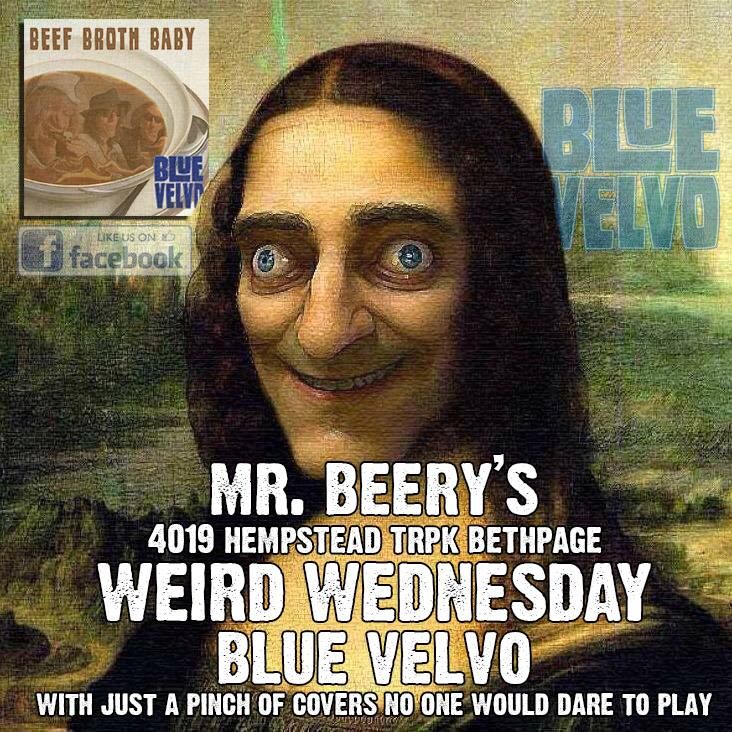 Don't miss out on the chance to catch one of LI's most unique blues rock combos as they continue their Weekly Wednesday residency at Mr. Beery's!
---
5th - The Interplay Jazz Orchestra  The Argyle Theater  Babylon Village, NY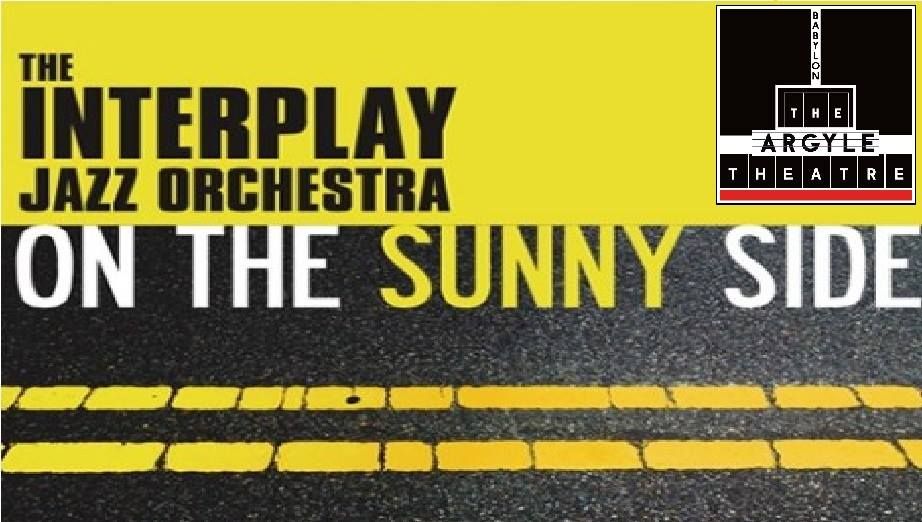 "The Interplay Jazz Orchestra] serves as a fine example of the fact that impressive big band music is being created in all sorts of places. Interested parties just have to know where to look." -All About Jazz (Dan Bilawsky)   ​Co-directed by trumpeter Gary Henderson and trombonist Joey Devassy, Long Island, New York's Interplay Jazz Orchestra performs original compositions and arrangements.  Showtime: 7:30 pm - 10 pm
---
6th - Soapbox Messiah  The Rail  Smithtown, NY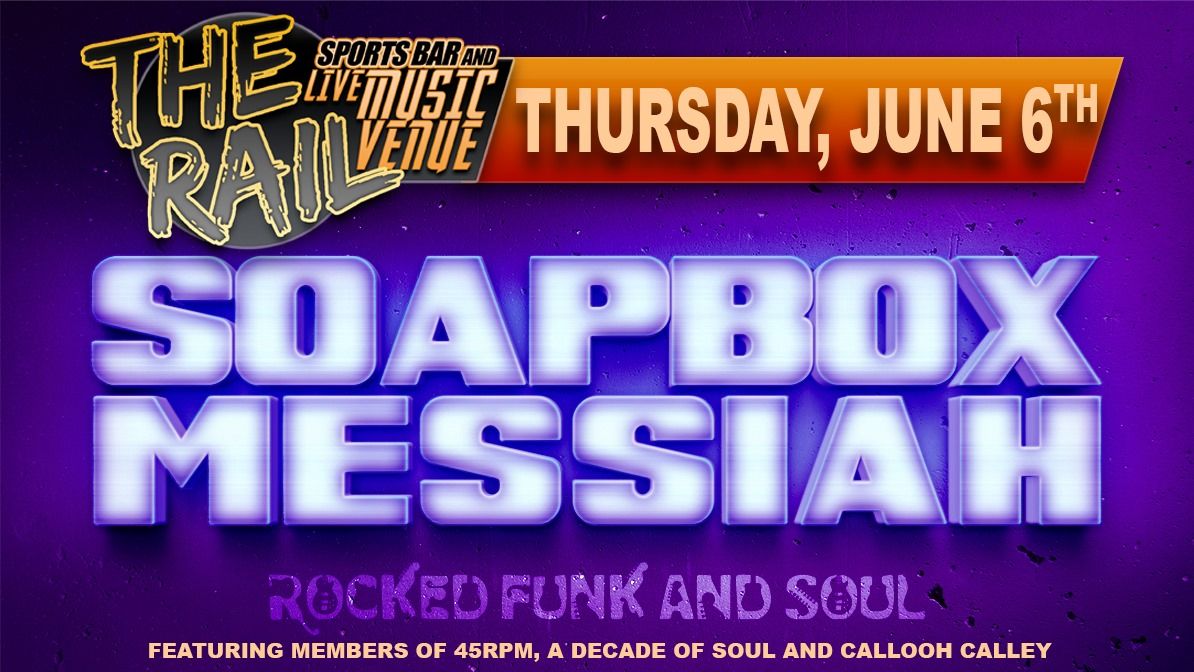 This combo featuring members of 45 RPM, A Decade of Soul and Callooh Calley, bring their mix of rock, funk and soul to The Rail in Smithtown.  Showtime: 8:30 pm - 11:30 pm.
---
6th - The Sly Jam is Back! Treme  Islip, NY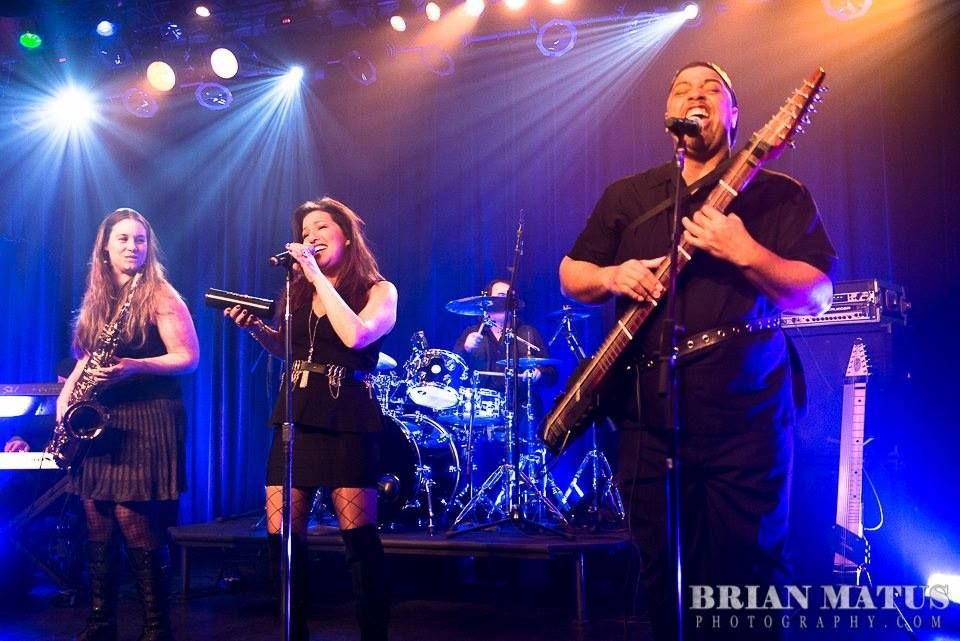 The popular Sly Jam is Back at Treme starting the first Thursday in June folks!  The head jam master, Sly Geralds, is a premier NYC bassist, singer and songwriter who has traveled the world and back with some of the most influential musical artists of our time.  has spent the last several years recording and sharing the stage with musical giants such as: Maceo Parker, Al Green, Levon Helm, Richie Havens and Bob Dylan to name a few.  The Sly Jam always features some of Long Island's greatest musicians and singers. Ifj you're looking for a Funky Good Time, Go here!  Showtime: 7 pm - 10 pm
---
7th - Foster Europe Band  Greenport Harbor Brewing Co  Peconic, NY

Swing on down to this cool brewery and catch the Foster Europe Band and their inventive mix of original blues, slide, rock, jazz and classical  Showtime: 8 pm
---
7th - Johnny Mac & Dave Ice  Big Daddy's Restaurant  Massapequa, NY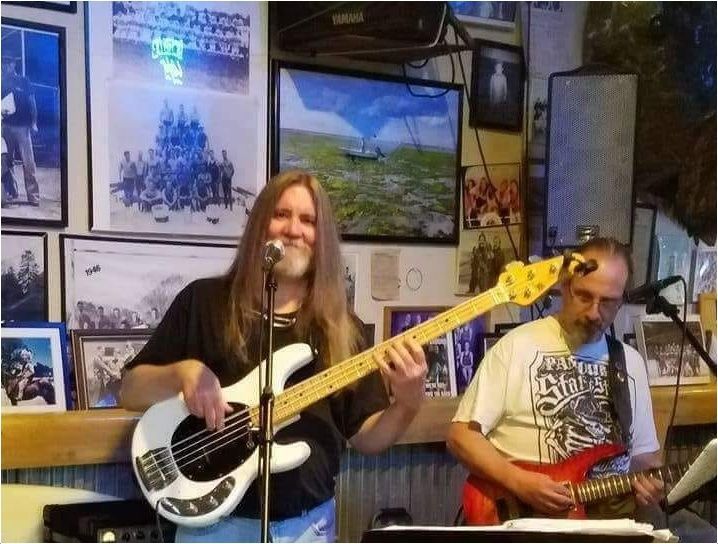 Johnny and Dave perform the best acoustic Dead and all around Americana sounds.  Happy Hour a la a New Orleans Hurricane here is a great way to start the weekend!!  Showtime: 7 pm
---
8th - Drewcifer  Blue Point Brewing  Patchogue, NY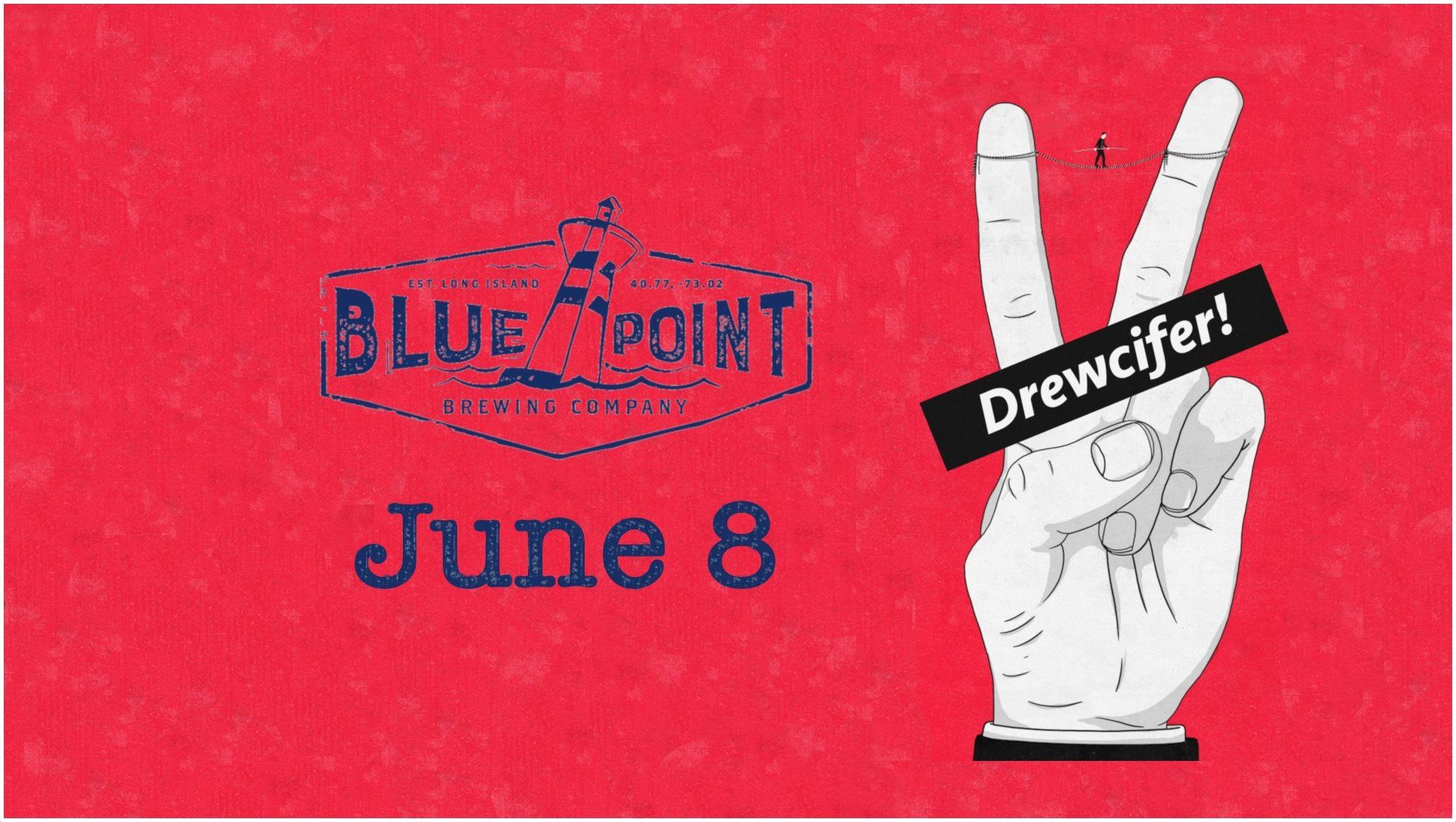 Drewcifer is Andy Falco (Infamous Stringdusters), Andrew Altman (Railroad Earth), David Butler (Guster) and Kevin Kendrick. Together they explore original material, choice covers, and rework classics from their respective outfits in ways that could only be possible with their unique instrumentation of Vibrahone, Guitar, Bass, and Drums.  Showtime: 3:30 pm - 6 pm
---
8th - Mike Barry & Jim Treutlein aka Barr-Lein  Swing The Teapot  Floral Park, NY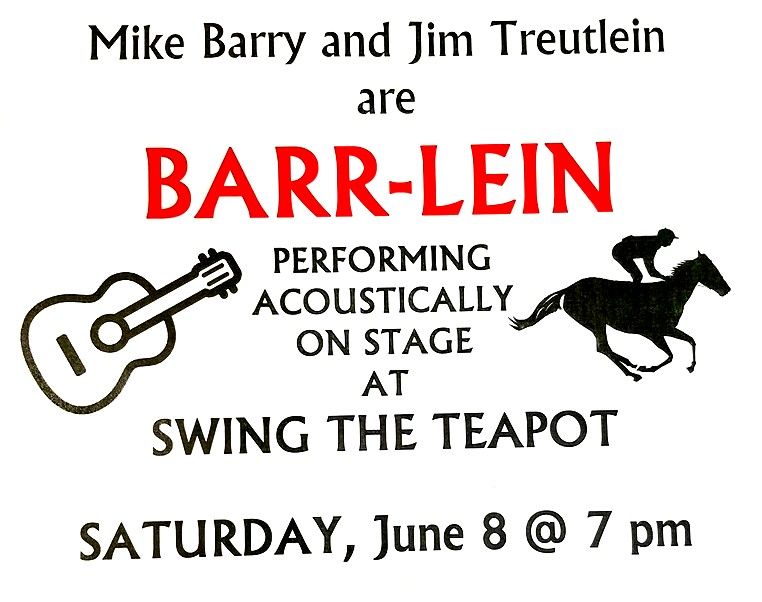 If you're heading out to catch The Belmont Stakes, this is the place to go after you win at the races!  Showtime: 7 pm
---
8th - The Almost Brothers Band  The Warehouse  Amityville, NY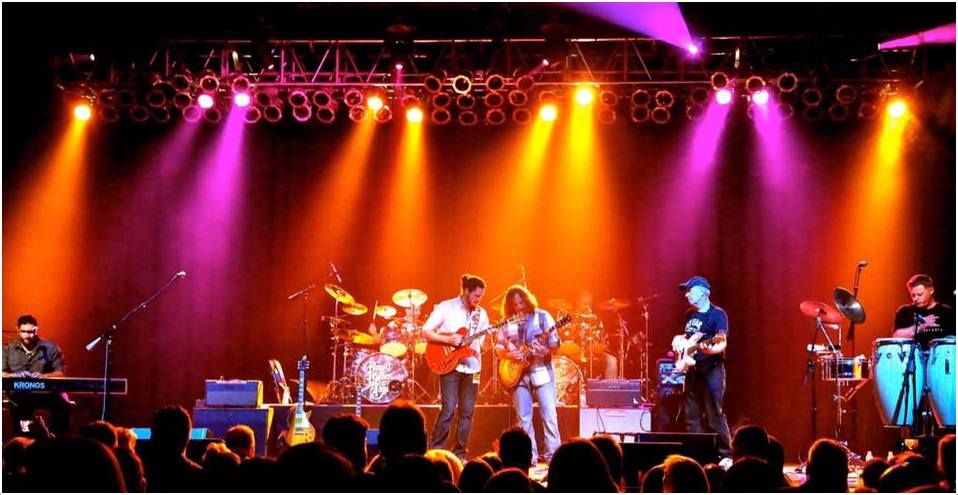 The Allmost Brothers Band returns to The Warehouse L.I. on Saturday June 8th for an evening of tasty jams! , Showtime 7pm!
---
8th - Choro Das 3  Michael Braceland Art Gallery  East Patchogue, NY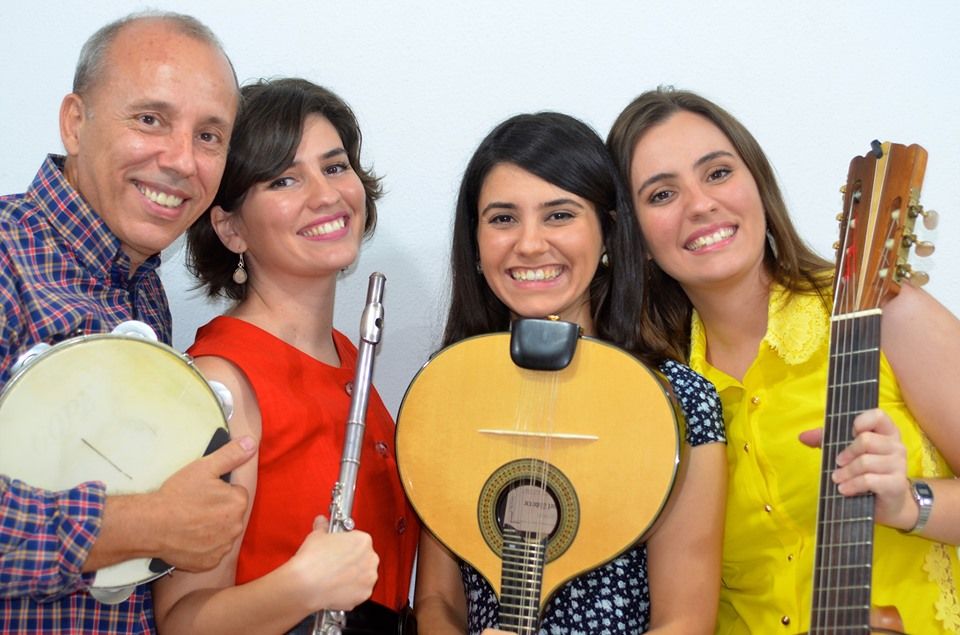 Choro Das 3 is a Brazilian instrumental music band formed by three sisters and their father.  Corina plays flute and piccolo, Lia plays acoustic 7 string guitar, Elisa plays mandolin, clarinet, banjo and piano and Eduardo plays pandeiro (the Brazilian tambourine).  Mike Marshall says Choro Das 3 plays "some of the most inspired and inspiring music with the highest level of musicianship and presentation.  It's the highest quality of Brazilian Choro music that can be heard any place today."  (Sponsored by The Bluegrass Club of Long Island.)  Tickets are available HERE  
---
8th - The Falco Brothers  Grey Horse Tavern  Bayport, NY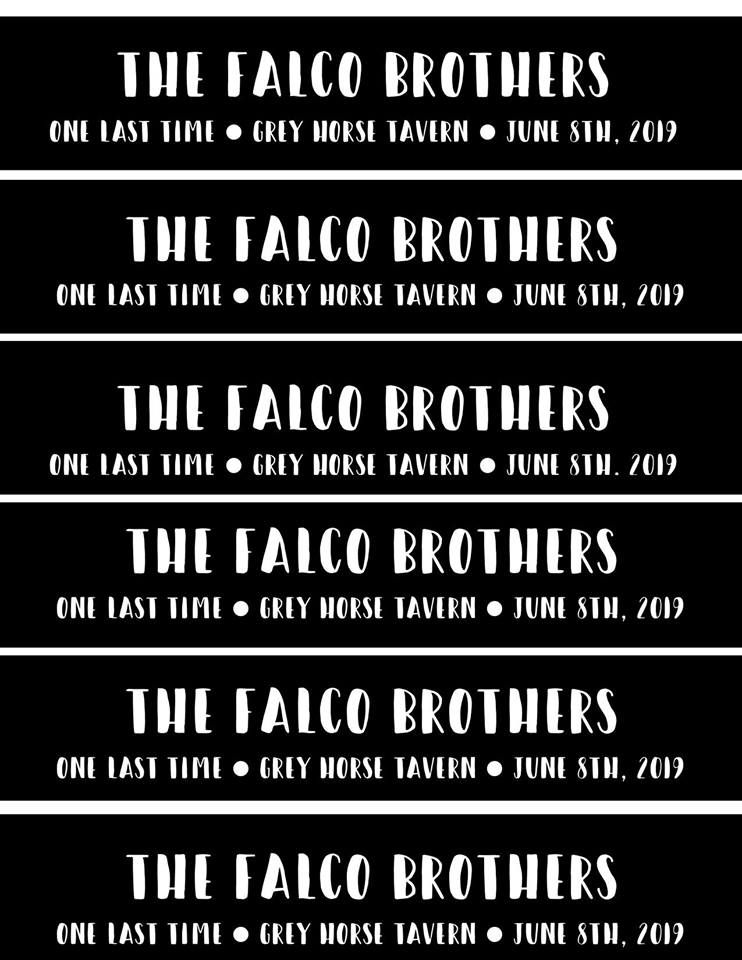 Sorry folks but this show is SOLD OUT!  If you are lucky enough to have tickets to this farewell show be sure to a raise a glass and make a farewell toast to this venerable Long Island music venue.  From The Grey Horse Tavern: "Over 11 years ago they jammed a Christmas party way before we where open. The tavern was under construction and a big mess but they set the tone for next decade + on that night. If you where there, you remember. It only seems fit to have them send us off."
---
8th - Dust Bowl Faeries  Southampton Arts Center  Southampton, NY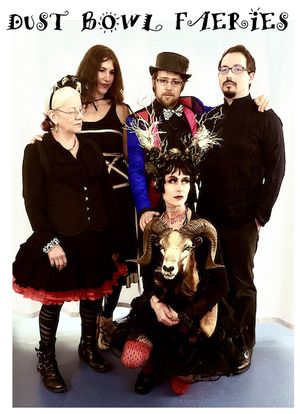 Dust Bowl Faeries is a dark-carnival band based in Hudson, NY. Accordion, singing saw, ukulele, lap-steel/guitar and percussion combine to create a fairytale fusion of circus, post-punk, Gypsy and psyche-folk music. The band was founded by artist/performer Ryder Cooley and Hazel, a disembodied taxidermy ram who performs with the Faeries as their mascot-spirit animal. Musicians Rubi LaRue, Jon B. Woodin, Elizabeth LoGiudice, and Andrew Stein bring their own extraordinary styles to the group, making the Dust Bowl Faeries a truly unique musical experience.  Showtime: 7 pm  Get your tickets HERE
---
8th - Blue Oyster Cult  The Space @ Westbury  Westbury, NY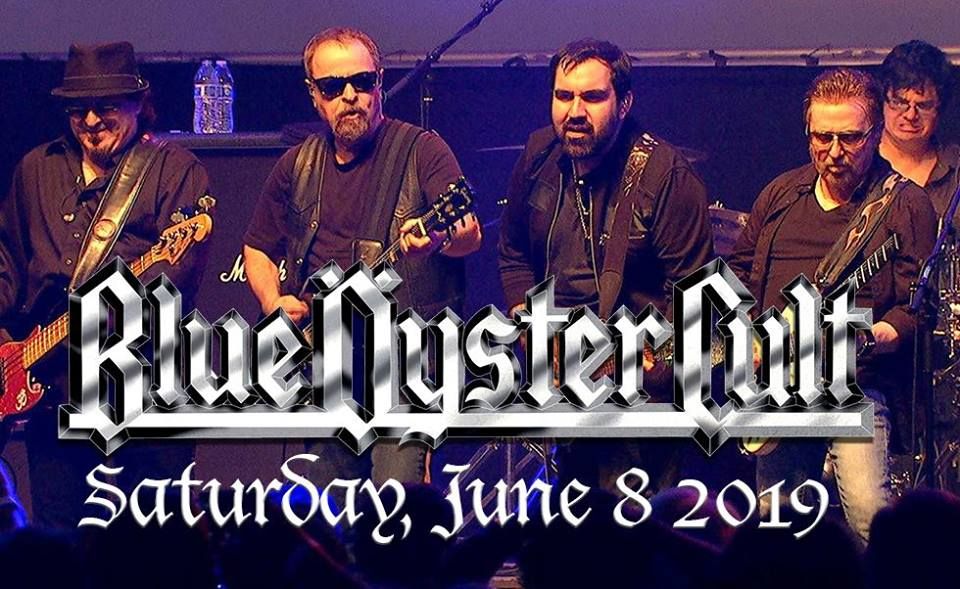 This legendary LI combo has a career in rock & roll that spans 3 decades.  Catch them at this intimate venue!  Opening the show is Joe Rock & The All-Stars, a popular local favorite!  Ride the wild wind folks!  Showtime: 8 pm - 11 pm.
---
8th - Stone Blue Rising  Murphy's Bar & Grill  Mineola, NY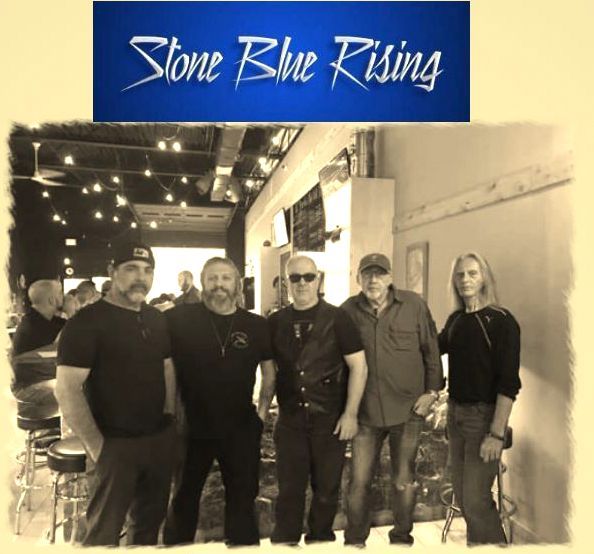 Stone Blue Rising brings their high energy mix of hard driving rock and earthy blues to Murphy's in Mineola! Come join the uprising!  Showtime: 8 pm - 11:30 pm.
---
8th & 9th - Woodstock Revival  Old Bethpage Village Restoration  Old Bethpage, NY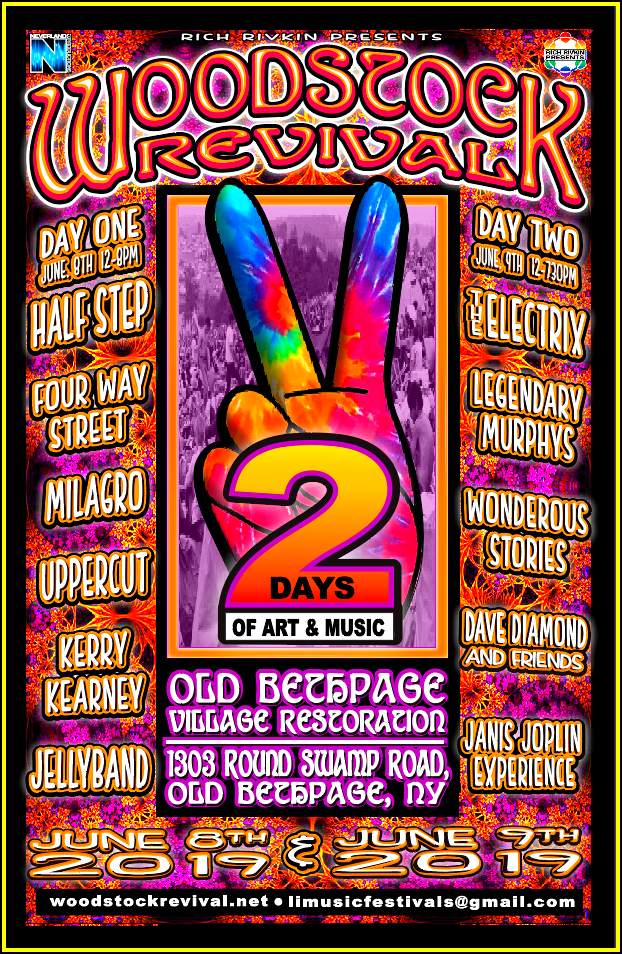 Shazam!  Here's an annual LI event that recreates the Music of Woodstock, plus Live Painting & Exhibiting, Vending, Kids' Activities, Yoga, Massage, Hula Hooping, Food and more!  Hula Hooping?  Hmmmm.... Get your tickets HERE
--> Saturday, June 8, 2019 
12:00 JELLYBAND (Mixed Woodstock Tribute) 
1:30 KERRY KEARNEY BAND (Jimi Hendrix Tribute) 
3:00 UPPERCUT (Blood Sweat & Tears Tribute) 
4:30 MILAGRO (Santana Tribute) 
6:00 FOUR WAY STREET (CSNY Tribute) 
7:30 HALF STEP (Grateful Dead Tribute) 
--> Sunday, June 9, 2019 
12:00 JANIS JOPLIN EXPERIENCE (Janis Joplin Tribute) 
1:30 DAVE DIAMOND & FRIENDS (Sly & The Family Stone Tribute) 
3:00 WONDEROUS STORIES (The Who Tribute) 
4:30 LEGENDARY MURPHYS (Mixed Woodstock Tribute) 
6:00 THE ELECTRIX (Grateful Dead Tribute)
---
9th - Robert Bruey  Raphael Vinyard  Peconic, NY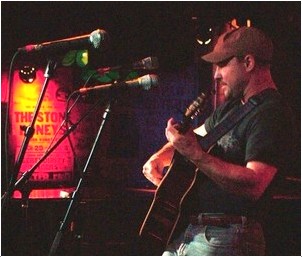 Spend a lazy Sunday afternoon enjoying this singer-songwriter in the bucolic setting of this local vineyard.  "Robert Bruey is an undiscovered gem whose light has been hidden on Eastern Long Island. Now, with his expressive voice in service to well-crafted songs."   (John Platt / WFUV Radio)    Showtime: 1 pm - 4 pm.
---
9th - Free Grass Union  Fadeley's Deli Pub  Patchogue, NY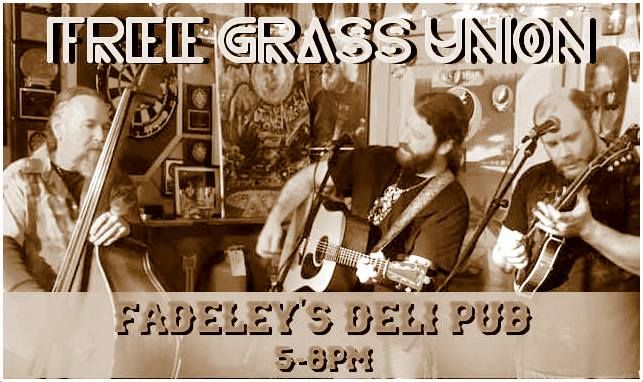 New York's Premier 21st Century String Band delivers two sets of psychedelic bluegrass music!  Showtime: 5 pm - 8 pm.
---
13th thru the 16th - 11th Annual Barrier Blues Festival  Long Beach, NY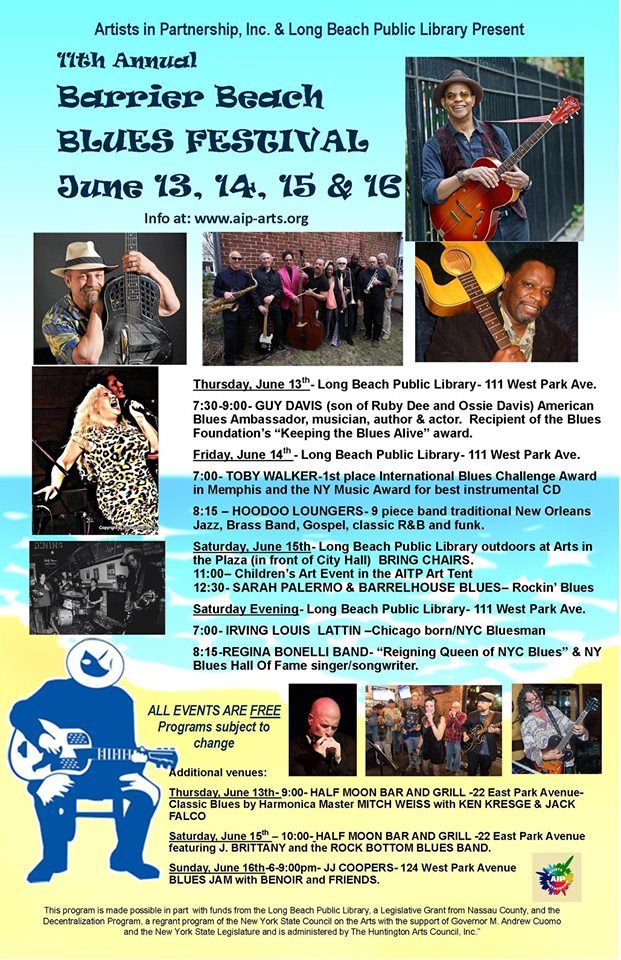 This FREE 4 day event will feature some of the finest representatives from the local and National Blues Scene who will be performing at the Long Beach Public Library and other venues in the City of Long Beach. TOBY WALKER, 1st place recipient of the International Blues Challenge Award in Memphis and the NY Music Award for best instrumental CD, appears on Friday evening followed by the 9 piece Hoodoo Loungers Band who will be presenting the rhythms, sounds, history and spirit of New Orleans.
Here is the breakdown of locations, show times and entertainers:
Thursday, June 13th- Long Beach Public Library- 111 West Park Ave. 
7:30-9:00- GUY DAVIS, American Blues Ambassador, musician, author, actor, and son of Ruby Dee and Ossie Davis. Recipient of the Blues Foundation's "Keeping the Blues Alive" award. 
Friday, June 14th - Long Beach Public Library- 111 West Park Ave. 
7:00- TOBY WALKER-1st place recipient of the International Blues Challenge Award in Memphis and the NY Music Award for best instrumental CD 
8:15 - HOODOO LOUNGERS- Winners of the 2018 BEST CD OF THE YEAR award from the L.I. BLUES SOCIETY 9 piece band traditional New Orleans Jazz, Brass Band, Gospel, classic R&B and funk. 
Saturday, June 15th- Long Beach Public Library outdoors at Arts in the Plaza (in front of City Hall) In the event of rain, programs will be held at the Long Beach Public Library. BRING CHAIRS. 
12:30- SARAH PALERMO and BARRELHOUSE BLUES- This Long Island based band will be rocking out the Plaza and jamming to the blues 
Saturday Evening- Long Beach Public Library- 111 West Park Ave. 
7:00- IRVING LOUIS LATTIN -Chicago born/NYC Bluesman and Barrier Beach Blues Veteran. 
8:15-REGINA BONELLI BAND- New York Blues Hall Of Fame singer/songwriter and "Reigning Queen of NYC Blues" 
Additional venues: 
Thursday, June 13th- 9:00- Half Moon Bar and Grill -22 East Park Avenue- Classic Blues by Harmonica Master MITCH WEISS with KEN KRESGE and JACK FALCO 
Saturday, June 15th - 10:00- Half Moon Bar and Grill -22 East Park Avenue- featuring J. BRITTANY and the ROCK BOTTOM BLUES BAND. 
Sunday, June 16th-6-9:00pm- JJ Coopers- 124 West Park Avenue-- BLUES JAM with BENOIR & FRIENDS
---
13th - Chrissie O'Dell & Blue Roots  My Father's Place @ The Roslyn Hotel  Roslyn, NY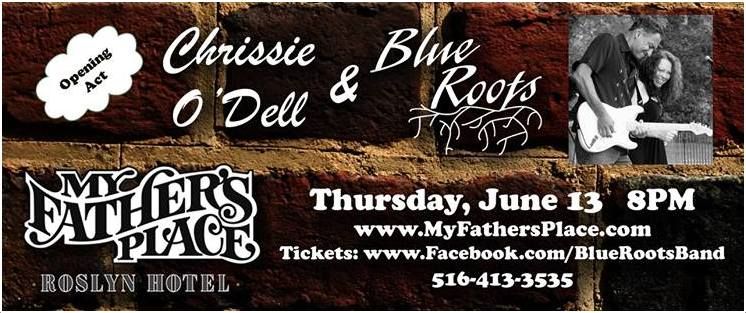 Blue Roots, one of the most genuine blues combos on the Island, opens this show for The Founders a band which features members of Roomful of Blues.  A special reason to catch this show is that Chrissie O'Dell, LI's most fiery blues chanteuse, will be performing with Blue Roots.  Expect a really special evening of music!  Showtime: 8 pm - 11 pm.
---
13th - Dan Nelson  Founders Room @ The Paramount  Huntington, NY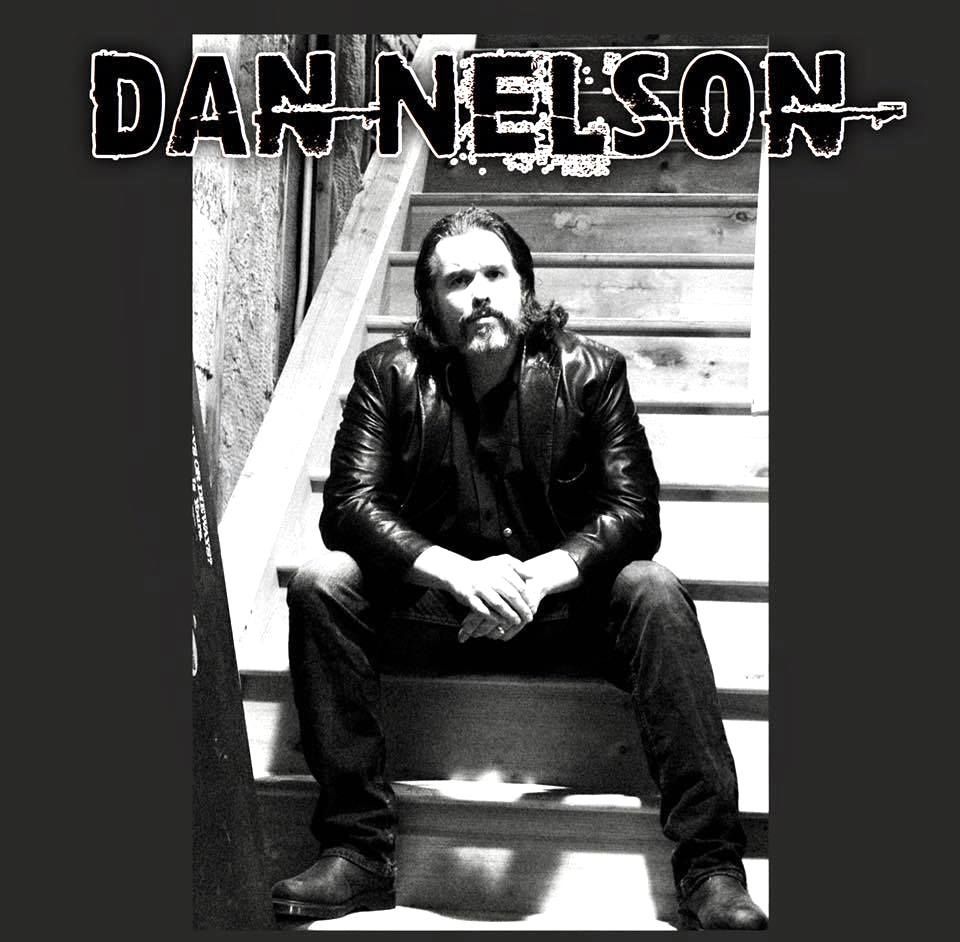 Catch Dan Nelson at this intimate venue that's part of the Paramount complex.  Nelson, whose influences include Elvis Presley, Jim Morrison, Johnny Cash, Merle Haggard, Iggy Pop, Willie Nelson, Waylon Jennings, Tom Waits, Ray Charles, Frank Sinatra, Jack Bruce, James Hetfield, Jimi Hendrix,  The Stooges and The Stones, and Jack White, has played/performed with the bands Wolfpack Black, Blackgates, Mad Tandem, Lead Pipe Cruelty, Anthrax, TRED and Inside Hollow.  Showtime: 7 pm
---
13th - Andy Aledort & The Groove Kings  Stephen Talkhouse  Amagansett, NY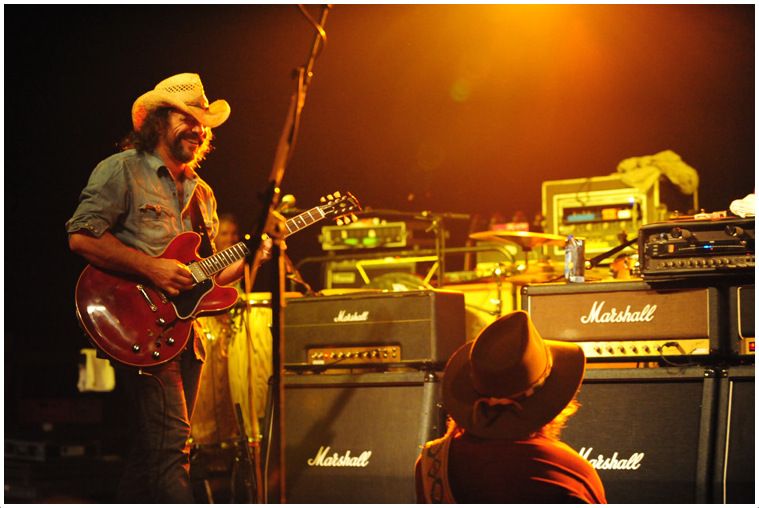 Over the last 10 years, Andy Aledort has sold over one million instructional DVDs, and continues to produce new DVD products for Guitar World and Truefire. There are many additional Aledort products on the market available from other companies such as Hal Leonard and Alfred Music PubAledort has also been featured nationally on Comcast Music On Demand every day, seven days a week. All of the many different products he's created for GW are featured, including excerpts from his Axis: Bold as Love and Electric Ladylandinstructional DVDs.Aledort has been touring for the last eight years with Dickey Betts of the Allman Brothers and plays slide guitar in the band. Additionally, he appears on the new "Dickey Betts & Great Southern: 30 Years Of Southern Rock" 2 Disc DVD and the double live CD, "The Official Bootleg".Aledort regularly participates in the Jimi Hendrix Tribute Tours of the last nine years and is featured on the live Experience Hendrix DVD available from jimihendrix.com appearing with Paul Rodgers, Buddy Guy, Hubert Sumlin, Mick Taylor, Mitch Mitchell, Billy Cox, Robert Randolph and others. He's also performed and recorded many times with Double Trouble, Stevie Ray Vaughan's rhythm section of Tommy Shannon and Chris Layton. They appear with Aledort on a cut from his upcoming studio album. Andy Aledort performs regularly in the tri-state area with his band, the Groove Kings, and are looking to expand their touring parameters. They released an acclaimed studio album, Put A Sock In It, a few years ago, and released a equally highly-regarded live album, Live at North Star, in 2009. Aledort has two albums worth of studio material that is planned for release within the next two years. Visit Andy's website Showtime: 10 pm
---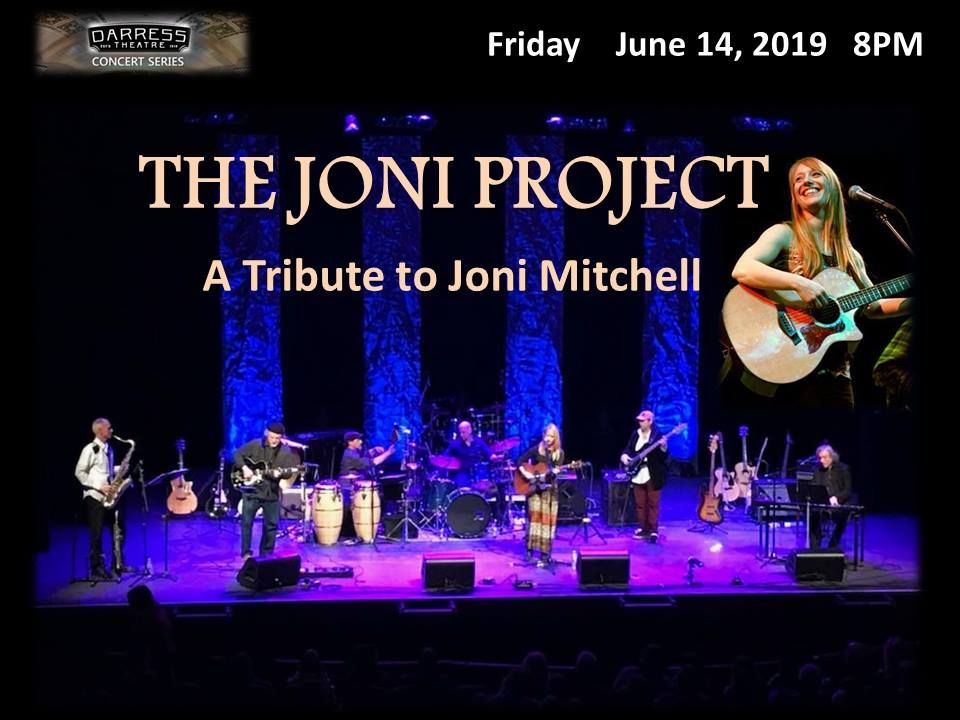 Take a ride over to New Jersey and catch this remarkable Tribute to Joni Mitchell.  The Joni Project, fronted by the remarkable LI multiple-instrumentalist and songwriter, Katie Pearlman, brings fresh interpretation to Joni's legendary work from her many eras and genres, particularly the time of her brilliant collaborations with Jaco Pastorius, Pat Metheny and Michael Brecker. Katie's group includes jazz and jamband mainstays Dave Berg on guitar, Dan Ehrlich on bass, Alan Lerner on drums, Mark Mancini on keys, and Katie Pearlman on guitar and vocals.  Showtime: 8 pm - 10 pm.  Get your tickets HERE  
---
14th - Dave Christian  The Park Lounge  Kings Park, NY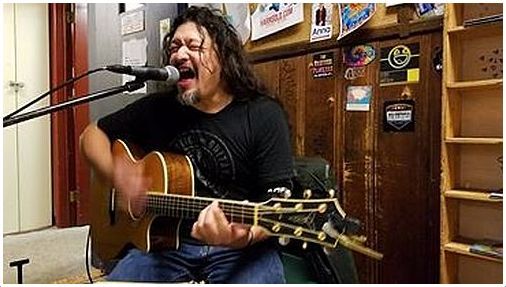 Dave Christian is a singer-songwriter whose style traverses a wide variety of musical terrain. From his 60's and 70's Hard Rock roots he has touched upon and expanded into folk, country, blues, and improvised psychedelic. Dave's unique and powerful voice has been compared to artists such as Ian Anderson, Dennis DeYoung, and Getty Lee.  Showtime: 8 pm
---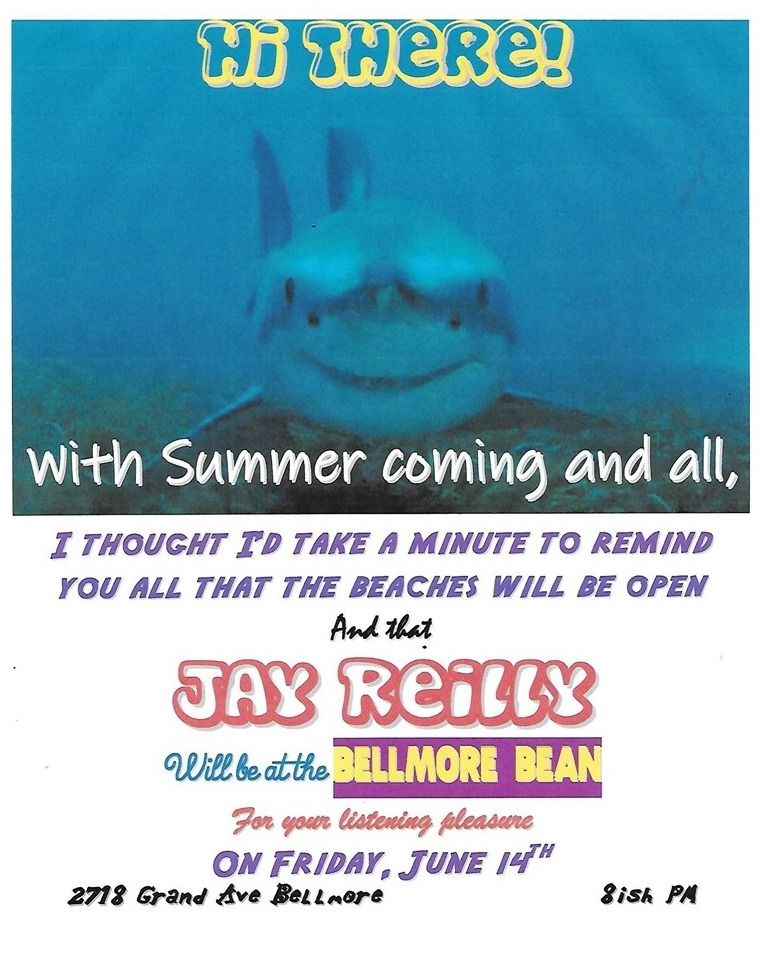 ---
14th - Caroline Doctorow  Grounds & Sounds Cafe  East Setauket, NY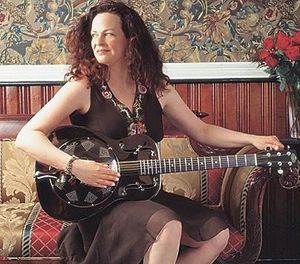 Caroline's Doctorow's stirring voice recalls the folk artists of the '60s.  Her vocals have been favorably compared to such luminaries as Nanci Griffith and Judy Collins. No Depression Magazine says: "Caroline Doctorow has been responsible for some of the sweetest songs of the modern folk idiom."  Showtime: 8 pm  Get Your Tickets HERE  
---
14th - Bobby Nathan Band  Tiki Joe's Meschutt  Hampton Bays, NY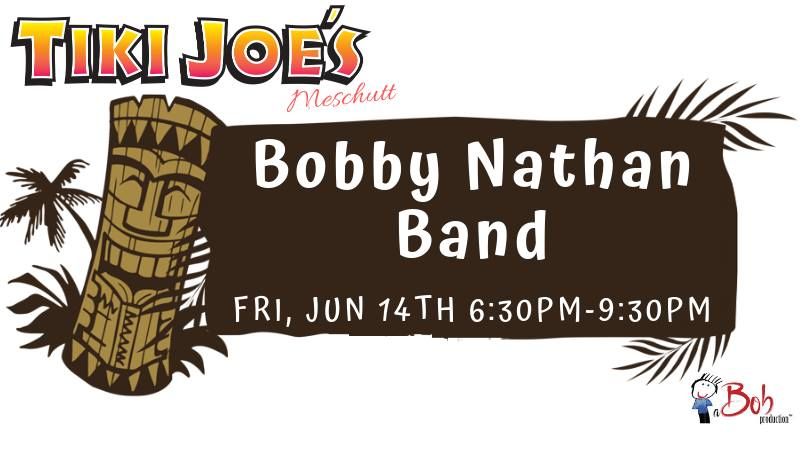 Catch some LI beach atmospher as The Bobby Nathan Band performs iconic songs from the most steller artists of the 60's, 70's, 80's and more!  Showtime: 6:30 pm - 9:30 pm
---
15th - Breakaway & Jerry the Bulldog Revisted  Buckley's  Valley Stream, NY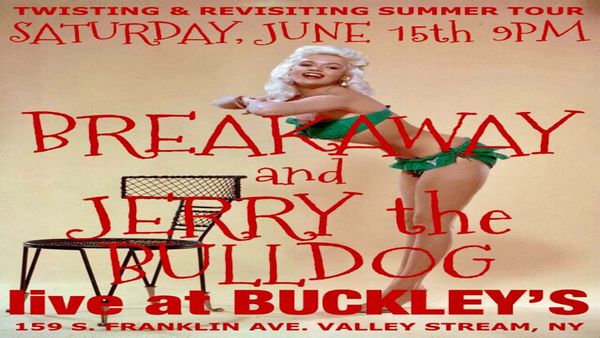 Roadhouse blues meets Alt-Country a la Americana at this tasty pairing of two notable combos.  Expect a night of cool sounds!  Showtime: 9 pm - Midnight.
---
15th - Gary Sellers Band  Treme  Islip, NY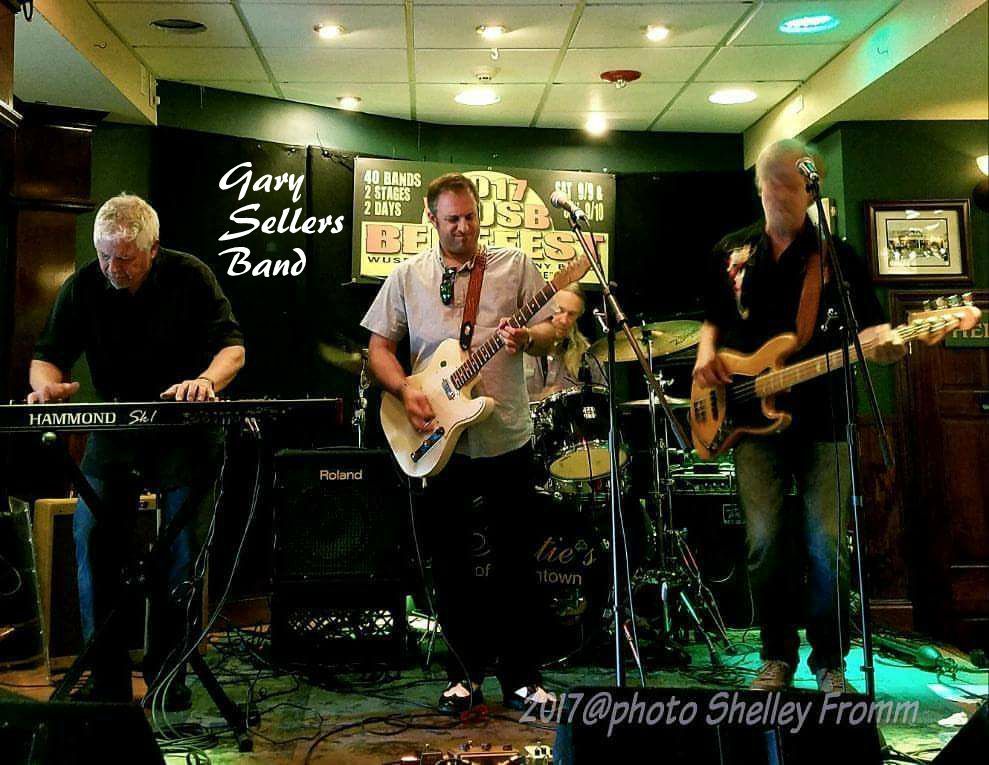 This red hot band can mix classic blues sounds with influences from a wide variety of genres; all while keeping their playing at the highest level.  Showtime: 8 pm
---
16th - South Shore Jazz  Big Daddy's Restaurant  Massapequa, NY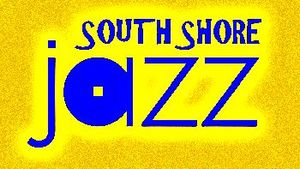 If you're in the mood for a little something different, be sure to catch this remarkable classic jazz combo that features some of LI's tastiest players—Gene Linefsky (drums), Richard Greenberg (sax/flute), Rich Albertson (bass) and Lou Corrollo (guitar). Their repertoire consists of sparkling jazz standards by such greats as Miles Davis, John Coltrane and Charlie "Yardbird" Parker.  Show Time: 3:30 pm
---
17th - Roots Rockin' -n- Rollin' Show  LIC Bar  Long Island City, NY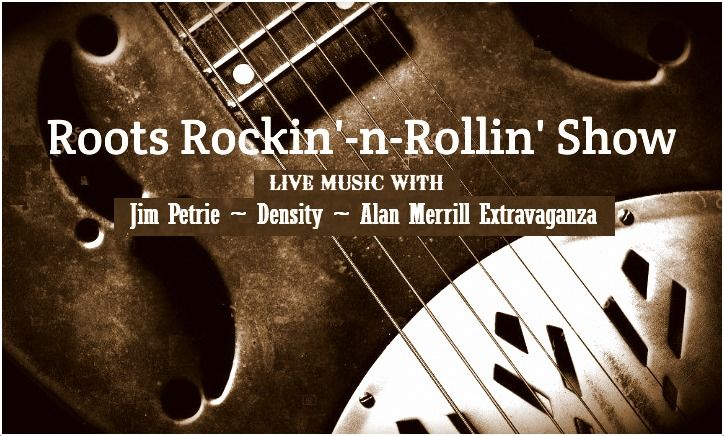 This event features Live Music from three NYC singer-songwriters who, along with their band members, will be rockin' down the house! 8 PM Jim Petrie solo/duo / 9 PM Dennis Doyle w/band Density / 10PM Alan Merrill Extravaganza band (wrote Hit Song "I Love Rock 'n' Roll"). The L.I.C. Bar is a world-known music venue, located in Queens NYC. Close to Subways E and 7 trains, only 1 stop from Manhattan. Inside you'll find the bar's 100-year-old history – an antique wood bar, original tin ceilings, brick walls – paired with a beautiful outdoor garden and a great friendly crowd! The perfect place for "Roots Rockin'-n-Rollin' Music! No Cover. Great Drink selections.  Showtime: 8 pm - 11 pm
---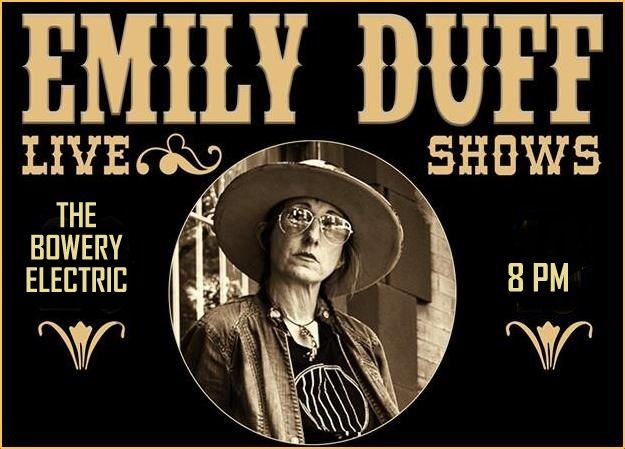 Don't miss this chance to catch this eclectic Americana songwriter whose motto is: "Put down the iPhone, say goodbye to the DJ, and remember that great songs and guitars save lives. Go see live music!"  From the Roots Music Report: "NYC may seem an atypical home base for a singer sporting such deep Dixie soul but it's where one would find Emily Duff."  Showtime: 8 pm.
---
19th - Miles To Dayton  Port Jeff Brewing Company  Port Jefferson, NY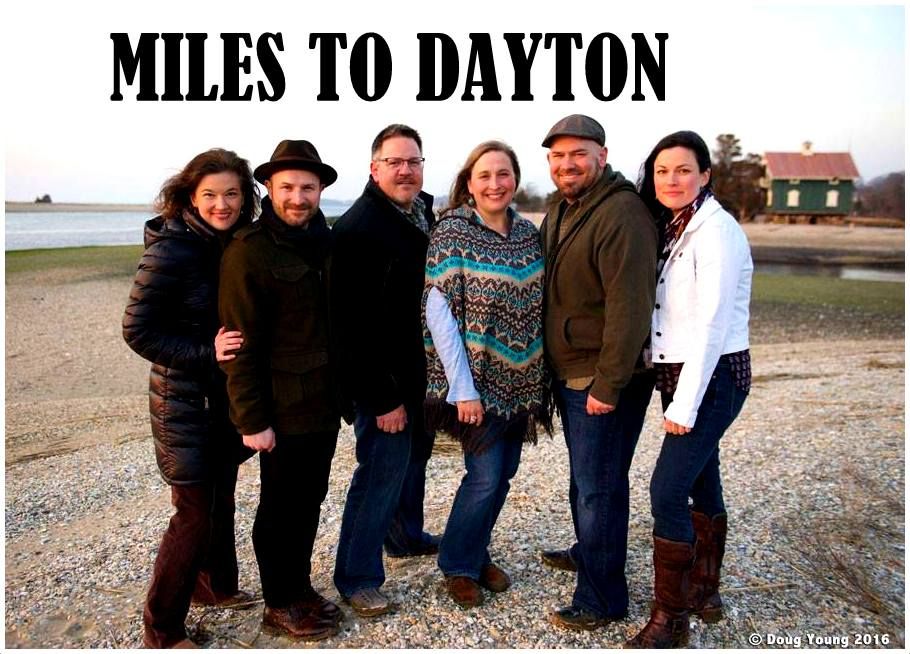 The musical elements that comprise Miles To Dayton's sound is simple: four-part vocal harmony, clever songwriting, improvisational violin and cello, and an infectious rhythm section that stirs up the creative stew. At the heart of their unique marriage of styles lies a real-life marriage: vocalist Krista Preddice shares the microphone with husband Jonathan Preddice, who, in addition to being the principal songwriter for the group, also shines on guitar, cello, accordion, and trumpet. Bassist Dave March (Krista's brother) and violinist Leanne Strom (Jon's sister) add depth to the vocal harmonies, with Dave's low, soulful bass and Leanne's soaring classical virtuosity providing the sonic bookends for the Miles To Dayton sound. Drummer Brian Kroll, the newest member of the group, propels the music forward with an exciting and funky edge. Showtime: 7 pm - 10 pm.
---
20th - Jim Treutlein & Chris James  Big Daddy's Restaurant  Massapequa, NY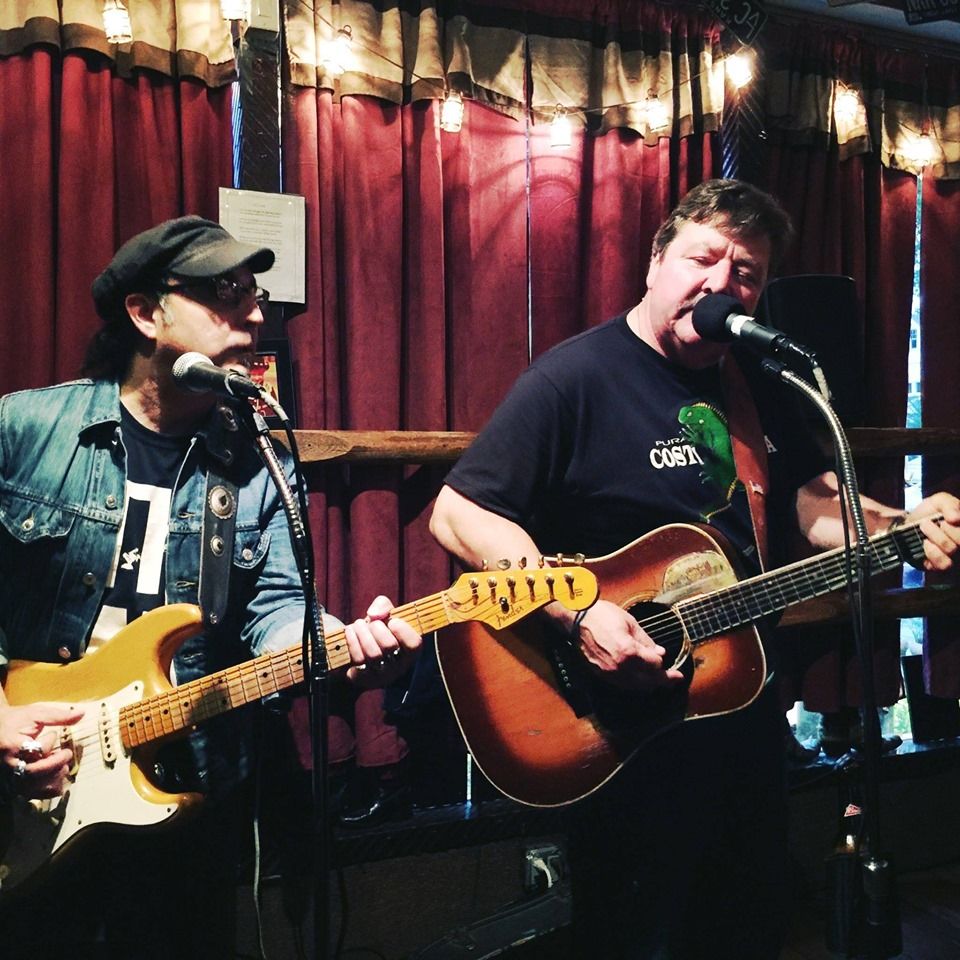 Ring-a-ding-ding! Be sure to catch this popular duo featuring singer-song finder Jim Treutlein (who many of you know from his popular cable tv series "Adventures in Beer World") and Chris James (guitar/vocalist of the must-see punk blues outfit, The Hideaways) as they present an evening of musical surprises at this South Shore BBQ joint.  Expect some improvised blarney and witty song introductions along with the cool tunes!  Showtime: 7 pm
---
20th - 

Kyle Hancharick + Monica Rizzio  Cinema Arts Centre  Huntington, NY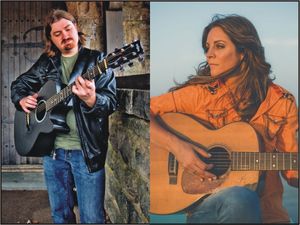 The Hard Luck Cafe, as part of their popular songwriter series, presents Kyle Hancharik and Monica Rizzio.  Hancharik  has performed on the Emerging Artists Showcase at the 2018 Falcon Ridge Folk Festival, and he has opened shows for the likes of Ellis Paul, Lucy Kaplansky, and Red Molly.  Monica has become one of the most reliable supporting acts as well, having shared the stage with Chris Botti, Boz Scaggs, Diana Krall, Joan Osborne, and Slaid Cleaves this past year. She has played the Main Stage at Strawberry Park Bluegrass festival the past two years and is a frequent collaborator with the Cape Cod Symphony Orchestra.  Showtime: 7:30 pm - 10:30 pm.
---
20th - Big Frank Mirra & Mike Smith  Thai Rock  Rockaway Park, NY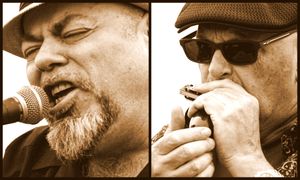 Big Frank & Mike Smith bring their Acoustic Blues Revue to Thai Rock, a Thai restaurant and live music house located on beautiful Jamaica Bay in Rockaway Beach, New York.--good times, great live music, and excellent Thai cuisine.  Showtime: 8 pm - 11 pm
---
20th - Squirrels From Hell  Shrine World Music Venue  New York, NY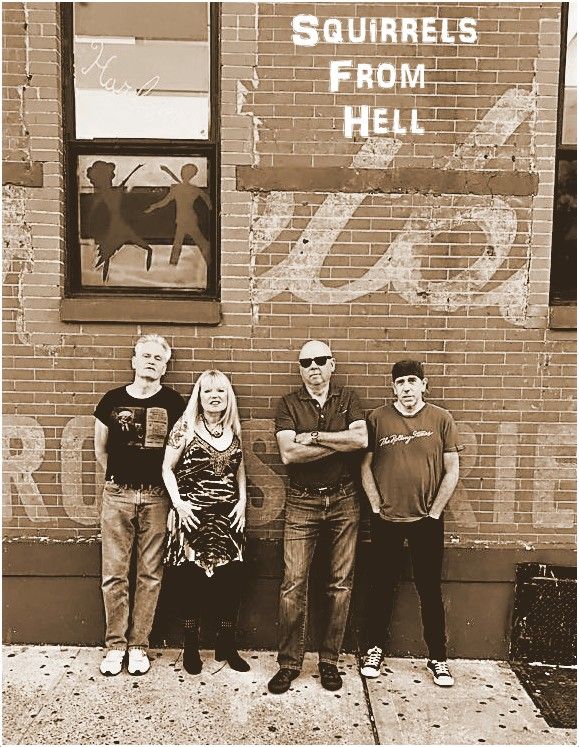 Squirrels From Hell, aka The Band New York City Couldn't Kill , is an intense band that has spent decades in obscurity. Driven by an artistic inspiration that will not release them.  Showtime: 8 pm
---
21st - Mike Meehan & The Lucky Ones  Finley's of Huntington  Huntington, NY
Americana music is alive and well here in Long Island and this particular concert features a combo that is among the best local practitioners of that particular musical genre.  Meehan's original tunes have been described local raconteur, The Commodore, as "songs inspired by traditional and alternative country, punk, folk, literature, and other influences."  His backing band is comprised of some longtime veterans of the LI music scene; Michael Leuci (Drums), Annie Mark (Guitar / Vocals) and Chris James (Lead Guitar / Vocals, member of The Hideaways).  The Lucky Ones will be hitting the stage @ 9:30 pm
---
21st - Things Unknown  Katie's of Smithtown  Smithtown, NY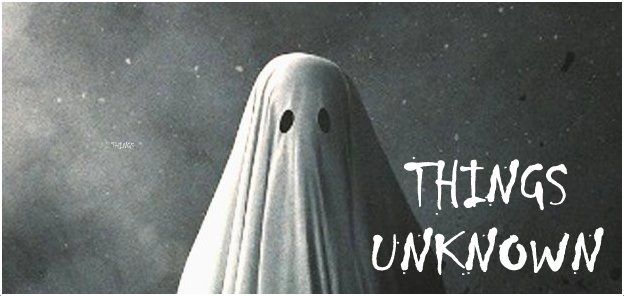 This newly formed cover band plays everything from The Allman Brothers to Frank Zappa while adding their own unique flavor to the material.  Be sure to check them out at this relaxed watering hole in Smihtown.  Showtime: 9 pm - Midnight
---
22nd - Wicked Karma & Chris James  Song Box House Concerts  Seaford, NY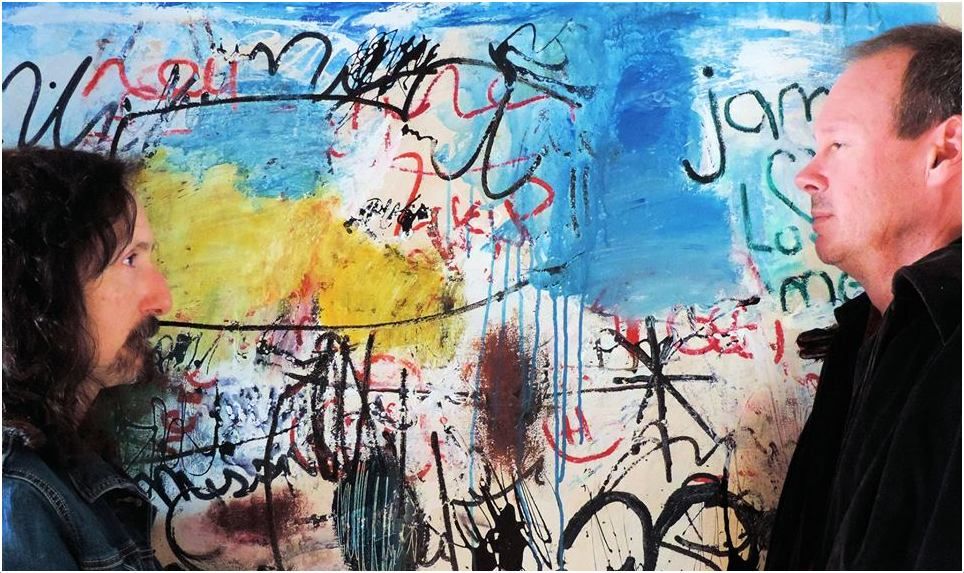 This show features an excellent lineup of local performers: Wicked Karma (Dee Harris & Todd Evans with Zach Swanson) + Chris James (of The Hideaways).  Sharing a mutual passion for melody and improvisation, Wicked Karma's original instrumental compositions feature melodies that grab you and striking chordal voicings, with turns of jazz, blues, and Indian influences.  All-acoustic wires and wood music will be performed the entire evening (with Zach Swanson on double bass).  Chris James on guitar and vocals will bring his unique style of Blues, Alt-Country, Americana, Rockabilly, and good ol' Rock & Roll.  Come check out the longest running house concert series on Long Island – now in its 19th season!  Email for reservations & relevant info: songbox@optonline.net or gtrapani@optonline.net   or you can call 516-579-5365.
---
22nd - Black & Sparrow  Stephen Talkhouse  Amagansett, NY

Black & Sparrow back together again in the past couple of years picked up where they left off with new songs and a full band.. Their songs have taken on a whole new dimension with the addition of the band behind their two acoustic guitars (Klyph also plays dobro & slide guitar). First added was Randolph A. Hudson lll, a virtuoso on Baritone 6 and 12-string guitars. He has played with the Fugs, Psychedelic Furs and toured with "Bongwater" and "Magnuson/Kramer". Later added was Mike Mazzaroco on bass. Mike, a graduate from The Conservatory of Music at SUNY Purchase, is also currently a studio owner, recording engineer and a multi-instrumentalist. Also recruited was James Bernard on drums. James is a professional multi-percussionist who studied with drum greats Jack DeJohnette and Tony Williams. He continued his formal musical education at the University of Miami with a major in Applied Percussion, Studio Music and Jazz.  Showtime: 7 pm  Purchase Tickets HERE  
---
22nd - Willie Nile  My Father's Place @ Roslyn Hotel  Roslyn, NY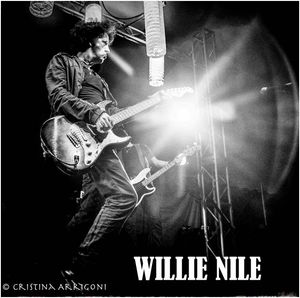 Willie Nile, is a legendary NY songwriter who continues to get better with each album release. "The New York Times called Willie Nile 'one of the most gifted singer-songwriters to emerge from the New York scene in years.'  Bono, Bruce Springsteen, Pete Townshend, Lou Reed, Lucinda Williams, Jim Jarmusch, and Little Steven are among those who have sung his praises.  Opening the show is Americana songwriter, Emily Duff (she also has a listing in this column for her June 19th show @ The Bowery Electric)  Don't miss this special evening of music!  Get your tickets HERE  
---
22nd - Danny Kean  Bistro 72  Riverhead, NY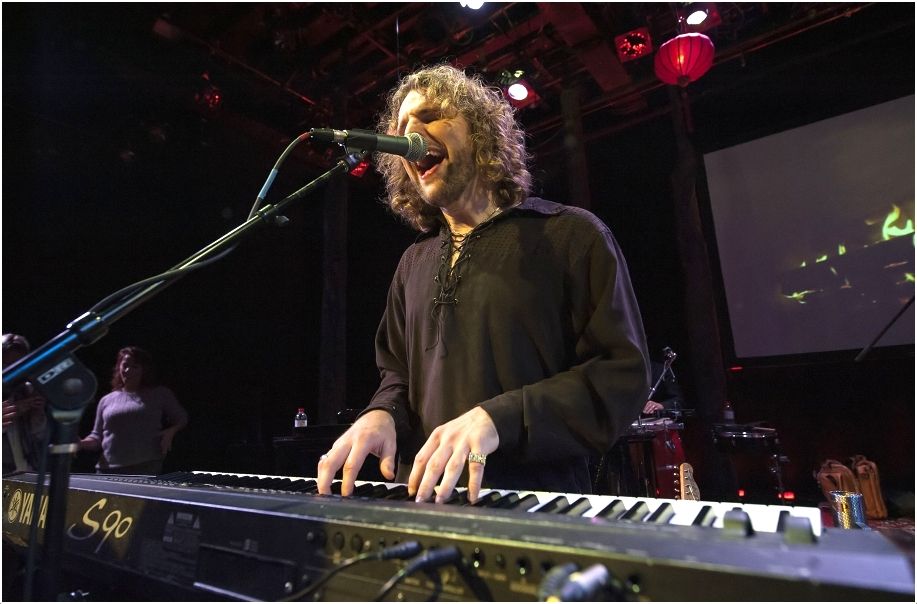 Danny Kean's music finds him delving into smooth R&B, early Motown, classic soul, funk rock and Neo soul.  "The Motown pop of "I Can't Wait" sits next to his R&B remake of Neil Young's "Heart Of Gold"and the funkier, modern groove of "You Love Me." (Glen Gamboa, Newsday)  Showtime: 6 pm
---
22nd - Soundswell  Blue Point Brewery  Patchogue, NY

Soundswell is a combo that plays rock & roll dance music so "people can boogie!"  Their motto is "We're as comfortable as a favorite T-Shirt!"  Showtime: 4 pm - 8 pm
---
23rd - The Long Island Blues Challenge  Katie's of Smithtown  Smithtown, NY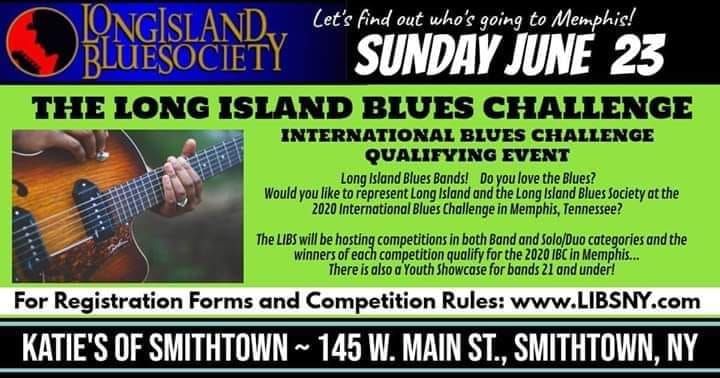 Don't miss The Long Island Blues Challenge, a cool event sponsored by The Long Island Blues Society!  Here's the scoop on what's happening:  Long Island Blues Bands and Solo/Duo Acts come on out and join us for the 2019 Long Island Blues Challenge. You can download the rules and entry form HERE 
---
23rd - The Locksmiths  Nolan Park / Governor's Island  New York, NY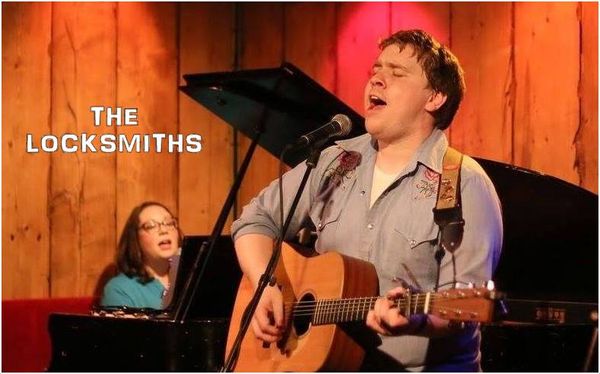 The Locksmiths are an Americana husband-and-wife duo mixing rich harmonies with evocative lyrics. The Queens natives weave a Southern Gothic tapestry through bluegrass-inspired folk-rock.  You can catch them as part of the annual Porch Stomp that is taking place on Governor's Island.  Porch Stomp is a free, community-led participatory folk festival, where performances take place on the porches of Governors Island's historic Nolan Park. Over 100 small-scale acoustic concerts, jams, and workshops featuring some of NYC's best bluegrass, old-time, blues, roots, and Americana music are showcased during the daylong festivities.  Showtime: 11 am
---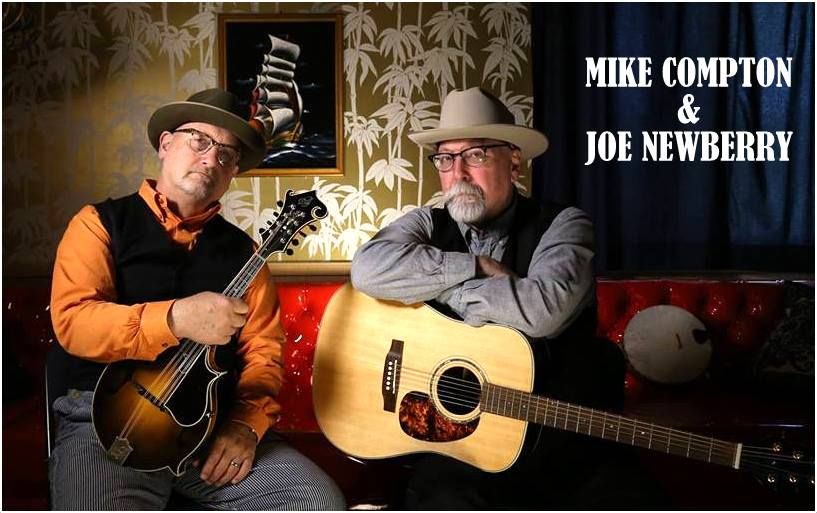 Mike Compton and Joe Newberry mine one of the more neglected segments of country music history, that period during the '30s and '40s when brother duet music was transforming into bluegrass.  Both masters of the bedrock instruments of old time music, they collaborate with a vision that is both modern and ageless.  An open bluegrass jam at 2:30pm precedes the concert.  (Sponsored by The Bluegrass Club of Long Island.)  Showtime: 3:30 pm - 5 pm.  Purchase Tickets HERE  
---
25th - Paper Bag #42 (1969 Edition)  Mulcahy's Pub & Concert Hall  Wantagh, NY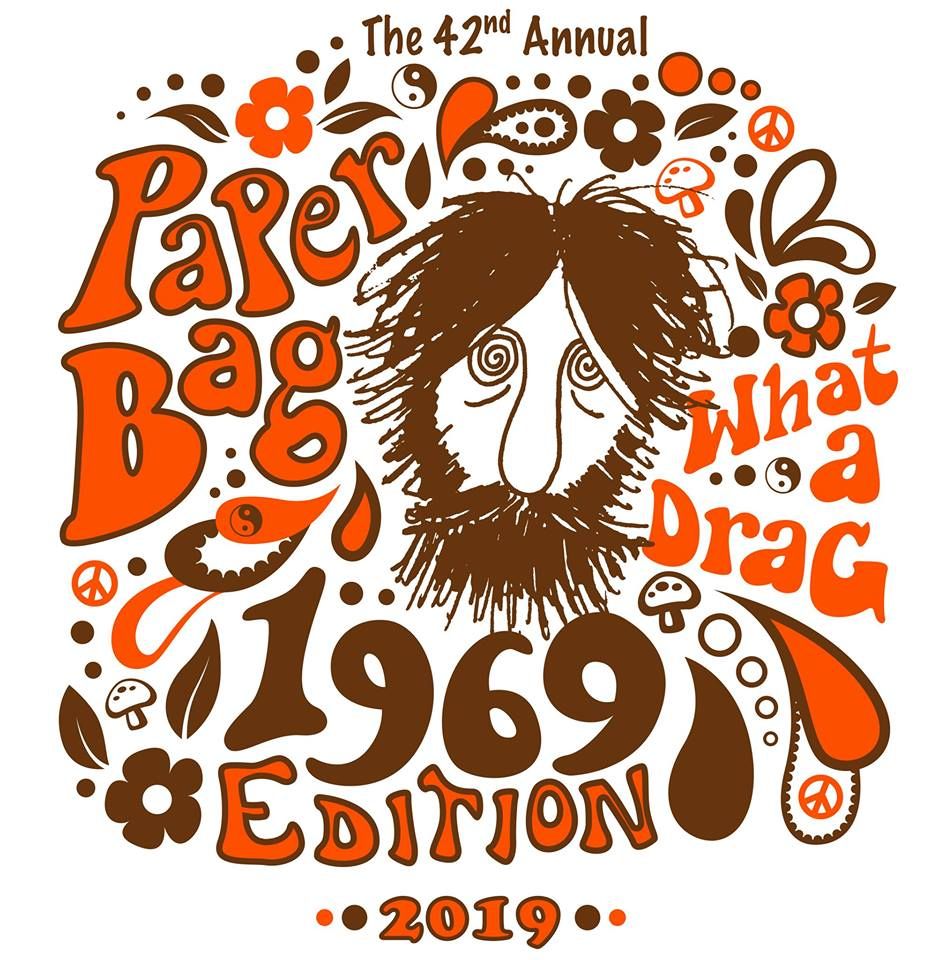 The 42nd annual performance of the World's Only 70 Piece Rock Band. 14 guitars, 5 keyboards, 8 horns, 4 harps, 8 basses, 13 percussionists, 18 vocalists and 8 Cheese Calzones. Celebrate the 50th anniversary of Woodstock, the Man on the Moon, the Mets and a ton of absolutely great albums.  Showtime: 10 pm - 4 am.
---
25th - A Night of Original L.I. Music  KJ Farrell's, NY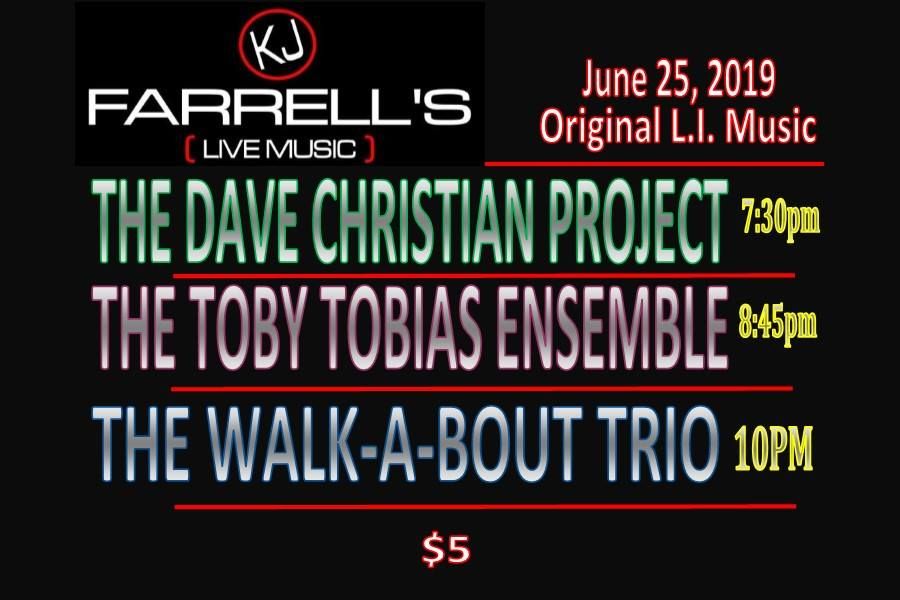 Kudos to KJ Farrell's for their continued support of local original music!  This time around it's 3 bands on one incredible original music evening!  The music starts at 7:30 with the Dave Christian Project; at 8:45 The Toby Tobias Ensemble will bring the full band; at 10pm an abridged version of LI band The Walk-A.Bout will end the evening with some cool original tunes. $5 for the night. Great venue. Put on your happy shoes and come on down!  Showtime: 7:30 pm - 11 pm.
---
26th - Dave Diamond Band & The Other Shoe  My Father's Place @ The Roslyn Hotel  Roslyn, NY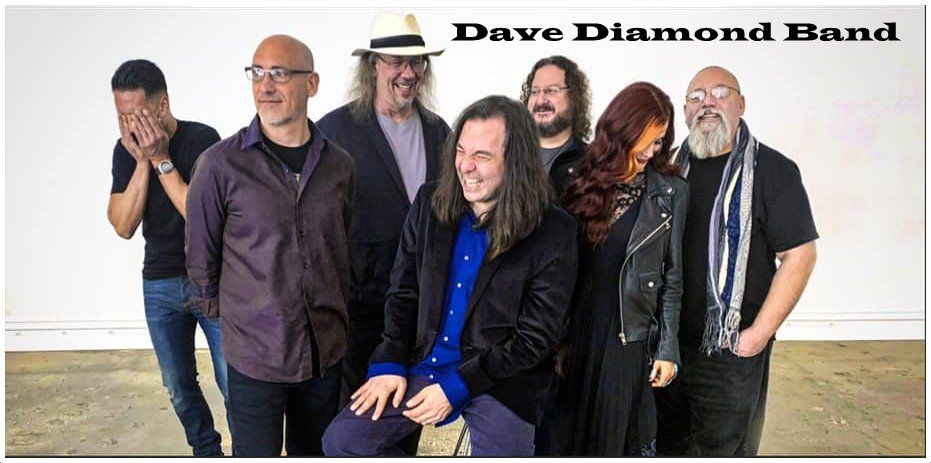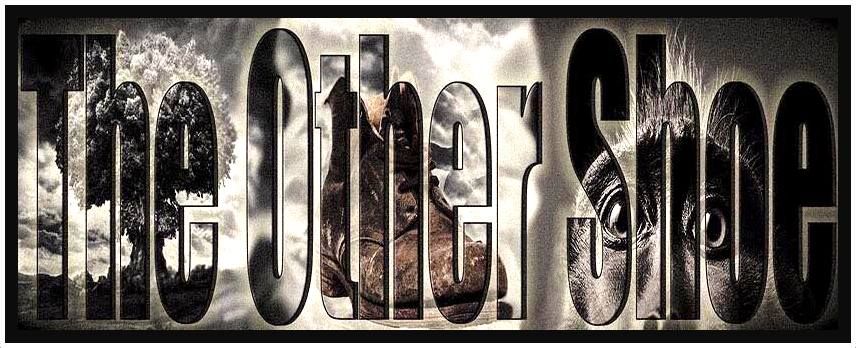 This is a really great double bill folks so please make a point of coming out to this show and show your much needed support for original music in Long Island!  Both of these band's work a wide variety of musical genres; The Dave Diamond Band plays funky folk singer/songwriter rock material while The Other Shoe is known for its heady mix of Americana,, blues, genuine reggae, (good old) country music along with some tasty Van Morrison vibes thrown in for good measure.  Showtime: 8 pm - 11 pm.  Purchase Your Tickets HERE  
---
26th - Red White and Blues Band  Northport VA Hospital  Northport, NY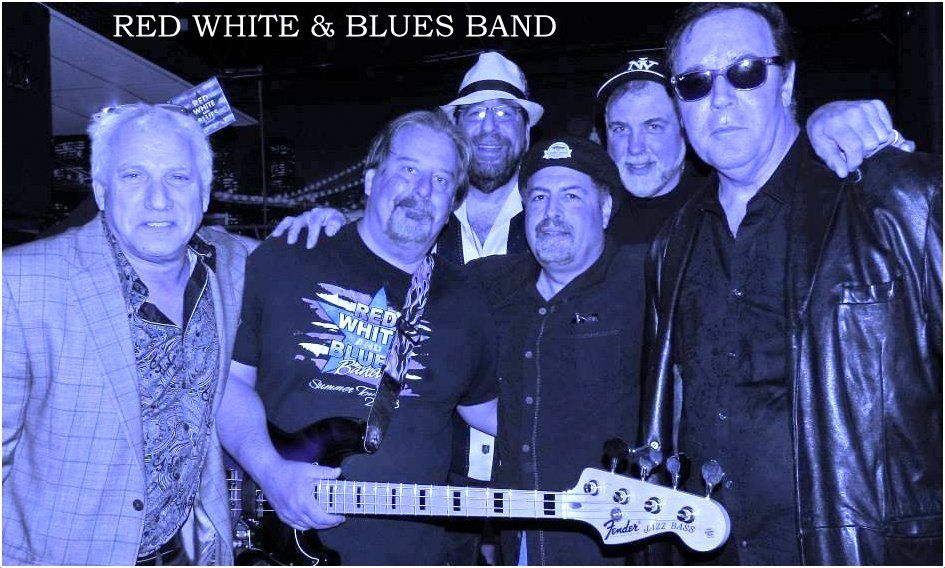 Appearing as part of the popular Northport VA Summer Concert Series, the Red White and Blues Band performs a show accented by a tight, bluesy sound.   Showtime: 6:30 pm
---
27th - Shecky & The Twangtones  Rudi's Bar & Grill Patchogue, NY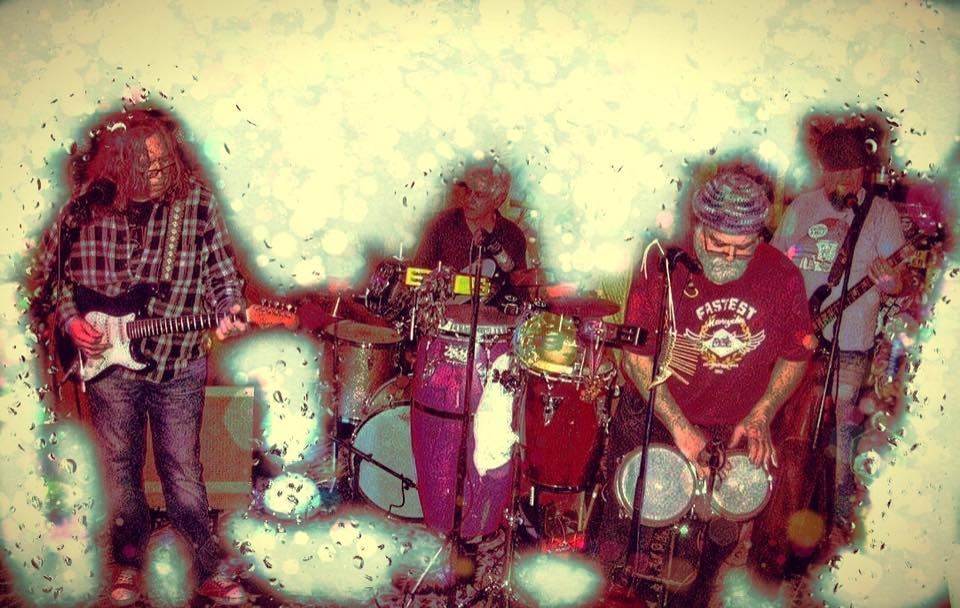 Shecky & The Twangtones, a combo which is known far and wide for their heady mix of retro surf meet's Deadhead vibes, continues their popular Every Thursday residency at Rudi's Bar & Grill in Patchogue.  Expect an eclectic mix of blues, surf, reggae and soul music.  Before you know it, you'll be dancing in a hypnotic state of Twangtonia!  Showtime: 7 - 10 pm.
---
27th - Carrie McQuade  Captain Bills  Bay Shore, NY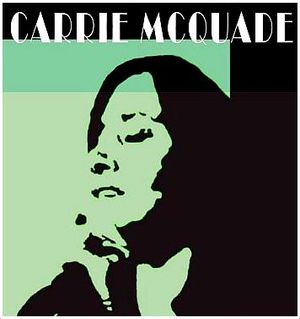 McQuade, one of LI's most powerful female vocalists, performs at Captain Bills, a wonderful laid back waterside eatery.  Showtime: 7 pm.
---
28th - The Wildest Rockin' Blowout of the Summer!  

American Legion Post 360  Huntington, NY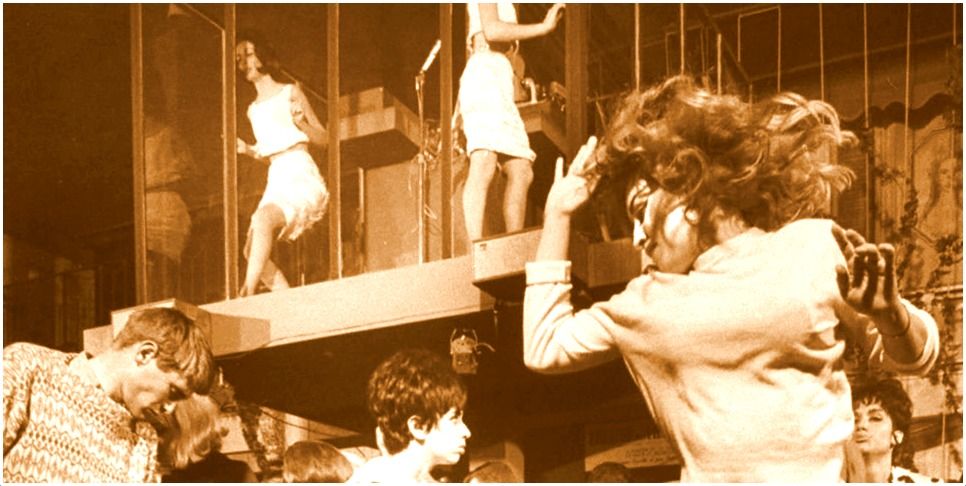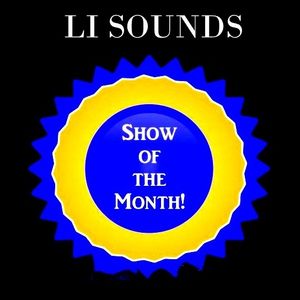 LORD HAVE MERCY! 
I gotta give this local music event my coveted
LI SOUNDS SHOW OF THE MONTH AWARD! 
Don't Miss The Wildest Rockin' Blowout of The Summer featuring Gene Casey & The Lone Sharks, Mighty Ramon & The Phantoms of Soul and The XLerators (chris james, sean o'neill, mike drance and tom ryan)!  Rumor has it that if you're not dancing at this show, then there must be something wrong with your legs!  Showtime: 8 pm - 11:30 pm
---
28th - Back On Bourbon Street  Bobbique  Patchogue, NY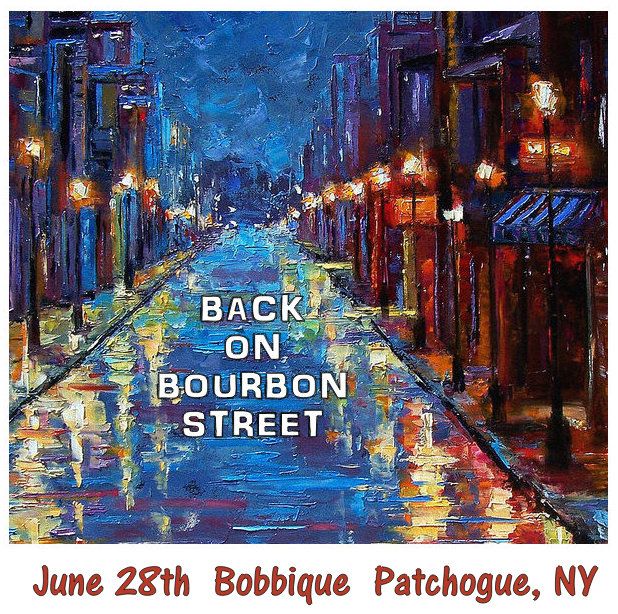 Back on Bourbon Street brings their spicy New Orleans groove to to this down home BBQ joint in Patchogue.  Expect some second line mojo and a few "yeah, you rite's!"  Showtime: 9 pm - 12:30 am
---
29th - Bill Shuren & The Cavalry  The Green Hill Kitchen  Greenport, NY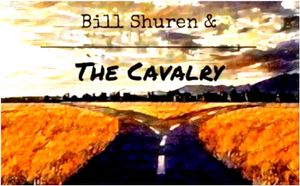 Swing on down to "The Green Hill Kitchen" in Greenport and catch Bill Shuren & The Cavalry as they take to the stage to play two full sets of Americana music.  Showtime: 9 pm - Midnight
---
29th - Vanilla Fudge  YMCA Boulton Center  Bay Shore, NY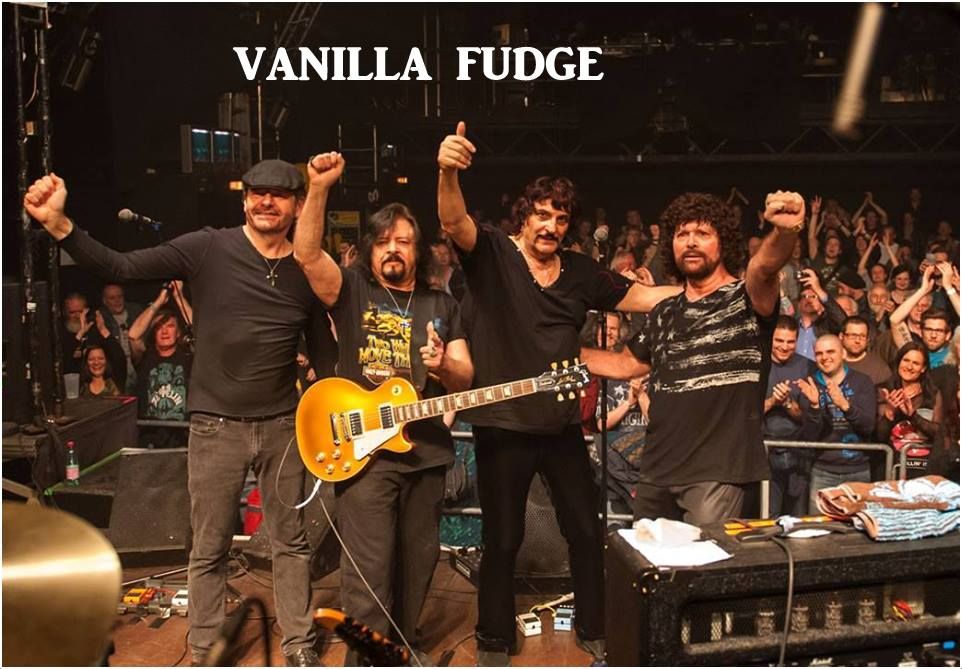 Vanilla Fudge was one of the first American groups to infuse psychedelia into a heavy rock sound to create "psychedelic symphonic rock" an eclectic genre which would, among its many offshoots, eventually morph into heavy metal. Although at first, the band did not record original material, they were best known for their dramatic heavy, slowed-down arrangements of contemporary pop songs which they developed into works of epic proportion.  Catch them at this legendary venue!.  Showtime: 8 pm - 11 pm
---
29th - Wes Houston Trio  Murphy's Bar & Grill  Mineola, NY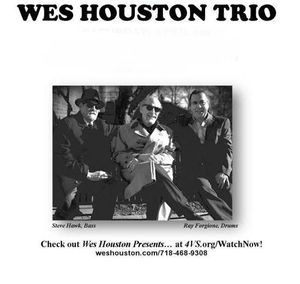 The Wes Houston Trio brings their smooth groove of Americana folk, country, jazz and blues to this storied watering hole.  Don't miss this special performance!  Showtime: 8 pm.
Also, be sure to check out Wes Houston's wonderful TV show, WES HOUSTON PRESENTS, which features local LI talent.  Please tune in and support this effort to promote Long Island Music!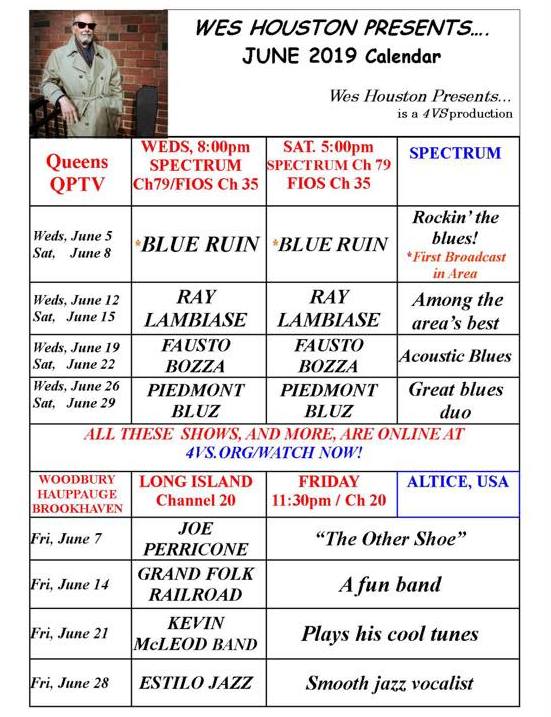 ---
30th - Kerry Kearney Band  Greenport Harbor Brewing Company  Peconic, NY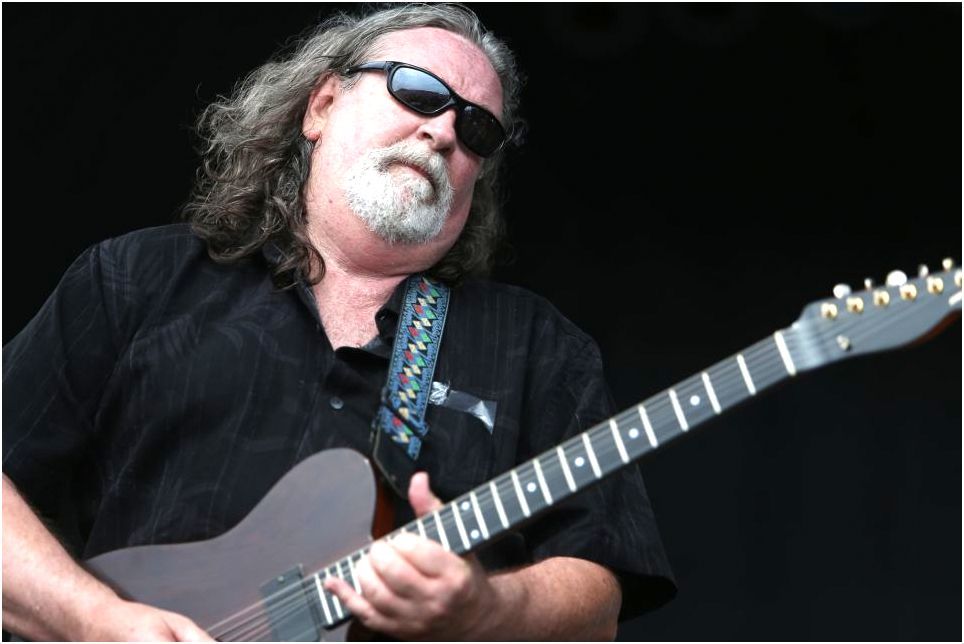 Spend a summer Sunday afternoon enjoying some cool brews and tasty blues with the Kerry Kearney Band.  Showtime: 3 pm
---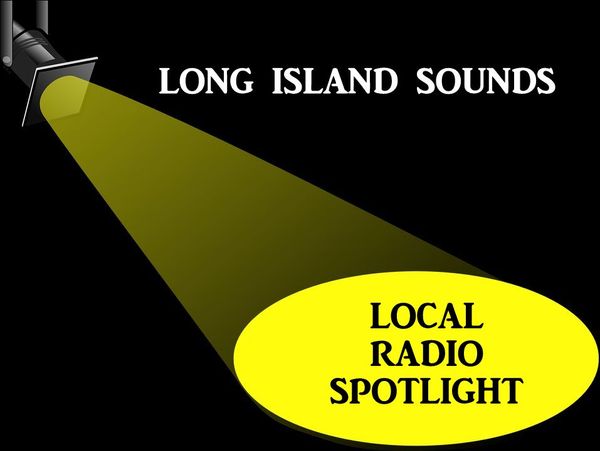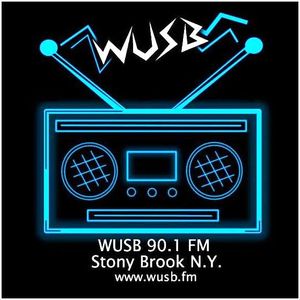 Kerry Kearney with Dennis & Marc
June 7th - 10 am - Noon
Tune in Friday, June 7th and catch LI bluesman Kerry Kearney live in the studio with Denis McNamara and Marc Greene - talking up all things and there will be giveaways too! Listen online at WUSB.fm   
---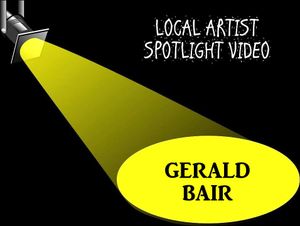 ---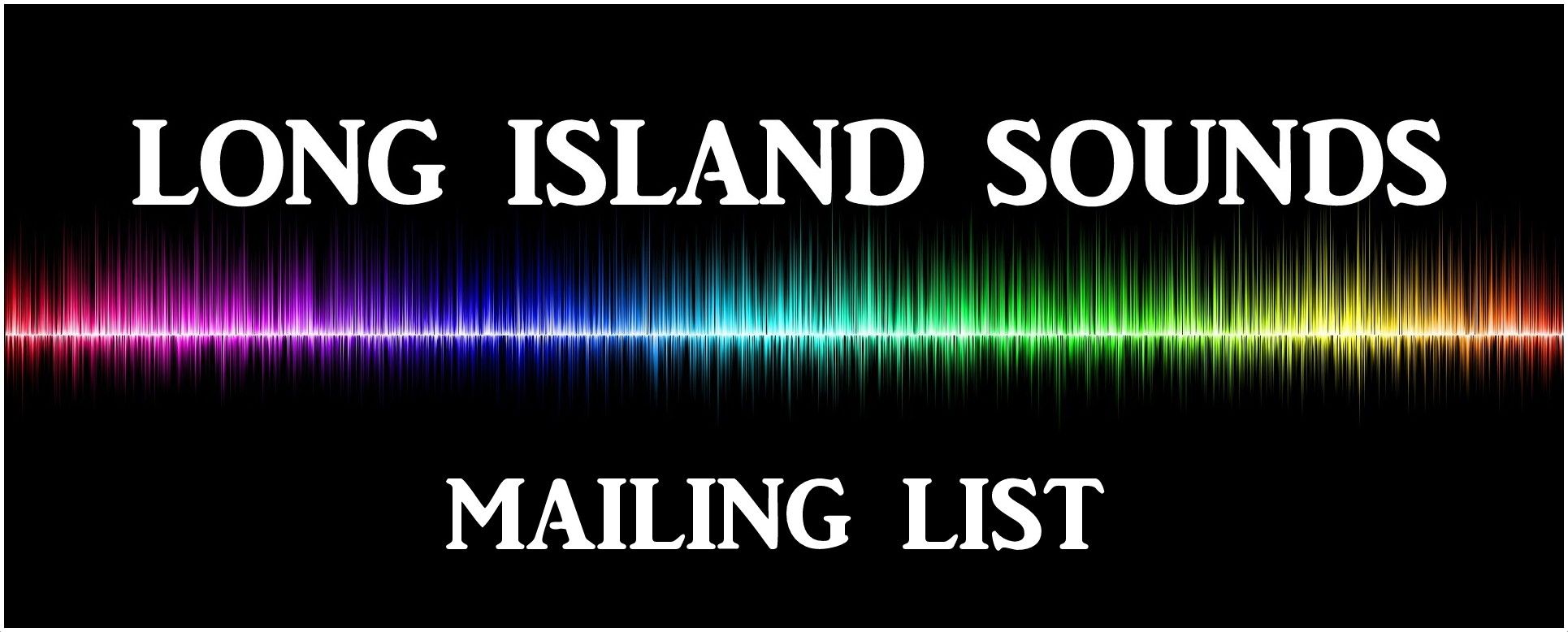 ---