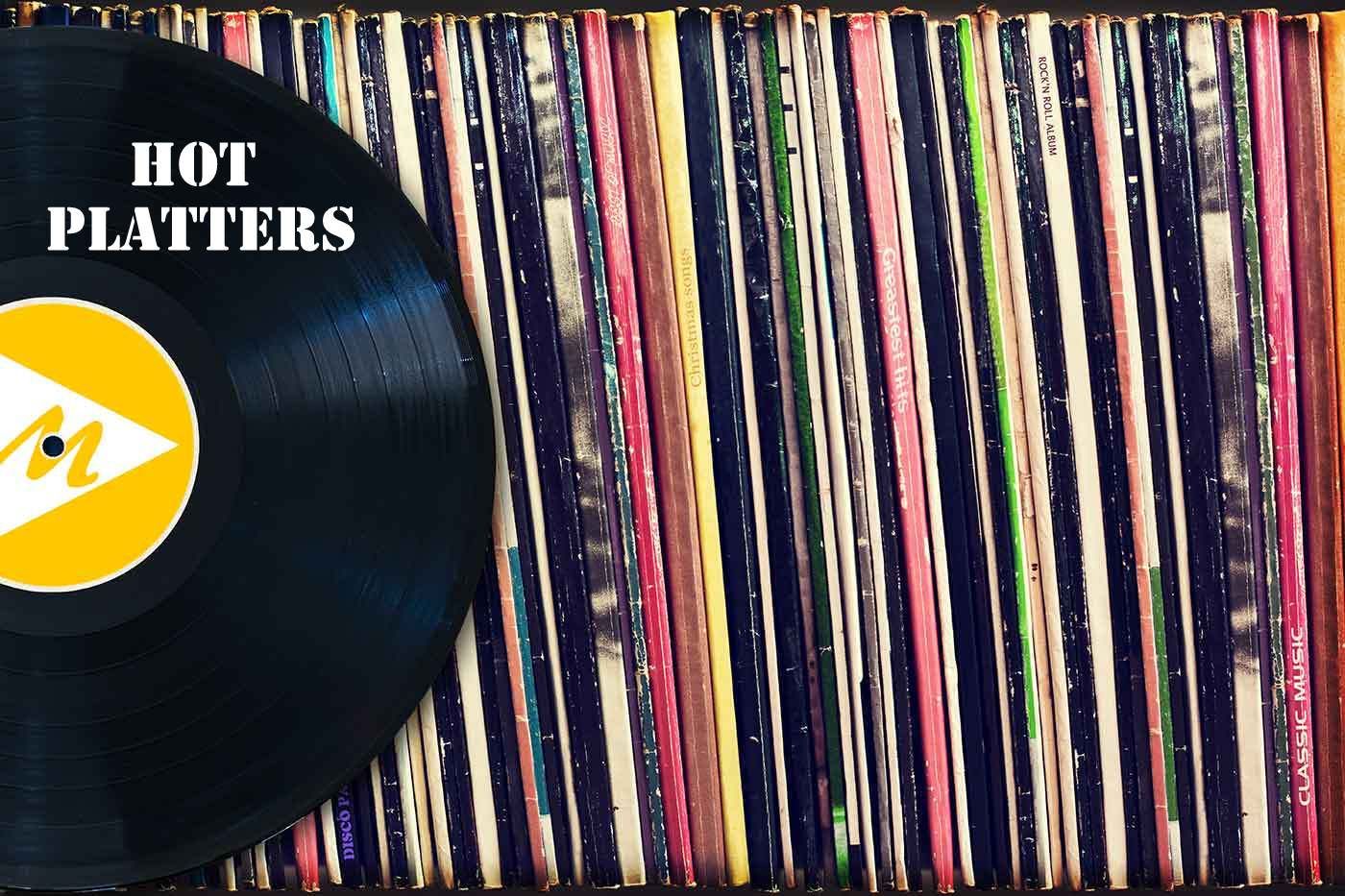 Looking at the troubles that the music industry finds itself in today, my thoughts return to a time when record companies energetically courted listeners by releasing bargain product samplers. Such is the case with today's Hot Platter --- the Warner/Reprise Songbook, a double album released in 1969.  This was the first release in Warner Bros celebrated Loss Leaders series.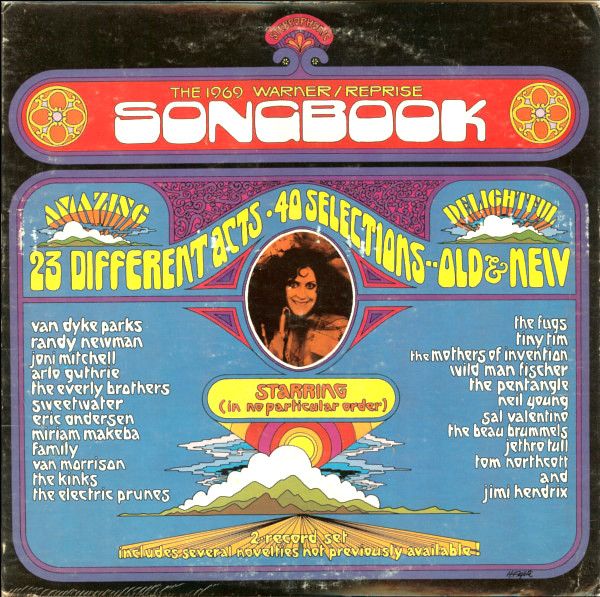 TRACK LIST 
1. Wild Man Fischer: Songs for Sale 
2. Jethro Tull: My Sunday Feeling 
3. The Pentangle: Sweet Child 
4. Van Morrison: Slim Slow Slider 
5. Family: Second Generation Woman   - YouTube clip at bottom of the page
6. I've Been Waiting For You - Neil Young 
7. Tom Northcott: Sunny Goodge Street 
8. The Everly Brothers: T for Texas/ Lord of the Manor 
9. Van Dyke Parks: The All Golden/ Music for a Datsun TV commercial 
10. Sal Valentino: Alligator Man 
11. The Beau Brummels: Deep Water 
12. Randy Newman: Davy the Fat Boy 
13. Tiny Tim: Mr Tim Laughs 
14. The Mothers of Invention: The Voice of Cheese [edited]/ Louie Louie [Berry]/ Our Bizarre Relationship [edited]/ The Air 
15. The Fugs: The Divine Toe/ Grope Need/ Tuli, Visited by the Ghost of Plotinus/ Robinson Crusoe/ The National Haiku Contest/ Wide, Wide River - YouTube clip at the bottom of the page
16. Arlo Guthrie: The Pause of Mr Claus 
17. Sweetwater: Why Oh Why 
18. Joni Mitchell: Nathan La Franeer 
19. Eric Andersen: So Good to Be With You 
20. The Electric Prunes: Finders Keepers 
22. The Kinks: Picture Book 
23. The Jimi Hendrix Experience: Red House 
24. Miriam Makeba: I Shall Be Released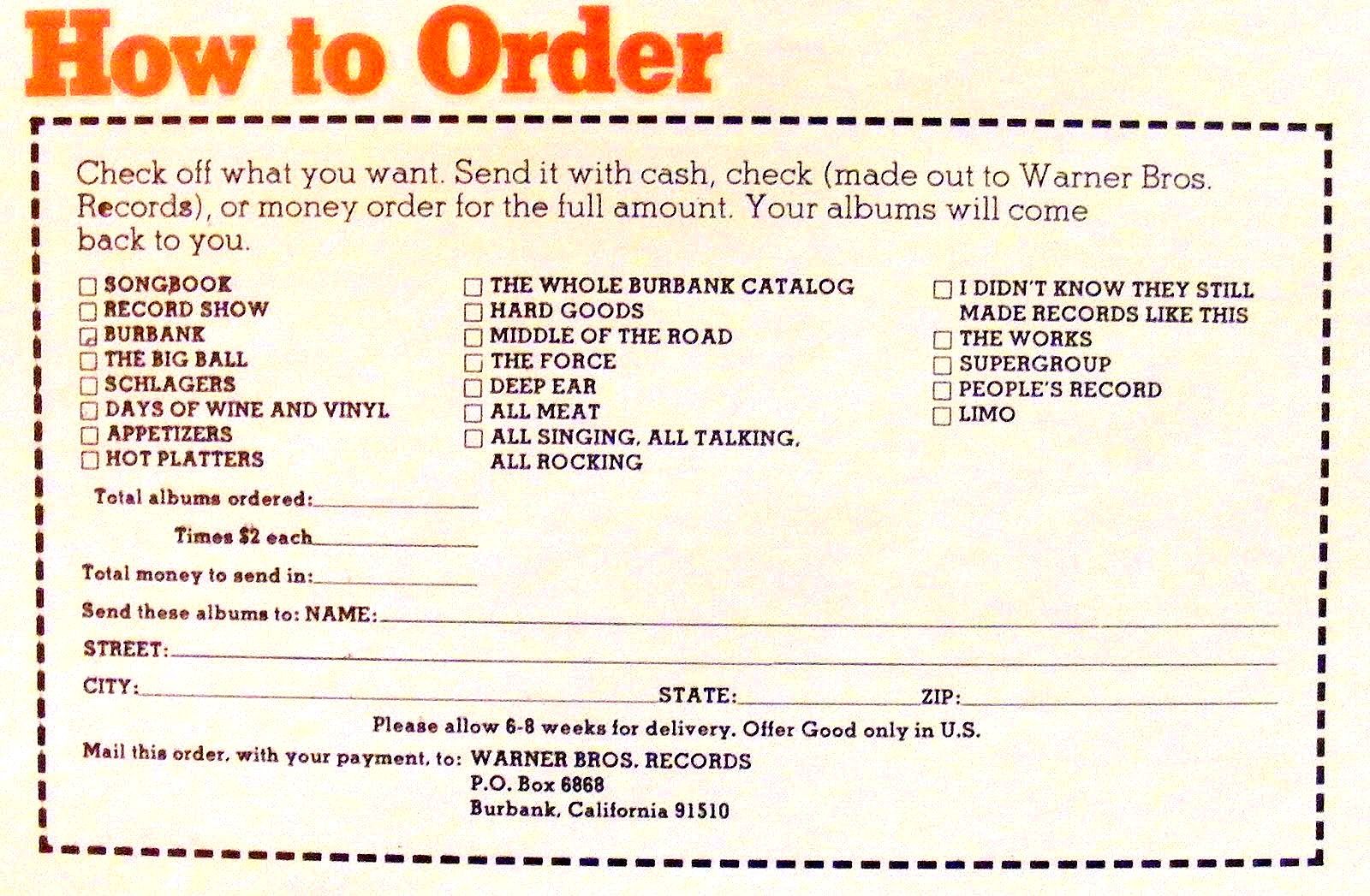 "The Warner/Reprise Loss Leaders were a series of promotional sampler compilation albums released by Warner Bros. Records throughout the 1970s. Each album (usually a 2-record set) contained a wide variety of tracks by artists under contract to Warner Bros. and its subsidiary labels (primarily Reprise Records); often these were singles, B-sides, non-hit album tracks, or otherwise obscure material, all designed to arouse interest in the artists' regular albums. Also found on some were humorous, bizarre interstitial audio material—clips from old records and movies, short skits, found sound, etc.--and most albums featured clever, humorous cover art and liner notes. Most of the '70s albums were compiled and annotated by Barry Hansen, aka Dr. Demento." (Wikipedia)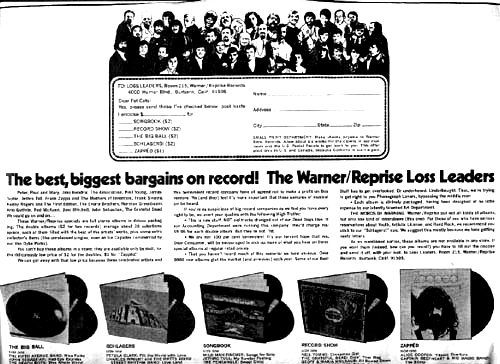 "Warner advertised the Loss Leaders albums by inserting special illustrated inner sleeves in all of its regular album releases, listing all of the currently available Loss Leaders and including an order form. Each Loss Leader double album was priced at $2USD, significantly less than a comparable regular-release double album of the time. (There were also a few single disc issues in 1969-71, and at least one triple disc set.) The fact that Warner sold these double albums at low cost in hopes of increasing sales of their regular releases is the source of the series name Loss Leaders." (Wikipedia)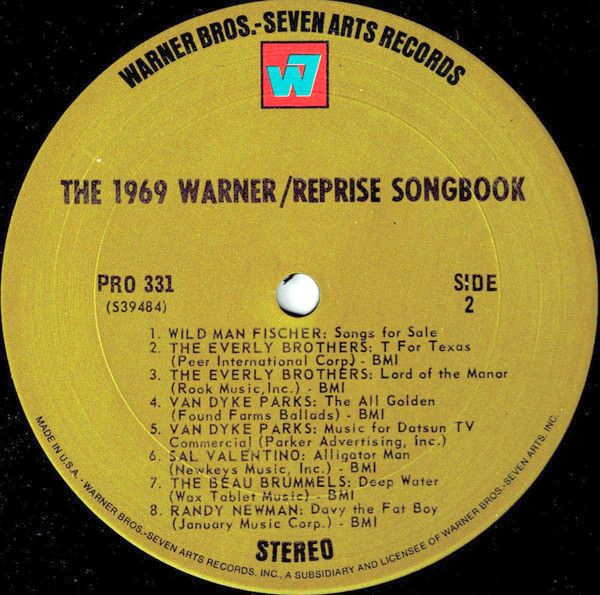 The Warners/Reprise press copy stated, "What we have here, to be out front about it, are some of our favorite records by 23 of the artists currently recording for Warner Bros.-Seven Arts and Reprise Records. We have put this double album together not only for our own enjoyment — since it includes worthy singles that never made it commercially as well as tracks from current albums — but hopefully to win new friends for some very creative people. These Warner/Reprise specials are full stereo, double albums in deluxe packaging. The double albums ($2 for two records) average about 28 selections, each of them is filled with the best of the artists' work, plus some extra collectors' items (like unreleased singles, even an Ice Capades commercial by our Van Dyke Parks).  You can't buy these albums in a store; they are available only by mail, for the ridiculously low price of $2 for the doubles, $1 for Zappéd, and $3 for the deluxe three-record set, Looney Tunes & Merrie Melodies. We can get away with that low price because these celebrated artists and this benevolent record company have agreed not to make a profit on this venture. We (and they) feel it's more important that these samples of musical joy be heard. If you're as suspicious of big record companies as we feel you have every right to be, we avert your qualms with the following High Truths: This is new stuff, NOT old tracks dredged out of our Dead Dogs files. If our Accounting Department were running the company, they'd charge you $9.96 for each double album. But they're not. Yet.  We are not 100 per cent benevolent. It's our fervent hope that you, Dear Consumer, will be encouraged to pick up more of what you hear on these special albums at regular retail prices.  That you haven't heard much of this material we hold obvious. Over 8000 new albums glut the market (and airwaves) each year. Some of our Best Stuff has to get overlooked. Thus, we're trying to get right to you Phonograph Lovers, bypassing the middle man.  Each album is divinely packaged, having been designed at no little expense by our talented Art Department."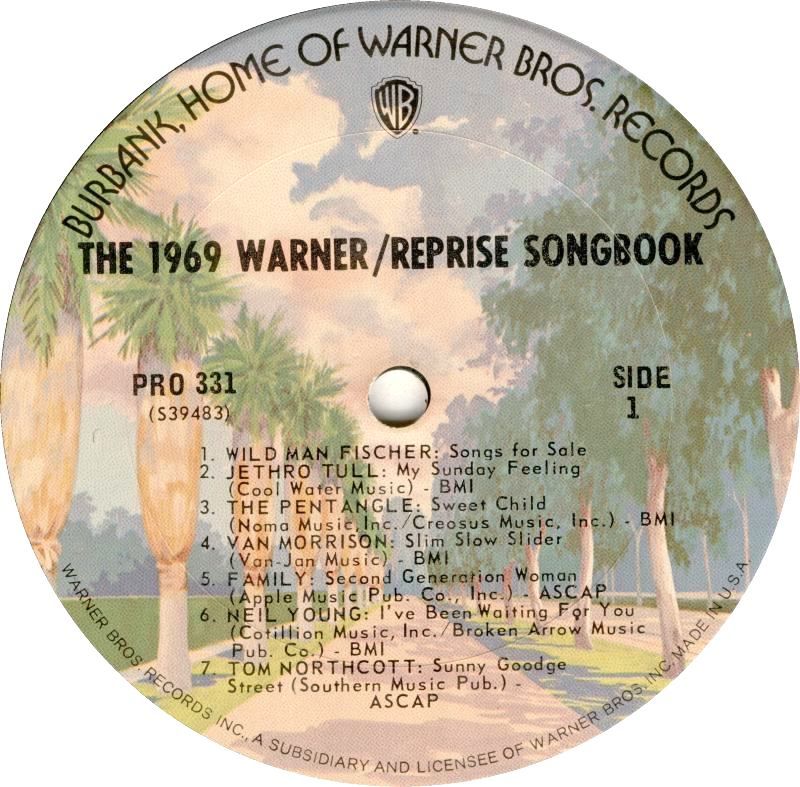 This unique promotional effort by Warners/Reprise caught my eye immediately...imagine...a double album for (gasp!) only $2!  I ordered my copy after seeing an ad in Rolling Stone magazine back in the day when that rag was decent rock & roll reading material (sans perfume ads,eh?)  For a very reasonable sum, I was able to sample the vast array of eclectic artists from the Warners/Reprise roster--- some heady stuff here indeed.... Wild Man Fischer, Van Morrison (a cut off of Astral Weeks), early Van Dyke Parks, The Fugs, The Mothers of Invention (before Zappa achieved sainthood) and Randy Newman's classic horror story, Davey The Fat Boy.  I remember thinking, "Zowie! Who the fuck are these guys?!!"  Yes indeed, this was music that was certainly different and edgy!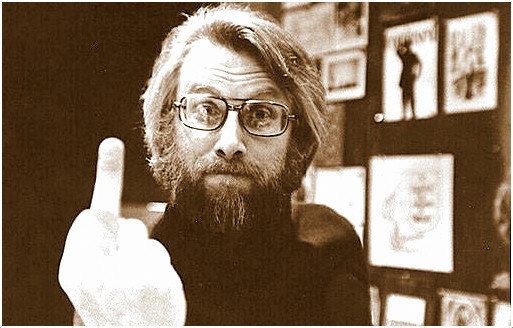 It should be noted that the driving force behind the entire Loss Leaders Series was Warner Reprise promo genius, Stan Cornyn.  Along with coming up with the ideas behind the Loss Leaders series, Cornyn also came up with quirky ad campaigns that included a lookalike contest for the Dead's Ron Pigpen McKernan; a Win a Fug Dream Date Competition sweepstakes; mail-in orders for a pile of dirt from Laurel Canyon and a Joni Mitchell Is 90 Percent Virgin ad; all of which would never fail to catch my eye as I thumbed through the latest issue of Rolling Stone Magazine back in the 1970's.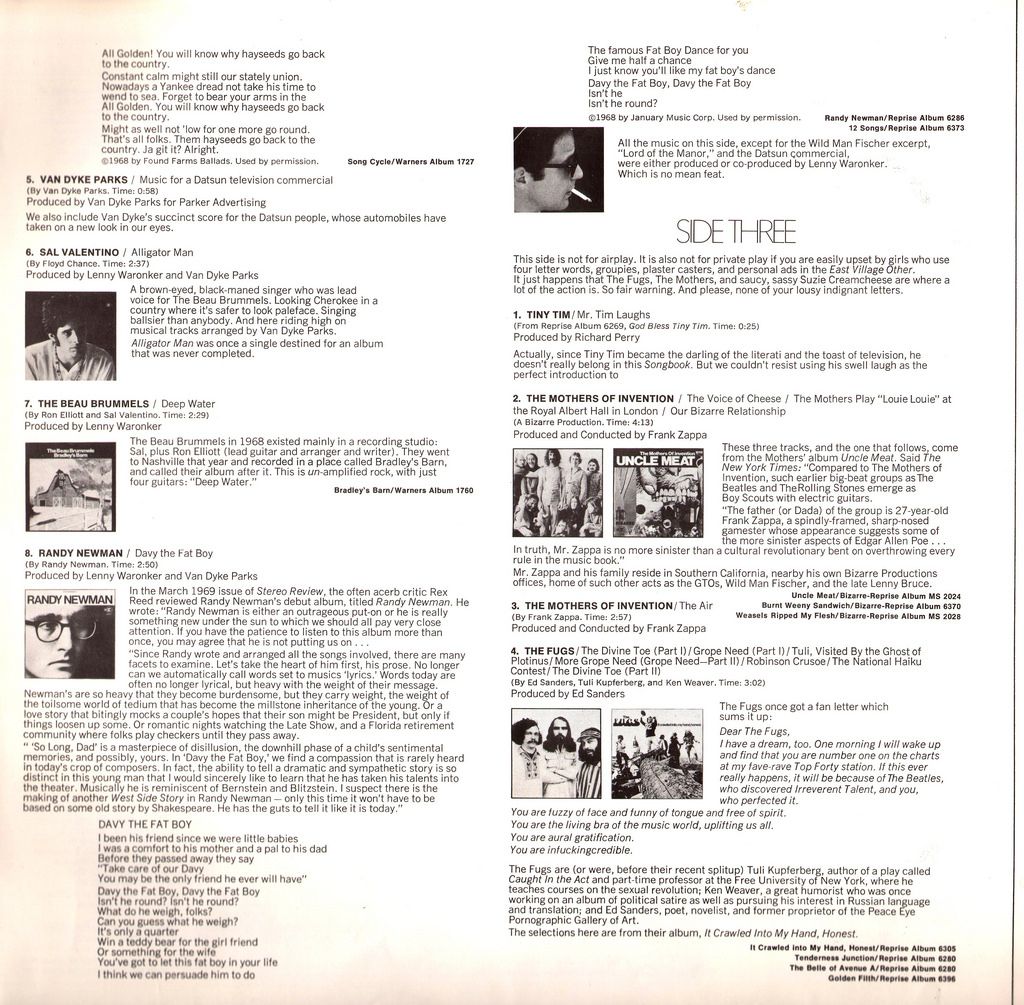 Needless to say, I was taken aback by some of these strange sounds and suitably impressed that a record company went out of its way to release an album like Songbook. Warners/Reprise went on to release many more Loss Leader compilations and as a result, the company acquired a legion of young listeners everywhere who were more than willing to check out these wild new sounds. Heck, for two or three bucks a throw, why not?  The prevailing attitude in the late sixties towards some of these samplers was... if you didn't dig the sounds, at least you'd have a suitable item on which to clean your pot!
In closing here's a comment on the Warner Bros Loss Leaders Series that was posted shortly after Stan Cornyn's death in 2015 from the Music Industry News blog: "I remember those brilliant double promo albums you could buy for two bucks mail order...Loss Leaders WB called 'em....the Big Ball (still have it!) Schalgers, etc. Turned me on to so many acts...everyone from Zappa and the Mothers, Joni Mitchell, Capt. Beefheart, James Taylor, Dion (the wonderful acoustic guitar folkie version), Randy Newman, the hilarious "Illliad" by former Fug Ed Sanders. Not to mention...Wild Man Fischer...a man who'd never get a record deal today!) Too many great acts to name. The 1971 one, Non-Dairy Creamer, turned me on to Little Feat's Snakes on Everything and I became a Feat fanatic for life! Those LPs were wonderful and wonderfully cheap bargains full of amazing music. You filled out a coupon, mailed it in with your two bucks, and a few weeks later it came in the mail and within a week or two I was at Sam Goody's buying those great records. Later when I read his book, I realized what an amazing contribution Stan Cornyn made during what was a golden age in rock and pop music."
Here's some tracks from the Warner/Reprise Songbook 1969 album
2nd Generation Woman - Family
Wide Wide River - The Fugs
Commercial for the Loss Leaders Album Looney Tunes Merrie Melodies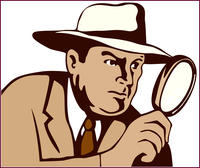 FURTHER INVESTIGATION
In the course of my research, I came across the website DUSTBURY.COM 
which provides a comprehensive breakdown on each of the titles from the Warner Bros Loss Leaders series. 
Also, you can visit the website 30 DAYS OUT Blog
if you want to check out more of the music on these magical samplers.
---
UPCOMING MIND SMOKE RECORD RELEASE
NOV. 20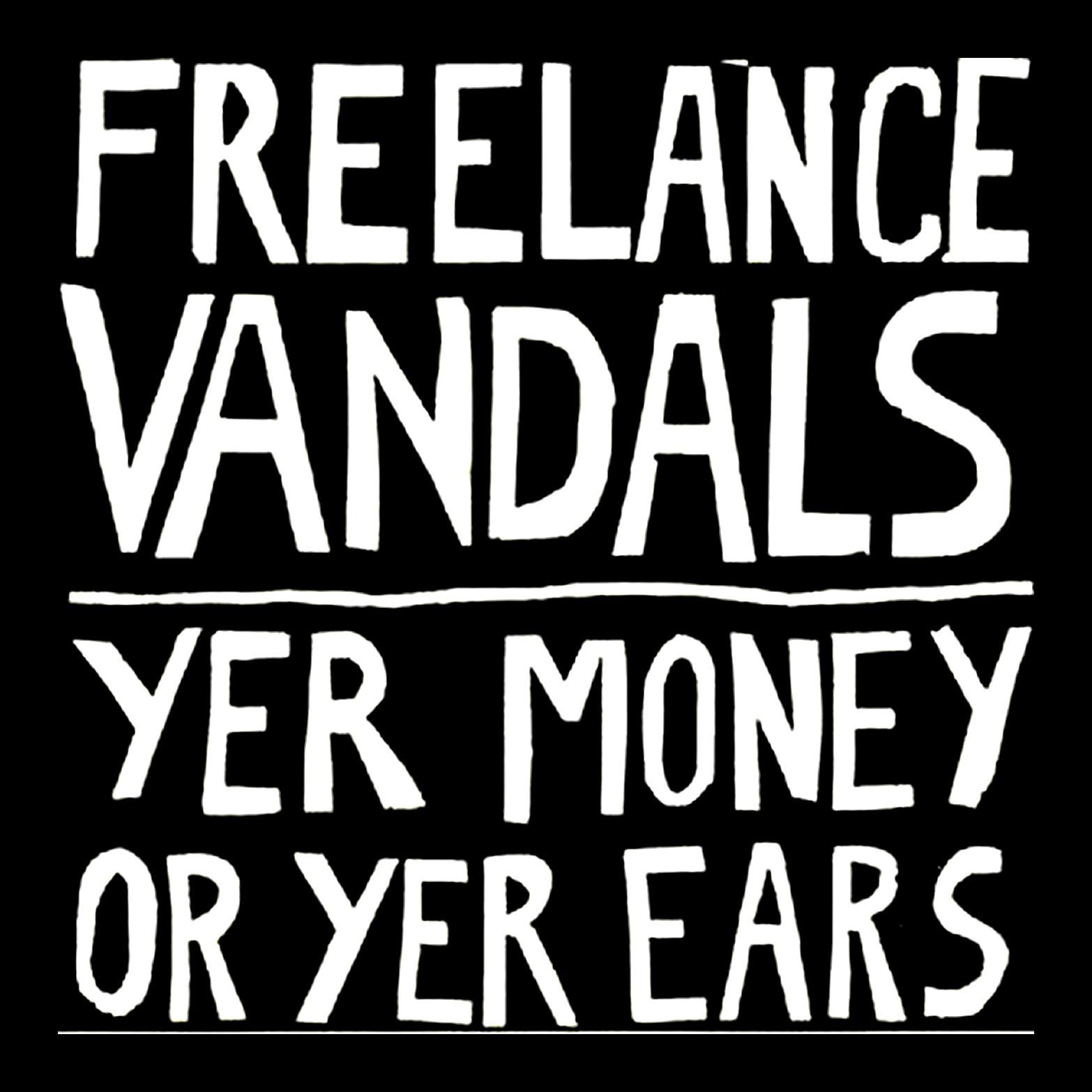 Live 1983 @ The Right Track Inn (Freeport, NY)
---