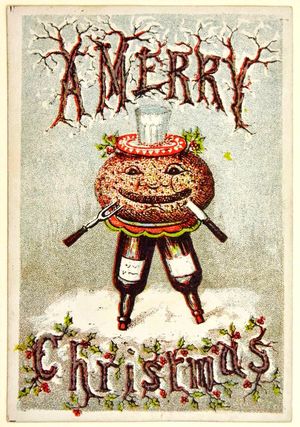 Next Monday... December 9th...is National Christmas Card Day! 
From Smithsonian magazine, A History of Christmas Cards:
" A prominent educator and patron of the arts, Henry Cole, travelled in the elite, social circles of early Victorian England, and had the misfortune of having too many friends. During the holiday season of 1843, those friends were causing Cole much anxiety. The problem were their letters: An old custom in England, the Christmas and New Year's letter had received a new impetus with the recent expansion of the British postal system and the introduction of the Penny Post, allowing the sender to send a letter or card anywhere in the country by affixing a penny stamp to the correspondence. Now, everybody was sending letters. Sir Cole—best remembered today as the founder of the Victoria and Albert Museum in London—was an enthusiastic supporter of the new postal system, and he enjoyed being the 1840s equivalent of an A-Lister, but he was a busy man. As he watched the stacks of unanswered correspondence he fretted over what to do. 'In Victorian England, it was considered impolite not to answer mail,' says Ace Collins, author of Stories Behind the Great Traditions of Christmas. 'He had to figure out a way to respond to all of these people.'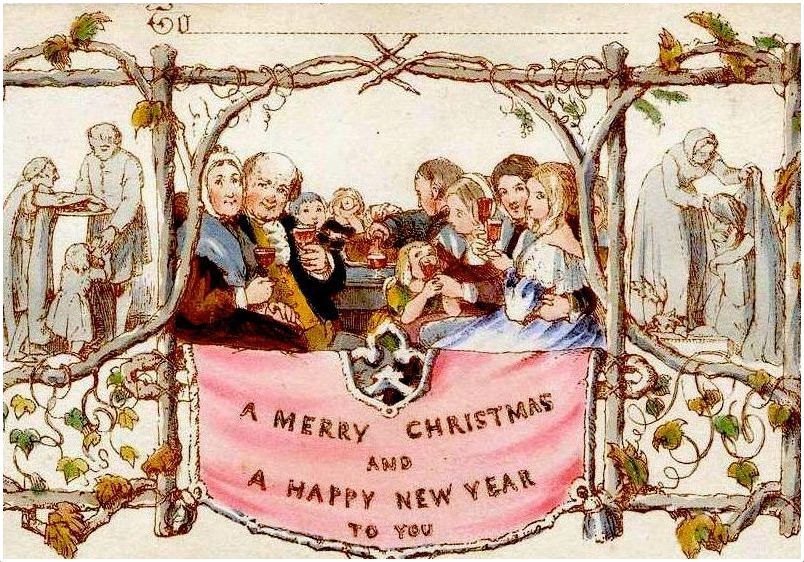 Cole hit on an ingenious idea. He approached an artist friend, J.C. Horsley, and asked him to design an idea that Cole had sketched out in his mind. Cole then took Horsley's illustration—a triptych showing a family at table celebrating the holiday flanked by images of people helping the poor—and had a thousand copies made by a London printer. The image was printed on a piece of stiff cardboard 5 1/8 x 3 1/4 inches in size. At the top of each was the salutation, TO:_____ allowing Cole to personalize his responses, which included the generic greeting A Merry Christmas and A Happy New Year To You.  It was the first Christmas card. 
Unlike many holiday traditions—can anyone really say who sent the first Christmas fruitcake?—we have a generally agreed upon name and date for the beginning of this one...In their image of the family celebrating, Cole and Horsley had included several young children enjoying what appear to be glasses of wine along with their older siblings and parents. 'At the time there was a big temperance movement in England,' Collins says. 'So there were some that thought he was encouraging underage drinking.' The criticism was not enough to blunt what some in Cole's circle immediately recognized as a good way to save time. Within a few years, several other prominent Victorians had simply copied his and Horsley's creation and were sending them out at Christmas. While Cole and Horsley get the credit for the first, it took several decades for the Christmas card to really catch on, both in Great Britain and the United States. Once it did, it became an integral part of our holiday celebrations—even as the definition of the holidays became more expansive, and now includes not just Christmas and New Year's, but Hanukkah, Kwanzaa and the Winter Solstice. "
From countryliving.com:
Why do we often see snowy scenes on cards? 
In the winter of 1836 there was extremely heavy snowfall followed by similarly white winters in the 1840s and 50s. As a result Christmas cards depicting snow scenes became fashionable in the late Victorian period.
What about Father Christmas? 
Father Christmas, or some version of him, has existed since the 3rd century. Until the 1930s, he was depicted in blue and green as well as red. It wasn't until an advertising campaign by a certain red themed drinks company that he became exclusively crimson suited.
What's the symbolism of holly and ivy? 
Historically evergreen plants like holly, ivy and mistletoe were the only means of brightening up less affluent homes during the dark winter months. This tradition was and still is reflected in Christmas cards as depicted here in an illustration by Flower Fairy creator Cicely Mary Barker in 1926.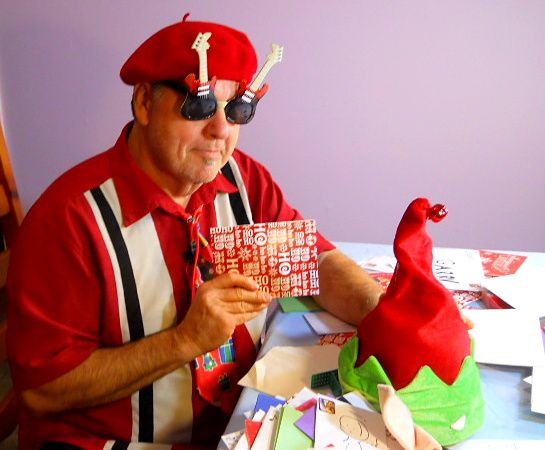 Here's a video of a song about all that Christmas card stuff from my 2015 Christmas album, Johnny Pierre's Holiday Jamboree.  The video was a real family affair; Sweet Loretta (my wifey) was our director / cameraman and my daughter Molly was our film editor!
T'is the season to be silly!
Wishing One & All
A Happy Holiday Season!
---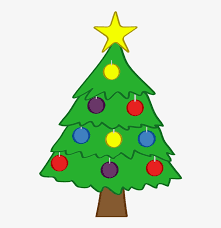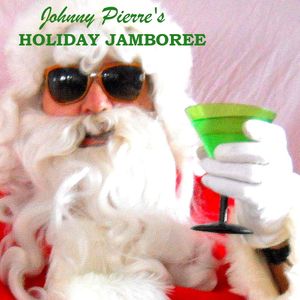 Jazz up yer Holidays with the Johnny Pierre Christmas album!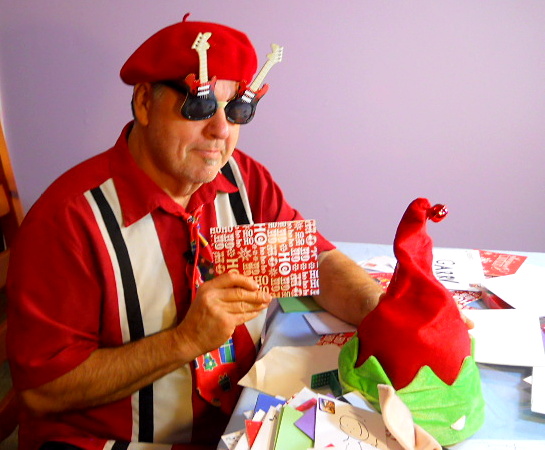 ---