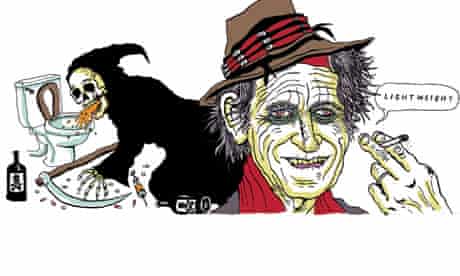 IT'S GONNA BE A ROCK & ROLL HALLOWEEN!
---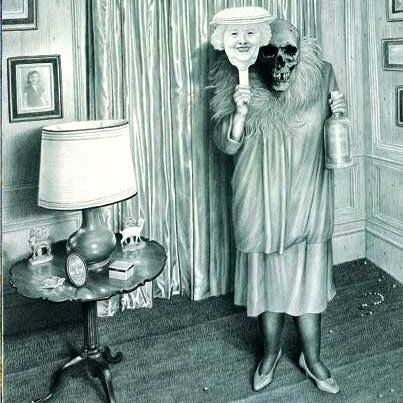 NURSE MORPHINE

Greetings To All You Rock & Rollers Out There!
If during your time exploring this Rock & Roll Halloween blog post
& anyone freaks out or goes crazy just go see our nurse (see above)
Nurse Morphine will be on duty all night long!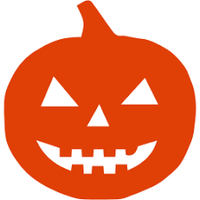 Ok then...
It's time for some scary stories about some well known rock & rollers!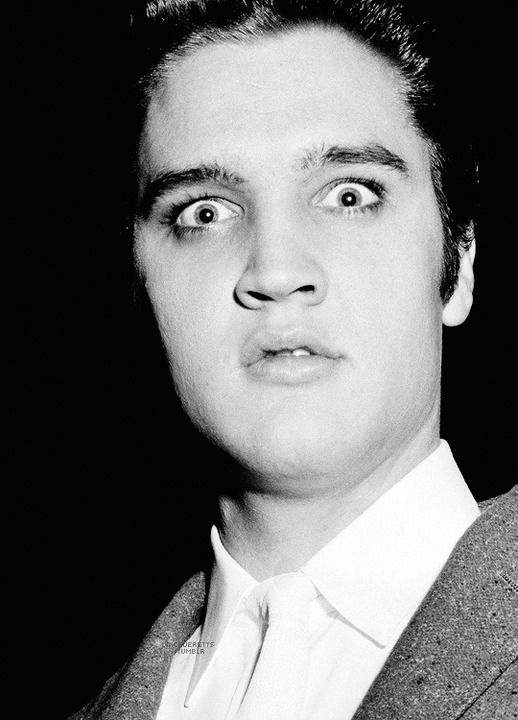 ELVIS PRESLEY
Elvis Presley died on August 16, 1977.  It was an event that caused mayhem among his legion of fans.  Over the years, more and more of his fans refuse to believe that Elvis is dead.  As time went on, there has been a multitude of Elvis fans who insist that they have seen an apparition that looks like an Elvis ghost.  Many of these sightings occurred while these fans were strolling through Graceland, his mansion which was a popular tourist destination.
From the Classic Rock site: "Another story states that in the old building (which used to be the RCA Records Studio but was converted into a TV production facility) where Elvis Presley recorded "Heartbreak Hotel," strange things would happen when Elvis' name is mentioned.  he crew members in the studio claimed that during a show, when someone mentions The King's name, the sound system would produce an unexplainable noise or the lights would turn off – you know, stuff that happens in horror movies."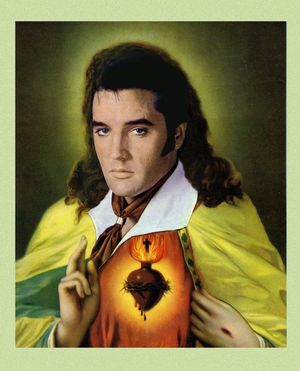 ""Well, the human being is one thing. The image is another.
It's very hard to live up to an image." 
– Elvis Presley
Ronnie Cook & The Gaylads - Goo Goo Muck
---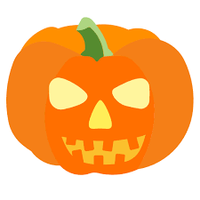 As I was trolling around the Internet last night, I came across this interesting article from a magazine named LLEWELLYN:
Hexes, Ghosts, and Rock & Roll:
A Paranormal History of America's Rock Era 
"Compared to other cultural movements or musical styles, rock & roll is just a baby; it's only a few generations old. But, in those few short decades of existence, rock music has arguably changed the world like no other art form has. 
It's altered more than music, though: it's also changed occult history. In the past sixty years, rock music has produced stories of ghostly visits, tales of demonic encounters, lists of curse victims, and accounts of just about every type of paranormal phenomena in existence. One question then presents itself: Why is the rock & roll genre so haunted? 
Robert Johnson
The clues to why rock is haunted, in fact, are tied to one of rock's first stars, as well as one of the first victims of its supposed occult powers. Robert Johnson (who some call the grand daddy of rock & roll) was once a so-so guitar player—and that's a generous assessment—who stalked blues clubs and juke joints along the back roads and in the depths of the Mississippi Delta. He was desperately seeking recognition as a bonafide bluesman, and therefore be entitled to the beautiful women and generously-provided booze that was usually bestowed on those blues legends (who were really an early version of today's rock stars).
But, it wasn't meant to be. The untalented Johnson was rebuffed by club owners and rejected by his fellow musicians. He just wasn't good enough—that was, however, until Johnson decided to pay a visit to the crossroads. 
After a mysterious year of absence, blues historians say that Johnson returned and was soon showing off masterful guitar licks and chops to adoring, yet unbelieving audiences. Some of his contemporaries said that it wasn't masterful, it was diabolical. Word quickly spread that Johnson made a pact with the devil at the crossroads. In exchange for talent, fame and fortune, Johnson gave the devil his soul. When Johnson was about 27, the devil came to collect on the Faustian bargain. The bluesman died after a violent illness. Several rock occult themes began with his death. 
For starters, Johnson was one of the first modern musicians to claim to have swapped his soul for talent and fame, but other rock musicians soon claimed to have made their own visit to the crossroads. Rumors have swirled that rock stars such as Bob Dylan and John Lennon made similar deals.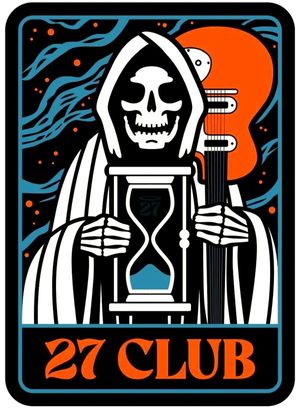 Johnson may have also been the founding member of the "27 Club." Throughout rock history, an unusual number of rock stars take their final curtain call at age 27. Janis Joplin, Jimi Hendrix, and Jim Morrison are three who died at that young age. Most recently, Kurt Cobain and Amy Winehouse carried on the morbid tradition. 
Finally, based on the testimony from several witnesses who have scoured the scene of some of Johnson's famous shows and explored the Dockery Plantation in Mississippi (where he's alleged to had his confab with the devil), Johnson is certainly one of the first, but definitely not the last, rock & roll ghost. The bluesman's ghost and other spirits still walk the dusty Delta roads, believers say.  

Johnson was a pioneer. As his blues merged with country music and gospel to create rock & roll, other artists stepped onto the stage—and into the paranormal.

 
Buddy Holly
Lubbock, Texas-born Buddy Holly may be the first rock and roller to become a true rock artist. While the entertainment business quickly trotted out idols to be adored by millions of teeny-boppers, Holly saw rock as an art form and considered songwriting as a craft. He wrote, produced, and performed his own songs. On Feb. 3, 1959—"The Day the Music Died"—Holly, along with fellow musicians Ritchie Valens and J.P. "The Big Bopper" Richardson died in a plane crash near Clear Lake, Iowa. The world of rock music was thrown into a period of grieving—and mediocrity.
There are those who say that the field where Holly died, as well as some of the venues he used to play, are still haunted by his presence. Other rock occult theorists suggest that several other musicians who were close to Holly also died in mysterious circumstances, an effect now referred to as "The Buddy Holly Curse." 
Jim Morrison aka The Lizard King
By the mid-1960s, rock recovered and then blossomed under the guidance of The Beatles, The Doors, Jimi Hendrix, and other musical innovators who took the stage during this tumultuous decade. These rock stars lived a lot like their songs: fast and hard. By the end of the decade, many had left the stage—permanently. But their spirits remained. Janis Joplin and Jim Morrison (the lead singer for The Doors) both became new members of rock's "27 Club" when they died in the early 1970s, and also are subjects of several ghost stories. Joplin supposedly haunts a hotel in California, not far from her former studio, and Morrison haunts both his childhood home and—as weird as it sounds—the bathroom of a Mexican restaurant.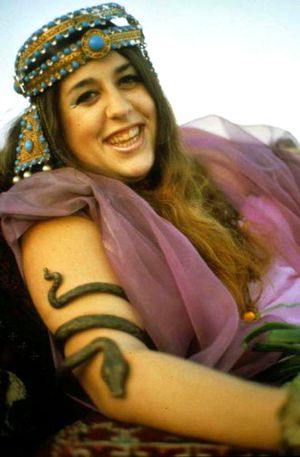 Mama Cass Elliot
While most dismiss these stories about haunted bathrooms and supernatural studios as modern spins on old folk tales or just hoaxes, the stories about the home once owned by Mama Cass Elliot, a member of the smash 1960s group The Mamas and The Papas, seem to be more difficult to discount. People who have lived in her former Beverly Hills mansion (including stars like comedian Dan Aykroyd and actress Beverly D'Angelo) have encountered strange activity when they lived in the home. Jewelry moves across furniture on its own, according to a few reports, and a presence has even been known to pop into bed with stunned current owners. 
Amy Winehouse & Kurt Cobain
These bizarre tales of rock ghosts and curses aren't stuck in the Sixties. In fact, these accounts of the paranormal continue. The ghosts of two of recent rock & roll's biggest and most volatile stars are reportedly still haunting their homes and hangouts. Kurt Cobain and Amy Winehouse, who both not-so coincidentally died at age 27, have left their paranormal mark on the after world, just as they did the real world.
People attribute strange lights and orbs around a park that is mere feet away from the site of Cobain's suicide to the singer's presence. The ghost of Winehouse has been so unnerving to friends and family that it allegedly chased her former lover from the residence.

Those stories are only the tip of rock and roll's supernatural legacy. But again we come back to the question of why: why is rock & roll so haunted? There are several theories. One is that these stories are a new type of myth and folklore. Rock & roll is unique because it's an amalgamation of cultures and spiritual beliefs— both African and European. It carries on pieces of those rich cultural legacies. Ghost stories and legends of evil curses, then, are simply a phenomena of popular culture. 
These stories are a reflection of the love that fans have for their idols. Ghost stories mean that people we love haven't really left for good, which may give fans a chance to believe that their beloved musicians live again.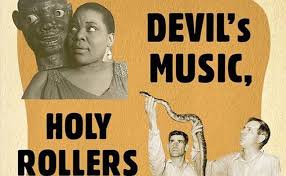 Many of these stories reveal that rock musicians are more than just strong personalities; they are magical personalities. You only have to see the medicine man antics of Jim Morrison, or hear the wizardry of Led Zeppelin's Jimmy Page to recognize that rock stars are the modern equivalent of shamans who managed to travel between the veil that separates our world from other dimensions. 
Whether it's actual paranormal activity, or just folklore, that's for you to decide. But, as long as fans maintain the music's rich heritage of ghost stories and remain fascinated by its tales of curses and hexes, one thing is certain: rock & roll will never die."
---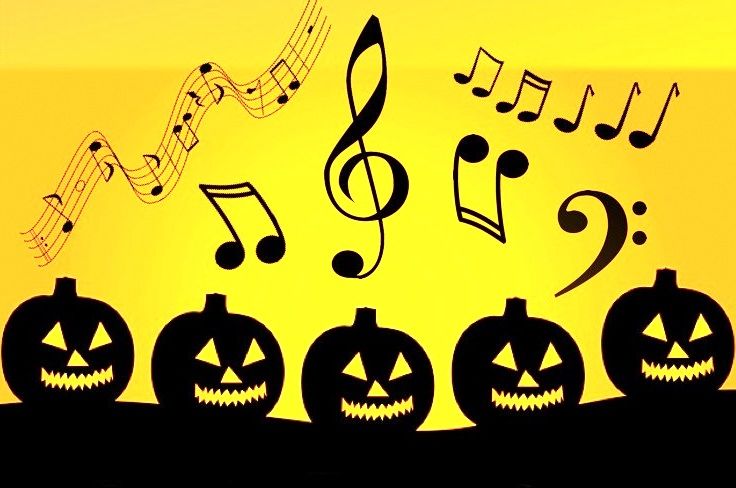 It's Time For Some Spooky Tunes Throughout Rock & Roll History!
From the medium.com site: "Much has been written on the role of Christmas music in American pop, but I'd like to make a substantial argument for the Halloween record, and, by extension, the gothic and fantastic impulses in American music since the birth of rock and roll. The novelty song took on new weight when rock and roll crossed over—strangeness a core aesthetic. The list of 50s rock and roll and doo wop Halloween songs is a long one, and many of them make "Monster Mash" sound pretty weak, even as a joke. As rock and roll grew up, the scares intensified—through the psychedelic era, heavy metal, punk and hip-hop. Hardly some curious subgenre, the Halloween record is the dark B-side to pop's sunny A-side. Mr. Hyde to Dr. Jeckyll, it's essential to pop music's whole. 
After all, the best music depends on darkness. In our most visceral art, there's something primeval—a cultural bonding against all of our fears. Rock and rap talk about the skeletons scratching at the closet, they rail against the body-snatchers that threaten everything that makes life worth living. When they can, they befriend the ghosts and monsters, and when they can't make peace, they go down fighting. Either way, the darkness brings us together.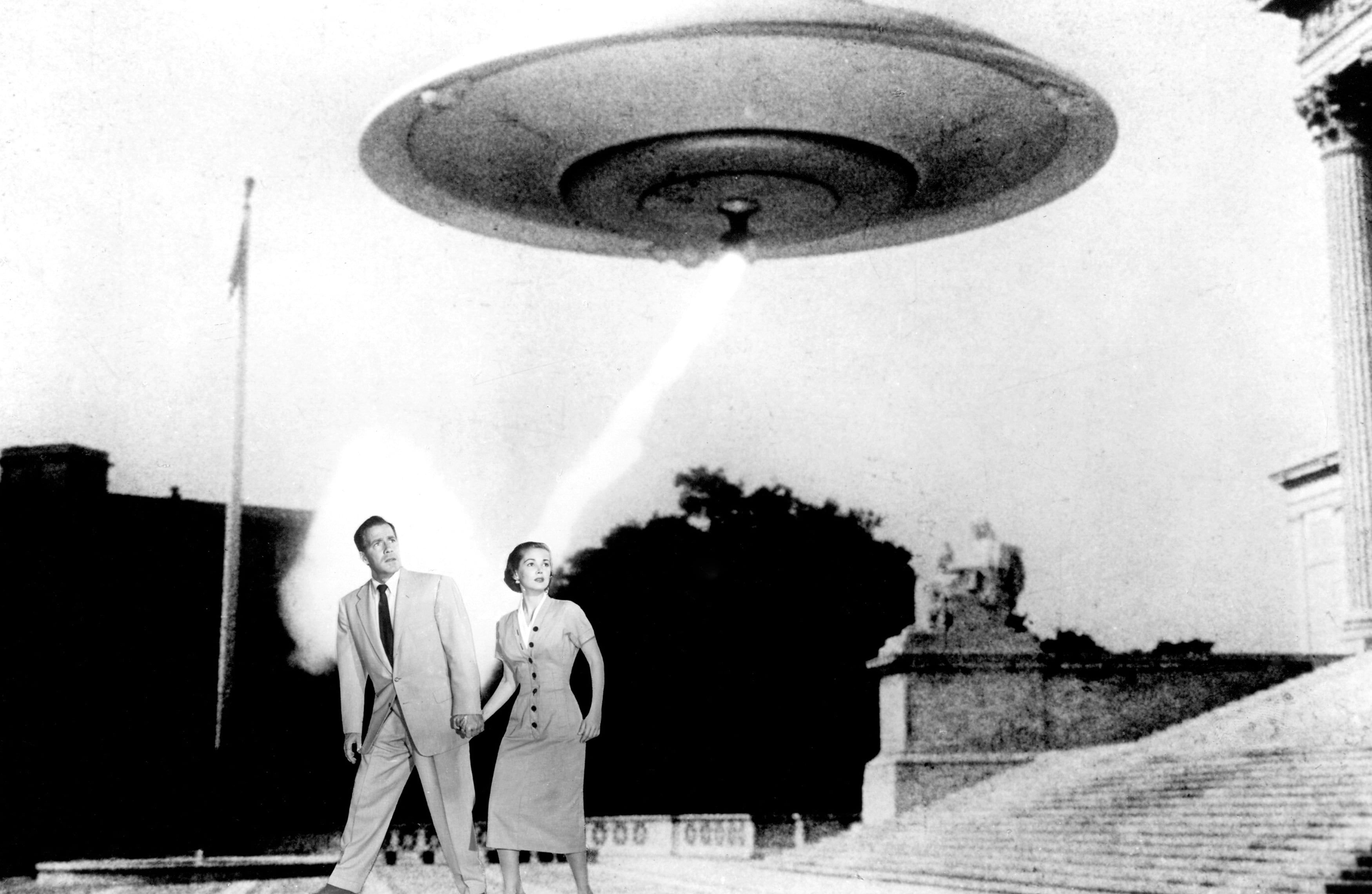 In the beginning, a 1956 novelty hit The Flying Saucer Song, parodied Orson Welles' 1940 Halloween broadcast of The War of the Worlds. When the invading spacecraft opens its pod doors, an intrepid reporter rushes for the alien's first words: A wop baba loo bop a wop bam boom! 
Listeners no doubt laughed when they heard Little Richard's familiar voice. That single went straight to #3 and stayed on the charts for three months. While novelty records had always made up a significant share of the music industry, the moment signals something new happening. Rock and roll was a novelty in and of itself—so strange it was seemingly from outer space.
Of course, rock and roll wasn't from space. It came out of the complex soil of the Mississippi Delta and obscure crannies of the Appalachian Mountains. Taking Pentecostal excitement and applying it to girls and cars, rock and roll was labeled "devil music" by the pious, and the biggest pop singer of the era, Frank Sinatra, said the music was dominated by "the most brutal, ugly, degenerate, vicious form of expression it has been my displeasure to hear."
The darkness of the blues and country that gave birth to rock and roll make it a little ironic that (outside of extremist evangelical circles) people don't talk more about the gothic in pop music. Rock and roll has always embraced our darker thoughts.

Billy Lee Riley - Flying Saucer Rock & Roll
1957 was the year that scary songs became popular;  Memphis rocker Billy Lee Riley had a regional hit with Flying Saucer Rock and Roll, Sheb Wooley's rockabilly hit Purple People Eater went to #1 in June of '58 and a long list of science fiction and gothic themed singles followed. In 1959, Bobby Darin went #1 with the slasher song, Mack the Knife, and in 1962, Bobby Boris Pickett & the Crypt Kickers went #1 with Monster Mash.
The 60s brought a slew of creepy doo wop and garage rock singles and bands with names like ? & the Mysterians, the Troggs and the Zombies. Jimi Hendrix alternately played a space alien, a voodoo sorcerer and a merman from the future. The Rolling Stones sang of Sympathy For The Devil, and a young British musician named Ozzy Osbourne saw a marquee with the name of a Boris Karloff movie, Black Sabbath, and gave it to his band, inventing the most gothic of rock genres, heavy metal...Motown songwriter George Clinton would crib notes from all of the above. By the 70s, his band would be cloning Dr. Funkenstein and cruising outer space in its very own Mothership. 
All of these music developments suggest the nightmares of Halloween may lie closer to the heart of rock and rap than the dreams of Christmas. From Alice Cooper to Blue Oyster Cult or from the Ramones to Motorhead, from the Cramps to Rob Zombie to Marilyn Manson, and from the Geto Boys to Gravediggaz to the Insane Clown Posse, the gothic history of popular music has created its own subgenres. Meanwhile, Michael Jackson's Thriller, Ray Parker's Ghostbusters, and Metallica's Enter Sandman are cornerstones of pop."
The Specials - Ghost Town
---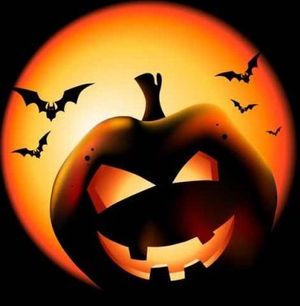 ROCK STARS GHOST STORIES
From the loudwire.com site: "Do you believe in communication from the great beyond? There's certainly plenty unexplained phenomena that has been seen (and felt) over the years to lend credence to the idea, and whether it's rockers reaching out from the afterlife or living rockers being visited by spirits, there appears to be a wealth of rockers who had experiences with the paranormal.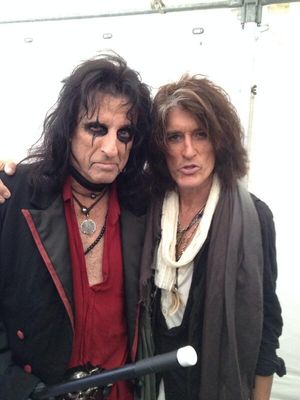 Alice Cooper & Joe Perry
Alice Cooper's Amityville Horror 
New collaborations can be a bit unnerving, especially when there's a paranormal presence freaking you out. Back in 1983, Alice Cooper and Aerosmith's Joe Perry got together to write some new music, only to be totally uneasy the full time due to their new surroundings, Alice Cooper recalled to Cleveland Scene. 
According to Cooper, he and Perry were both fresh from rehab and had decided to work together on music for a new film. His manager set him up with a home in upstate New York that was an old house in the middle of farm country. As Cooper recalls, 'I'm putting my clothes away. I leave the room and come back, and the closet door is closed. The drawer I was packing is closed. Hmm, I don't remember closing that. The house was so full of whatever that on the second night we're there, we're sitting there and eating dinner and it sounds like somebody is moving furniture in the basement. It's making so much noise. It's not even trying to be subtle.' 
Cooper then shared his experience with Perry who related similar experiences since entering the house. 'We ran out of the place," says Cooper. "I found out later this is where the guy who wrote 'The Amityville Horror' wrote the story, there in that house.'"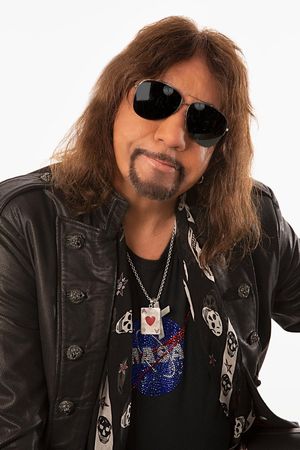 Ace Frehley
One thing that's often not obvious when purchasing a new home is whether or not it's haunted. Frehley recalled two different occasions when his wife and daughter were violently pushed down the stairs of their Westchester, New York, home by what he felt was a ghost. 
'I always had a sense that there was some type of connection with me and the other side,' Frehley said. The musician also said he started noticing things being moved from place to place around his house. The guitarist moved back into the home with his new wife years later, and she immediately picked up on the eeriness of the place while being pushed down the steps as well. Frehley revealed that a psychic had told him his house had previously been inhabited by an abusive mother who murdered her children in the home.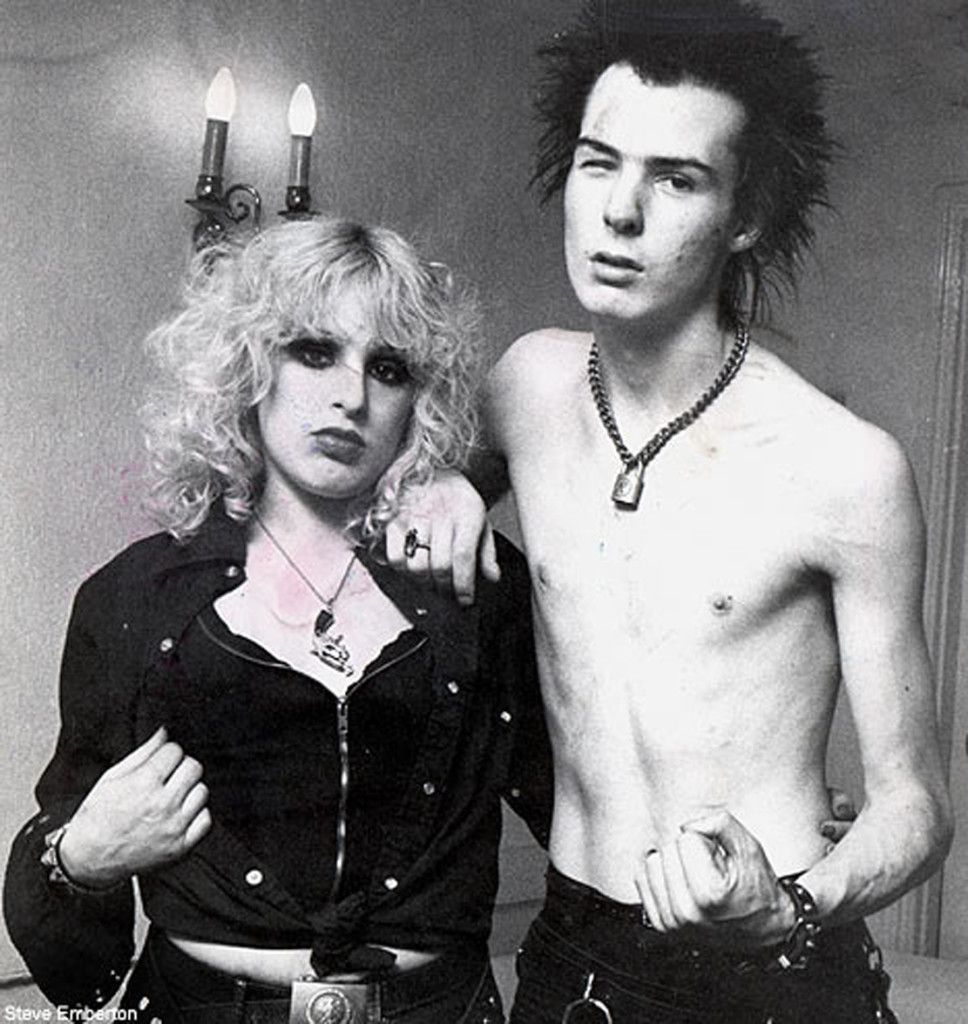 Nancy Spungen & Sid Vicious
The death of The Sex Pistols' Sid Vicious came just a few months after he was charged in the death of his girlfriend Nancy Spungen, but there are people who feel the couple's combustible relationship has carried over into the paranormal world. I Love Classic Rock reports that visitors to the Hotel Chelsea over the years have reported Sid Vicious sightings in both the hotel room where Spungen died as well as the hotel's elevator. Others have spotted the musician opening and closing doors, while guests in Room 100 have reported hearing a couple arguing, someone playing loud music and even some temperature changes occurring. 
Sid Vicious...he did it his way
---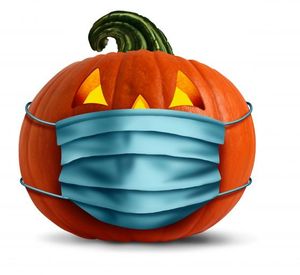 Last But Not Least...
A Weird Trail of Ghosts & Dead Of Rock Stars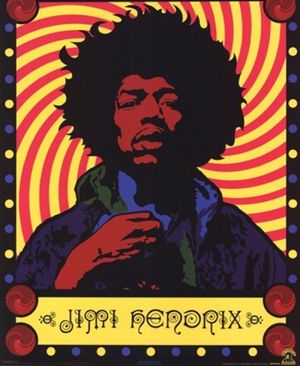 The Ghost of Jimi Hendrix @ Woolsey Hall 
Jimi Hendrix passed away during September of 1970 in London, England. It was a huge loss – Jimi's guitar playing inspired a generation of musicians. It's a huge shame that he's not still around to hear him play – or is he? 
Those who visit Yale's Woolsey Hall in New Haven, Connecticut claim to still be able to hear Jimi performing. It wouldn't be surprising if Jimi Hendrix set up shop there beyond the grave – New Haven has a reputation for ghosts, and there are plenty of tours you can take if you're interested. If he is there, I bet he's having a rockin' time hanging out with all the other ghosts that haunt the area.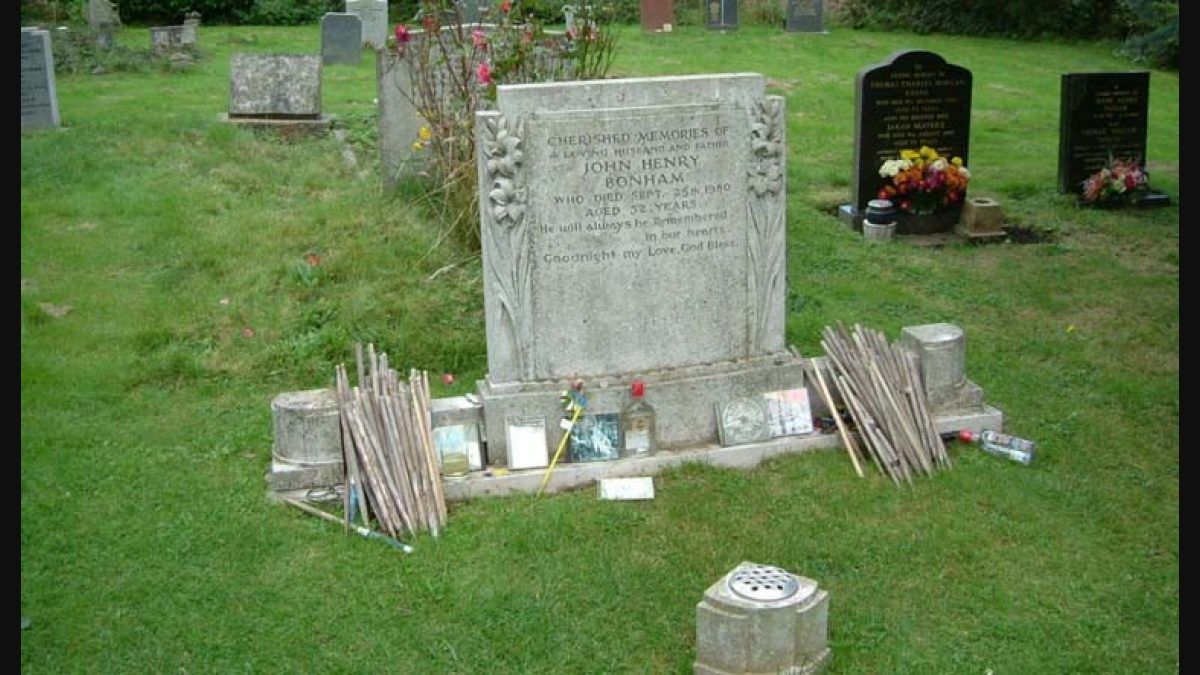 John Bonham Gravesite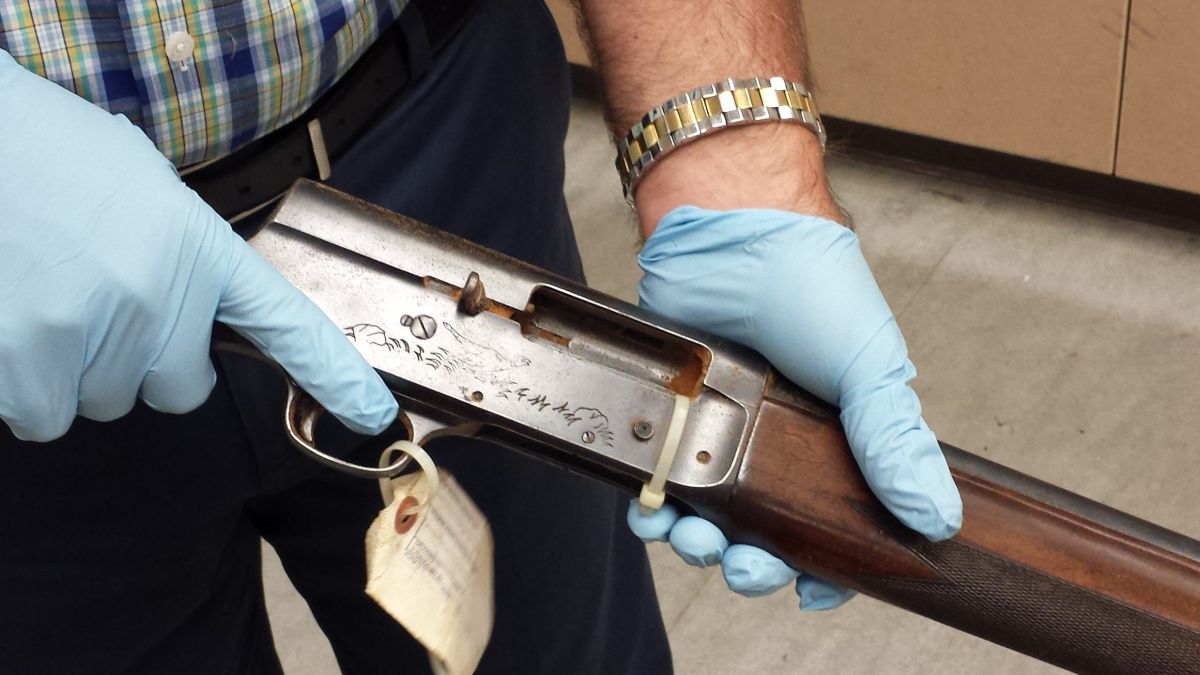 The Seattle Police Showing The Shotgun
That Kurt Cobain Used To Kill Himself
Kurt Cobain committed suicide in 1994.  There is a bench in Viretta Park, Seattle, where fans pay tribute to the late grunge artist. Many say they can see a ghostly figure near the bench and around the park – the ghost of Kurt Cobain!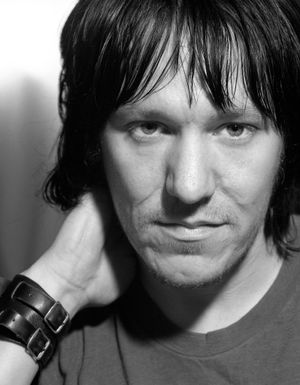 Elliot Smith
Elliott Smith, one of the more depressing songwriters in recent memory, died in October 2003 from being stabbed in the chest — but nobody can quite seem to agree on who caused the wounds: himself or his girlfriend.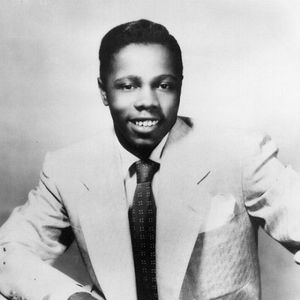 Johnny Ace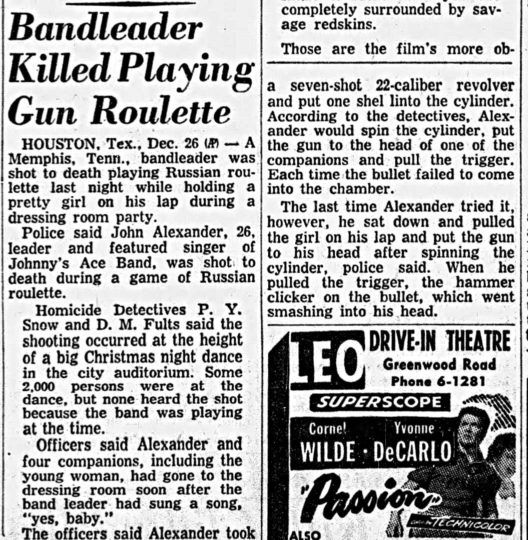 Likewise, numerous musicians have taken their own lives, whether purposefully or wholly by accident. R&B singer Johnny Ace and Chicago guitarist Terry Kath both died from self-inflicted gunshot wounds in 1954 and 1978, respectively, after assuring bystanders their guns were unloaded.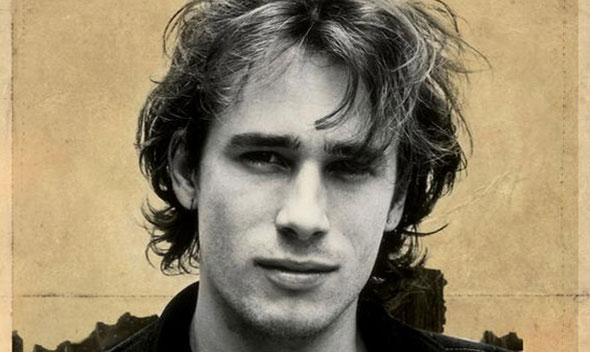 Jeff Buckley
Strangest of all, though, is the story of Jeff Buckley, singer-songwriter and son of famed songwriter / vocalist Tim Buckley. On May 29, 1997, after a recording session in Memphis, the younger Buckley waded into the Wolf River Harbor singing Led Zeppelin's Whole Lotta Love, where he subsequently drowned because he was wearing heavy lumberjack boots when he went into the water. 
---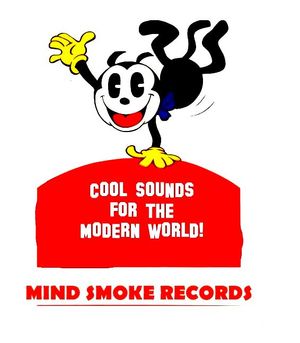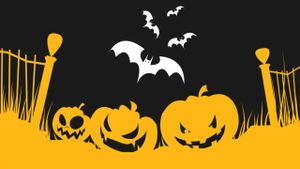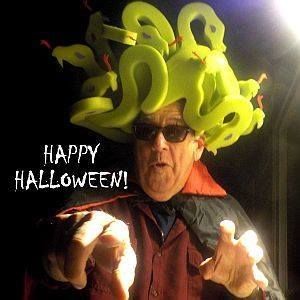 Johnny Pierre's spooky single
Halloween Night
along with all the popular streaming services!
---