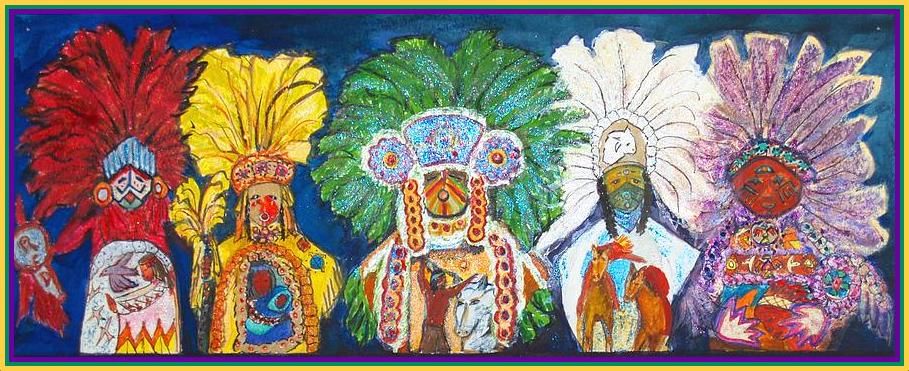 One of the most unique aspects of Mardi Gras in New Orleans is the existence of the Mardi Gras Indians.  From the neworleans.com site: "Mardi Gras is full of secrets, and the Mardi Gras Indians are as much a part of that secrecy as any other carnival organization. Their parade dates, times and routes are never published in advance, although they do tend to gather in the same areas every year. The Mardi Gras Indians are comprised, in large part, of the African-American communities of New Orleans's inner city. While these Indians have paraded for well over a century, their parade is perhaps the least recognized Mardi Gras tradition.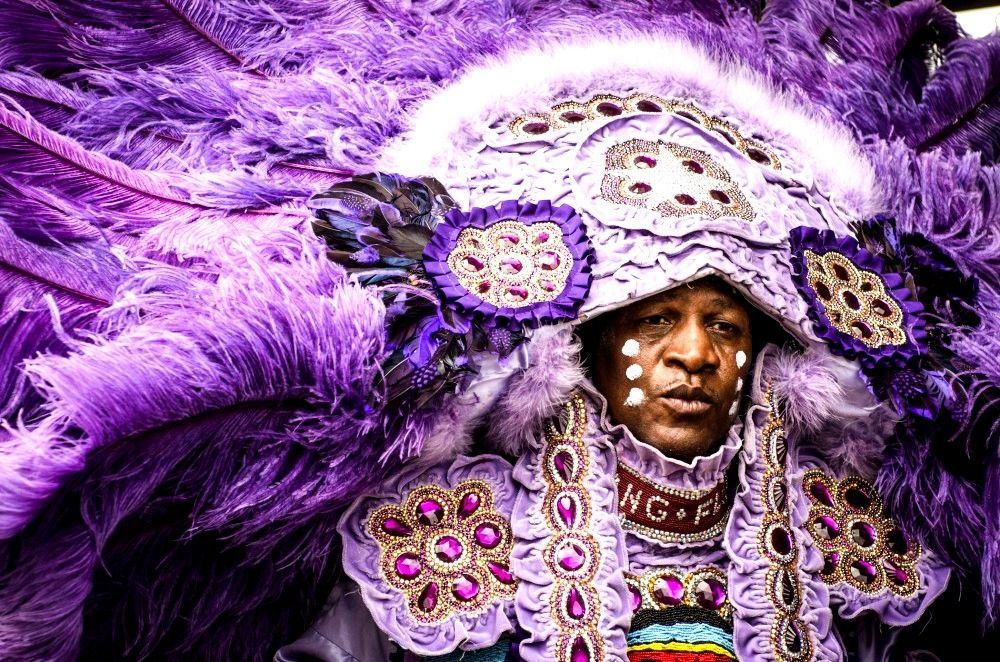 The origins of the black Indians of New Orleans seems to have many variations. Many Mardi Gras tribal members point to black-Indian relationships in the French, Spanish and later American colonial periods wherein Native Americans assisted in the escape of slaves and establishment of maroon communities on the margins of New Orleans and nearby plantations. Some Mardi Gras Indians declare that they have Native American ancestry. Others insist on crediting West African and Afro-Caribbean sources in dance, song style, and rhythms.
The presence of local Native American tribes who mingled with free people of color and French and Spanish locals attending dances and festivals during the 18th and 19th century in Congo Square near today's French Quarter is considered to be a source of today's black Mardi Gras Indians. Some historians also credit the arrival of Wild West shows in the city of New Orleans in the 1880s as a source of cultural representation.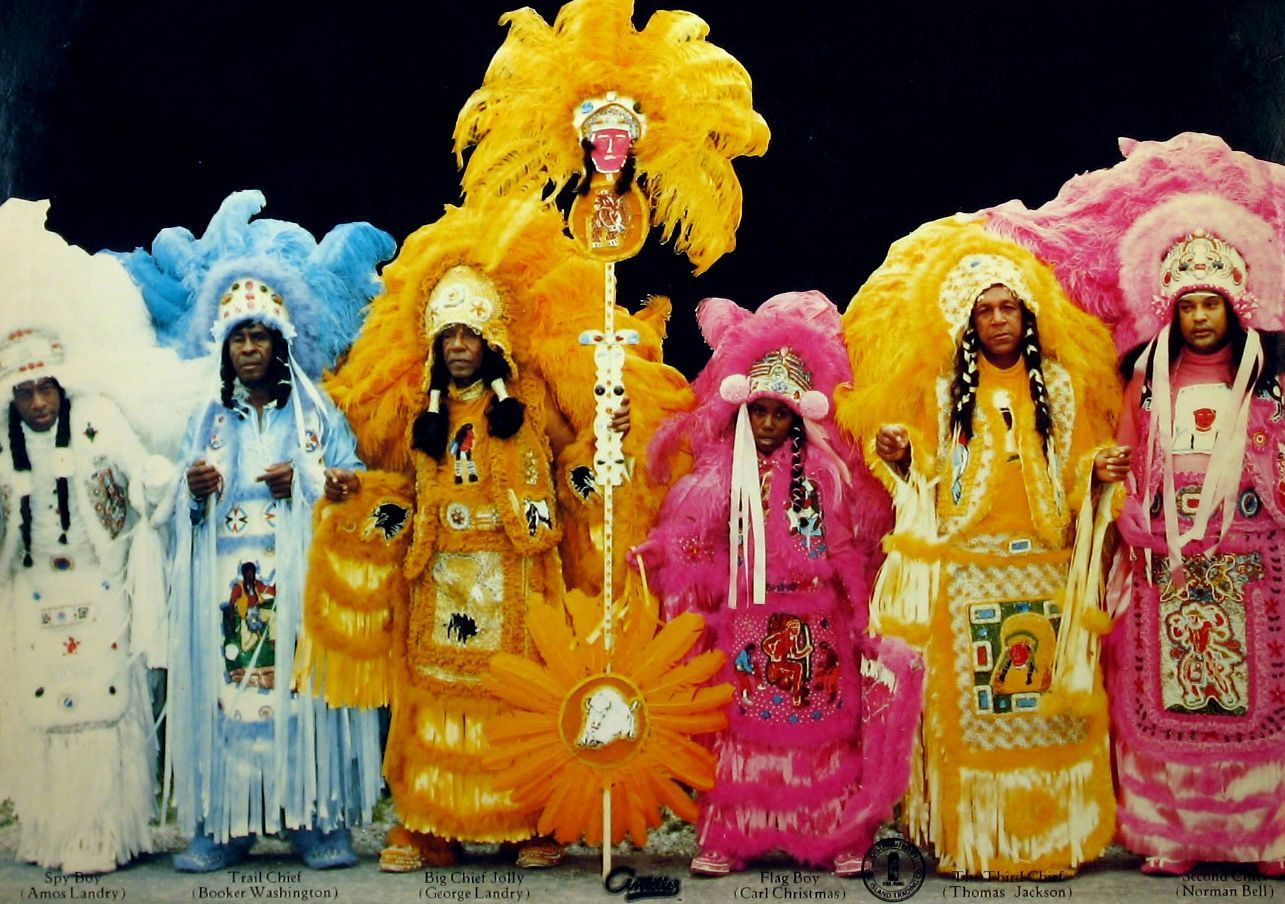 "Membership in a Mardi Gras Indian tribe is voluntary and based on social networking rather than birthright. Tribes are organized with very specific roles for each member, following a system begun by early tribes such as the Creole Wild West and Yellow Pocahontas. The big chief is the tribal leader, often assisted by second chiefs and queens. The spy boy marches several blocks in front of the chiefs and queens, seeking out other tribes. He relays directions to the flag boy, who notifies the chief by waving a flag or stick. When tribes meet, the wild man clears a path among the onlookers so the chiefs can face off. Changes in the tribe membership often lead to changes in these positions, but the hierarchy of the tribal organization—akin to a military unit—is strictly maintained. Matters of any significance fall under the authority of the chief. 
Fraternity within the tribe and competitiveness with other tribes characterize Mardi Gras Indian culture. The Indian embodies a particularly masculine representation of fierceness that has historically relegated women to supporting roles; there are few queens, and men virtually always fill the other ranks. In this way, the big chief and other tribe members correspond both to the figure of the Native American who won't bow, won't kneel in the face of adversity, as well as the protagonists of African-American songs and stories of "big men" such as John Henry and bad men such as Stagger Lee. 
The language of the Mardi Gras Indians is the most elusive and mysterious aspect of the culture. Made up of English and French as well as invented words, the speaking and singing of the Indians is a form of verbal art that resists precise translation but is widely understood by Indians. In many Indian songs, hoo na nae is synonymous with the phrase let's go get 'em,"while the meaning of the frequently heard refrain tuway pockyway is entirely dependent on the context. 
The songs of the Mardi Gras Indians are the most popular and accessible aspect of the culture. At Indian gatherings, songs are arranged in call-and-response fashion, with the chief improvising a solo vocal and the tribe responding with a repeated chant: shallow water oh mama! big chief got a golden crown! A second line (an informal parade) of percussionists accompanies the chants with tambourines, cowbells, and found objects such as beer bottles.
Popular chants have also become the basis for rhythm and blues, soul, funk, and hip-hop recordings, including James Sugarboy Crawford's 1954 rhythm and blues recording of Jockomo. The music and spectacle of the Indians has also spawned tribute songs, such as Earl King's Big Chief, popularized by pianist Professor Longhair in a 1964 recording." (64parishes.org)
JOCK-A-MO : JAMES SUGAR BOY CRAWFORD
PROFESSOR LONGHAIR - BIG CHIEF PART 2 FEATURING EARL KING ON VOCALS
The most popular song associated with the black Indians of New Orleans is Big Chief. Written by the late New Orleans guitarist-composer Earl King, also the originator of the Mardi Gras anthem Street Parade, the song was first recorded in 1964 for Watch Records. The session included Mac Rebennack, who later became known as Dr. John, on guitar and Professor Longhair on piano. King whistles and handles the vocals on Big Chief Part 2 ("Me big chief me got 'em tribe/got my spy boy by my side"), considered to be the session's definitive version.
THE GOLDEN EAGLES FEATURING MONK BOUDREAUX 
LIVE @ THE H&R BAR IN NEW ORLEANS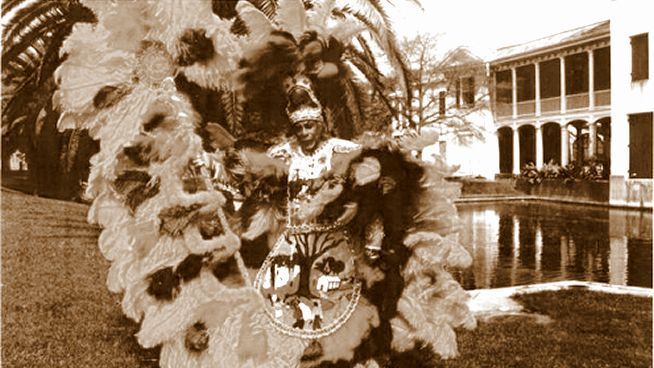 "Historical records suggest that blacks were dressing up as Indians to celebrate Mardi Gras as early as 1746. Intermingling of the two races soon led to a boom in mulatto babies. Some of these Creoles even used their costumes to sneak into the secret society Mardi Gras balls. This development ultimately prompted the Spanish government that ran New Orleans at the time to ban them from wearing masks.  So instead they stuck to the black neighborhoods around Congo Square. That is, until the 1811 slave revolt led to a complete ban on all gatherings by people of color, regardless of whether they were enslaved or free men. In 1866, after the end of the Civil War, hundreds of former slaves joined the U.S. Army's 9th and 10th Cavalry Regiments and 24th and 25th Infantry Regiments. These were established by the United States Congress as the first all-black regiments to serve during times of peace. Approximately 50 to 60 Plains Indians marched on the streets of New Orleans during Mardi Gras in 1885, all of them wearing traditional costumes. Some historians suggest that the first Mardi Gras Indian gang– "Creole Wild West"– was formed later that year, but CWW members suggest their origins date back to the early 1800s."  (green globe travel site)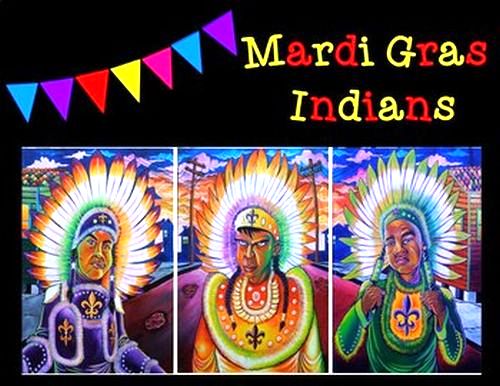 The Mardi Gras Indian tradition remained largely underground for decades, dividing geographically into loosely organized gangs (now known as tribes). They would secretly gather to sing and chant in the ancient tribal tradition. They worked all year long to create colorful suits bedecked with intricate hand beading, false gems and decorative feathers. They would also craft matching accessories such as staffs, shields, and tribal flags. 
TO-WA-BAC-A-WAY -  THE INDIAN RACE
MARDI GRAS INDIANS WITH JOE DEGRAIT
On Mardi Gras day, the police were often kept busy protecting the tourist-focused French Quarter, so the Mardi Gras Indians would take to the streets of their neighborhoods to strut their stuff and honor the Indians who had helped them obtain their freedom. When they met with a rival tribe, some reports suggest that it often led to violence, with stabbings and shootings relatively common. But other Mardi Gras Indian historians (including Cherice Harrison-Nelson, founder of the Mardi Gras Indian Hall of Fame) argue that these reports of violence were greatly exaggerated.
BIG CHIEF TOOTIE MONTANA
Allison "Tootie" Montana was born December 16, 1922, in New Orleans, Louisiana. His father, Alfred Montana, was a baker. He served as Big Chief of the Yellow Pocahontas Mardi Gras Indian tribe from the 1920s until 1941,when World War II forced the cancellation of the carnival. After the war, Tootie began masking with the Eighth Ward Hunters, and in 1947 he became Big Chief of the Monogram Hunters, a tribe he founded with some friends. In 1956, Montana married Joyce Francis, who never masked herself, but who has helped Tootie make his costumes, which might cost several hundred, and even thousands, of dollars to make.
THE DIXIE CUPS - IKO IKO
The Mardi Gras Indians first entered American pop culture consciousness in 1965. That's when New Orleans girl group The Dixie Cups had a hit with Iko Iko (a cover of 1953's Jock-A-Mo, by Sugar Boy and His Cane Cutters). The lyrics described a quintessential collision between two tribes, who exchange taunting chants: "My flag boy and your flag boy were sittin' by the fire. My flag boy told your flag boy, 'I'm gonna set your flag on fire..."

Powerful Big Chiefs such as including Bo Dollis (Wild Magnolias), Donald Harrison Sr. (Guardians of the Flame), and Tootie Montana (Yellow Pocahontas) came together in the '70s and put an end to the violence. Together, they moved this iconic African-American tradition into the New Orleans mainstream. 
Few in the ghetto felt they could ever participate in the typical New Orleans parade. Historically, slavery and racism were at the root of this cultural separation. The black neighborhoods in New Orleans gradually developed their own style of celebrating Mardi Gras. Their krewes are named for imaginary Indian tribes according to the streets of their ward or gang. The Mardi Gras Indians named themselves after native Indians to pay them respect for their assistance in escaping the tyranny of slavery. It was often local Indians who accepted slaves into their society when they made a break for freedom. They have never forgotten this support. In the past, Mardi Gras was a violent day for many Mardi Gras Indians. It was a day often used to settle scores. The police were often unable to intervene due to the general confusion surrounding Mardi Gras events in the city, when the streets were crowded and everyone was masked. This kept many families away from the parade, and created much worry and concern for a mothers whose children wanted to join the Indians.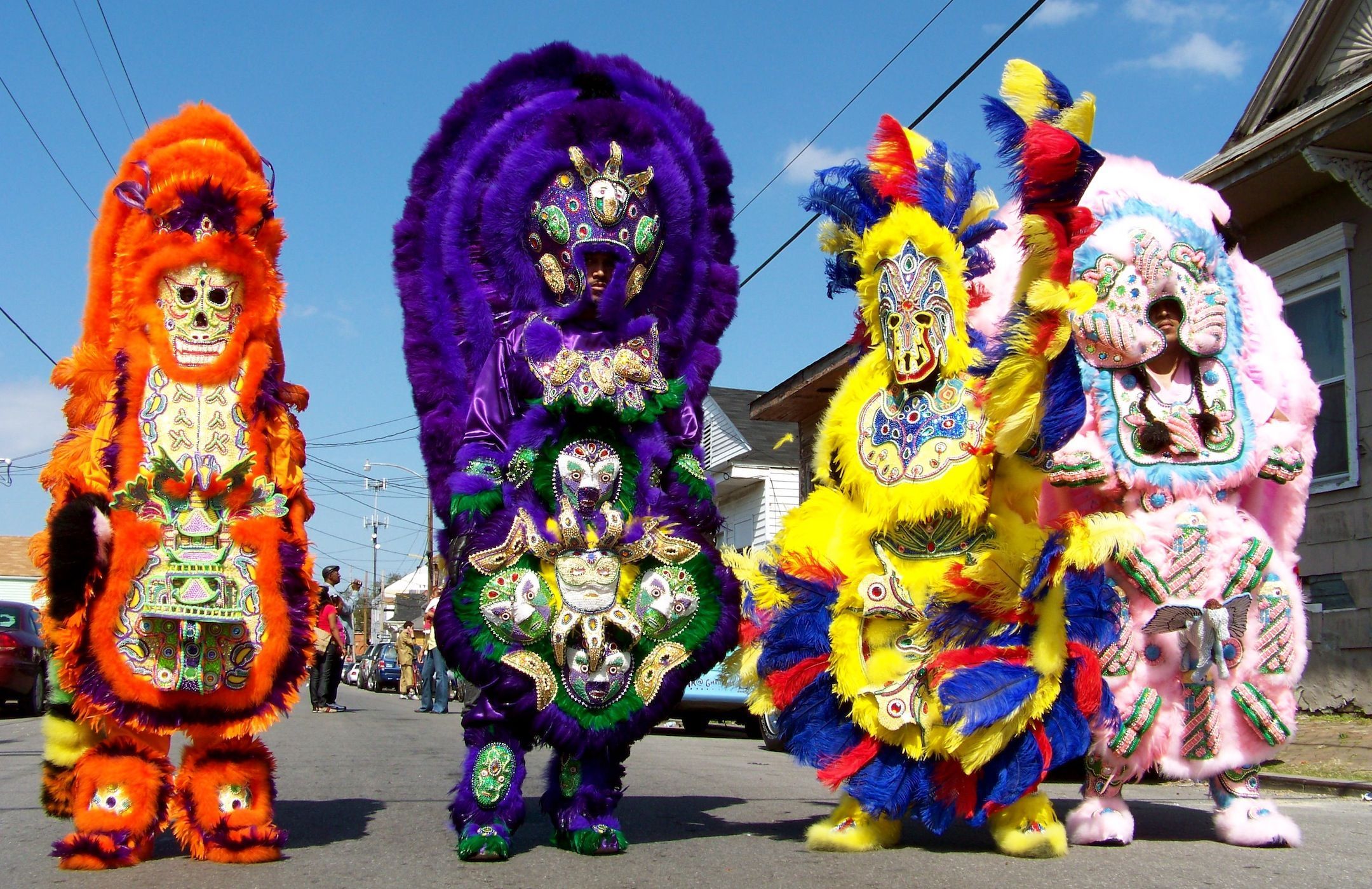 Today, when two Mardi Gras Indian tribes pass one another, you will see a living theater of art and culture. Each tribe's style and dress is on display in a friendly but competitive manner. They compare one another's art and craftsmanship. The Big Chiefs of two different tribes start with a song/chant, ceremonial dance, and threatening challenge to Humba. The Big Chief's demand that the other Chief bows and pays respect. The retort is a whoop and equally impressive song and war dance with the reply, Me no Humba, YOU Humba!
The good news is Mardi Gras day is no longer a day to settle scores among the Mardi Gras Indians. Now that the tradition and practice for the Indians to compare their tribal song, dance and dress with other tribes as they meet that day, violence is a thing of the past. The Mardi Gras Indian has invested thousands of hours and dollars in the creation of his suit, and will not run the risk of ruining it in a fight. This tradition, rich with folk art and history, is now appreciated by museums and historical societies around the world. It is a remarkable and welcome change from the past.
MARDI GRAS INDIAN BATTLE ON ST. CLAUDE AVENUE
THE GOLDEN EAGLES ON MARDI GRAS DAY
MARDI GRAS INDIAN CULTURE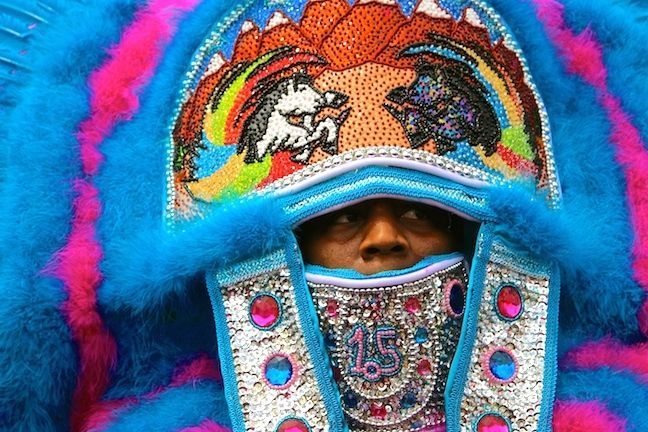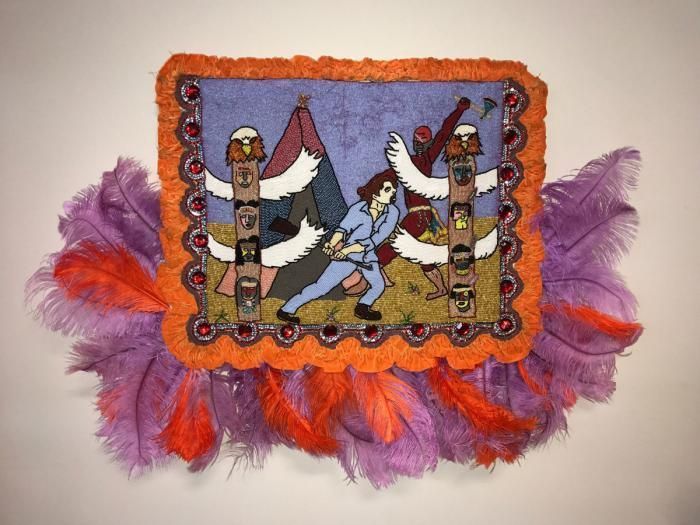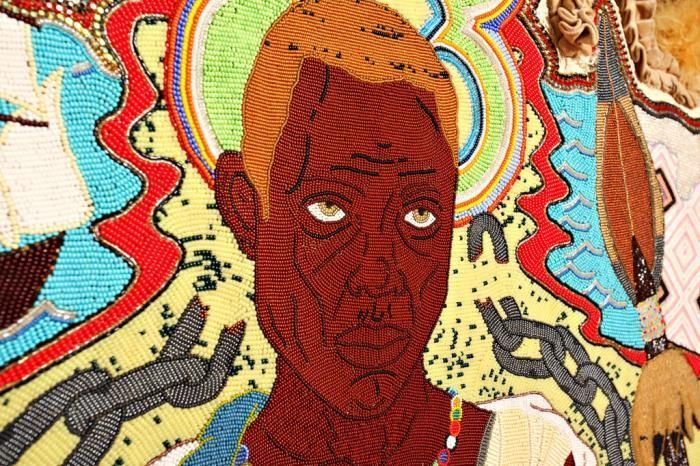 Mardi Gras Indians in New Orleans celebrate
St. Joseph's Night in elaborate costumes
From the Folklife in Louisiana site: "The honor of being an Indian Chief carries with it many responsibilities. Time and money must be spent throughout the entire year creating and painstakingly sewing together the costumes. Naturally, the Chief must have the most beautiful and most elaborate outfit in his group. He is in competition with other tribes to out-dress their Chiefs. He must also command the respect of his tribesmen, teaching them to follow his commands, so that their dancing and singing is as sharp as it can be. He must motivate them to participate in long practice sessions and help them to design their own costumes. Additionally, the Chief represents his community at various functions throughout the year...The art of sewing Indian costumes, as well as accompanying cultural tradition was passed on to Charles by his uncle, who undoubtedly devoted many painstaking hours towards teaching the intricate and detailed craft. This art is complicated and involves special tools and special knowledge which can only be taught by someone who has been involved in the tradition for many years. Pride is an important aspect of the Mardi Gras Indian culture--pride in a job well done, in one's own creation, and in one's own heritage. Charles has expressed his joy in being able to pass on this information 'so that the younger generation will understand and be proud of their history. Even though they are poor in other ways, they can be rich in pride for being able to create something so wonderful as a Mardi Gras Indian costume, which embodies art, culture, and history.' 
With names like Creole Wild West, Yellow Pocahontas and Wild Magnolias, the Indian men and families work for months to sew elaborately-colored bead and feather "suits" that are shared traditions of creativity drawn from images of Plains Indians hunting, making war, riding horses or other pursuits. Many of those who "mask Indian" also design and sew highly individual works that may come to them in dreams. In spite of the term, very few Mardi Gras Indians actually wear masks, though many paint their faces and use long hair, braided wigs. 
Each tribe is divided into a hierarchy with a Big Chief at the top, and various supporting second chiefs, queens, and princesses. Special roles are taken by a spy boy who keeps a lookout for other gangs of Indians and a wildman who may clear a path in the crowded street between tribes so that the chiefs may meet to face-off in ritual dances and chants that demonstrate power and demand respect. Historically this could lead to violence, but in recent decades, under the leadership of the late chief Allison 'Tootie' Montana, the chiefs and tribal members have moved toward competing with their costumes, song and dance to be the prettiest.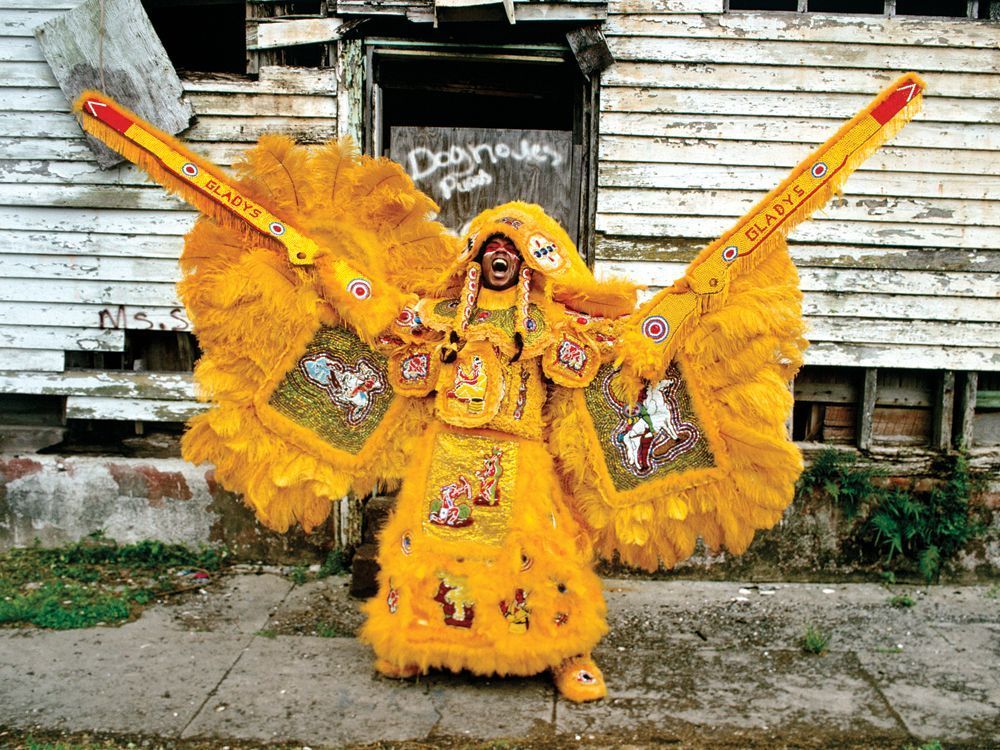 Each chief is expected to be a good singer capable of improvising songs over a dense rhythm section of bass drums, tambourines and various bottles, sticks and bells. The words may comment on his prowess and the day's activities with the full tribe and followers in backing chorus. One song, Sew, Sew, Sew, describes the work of the men preparing costumes; another, My Big Chief Got a Golden Crown, offers praise to the leader; Indian Red is a hymn-like song of prayer to the Native spirits assembled in a clubhouse or home at the start of an Indian practice or parade. Words of some songs and street commands like J'a q' mo fille na-nay or Tu way pas qui-way show of mix of French Creole and secret group language that defies direct translation.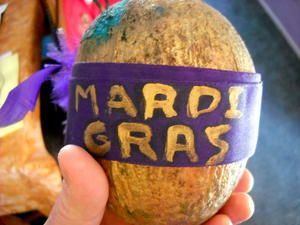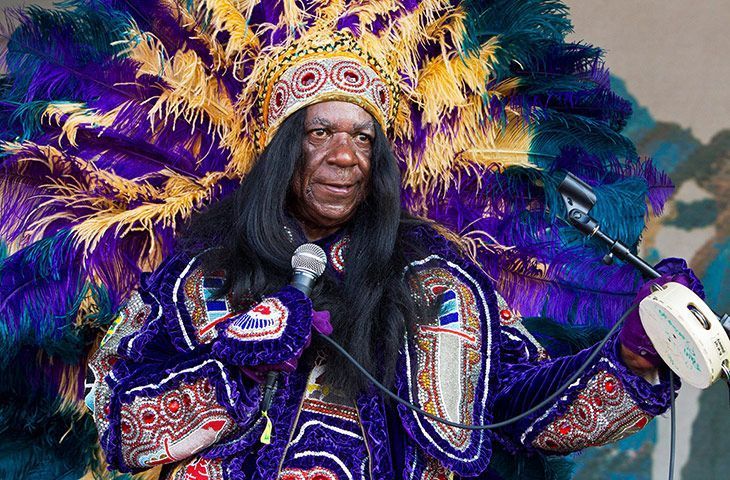 BIG CHIEF MONK BOUDREAUX
The Mardi Gras Indians who walk and dance in the streets of New Orleans have often received less attention than Zulu, the famed African American parody-filled float parade, or elite white Uptown krewes like Rex and Proteus with their originally mule drawn wagons of elaborate papier-maché theme floats. However, the black Indians have also come to signify African roots and communal power in a city where class disparities based on race have been profound. Famed Indian chiefs like Monk Boudreaux, Bo Dollis and the late Donald Harrison Sr. became better known in annual New Orleans Jazz Festival appearances, sound recordings and international touring. In the immediate post-Katrina flood period (2005), Mardi Gras Indians famously returned early to their ritual and festival ways and were viewed as emblematic of the will of black New Orleanians to return to and rebuild their distressed city in articles from the local Times-Picayune newspaper to the New York Times. At today's Carnival in New Orleans the Mardi Gras Indians continue their pomp and pride-filled march through the 21st Century.
Big Chief Monk Boudreaux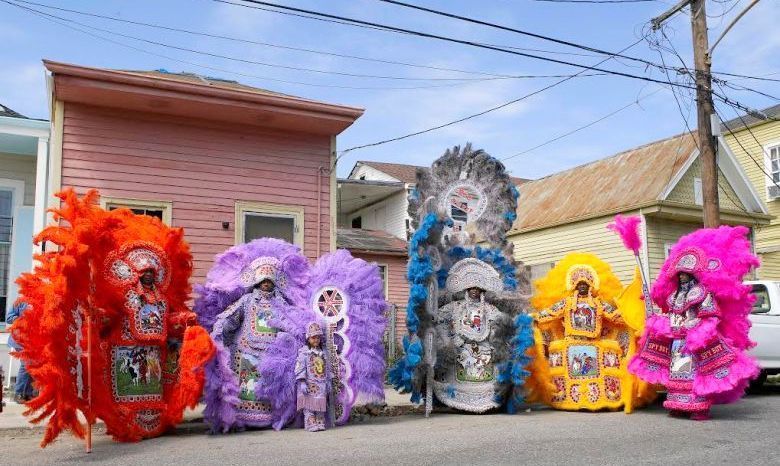 From the neworleans.com site: "Mardi Gras is full of secrets, and the Mardi Gras Indians are as much a part of that secrecy as any other carnival organization. Their parade dates, times and routes are never published in advance, although they do tend to gather in the same areas every year. The Mardi Gras Indians are comprised, in large part, of the African-American communities of New Orleans's inner city. While these Indians have paraded for well over a century, their parade is perhaps the least recognized Mardi Gras tradition."
A Mardi Gras Indian Remembers The Early Years Of Parading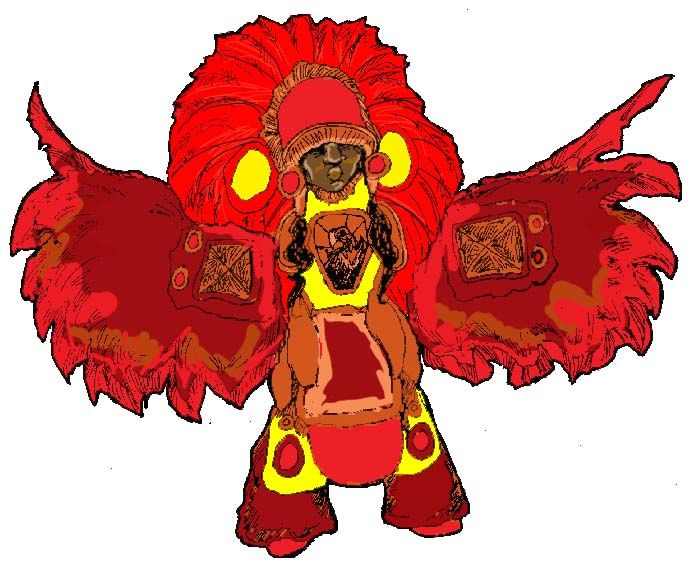 Handa Wanda
Bo Dollis and the Wild Magnolia Mardi Gras Indian Band
In 1971, Bo Dollis and the Wild Magnolias were the first Indians to make a commercial recording of their own music, using a group of funk musicians to arrange Dollis's Handa Wanda. Under the musical direction of pianist, composer, and arranger Wilson Turbinton (Willie Tee), the Wild Magnolias recorded two LPs in the early 1970s and toured the United States and France.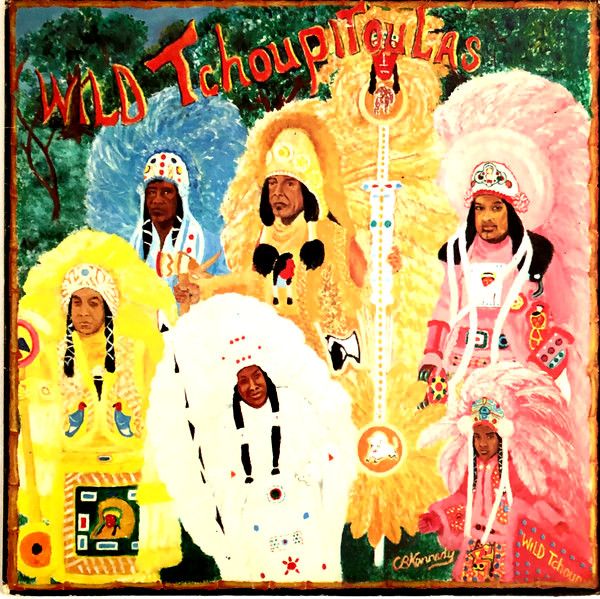 Mardi Gras Indian music was given a sizable boost in 1976 when the Wild Tchoupitoulas tribe recorded an album, titled Wild Tchoupitoulas, with arrangements by the city's acclaimed funk group, The Meters. On the record and in performance at the New Orleans Jazz & Heritage Festival, lead vocalist Joseph Landry (Chief Jolly) was accompanied by his nephews, the Neville Brothers. Like Willie Tee, the Nevilles—Art, Charles, Aaron, and Cyril Neville—grew up listening to the Indians on Mardi Gras Day.
THE WILD TCHOUPITOULAS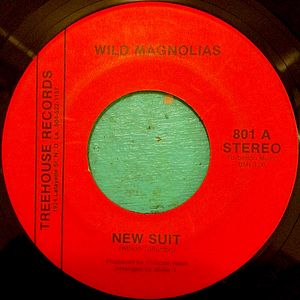 Music composed for these recordings, such as the Magnolias' New Suit in 1975 and the Wild Tchoupitoulas' Meet De Boys on the Battlefront, released the next year, now stand alongside Big Chief and Iko, Iko as the most prominent and durable signs of the Mardi Gras Indian tradition. 
Musical recordings and staged performances brought extraordinary recognition to what had been a relatively obscure and even secretive community practice, attracting a much larger public to the tradition of masking and chanting. The increased attendance at Indian parades on Mardi Gras Day and especially the proliferation of official cultural presentations—museum exhibitions of costumes, Indian parades at local festivals, concert performances of traditional chanting—owe much to the ongoing popularity of Indian music.
The WIld Magnolias - New Suit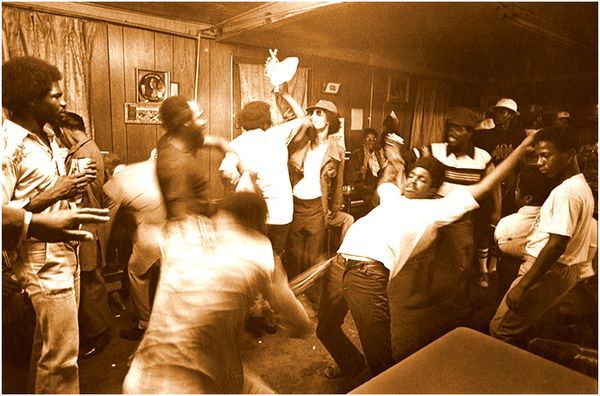 Mardi Gras Indians @ Rehearsal in a local bar
"The Indians also gather together on Sunday afternoons for what they call Indian Rehearsals. At the rehearsals they sing Mardi Gras Indian songs, dance, and fellowship. This may be seen as a modern-day extension of festivities held by blacks on Sunday afternoon in Congo Square, New Orleans, many years ago. 
Mardi Gras Indians are a prominent and vital thread in the tapestry of local culture. Once seen only on Mardi Gras day and St. Joseph's Day night by a select few, today the Indian has become a fixture at events all over the city and throughout the year. "Super Sunday" has become a popular springtime outing for a diverse crowd of spectators who come to see the tribes in three neighborhoods: Uptown, Downtown, and the West Bank. At the New Orleans Jazz & Heritage Festival, tribes parade through the fairgrounds and appear onstage. Chiefs such as musician Donald Harrison Jr. and the late plasterer, Tootie Montana, became respected public figures and voices of the community through their Indian-related activities. And new tribes have continued to form even after the devastation of Hurricane Katrina, demonstrating the vitality of this cherished local tradition." (64parishes.org)
White Eagles Mardi Gras Indians: Shallow Water O Mama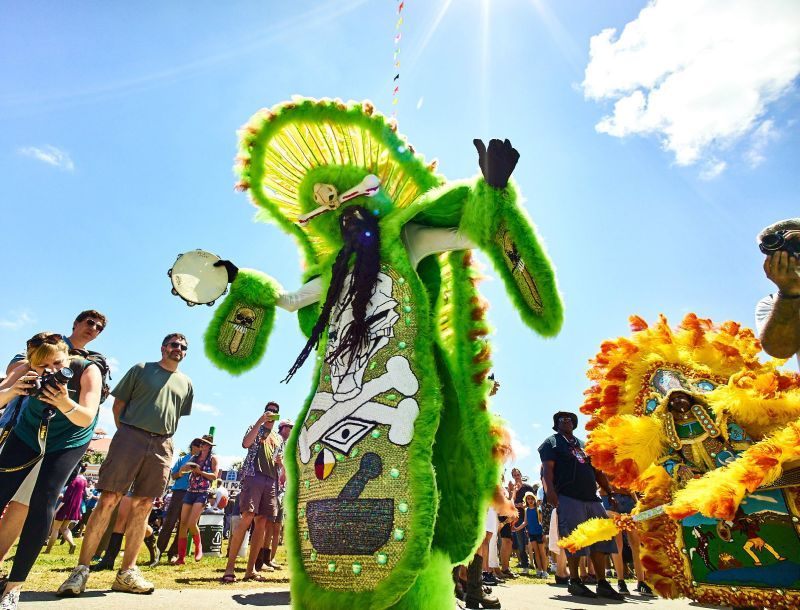 Mardi Gras Indians performing at New Orleans Jazz & Heritage Festival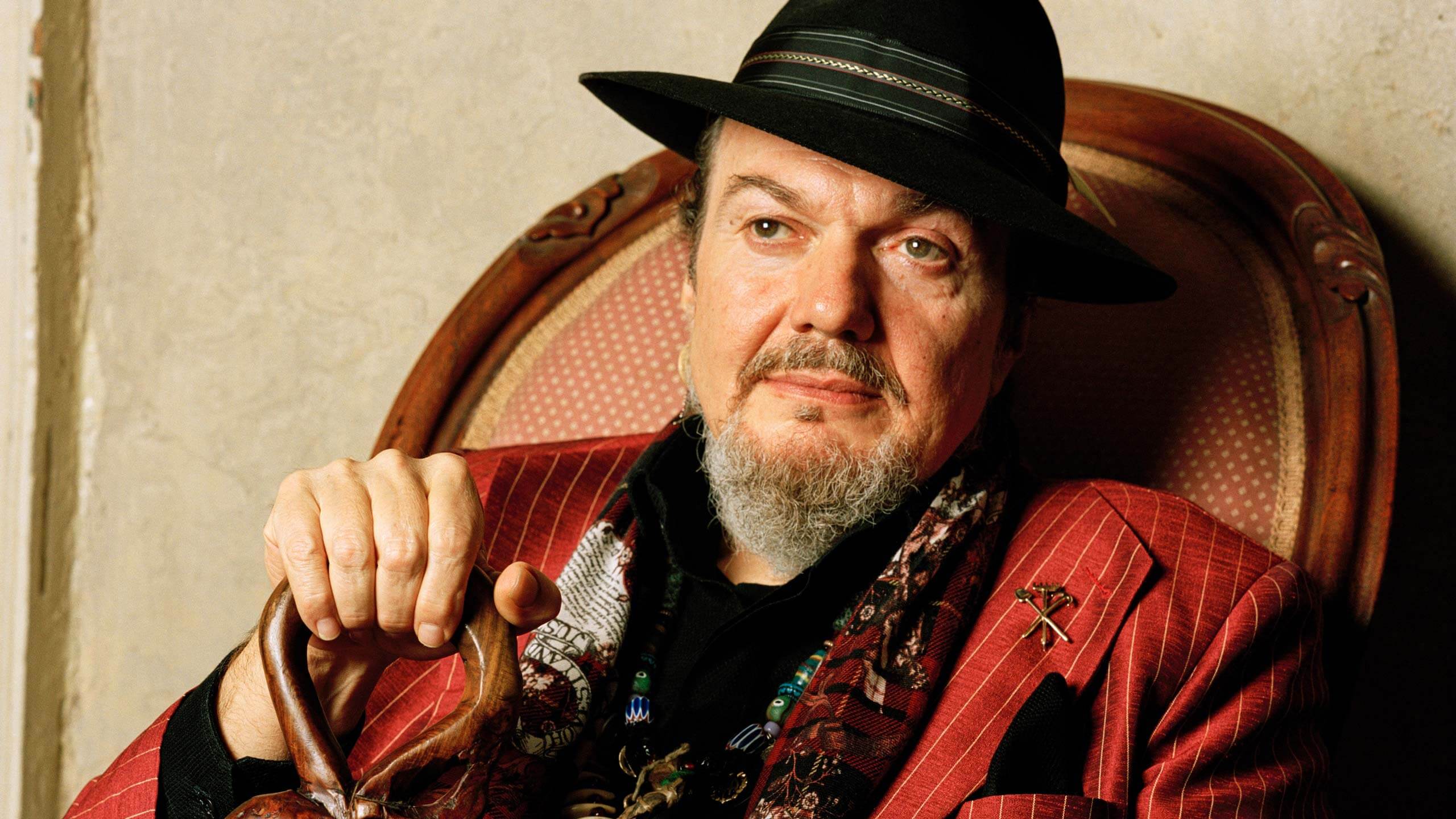 Dr. John - Going Back To New Orleans
"Having cut an album of standards on his first Warner Brothers album, In a Sentimental (1989), Dr. John turned for its follow-up to a collection of New Orleans standards. On an album he described in the liner notes as "a little history of New Orleans music," Dr. John returned to his hometown and set up shop at local Ultrasonic Studios, inviting in such local musicians as Pete Fountain, Al Hirst and the Neville Brothers and addressing the music and styles of such local legends as Jelly Roll Morton, Huey "Piano" Smith, Fats Domino, James Booker and Professor Longhair. The geography may have been circumscribed, but the stylistic range was extensive, from jazz and blues to folk and rock. And it was all played with festive conviction -- Dr. John is the perfect archivist for the music, being one of its primary proponents, yet he had never addressed it quite as directly as he did here." (All Music)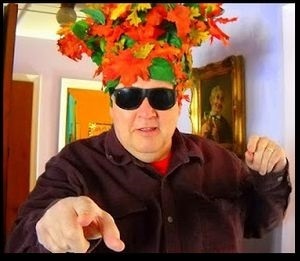 I'll close out my Mardi Gras Indian blog post 
with this unique recording
SHOO FLY
Bo Dollis, Monk Boudreaux, Kermit Ruffins &The Rebirth Brass Band
---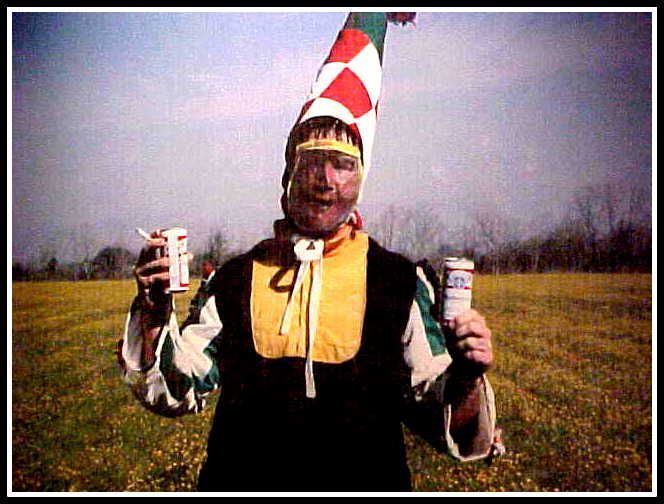 Our good friend Jim sez  
Join our
---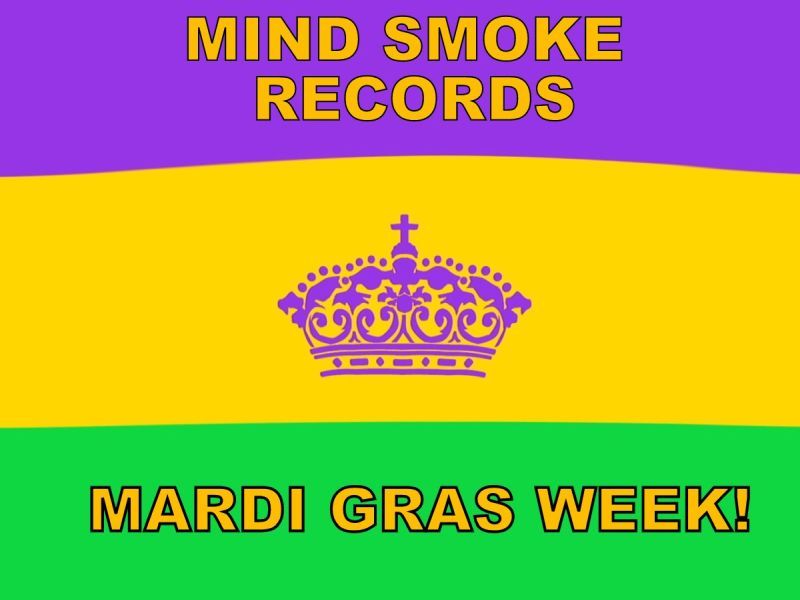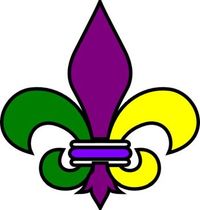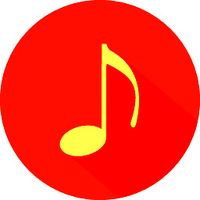 & enjoy some Mardi Gras Sounds!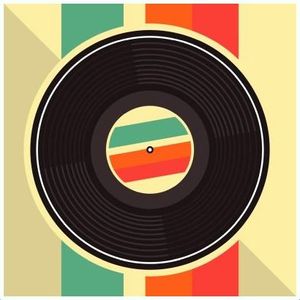 ---