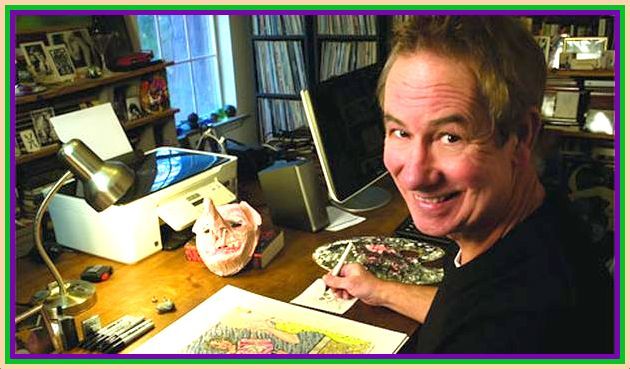 Bunny Matthews
Today we celebrate the life and artistry of Bunny Matthews, an American cartoonist and writer from New Orleans, who was best known for his depictions of New Orleans characters and local dialect.
In 1984, I first encountered Bunny Matthews' art when I journeyed to New Orleans on my honeymoon and came across some of his artwork in a bookstore.  In short order, I became a lifelong fan of his art work.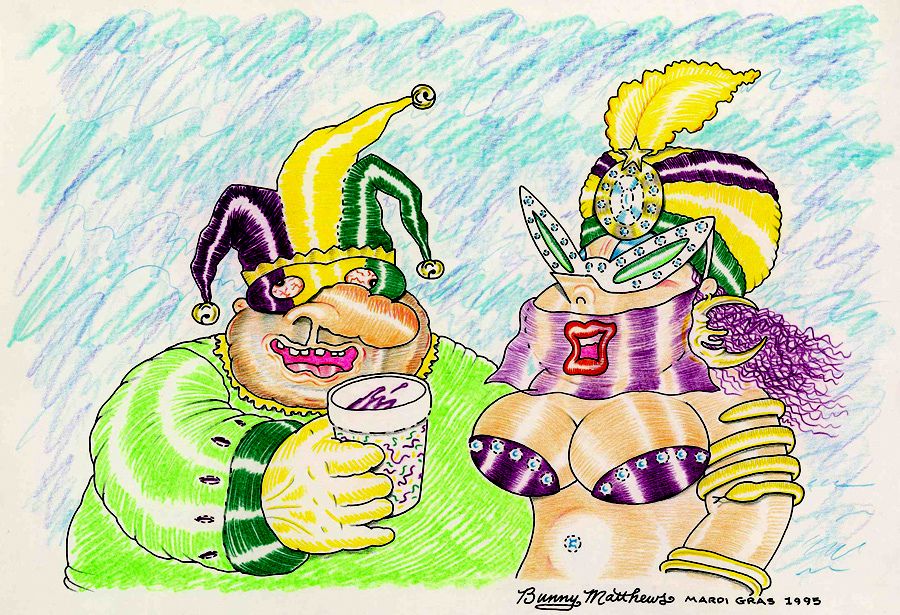 Matthews most popular cartoon characters were  Vic and Nat'ly Broussard
"New Orleanian cartoonist Bunny Matthews made a name for himself in the early '80s with the creation of his two iconic characters, husband and wife Vic and Nat'ly Broussard, a satire duo who own and operate a bar and poor-boy emporium in the Ninth Ward. Their commentary on the local scene, on the city's cultural and social issues, served as the basis for much humor and controversy in the nineteen years they appeared in The Times-Picayune. The two can still be seen throughout New Orleans, despite no longer being printed in the city's most popular newspaper, brandished proudly by local companies like Harkins, The Florist and Leidenheimer Baking. Though Matthews' mass popularity in New Orleans has fluctuated in the years following Vic and Nat'ly's prevalence, and has since shifted into more of an underground status with local hipsters, his significance as a disparate/critical voice in a city all too willing to revel in its unique patina has not waned...the content of his cartooning reveals the depth of influence of New Orleanian (and its surrounding areas) lore and cultural cues; nary a Matthews cartoon panel exists without reference to Hubig's pies, George Rodrigue's Blue Dog, Boudin and Cracklins, or Morgus the Magnificent.
To some of his fans, it is curious that Matthews chose an Italian/Sicilian ethnicity for his most famous cartoon creations, Vic and Nat'ly, New Orleans being a place synonymous with French whites and Creoles; after all, French is the language New Orleanians like to throw around when trying to impress tourists and each other, the same that Vic and Nat'ly are heard saying at their fictional Ninth Ward bar. Vic and Nat'ly's last name is Broussard, a Cajun French last name common to the region, 'the Jones or Smith of Louisiana,' claims Matthews." (Sottek and Button 2010).

"Matthews's characters Vic and Nat'ly Broussard are an overweight husband and wife who speak in what some call the Yat dialect and run a working-class corner bar and po-boy emporium in the city's Ninth Ward. In light of these characters' sometimes unfavorable reception, it bears noting that Matthews has often and repeatedly described others' use of the word Yat as derogatory.  Matthews' cartooning style has been called post-psychedelic baroque. Vic and Nat'ly first appeared in 1982 in Dixie, a former weekly supplement of The Times-Picayune. Matthews' first cartoon strip was titled F'Sure: Actual Dialogue Heard on the Streets of New Orleans, published from the late-1970s to the early-1980s in the defunct New Orleans weekly paper Figaro." (Wikipedia)
Cartoons are not the only way that which Matthews expressed himself.  In the 1980's, Matthews was the ffull-time music writer for the Times-Picayune.  Matthews would go on to do music reviews for several local publications including Gambit and Offbeat Magazine.  As a reviewer, Matthews brought the same intensity as he did as a cartoonist which on occasion would piss off the fans of those who were being reviewed.  During his career as a music journalist, Matthews interviewed countless celebrities including James Brown, Brenda Lee, Bob Marley, Peter Tosh, Bunny Wailer, Lee "Scratch" Perry, Professor Longhair, Fats Domino, Eddie Bo, Ernie K-Doe, King Floyd, Bobby Marchan, Jessie Hill, Albert Collins, Elvis Costello, Mark E. Smith, Marilyn Chambers, Cab Calloway, Black Flag, Jonathan Richman, Suzi Quatro and Al Green.  Matthews composed album liner notes for artists including Smiley Lewis, The Meters, Earl King and James Booker, with whom Matthews was close friends until Booker's death in 1983.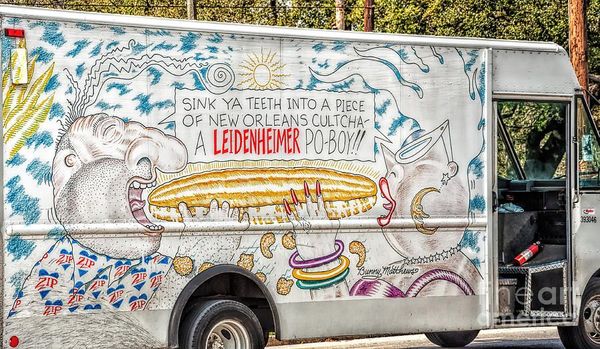 In 1996, the Leidenheimer bakery commissioned Bunny to design artwork for their trucks to celebrate their 100th anniversary.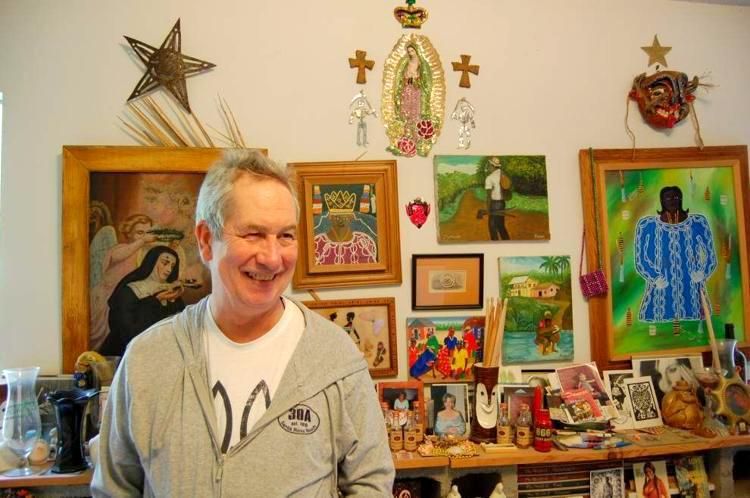 "In 1999, Matthews became editor of OffBeat, a job he held until Hurricane Katrina in 2005. 'Bunny was one of the most talented New Orleanians, ever,' said Jan Ramsey, publisher of OffBeat. 'His intellect was formidable, his wit was sharp and evil, and he has an eye for satire second to none.  He was an inspired artist and writer, and an astute observer of the vagaries and quirks of New Orleans culture.' 
One sample of Matthews' colorful writing style can be found in this essay about Mardi Gras from the February 2004 edition of OffBeat: 'The history, briefly, goes like this: our ancient pagan tree-worshipping brethren, as winter chilled their fur-draped bones, decided that getting smashed on hallucinogenic berries and dancing madly about the campfire was a much better idea than chasing after woolly mammoths with flint-tipped spears. And chasing after ancient pagan madamoiselles was a somewhat safer enterprise, particularly after inhibitions had been erased by large doses of hallucinogenic berries.'" (Offbeat Magazine)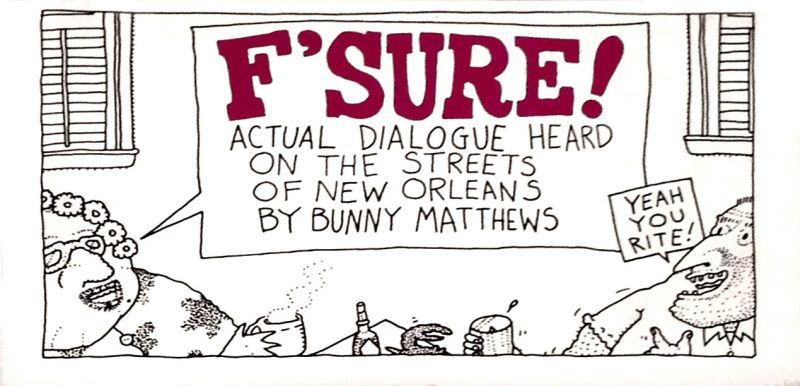 Here's some of my all-time favorite images
as parlayed by the one and only Bunny Matthews!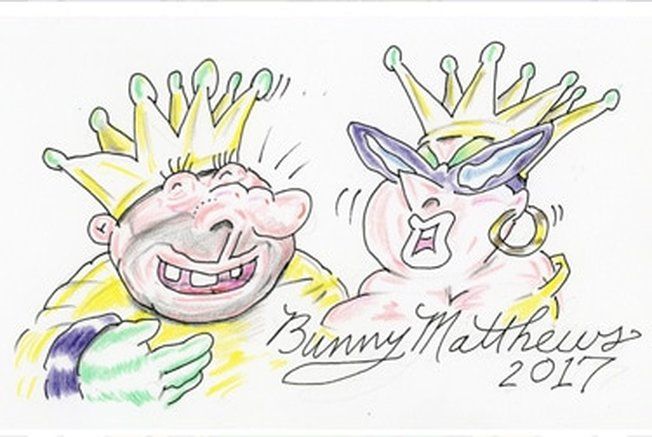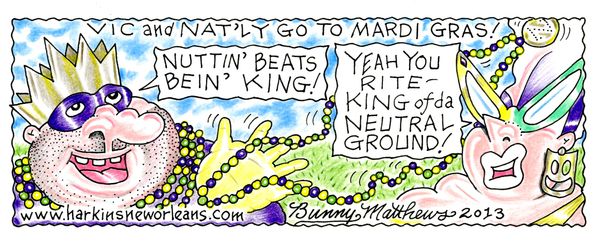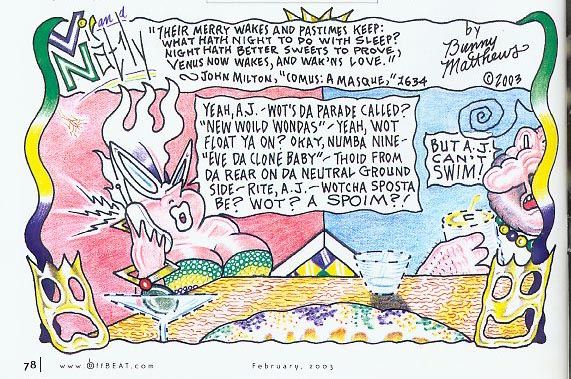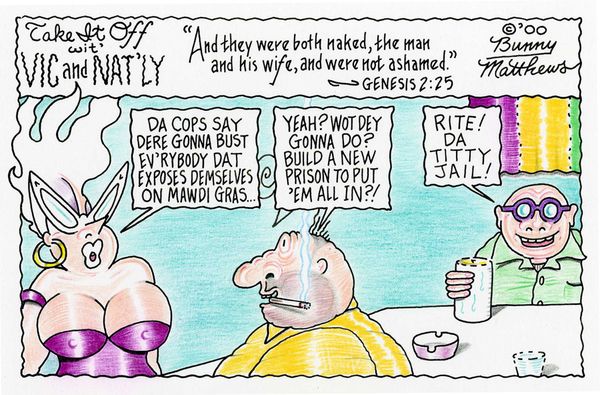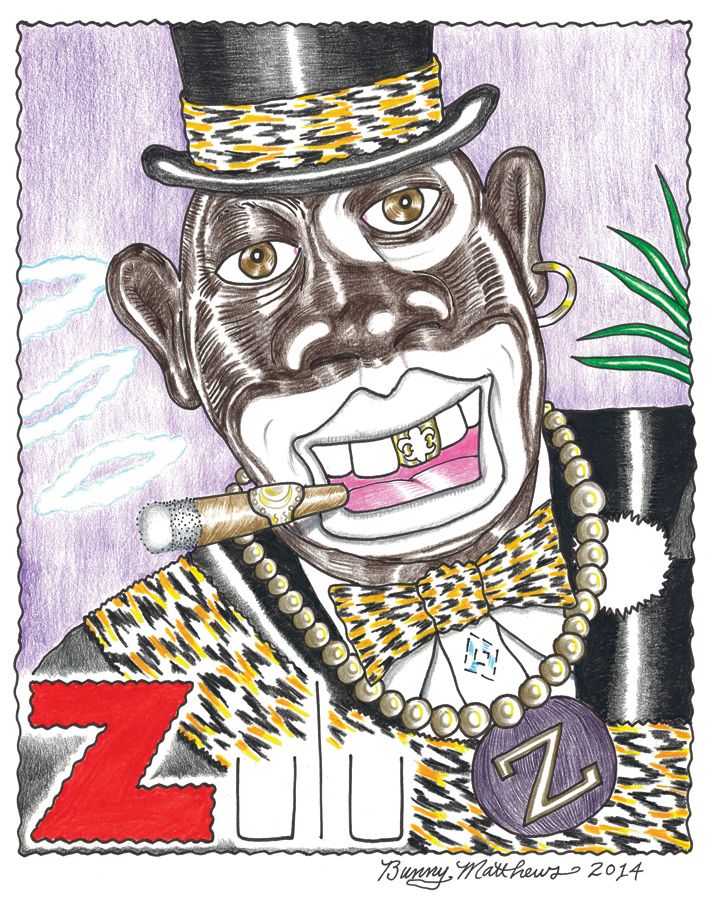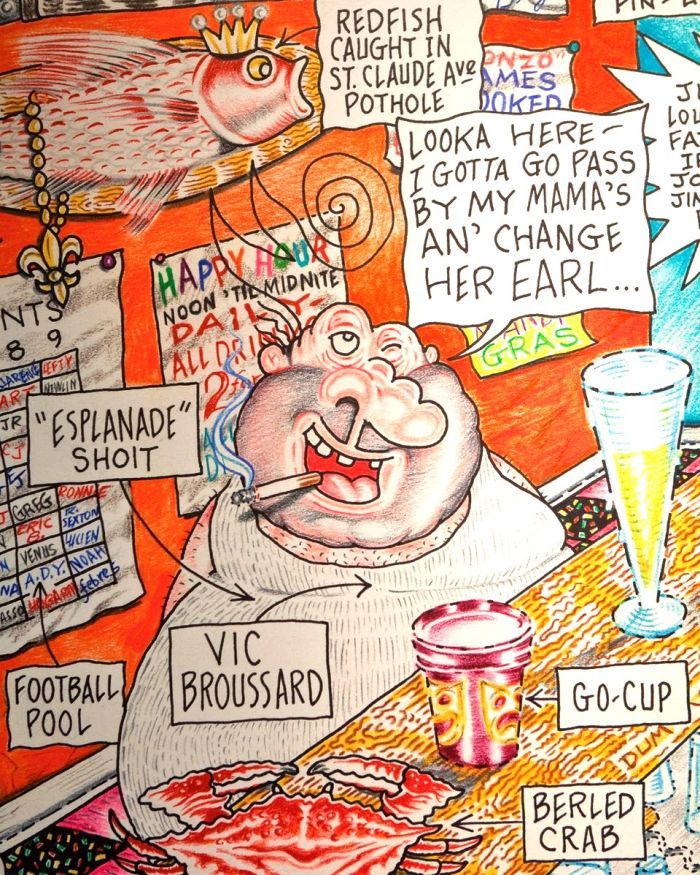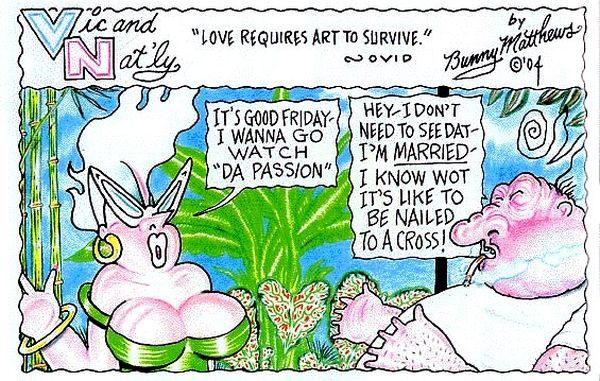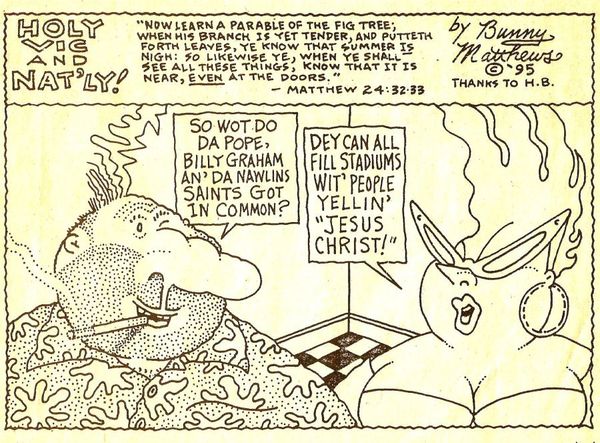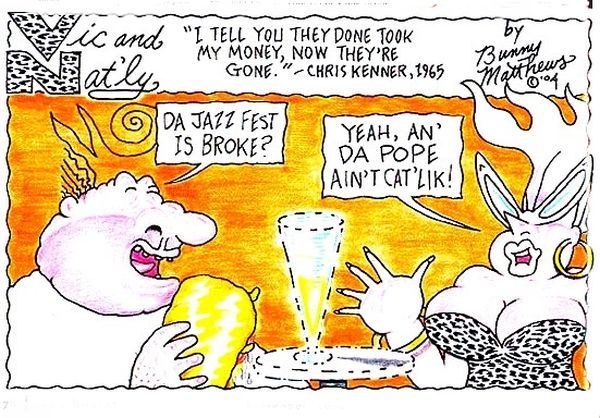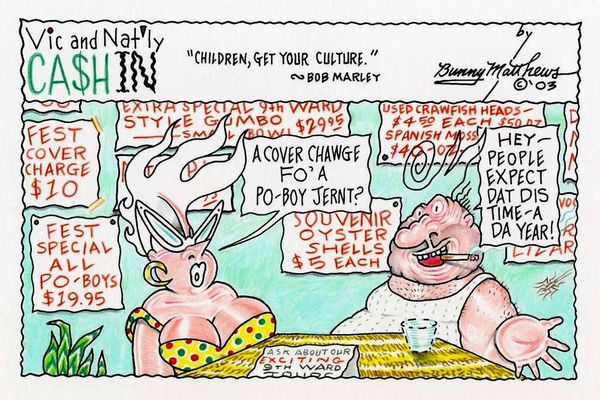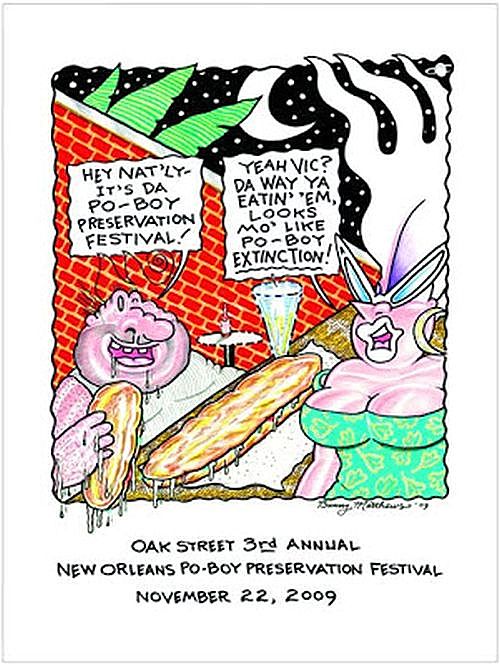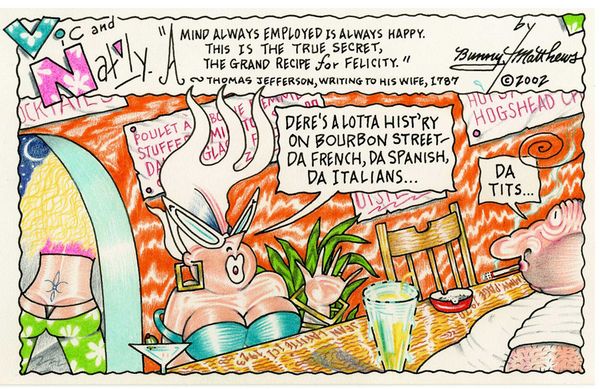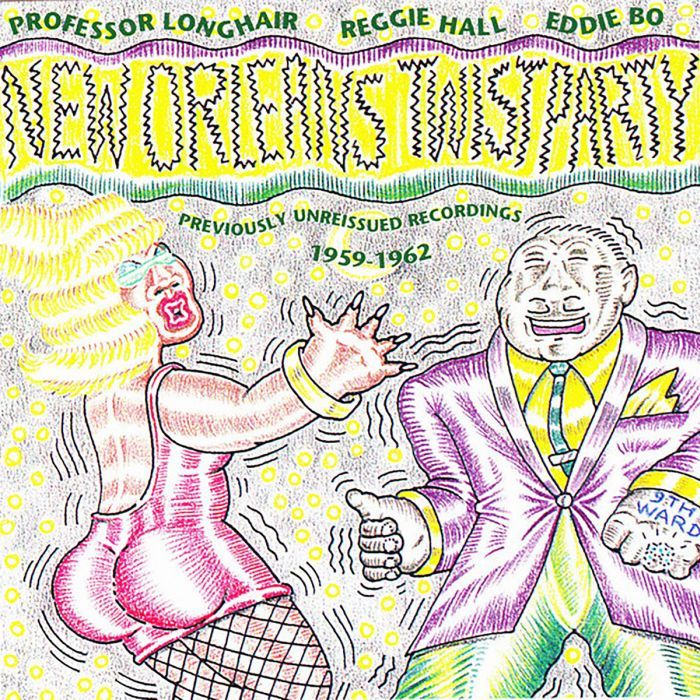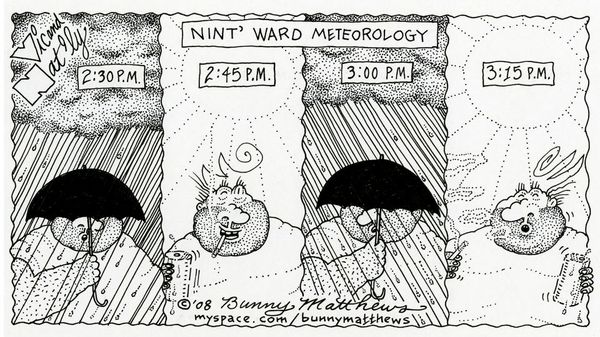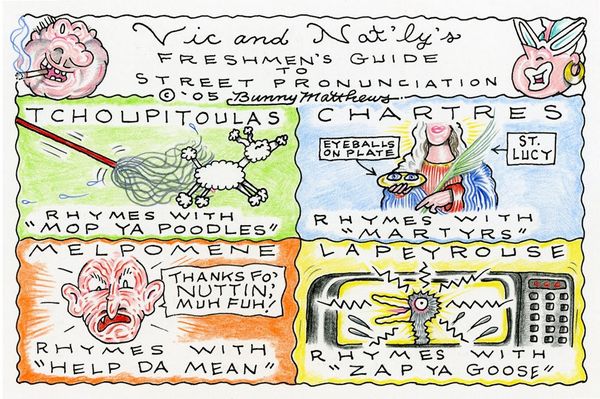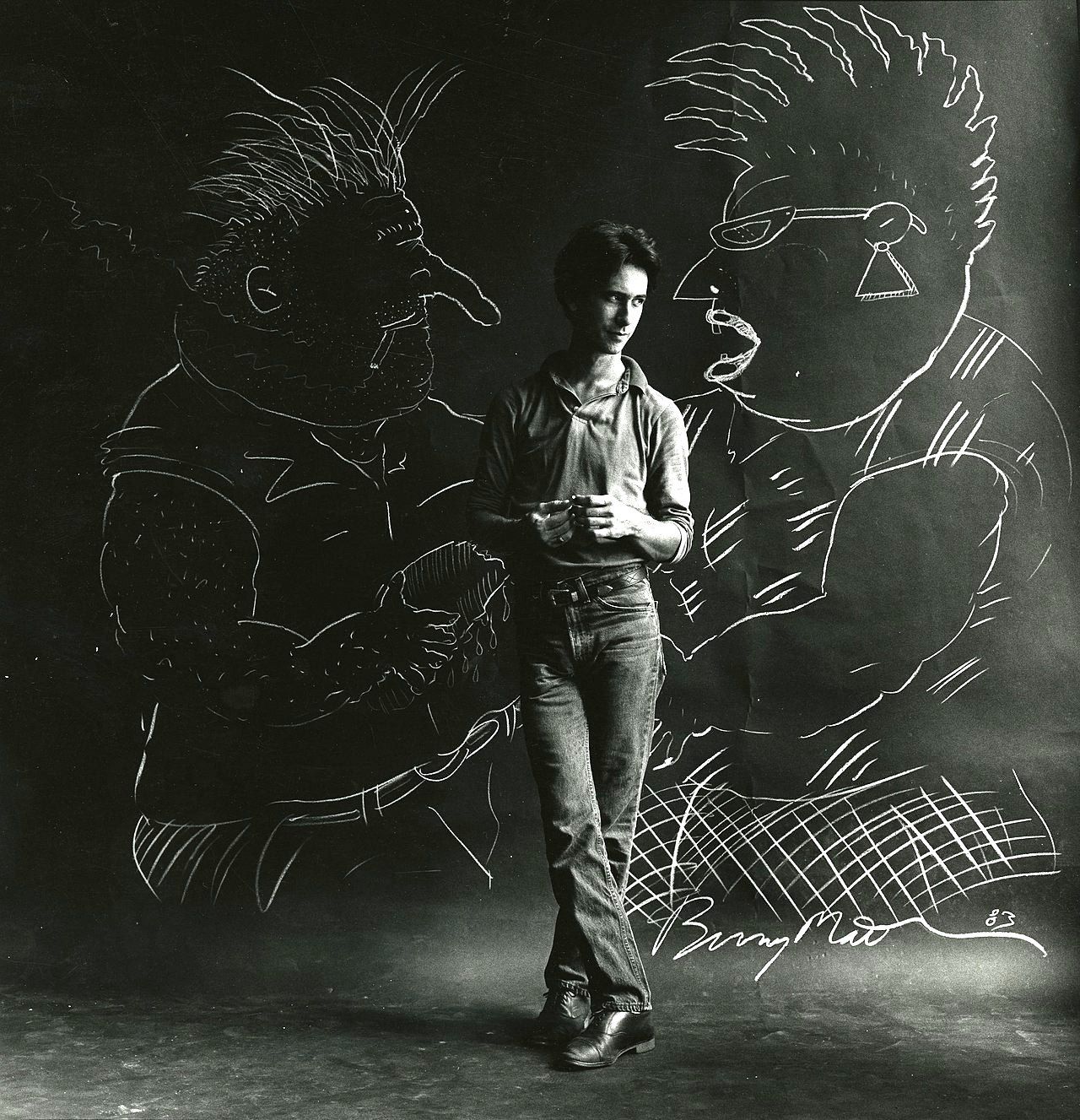 Matthews was unwavering in his love for New Orleans.
Sadly, Bunny died in hospice care on June 1, 2021, at the age of 70
but his art lives on forever!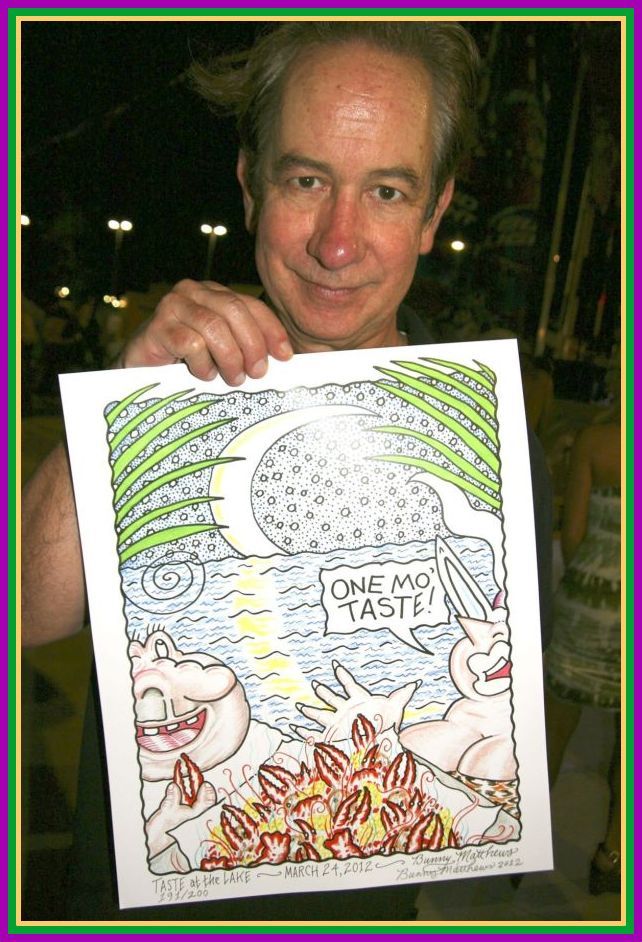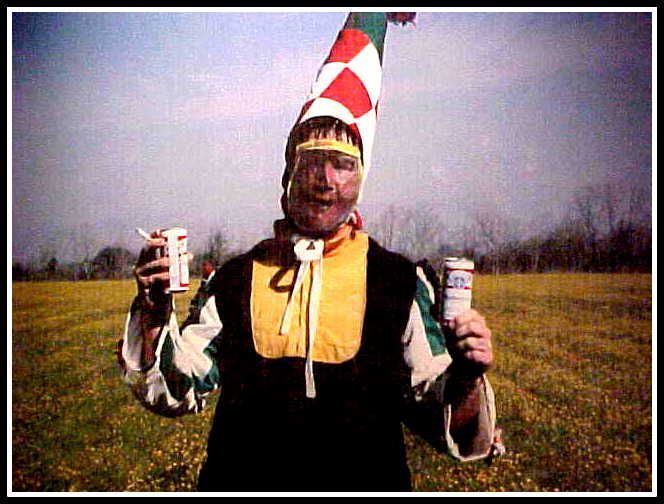 Our good friend Jim sez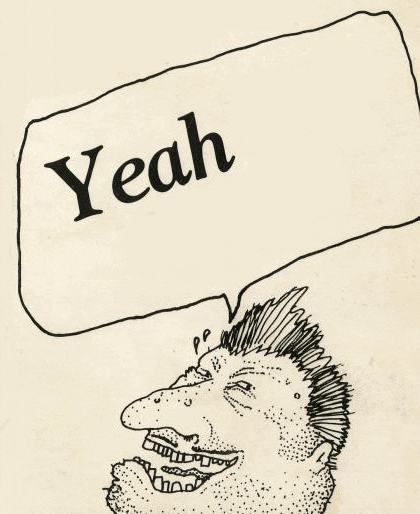 ---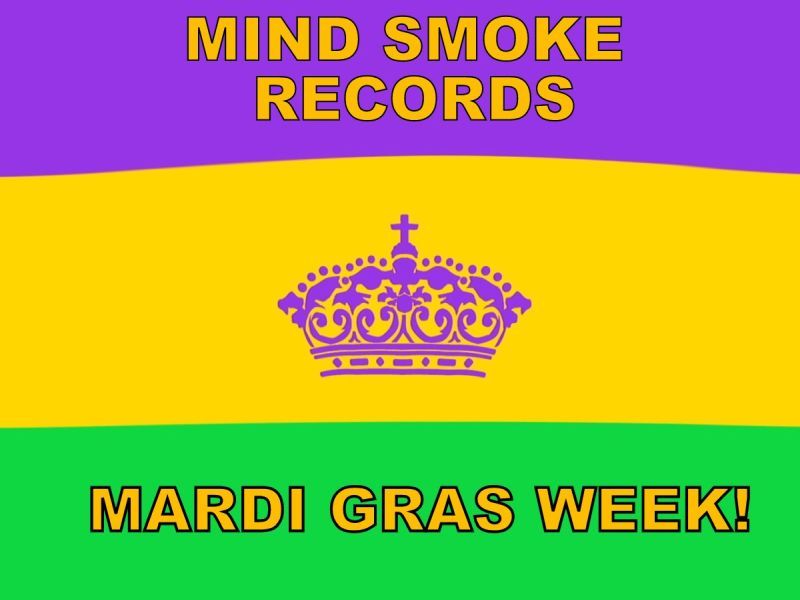 Visit Our

SINGLES

page
& Enjoy Some Mardi Gras Sounds!

---