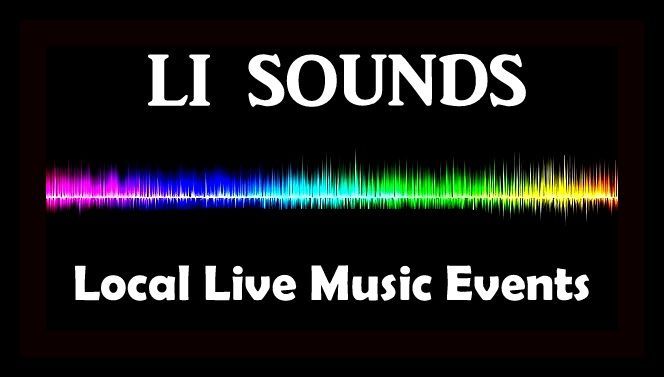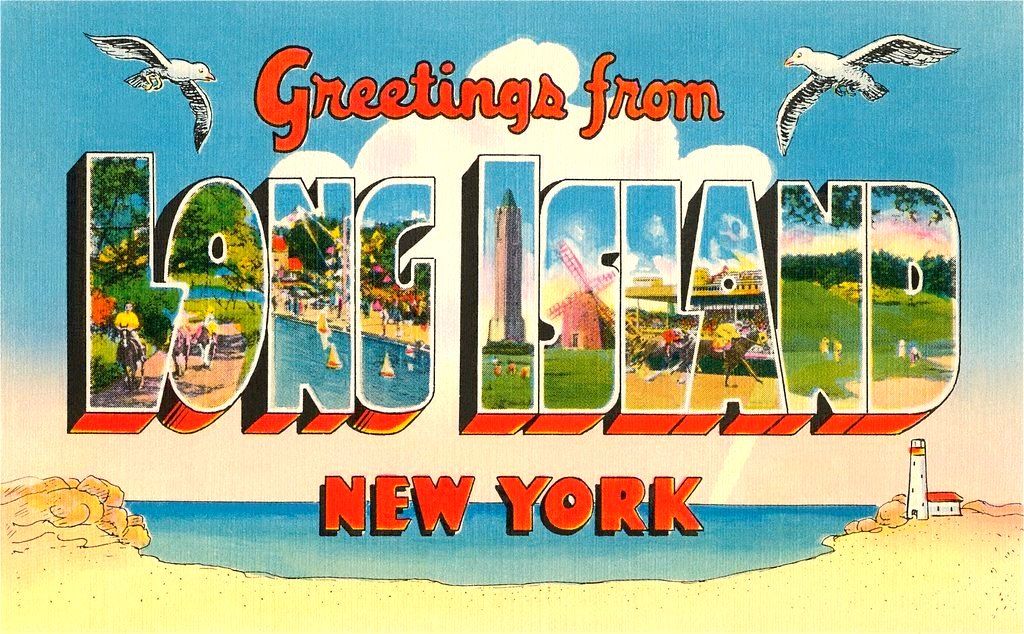 Don't miss some of the great shows 
that are happening this week!
---
JAN 10
---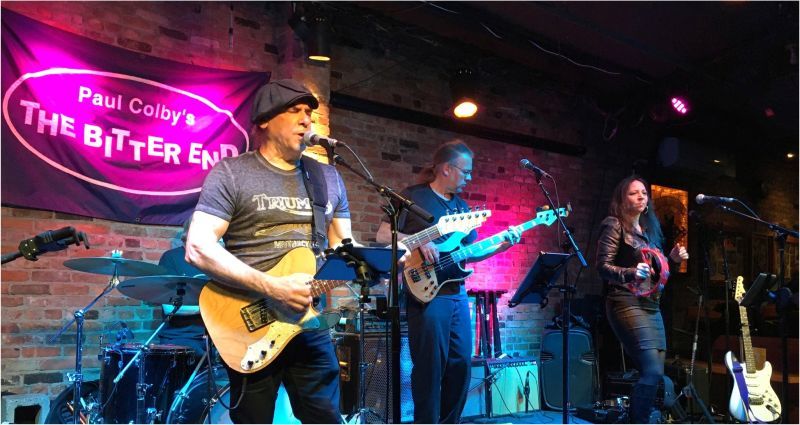 THE MARK NEWMAN BAND
Venue: The Bitter End
147 Bleecker St.   NYC
Showtime: 8 pm
The Mark Newman Band returns to The Bitter End with Naomi Margolin, Shawn Murray and Craig Privett. 
Don't forget your mask and vax card!
---
JAN 11
---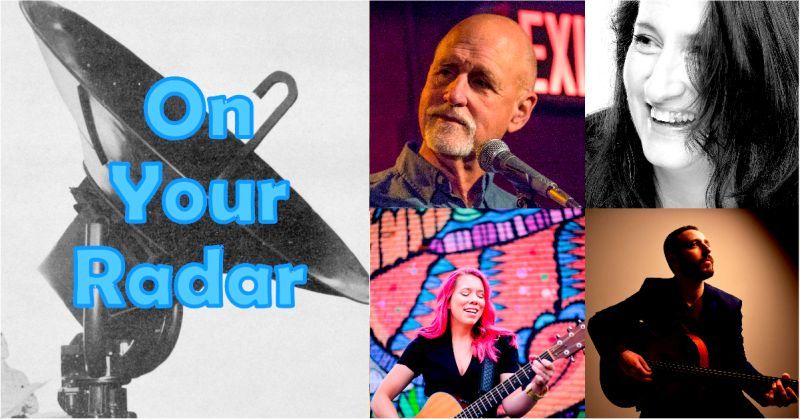 JOHN PLATT'S ON YOUR RADAR
KATE MCDONNELL, THIN LEAR,& NICO PADDEN
Venue: Rockwood Music Hall Stage 3  ( Around the corner from Rockwood 2)
185 Orchard St   NYC
Doors open @ 6 pm  Showtime: 7 pm - 9 pm
Kate McDonnell plays her guitar "upside down and backward" and sings with her whole being. She has performed solo at the Newport Folk Festival, on Mountain Stage, WXPN's "World Café" and at The Kennedy Center. Her award-winning songwriting has been singled out for praise by The Village Voice and the Boston Globe.
Thin Lear, the eclectic project of Queens-based songwriter Matt Longo, harkens back to the intricate work of 70's-era studio obsessives. The debut album, Wooden Cave, arrived on EggHunt Records (Lucy Dacus) in July 2020, and received glowing praise from PopMatters (Best Albums of 2020), AllMusic (★★★★), Bandcamp's New & Notable, and KEXP, and was featured on NPR's New Music
Nico Padden is a one-woman folk-rock riot. Ben Folds said that the title track to her new album Pirate Queen is "original and classic at the same time." Pirate Queen, which was recorded and mixed by Kevin Kelly, is an album about taking back the crown that is rightfully yours, even if by unorthodox means.
PURCHASE TICKETS
---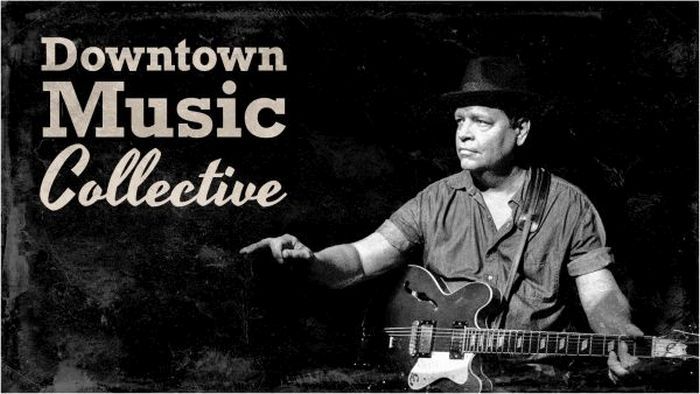 DOWNTOWN MUSIC COLLECTIVE
ONLINE SHOW
Phil Gammage hosts the premiere episode of the new music and culture program "Downtown Music Collective" on the Green Kill Sessions media network. Tune in on Tuesday, January 11 at 8pmET on Green Kill's YouTube channel. Phil discusses album reviews in the 'New, Old, and Forgotten' segment, film reviews in the 'Cinema Fantastique' segment, music videos, and live performance.
Showtime: January 11th @ 8 pm
---
JAN 12
---
FRANK LATORRE & THE KING BEES 
Venue: The Vintage Beano & Vino Lounge 
3316 Route 112   Medford, NY 
Catch some wild sounds as parlayed by Frank Latorre & the King Bees!
---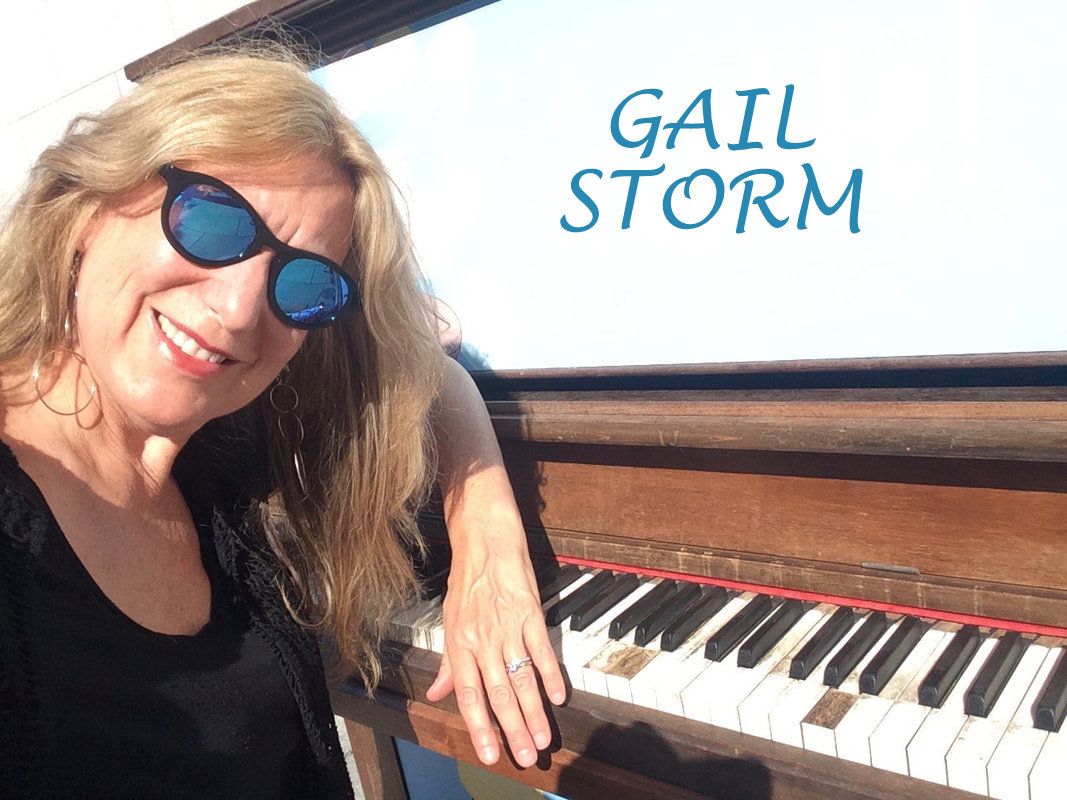 GAIL STORM
Venue: Bistro 72 @ Hotel Indigo East
Riverhead, NY 
Showtime: 5 pm - 9 pm
If you're looking for an intimate place to catch some music, be sure to head on down to Bistro 72 for an evening of blues, jazz and standards as parlayed by piano/vocalist Gail Storm.
---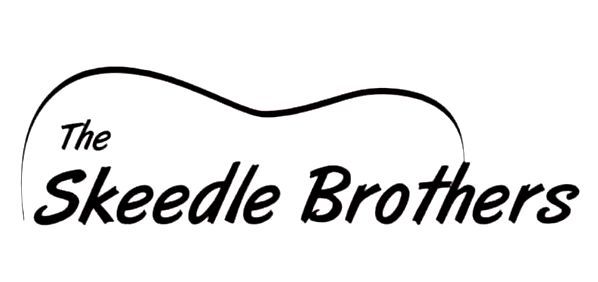 THE SKEEDLE BROTHERS
Venue: Prohibition 
109 Front St   Massqpequa Park, NY 
Showtime: 8 pm - ??? 
Come on down and catch the fabulous Skeedle Brothers @ Prohibiton every Wednesday!
---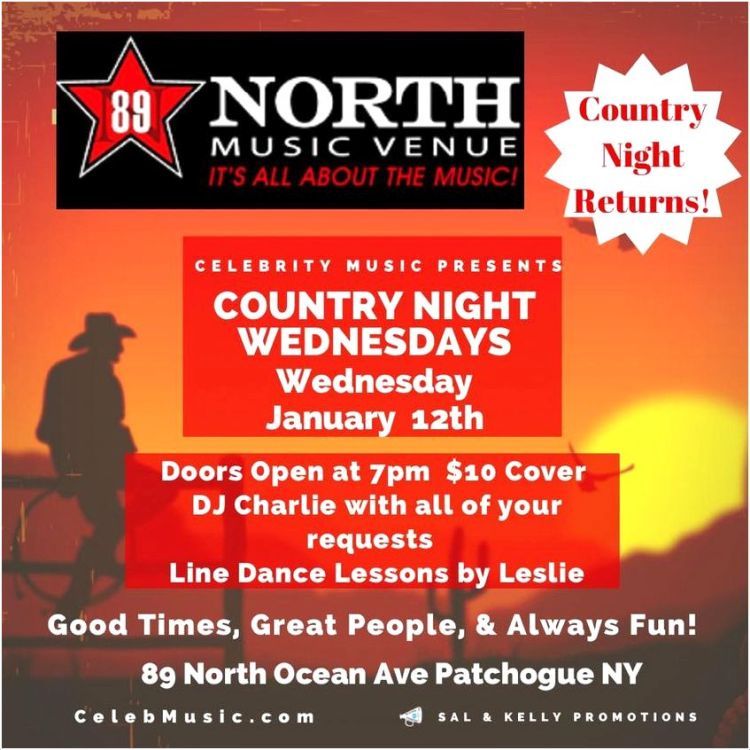 COUNTRY NIGHT WEDNESDAYS!
The Return of Country Night @ 89 North!
Venue: 89 North
89 North Ocean Ave   Patchogue, NY
Showtime: Doors open @ 7 pm
$10 Cover
---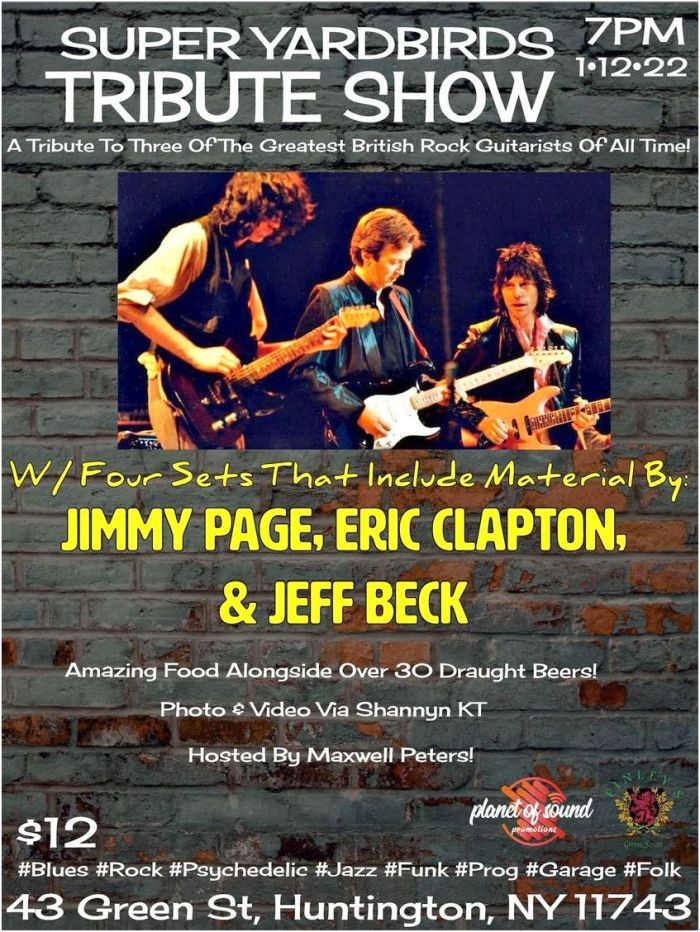 PLANET OF SOUND PRODUCTIONS PRESENTS
SUPER YARDBIRDS TRIBUTE SHOW
Venue: Finley's Of Green Street
43 Green St   Huntington, NY
Showtime: 7 pm
"The great British blues guitarists of the Sixties - people like Jimmy Page, Eric Clapton & Jeff Beck could play like virtuosos, but they also understood the importance of energy and intensity"
---
JAN 13
---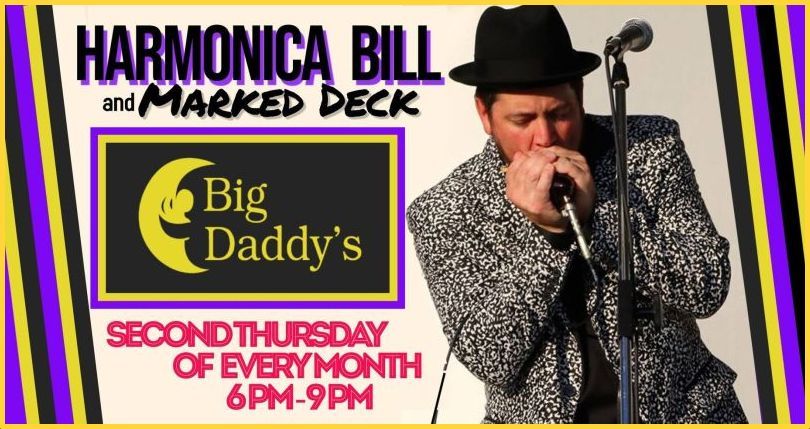 HARMONICA BILL & MARKED DECK 
2nd Thursday of Every Month! 
Venue: Big Daddy's 
1 Park Lane  Massapequa, NY 
Showtime: 6 pm - 9 pm 
Harmonica Bill & Marked Deck play two sets of lowdown Chicago blues and enjoy a great New Orleans style meal at Big Daddy's!
---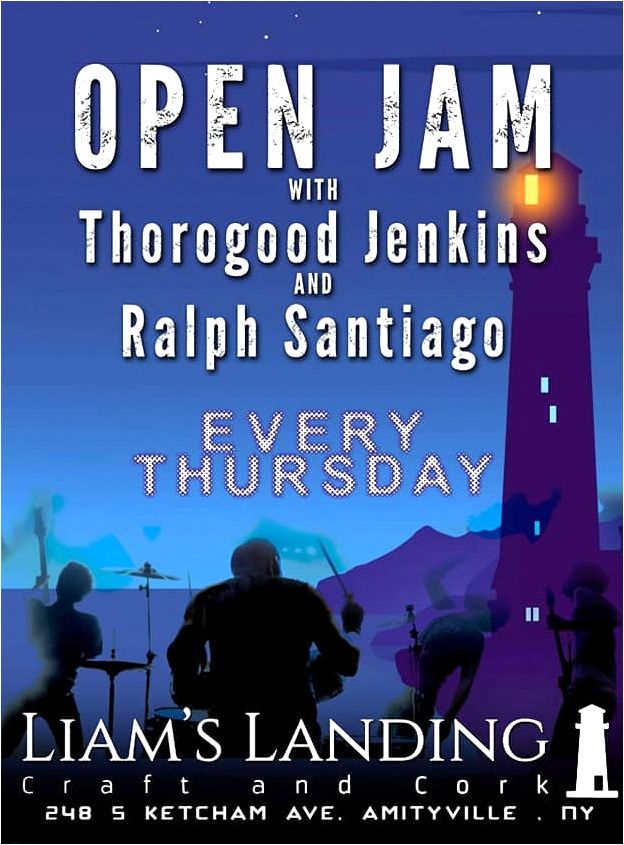 OPEN JAM with THOROGOOD JENKINS 
Venue: Liam's Landing 
248 S. Ketcham Ave  Amityville, NY 
Showtime: 9 pm
---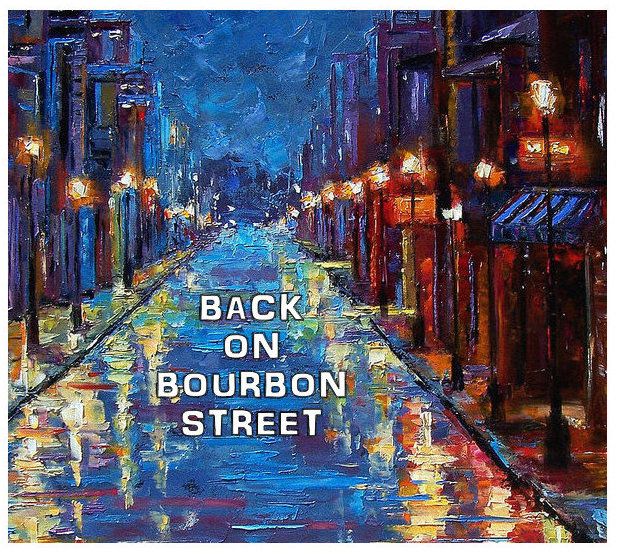 BACK ON BOURBON STREET TRIO
Venue: Big Daddy's
1 Park Lane...Massapequa, NY
Showtime: 6 pm - 9 pm
Mark Carpentieri - Drums 
Mark Mancini - Keyboards & Vocals 
Dave Phelps - Guitar & Vocals
Enjoy a night of New Orleans sounds!
Don't forget Mardi Gras is right around the corner!
---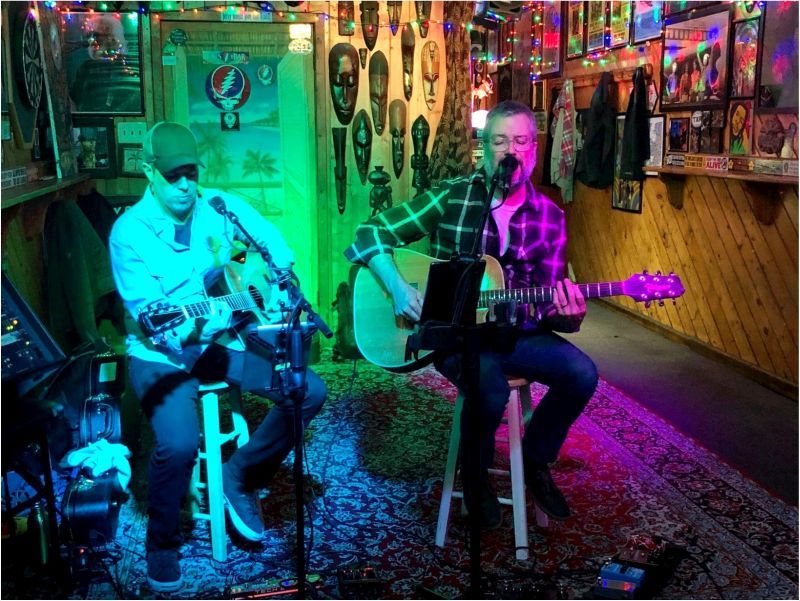 LOS DOS
Venue: Beau's Bar
54 Broadway   Greenlawn, NY
Showtime: 8 pm
Los Dos perform an evening of
Classic Rock and Jams...Acoustic Style!
---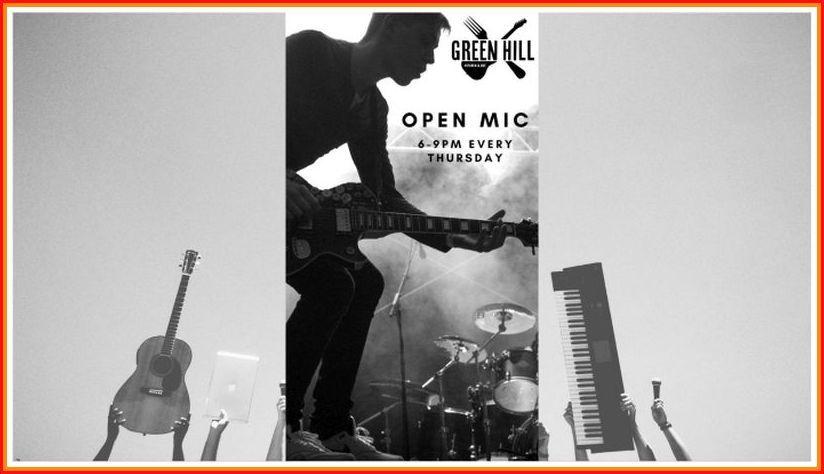 OPEN MIC EVERY THURSDAY 
Venue: Green Hill Kitchen 
48 Front Street   Greenport, NY 
Showtime: 6 pm - 9 pm
---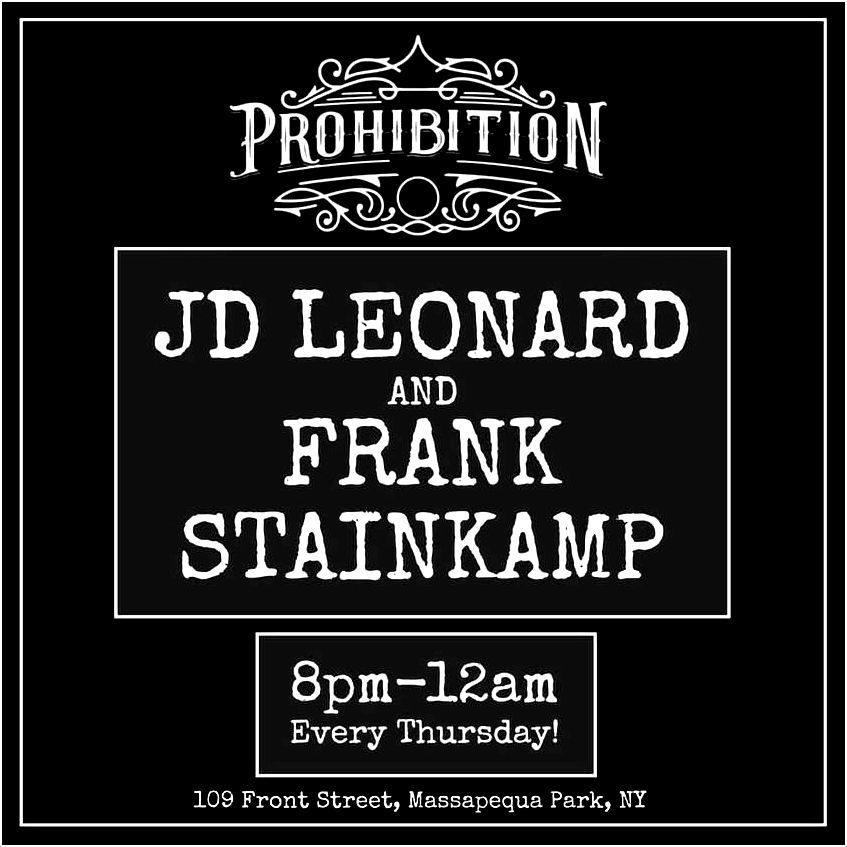 ---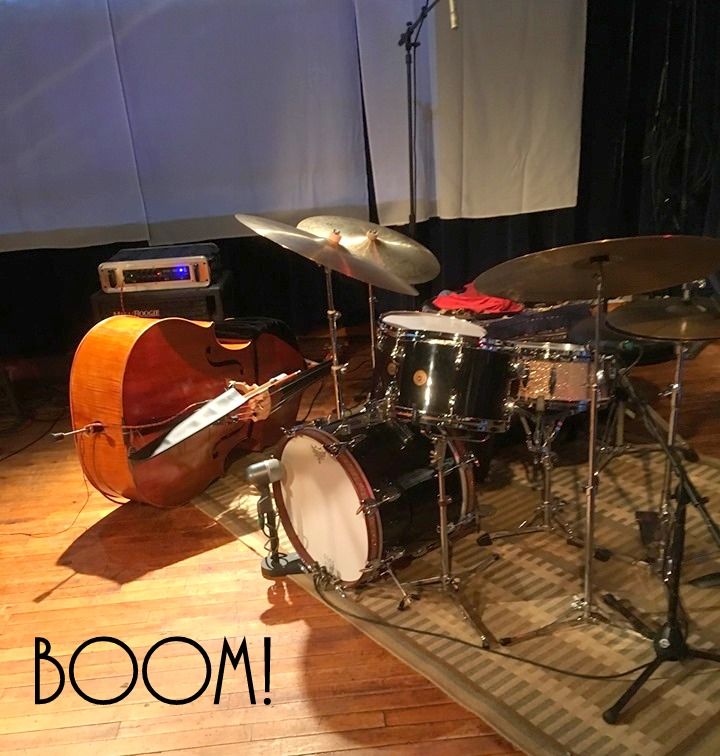 BOOM!
Venue: Great South Bar
23 S Ocean Ave   Patchogue, NY
Showtime: 8 pm
Jack Falco is joined by Vincent Loccisano, Nathan Peck and Michael Amendola as they perform a lively evening of music at the Great South Bar.  Expect the unexpected!
---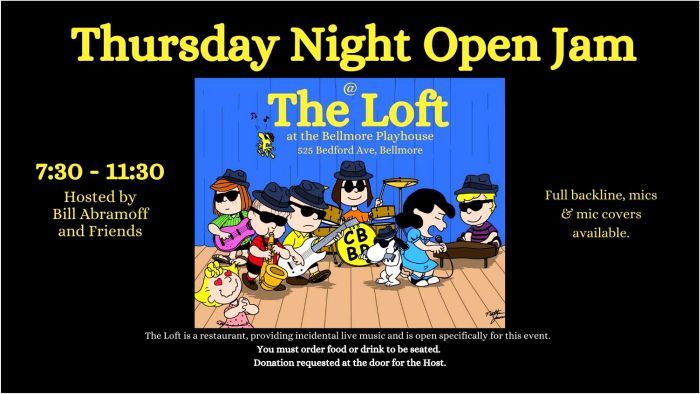 THURDAY NIGHT OPEN JAM 
Venue: The Loft @ Bellmore Playhouse 
525 Bedford Ave   Bellmore, NY 
Showtime: 7:30 pm - 11:30 pm
---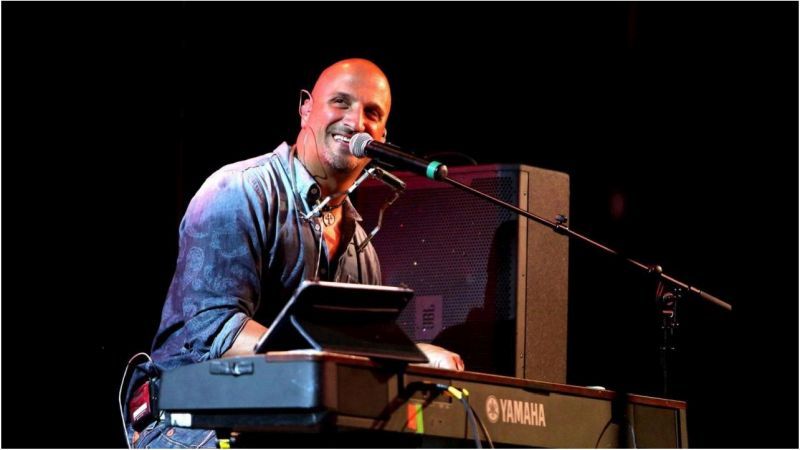 THE MICHAEL DELGUIDICE SHOW
Rescheduled From Dec. 22nd
Venue: 89 North
89 N Ocean Ave   Patchogue, NY
Showtime: Doors open @ 6 pm  Show Starts @ 7 pm
$20 | $30 Reserved Seating 
This Event is 21 & Over
Michael DelGuidice, touring member of the Billy Joel Band, brings his classic rock show to 89North. Surrounded by a group of talented musicians.  Fasten your seat belts for a great night out!
---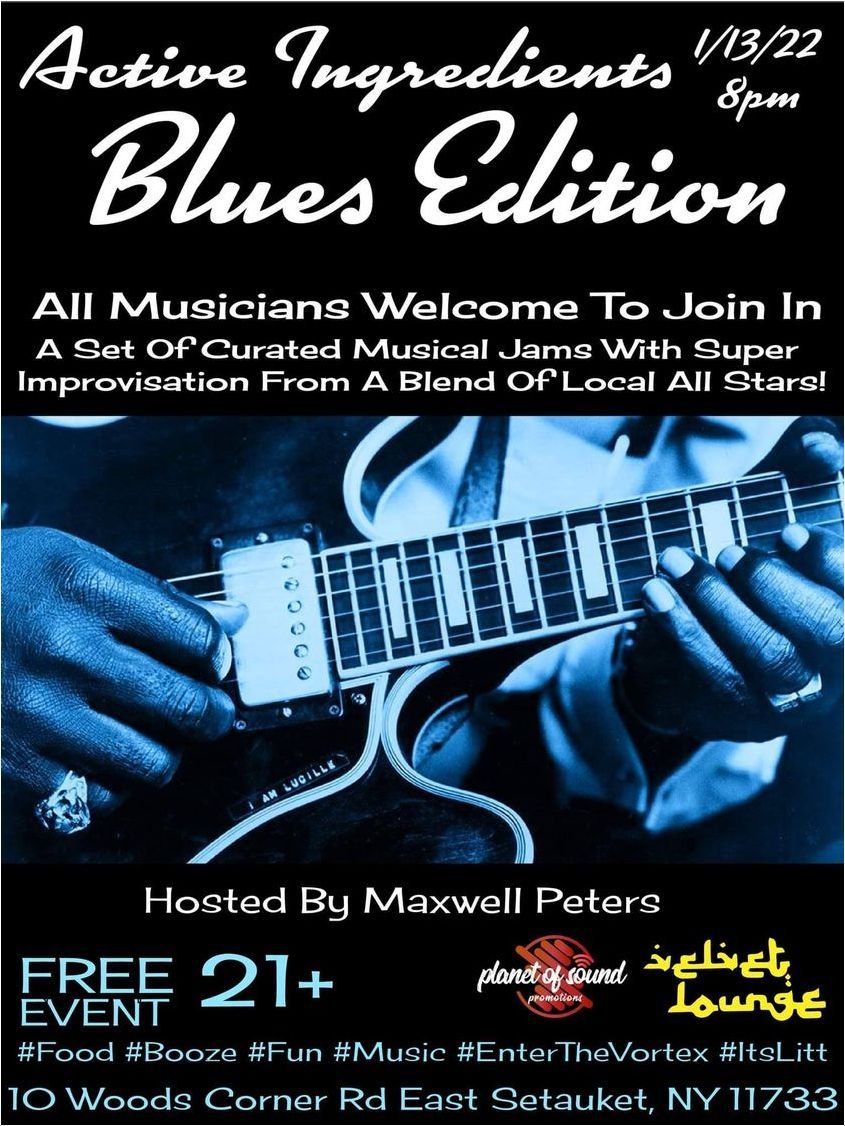 BLUES EDITION JAM
Venue: Velvet Lounge
10 Woods Corner Rd   East Setauket, NY
Showtime: 8 pm
---
JAN 14
---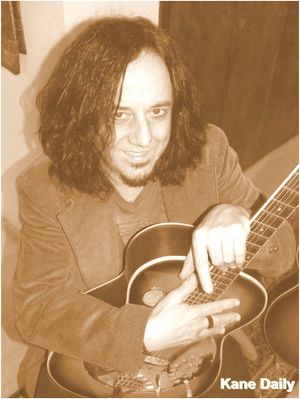 KANE DAILY
Venue: Checkmate Inn
94 N,. Country Rd   East Setauket, NY
Showtime: 5 pm
Kane Daly brings his blue mojo mix to this popular watering hole in East Setauket.
---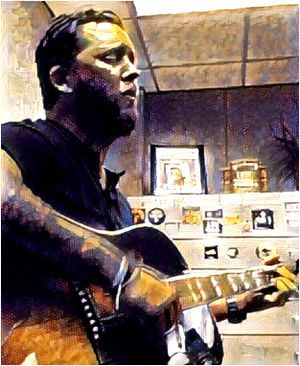 BILL SHUREN
Venue: Five Points Cafe
1 Main St   Sayville, NY
Showtime: 5 pm - 9 pm
Americana singer-songwriter, Bill Shuren performs an evening of songs that are transformed into soulful narratives that reveal lessons to be learned and stories to be told.
---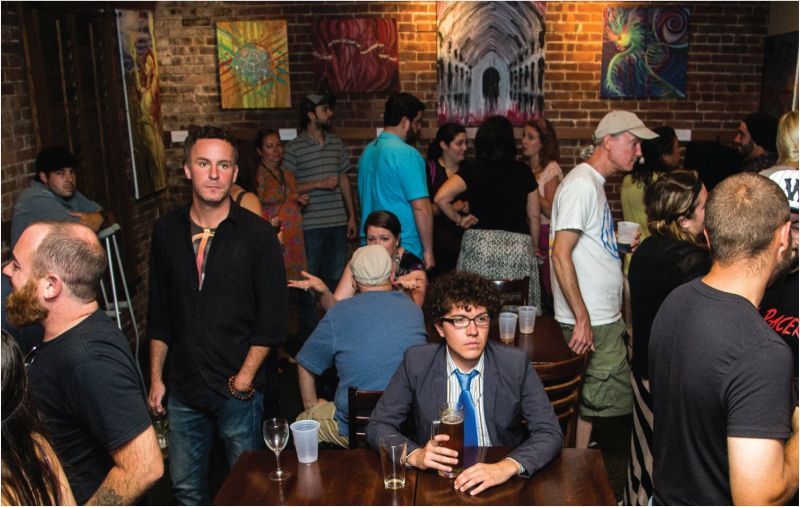 BRYAN GALLO
Venue: 1940's Brewing Co.
1337 Lincoln Ave   Holbrook, NY
Showtime: 7 pm
Bryan Gallo will be performing multiple solo acoustic sets from 7-9pm while you get the chance to enjoy the diverse tap selection of brews made in house at 1940's Brewing Co.!
---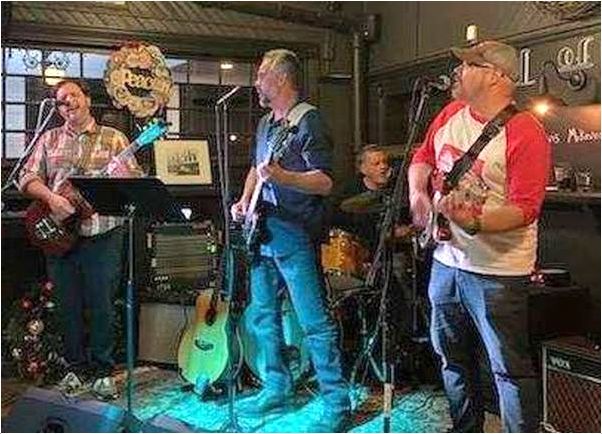 HANKWAVER'S WANKHAVERS
Venue: Fadeley's Deli Pub
440 W Main St   Patchogue, NY
Showtime: 7 pm
Join HankWaver's Wankhavers for a Wanktacular evening of deep track covers and saucy originals delivered as only the Wankhavers can do!
---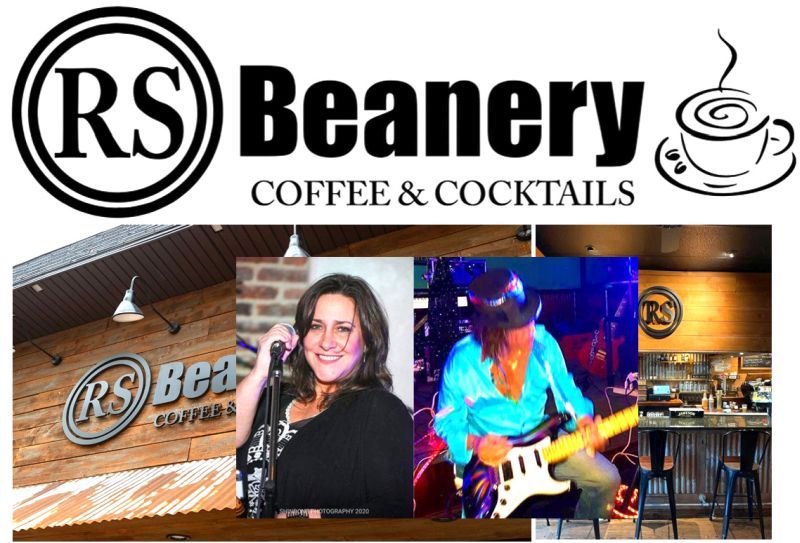 CARRIE & DAVE
Venue: RS Beanery Coffee & Cocktails
153 Merrick Ave   Merrick, NY
Showtime: 6:30 pm - 9 pm
Carrie McQuade and Dave Saul (of The Electric Dudes) bring their musical magic to RS Beanery (Coffee & Cocktails), one of the most elegant and tasty spots in Merrick.
---
JAN 15
---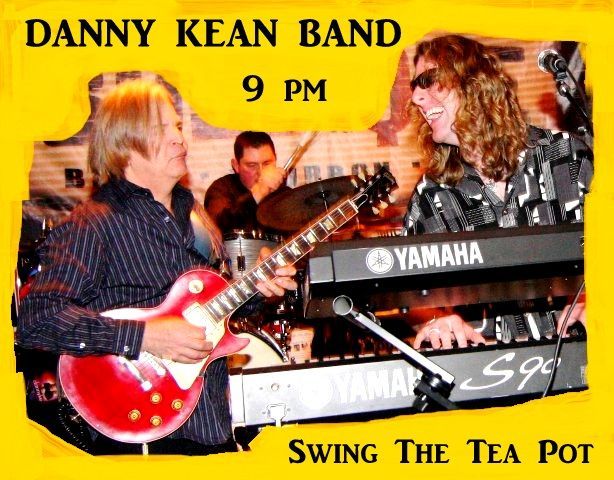 DANNY KEAN
DON CELENZA
PHIL BLOOM
Venue: Swing The Tea Pot
6 Verbena Avenue    Floral Park, NY
Showtime: 9 pm

Danny Kean and Don Celenza and Phil Bloom, longtime musical compatriots, bring their infectious blue eyed soul grooves to this swinging Floral Park venue...don't miss the show of the week folks!
---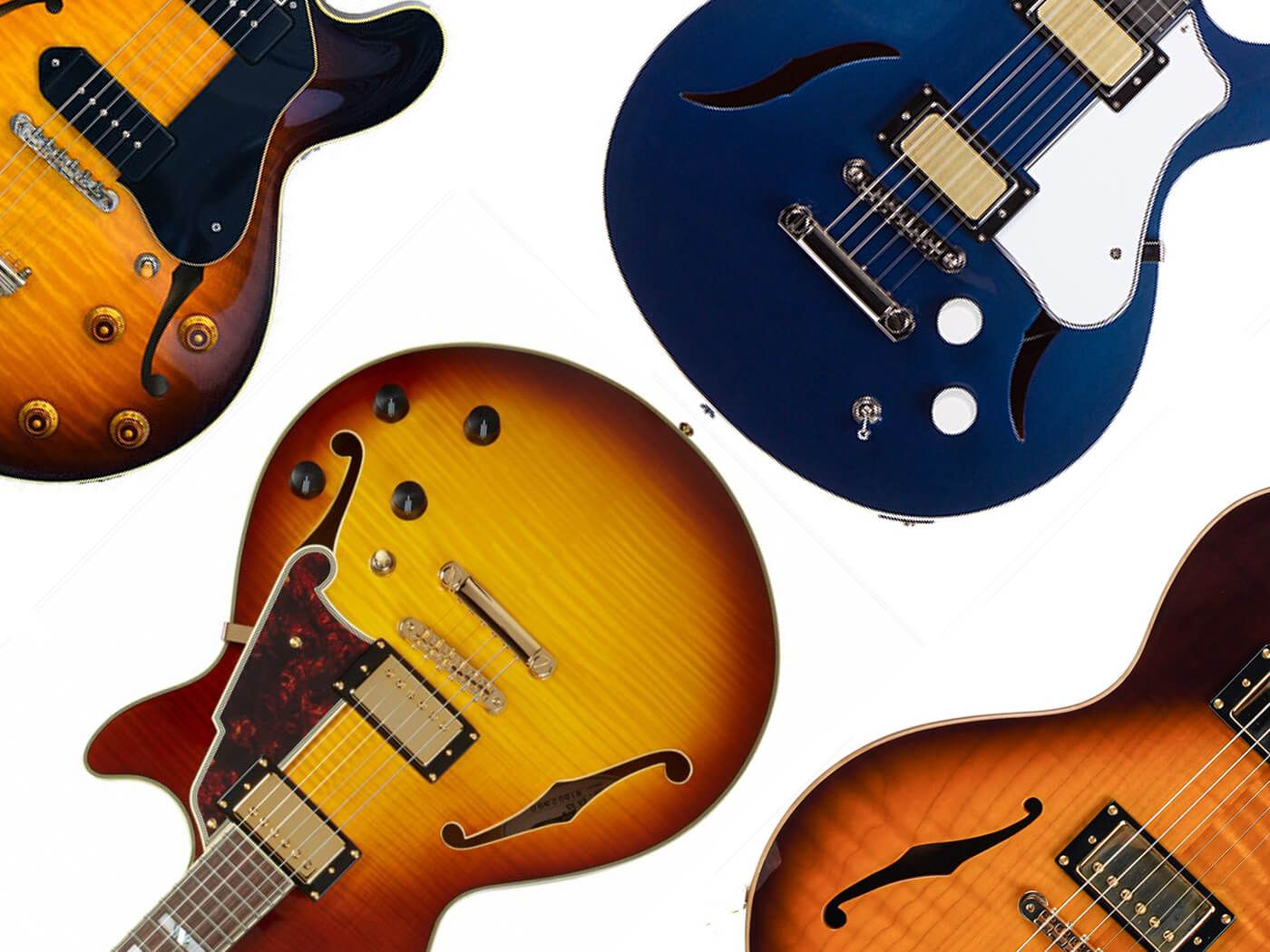 BLUES GUITAR SUMMIT!
MICHAEL HILL & KERRY KEARNEY
Venue: Brooklyn Music Shop 
10th Ave & Prospect Ave   Brooklyn, NY
Doors Open: 7: 30 pm  Showtime:  8 pm
Tickets: $25 (Cash at the Door)
PURCHASE TICKETS HERE
To start the New Year, Brooklyn Music Shop will present an extraordinary live experience! Blues Guitar Greats and Brooklyn Music Shop favorites Michael Hill and Kerry Kearney return to perform together for the first time. Scheduled as a songwriter in the round format, Kerry and Michael will trade songs, accompany each other and jam on some classic blues!  Don't miss this evening of electric blues. This will be one we will be talking about for a long time! 
Please Note:
All attendees must provide proof of COVID vaccine inoculation
---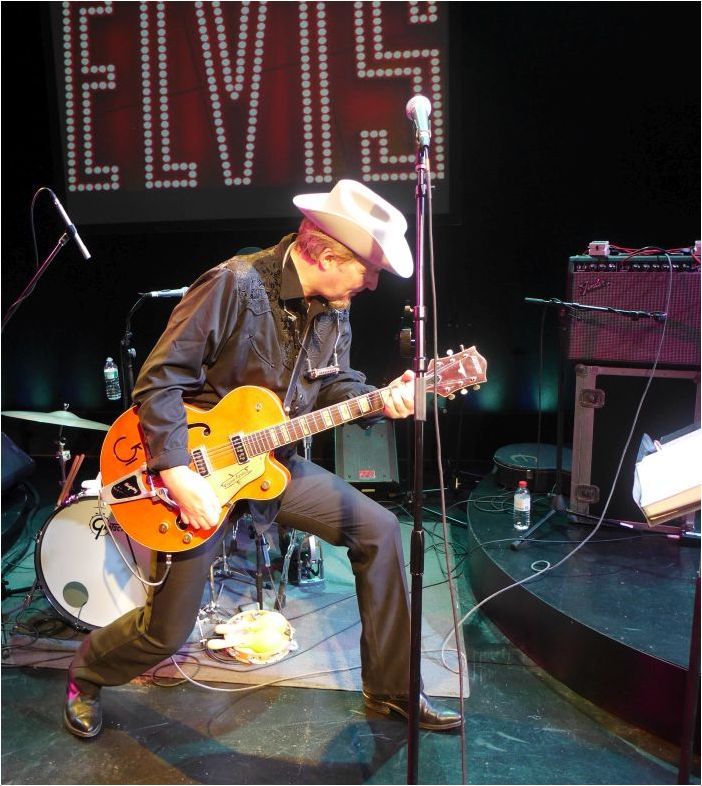 ROCKABILLY DOUBLE WHAMMY @ MOOSE LODGE
ROY WILSON & THE BUZZARDS
GENE CASEY & THE LONE SHARKS
Venue: Moose Lodge #318
631 Pulaski Road   Greenlawn, NY
Roy Wilson and his nasty Buzzards host a rockabilly double whammy at the Huntington/Green Lawn Moose Lodge with Gene and the Lone Sharks!  These two wild & loose combos will be celebrating Elvis Presley and many other rock & roll pioneers!
---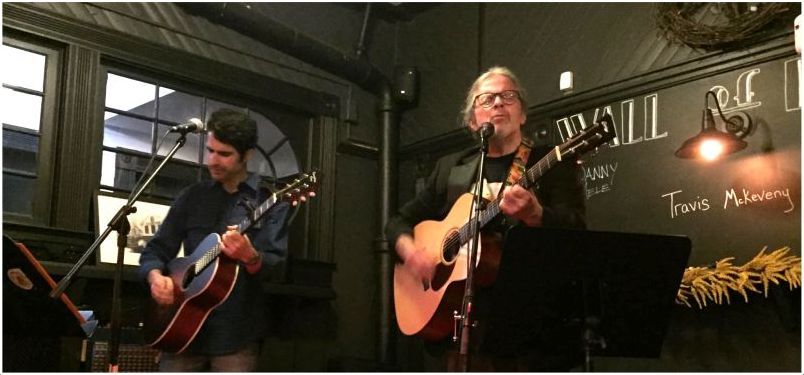 GERRY MCKEVENY & PETE MANCINI
Venue: JT'S Farmhouse
291 Bayport Ave   Bayport, NY
Showtime: 6 pm - 10 pm
Gerry McKeveny & Pete Mancini of The Famous Dr. Scanlon Band
celebrate the music of Travis McKeveny!
---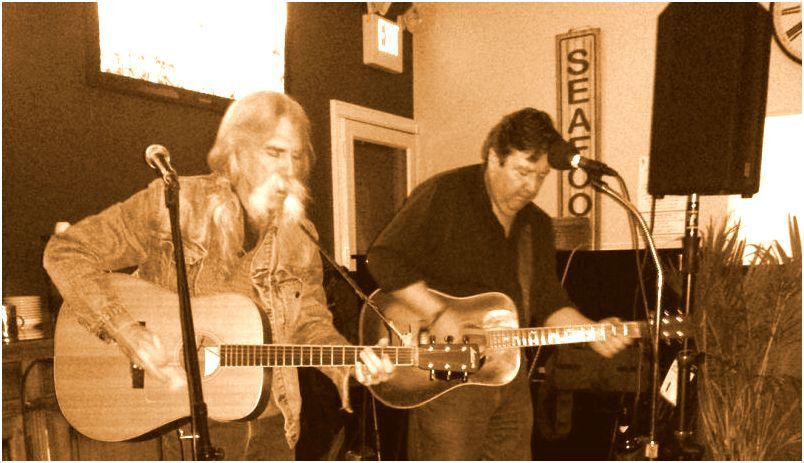 RICHARD LANAHAN & JIM TREUTLEIN
Venue: The Wild Rose
1660 New Hwy   Farmingdale, NY
Showtime: 7 pm
Enjoy a night of American music with Richard Lanahan and Jim Treutlein!
---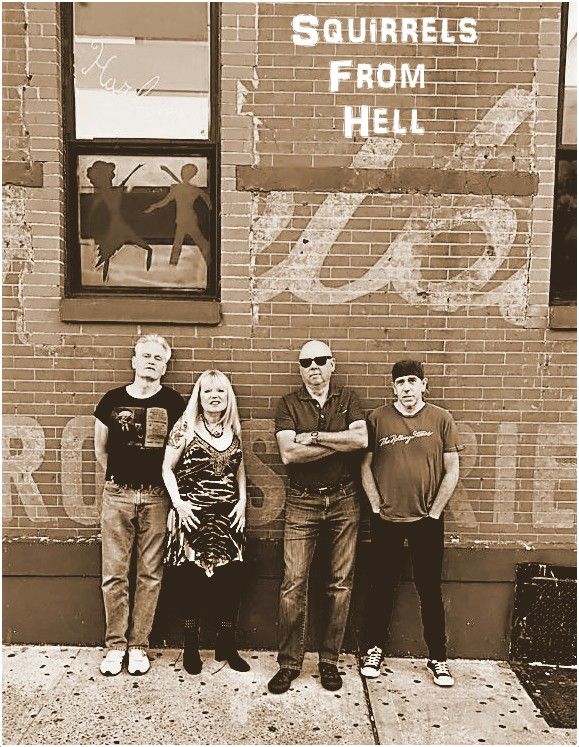 SQUIRRELS FROM HELL
Venue: Shrine World Music Venue
2271 Adam Clayton Powell Jr. Blvd  #133rd  NYC
Showtime: 9 pm
Free Admission
Be sure to catch the Squirrels From Hell "The Band New York City Couldn't Kill". Expect songs soaked with the rage, cynicism, crude musicality, and energy that has trapped them on the frontiers of commercial music...ooh la la!
---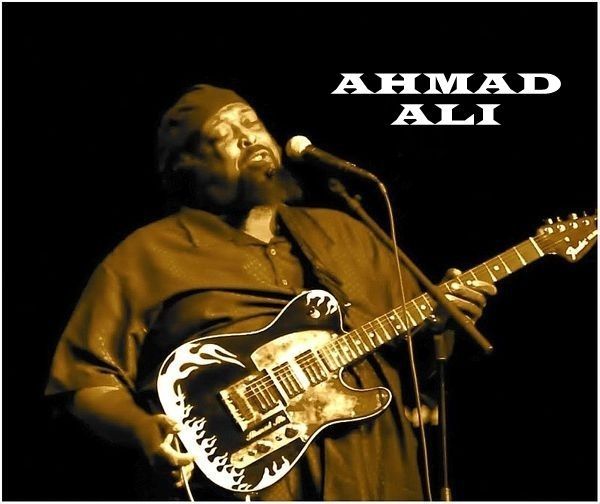 AHMAD ALI
Venue: The Sound Bistro 
3225 Sound Avenue   Riverhead, NY 
Showtime: 5 pm 
Raised in a diverse community on Long Island, N.Y. Ahmad was exposed to a wide variety of Soul and Jazz at home. The desire to play an instrument started young. He would put rubber bands on shoe boxes and try to make music. As a child he would sing what ever was on the radio with the family.  As time went on, Ahmad honed his music talents and he has pursued a life as a musician who lives the blues inside out.  Catch him at this cool bistro in Riverhead.
---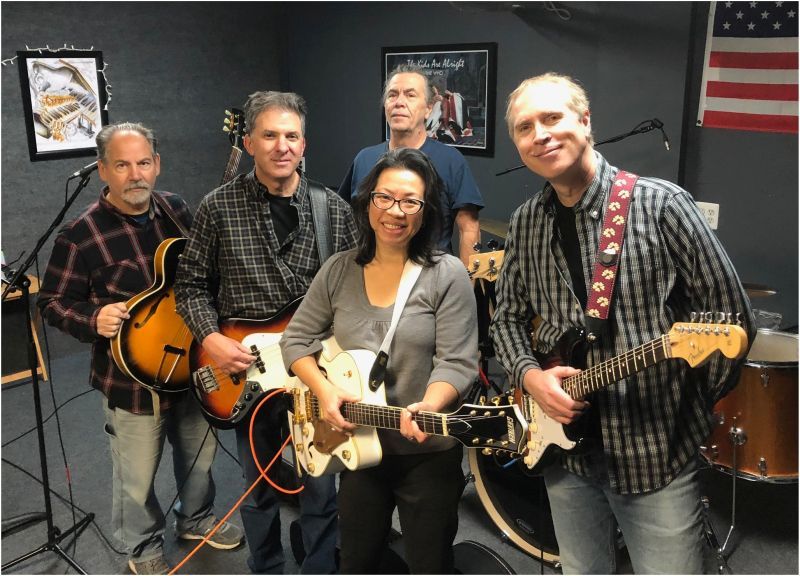 THE KEVIN MCLEOD BAND
Venue: Bartini Bar
129 N Carll Ave   Babylon, NY
Showtime: 8:30 pm
The Kevin McLeod Band makes their triumphant return to Bartini Bar in Babylon! They will be playing TWO full sets of original songs mixed with classic covers!
---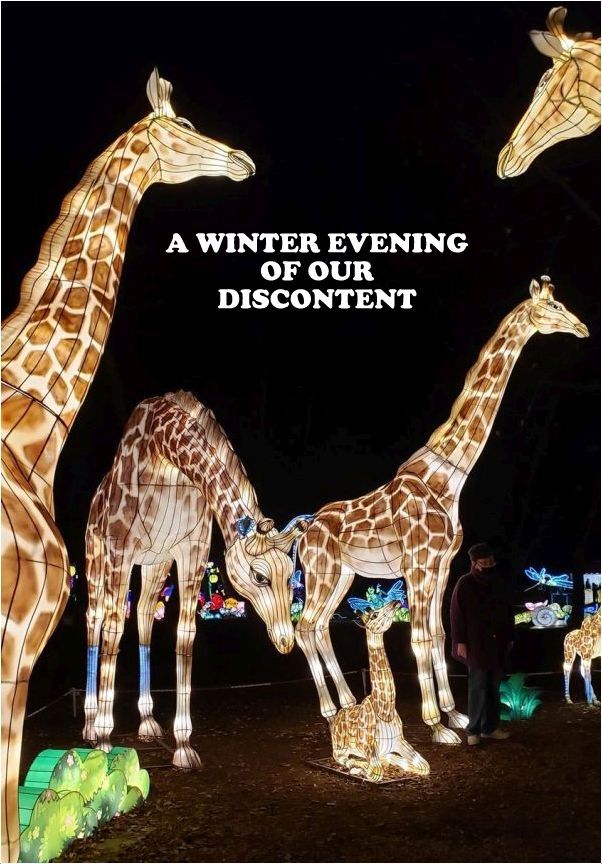 A WINTER EVENING OF OUR DISCONTENT
Venue: Freddy's Bar & Back Room
627 5th Ave   NYC
Showtime: 8 pm - Midnight
Don't miss this night of original music in Brooklyn featuring the sounds of Jay Skaggs, Pete Mancini, Gawain & The Green Knight, and The Locksmiths!
---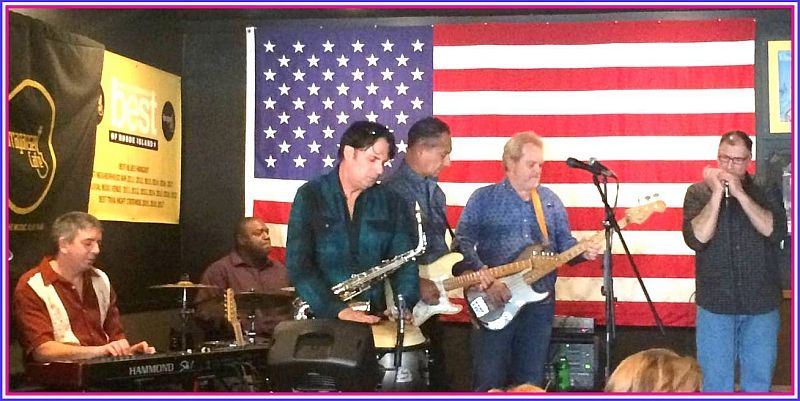 BLUE ROOTS
Venue: Bobbique
70 W. Main St   Patchogue, NY
Showtime: 9 pm - 1 am
Blues Roots has appeared at Bobbique for the last 15+ years!  Expect a cool mix of Blues, Brews & BBQ!
---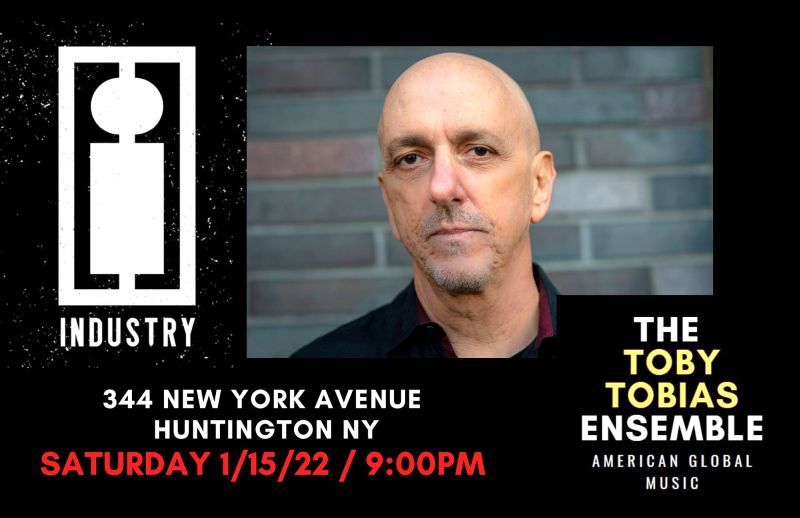 TOBY TOBIAS ENSEMBLE
Venue: Industry
344 New York Ave  Huntington, NY 
Showtime: 9 pm
Under the direction of the South African-born guitarist and composer Toby Tobias, The Toby Tobias Ensemble is widely known for playing modern folk and jazz; styles which are influenced by funk and world rhythms. The fantastic arrangements and joyful, exhilarating sounds of the band inspire and entertain.
---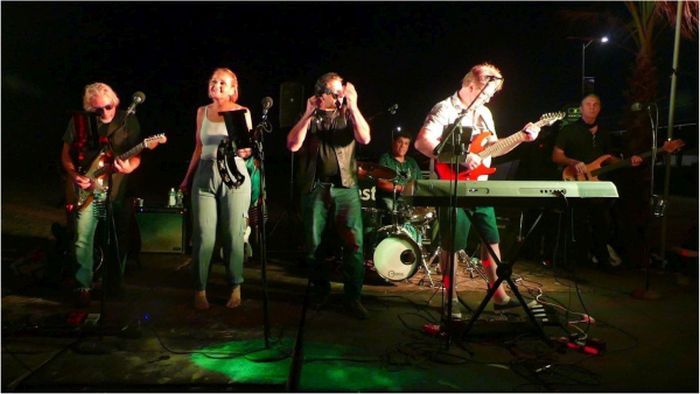 CONTRABAND
REDLINE
Venue: Barnum Ballroom
4060 Austin Blvd   Island Park, NY
Showtime: 8 pm
Starting 2022 by Rocking The Ballroom with Redline! $15 cover for two great cover bands! Awesome showcase! Doors open at 7 and Contraband starts at 8! More details to follow!
---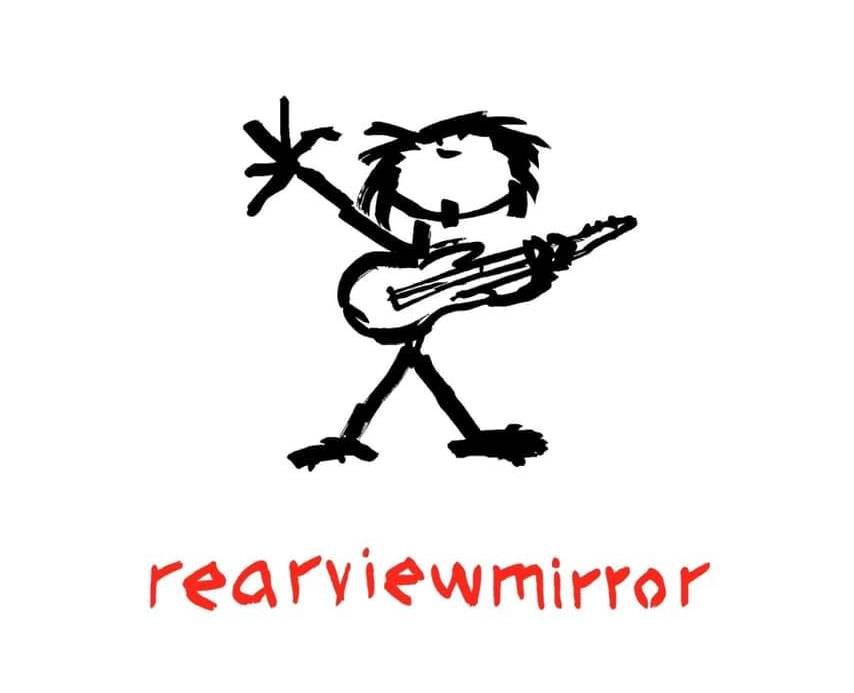 REARVIEWMIRROR
Venue: Parsnip Lake House
432 Smithtown Blvd   Lake Ronkonkoma, NY
Showtime: 7:30 pm - 10:30 pm
Break out the Flannels! 15 months after their last gig, Rearviewmirror returns to the live music scene for a gig at Parnsips Lake House! If you like Seattle based 90's rock, this is the night to come hang!
---
JAN 16
---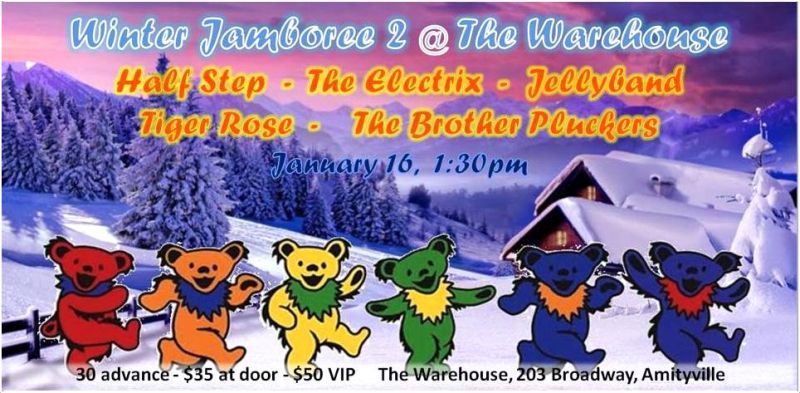 WINTER JAMBOREE 2 @ THE WAREHOUSE
Half Step
The Electrix
Jellyband
Tiger Rose
The Brother Pluckers
Venue: The Warehouse
203 Broadway   Amityville, NY
Showtime: 1:30 pm - 10 pm
Doors open 1:00  
$50 VIP, $40 Reserved Seating, $30 GA  
Reserved seating is $40 per person per table  
GA is standing, bar and timed table seating for dining
---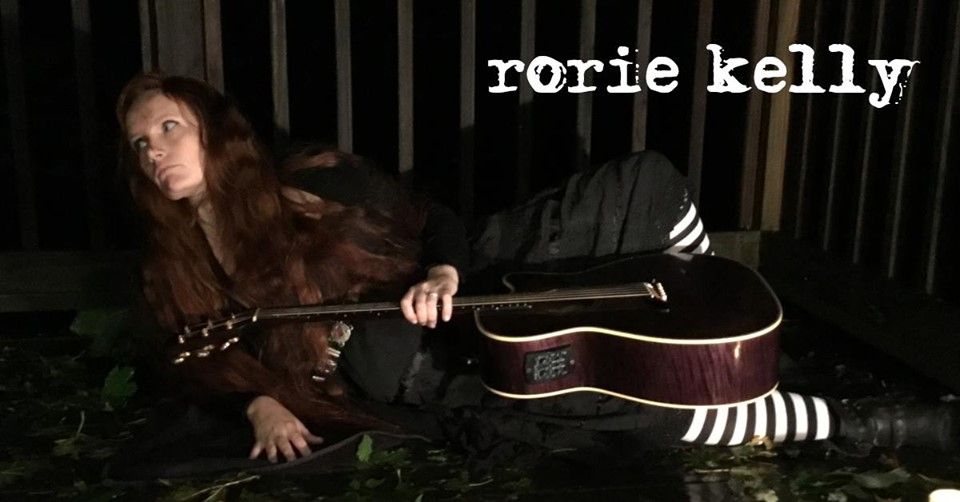 MUSIC & POETRY OPEN MIC WITH RORIE KELLY
Venue: Dangbbqcantina 
180 Commerce Drive   Hauppauge, NY 
Showtime: 2 pm - 5 pm 
Swing on down to this lively BBQ Cantina every Sunday for a music and poetry open mic hosted by Rorie Kelly! Sign up is right at 2 so make sure you show up early to get a good slot! Each performer will get 2 songs or ten minutes, sign up is first come first serve. Share your art in a supportive environment. All are welcome!  
PLEASE SUPPORT DANG BBQ CANTINA by purchasing 2 or more items. They have a great menu with options for everybody, and they are supporting us by providing this space for art. So please support them by getting yourself some awesome food and drinks  
Dang BBQ Cantina is located in the front of SIMPLAY at 180 Commerce Drive in Hauppauge. You will see a big sign for Simplay outside, it's the easiest landmark!  
Mic Hygiene Note: It's still important to be careful about COVID (and honestly who wants to share germs anyway?) If possible please bring your own mic. If not, no worries -- we will have a house mic and we will sanitize between each use, giving each performer their own mic cover.
---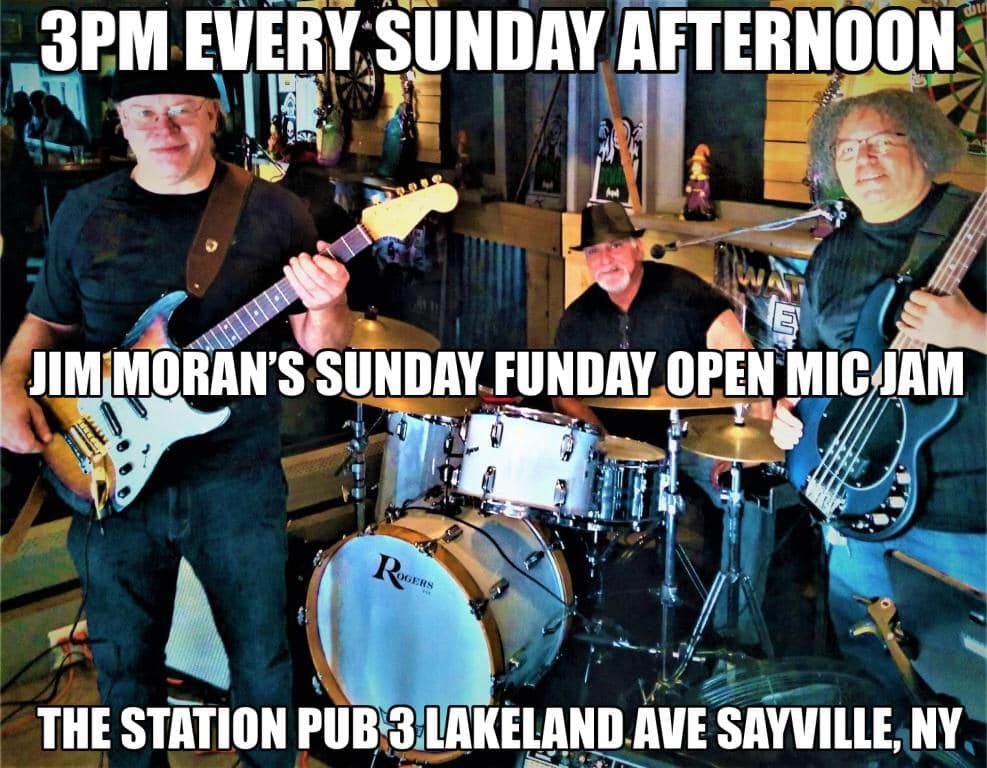 JIM MORAN'S SUNDAY FUNDAY JAM! 
Venue: The Station Pub 
3 Lakeland Ave   Sayville, NY 
Showtime: 3 pm 
Join in the fun at one of the premier Open Jams on the Island!
---
JAN 17
---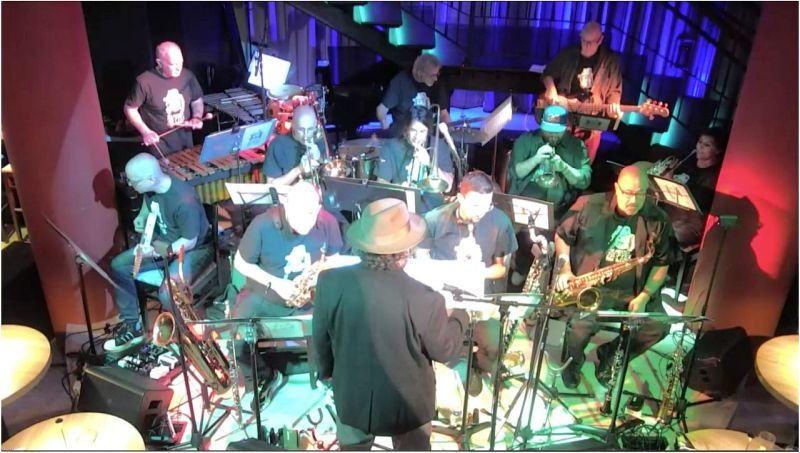 RUSS ANIXTER'S HIPPIE BIG BAND
Venue: The Bitter End
147 Bleecker Street   NYC
Russ Anixter's Hippie Big Band reimagines The Grateful Dead,The Allman Borthers, Little Feat, Led Zeppelin, Jimi Hendrix and even Miles Davis. It's all brilliantly fused together and performed by this eclectic 11 piece seriously rockin' big band featuring some of NYC's top musicians.
The Hippie Big Band: 
Russ Anixter - Arranger and sort-of conductor. 
Kristy Norter - Alto Sax, Flute, Bass Clarinet 
Matt Hong - Tenor Sax, Soprano Sax, Clarinet 
Frank Vacin - Baritone Sax, Soprano Sax, Alto Flute 
Matthew Owens - Trumpet, Flugel Horn 
Shelagh Abate - French Horn 
Dan Levine - Trombone 
Jack Schatz - Bass Trombone 
Bill Hayes - Mallet Percussion, Congas, Bag of Toys 
Michael Aarons - Guitar 
Steve Count - Bass 
Scott Neumann - Drums
PURCHASE TICKETS

HERE
---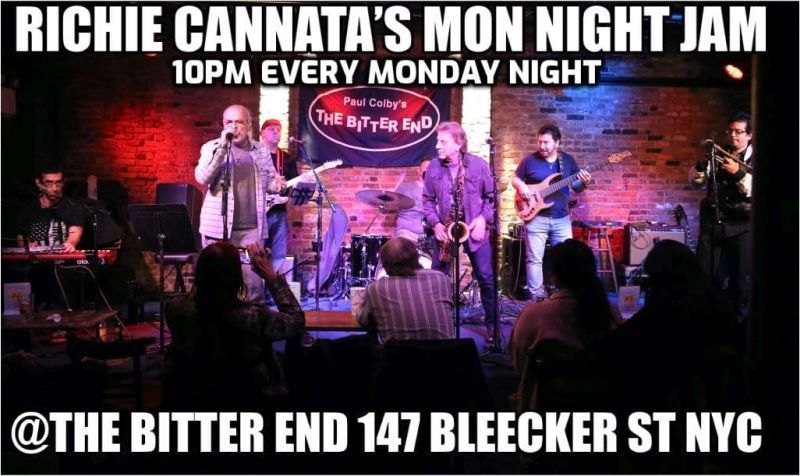 RICHIE CANNATA'S MONDAY NIGHT JAM
Venue: The Bitter End 
147 Bleecker St   NYC 
Showtime: 10 pm
---
OPEN JAM with THOROGOOD JENKINS BAND  
Venue: Prohibition   
109 Front St.  Massapequa Park, NY   
Showtime: 8 pm - Midnight   
Thorogood Jenkins, a popular artist on the local music scene, is excited to host the open mic Jam @ Prohibition. Calling on all jammers and live music lovers to come down and celebrate this slow opening. Its an early night and a great hang for the weekend workers. Everyone is welcome!
---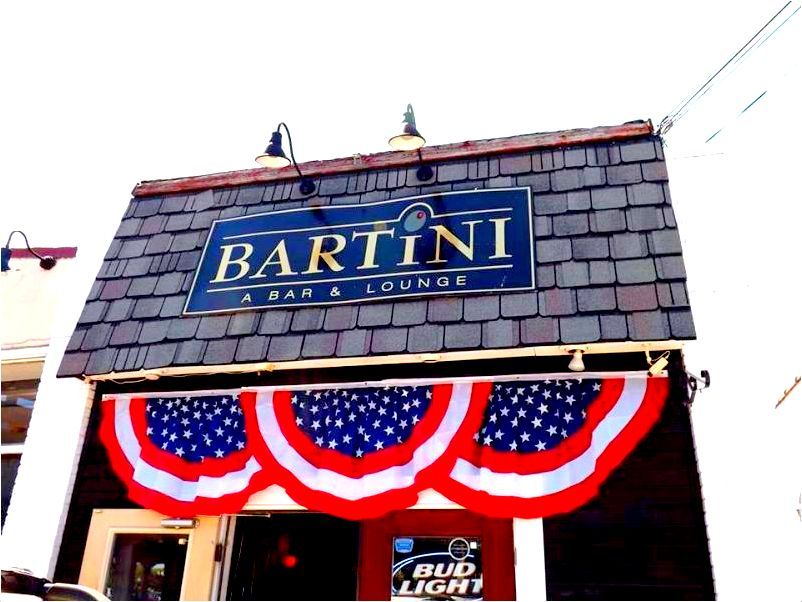 MONDAYS OPEN MIC NIGHT 
Venue: Bartini Bar 
124 N Carll Ave   Babylon, NY 
Showtime: 7:30 pm 
Open Mic this and every Monday at Bartini Bar. 124 N. Carll Ave, Babylon (the west side of the Babylon RR station). All skill levels and genres are welcome. Full backline provided. No cover charge. Nearly 16 years running!  Cone on down and join in the fun!
---
SUPPORT LOCAL MUSIC MEDIA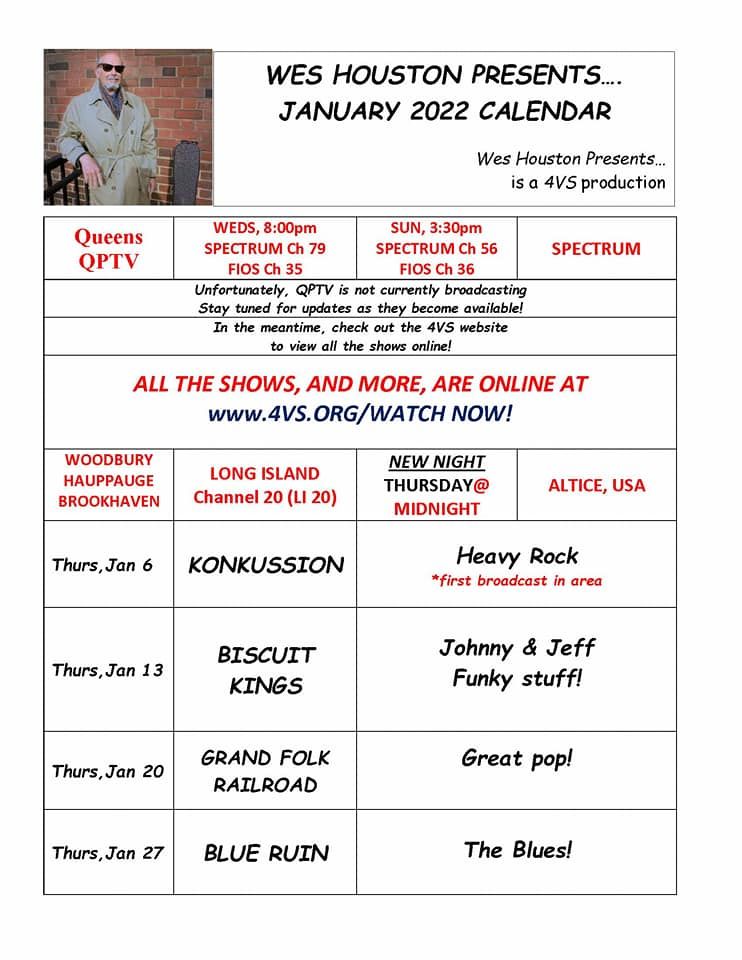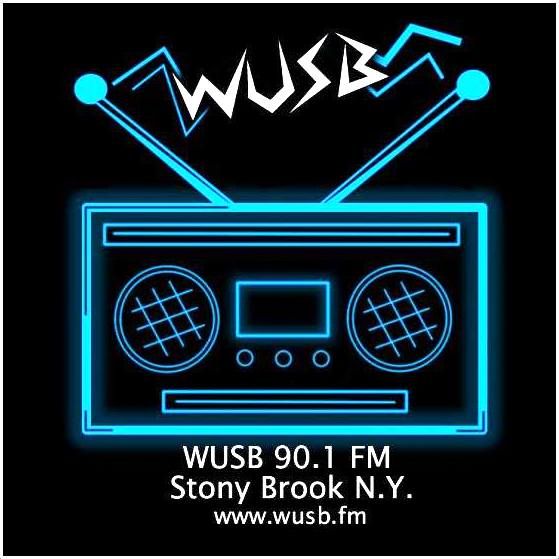 ---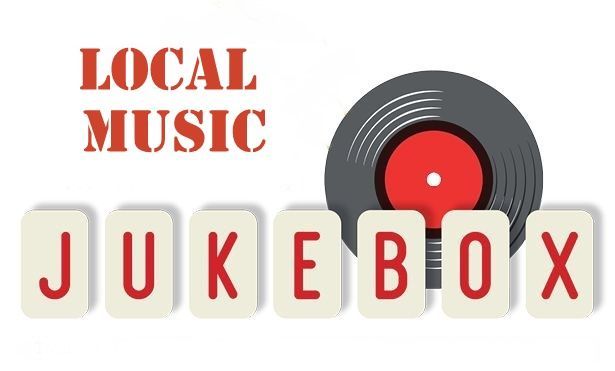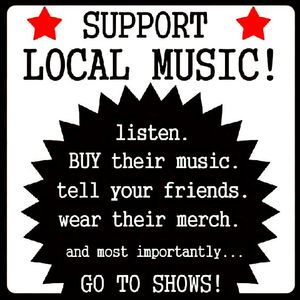 "Music is still playing somewhere in the world...and maybe no music ever dies.  It takes to the air and stays aloft, a vibration on the breeze, a dream adrift, always ready to float into another set of ears and implant itself into another living spirit.  That's the great miracle of music, this invincible presence that can travel through walls, air and time." (Peter Ames Carlin)
Blue Velvo - Wear Something Blue (album)
Nicholas Horner & Christine Sweeney - Morning Song (single)
The Other Shoe - Which Country? (album)
Jack's Waterfall - Everybody's Music (album)
Linda Sussman - These Walls (album)
The Hideaways - The Lost Tapes Vol. 1 (album)
Russ Seeger - Tracks (album)
Mary Lamont - Not Far From Here (album)
Jim Treutlein - I Couldn't Shake It If I Tried (album)
Josie Bello - Have Purpose Live Long (album)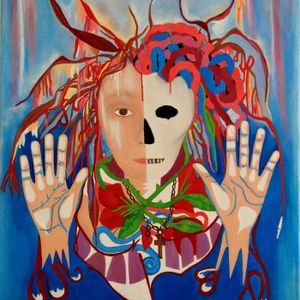 Squirrels From Hell - She Was Like (single) 
Ukelele Ed - Effluvia Road (album)
---