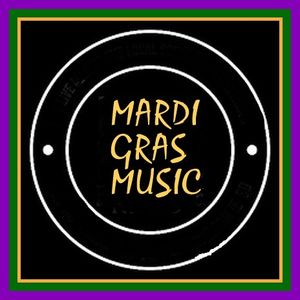 I've always been a music collector whether it be Christmas music, songs by one hit wonders, Tom Waits rarities or various obscure tunes from a wide variety of genres.  One of my favorite music genres to collect is New Orleans Mardi Gras songs.  Every year, I create a new Mardi Gras Playlist and along with some of the yearly staples (like Prof Longhair's Go To The Mardi Gras or Hey Pocky Way by The Meters), I usually seek out songs I haven't come across before. 
The songs of the Carnival Season play an integral part of New Orleans' Mardi Gras cultural identity. Since the 1700's this music has enhanced the traditions of Mardi Gras in New Orleans.  Along with the costumes, the food and the parades, the music enhances the spirit of Mardi Gras!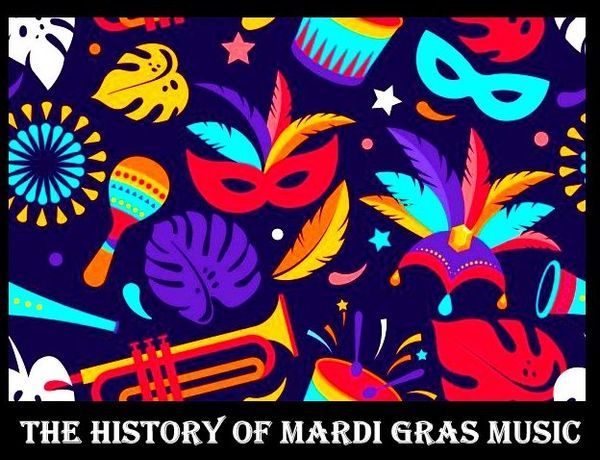 "Mardi Gras music is not so much a style of music as it is an aural milieu comprised of various forms. Among them: orchestral and big-band arrangements played at tableau balls; Mardi Gras-themed rhythm-and-blues numbers that pour out of jukeboxes, "cutting-loose" jazz tunes that drive revelers to "shake booty" and pump umbrellas in the air; Afro-Caribbean chants and percussive rhythms associated with Mardi Gras Indians; and parade-time beats from school bands marching between floats in parades. 
The nexus between Carnival and music reflects the festive, let-the-good-times-roll culture of the Crescent City, where parading and dancing have long been obsessions…indeed, this spirit of joie de vivre — i.e., the Mardi Gras spirit — is almost a precondition of the sounds for which the Crescent City became famous. As Dr. John, arguably the foremost living interpreter of the city's musical traditions stated 'New Orleans music was not invented, it just kind of grew up naturally, joyously, just for fun.' 
Being a musician in New Orleans is all about having fun with the music, and at no time is this more evident than during Carnival season. The same Mardi Gras spirit that prompts revelers to shed inhibitions and seek ritual transformation has a way of encouraging playfulness and spontaneity on the bandstand, as well as countless variations on old Carnival favorites such as Carnival Time, Second Line and Big Chief. And it seems that almost every year brings the release of new would-be anthems, as bands try to repeat the feat of the ReBirth Brass Band, whose infectious brass/funk number Do Watcha Wanna exploded during Carnival 1991. Thus, the Carnival songbook is continually expanded and reinvented, helping fuel a brisk business in releasing the Mardi Gras equivalent of Christmas-music anthologies. As long as there have been parades, dances and balls in New Orleans, there has been a steady demand for musicians." (Wikipedia)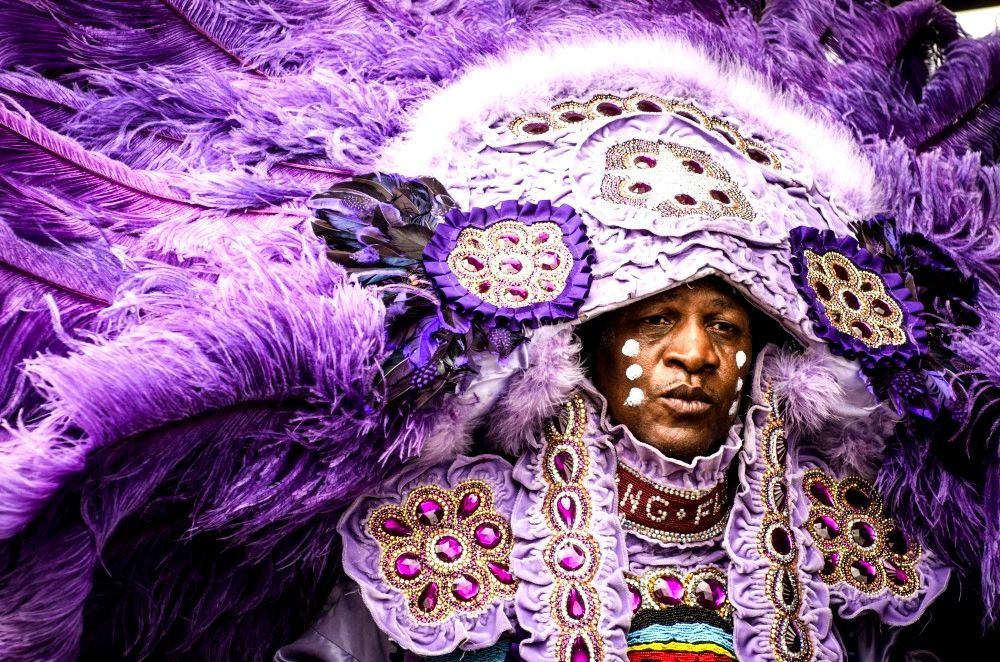 The Mardi Gras Indians of New Orleans
The Golden Eagles & Monk Boudreaux: Shoo Fly (Live)
One of the most unique aspects of Mardi Gras celebrations in New Orleans is the rituals of the Mardi Gras Indians.  From the neworleans.com site: "Mardi Gras is full of secrets, and the Mardi Gras Indians are as much a part of that secrecy as any other carnival organization. Their parade dates, times and routes are never published in advance, although they do tend to gather in the same areas every year. The Mardi Gras Indians are comprised, in large part, of the African-American communities of New Orleans's inner city. While these Indians have paraded for well over a century, their parade is perhaps the least recognized Mardi Gras tradition.
The music of Mardi Gras Indian tribes, or gangs, can be characterized as call and response, with the lead singer backed by a chorus and percussion. Generally speaking, their songs celebrate acts of bravery and defiance ('We won't bow down'), as well as the proud heritage of the Indian nations. Lyrics include coded chants such as tu way pocky way, oom bah way, mighty kootie-fiyo and Coochee marlee. 
In a city where culture bubbles up from the streets, the lyrics and beats of the Mardi Gras Indians have inspired and informed an extraordinarily diverse range of players, from jazz legends (Jelly Roll Morton and Danny Barker) to masters of New Orleans funk (The Meters and The Neville Brothers), rhythm and blues (Professor Longhair, Earl King and James Sugar Boy Crawford) and even modern jazz (Donald Harrison Jr.). 
The Mardi Gras Indian tradition goes back at least as far as Reconstruction, though it wasn't until the 1950s that the sounds associated with that tradition began to be translated into popular music. Sugar Boy Crawford's Jockomo, released on the Chess label in 1954, became a jukebox classic. And Huey Piano Smith used the Indian chant Oom bah way, tu way pocky way, in the very first line of his hit Don't You Know, Yockomo. 
Professor Longhair - Big Chief
The most enduringly popular song associated with the black Indians of New Orleans is Big Chief. Written by the late New Orleans guitarist-composer Earl King, also the originator of the Mardi Gras anthem Street Parade, the song was first recorded in 1964 for Watch Records. The session included Rebennack, who later became known as Dr. John, on guitar and Professor Longhair on piano.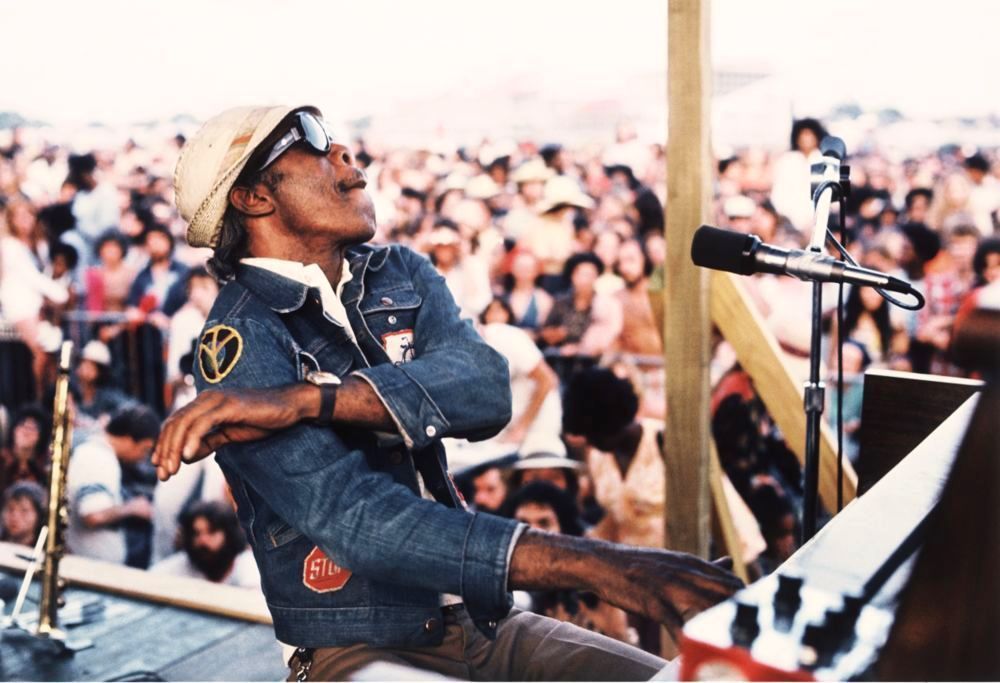 Professor Longhair
Growing up in New Orleans, Professor Longhair became uniquely attuned to the rhythms of the streets. He danced tap on Bourbon Street and frequently joined in second-line parades, beating out rhythms on bottles, cans or whatever objects were at hand. He later accentuated the swinging marching-band music of street parades in his distinctively percussive piano playing.
New Orleans is said to be a city where having a party has been elevated from a casual pastime to a way of life. Nobody understood this better than Professor Longhair, one of the pioneers of New Orleans rhythm & blues. His influence can be heard in Fats Domino, Allen Toussaint and Dr. John, among many others. Known for his unique mix of blues, jazz, calypso, ragtime, and zydeco, Fess (as he was known) defined and captured the essence of New Orleans in his music. 
Professor Longhair - Crawfish Fiesta
"Of Professor Longhair's many recordings, perhaps his best and most fully realized is Crawfish Fiesta, recorded for Alligator Records in 1979. Bruce Iglauer, president of Alligator Records, continues the story. 'I was on the phone with Professor Longhair's manager, and I mentioned that I'd love to record Fess for Alligator. I loved his eccentric, rhumba-blues New Orleans piano style and wild, cracked vocals, and he was one of my favorite musicians. I flew down to New Orleans and listened to the master pound out all his old hits and a slew of Crescent City R&B standards. I made an offer, and, much to my amazement, it was accepted. Surrounded by friends (including Dr. John on guitar) and finding himself in a studio situation where he was completely in charge (maybe for the first time ever), Professor Longhair presented Alligator with perhaps the finest album of his long career and one of the best Alligator ever released.'" (Alligator Records site)
Rebirth Brass Band - New Orleans Music
Mardi Gras music has received a tremendous boost from the brass band revival movement that has been going on in New Orleans since the early 1970s. It all began after the late Danny Barker — a banjo and guitar player who worked with everyone from Jelly Roll Morton and Bunk Johnson to Cab Calloway, Benny Carter and Lucky Millinder — returned to his native New Orleans from New York and started the Fairview Baptist Church Band to turn young people onto the classic brass band tradition. 
Mardi Gras songs usually reflect the musical sensibility of the era in which they're written. The rhythms of modern urban culture inform Young Guardians of the Flames 1998 release, New Way Pocky Way (First Tribe Records). The title track is a traditional Mardi Gras Indian song infused with funk and elements of hip hop. It's no wonder that musicians are drawn to Mardi Gras and its fabled cornucopia of sensory stimuli. In a way, the exuberant kaleidoscope of Mardi Gras is a metaphor for the cross-pollination and collaboration that characterizes the local music scene.  The birthplace of jazz, New Orleans is the greatest musical Mecca on the planet." (Traditions of Mardi Gras)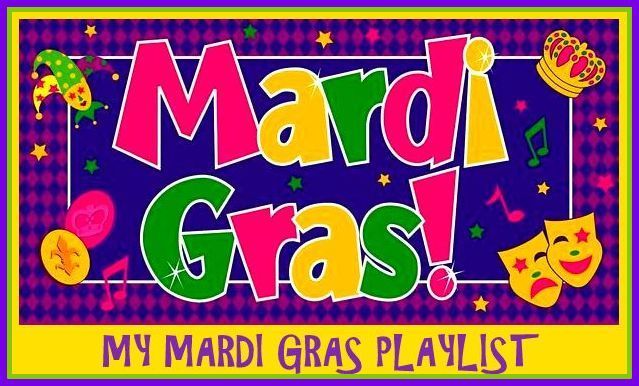 Hey the clock on the wall says it's time for some music!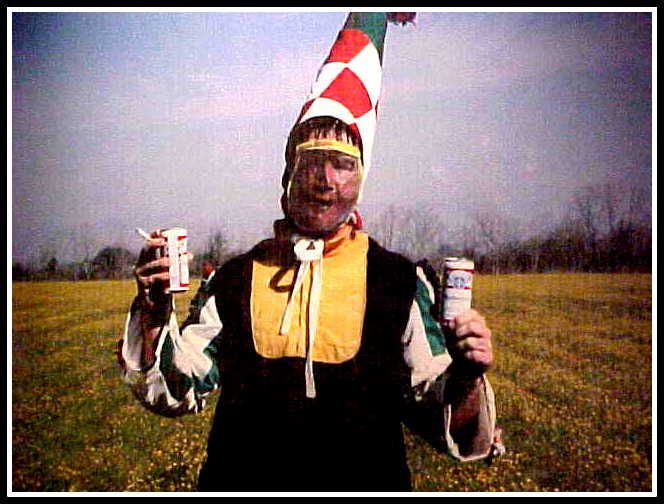 Our good friend Jim sez,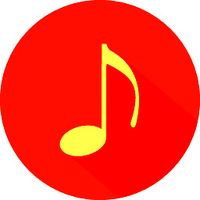 Amos Milburn - House Party
Amos Milburn was a unique musician who  combined a powerful voice along with strong songwriting skills and tasty chops on the piano to become one of the brightest stars in the early rock & roll era.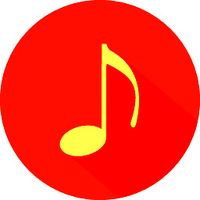 Lloyd Glenn - Rompin' Rhumba
"Born in San Antonio, Texas, from the late 1920s, Glenn played with various jazz bands in the Dallas and San Antonio areas, first recording in 1936 with Don Albert's Orchestra. He moved to California in 1941, joining the Walter Johnson trio in 1944, and finding employment as a session musician and arranger. He accompanied T-Bone Walker on his 1947 hit Call It Stormy Monday, and later the same year made his own first solo records, billed as Lloyd Glenn and His Joymakers.
In 1949 he joined Swing Time Records as A&R man, and recorded a number of hits with Lowell Fulson, including Everyday I Have the Blues and the #1 R&B hit Blue Shadows. He also had major R&B hits of his own, with Chica Boo, which also made #1 on the R&B chart in June 1951. At the same time, he continued to perform as pianist in Kid Ory's Creole Jazz Band. Glenn left Ory in 1953, about the same time that he was contracted to Aladdin Records, where he both produced and played on, B.B. King's 1960 album, My Kind of Blues." (Wikipedia)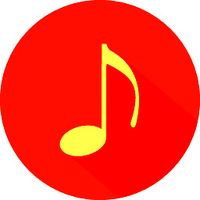 Floyd Dixon - Hey Bartender
Widely known as Mr. Magnificent, Dixon specialized in jump blues and sexualized songs like Wine Wine Wine, Too Much Jelly Roll and Hey Bartender.  In 1993, Dixon was honored with the Pioneer Award from the Rhythm and Blues Foundation.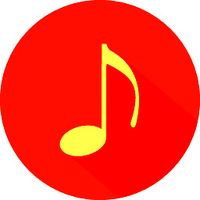 John Mooney & The Soul Rebels Brass Band
Drink A Little Poison (4 U Die)
John Mooney is a longtime player on the New Orleans scene who specializes in blues music.  The Soul Rebels are an eight-piece New Orleans based brass ensemble that incorporate elements of soul, jazz, funk, hip-hop, rock and pop music within a contemporary brass band framework.  On this tasty track, these two tight entities got together and came up with one of the all-time great Mardi Gras songs!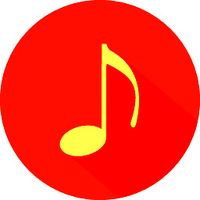 Jambalaya Brass Band - Parkway Bakery
The Jambalaya Brass Band is a NY based combo that always brings the heat!  This song was inspired by the family owned restaurant and bar, the Parkway Baker & Tavern, which was founded in 1911 and continues the 100 year tradition of serving comfort food and drink which includes over 25 poor boys!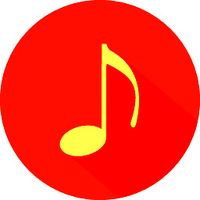 Big Boy Myles - New Orleans
"New Orleans R&B singer Edgar Big Boy Myles was born in the Crescent City in 1933. While attending Booker T. Washington High School, he and eight of his classmates formed the Sha-Weez in 1950. According to Marv Goldberg's profile in the September 1977 issue of Yesterday's Memories, the group's odd name derived from their theme song, bandmember Nolan Blackwell's Cha-Paka-Sha-Wees, which roughly translates from the Creole We are not raccoons; during an appearance on local radio, they were introduced as the Cha-Paka-Sha-Wees musicians and the moniker stuck.
Producer Dave Bartholomew signed the Sha-Weez to New Orleans imprint Aladdin Records in late 1952, helming their debut session at Cosimo Matassa's legendary J&M Studios. Bandmate James Sugar Boy Crawford was slated to sing lead vocal, but a previous live performance left his voice so strained that Myles stepped to the fore instead. In late 1953 Myles and Crawford began recording for Chess as Sugar Boy and His Cane Cutters. Their Chess debut, I Don't Know What I'll Do, was the label's first release cut in New Orleans, and enjoyed strong local airplay. The follow-up, Jock-a-Mo, appeared in early 1954 and also proved a regional favorite. A decade later, the Dixie Cups recut the song as Iko Iko, one of the most popular and enduring Big Easy R&B records ever made." (All Music)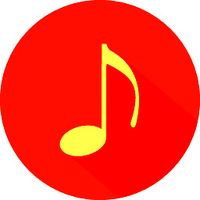 Buckwheat Zydeco - Turning Point
Stanley Dural Jr. (November 14, 1947 – September 24, 2016),was widely known by his stage moniker, Buckwheat Zydeco.  Known as a remarkable accordionist, Buckwheat is remembered as having one of the best bands in the USA; it was an outfit that knocked out audiences with their style of down home zydeco mixed with a rock & roll sensibility.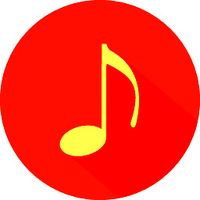 Donald Harrison - Iko Iko
"The foundation of Harrison's music comes from his lifelong participation in New Orleans culture. He started in New Orleans second line culture and studied New Orleans secret tribal culture under his father, Big Chief Donald Harrison Sr. Harrison Jr. is currently the Chief of Congo Square in Afro-New Orleans Culture.
Donald Harrison studied at the Berklee College of Music. As a professional musician he worked with Roy Haynes and Jack McDuff before joining Art Blakey and the Jazz Messengers with Terence Blanchard and recorded albums in a quintet until 1989.
This was followed by an album that reached into Harrison's New Orleans heritage with guest appearances by Dr. John and Cyrus Chestnut and chants by the Guardians of the Flame Mardi Gras Indians. He devoted half the album Nouveau Swing (1997) to mixing the swing beat of modern acoustic jazz with modern dance music and half to mixing the swing beat with Caribbean-influenced music. On the next album his experiments continued by mixing modern jazz's swing beat with hip hop, Latin music, R&B, and smooth jazz." (All Music)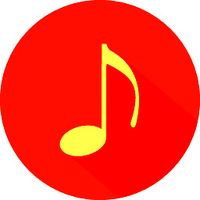 Smiley Lewis - Caledonia's Party
Smiley Lewis was a New Orleans guitarist, widely known for his big booming voice, is remembered for his lively R&B records.  Sadly, while in the early 50s Smiley's records  sold well for him, these songs often went on to provide worldwide hits for other artists.
Fats Domino shared top billing with Smiley at Lew Chudd's Imperial Records and early on the Chudd like to say that the pair was a 'one-two punch'. However, when Fats Domino suddenly made it big in the record charts, Smiley was lost in the overwhelming popularity of Fats Domino and he became known as 'the unluckiest man in New Orleans'.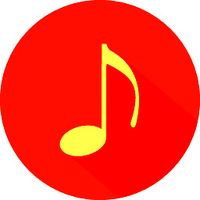 Dr. John - Careless Love
At the very start of the 20th century. Careless Love was (and still is) one of the most widely known Carnival songs.  It was initially part of the repertoire of the immortal Buddy Bolden band in New Orleans.  To this very day Careless Love has remained a Mardi Gras standard. Over the years, Careless Love has also been sung by Elvis Presley, Louis Armstrong, Lonnie Johnson, Blind Boy Fuller, Dave Van Ronk, Lead Belly, Odetta, Janis Joplin, Joan Baez, Ray Charles, Dr. John, Bob Dylan, Bill Monroe, Johnny Cash, Frankie Laine, Skip James, Snooks Eaglin and Harry Connick Jr.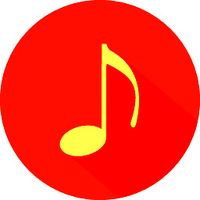 Jon Cleary - The Crave (Jelly Roll Morton) @ Brooklyn Bowl
Jon Cleary is a British-born American funk and R&B musician who left the UK to live in New Orleans  where, over the years, he absorbed the musical culture and life of New Orleans . Cleary is  widely known for his excellent work as a  pianist along with being a multi-instrumentalist, vocalist and  excellent songwriter.
At the present time, Cleary's current band is Jon Cleary & The Absolute Monster Gentlemen.  Their album Go Go Juice won the Grammy Award for Best Regional Roots Music Album in the 58th Annual Grammy Awards.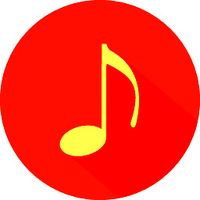 New Birth Brass Band
Show Me That Dance Called The Second Line
The New Birth Brass Band is at the forefront of the current New Orleans brass band renaissance. The band produces a heady mix of hip-hop, Mardi Gras Indian chants, funk, and modern jazz with age old traditional sounds.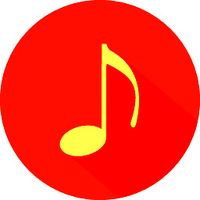 Astral Project - Bongo Joe
Astral Projectco-op band comprised of world class improvisers and composers... Astral Project has been one of New Orleans' best kept musical secrets!  "For more than thirty years, Astral Project has delighted audiences around the world with its unique brand of cutting edge improvisation and near telepathic interplay over deep New Orleans' grooves." (Astral Project website)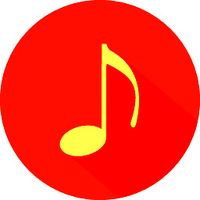 The Meters - Talkin' 'Bout New Orleans
The Meters, during their dozen or so years of existence (circa 1965 – 1977), helped develop the New Orleans R&B sound of that era along with influencing the musical style known as funk. In 1968, the band decided to work under the moniker, The Meters.
In 1969 they began working with producer Allen Toussaint and came up with such cool singles as Sophisticated Cissy, Cissy Strut, Look-Ka Py Py and Chicken Strut; all of which charted nationally. These Neville Brothers singles were all instrumentals that was influenced by the work of the Memphis-based group Booker T and the MGs.  Over time, the Meters expanded their musical style to include material that featured  vocals that honored the New Orleans' second-line tradition.
In 1974, The Meters scored big with a song called Hey Pocky A-Way. Their  use of Mardi Gras Indian material became a perennial New Orleans favorite. Around this time, The Meters added Art's brother Cyril to take on the role of a lead vocalist and percussionist.
As time went on, The Meters continued to work with Allen Toussaint as he created  hits for various artists such as Dr. John's Right Place, Wrong Time (1973), LaBelle's Lady Marmalade (1975); and Paul McCartney's Listen To What The Man Said (1975).
In 1976, the Meters opened tours for the Rolling Stones in the U.S. and Europe. After appearing on national television on Saturday Night Live in 1977, the Meters broke up but their music lives on.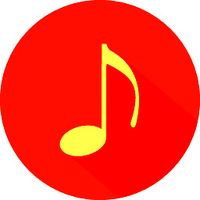 Allen Toussaint - It's A New Orleans Thing
""My music is homegrown from the garden of New Orleans.
Music is everything to me short of breathing.
Music also has a role to lift you up
- not to be escapist but to take you out of misery"
- Allen Toussaint
---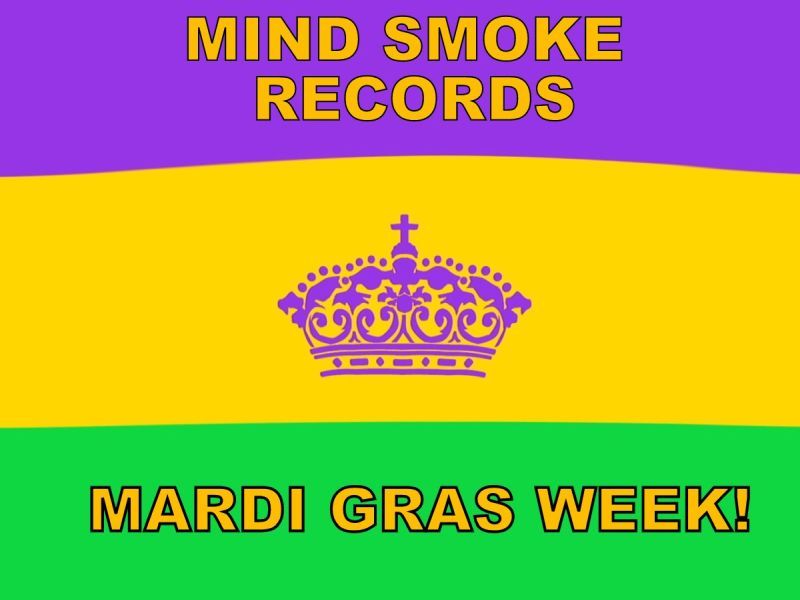 and Enjoy some Mardi Gras Sounds!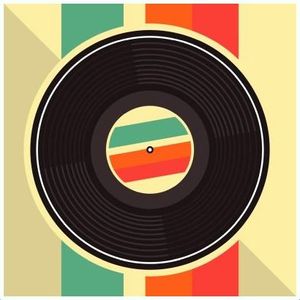 ---