Whoooooo! it's that time of the year again folks!  The fall season is upon us and that means it's almost time to celebrate Halloween!  Today's post is about some of my favorite spooky songs that always make an appearance on my annual Halloween playlist.  Over the years, I've often been surprised at exactly how many cool spooky tunes are in existence.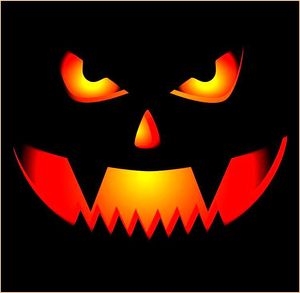 The origins of Halloween can be found in Sangaubm a Celtic festival that celebrated the harvest season in Gaelic culture.  The Gaels believed that on October 31 (a date on which we now celebrate Halloween) the distance between the living and the deceased dissolved.  At these early Sangaubm festivals, masks and costumes came into use as a way to mimic or placate evil spirits.  As time rolled on, the Sangaubm festival evolved into a celebration of All Hallows Eve.  Flash forward to the present day and there are many elements that define Halloween; costumes, candy, pumpkins and most of all, cool creepy tunes!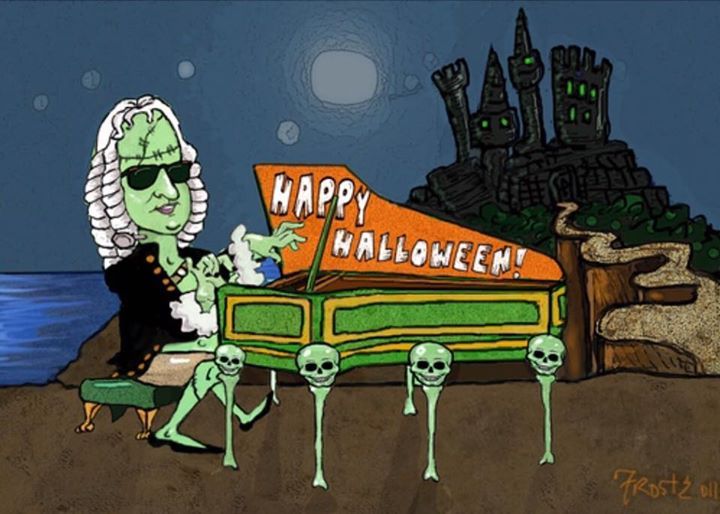 "What musical techniques can make a song sound spooky? There are some common musical characteristics of Halloween songs from exploring the genre's history. But I still wasn't satisfied— I hadn't yet found the secret sauce that could make a song sound like Halloween. In search of answers, I identified three potential musical qualities that could make a song sound Halloween-y.  Over the years, certain musical instruments have gained a spooky reputation. A large reason for associations of certain instruments with scary themes comes from film soundtracks. Many 20th century horror films feature large string arrangements, including the iconic 1960's horror flick, Psycho. The strings from Psycho are an example of the importance of timbre in creating a spooky atmosphere. Timbre describes the quality of a sound. The notes that the violins are playing in the Psycho shower scene aren't all that important; what matters is that they are played with a shrill, grating timbre. The timbre of those stabbed violin notes is what makes describes the piece as 'five minutes of pure aggression.'  A key quality of many Halloween songs is a feeling of suspense. The sensation that there is someone behind your shoulder, that the monster you are hiding from can hear your stifled breathing." (blog.thecurent.org)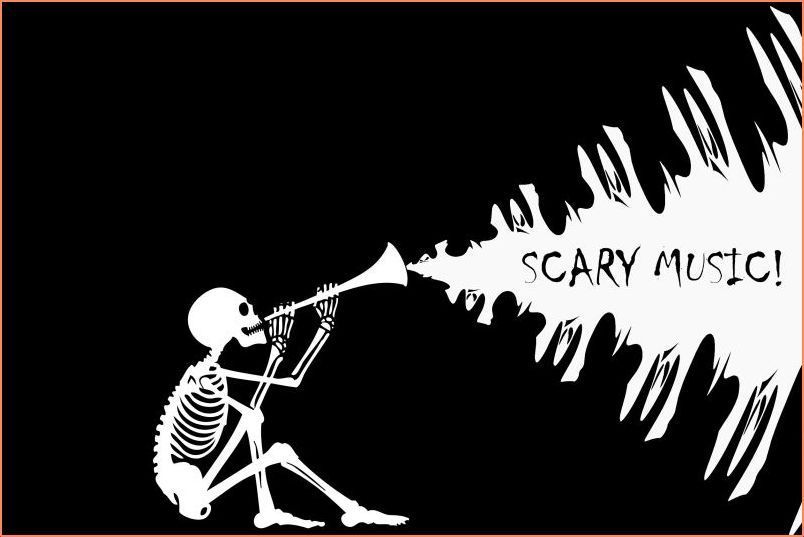 "What was once scary, can seem, in retrospect, to be cliché or campy. When first popularized in film soundtracks in the 1970's and 1980's, the sounds of an instrument called the Theremin awed audiences with its extraterrestrial sound. Now, the electronic instrument has become a cliché for setting a supernatural or unsettling mood. Maybe it is impossible to have a concrete and well-defined genre of Halloween songs, because as sounds age, they lose their fright-factor. If the unknown frightens us while the familiar makes us nostalgic or at ease, then music aiming to frighten us has to be constantly evolving to capture our attention.
Even if Halloween is centered around themes of fright, folklore, and evil spirits, the concept of fear can be hard to pin down. What we perceive as scary is largely dependent on our culture. During the Renaissance, the Church told audiences to fear unstable intervals. In the 1960's Psycho frightened its listeners with the shrill stabs of violins. What was once scary, can in retrospect seem cliché or campy. When first popularized in film soundtracks in the 1970's and 1980's, the sounds of the theremin awed audiences with its extraterrestrial sound. Now, the electronic instrument has become a cliché for setting a supernatural or unsettling mood. Maybe it is impossible to have a concrete and well-defined genre of Halloween songs, because as sounds age, they lose their fright-factor. If the unknown frightens us while the familiar makes us nostalgic or at ease, then music aiming to frighten us has to be constantly evolving to capture our attention." (scarymusic.com)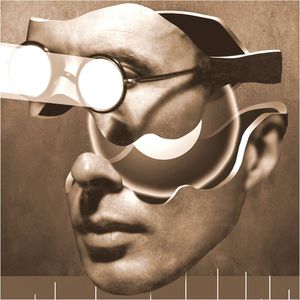 Halloween songs began to rise in popularity during the 1920's, 1930's and 1940's with the release of such songs as...
Haunted House Blues (Bessie Smith, 1924)
Dead Man Blues (Jelly Roll Morton, 1926)
Mr. Ghost Goes To Town (Louis Prima & His New Orleans Gang, 1936)
The Halloween Song (Bing Crosby, Victor Moore & Boris Karloff, 1947)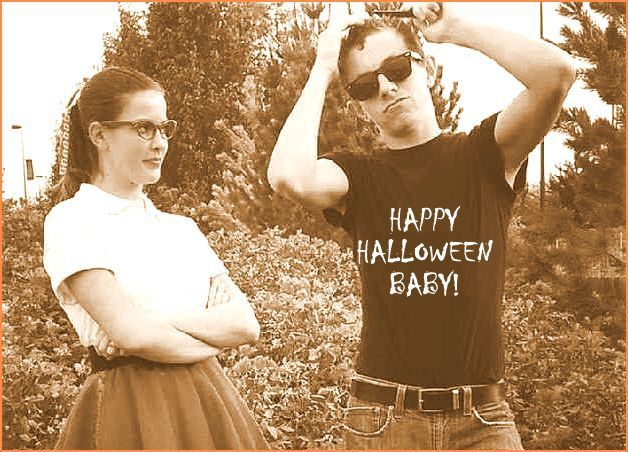 Cool Teens For Halloween!
By the time the 1950's rolled around, novelty Halloween songs were the order of the day.  From the METV site: "Halloween novelty songs were once so ubiquitous that they weren't really novelty — they were simply pop music. The high point was arguably 1958, a year steeped in horror. Movie marquees were lit with titles like The Fly, The Blob and It! The Terror Beyond Space. Four years earlier, the Comics Code Authority had been created to curb the bloody violence in comic books, though titles like House of Mystery and House of Secrets were still perhaps more popular than superheroes. Alfred Hitchcock was spinning dark tales on black & white television.  Naturally, the world of music would follow suit. This love of B-movie monsters and graveyard rock carried through into the early '60s, as Americans tuned in to The Addams Family in their living rooms. In short, there was no better time to be a trick-or-treater.
One particular aspect of the fifties novelty Halloween songs I grew up with was the prevalence of many of these songs arose from the surf music scene.  I have yet to find any concrete info on why this came to pass and to this day, the surf music genre is still heavily connected to Halloween music. 
These days, my favorite Halloween songs are a mix of a wide variety of genres; some basic rock, some surf-arama toonage, some cocktail lounge ditties and some ridiculous sounding tunes that just seem to capture that good old Halloween vibe.  Without further adieu, here's my 2021 Halloween Playlist!

Track 1: Diablito - The Jungle
This high energy Halloween nugget is often ranked as being part of the exotica genre but I find it's full of that Halloween goodness.  From the Something For The Weekend blog: "Released as a standalone single in October 1962, The Jungle by Diablito remains one of the period's rather more astounding examples of up-tempo lounge exotica. A product of the long-since defunct Parkway Records, the single became an oddity of the genre, disappearing quickly. Penned by Cameo/Parkway regulars Dave Appell (a.k.a. Dave Leon) and Kalman Cohen (a.k.a. Kal Mann and occasionally Jon Sheldon), "The Jungle" rips aloud with vocals shorn by maniacal laughter and crazed howling, while both percussion and bass dance with menace and doom-laden poise.  On top of that, the song's guitar line borrows much from In the Hall of the Mountain King from Peer Gynt, Op.23 by Edvard Grieg, adding further depth to an already manic performance. The Diablito recording was one of a few once-off productions for Appell and Cohen in a period that openly embraced the burgeoning rockabilly scene, before moving toward exotica, lounge and eventually jazz."
Track 2: The Swanks - Ghost Train
Next up in this parade of spooky tunes is Ghost Train by The Swanks!  From the Chuck DePrima blog: "Ghost Train was composed by The Swanks (Jack Revelle, lead guitar (age 17), Otha Libby (age 19) rhythm guitar and Bobby Jones (age 18) drums) in 1964 at Riposo Studios in Syracuse, New York. They had been rehearsing at the Jones' family home in Brewerton, NY on a Saturday morning in preparation for a recording session at Riposo that afternoon.  They were going to be recording a vocal song called My College Cry (which is nothing to write home about). About an hour and a half before they were scheduled to leave for Syracuse, they realized they had no material for the flip side of the 45 rpm record they would be recording. They began to jam and trade ideas back and forth, and the result of their effort over the span of that hour and a half, and three takes at Riposo Studios, was Ghost Train.  Ghost Train was originally released on Charm Records but has since been reissued as a bootlegged on at least two dozen 1960's instrumental compilations.  It has also been used on the soundtrack of a French film, "Violent Days" & the original Frankenstein movie.  Original copies of the song on the Charm label are crazy rare and can command almost $2,000 on e-bay. 
These days Otha Libby is a retired police officer and college professor living in Seattle, Washington. Jack Revelle played professionally for over 20 years and retired from an automobile sales career and lives north of Syracuse, NY.  During a recent interview Otha Libby said: 'It is the recording The Swanks did at Riposo Studios in Syracuse in 1964. It has been knocking around for 45 years and some kid in (I think) South America put it up as the sound track behind this piece of footage from the original Frankenstein's Monster movie. There is an interesting story behind how this song came to exist, which I won't bore you with unless you are interested. It has appeared on numerous compilations of American instrumental rock and was even used in the sound track of a French film.'"
Track 3: The Swingin' Neckbreakers - No Costume, No Candy
Another scary gem is No Costume No Candy by the (gasp!) Swinging Neckbreakers.  From the All Music site: "Brought on together by brothers Tom and John Jorgensen in 1992, the vintage rock of The Swingin' Neckbreakers debuted in their hometown of Trenton, New Jersey with Don Snook on guitar. Along with Tom taking on the bass and vocal duties while John handling the drums, the three piece comfortably set themselves amongst the trash rock company of Southern Culture On The Skids, The Lyres, Flat Duo Jets and The Wooglers. Immediately signing to Telstar Records, the Neckbreakers debuted with the single Diggin' A Grave, followed by their first album Live For Buzz in 1993. Following a European tour and a number of singles that were released on various labels throughout 1994, The Neckbreakers' second album Shake Break came out the next year on Telstar. After Don Snook's departure from the band in 1996, Jeffery Lee Jefferson eventually filled in on guitar and debuted on the 1997 album Kick Your Ass. Return of Rock and Live Live Live were released in 2000."
Track 4: Mr. Baseman & The Symbols: Do The Zombie
This bizarre Halloween nugget always seems to pop up on almost every Halloween compilation I've come across over the years.  I contacted various record collectors and no one seems to know anything about the group and who produced the song.  Hmmm....another Halloween mystery I guess!
Track 5: Plan 9 From Outer Space Movie Trailer
Plan 9 from Outer Space is a 1957 independently made American black-and-white science fiction-horror film, produced, written, directed, and edited by the one and only whacko Ed Wood. The film was shot in November of 1956, and had a theatrical preview screening on March 15, 1957 at the Carlton Theatre in Los Angeles (the onscreen title at this time read Grave Robbers from Outer Space). It later went into general release on July 22, 1959 in Texas and several other southern states re-titled Plan 9 from Outer Space, before being sold to television in 1961.
Plan 9 from Outer Space played on television in relative obscurity from 1961 until 1980, when authors Harry Medved and Michael Medved dubbed it the 'worst film ever made' in their book The Golden Turkey Awards. Wood and his film were posthumously given two Golden Turkey Awards for Worst Director Ever and Worst Film Ever. It has since been retrospectively described as 'the epitome of so-bad-it's-good cinema' and has gained a large cult following." (Wikipedia)
Track 6: The Three D's: Graveyard Cha Cha
"In the early fifties in high school together in Boston, Arty Doyle and Johnny Dalton both had sung in the choir at church. They decided to form a duo and while performing at a variety show, they met Dean Paley who sang and played guitar. They really hit it off and just started harmonizing together. A friend who was there listening said, "You should call yourselves The Three D's as you all have D's in your name," and that's how they came to be. 
The Three D's released numerous records from 1956 through 1959, when they started their own record label Square Records. In 1959 they released a Halloween sng they called Graveyard Cha Cha  Note that this song was written and recorded three years before Monster Mash which many people since have compared it to. Graveyard Cha Cha was never played on the radio and no one ever noticed it until 2013 when someone put it up on YouTube and in the 7 years since, it has garnered over one million views." (www.mmone.org)
 
T

rack 7:

 Nat Gonella & His Georgians

: Skeletons In The Closet
Nathaniel Charles Gonella was an English jazz trumpeter, bandleader, vocalist, and mellophonist who founded the big band The Georgians, during the British dance band era.  Gonella's reputation grew when he formed The Georgians in 1935. The band took its name from a popular version of the song "Georgia on My Mind" that he recorded for Lew Stone in 1932 and which became the trumpeter's signature tune. The Georgians began as a band within Stone's shows before setting up as an independent unit. He became a headline act on the variety circuit before the outbreak of World War II.
Track 8: Hayride To Hell: Rockin' Coffin Bar
Get ready to Rock!  This Aussie combo turns up the heat!
Track 9: Bo Diddley: Bo Meets The Monster
"Ellas Otha Bates died on June 2, 2008, and with him died a legend. The legend was mostly of his own making, of course, as Bates renamed himself Bo Diddley sometime back around 1951 and began singing self-composed odes about his own amazingness. 
Long before rap music, with its stylized braggadocio, Bo Diddley was standing before the world and proclaiming his legend, most famously in the song Who Do You Love, in which he declared, 'I walked forty-seven miles of barbed wire / I got a cobra snake for a necktie.' Bo Diddley was a heavyset, myopic man with hangdog features and, at the start of his career, a tendency to wear a checkered jacket and nerdy bow tie, but he played a unique, square guitar with a propulsive rhythm that has come to be associated with his name (and is one of the defining sounds of rock and roll), and when he told you that his was a figure of legend, man, you believed it.
Bo Meets the Monster was clearly inspired by the success of Sheb Wooley's 1958 hit Flying Purple People Eater — the monsters voices are identical in both songs, created by speeding up the recording. When Bo Diddley recorded his version, he initially titled it Purple People, and the monster in Bo's song is actually referred to as a Purple People Eater. The early days of rock and roll were filled with these sorts of answer songs, in which characters from a hit song appeared in other songs by other artists, and Bo Diddley, whose famous riff had been stolen a thousand times, probably had more right to borrow from another songwriter as anyone. It's hard to imagine such a thing happening nowadays, though, without record company lawyers calling foul and instantly retiring to a back room with a hundred lawyers to prepare a lawsuit. 
And that's a shame, because Bo Meets the Monster is Purple People Eater as seen through Bo Diddley's huge lenses, and the results are hysterical. Sheb Woolley's sees the monster and reacts with abject terror, but Bo responds in the manner a legend should — he leaps into a private airplane and takes off flying after it. It ends badly for Bo, as, when there is a monster loose, you shouldn't leave your girlfriend alone in a house, even one made of rattlesnake hide. But nonetheless, the song leaves us with an excellent image, and it is the way I like to imagine Bo Diddley going. He might actually have died in bed in his hometown of Archer, Fla., but I like to image Bo Diddley leaping out of bed, grabbing his square metal guitar, tossing his black cowboy hat on, and running to his airplane to take to the skies after a rock and roll monster. " (www.minnpost.com)
Track 10: Archie Bleyer: The Rockin' Ghost
Archie Bleyer was born in the Corona section of the New York City borough of Queens. His father was a well-known trumpet player who had played with the Metropolitan Opera. The younger Bleyer began playing the piano when he was only seven years old. In 1927, he attended Columbia College, intending to become an electrical engineer, but as a sophomore switched to a music major. Without graduating, he left to become an arranger. In the early 1930s, Bleyer wrote a number of songs that were recorded; all 'hot' novelty numbers.  In 1956, Bleyer wrote his most popular novelty number, The Rockin' Ghost.
Track 11: The Cramps: Goo Goo
One of the greatest combos that celebrated the Halloween vibe were The Cramps.  "The Cramps were an American punk rock band formed in 1976 and active until 2009. The band split after the death of lead singer Lux Interior. Their line-up rotated frequently during their existence, with the husband-and-wife duo of Interior and lead guitarist and occasional bass guitarist Poison Ivy comprising the only ever-present members. The addition of guitarist Bryan Gregory and drummer Pam Balam resulted in the first complete lineup in April 1976.  They were part of the early CBGB punk rock movement that had emerged in New York. The Cramps were one of the first punk bands, and also widely recognized as one of the prime innovators of psychobilly.' (Wikipedia)
Track 12: The 5 Jones Boys: Mr. Ghost Goes To Town
The Five Jones Boys, an Illinois group that relocated to Hollywood in the 1930s, were part of a long tradition of African-American tight harmony vocal groups that emerged from gospel. Using simple percussion and a careful blending of voices, African American a cappella vocalists were able to duplicate the sounds of a larger band — even impersonating musical instruments ("Mr. Ghost Goes to Town" contains several convincing horn solos). Bands such as the Ink Spots and the Mills Brothers were able to find national audiences using such techniques, but none ever duplicated the strangeness of this number. "Mr. Ghost" has an infectious melody based around a deceptively simple bass line, over which the Jones Boys occasionally let out unearthly howls. The lyrics cheerfully tell of a dapper specter's careful preparation for a night of "stepping." "He'll shake his bones to hot saxophones," the Five Jones Boys inform us, calling to mind Ub Iwerks famous 1929 cartoon "The Skeleton Dance," in which row after row of corpses pull themselves out of their graves to shimmy to a jazz band. The Jones Boys end the song with a little capper to let listeners know how entertaining this all must be to their titular spook: The lead singer launches into peals of sinister, hysterical laughter." (The Dr. Mysterian blog)
Track 13: Johnny Otis: Casting My Spell On You
Johnny Otis was an American singer, musician, composer, arranger, bandleader, talent scout, disc jockey, record producer, television show host, artist, author, journalist, minister, and impresario...whew!  Otis was a seminal influence on American R&B and rock and roll and discovered various artists early in their careers who went on to become highly successful in their own right, including Little Esther Phillips, Etta James, Big Mama Thornton, Johnny Ace, Jackie Wilson, Little Willie John, Hank Ballard, and The Robins (later to change their name to The Coasters), among many others. Otis was often called the Godfather of Rhythm and Blues.
Track 14: Delta Rhythm Boys: Dry Bones
"With their exciting Jubilee-style harmonizing, the Delta Rhythm Boys helped to bridge the R&B vocal groups of the 1930s and '40s and the doo wop groups of the 1950s. While they capped their early success with sophisticated renditions of traditional tunes, "Dry Bones" and Ellington's "Take the 'A' Train," in 1941, they were still singing as the rock era became dominant in the mid-'50s. They appeared on radio shows, including Amos and Andy and the Joan Davis Show, Broadway, in such shows as Sing Out the News and Hot Mikado, and numerous films, including Bing Crosby and Rita Hayworth's first movie, You'll Never Get Rich, in 1941, and Rock and Roll Revue and Rhythm and Blues Revue in 1955. The lengthy list of film shorts in which they appeared include Big Band Parade, Banquet of Melody, Choo Choo Swing, Crazy House, Easy to Look At, Follow the Boys, and Harlem Rock and Roll 
The Delta Rhythm Boys were extremely flexible. In addition to recording on their own, with piano accompaniment, the quintet provided background vocals for Charlie Barnet, Mildred Bailey, Ella Fitzgerald, and Ruth Brown. Attracting a large following in Europe and Scandinavia in the early '50s, the Delta Rhythm Boys moved to Europe permanently in 1956." (All Music site)
Track 15: The Nu-Trends: Spooksville
Sadly, I couldn't track down any info on this fabulous combo. Hmmm...perhaps they were the ones who created a new musical genre known as Spooky Doo Wop!
Track 16: Connoisseurs: Count Macabre
Ah, here's a lively track called Connoisseurs! Apparently, this tune is a celebration of the late night TV horror movie host Count Macabre in the 1960's on WBRZ-TV.  The Count was always joined on show by a skull named Erik!
Track 17: Ramones: Howling At The Moon (Sha-La-La)
"Howling At The Moon was a track from the Ramones 8th album, Too Tough To Die.  With Tommy Ramone/Erdelyi and Ed Stasium returning as producers, the album was, to some degree, the Ramones' response to America's burgeoning hard-core punk scene, and did much to restore the band's musical credibility.  Too Tough to Die reclaimed the Ramone's original values of energy, catchiness, and brevity without resorting to retro pandering." (wikipedia)
"It's hard to explain why Howling At The Moon is such a special track on the Too Tough To Die album. Musically, it's one of those perfect pop songs. Elements just come together perfectly. It's a bit old-fashioned, with a simple structure and a non-lexical chorus are (like Who Put the Bomp and Wooly Bully, in this case the sha-la-la, as suggested in the title) and this is right in Joey's wheelhouse. He's so comfortable with the transition from verse to chorus, with the ah-ah-ah-ah-ah leading into the sha-la-la-la, it's like he was born to sing this song. But it's not just the musically breezy nature of this song I adore so much, as you might expect, the lyrics and mood of Howling At The Moon are so satisfying to me, just hearing the twinkly synth sound in the introduction is like a shot of adrenaline." (www.electricgrandmother.com)
Track 18: Johnny Pierre: Halloween Night
Feat is in the wind tonight, ghosts are in the trees tonight 
Everywhere you go, it's Halloween 
Witches in the wind tonight, ghouls are hiding out of sight 
Everywhere you go, it's Halloween 
Carve the pumpkin, slice and dice 
Walking home is such a fright 
Everywhere you go, it's Halloween 
It's Halloween!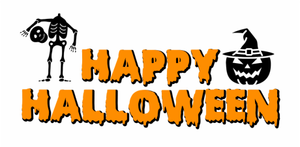 ---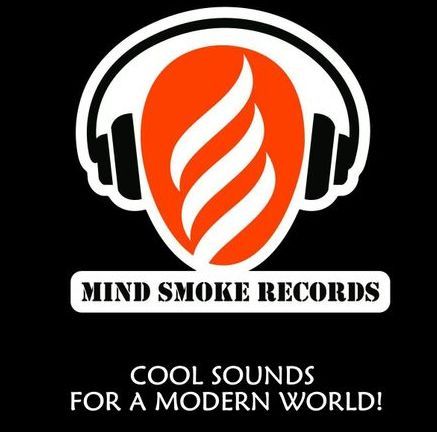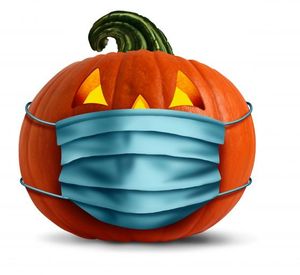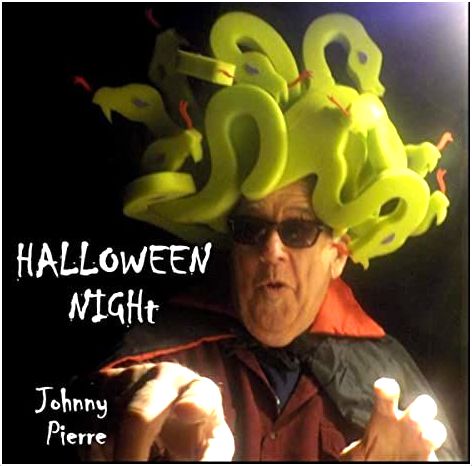 ---