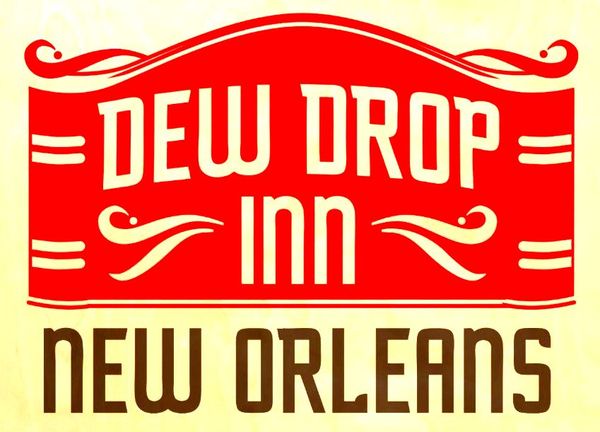 THE DEW DROP INN
2836 Lasalle St   New Orleans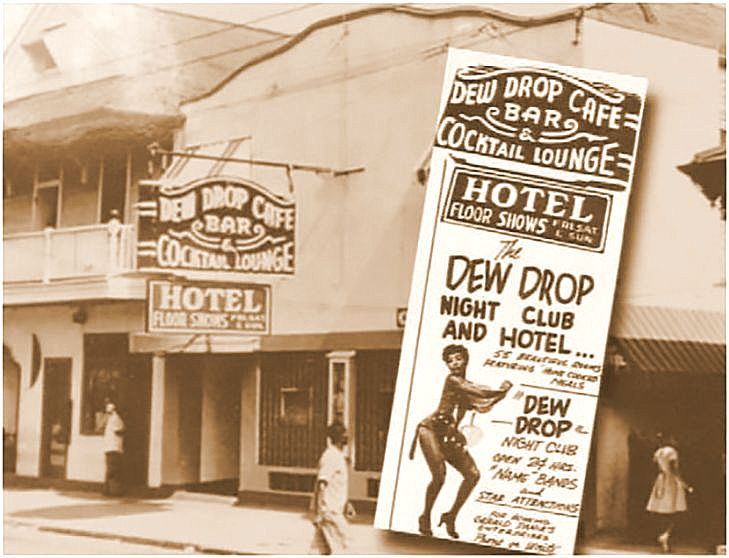 "Meet those fine gals, 
Your buddies and your pals, 
Down in New Orleans on a street they call LaSalle 
Down at the Dew Drop Inn, 
You meet all your fine friends. 
Baby do drop in, 
I'll meet you at the Dew Drop Inn." 
Dew Drop Inn 
Richard Penniman / Esqrita-K. Winslow, 
 
"'From 1945 to 1970, the Dew Drop Inn was synonymous with top flight Black entertainment, drawing singers, musicians, dancers and comedians like a magnet. 
Mr. Google Eyes  Okeh Records 1951
'The Dew Drop was just it,' contends Joseph August, better known as the renowned blues singer, Mr. Google Eyes, who often worked the club as a singer and emcee.  'It was the foundation for musicians in New Orleans…If you couldn't get a gig at the Dew Drop, you weren't about nothing.'" (Wavelength Magazine 1987: The Dew Drop Inn by Almost Slim) 
"Located on Lasalle Street in Uptown New Orleans, the Dew Drop was a music club, hotel, barber shop, and restaurant owned and frequented primarily by African Americans. The club remained open from the 1940s until the late 1970s under the ownership of the legendary Frank Pania. All the local musicians and entertainment people would play there and hang out there. Any national musician touring the country or the South would stay there or perform there. Everyone from Lloyd Price and Aaron Neville to Ray Charles and Duke Ellington passed through the doors of the Dew Drop and played on its stage. It was a gathering place for the music and entertainment community. Besides musicians, performers included vaudeville acts, comedians, dramatic readings, and a floor show with women and transvestites. This crossroads of so many talented and creative musicians and artists produced interesting anecdotes and interactions. Many stories and songs were inspired by incidents (notorious and otherwise) at the Dew Drop Inn. In addition, The Dew Drop Inn was a mainly African-American club. Sometimes Caucasian-Americans were allowed in, but it very much depended on the politics of the time. The content of the pieces reflects the social, racial, sexual, and psychological milieu of the time besides the personal histories of the club. There are comments about the antics that went on inside as well as the politics of touring, segregation, and police corruption that went on outside." (Tulane.edu Music Rising) 
From the mid-1940s through the close of the 1960s, one of the most popular music venues in New Orleans was a combination nightclub, hotel, restaurant, and barbershop called the Dew Drop Inn. What began as a small sandwich shop for workers from the nearby Magnolia Housing Project (officially known as the C. J. Peete Housing Project) grew into a nationally known entertainment center.
Acts from all over the city and the country played the Dew Drop Inn, a star-studded roster of blues, rhythm and blues and early rock 'n' roll performers that included the likes of Ray Charles, Charles Brown, Big Joe Turner, Solomon Burke, Bobby Blue Bland, Little Willie John, Eskew Esquerita Reeder, Allen Toussaint, Shirley and Lee, Guitar Slim Jones, Earl King, Dave Bartholomew, and James Booker.
(Meet All Your Fine Friends at) The Dew Drop Inn
Little Richard and Esquerita even wrote a song about the club called "(Meet All Your Fine Friends at) The Dew Drop Inn."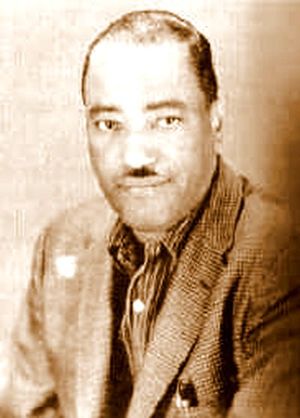 Frank Painia - Owner of the Dew Drop Inn
Frank Painia, an African American barber from Plaquemines Parish, opened the Dew Drop Inn at 2836 LaSalle Street in 1939 as a hotel. A nightclub was added in 1945. Frank booked the stage acts while his brother Paul ran the adjacent restaurant. Both the hotel and the nightclub filled a niche in segregated New Orleans by offering work and respectable overnight lodging to prominent African American entertainers. The music room, sometimes called The Groove Room, offered a nightly floor show that harkened back to the golden age of vaudeville. The stage featured comedians, snake dancers, magicians, female impersonators, and stunt performers who chewed glass or lifted tables with their mouths.  
The Dew Drop Inn also functioned as a community and business center. Musicians often gathered there before and after work, and Frank Painia, who owned a booking service, would assemble bands for gigs in New Orleans and along the Gulf Coast. When musicians were stranded or out of work, the charitable Painia reportedly let them stay at his hotel and then found them a gig so they could get back on their feet and repay him. Because the Dew Drop Inn operated when segregation was the law, white audiences were supposedly prohibited from the club. Painia not only allowed whites to frequent his establishment but also often went to jail when the police arrested his customers. The most famous raid occurred in 1952, when Painia and actor Zachary Scott, then in New Orleans filming a movie, were arrested along with several other patrons for "mixing."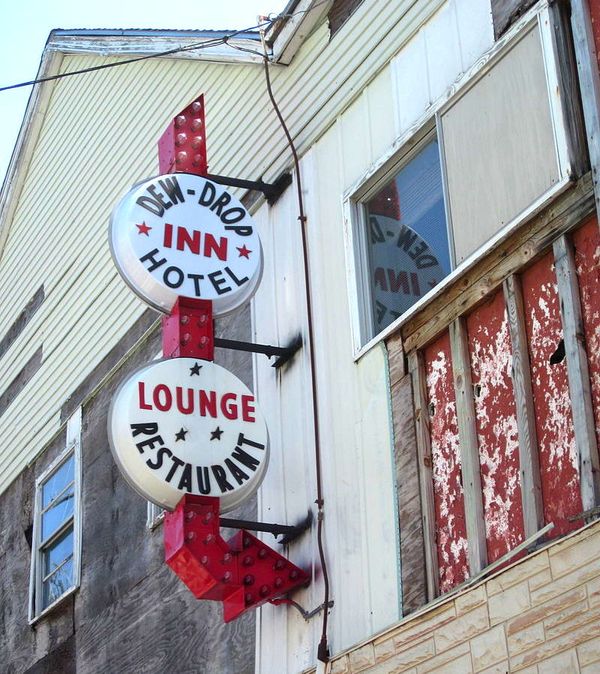 "'There was no other club like the Dew Drop,' Earl King maintained. 'When you walked into the Dew Drop, you didn't just hear musicians and singers. You saw comedians, actors, dancers, the whole gamut. All the big names came through there — Nat King Cole, Duke Ellington, Dinah Washington, Count Basie — and they would see their pictures in a mural that Frank Painia, the owner, had put up there. Frank's brother, Paul, had a cafeteria in the back. There was also a barber shop and a hotel in the building. We had showtimes at midnight and maybe another at 3 in the morning. And after the last show is over, here come all the musicians, waiters, and bartenders from all the other clubs to hang out. The jams could go till sunup. I got a chance to play with just about everybody in New Orleans, people I was elated to be associated with." (Earl King interview, bittersouthener.com)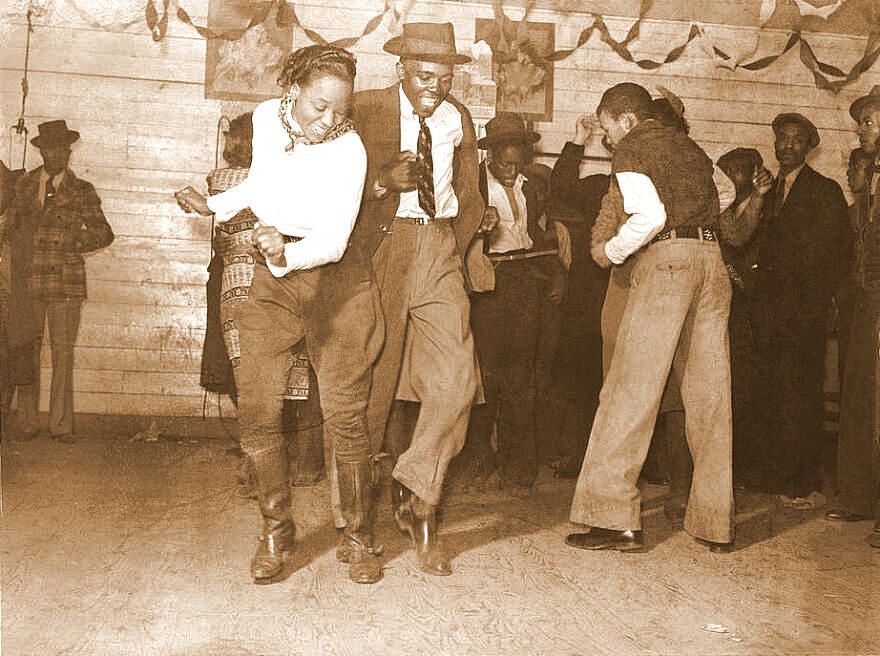 A couple out dancing @ The Dew Drop Inn
"Many performing artists at the Dew Drop Inn would become household names in the future world of Rock and Roll. A young Ray Charles (nee Robinson) as well as Lil' Richard would not only live at the Drop but would record and perform there between 1953 and 1956. The Drop was skillfully managed by Patsy Valdez, who would become a close associate of Lil' Richard (of 'Tutti Frutti' fame), who would record 'Rip It Up' and 'Reddy Teddy' under the auspices of Robert 'Bumps' Blackwell of Specialty Records at the Dew Drop Inn. The stage would host the likes of Professor Longhair, Dave Bartholomew, Don Albert, The Neville Brothers, Johnny Adams and Big Joe Turner. 
The Dew Drop Inn operated much as it always had until 1969, when the legendary nightclub went dark. As segregation laws were overturned, African Americans who had been regular customers could visit venues that were previously off limits. Frank Painia became ill in 1965; he was in and out of the hospital until his death in 1972. After Frank's passing, the remaining businesses at the Dew Drop Inn gradually closed until the establishment only consisted of a hotel, which ultimately was shuttered as well. 
Repeated attempts at reviving the business in the decades since the nightclub closed have failed. In 2010, the Louisiana Landmark Society placed the Dew Drop Inn on its New Orleans' Nine Most Endangered Sites List to draw attention to the deteriorating condition of the building, where an iconic sign still marks what was once billed as "the South's swankiest night spot." (Wavelength Magazine 1987: The Dew Drop Inn by Almost Slim)
---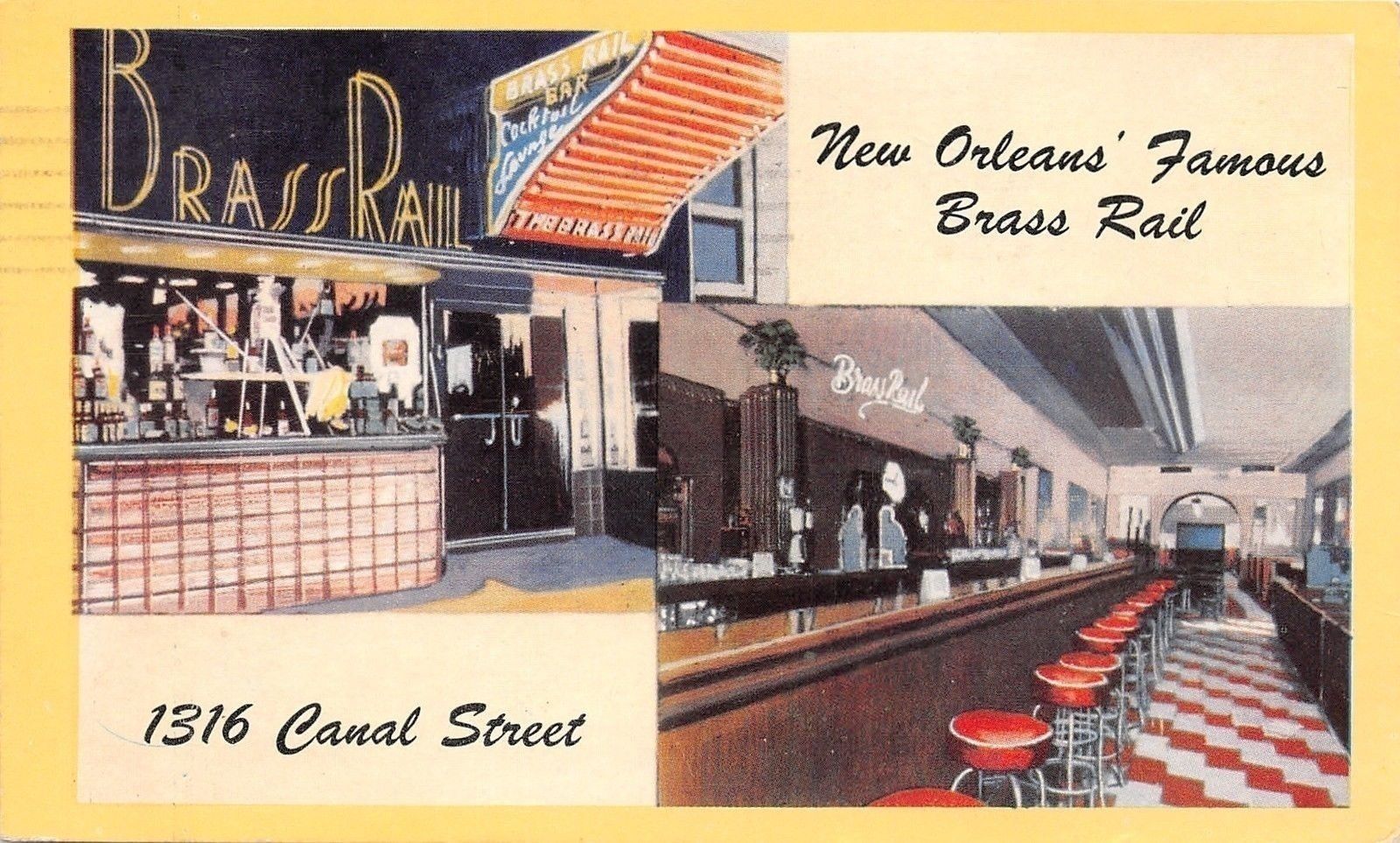 The Brass Rail
1316 Canal St   New Orleans
"From the moment prohibition ended in 1933 until the vice squad padlocked it in 1962, the Brass Rail anchored a cluster of clubs on the 1300 and 1400 blocks on Canal Street that functioned as an extension of French Quarter nightlife. Its place in New Orleans music history comes courtesy of bandleader and producer Paul Gayten, a major figure in rhythm and blues who was headquartered here from 1952 to 1958.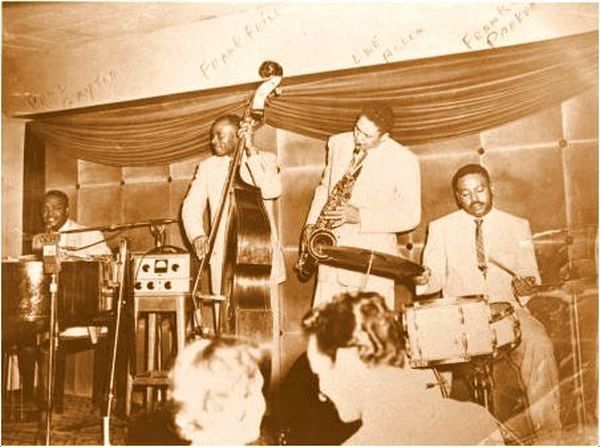 Paul Gayten jamming @ The Brass Rail with some cool cats
"Gayten was a veteran pianist and singer who'd influenced Dave Bartholomew and others in the 1940s, when R&B was emerging in Black clubs like the Robin Hood... For the white-only crowd at the Brass Rail, Gayten also interpreted mainstream pop hits of the day. His house band featured some of the city's best players, including, at various points, saxophonist Lee Allen, bassists Chuck Badie and Frank Fields, and drummers Earl Palmer and Charles 'Hungry' Williams—musicians earning national reputations for the hit records they cut in nearby J&M Studio. 
The Brass Rail was a happening club. Gayten's residency coincided with a renovation that installed 'a unique, modern eighteen-foot stage recessed in the semi-circular bar', crowned by a 'canopy dome'. There was a modern edge to the entertainment, too: Badie told A Closer Walk that a gig of his at the Brass Rail was the first appearance of an electric bass on a New Orleans stage (the club's manager barked at the band for using two guitars before Gayten enlightened him.)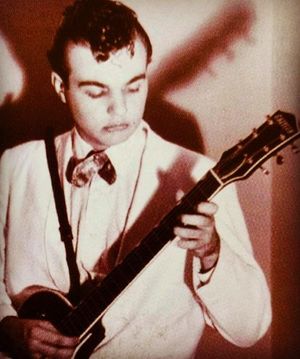 Mac Rebbenack before he became the one & only Dr. John
Before he became famous as Dr. John, 12-year-old Mac Rebennack used to skip mass on Sunday mornings and take a streetcar to the Brass Rail, where, inside, it was still Saturday night. Gayten presided over after-hours cutting contests, and Rebennack finagled his way in to see soon-to-be legendary horn men like Sam Butera and Lee Allen blow each other away.
In his memoir Rebennack recalled: 'The whole scene was so sweet it was almost sugar diabetes, and I just couldn't get enough of it.'  Rebennack went on: 'Paul [Gayten] was so progressive—and tough—about his views of race. He was instrumental in breaking up the strict color line that prevailed at that time in the clubs and recording studios in New Orleans.' Segregation was enforced by the police and backed by the musicians' union, but Gayten defied them to set up gigs with Black bands for Butera and, before long, Rebennack. It was a privilege unavailable to Black artists looking to break in with white groups.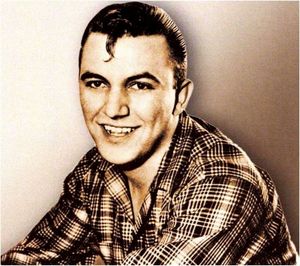 Bobby Charles circa 1955
Gayten also helped launch Bobby Charles, a Cajun teenager from Abbeville, Louisiana, who became a revered songwriter. In 1955 Chess Records in Chicago had signed Charles thinking he was Black—he auditioned over the phone with a song he wrote, See You Later, Alligator. Gayten was an A&R man for Chess, helping the label cultivate talent around New Orleans. He used the stage at the Brass Rail to groom Bobby Charles, and produced many of the youngster's records. 'I was father and mother to him,' Gayten said later. (The paternalism extended to Charles' paycheck, as Gayten took co-writing credits on a number of songs.)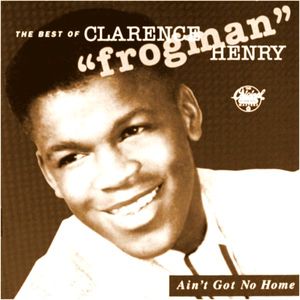 Clarence Frogman Henry circa 1956
In 1956 Gayten broke another teenager, Clarence Henry... Gayten had label head Leonard Chess fly down to see Henry perform with his band at the Brass Rail. Chess liked what he heard and sent Henry and Gayten to Cosimo Recording Studios—the brand-new successor to J&M—where he cut the classic Ain't Got No Home, with Henry singing 'like a girl' and, inimitably, 'like a frog'. He embarked on a storied career as Clarence Frogman Henry, which included a hit, But I Do, penned by none other than Bobby Charles. 
The Brass Rail had reputed ties to the New Orleans underworld, and had attracted attention from law enforcement going back to the 30s, when raids turned up illegal gambling operations. In 1961 the Brass Rail became a target of District Attorney Jim Garrison's vice crackdown, and was shut down for good the following year." (Nola.com)
---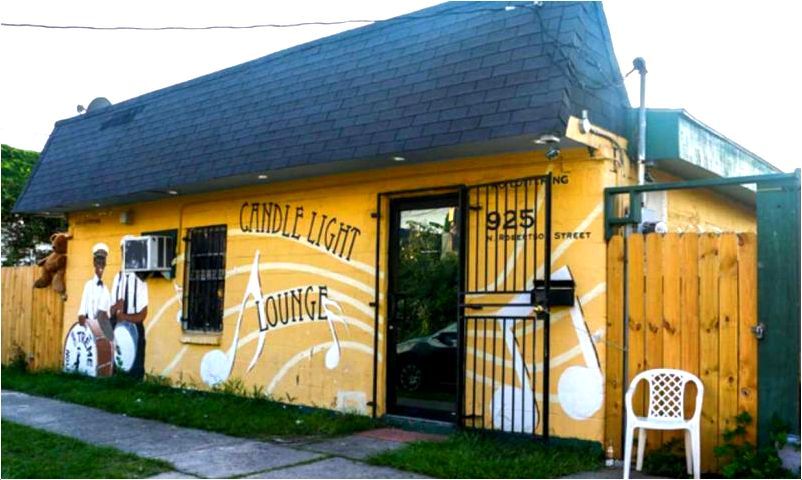 Candlelight Lounge
925 N. Robertson   New Orleans
"The Candlelight Lounge, a low-key neighborhood bar, took on outsized significance after Hurricane Katrina when it became the last redoubt of live music in Treme. The neighborhood had been a musical hotbed for more than century, but with longtime residents displaced after the flood, new neighbors and rising costs changed the character of the area.
In 2014 the Cornerstones project and Tulane City Center collaborated with the Candlelight community to document the significance of the club: 
Barrooms are intensively-used spaces, and they can be viewed as 'nuisance' uses in communities, but in New Orleans, barrooms like the Candlelight Lounge have been central to some of the city's most prominent cultural activities, as well as serving socially fundamental functions, such as providing food to hungry regulars or serving as a gig networking space for local musicians. The Candlelight and similar spaces in the city should not be overlooked for the important functions they play in keeping communities connected, particularly in times of disruption, like Hurricane Katrina, or major change, like gentrification, when residents profoundly need the continuity and comfort of community and tradition.
The Candlelight addressed these needs thanks largely to Leona Grandison—known as Ms. Chine—who opened the lounge with her brother Landry Grandison in 1985. A Treme native, she made the club a second home for musicians, social aid and pleasure clubs, and other neighborhood residents. Music, along with her cooking, was a regular attraction on weekends. Sunday second lines often stopped at the Candlelight, and the White Cloud Hunters Mardi Gras Indians held practices here in the 80s.

Benny Jones of theTreme Brass Band
When Grandison's business plummeted after Hurricane Katrina, brass band luminary Benny Jones (a relative by marriage) stepped in to help keep the Candlelight afloat. Jones, another Treme native, brought his Treme Brass Band to the club on Wednesday nights, and built an audience using his relationships in the second line community and the music business—he co-founded the Dirty Dozen Brass Band in the 70s before forming the Treme Brass Band in the 90s. The gig gave old regulars a chance to stay connected to the neighborhood and visitors a taste of the scene that defined Treme before it became a destination. 
Rebirth Brass Band
Their First Recording
Live @ The Grease Lounge 1984
The barroom's legacy as a brass band headquarters goes back even further than Grandison. Before she took over it was called the Grease Lounge, for manager Gregory "Grease" Davis, Sr. (His son, Gregory Davis, Jr., is the longtime trumpeter with the Dirty Dozen). The elder Davis hosted the Rebirth Brass Band here when several members were still students at nearby Clark High School. Then known as the Rebirth Jazz Band, they made their first recording in the bar, Here to Stay: Live at the Grease Lounge, 1984. WWOZ co-founder Jerry Brock set up the session for the teenagers, who would become a dominant influence in brass band music in the decades to come. 
The Grease Lounge also featured blues and R&B artists (the Candlelight continued these bookings in its early years). One was Barbara George, who'd scored a national hit with "I Know" on Treme-based AFO Records in 1961. The 19-year-old singer brought the lyrics to the great Harold Battiste, who composed music for them based on the chords to the gospel song "Just a Closer Walk With Thee." He also wrote a solo for cornetist Melvin Lastie to play on the record which became a touchstone of New Orleans R&B. The song looked like it would launch AFO Records to the big time, but a disgruntled business partner of Battiste lured George to another label, and both foundered. She left the music business in the 70s but started gigging again in the 80s at small clubs like the Grease Lounge. 
Today, the Candlelight, along with Tuba Fats Square on the next lot and Charbonnet-Labat-Glapion funeral home around the corner, anchors a segment of Treme that has resisted gentrification. This has been possible because Grandison was one of the few operators of Black nightclubs in New Orleans who managed to buy the property she managed, and the owners of Tuba Fats Square and the funeral home are also committed to supporting neighborhood traditions. Sadly, Grandison's family has to carry on the mission without her: she passed away after contracting the coronavirus in the early stages of the COVID-19 outbreak in New Orleans. Prohibitions against public gatherings during the pandemic prevented her from receiving a proper jazz funeral, but a memorial went up on the sidewalk in front of the Candlelight." (Ponderosa Stomp)
---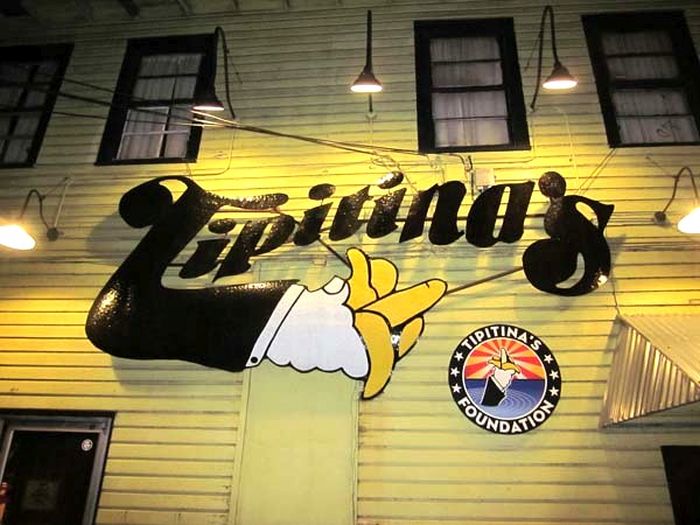 Tipitina's
501 Napoleon Ave   New Orleans
Formerly known as the 501 Club, the building at the corner of Napoleon and Tchoupitoulas opened as Tipitina's in 1977 to honor R&B pianist Professor Longhair, aka Henry Roeland Byrd.  A group of young fans wanted the venerable musician to have a venue for his comeback, and he did for the last three years of his life.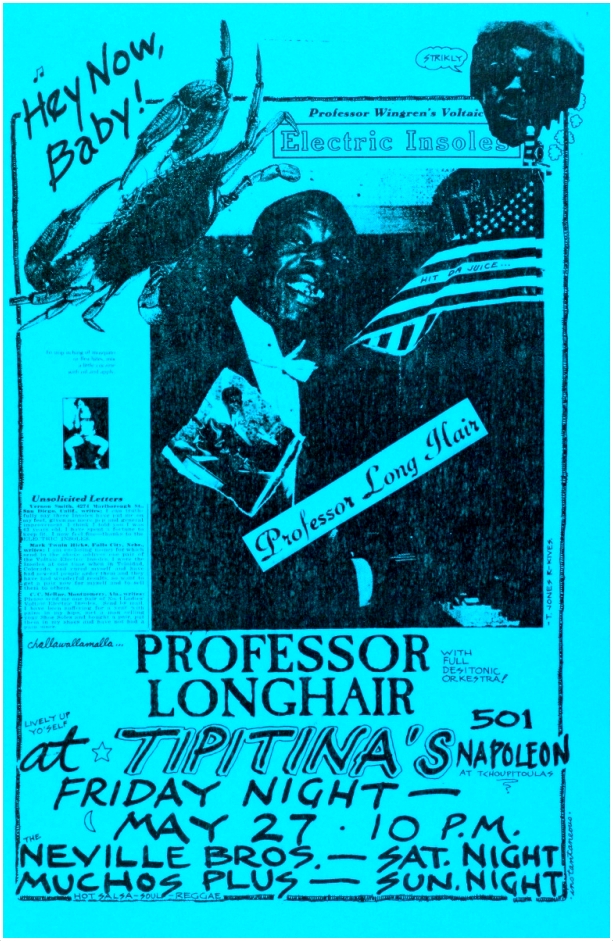 "This poster from Tipitina's inaugural year 1977, designed by iconic local artist Bunny Matthews, uses a collage style that includes an early photograph of Professor Longhair (or Fess, for short), advertisements and testimonials for electric insoles, a photograph of a scantily clad woman, a crab, Fess's lyrics and quotes like challawallamalla (a nod to Fess's hit Tipitina), and an eyebrow-raising remedy for insect bites that involves cocaine." (New Orleans Historic Collection)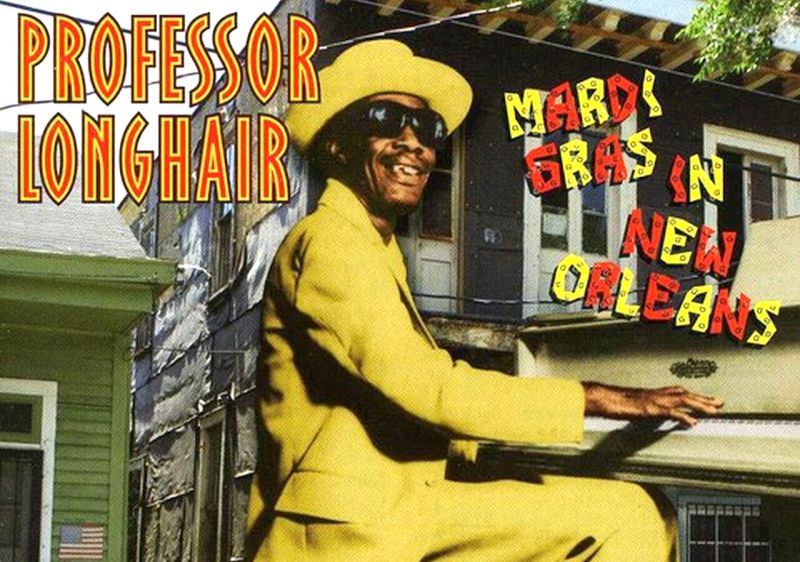 Longhair, a master of the New Orleans piano tradition, wowed Atlantic Records impresario Ahmet Ertegun at a small club in 1949, and went on to cut records including Tipitina in 1953. His sound, especially the rhumba-infused boogie woogie rhythm of his left hand, influenced generations of musicians, such as Huey 'Piano' Smith, Allen Toussaint, James Booker, Eddie Bo and Mac Rebennack (also known as Dr. John).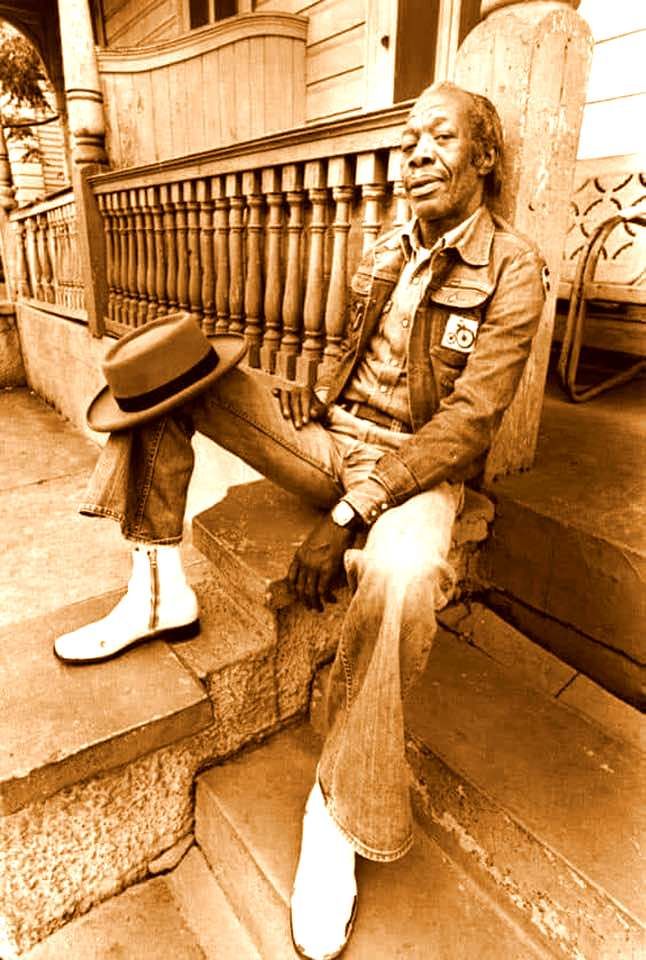 Longhair recorded Mardi Gras in New Orleans,  a song written by Earl King that went on to become one of the Crescent City's most famous Carnival anthems. Fess was also known for mangling piano legs by kicking them rhythmically while he pounded the keys. Producer and arranger Wardell Quezergue recalled tying Longhair's leg to the piano bench in the studio to keep the sound off of the record. Sadly, a heart attack cut short his late-career renaissance.
.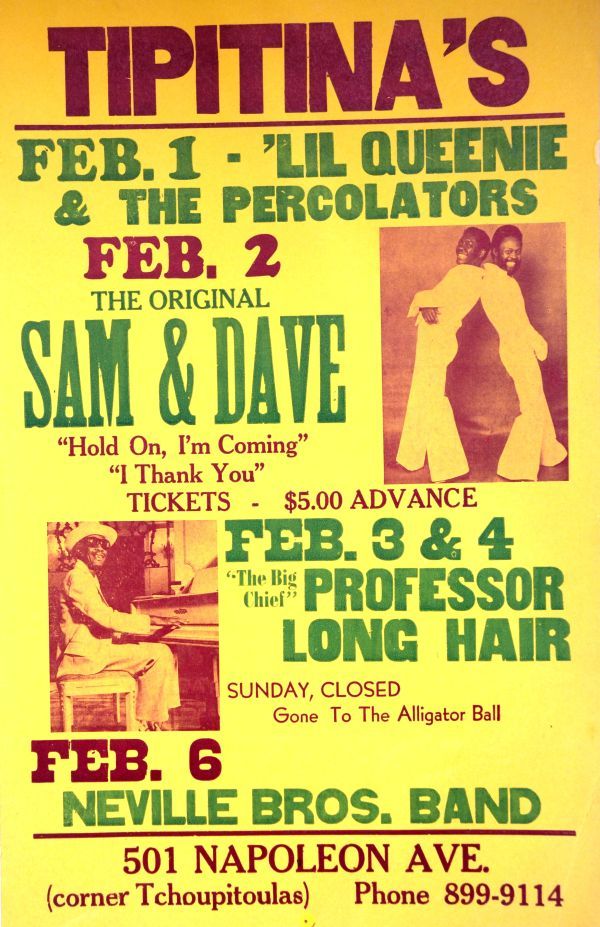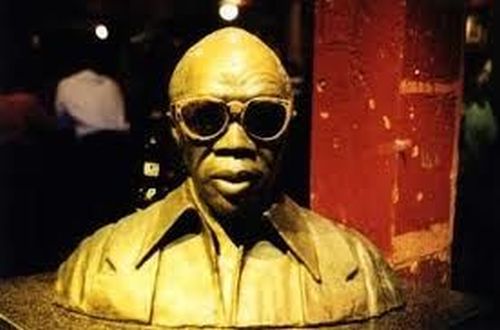 As you enter Tipitina's
the first thing you will see is a bust of Professor Longhair
which was sculpted by none other than hoodoo bluesman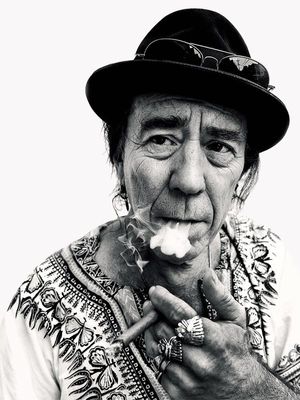 Coco Robicheaux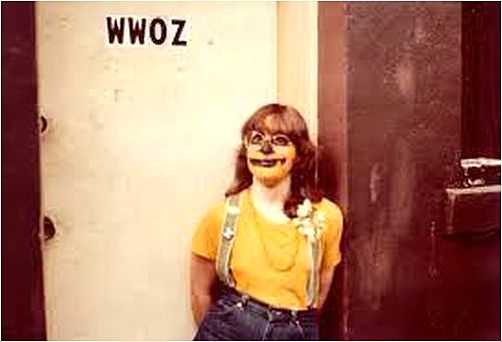 "The nightclub also played a key role in launching New Orleans' renowned community radio station WWOZ (90.7FM) in the early 1980s. The studio was on the second floor of the building.  Legend has it that DJs aired live performances by dropping a microphone through a hole in the floor. The stage downstairs has hosted a who's who of New Orleans musicians, including Chris Kenner, Snooks Eaglin, Earl King, Tuts Washington, the Radiators, the Wild Magnolias, and Marva Wright to name just a few." (Wikipedia)
After changes in management and ownership and a brief closure, Tipitina's in the past 20 years has become a popular venue for nationally known touring acts as well as local performers.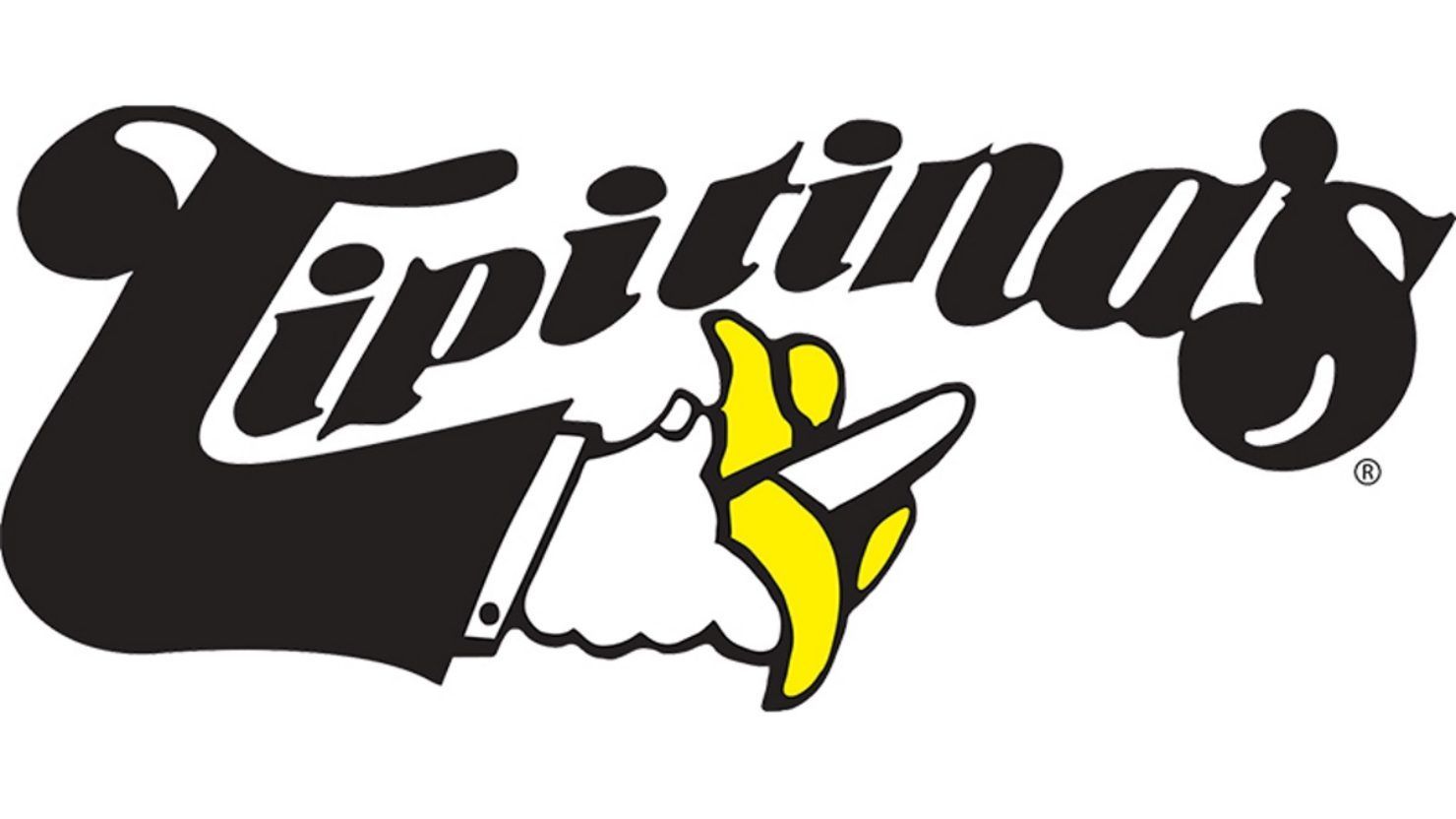 The nightclub's logo of a hand holding a banana has become a popular New Orleans icon.
In 1998, Tipitina's established the Tipitina's Foundation, a non-profit organization to support local music and musicians. The main focus of the Tipitina's Foundation is to provide musical instruments and uniforms to New Orleans public high school marching bands. The Foundation has been especially active in supporting musicians that were  victimized by Hurricane Katrina and most recently, the COVID-19 pandemic.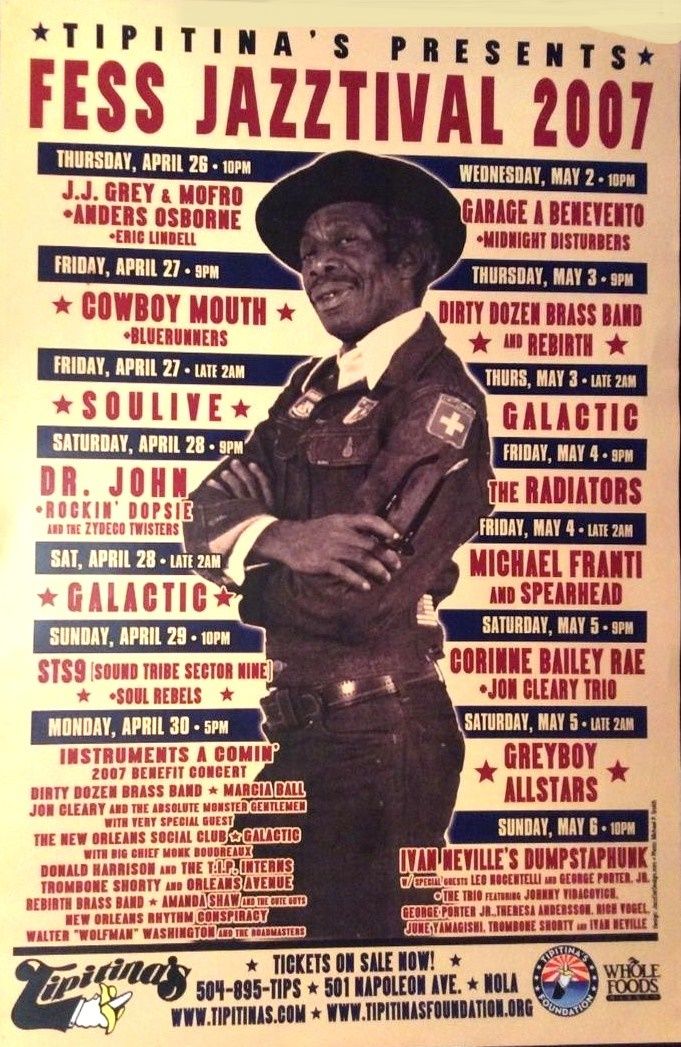 During the annual New Orleans Jazz & Heritage Festival,
Tipitina's hosts a concert series titled Fess Jazztival.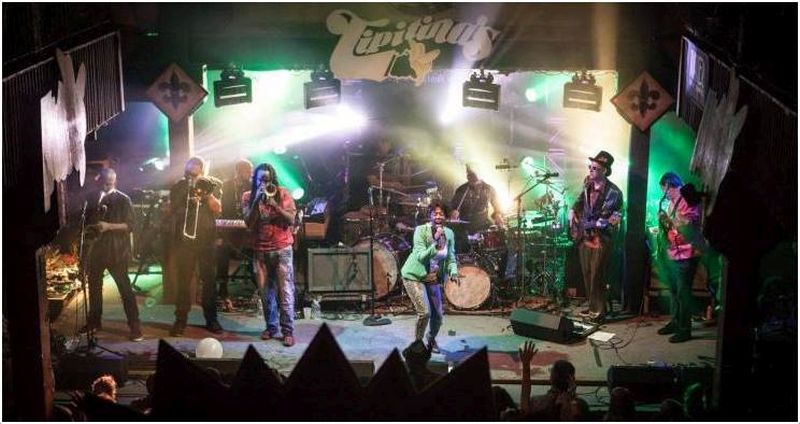 In December 2018, Tipitina's was purchased by the members of the New Orleans-based jam band Galactic from Mary and Ronald von Kurnatowski, who had owned the venue since 1997:
"On a foggy night in December, Galactic bassist Rob Mercurio paused on the corner of Tchoupitoulas Street and Napoleon Avenue, pondering the entrance to Tipitina's.  Signs directed guest-list patrons and those picking up tickets to the left. Attendees with tickets already in hand queued up to the right. No category applied to Mercurio. 'There is no owners' door,' he joked. 
Mercurio has frequented New Orleans' flagship music venue for more than two decades, first as a fan, then as a member of one of the city's most popular bands. On Nov. 30, he and his four bandmates closed a deal to purchase Tipitina's.
For years, Galactic has headlined Tip's on New Year's Eve. Monday's show will be the band's first at the venue since its members became Tipitina's fourth group of owners.
However high the stakes are for the new owners, they are even higher for Tipitina's, whose turbulent 41-year saga is every bit as colorful as the thousands of musicians who have plugged in and played there." (Nola.com)
---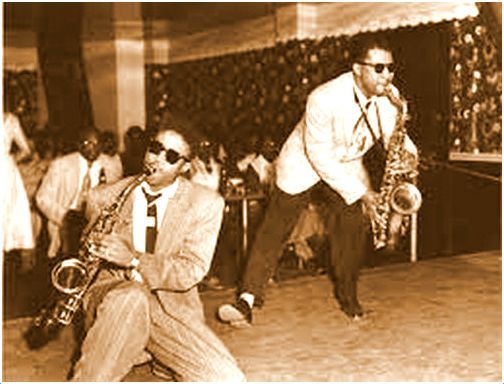 Club Tiajuana
1209 Saratoga   New Orleans
"Club Tiajuana (spelled with three a's) was a springboard for some of New Orleans' top R&B talent in the 1950s. Like the Dew Drop Inn on the other end of Central City, the Tiajuana was a black-owned business that provided hotel and restaurant service for African American artists during segregation.
Musician Al Reed told author John Broven: 'The Tiajuana Club was the type of place where the down & outers could go. You might call it a cheap joint…This caused the place to be crowded most of the time…the best crowd you could ever play for. This crowd loved their music. But it was the poor type of people that really made the Club Tiajuana what it was.'
Proprietor Oscar Bolden, Jr. featured a full show seven nights a week, including an emcee, a comedian, and shake dancers to go along with the music. Many of the city's best rhythm and blues artists recalled an abiding sense of  community at the club—it was a place musicians went to listen to each other.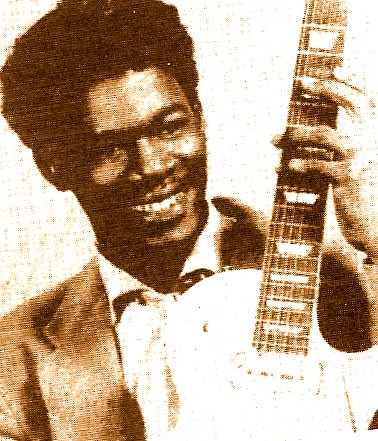 Earl King
As Earl King put it,
'The Tiajuana introduced me to a new circle of ideas and ambitions.'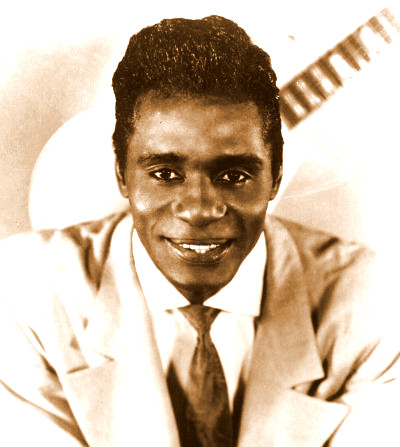 Guitar Slim
It was seeing Guitar Slim perform here with a teenaged Huey Piano Smith in the early 50s that got Earl King interested in playing guitar. To set up Slim at the Tiajuana, Bolden bought him a guitar and an extra long cable so he could hop offstage and play in the crowd. Slim and Smith started out playing intermissions here, but took over as the house band when Eddie Bo (then known as Spider Bocage) took his group on the road. Smith dropped out of high school to keep the gig. 
Regarding other entertainers at the Tiajuana, Bolden's daughter Gloria told Jonathan Foose,'There was a large group of female impersonators who would always stay at the hotel and dance for the shows. There was one girl we used to call Chicken Lady. She did a strip and ended up laying an egg!'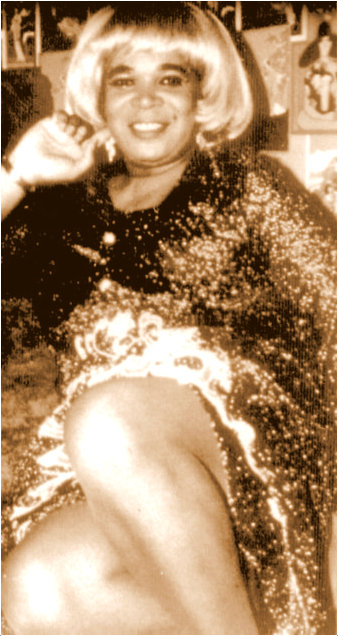 Bobby Marchan
Another such group, the Powder Box Revue, led by singer Bobby Marchan, came to town in 1953.
Marchan caught on as an emcee at the Tiajuana the following year, and joined forces with Huey Smith in The Clowns in 1957. Together they recorded a string of hits including Don't You Just Know It, and Marchan toured the country with the group before pursuing a solo career. 
Robert Parker - Barefootin'
After Guitar Slim and Huey Smith's residency, Robert Parker assumed the role of house bandleader at the Tiajuana. Best remembered for his 1965 hit Barefootin', Parker was an in-demand saxophonist in the 50s, known for playing his horn on top of the bar at the Tiajuana, and flat on his back under the tables. The drummer in Parker's band, Charles "Hungry" Williams, became one of the top session musicians in the city, playing on scores of hits cut at Cosimo Matassa's Recording Studio.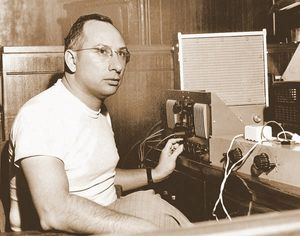 Cosimo Matassa (producer)
As an engineer and proprietor, Matassa was crucial to the development of the New Orleans sound of R&B, rock and soul of the 1950s and 1960s, often working with producers Dave Bartholomew and Allen Toussaint. He recorded many hits, including Fats Domino's The Fat Man, Little Richard's Tutti Frutti, and records by Ray Charles, Lee Dorsey, Dr. John, Smiley Lewis, Bobby Mitchell, Tommy Ridgley, the Spiders and many others. He was responsible for developing what became known as the New Orleans sound, with strong drums, heavy guitar and bass, heavy piano, light horns and a strong vocal lead.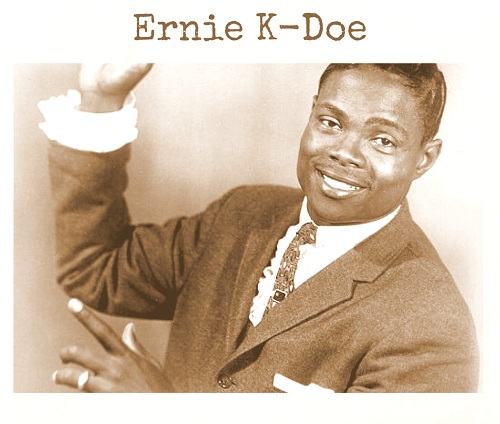 Parker encouraged a fledgling guitar player at the Tiajuana named Ernest Kador to become a singer, landing him a regular gig here with a vocal group called the Blue Diamonds. As Ernie K-Doe, he ran talent shows at the club, though biographer Ben Sandmel noted that he kept the strongest competition, like Chris Kenner (later known for Land of 1,000 Dances) from taking the stage. 
Talent scouts like Dave Bartholomew and label men like Johnny Vincent of Ace Records and Eddie Mesner of Aladdin Records were regulars at the Tiajuana, which had a reputation as a venue for emerging artists. (Among others, Little Richard held a regular gig here in 1953, two years before his big break.) Vincent recorded Eddie Bo in 1955 after seeing him at the club. He also signed Bobby Marchan to Ace after seeing him perform in drag, unaware that he was a man. 
The bar here remained open into the 1980s. Jeff Hannusch reported that it was demolished in 1988 to make way for an approach to the Pontchartrain Expressway.  All good things come to an end. (Ponderosa Stomp)
---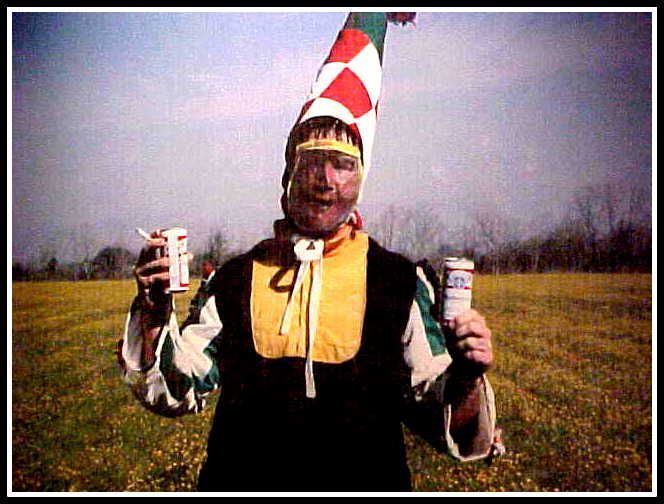 Our good friend Jim sez
---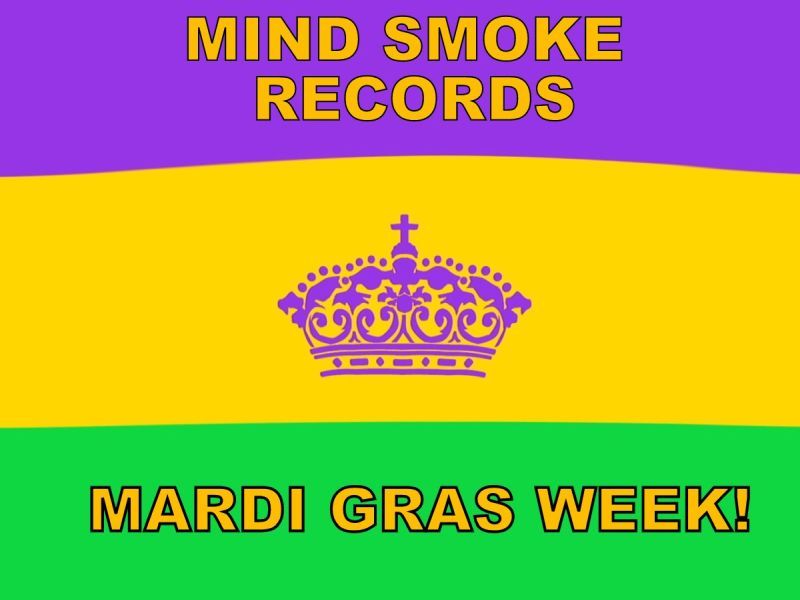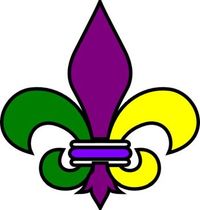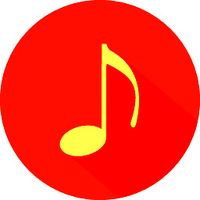 & enjoy some Mardi Gras Sounds!

---