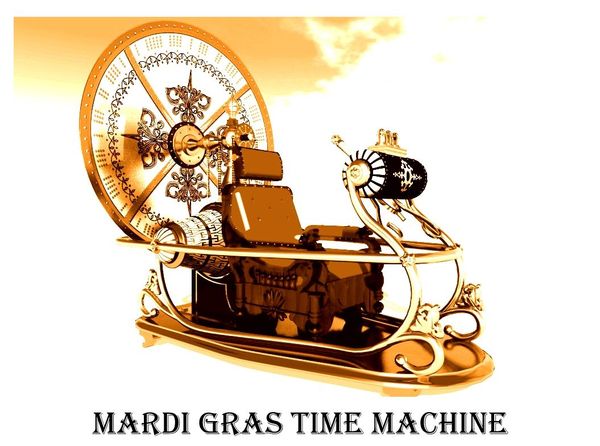 The first formal parade on Mardi Gras day was held in 1838 when a newspaper report on that Ash Wednesday told of a procession of masqued figures through the public streets...with every variety of costumes...from Harlequin to the somber Turk and wild Indian.
The Civil War put a hold on festivities from 1860 to 1864 - then Comus returned in 1865. Twelfth Night Revellers paraded in 1870 and was the first krewe to have a queen and to stage a grand march. Miss Emma Butler was the first queen of a Mardi Gras ball - in 1871 - and her king was the Lord of Misrule.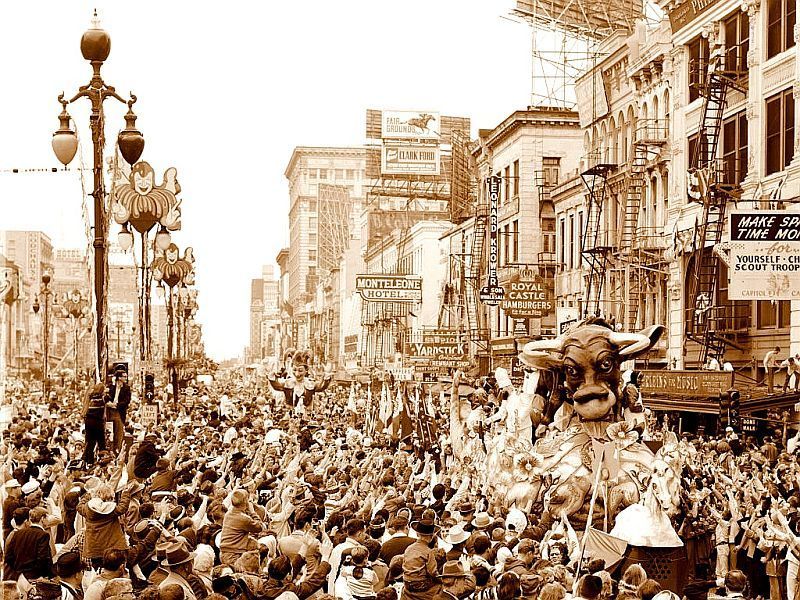 1872 King Rex Parade
By 1873, Mardi Gras float construction had moved from France to New Orleans, and krewes began using floats as a way to express opinions and mock public officials and hot-button topics of the day. Mardi Gras became an official holiday with the signing of the "Mardi Gras Act" in Louisiana in 1875.
This 1873 carnival season also saw the birth of Momus although the krewe actually had their first celebration on New Year's Eve of 1872. Momus and his Knights held a gala ball at the French Opera House following this, the first of the Momus parades. 
Momus (the Greek god of ridicule, mockery and censure) noted for the satirical bent of its parade - the topic of which was kept secret until the floats hit the street. Momus considers anyone fair game - including presidents of the United States.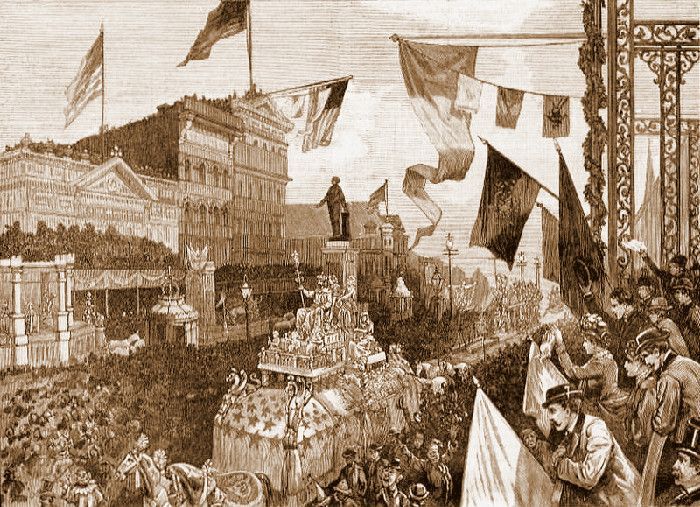 1885 Mardi Gras Parade on Canal Street
"In 1885 New Orleans' famous yearly event, Mardi Gras, was celebrated on February 17th. J.M. Maury was crowned "Rex - King of Carnival" that year, and led the event's culminating Fat Tuesday parade, mounted upon a white stallion. The highly anticipated parade began at City Hall and ended at the Canal Street wharf, where eighteen steamboats awaited the scores of revelers and led a water procession to the exposition grounds. The enormous crowd assembled inside the Main Building's Music Hall, where an ornately-draped throne awaited Rex's arrival. After Rex was seated, the day's events continued with music, oratories and other festivities. Fat Tuesday was then concluded with a grand display of fireworks over Lake Brilliant, on the south side of the exposition grounds." (KENBLOG)
1890 was the year of the Proteus/Comus incident. Proteus had moved to Mardi Gras night after Comus had come on financially hard times; then Comus was back - and wanted their traditional spot. Neither captain would give - and through a comedy of errors both arrived on Canal Street at the same time. 
A mysterious reveler costumed as a domino interceded - Proteus was held back and Comus proceeded through. Both paraded on the same night the following year, but without incident and in 1892 Porteus returned to the traditional Monday before Mardi Gras.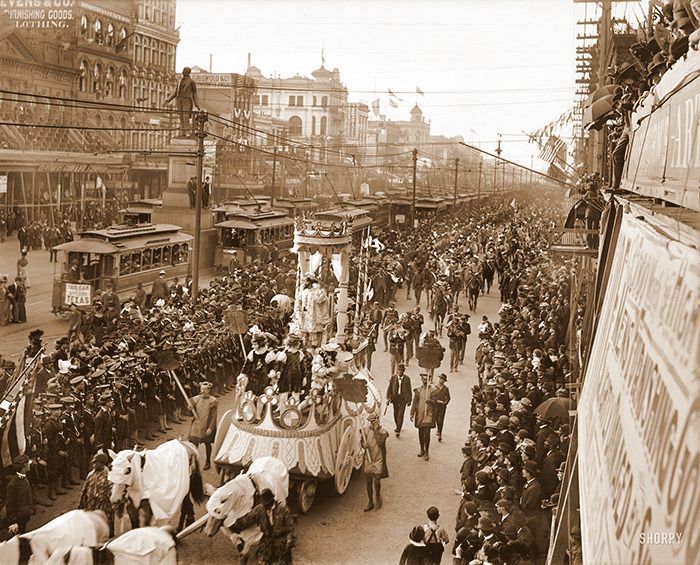 1900 Mardi Gras Procession on Canal Street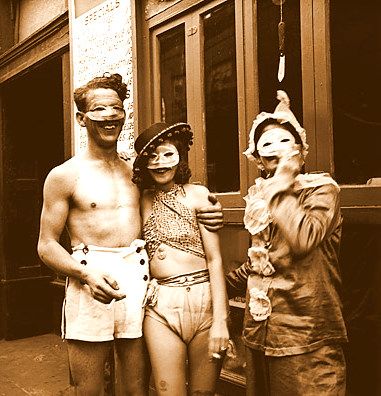 Early 1900 Mardi Gras Revelers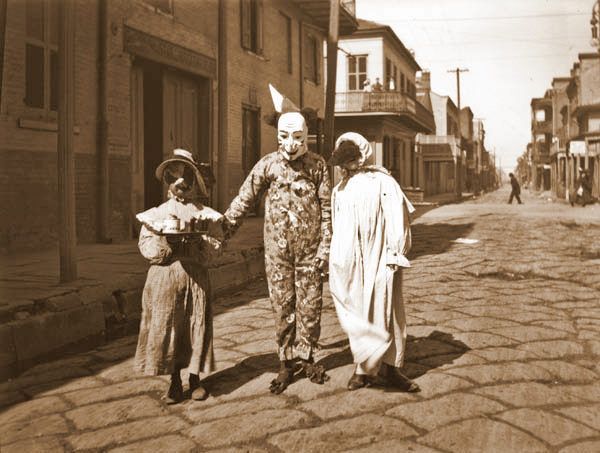 1905 Mardi Gras Revelers in the French Quarter
Mardi Gras krewes began organizing among various communities, such as the Tramps, the forerunner of the all-African American Krewe of Zulu, which launched in 1909.
The forerunner of Zulu - the Tramps - was organized in 1909, followed by the Social Aid and Pleasure Club in 1910. The first king of Zulu was William Story who mocked the old-line organizations by carrying a banana stalk scepter and wearing a lard-can crown. 
These first Zulu parades were a spoofs of the uptown krewes - and fortunately for the city, Zulu never lost his sense of humor and remains one of the highlights of Mardi Gras.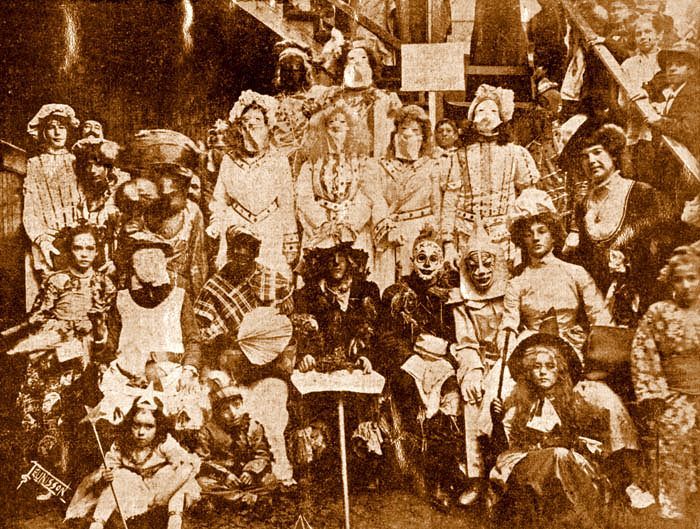 1910 Mardi Gras at The French Market in the Vieux Carre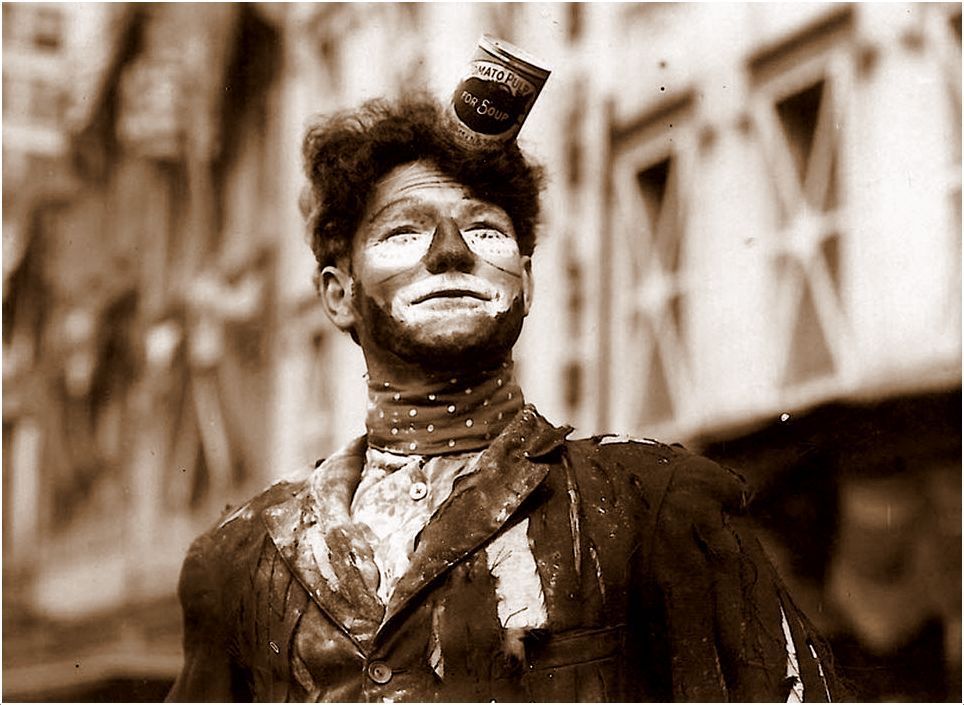 1910
A Mardi Gras reveler with his face painted,
his jacket torn and a can of tomato pulp attached to his head.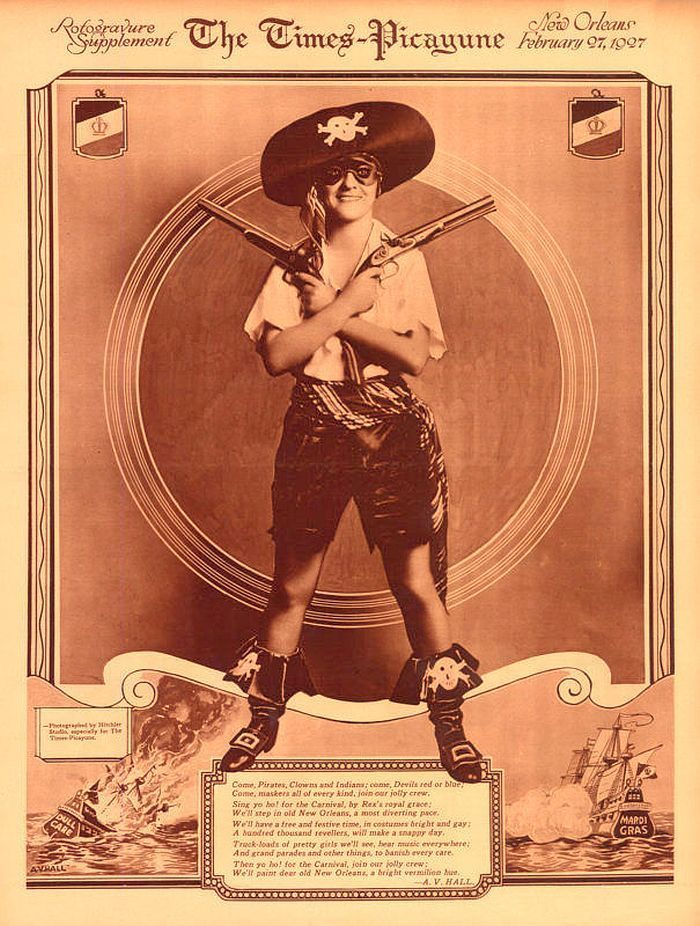 1922 Times Picayune Newspaper
Mardi Gras expanded to the West Bank in 1932 with the founding of the Krewe of Alla, and to Metairie in 1956 via the Krewe of Zeus.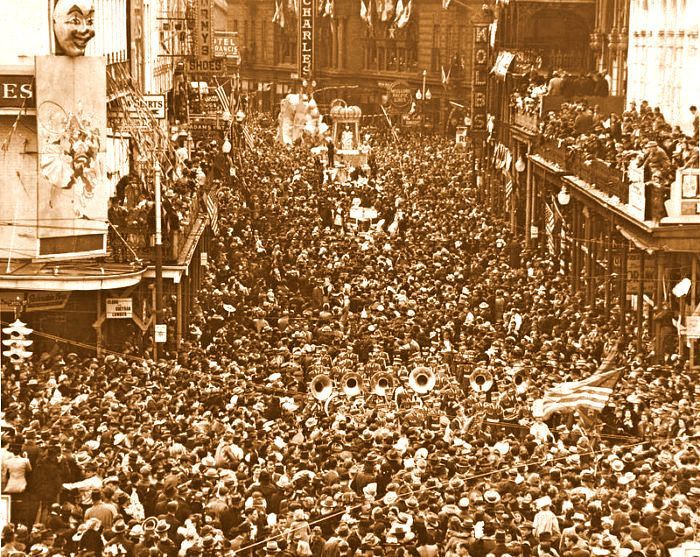 1934 Massive Mardi Gras Crowd Gathers on St. Charles Ave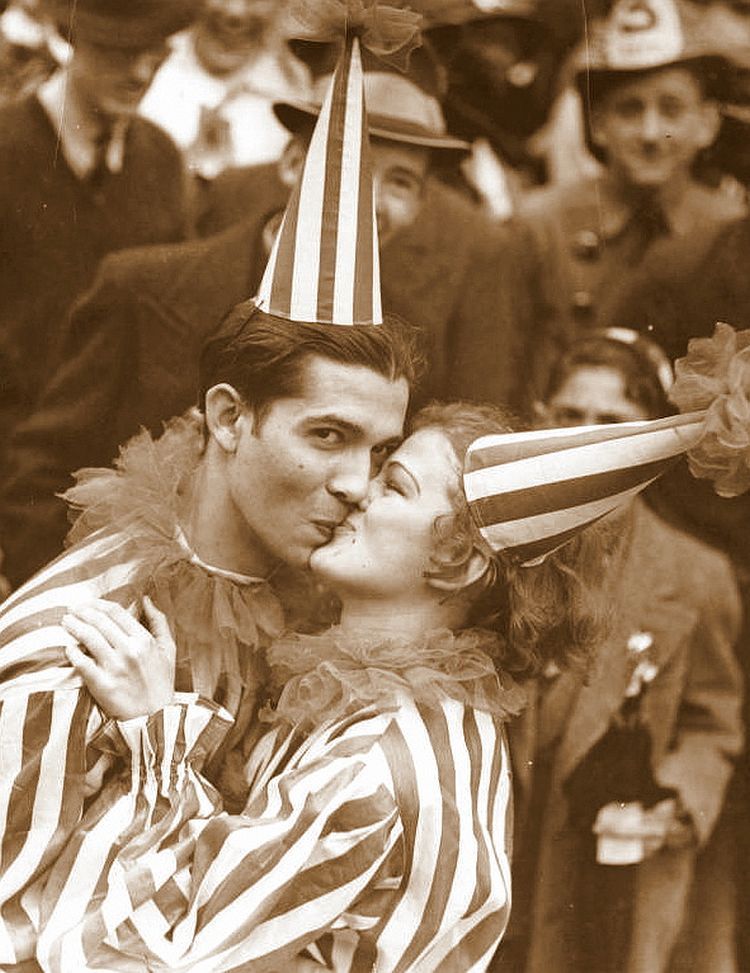 1936 Carnival Time Romance is in the air! 
"Hey!  That guy looks just like Jared Kushner!"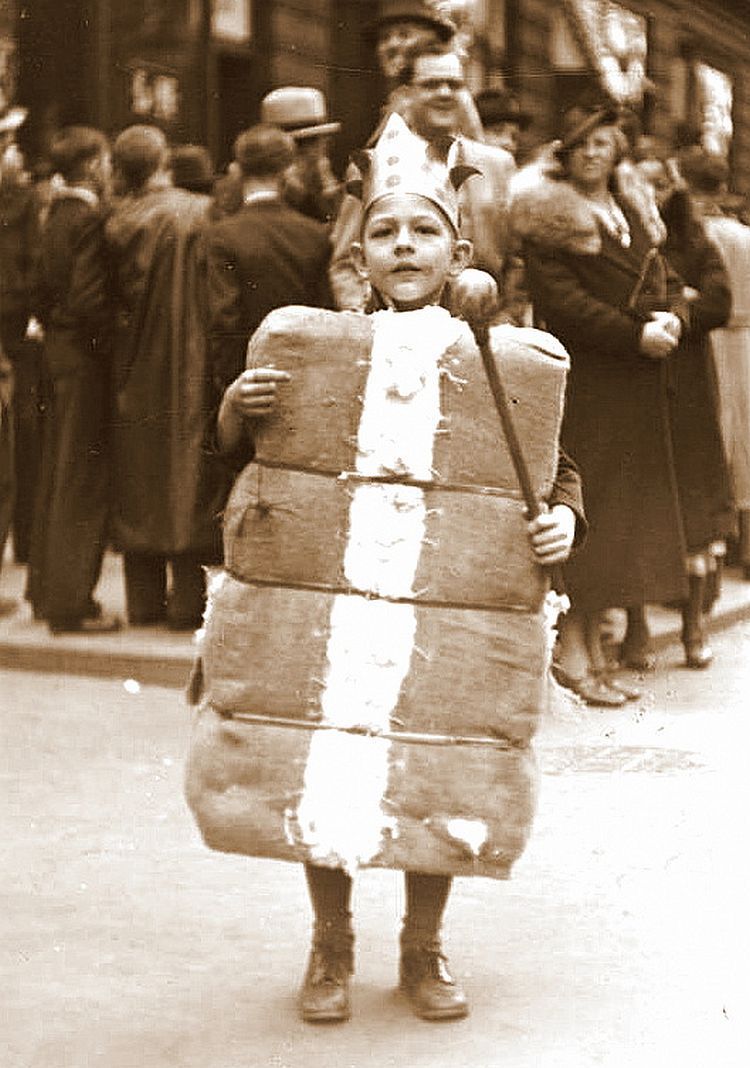 1937 King Cotton @ The Children's Carnival Parade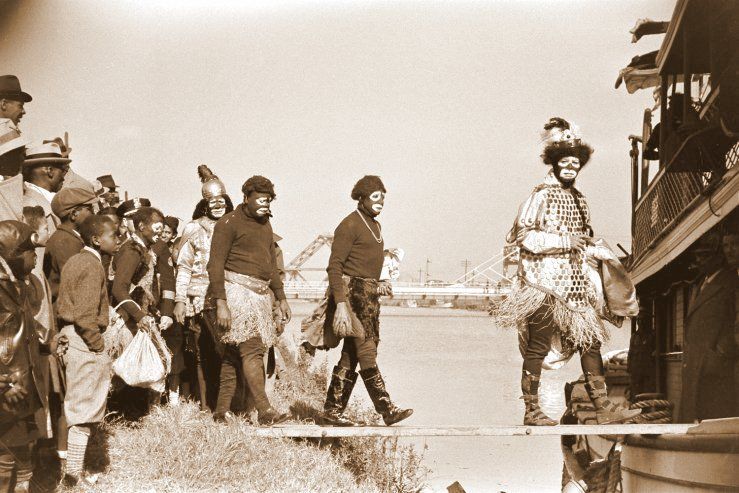 1938 The Zulu King with the Zulu Krewe
African-Americans in New Orleans have been part of the city's Carnival celebrations since its inception. The Zulu Social Aid and Pleasure Club is the most-visible African-American Carnival organization in New Orleans. Founded in 1909, Zulu has a rich history which runs through the entire fabric of the city. In the past, enslaved Africans and the Gens de couleur libres were not allowed to participate in the pageants, parties, and parades of Mardi Gras. 
Prior to the Civil War, open gatherings of enslaved African-Americans were strictly controlled. After the Emancipation, the end of the war, and the 13th Amendment, public demonstrations and celebrations became common. Black folks were able to, at a minimum, take to the streets, carrying the Mardi Gras spirit from home to home. As Carnival in New Orleans evolved and grew, so did the participation of African-Americans. 
Early in 1909, a group of laborers in a club named "The Tramps" went to the Pythian Theater to see a musical comedy that included a skit entitled, "There Never Was and Never Will Be a King Like Me" about the Zulu Tribe. According to legend, after seeing the skit, they retired to their meeting place (a room in the rear of a restaurant/bar in the 1100 block of Perdido Street), and emerged as Zulus. The rest, as they say, is history. Years of extensive research by Zulu's staff of historians, however, seem to indicate that Zulu's beginning was much more complicated than that. 
Conversations and interviews with older members indicate that, back in the day, the city was divided into wards, and each ward had its own group or "Club." The Tramps were one such group. The group that founded Zulu was probably made up of both members from the Tramps and other ward-based groups and members of a Benevolent Aid Society. Benevolent Societies were the first forms of insurance in the Black community. For a small amount of dues, members received financial help when they got sick or there was a funeral to pay for. 
While the men marched in Mardi Gras as early as 1901, their first appearance as Zulus came in 1909, with William Story as King. The group wore raggedy pants, and had a Jubilee-singing quartet in front of and behind King Story. His costume of "lard can" crown and "banana stalk" scepter has been well-documented. The Kings following William Story in the early days were similarly attired. 
The year 1915 heralded the first use of floats, constructed on a spring wagon, using dry good boxes. The float was decorated with palmetto leaves and moss and carried four Dukes along with the King. That humble beginning gave rise to the lavish floats we see in the Zulu parade today. 
Today Zulu is famous for their coconut throw – quite possibly the most coveted throw in all of Mardi Gras. Zulu's honor guard is called the Soulful Warriors; and they have characters including Big Shot, Witch Doctor, Ambassador, Mayor, Province Prince, Governor and Mr. Big Stuff. 
The most famous Krewe of Zulu king was Louis Armstrong who reigned in 1949.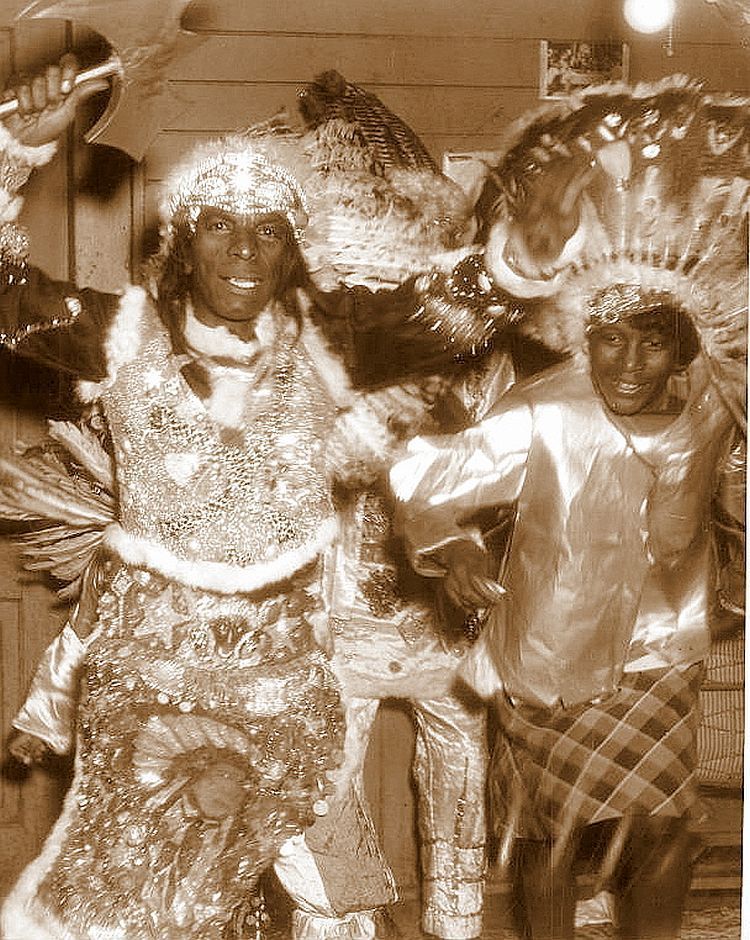 1942 Big Chief Pocahontas hitting the groove!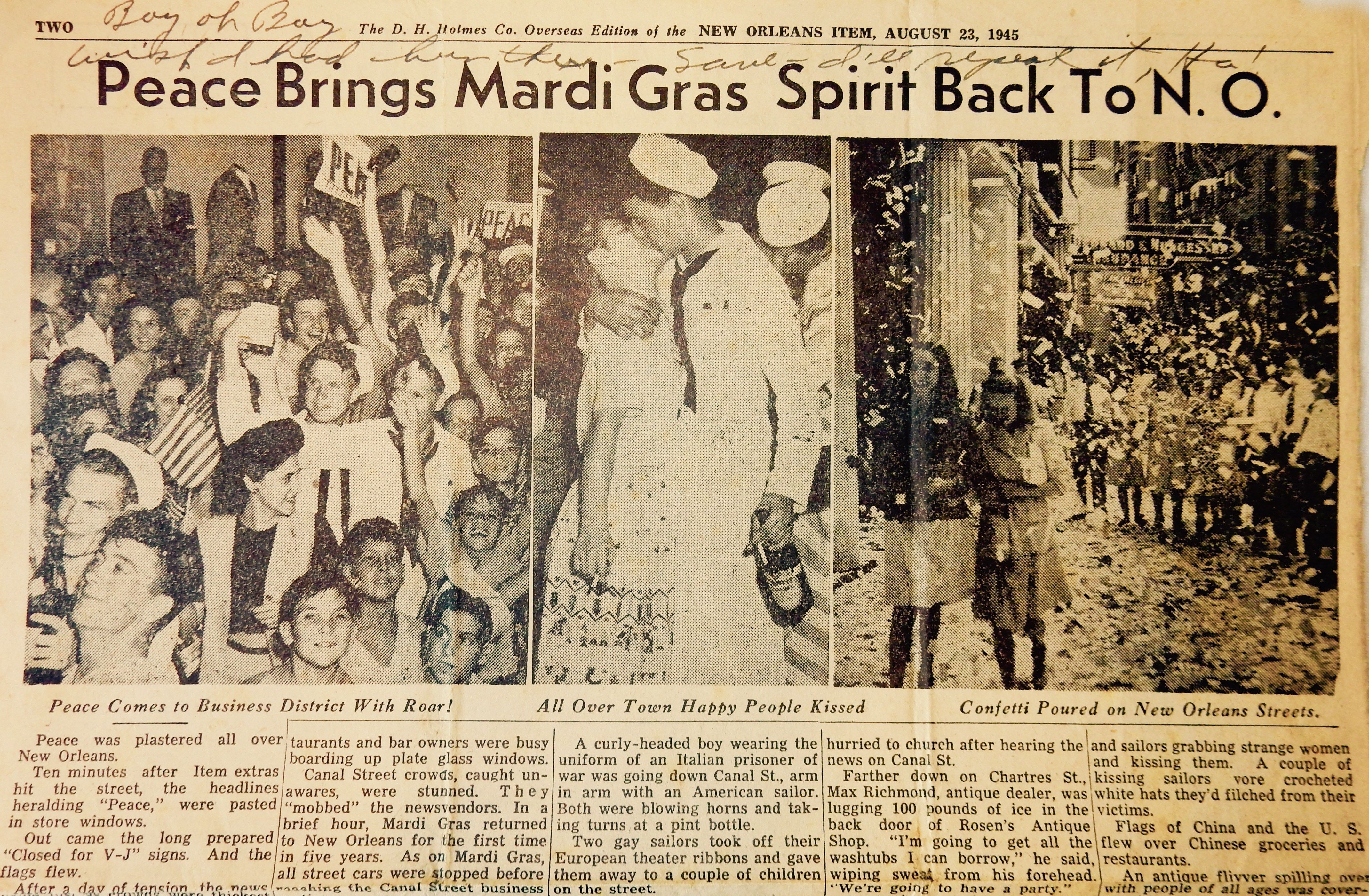 1945 The First Mardi Gras after World War II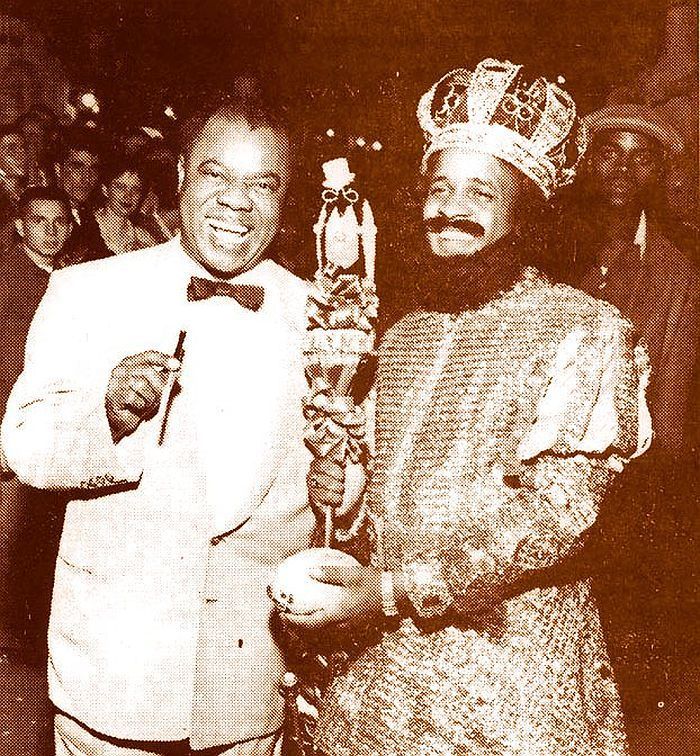 1955 Louis Armstrong with the Zulu King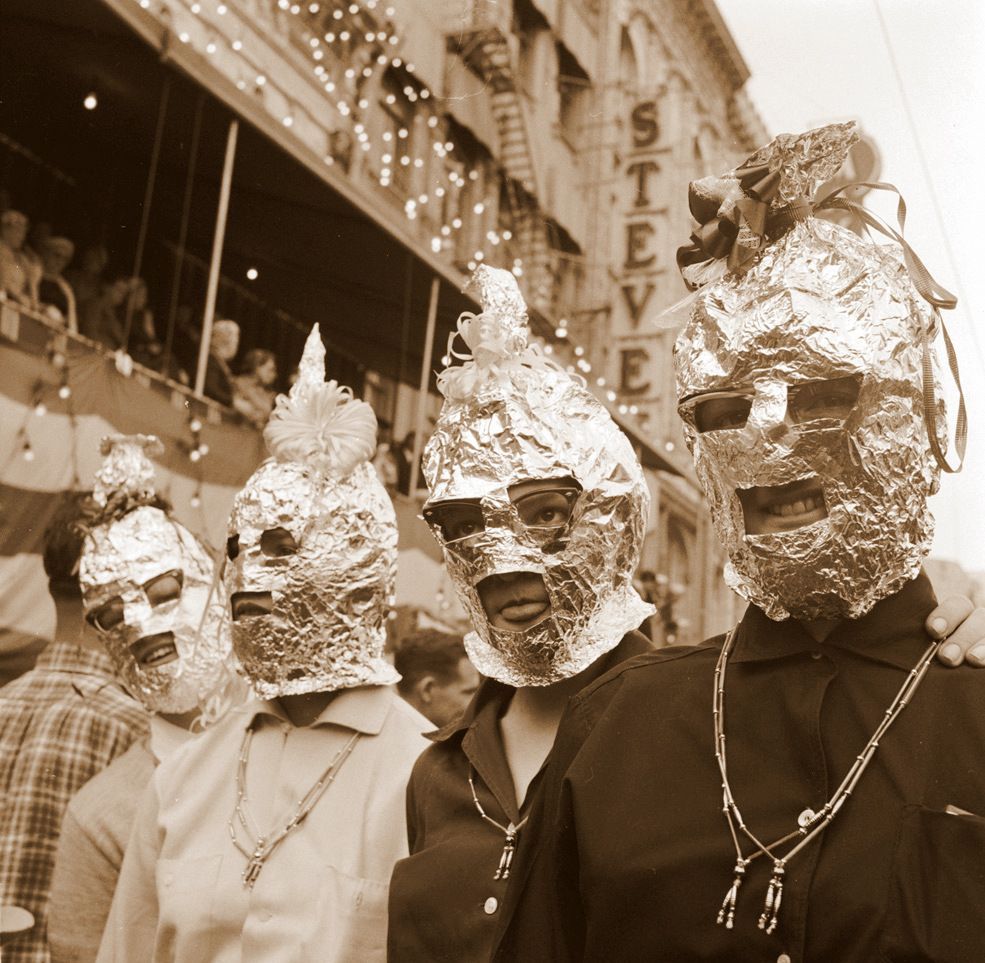 1955 Aluminum Masked Revelers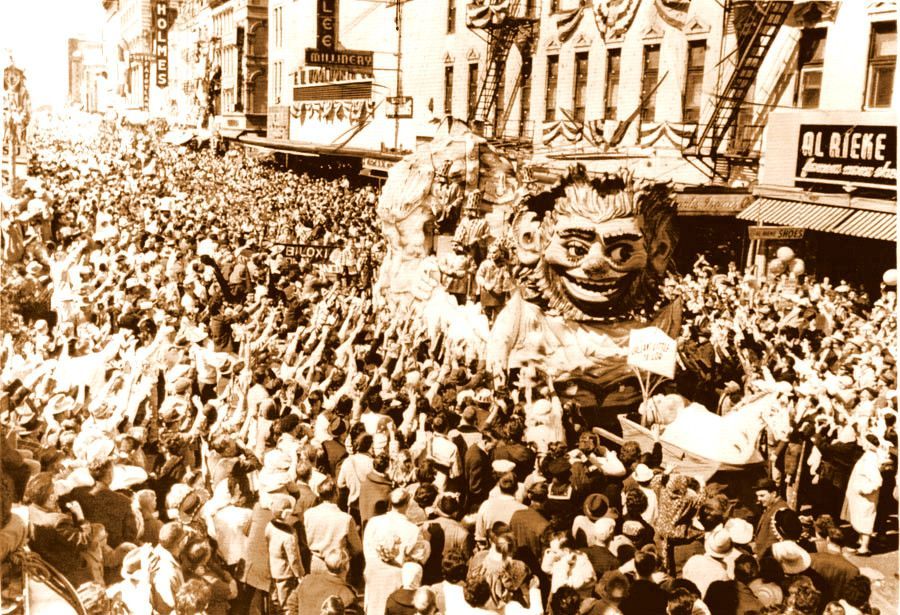 1963 Mardi Gras Parade on Canal Street
I lived in New Orleans for several years in the 1960's
& I remember going to this parade with my Dad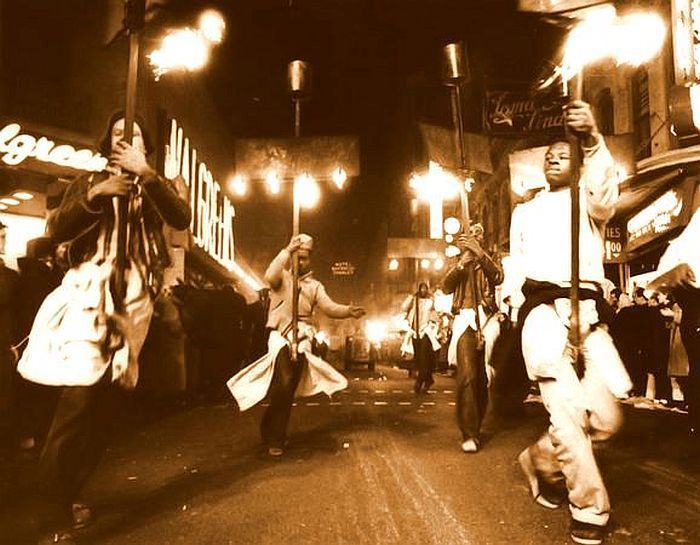 1965 Mardi Gras Night Parade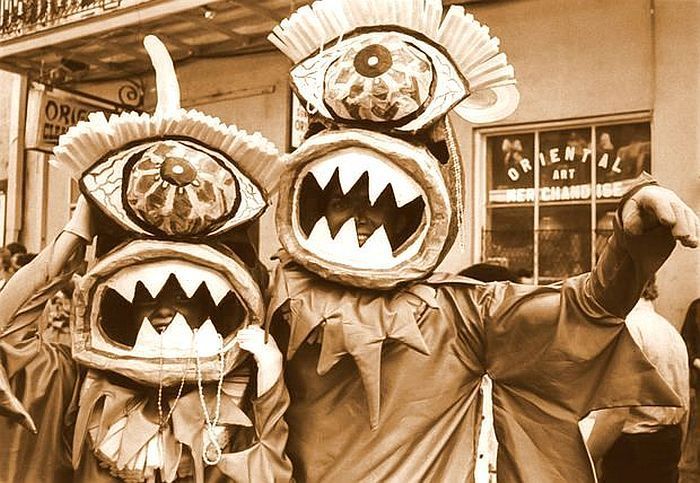 1977 Mardi Gras in the French Quarter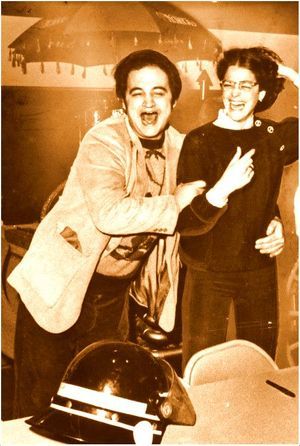 1977 The year the Saturday Night Live gang did their show @ Mardi Gras 
"February 20, 1977, Saturday Night Live was not live from New York on Saturday night. For one thing, it aired on Sunday and at 8:30 p.m., rather than its usual late-night time slot. For another, it filmed over 1,300 miles southwest of New York. High on the success from the show's first-season Emmy sweep, Lorne Michaels dreamed up an ambitious, near-impossible feat of television comedy: SNL would relocate to New Orleans for Mardi Gras halfway into season two for a two-hour live special.  Of course, simply approaching the orbit of Mardi Gras —a notoriously hedonistic festival complete with a parade named after Bacchus, the god of wine — is enough to lay waste to anyone's plans. The idea of filming live comedy there on the fly is an absurd sketch premise unto itself. Naturally, what started as an earnest attempt for America's hottest comedy show to try something splashy quickly imploded: A drunken audience pelted the performers with coins, guest stars missed their cues, frustrated cast members threatened to walk off, and scripted bits were bungled. For better or worse, Saturday Night Live never tried anything like this again." (Vulture)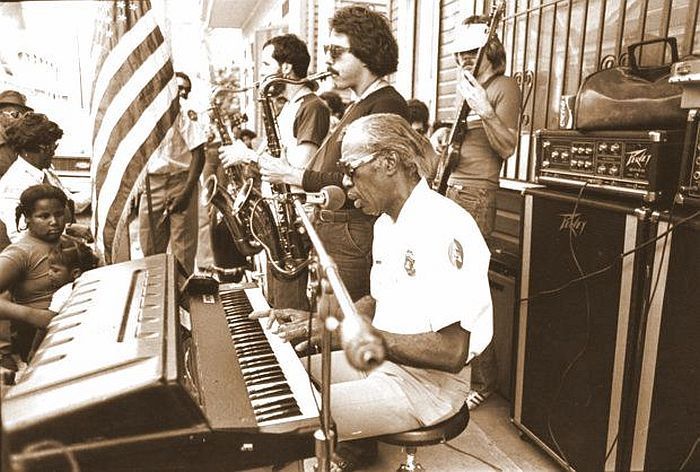 1979 Professor Longhair performing during Mardi Gras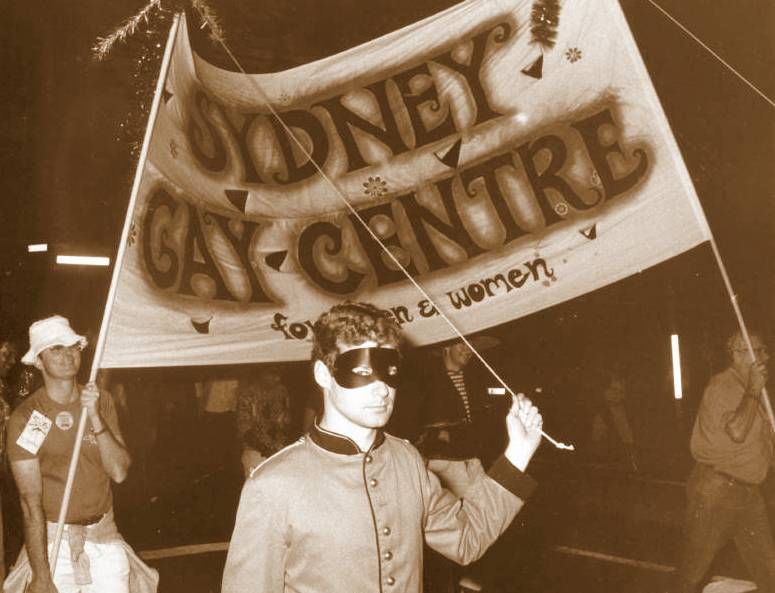 1982 Gay Pride Mardi Gras Parade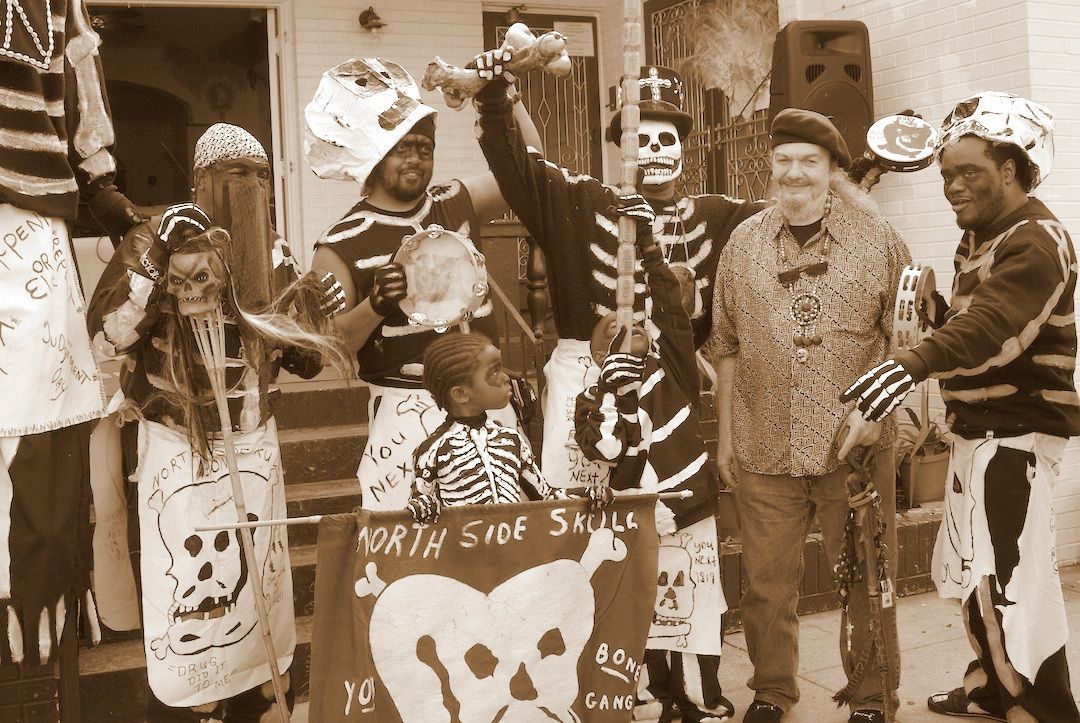 2011 Dr. John hanging with the Skull & Bones Gang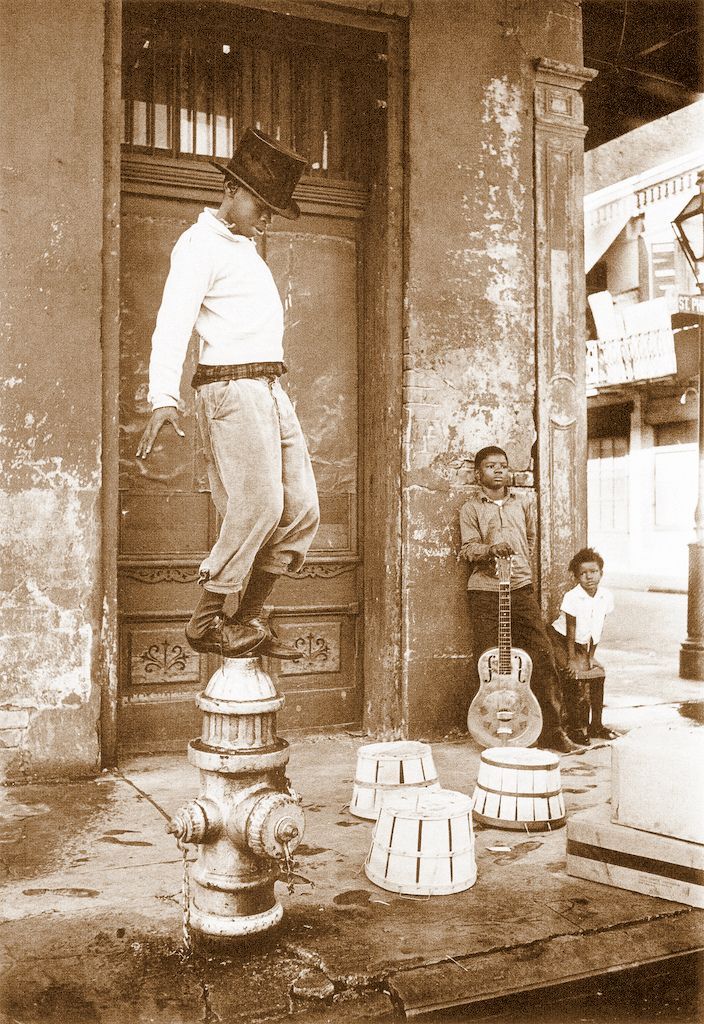 2013 Mardi Gras Street Dancer in the French Quarter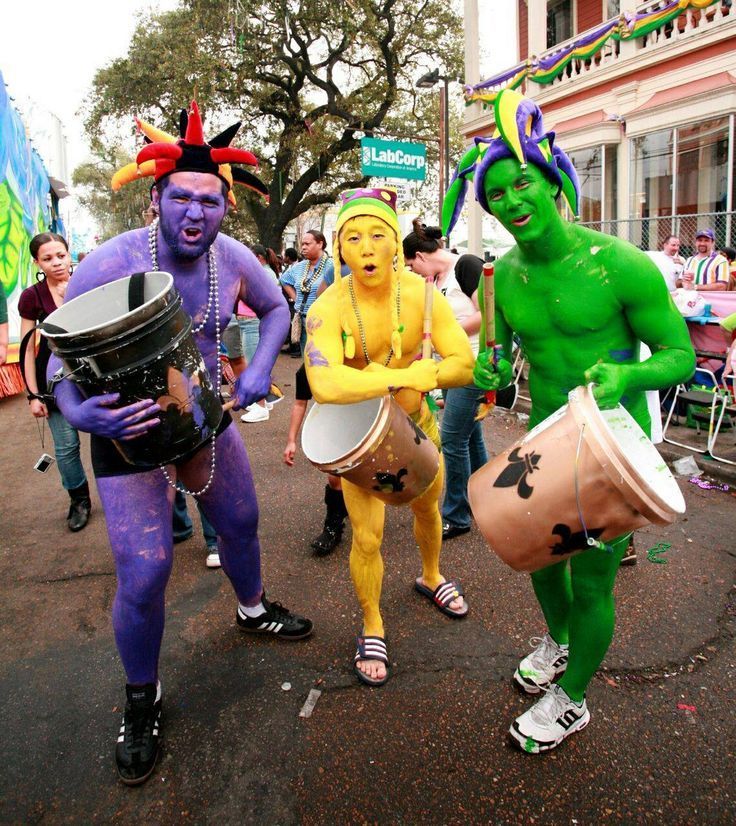 2014 Costumed Revelers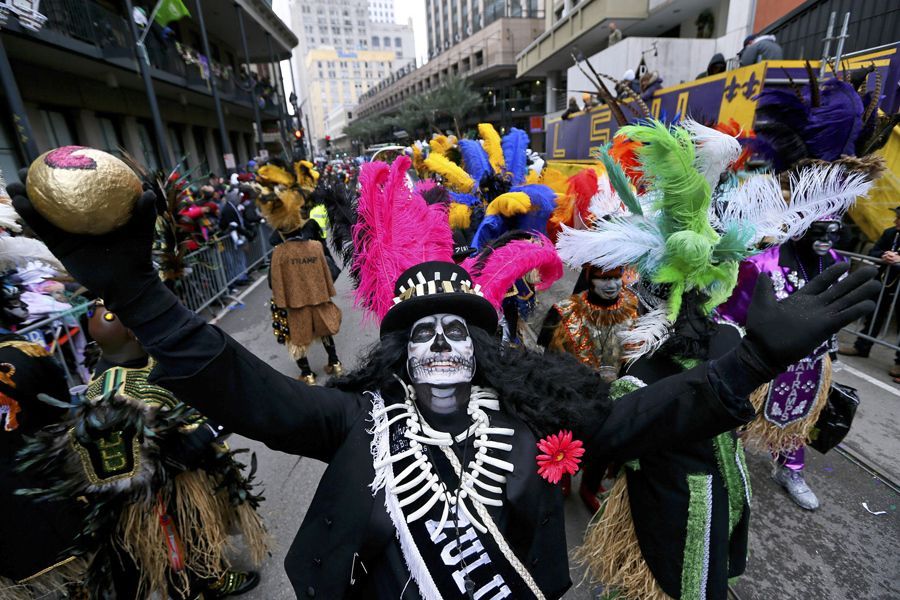 2015 Parading in the French Quarter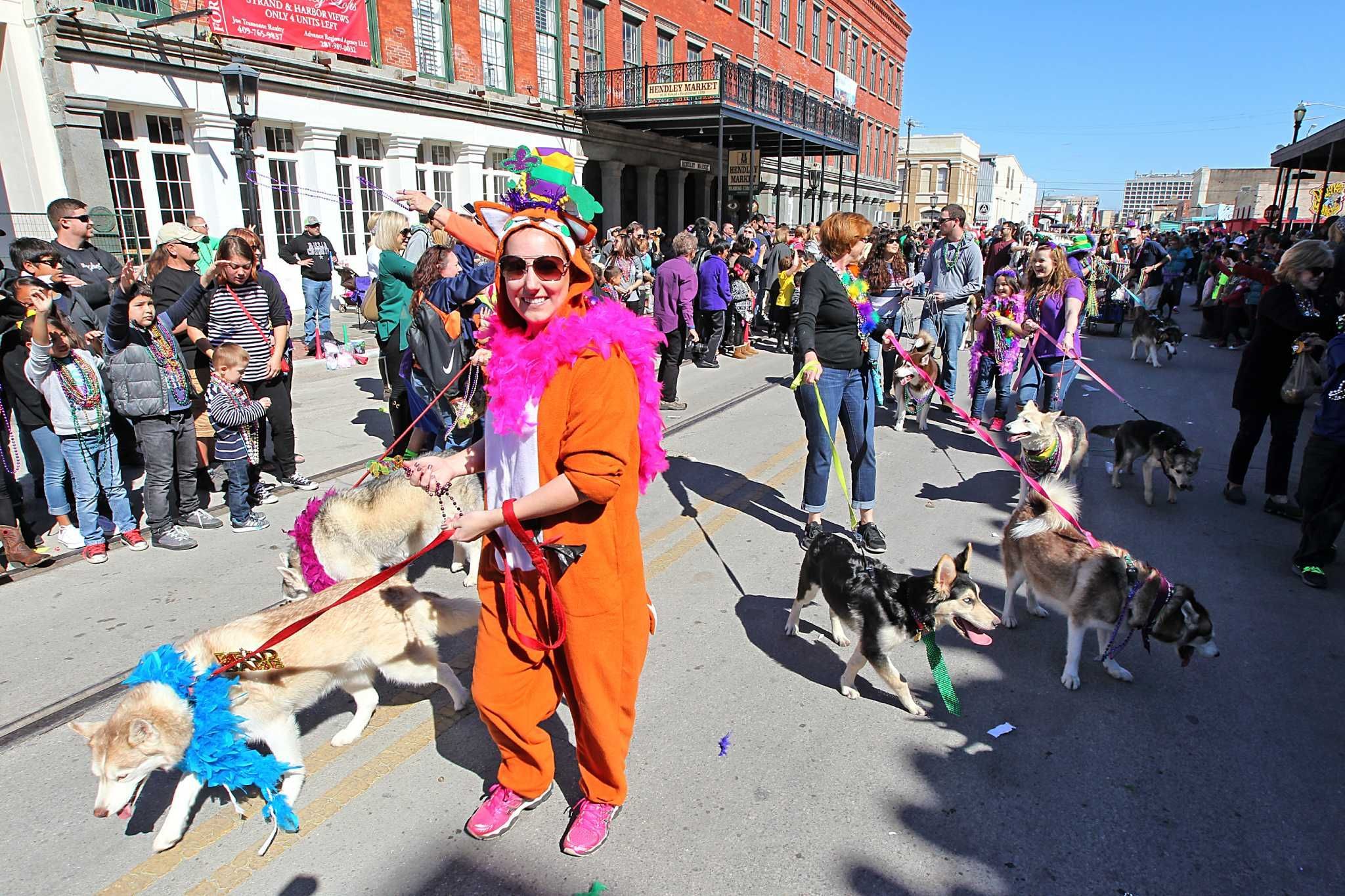 2016 The Mystic Krewe of Barkus
The Mystic Krewe of Barkus is a New Orleans Mardi Gras parade where participants are dogs costumed according to a central parade theme. The annual event is organized by the Krewe of Barkus, a nonprofit organization that promotes adoption and rescue of homeless animals in New Orleans.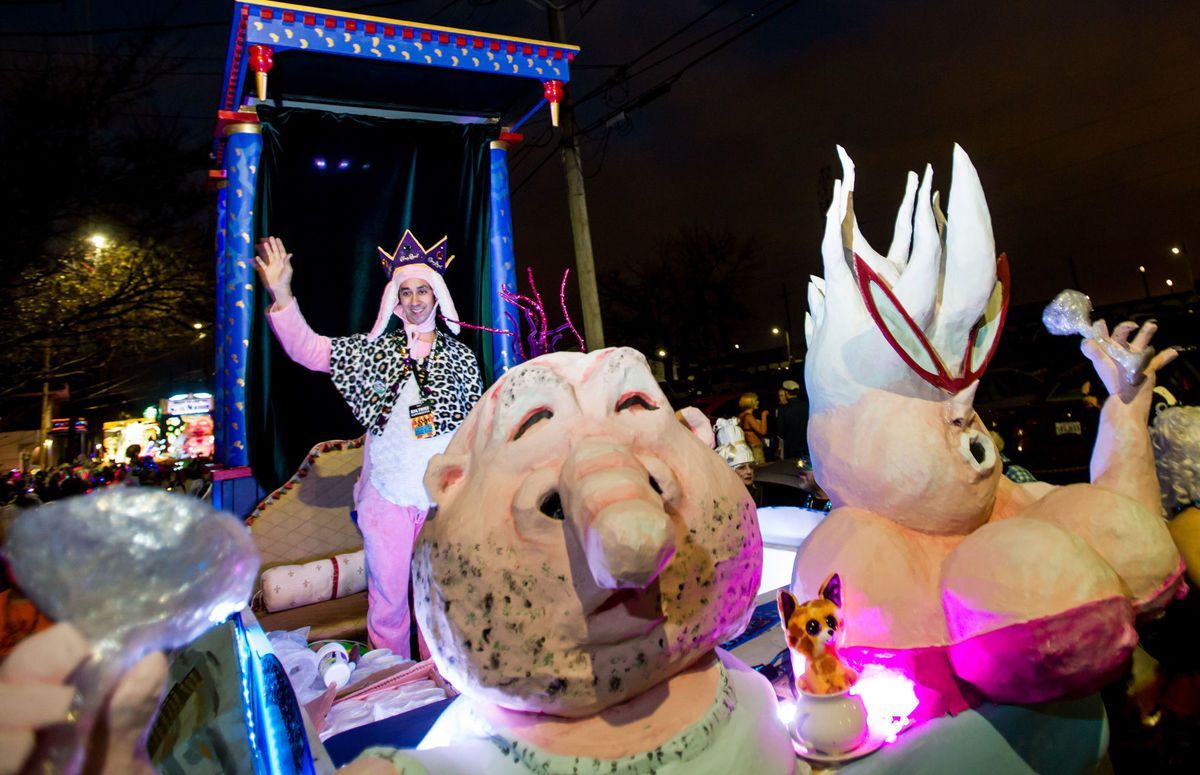 2017 Krewe du Vieux Vic & Nat'ly Float
When the Krewe of Clones (founded in 1978) decided to become more respectable, Craig "Spoons" Johnson and Don Marshall decided to keep the parade's original raucous, art-inspired spirit alive by starting Krewe du Vieux Carré. 
At first, the ragtag krewe had 16 subkrewes, and a collection of mule-drawn or hand-pulled handmade floats. But by 2001, KdV had its first title float, and its membership was growing. Its numerous subkrewes with names like Krewe of C.R.U.D.E., Krewe of L.E.W.D. and Mystic Krewe of Spermes meet in the "Den of Muses," a warehouse space, to bring together their costumes and floats. 
In 2006, KdV was the first parade to march post-Katrina, and garnered national attention for its tenacity and lightheartedness in the face of tragedy. That year's theme was "C'est Levee." Other themes over the years have included "Habitat for Insanity" and "Where the Vile Things Are." Their after party is called "The Krewe du Vieux Doo." 
Today Krewe du Vieux is loved for its wild satire, adult themes, and political comedy, as well as for showcasing some of the best brass and jazz bands in New Orleans.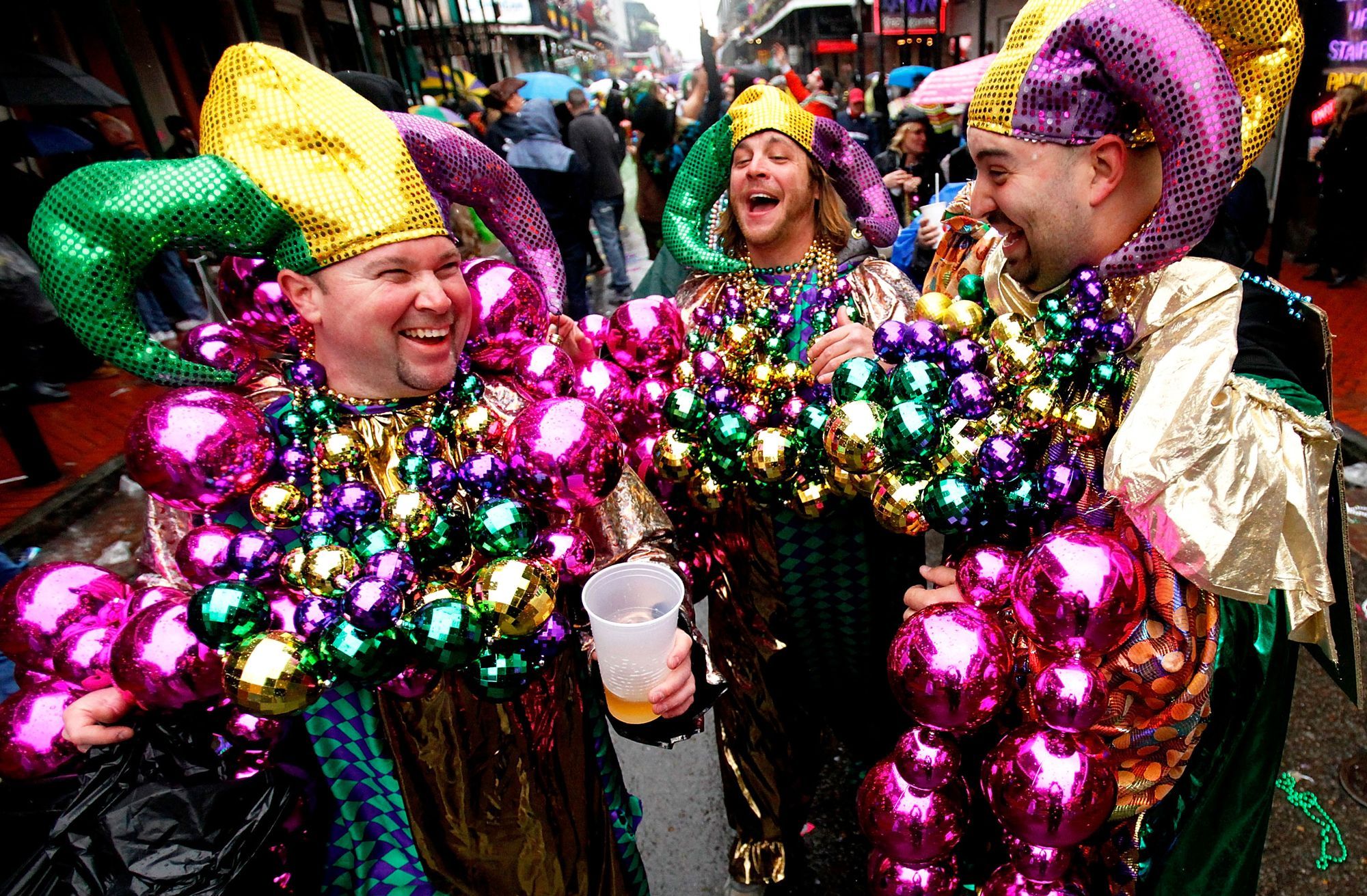 2018 Fat Tuesday Revelers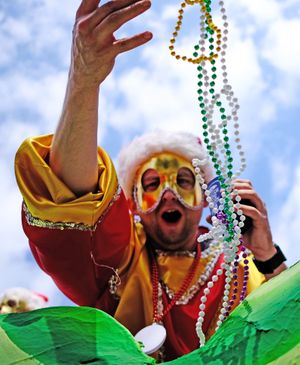 2019 Mardi Gras in New Orleans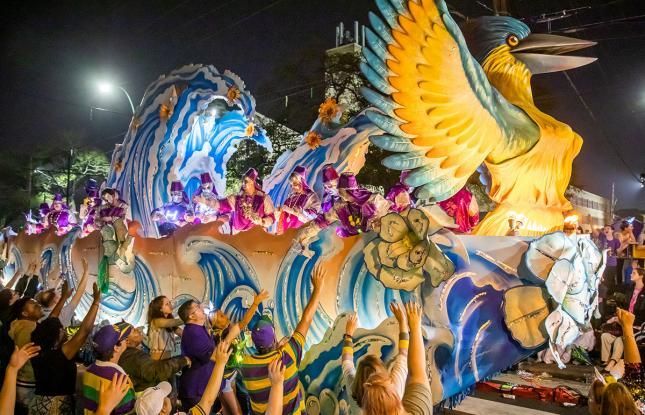 2020 Mardi Gras Parade
2021 Mardi Gras House Floats!
In spite of the co-vid pandemic, folks in New Orleans have taken to decorating their houses as parade floats since there are no Mardi Gras street  parades!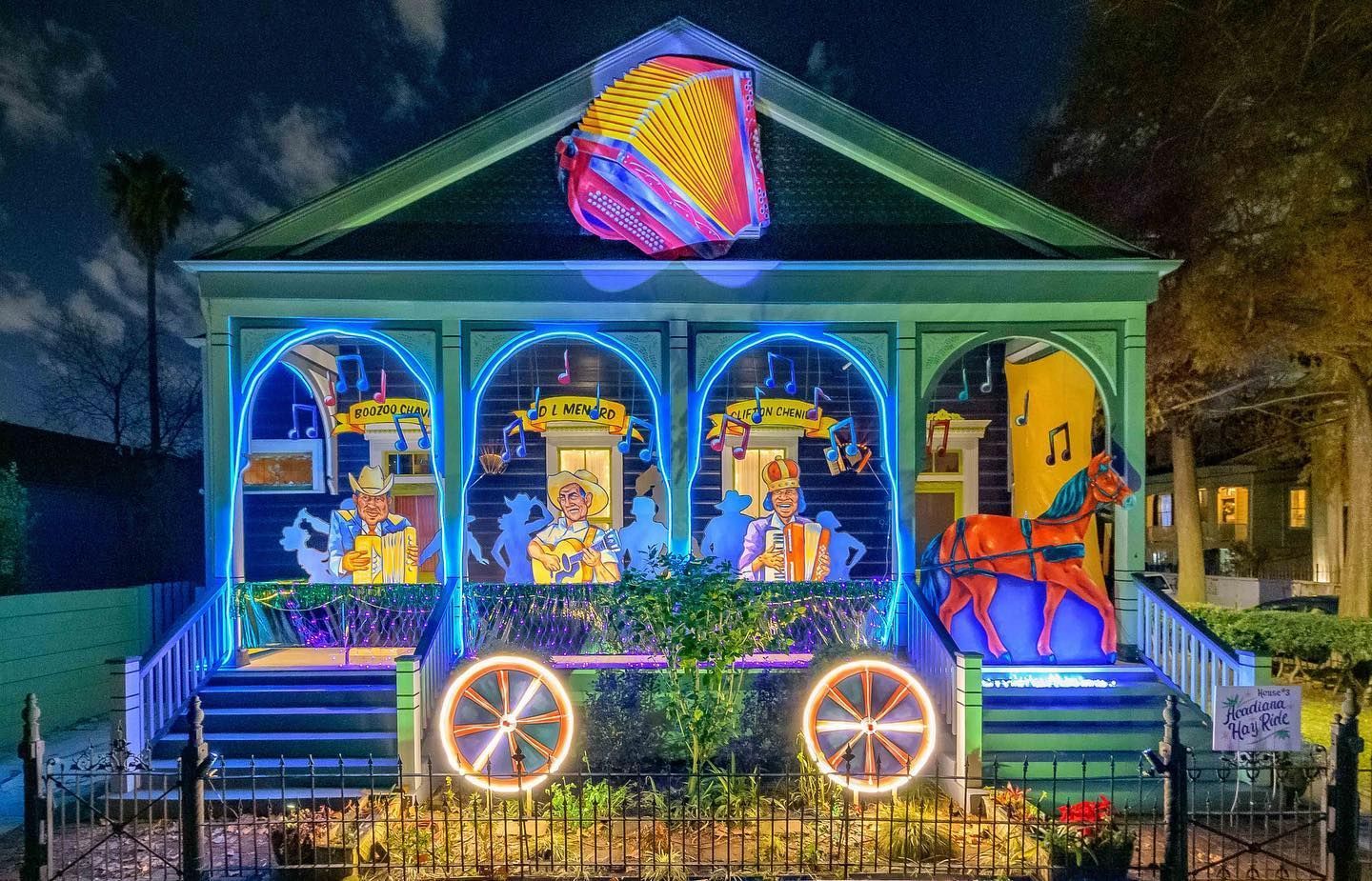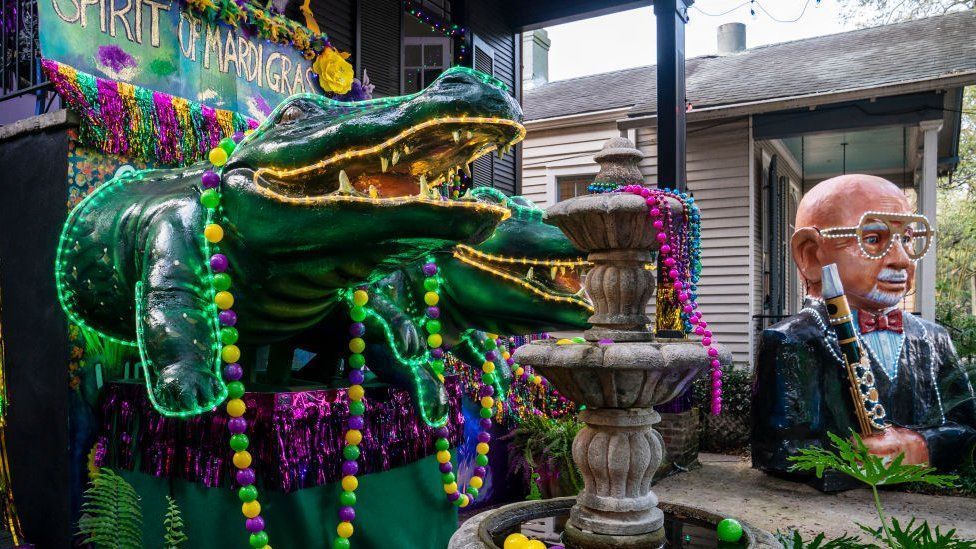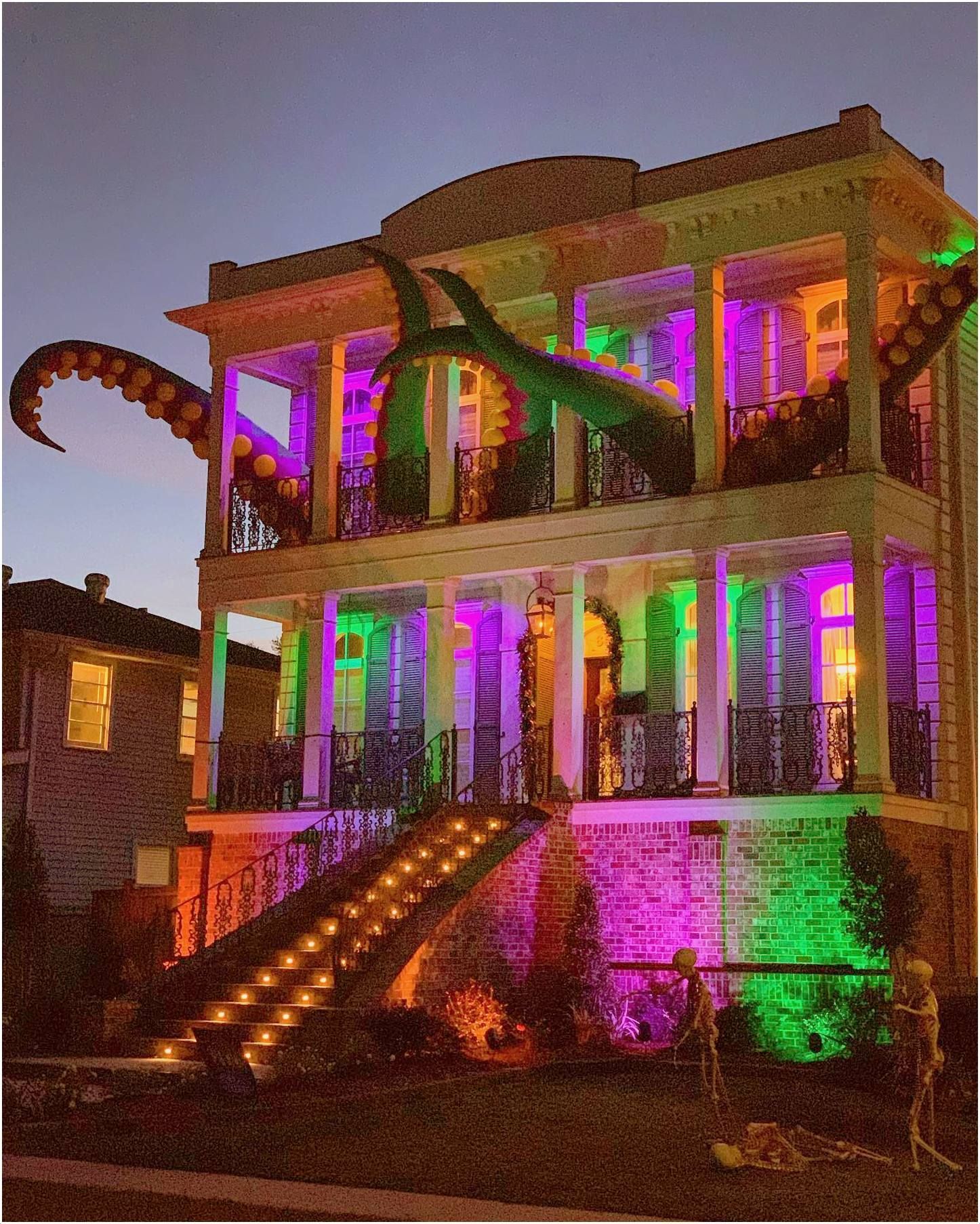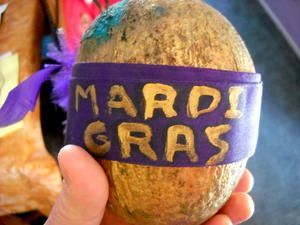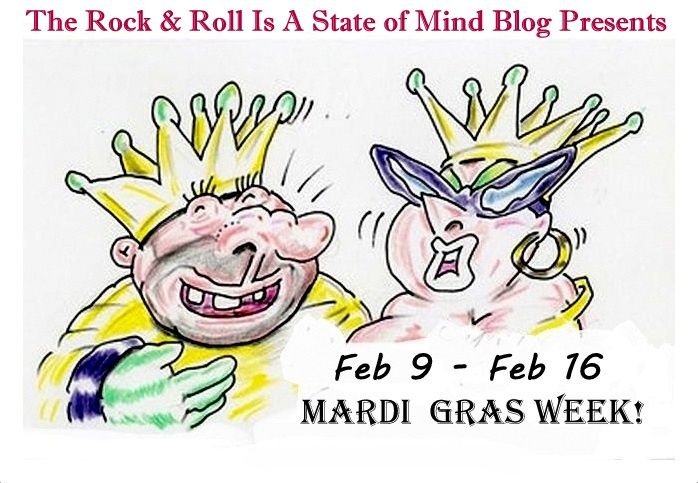 Tomorrow's Post:
Something Cool To Read Mardi Gras Week 2021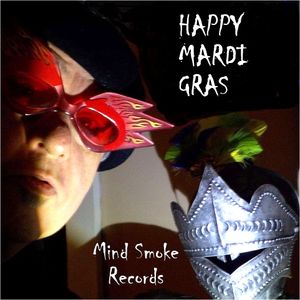 ---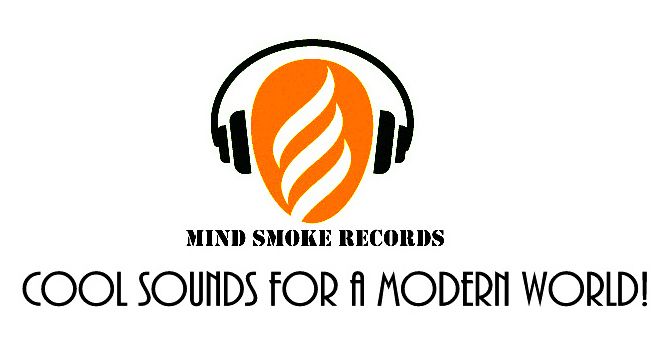 Haiku Monday's debut Mind Smoke Records release, The Ghost of Pontchartrain Expanded Edition, is an imaginary movie soundtrack for a ghost story that takes place in New Orleans, Louisiana. Follow the dark trail of Sammy Thibadeaux, the Ghost of Ponchartrain, as he returns home to his former life of underworld voodoo and murder. Salvation is at hand!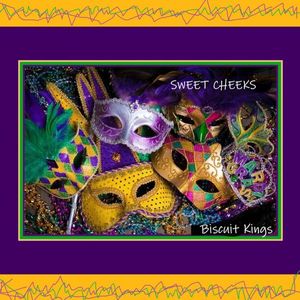 Check out the Biscuit Kings Mardi Gras song!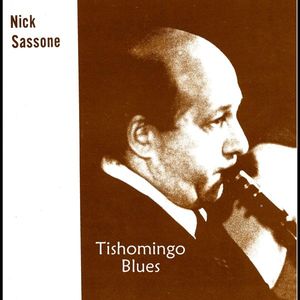 Nick Sassone swings the good thing!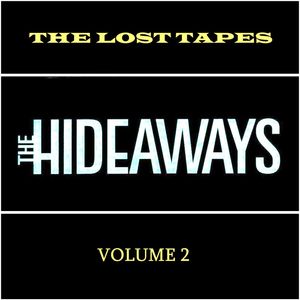 This wild & loose proto-punk band always conjures up an atmosphere of
Chuck Berry meets The Ramones with a side order of Blonde on Blond Bob Dylan!
---