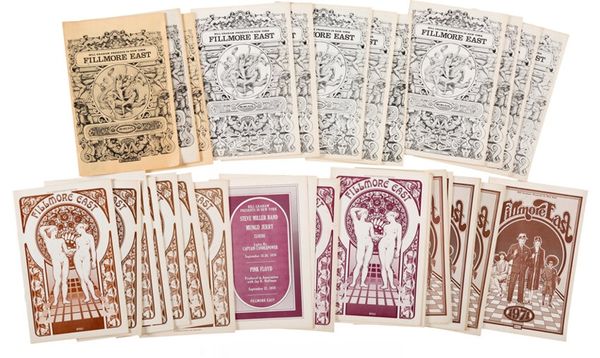 This blog post is dedicated to my dear friend,
Jeff Goldstein
who spent many happy hours @ The Fillmore East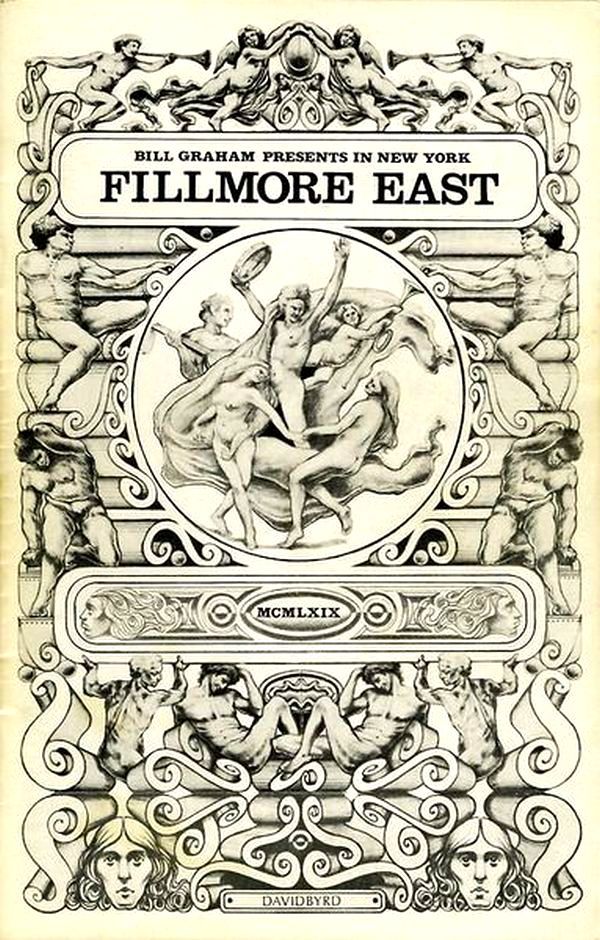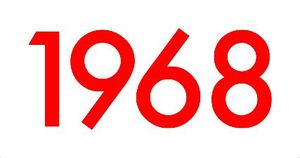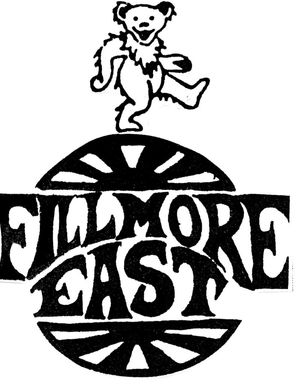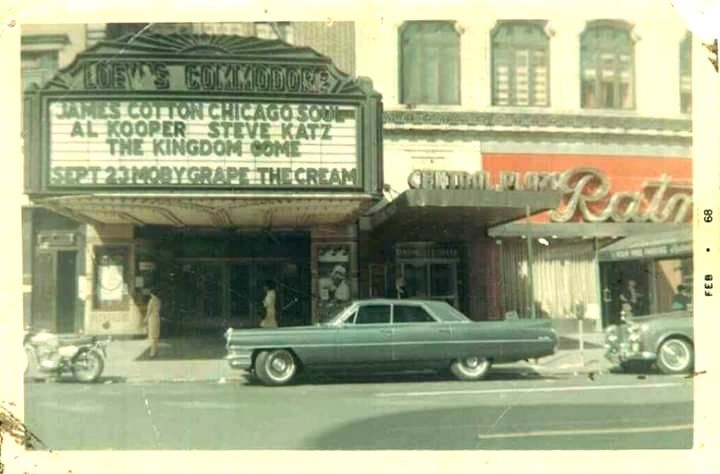 The Story of the Fillmore East begins here...
Located at the southwest corner of Second Avenue and Sixth Street was  a venue that opened in 1925 as a vaudeville theater.  Over the years, it took on various names and in the 1950's it was operating under the name of the Village Theater and operated as a venue that was known for its live music.  At some point the theater was closed.  From time to time, it opened to present various rock & roll shows.  In 1968, Bill Graham, looking to expand his small empire of music venues located in San Francisco decided to buy the Village Theater.
"When Bill Graham first set foot inside the venue, its condition could only be described as terrible. As he had now announced it would open on March 8, there were less than two weeks to have it up and running. Work needed to be done, and fast.
'The derelict building,' said future manager Kip Cohen, 'was actually converted into the Fillmore East in twelve unbelievable days.' John Morris, Joshua White, and Kip Cohen got down to business, bringing in Chip Monck as lighting director. Everything started came together.
At the outset, Bill Graham wanted a state-of-the-art sound and lighting system, so bands would not have to bring in their own. With three acts playing two shows a night, it was vital to streamline the operation and prevent bands from parking forty-foot trucks outside and lugging heavy equipment in and out of the building. 
Graham then hired pioneering sound technician Bill Hanley to create a sound system for his new rock theater. The Hanley Sound System, as it became known, cost $35,000, and Graham only leased it from Hanley, who retained ownership. It consisted of twenty-six speakers, including some manufactured for civil defense alerts, strategically placed around the theater with a total power source of 35,000 watts. There were professional-grade mixing consoles, as well as a two-ton center cluster speaker system, suspended over the center of the stage using a series of fly weights. The sound level could often break the 100 decibel level, and the cluster had to be perfectly positioned, aiming the sound into the audience so there would be no echoing.
On February 29, 1968, during the height of the theater's transformation, the first advertisement appeared in the Village Voice for the Big Brother and the Holding Company opening at Bill Graham's Fillmore East. And the box office was now open for the reserved-section tickets, selling for $3, $4, and $5 dollars. Bill Graham had initially wanted to turn the Village Theater into a ballroom, but that proved too expensive. So he kept the 2,645 seats and introduced reserve seating, in the manner of a Broadway theater. 
On Friday afternoon, March 8, a nervous Bill Graham and his team were still frantically putting the final touches to the Fillmore East right before they opened the doors for the very first show at the Fillmore East."   (John Glatt, Live at the Fillmore East and West, Lyons Press)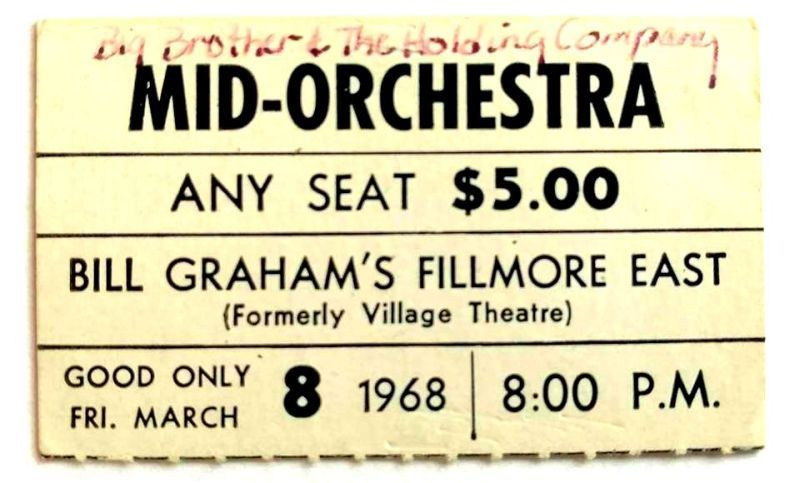 "Up on the balcony level was the perfect stoned-hippie-food concession that offered up fresh fruit and juices, donuts, bagels with cream cheese, and best of all, Dannon Yogurt, in a wide selection of flavors. 
 When he was in New York, Graham could often be found operating from a makeshift office at a rear table of Ratner's Delicatessen, next door to the venue. It took a few months for the venue to get up to speed.
As was Graham's practice at the original Fillmore, the venue booked two shows a night, usually three bands playing early and late sets, starting at 8 and 11:30, and often running extra-late, especially if the Grateful Dead were headlining. In the case of the three shows the Dead played with the Allman Brothers and Love , all three gigs ended after dawn. 
Unlike Graham's unseated general admission shows in San Francisco, the Fillmore East cleared the house between shows, did a clean-up, and started over again. With a translucent rear-stage curtain used by the Joshua Light Show, the stage crew rotated custom wheeled drum risers and amplifiers for extra-quick set-changes. Above them, the Joshua Light Show kept fans entertained with cartoons and other visual amusements, in large part to keep the audience from overcrowding the tiny lobby areas. 
The classic shows happened frequently in front of the tough New York crowds. The first year of the Fillmore East saw Sly Stone's east coast breakout, Rod Stewart's American debut (opening for the Dead with the Jeff Beck Group), and a pair of shows that began with Led Zeppelin as the opening act for Iron Butterfly and ended the other way around. There wasn't music every night, and Graham shut the venue down almost entirely during the summers of 1968 and 1969. It was during that latter summer that the venue's core staff became the basic team that staged Woodstock. The Fillmore East soon became the focal point in New York's media eye. "After Woodstock, all the famous things happened, and then it went downhill," Joshua White would observe." (The Gothamist)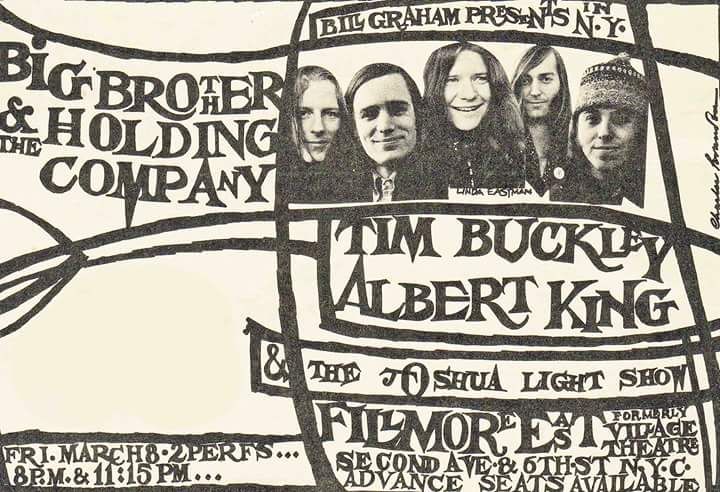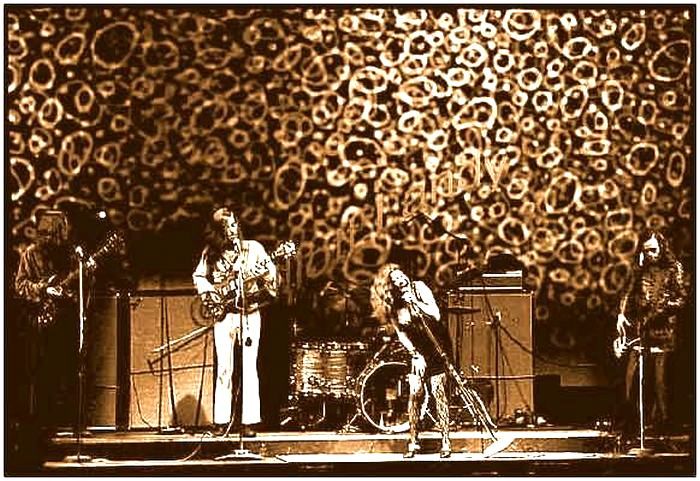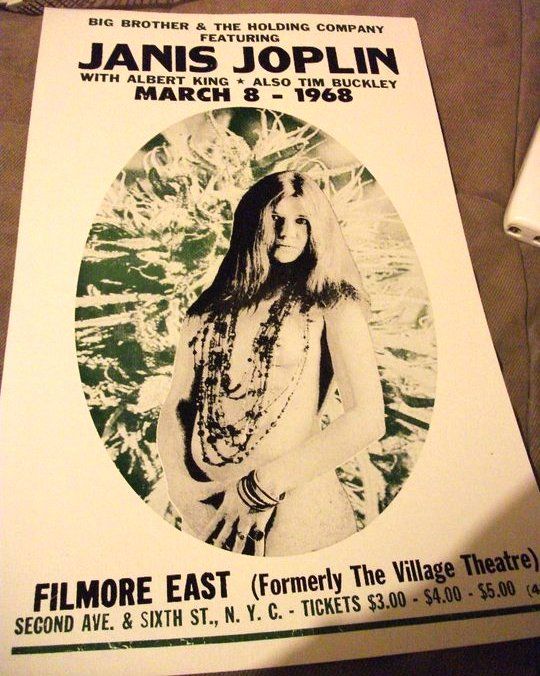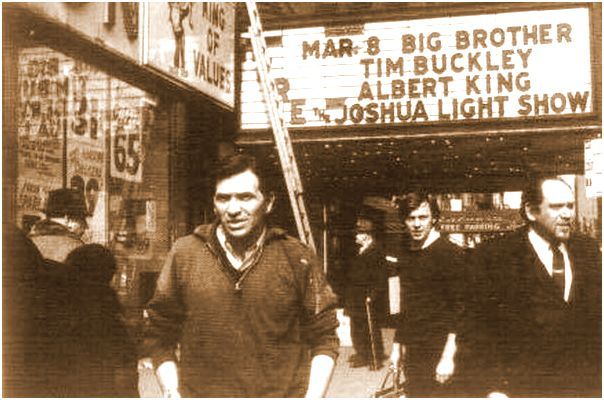 Bill Graham outside The Fillmore East
on opening night March 8, 1968
When the Fillmore East doors opened for the first time, everybody rushed into the lobby thereby causing mass confusion.  Crowd control had not been considered by Graham and some of the attending celebrities had a difficult time making their way to their VIP seats.  The Fillmore East opening was a smash and received massive coverage from the local press.
After its initial opening concert, Fillmore East was off to a great start.  Graham used his connections from his days at the Fillmore West to sign up all of the "heavy" bands to play his new venue in New York city.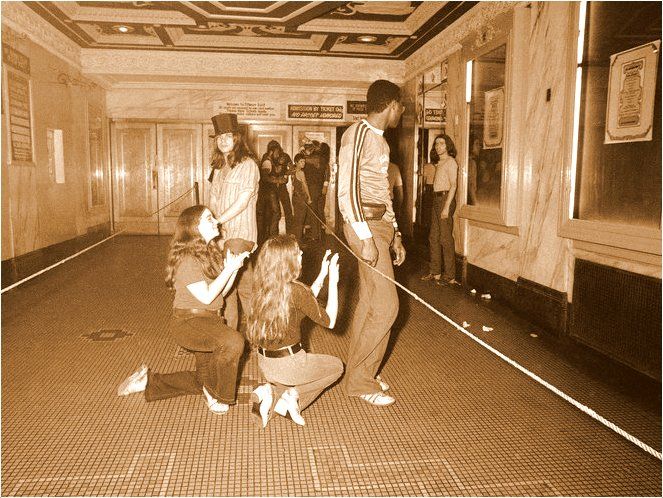 "I went into the crowded lobby and I saw people in there, begging for tickets. I saw this girl who looked really dejected, and she was begging, and I didn't want to beg. But, I'm good at looking dejected and sad. So, I copied the look of that desperate girl I saw, and a guy came up to me and said something like, "you look like you could use a ticket," and he gave me one. He must have been a record company guy, he was handing out a few tickets.  
So, this guy gives me a ticket. But, I wanted to save the ticket as a souvenir. So, I figured I would try my usual tricks to sneak in. I tried the guest list trick. There was a special entrance for guest list people, so I inched over to the guest list door and tried to sneak a look at the clipboard. I finally saw a name I could pronounce, it was in bold text, and it was easy to read off of the clipboard. The name was "Herb Cohen." 
So, I told the guy that I was Herb Cohen, and I got in.
Once I got in, I was awestruck, seeing everyone in the lobby. I was standing there, staring at all of the people, and after a while, I heard screaming nearby. The screaming was from the real Herb Cohen, who was mad that someone else used his name. 
There was a big commotion and Bill Graham had to come up front. They got the real Herb Cohen in, and I disappeared in the crowd and they never found me." (Thom Lukas, Photographer)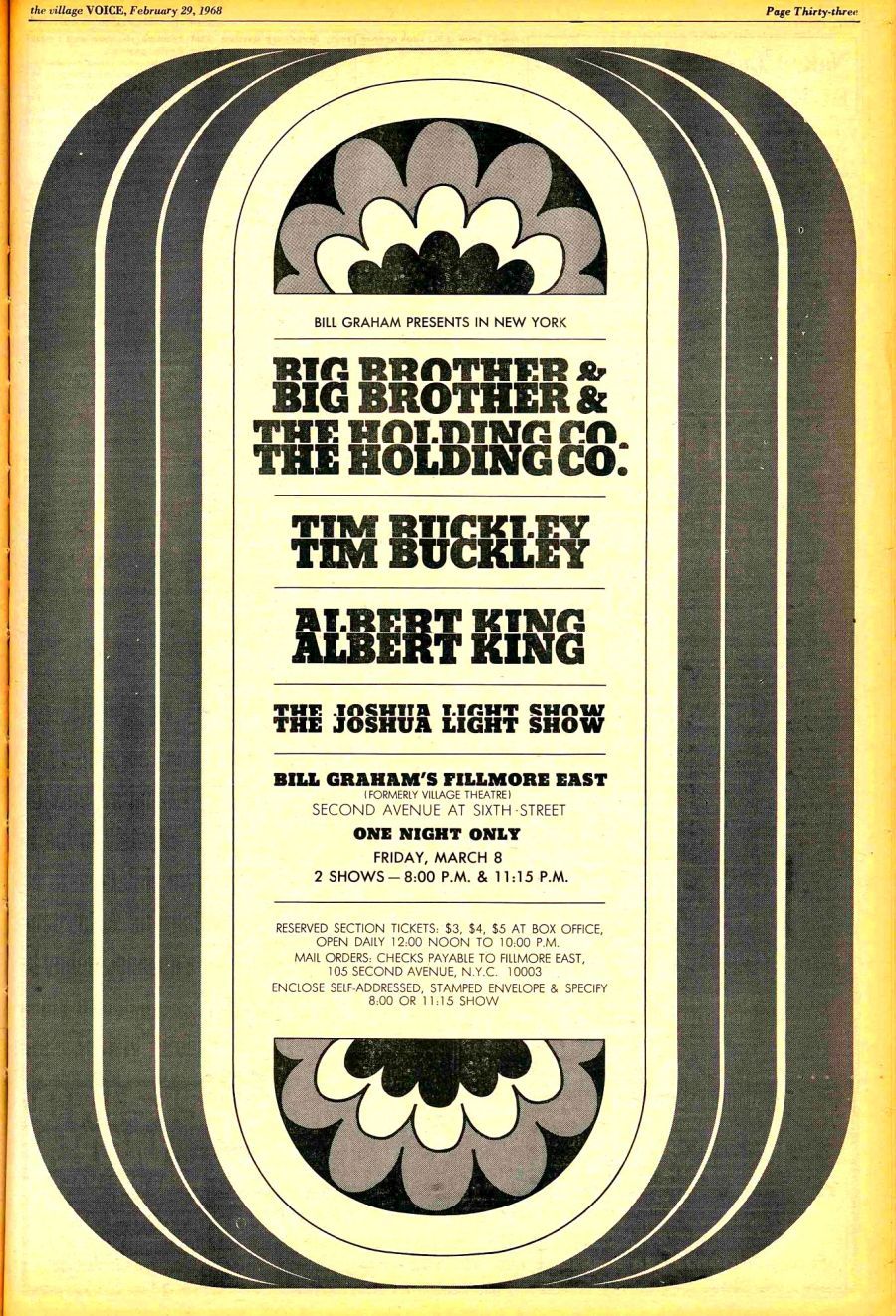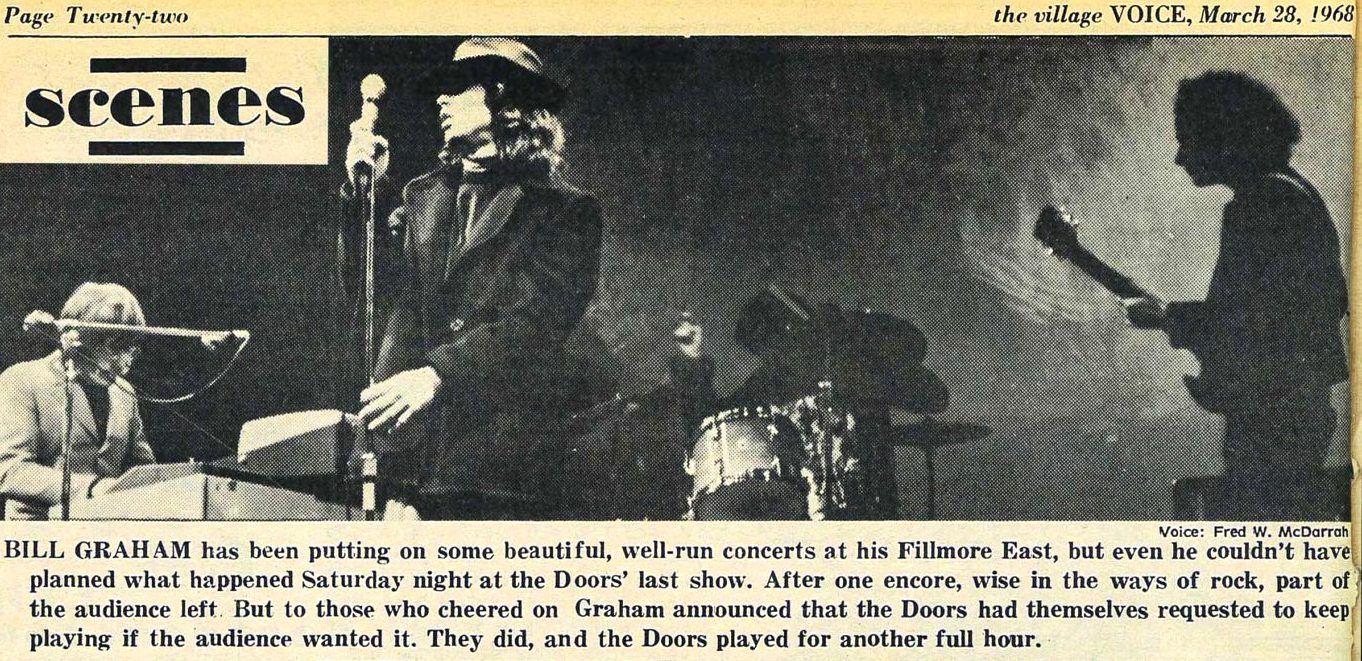 In the March 28th edition of the Village Voice, Howard Smith noted in his Scenes column, "Bill Graham has been putting on some beautiful, well-run concerts at his Fillmore East," describing how the promoter gave audience die-hards more than their money's worth.
On occasion, the Fillmore East would spring for halftone photos when announcing such acts as Ravi Shankar (playing his sitar), or the first New York appearance of 'the reigning number one space group in the known world''" (Village Voice)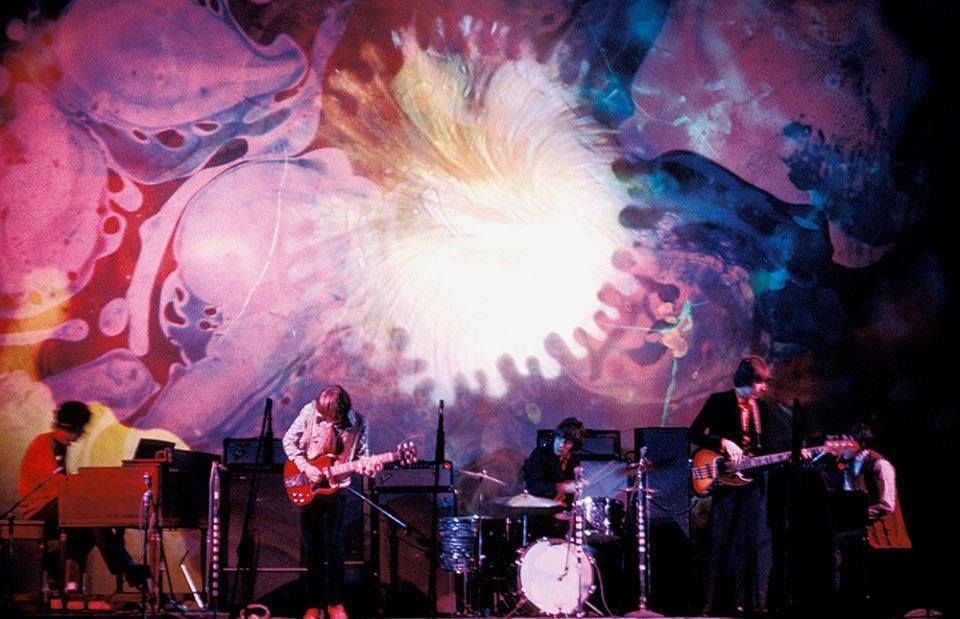 Besides setting up the Fillmore East with an excellent sound system, Bill Graham also employed visual excitement with the Joshua Light Show which played a major part in establishing a unique addition to his concerts.  This was a tactic that he had learned a lot about during his early years as a promoter in San Francisco during the Summer of Love.  The Summer of Love was a social phenomenon that occurred during the summer of 1967, when as many as 100,000 people, mostly young people sporting hippie fashions of dress and behavior, converged in San Francisco's neighborhood of Haight-Ashbury.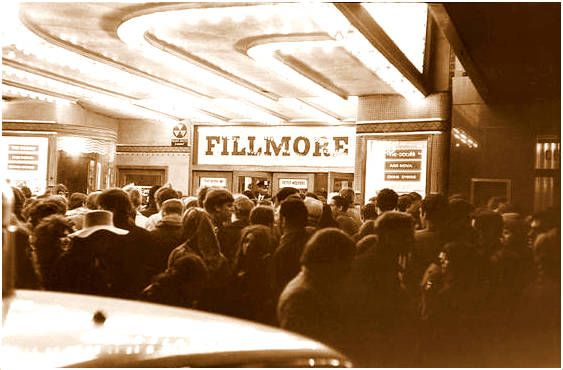 "'In fashion terms a Fillmore East opening night deserves as much coverage as the Philharmonic Galanosed Galas,' claimed the Village Voice shortly after the rock auditorium opened in March 1968. 'It's a scene-making pageant whether they're seeing Lenny at Lincoln Center or Jimi at the Fillmore.' In 1968, Bill Graham...tied together the pageantry in the audience with the fireworks on stage when he organized a mini fashion happening during an interval in the evening's mixed bill. Unheralded, Barbara Mott, wife of designer Michael Mott, zoomed up the center aisle of the rock palace on an enormous Harley Davidson. Dressed in Mott's black leather bra top and miniskirt pegged with hobnail studs, she tore up a ramp to the stage and parked her vehicle to the accompaniment of a cannonade of cheers from the Fillmore's audience." (Joel Lobenthal,Radical Rags: Fashions of the Sixties, Abbeville, 1990)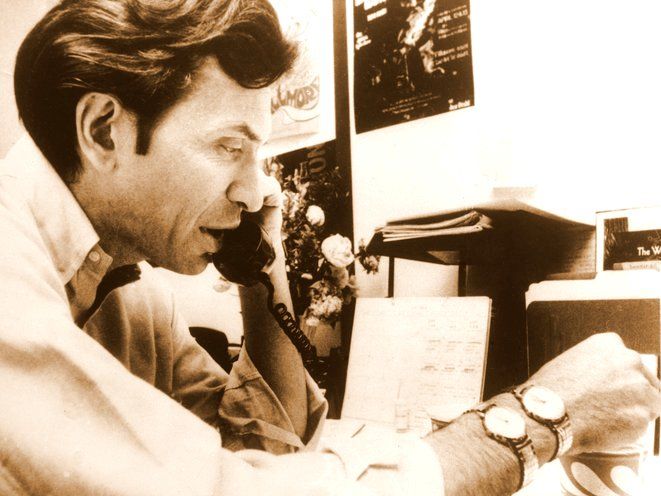 The Fillmore East was quickly dubbed "The Church of Rock and Roll," with two-show, triple-bill concerts several nights a week.  With the immediate success of the venue, things got very hectic for Bill Graham as he travelled back and forth to the west coast to administer his shows there and then fly back to New York to handle the Fillmore East shows.  His solution to this was to wear two wrist watches, each one set to a different time zone.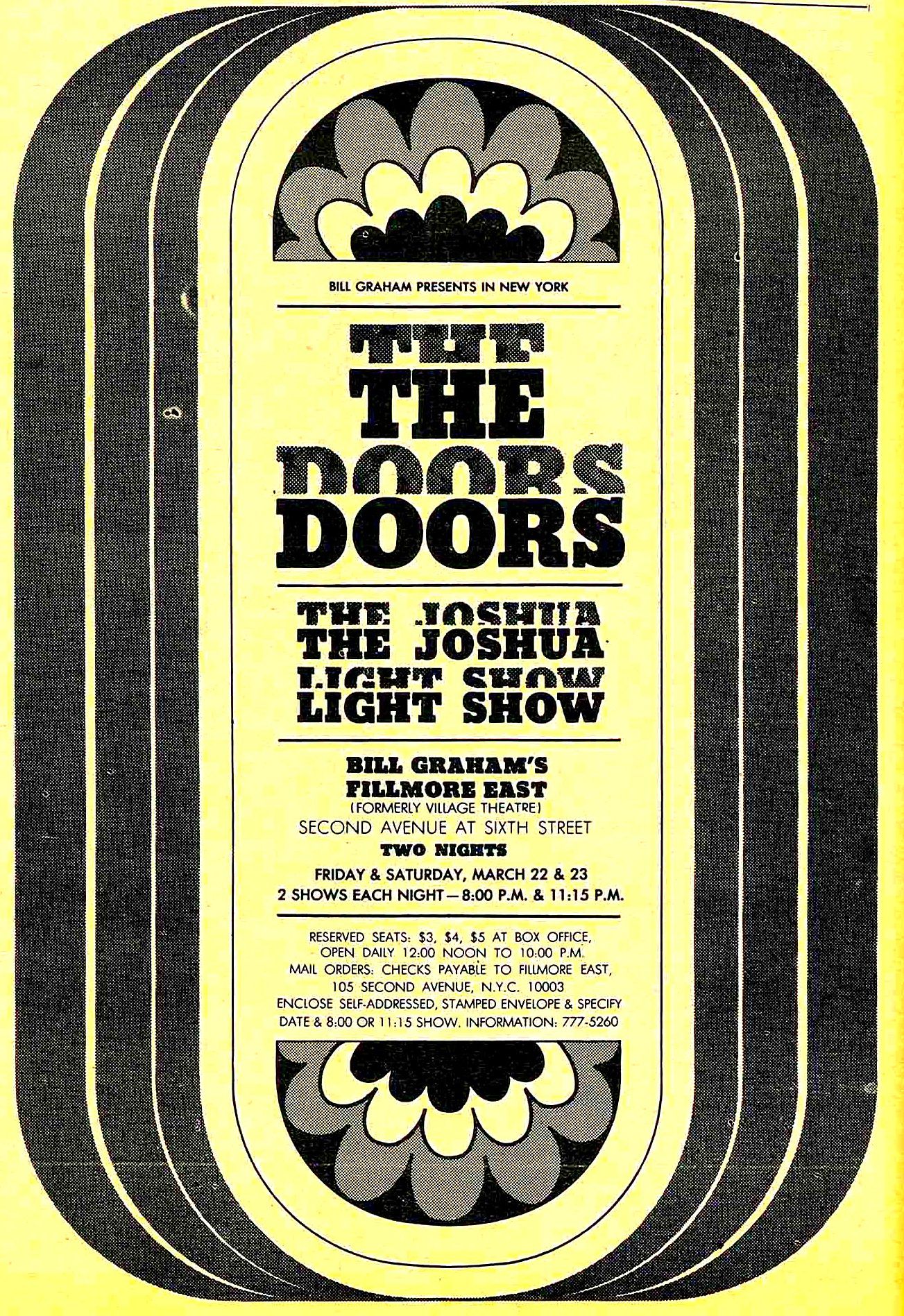 March 22nd & 23rd The Doors, Ars Nova, Crome Syrcus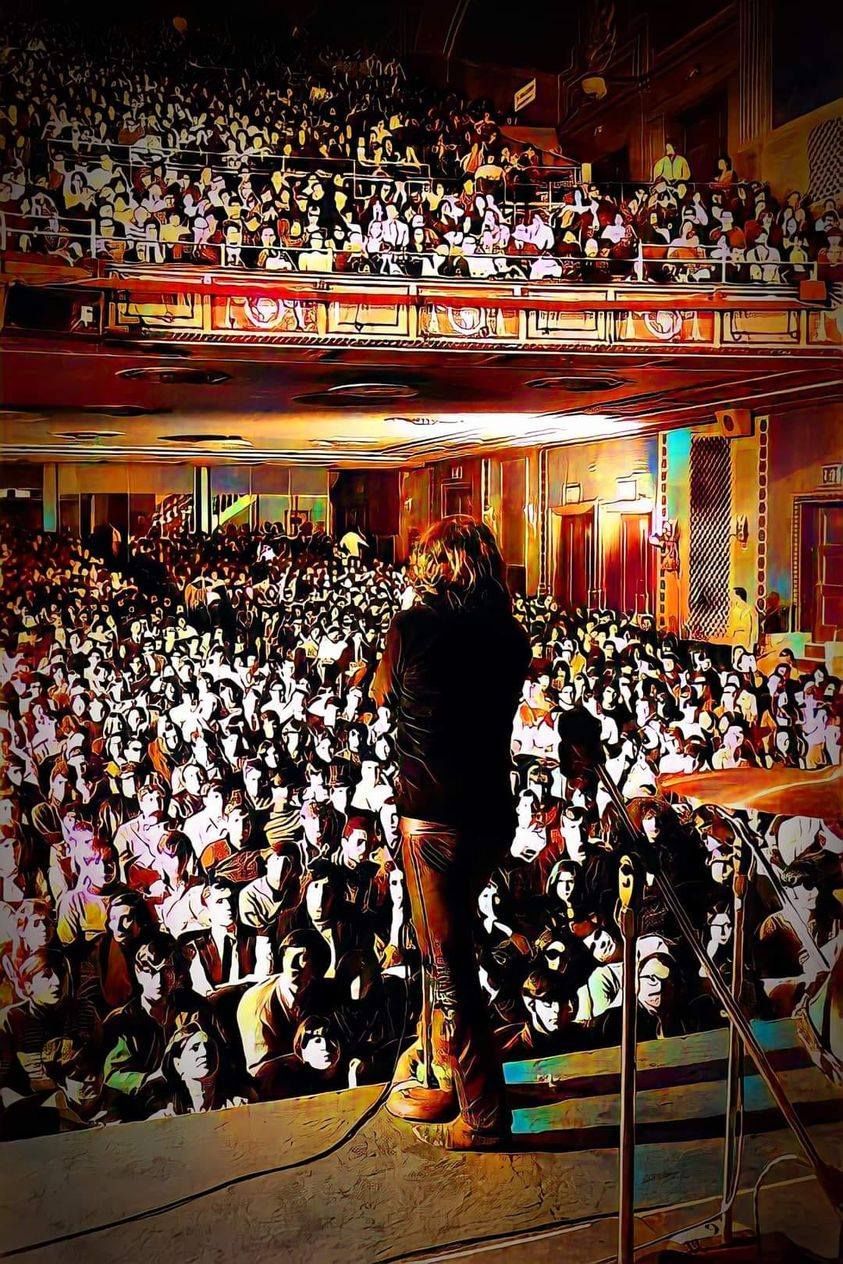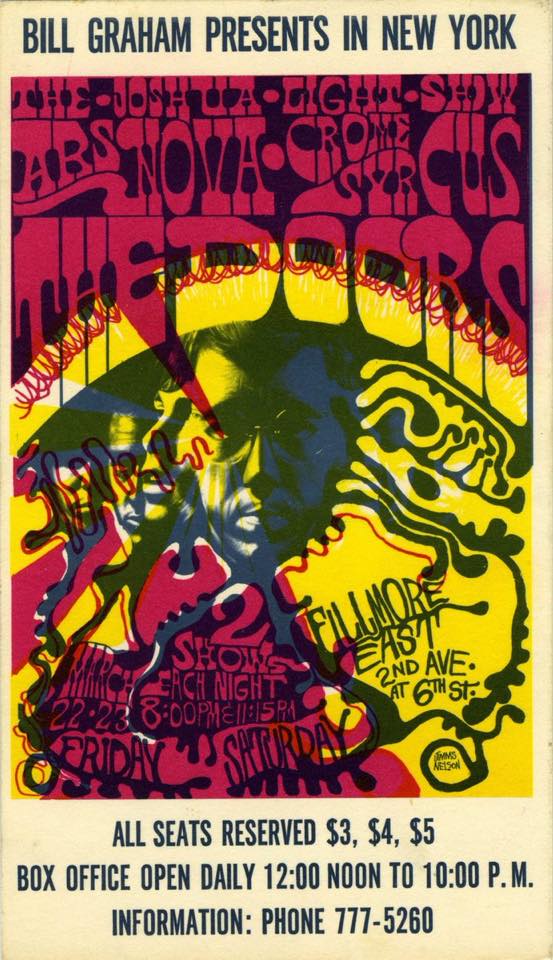 One of the biggest attractions in the early days of the Fillmore East took place when The Doors performed at the venue on March 22nd 1968.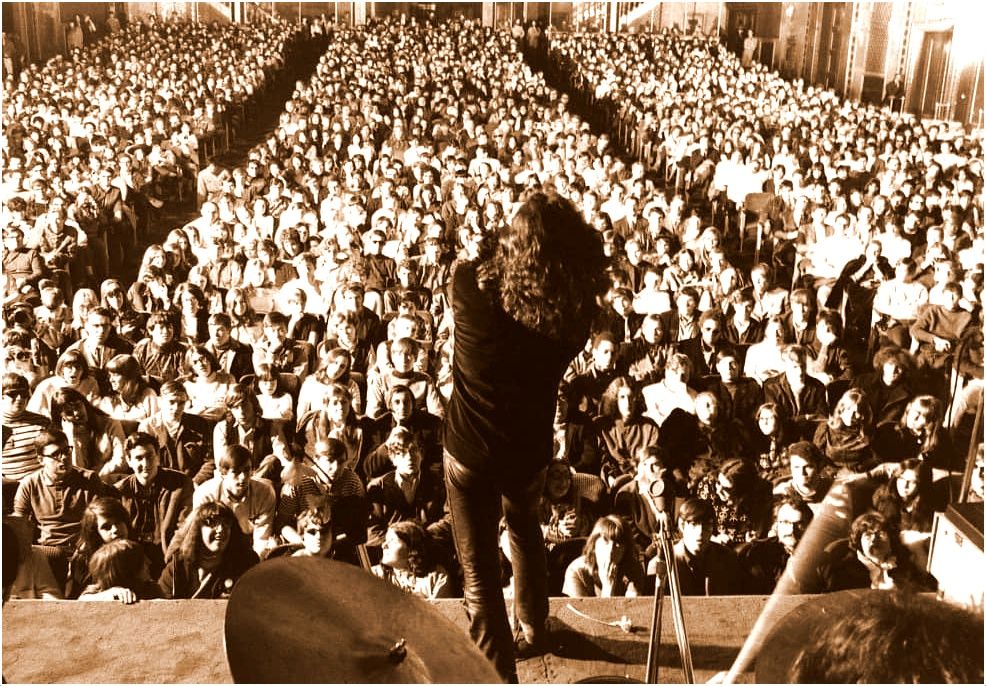 "On Friday, March 22, The Doors headlined the first weekend of sold-out shows at the Fillmore East. At the Friday early show, Jim Morrison introduced a new song called Unknown Soldier before going into an extended Celebration of the Lizard. The late show began with the band onstage but no sign of Morrison. Then, as keyboardist Ray Manzarek played the haunting first notes of When the Music's Over, the leather-clad singer appeared, launching himself over the drum kit and grabbing the microphone just in time to scream the opening line. During an extended version of Light My Fire, he swung the microphone over the heads of the audience lariat-style, letting it out a little more with each circle. A worried Bill Graham then tore straight into the audience at the front of the stage, frantically waving at Morrison. 'I could see that sooner or later he was going to lose it and I didn't want it to hit anybody. I was standing maybe ten people back, waving my arms trying to catch his attention, and then he loses it. And out of two thousand people in the hall, it hits me right in the head!' Back in the dressing room after the show, Graham nursed his injured head and joked about it. The next time The Doors played for Graham, the singer brought him a pith helmet for protection." (John Glatt, Live at the Fillmore East and West, Lyons Press)
"In the early show on Friday, giving his all and extremely stoned, Jim falls into the lighting pit! Later during the same performance, Jim introduces the New York premiere of The Unknown Soldier by pretending to be a college professor and asking the "class" to pay close attention to the movie because afterward there will be an exam. After the movie they play The Unknown Soldier followed by what is possibly the first full length rendition of The Celebration of The Lizard. 
In the late show on Friday, The Doors open with When The Music's Over in which Jim, seemingly absent, comes flying over the drum kit and leaping down in front of the microphone just in time to scream the opening and signals the beginning of what is to be a totally outstanding show. 
In the early show on Saturday, the audiences on their way to the Fillmore has picked a considerable amount of daffodils and throughout the show they are flung onto the stage. Jim picks some up and methodically places a few on each members instrument and between songs seemingly picks on John by placing many on his drums and under his nose in an attempt to get him going. 
In the opening number of the second show on Saturday, Jim holds onto the rising curtain to the point of maximum safe height and even a little more before letting go at the very last second soaring down right in front of the microphone in perfect timing to open the show with his characteristic introductory scream. The band plays The Unknown Soldier and follows it up with live performances of the song during each show this evening and do Celebration again during the late show. After Saturday's late show The Doors are in such a good mood they tell Bill Graham they want to do another encore. Graham comes out on stage as the audience is filing out and asks them if they want some more, which they graciously accept, and the band ends up playing another entire set lasting over an hour.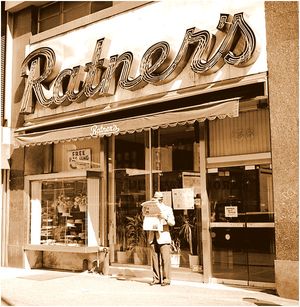 Afterward, Bill Graham took Jim and the band to Ratner's, the old Lower East Side kosher dairy restaurant next door to the theater, for an early breakfast of blintzes and potato pancakes. Albert Goldman, who was profiling Jim for Vogue, noted that Jim automatically sat at the head of the table, and decided he must have an authoritarian personality." (boweryboogie.com)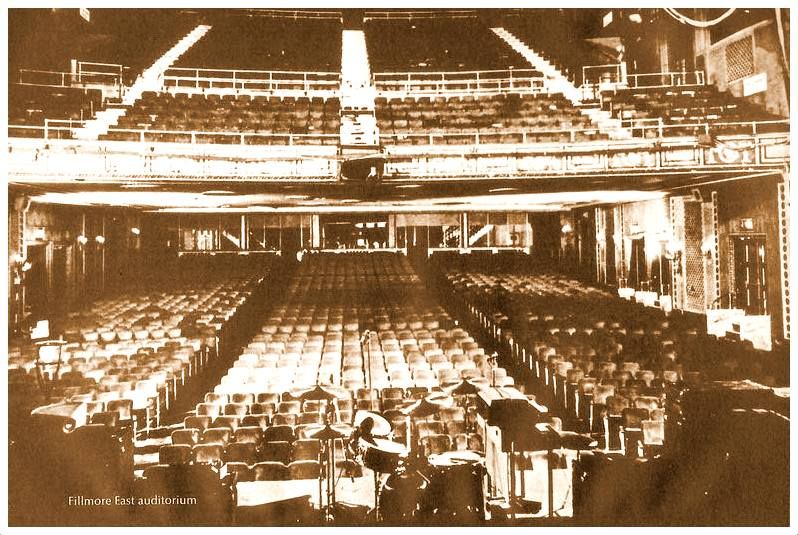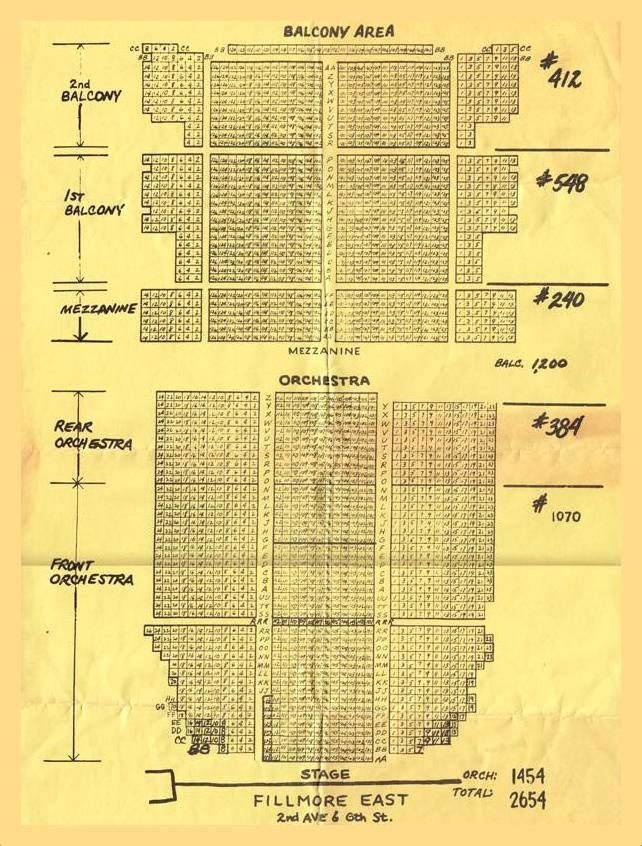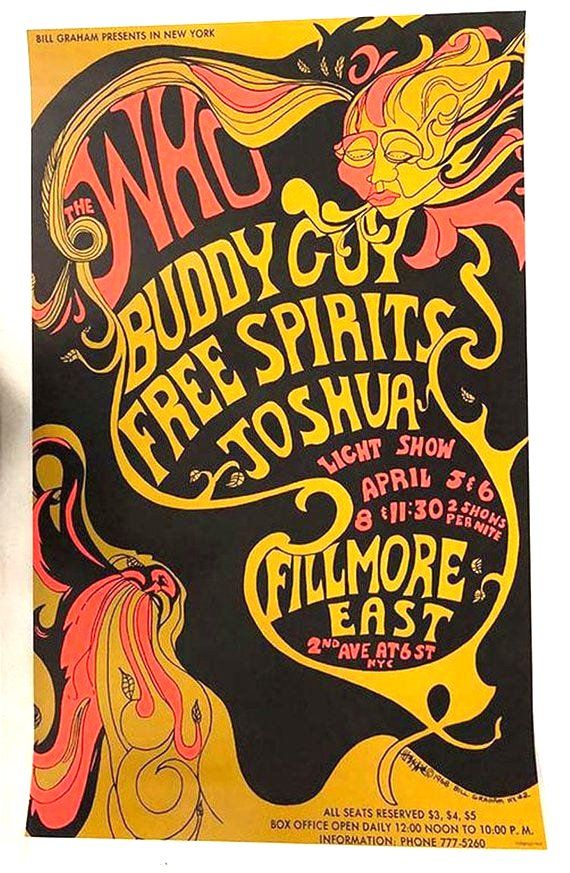 The fourth weekend of the Fillmore East's existence was headlined by The Who, April 5th and 6th, 1968.   "The Who arrived in New York in classically belligerent mood. They were at the end of a long US tour and had already been forced to move hotels after Keith Moon started blowing up bits of the Waldorf Astoria. On the morning of the rehearsal, the exhausted group were photographed by Life slumped by a statue in Morningside Park, sleeping under a Union flag. The Who had played this venue the previous year when it was called the Village Theater, but this was the first time they'd performed there since Billy Graham turned it into the Fillmore East in March 1968. Midway through the show, Townshend and Daltrey recall that in its previous incarnation it was a pisshole.  The original plan was to play four short shows over two nights, but due to security concerns following MLK's death, the band instead agreed to play two longer shows. That's what allowed them to draw out the extended My Generation, and to deliver a couple of mid-set mini-epics in the form of A Quick One and a wild 11-minute take on Relax, one of The Who's more psychedelic songs. That day The Who delivered a show with the muscular sincerity that made The Who such a compelling and memorable live act." (Rock Prosopography 1010 blog)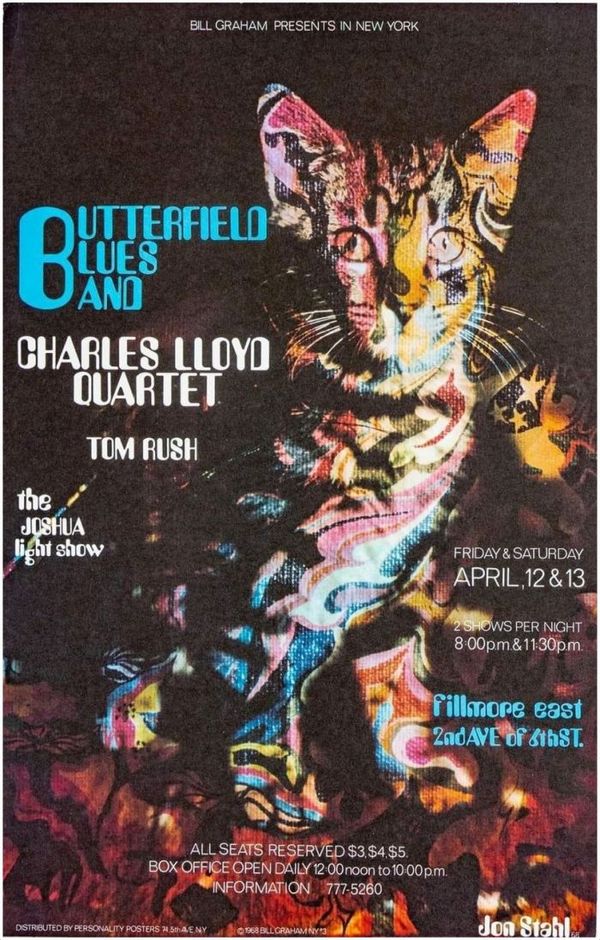 April 12th & 13th Butterfield Blues Band, Charles Lloyd, Tom Rush
"The Butterfield Blues Band had come out of Chicago in late 1965 as America's premier white blues band.  They featured guitarists Mike Bloomfield and Elvin Bishop.  Bloomfield had moved to San Francisco and started the Electric Flag by this time, but Bishop was still in Butterfield's group. The group had just released The Resurrection of Pigboy Crabshaw (Elektra Feb 68) heralding Bishop's newly-prominent role. However, rather than the guitar-oriented Chicago style blues of the first two albums, Butterfield's new sound was closer to soul, with a three-piece horn section. 
Elvin Bishop would leave the Butterfield band within two months of this show, and he too would move to the Bay Area and start his own band. Mark Naftalin, the group's original keyboard player, was also still with the band, but he too would leave shortly after this and move to the Bay Area. The other members of the group were probably Bugsy Maugh on bass, Philip Wilson on drums and Gene Dinwiddie (tenor sax) and Keith Johnson (trumpet) on horns, possibly with Dave Sanborn (alto). Sanborn had toured with the group in late 1967 and early 1968, but I don't know how long he stayed. 
The Butterfield Blues Band already had a lengthy and fruitful relationship with Bill Graham at the Fillmore, but it is worth noting that this is the third act managed by Albert Grossman that headlined the theater in  its first six weeks of operation. That being said, the original powerhouse Butterfield Blues Band, with Mike Bloomfield in his prime, had played some seminal shows at the original Fillmore, helping to make both the venue and the band, so they were a great choice to help establish the Fillmore East. 
Charles Lloyd, a tenor sax player, was a regular at the SF Fillmore.  His group, playing undiluted modern jazz in the style of Miles Davis, may still have included Keith Jarrett, Ron McClure and Jack DeJohnette. Lloyd was the first jazz act to become a regular in the hippie ballrooms around the country, and while his jazz remain undiminished he found himself a whole new audience that served him well. He even recorded an album at The Fillmore, a fine record called Love-In, released in January 1967. His current album was In Europe (Atlantic 1968). 
Tom Rush was a popular Cambridge, MA folkie.  He had signed to Elektra and started to make folk-rock albums  His 6th album, The Circle Game (Elektra 1968) featured two songs by Joni Mitchell as well as songs by then-unknowns Jackson Browne and James Taylor.  Although he is largely forgotten today, Rush was instrumental in bringing attention to these writers. Kostelanetz reports that the light show was halted for 'serious' folk performers like Tom Rush or Richie Havens." (rockprosopography101.blogspot.com)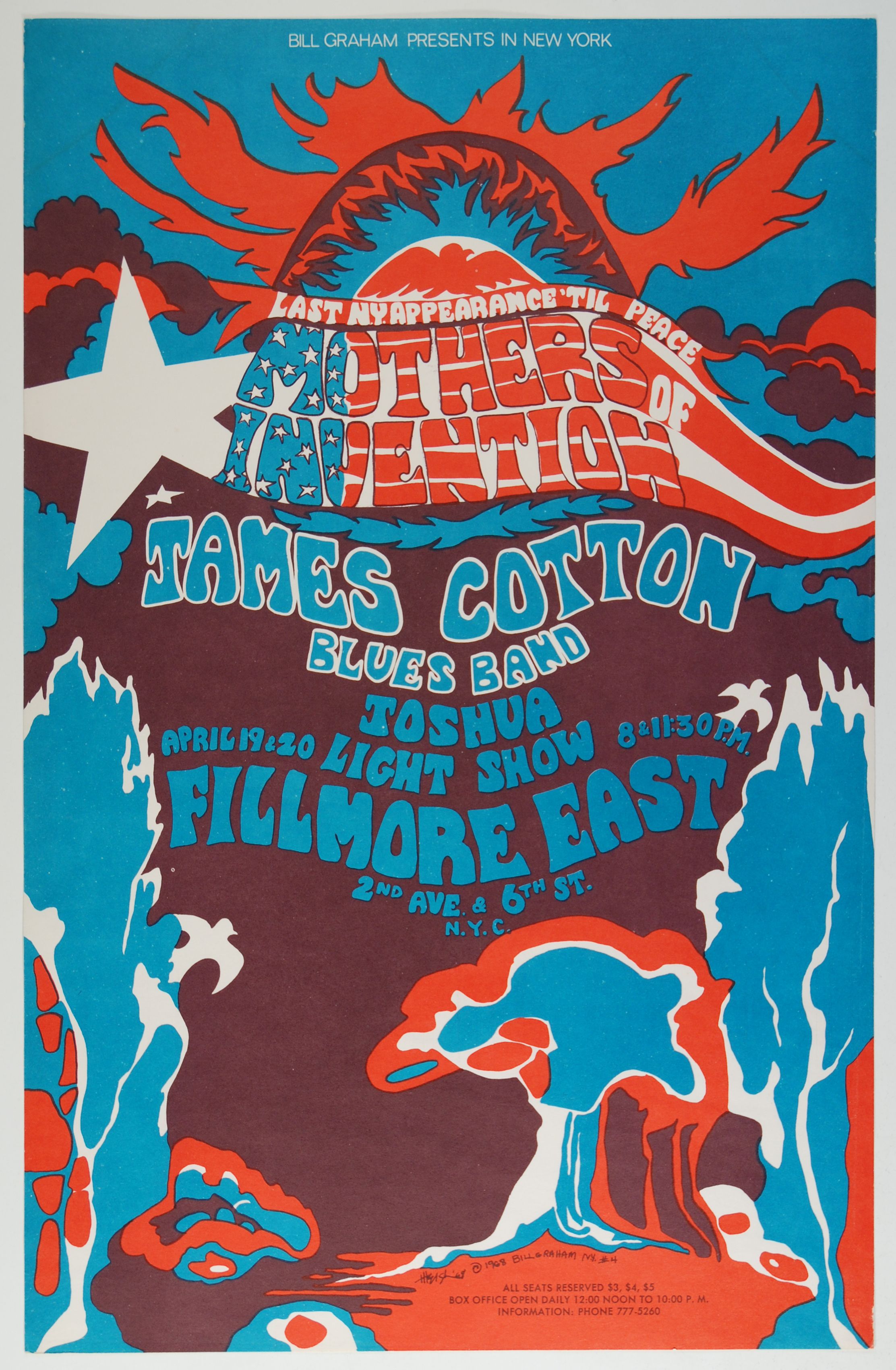 April 19th & 20th Mothers Of Invention, James Cotton
"The Mothers lineup for this show would have been FZ, Don Preston (organ), Ian Underwood (keyboards, reeds), Bunk Gardner (reeds), Motorhead Sherwood (baritone sax), Roy Estrada (bass, vocals), Jimmy Carl Black (Indian of the group, drums) and Artie Tripp (drums, percussion).  Ray Collins (sometime lead vocalist) had an ambiguous status and may or may not have appeared.
Harmonica master James Cotton had replaced Little Walter in Muddy Water's band in the late 1950s, and now led his own group, probably featuring Luther Tucker on guitar, Albert Gianquinto on piano (who later wrote some songs for Santana), and Francis Clay on drums." (liveshowshistory.com)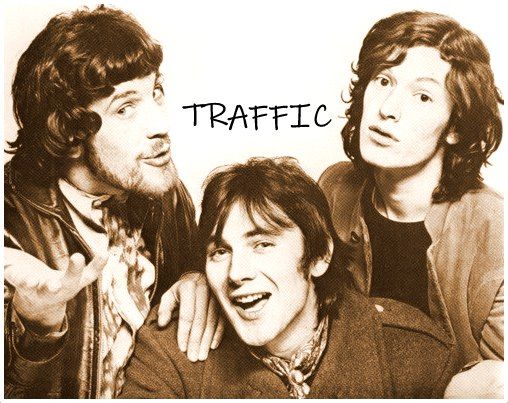 April 26-27, 1968: Traffic, Blue Cheer, Iron Butterfly
This was Traffic's first American tour, which began on March 14 in San Francisco at The Fillmore. The group was originally a quartet, with Steve Winwood, Jim Capaldi, Chris Wood and Dave Mason.  However, the mercurial Mason quit and rejoined the group regularly, and he had apparently left the group prior to their American tour, which had begun in March. 
Traffic was one of the first groups to emphasize overdubbing as a means of creating different sounds on different songs.  Winwood, Mason and Wood played numerous instruments, and clever use of the studio meant that Traffic songs could be anything from frothy pop ballads with flute and sitar to heavy rock with twin lead guitars and organ. Live, however, Traffic's sound was very different, as it depended on Winwood's versatile organ playing (including the bass pedals), and they were more like a typical (if excellent) British R&B combo. For whatever reasons, Dave Mason reappeared in New York and joined the group onstage for at least one of the four performances. He would rejoin the group for the recording of their next album. 
Blue Cheer were an SF power trio, backed by LSD king Owsley Stanley, and named after a brand of his acid. Owsley bought the band tons of equipment (supposedly Blue Cheer had 12 Marshall Stacks, 6 each for bass and guitar), and they were famously loud.  Unlike other peace-and-love SF bands, Blue Cheer had a noisy, nasty sound and demeanor.  Their quasi-hit, a remake of Eddie Cochran's "Summertime Blues" is a precursor to Heavy Metal.
Iron Butterfly were originally from San Diego, and had relocated to Los Angeles in late 1966.  They were touring behind their first album Heavy.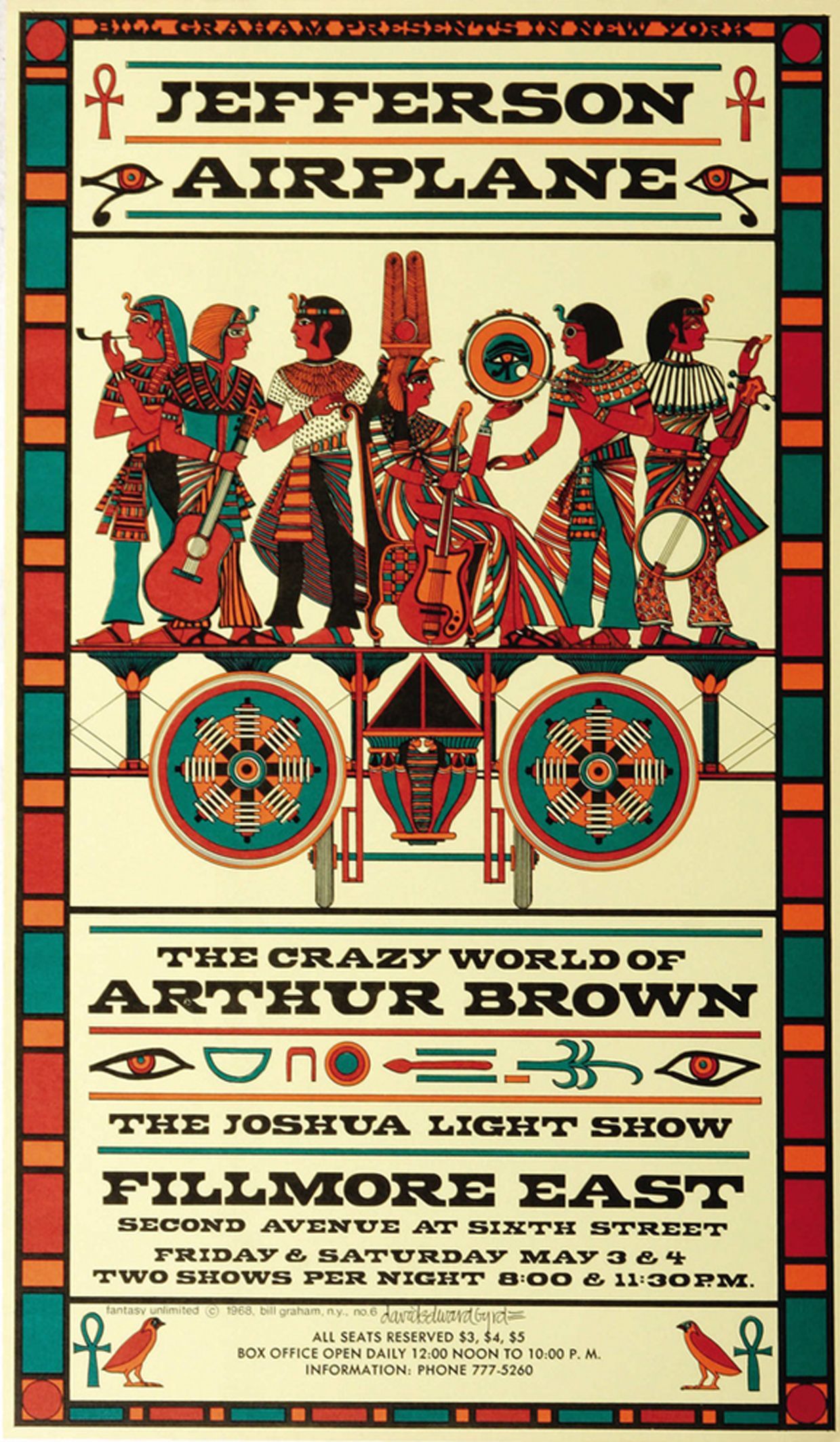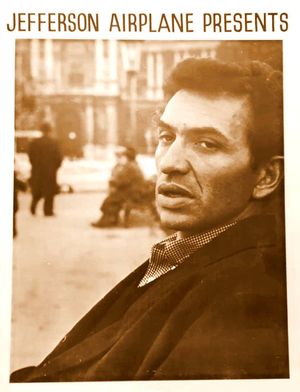 "The first appearance of the Jefferson Airplane at the Fillmore East featured the classic Airplane with Grace Slick and Marty Balin (along with Kaukonen / Kantner / Casady / Dryden), the flagship of San Francisco's  Summer of Love.  The current album was After Bathing At Baxter's. Unlike almost every other band at Fillmore East, the Airplane did not use the Joshua Light Show, but their own light show (Glenn McKay's Head Lights).  For the encore on Saturday night, some reports indicate that various drummers sat in for Spencer Dryden, the first being Mitch Mitchell (of the Jimi Hendrix Experience). All four sets of the Airplane were casually recorded by Fillmore East soundman John Chester."  (liveshowshistory.com)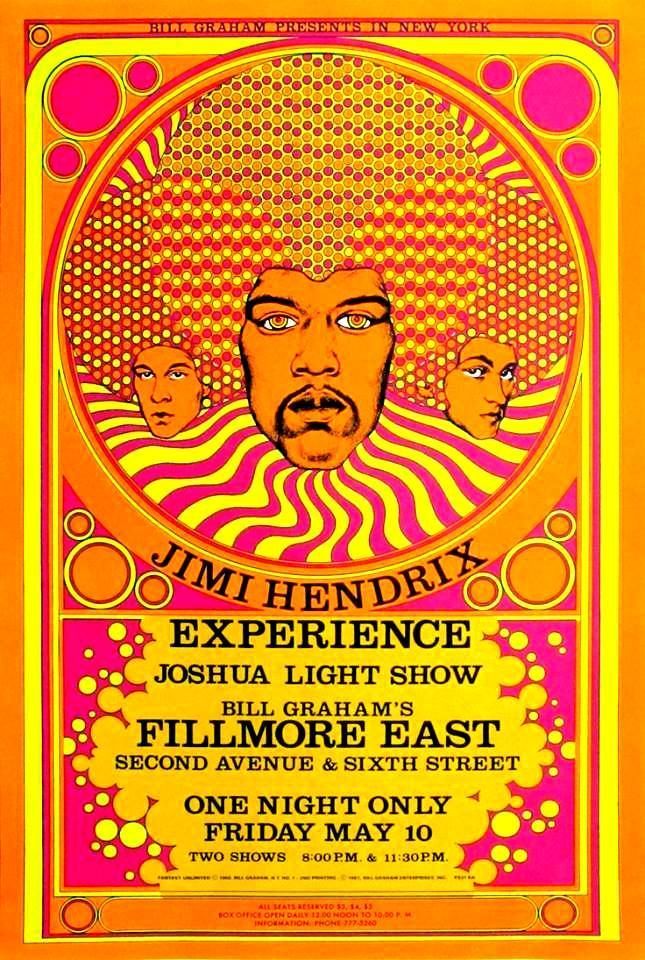 May 10, 1968    Jimi Hendrix Experience & Sly and The Family Stone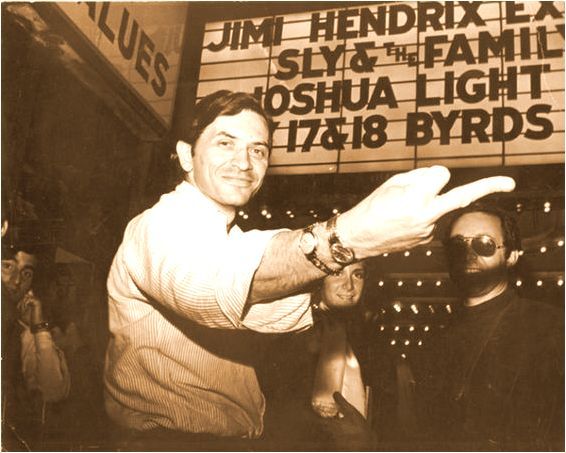 "The Friday night bill at Fillmore East was a rock bill for the ages, featuring one of the biggest rock acts in the world, supported by a group that would soon join Hendrix at the mountaintop. Jimi Hendrix Experience were big and getting bigger, but Bill Graham always excelled at persuading bands and their management that performing at his showcases in San Francisco and New York always paid more dividends than playing a larger place. 
These shows featured the original Experience, with Noel Redding on bass and Mitch Mitchell on drums.One of Hendrix's shows featured a 17-minute performance of Red House, and the lucky patrons who caught either the early or late show never forgot it.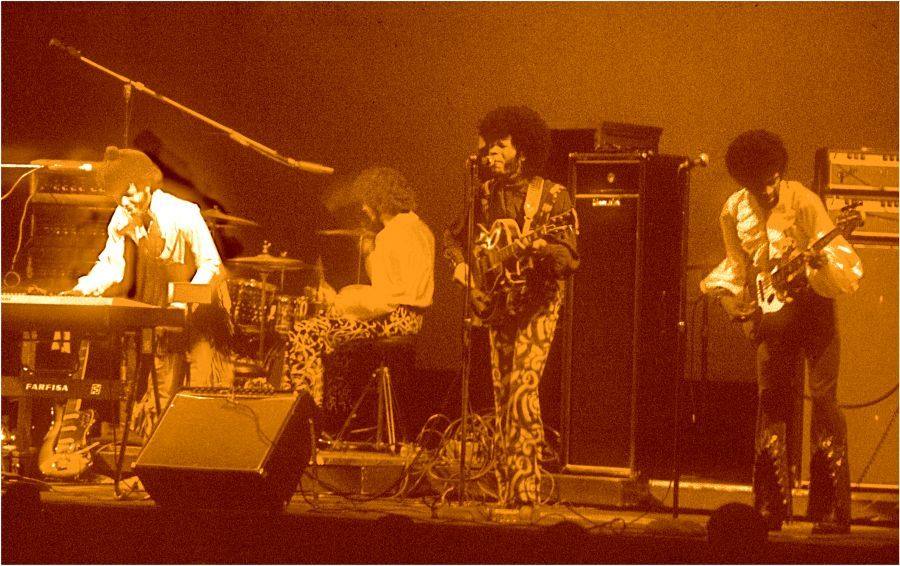 Sly and The Family Stone were truly electrifying performers, and in Joel Selvin's  biography of the reports that their set culminated with Sly, Freddie and Larry Graham dancing into the aisles and leading the crowd out into the street, while Gregg Errico and the horn section wailed away. They absolutely killed the house, and that was before Hendrix came in and shattered the place, and they did it all over at the late show. Truly a night to remember at Fillmore East. 
The Jimi Hendrix Experience never played the Fillmore East again, although Band Of Gypsies did play there (in 1970). However, Hendrix hung out regularly at Fillmore East, when he could, and was a familiar figure backstage." (Rock Prosopography 101 blog)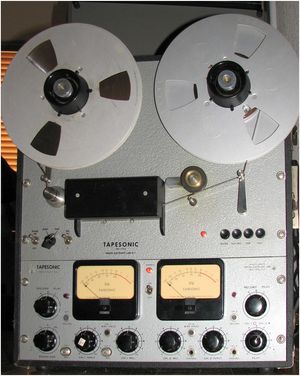 Shortly after the Fillmore East opened, one of the sound technicians secretly fed a wire from the mixing consul out of the Fillmore to an upstairs apartment to record all the shows in two-track stereo on ten-inch reel-to-reel tapes. Many years later, these priceless recordings of hundreds of Fillmore East shows would become part of the Bill Graham Archives, later to be bought by Wolfgang's Vault and made available to the public.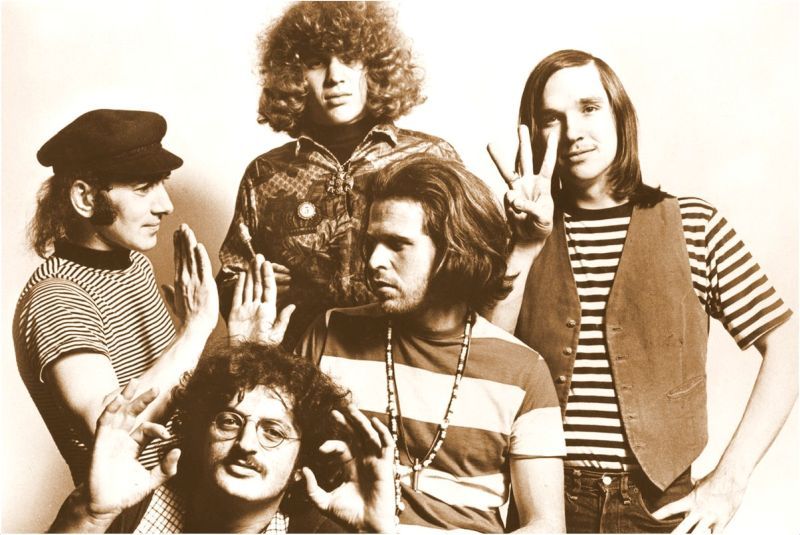 Country Joe & The Fish
Soon enough, the Fillmore East was taking off as audiences flocked to see the eclectic bills that Bill Graham now presented. In May, Country Joe and the Fish had played shows at the Fillmore Auditorium and Winterland in San Francisco before making their debut at the Fillmore East a week later.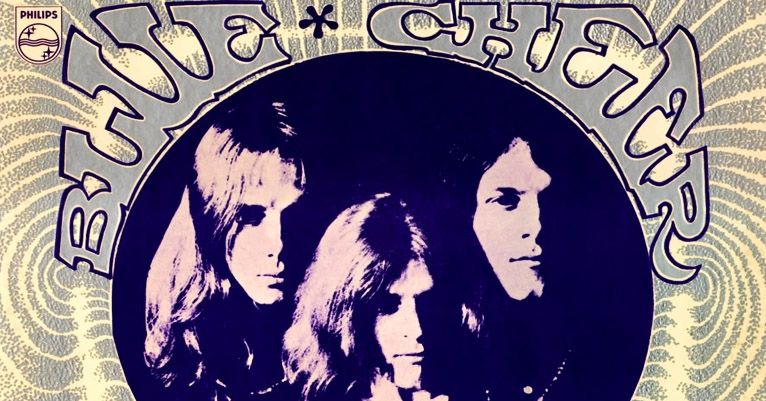 The two opening acts were Pigmeat Markham, who had just had a huge hit with the novelty song "Here Comes the Judge," and Blue Cheer, probably the loudest band to ever play there.  Pigmeat Markham and Blue Cheer?!  My mind reels at the thought of it.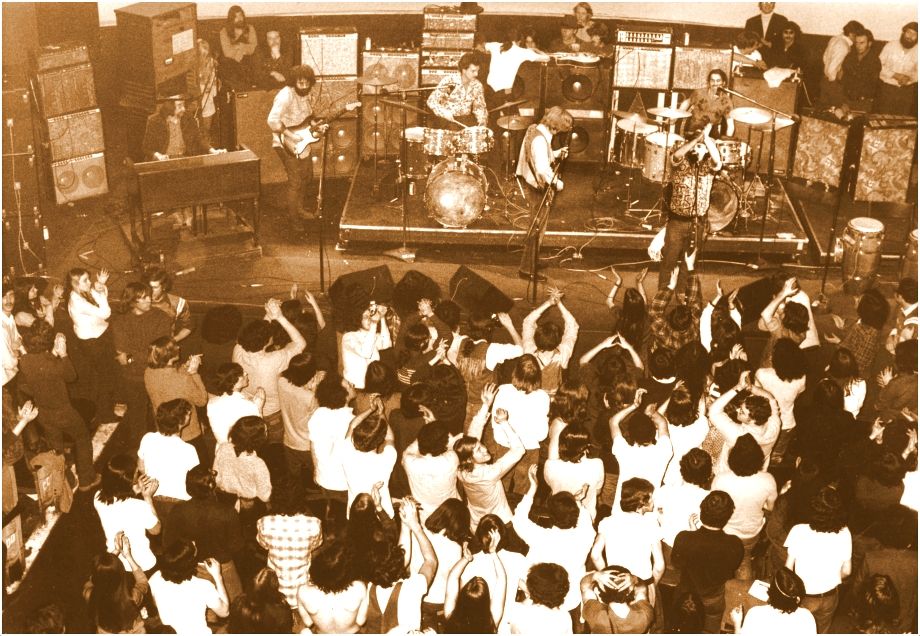 On the weekend of June 14, 1968, the Grateful Dead played the Fillmore East for the first time. Former Yardbirds' guitarist Jeff Beck opened for them, with future Rolling Stone Ron Wood and his then-unknown singer Rod Stewart, making his American debut.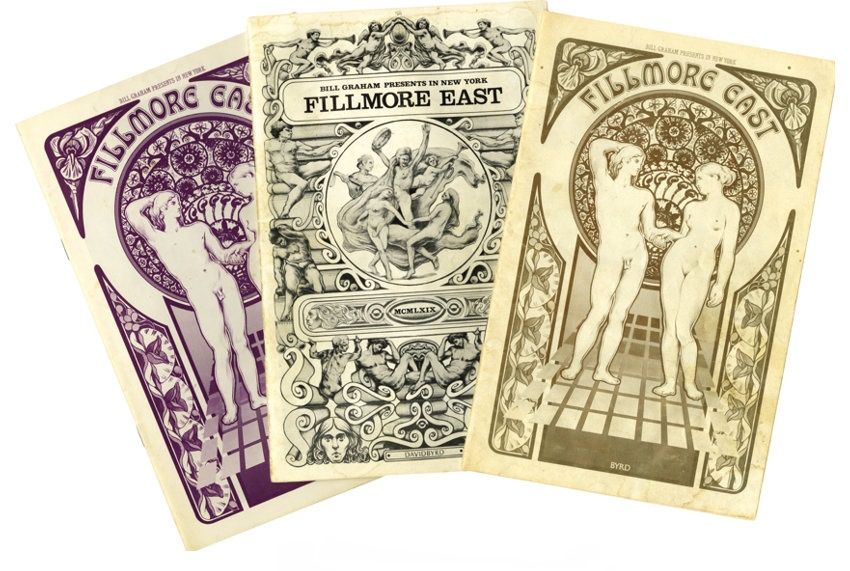 "By the end of 1968, ushers had started handing out programs to patrons at each concert. These pamphlets contained performers' biographies, editorials, public service announcements, and even a guide to other music events around town. Bill Graham was also branching out with eclectic bills, pairing artists from all over the musical spectrum and introducing them to his young rock audience. On January 17, veteran jazz drummer Buddy Rich and his orchestra headlined the Fillmore East, with the Los Angeles rock band Spirit opening. Bill Graham knew he could even risk booking lesser-known jazz greats like Woody Herman or Charles Lloyd, who wouldn't be able to headline, as long as he had a big draw like Led Zeppelin or the Jimi Hendrix Experience." (John Glatt, Live at the Fillmore East and West, Lyons Press)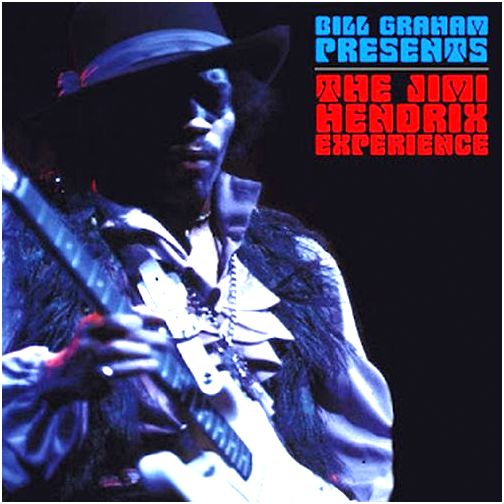 May 10th 1968 Jimi Hendrix, Sly & Family Stone
"On May 10, 1968 the Jimi Hendrix Experience played two shows at New York City's famed 2,600 seat Fillmore East. Hendrix was in town working diligently on his upcoming record yet to be named, Electric Ladyland. It worked out perfectly that while Jimi was recording in the city at the Record Plant, he could and would also play some local concerts.
This particular era for the Experience found them enormously popular, prolifically creative and playing seditious concerts throughout the year that left audiences stunned while growing Hendrix's legend. Jimi's fame was ascending at a furious rate and he was revolutionizing guitar with every concert and recording produced. Which takes us back to May 10, 1968's evening performance. Following the afternoon concert and evening concert's opening act, Sly and the Family Stone, Hendrix took the stage to a sold out room. The Joshua Light Show morphing the stage into a pulsating, liquescent musical mass. 
The evening begins with 'Lover Man', an extended introduction features an exotic bit of riffing illustrating Hendrix is feeling frisky this spring evening in NYC. Jimi's guitar tone is paunchy and the sound of Bill Graham's room is crystalline. The Experience stomps through their opening number with deft precision. The first Hendrix solo takes off with Redding's giant bass grumble setting the foundation. Jimi immediately struts his stuff with a vertiginous series of soaring and diving bends. Devastating stuff, and the crowd responds in kind.
A searing reading of 'Fire' follows hot on the heels of 'Lover Man'. The band has the arrangement in their crosshairs. Mitch Mitchell is punishing his kit filling each empty pause in the song with a crashing series of alien triplets. 
Hendrix is obviously in a groovy mood as he and Noel Redding takes a chance to speak to the crowd following 'Fire'. 'Foxy Lady' follows and begins with the buzzing of electricity and hissing of overdriven amplifiers. The band is frightening in their sound, Jimi barley stays tethered to the earth during the first solo spot. What begins as a smooth bluesy exploration quickly becomes a clinic of molten strings and elongated bends. 
A pause between the songs, features someone from the crowd yelling to the stage, 'Take off your hat!' To which Jimi replies, 'I'll Take off my hat if you take off your pants'. The centerpiece of the show then follows and is a deep and conversational reading of a 15 minute 'Red House'. The following 'Red House' ranges from delicate to distorted and then decorated with silvery strands of feedback. Hendrix does a call and response throughout the verses with his six string vocals 
'Red House' begins, with a delicate groove and smooth probing by Hendrix. His tone, a sweet velvet beam, or a musical insect exploring for the rich pollen payoff. While 'Red House' was nearly always a highlight of Hendrix shows, here it ascends to different and multiple levels. The journey over yonder is filled with detours and unique fragments maybe not always related buy nonetheless stunning. Hendrix's guitar positively moans during the prelude. The sound improves on the recording unbelievably as the cymbals and bass are not as loud so Hendrix's tone can be discerned reverberating off of the walls of the hall. 
Hendrix lets loose with a plethora of rutted and gravel filled licks and with a nonverbal signal takes a spin around the drive with dirty trill to which Mitchell matches with a tempo increase. Let off his leash Jimi begins to move at a different time and space than Noel and Mitch diverging into his rock and roll tool belt with some inexplicably abrasive takes on recognizable licks. At seven minutes, Redding and Mitchell come to the forefront as a delicate shuffle coagulates. Hendrix taps his strings, a breeze pushing the jam forward. Mitchell takes a brief solo spot as Redding and Hendrix fade. The crowd appreciates his abilities and responds in kind. At around ten minutes Hendrix returns with a succulent watery tone from his wah-wah, the band drops out as Jimi constructs a hallucinatory narrative. A return to the verses is a welcome relief from the jaw clenching Hendrix solo spot. 
A substantial wall of soaring feedback follows and precedes a strutting and crowd pleasing 'Hey Joe'. This is the Jimi Hendrix Experience at the peak of their fame in one of the most famous music venues in history, playing one of their most popular cuts. The song is ignited with high octane gas and burned to ash." (talkfromtherockroom.com)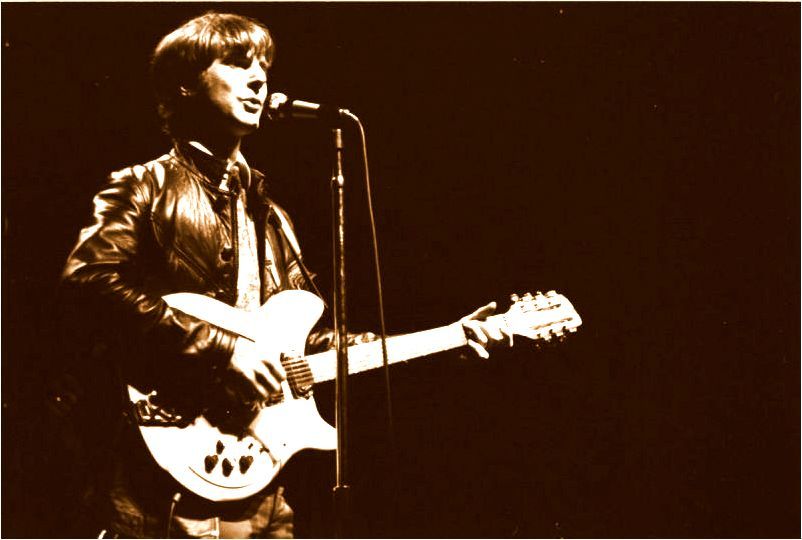 May 17-18, 1968
The Byrds, Tim Buckley, The Foundations 
"The Byrds had been major rock stars since 1965. They had even played the venue in its previous incarnation, The Village Theater (on July 22, 1967, supported by The Seeds and Vanilla Fudge). By 1968, however, while still popular, The Byrds had been through numerous personal and musical changes, and were not as highly ranked in the firmament as before. 
The review in Billboard magazine was a crucial element of Fillmore East's importance. Billboard was the leading music industry trade journal, and in many ways the only source of information about bands on tour. One of the weekend performances in Fillmore East was always reviewed in each week's Billboard, so that meant that all three bands on the bill got National exposure. Managers, particularly of English bands, liked to start tours at the Fillmore East because a good review in Billboard could go a long way towards creating interest in their group amongst booking agents and promoters. 
The Foundations are mainly known for their 1968 hit  Build Me Up Buttercup. Much to the surprise of everyone who recalls the song, they were actually an English group (with some West Indians and a Sri Lankan thrown in for good measure). The Foundations were one of the few English groups to have success playing in a soul style. They had plenty of live experience in England, and they were probably a pretty good live band. In Hjort's book, Foundations bassist Peter Macbeth recalled that their equipment was stolen and that the Byrds wouldn't let them borrow theirs. Equipment hassles were particularly critical at the Fillmore East, since bands rightly felt the pressure of needing to have a great performance there in order to have a successful tour." (rockprosopography101.blogspot.com)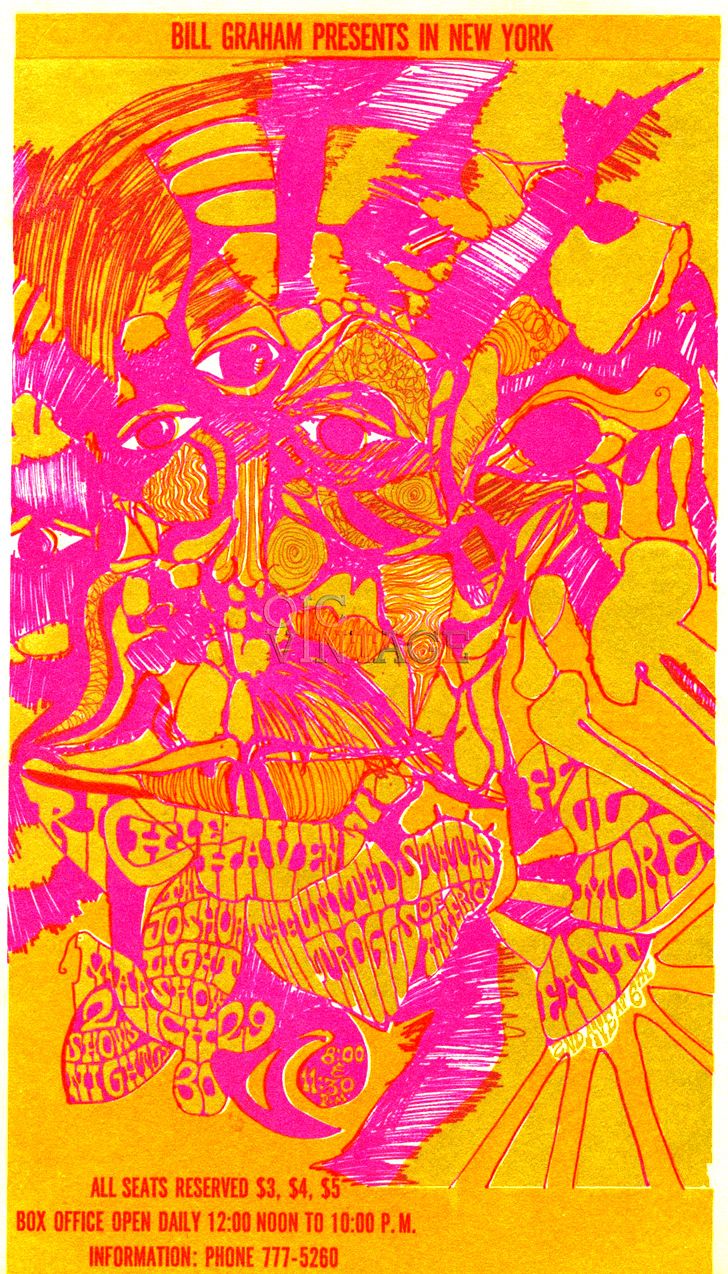 May 27th - 30th
Richie Havens, The Troggs, United States of America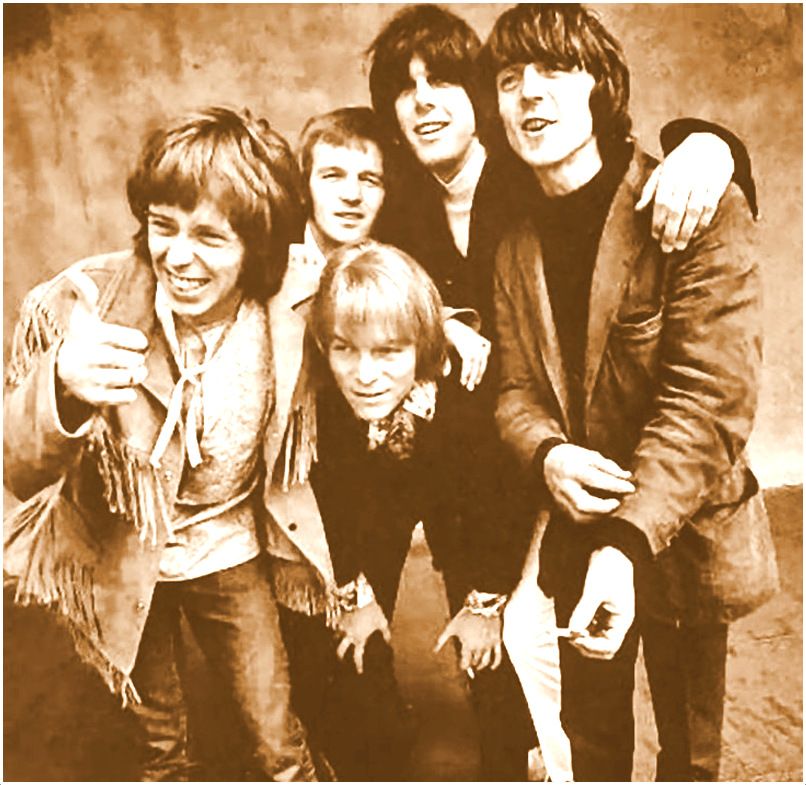 May 31st - June 1st
 Moby Grape, The Fugs, Gary Burton
"Moby Grape had been hyped as the best band to come out of San Francisco.  That may have been true, as it happened, but the hype did them in.  Moby Grape was made up of 5 experienced musicians, all good singers, performers and writers, and handsome to boot. Their second album Wow! had been released just before this show. It was a good album, but not as good as their epic first album, and the underground suspicion of anything popular undermined them. They were beset with management problems and other frustrations, and their best songwriter and resident genius Skip Spence started to have serious drug and emotional problems at this time, so the net effect was very difficult for the band. By all accounts, what should have been a triumphant appearance at the Fillmore East was rendered somewhat ragged because Peter Lewis, angry at the band for various reasons, skipped out on the tour and went home early. 
Sadly, these Fillmore East shows were Spence's last stand with the Grape for some decades, as shortly after these shows, Skip Spence had an episode where he lost touch with reality, went AWOL for a few days and tended up in the Psych Ward at Bellevue Hospital. In any case, after the Fillmore East Moby Grape were effectively reduced to a four-piece band, albeit a very talented one (guitarists Jerry Miller and Peter Lewis, bassist Bob Mosley and drummer Don Stevenson). Although they still had plenty to offer, they now had to live down their previous success rather than just be themselves. Moby Grape were a great band, and their debut album is a 60s classic, but their entire history is a frustrating tale of what might have been. 
The Fugs were often considered as a Greenwich Village version of The Mothers of Invention, although a more accurate comparison might have been Berkeley's Country Joe and The Fish.  The Fugs were not particularly memorable musically, but they were provocative and exciting. They had been around for some time, and in fact had played the first Bill Graham Mime Troupe Benefit on November 6, 1965. In complete contrast to Zappa, they were very political, but only barely musical, singing songs like Kill For Peace and Coca-Cola Douche. 
Gary Burton was a jazz vibraphonist, raised in Nashville and like many young jazz musicians in New York at the time, he liked everything, not just jazz. The original lineup of the groundbreaking Gary Burton Quartet, featuring guitarist Larry Coryell had opened for Cream at San Francisco's Fillmore, among many other rock gigs, and they had released some sensational albums that still sound great today (including Duster and Lofty Fake Anagram on RCA in 1967). By the time of the Fillmore East shows, Coryell had left the group, replaced by the less well-known but still tremendous guitarist Jerry Hahn, formerly with John Handy amongst various others." (rockprosopography101.blogspot.com)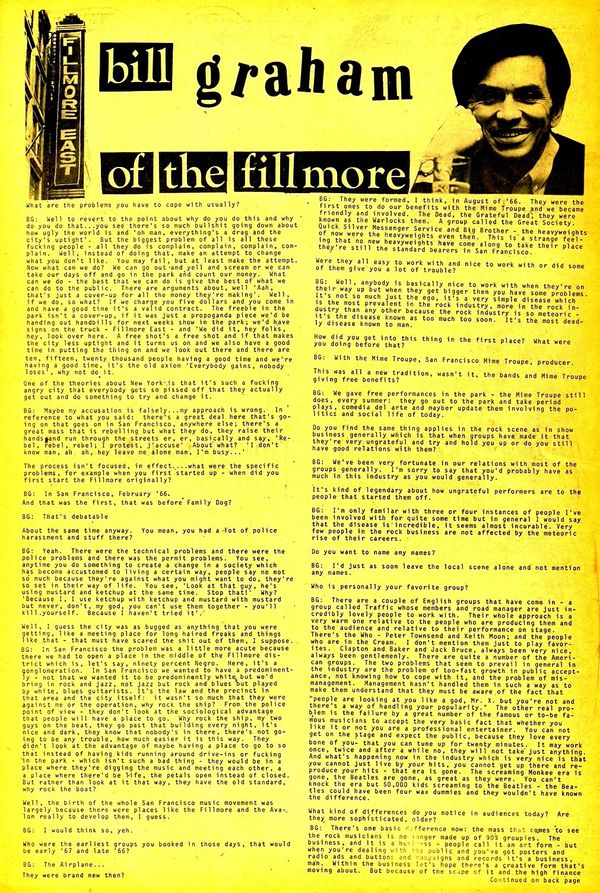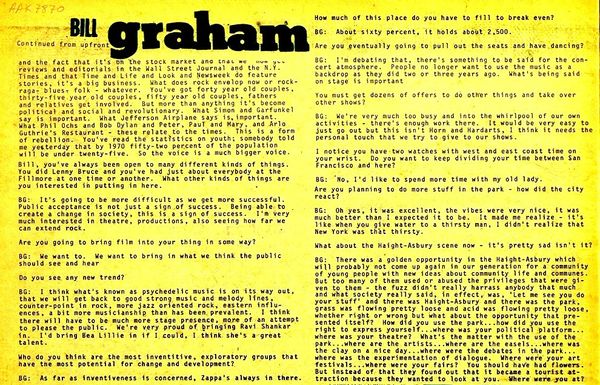 Other Scenes (Village Voice, June 1 1968)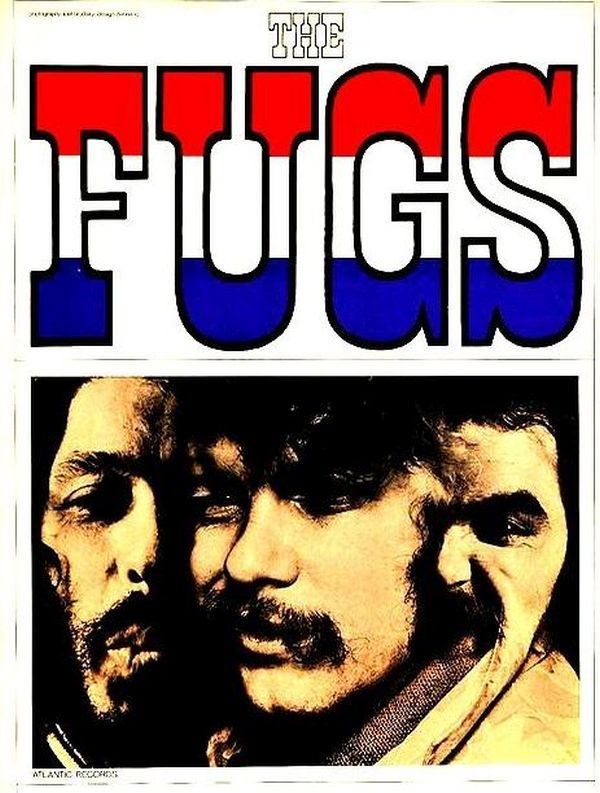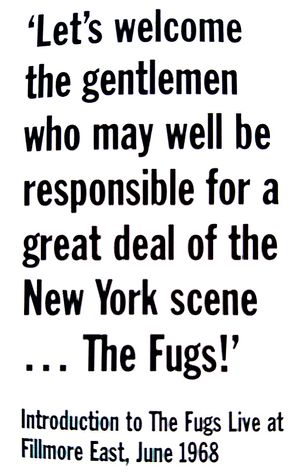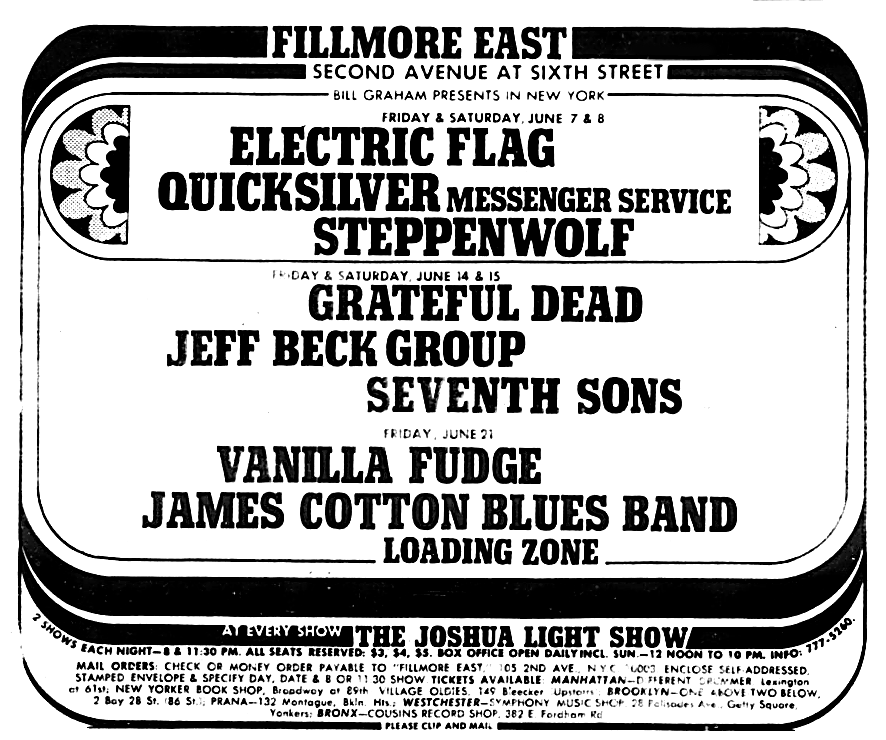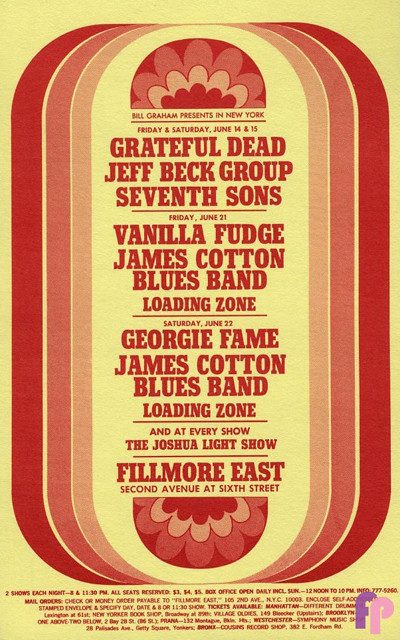 June 14th, 1968
Grateful Dead perform "Caution (Do Not Stop On Tracks)"
into "Feedback" at the Fillmore East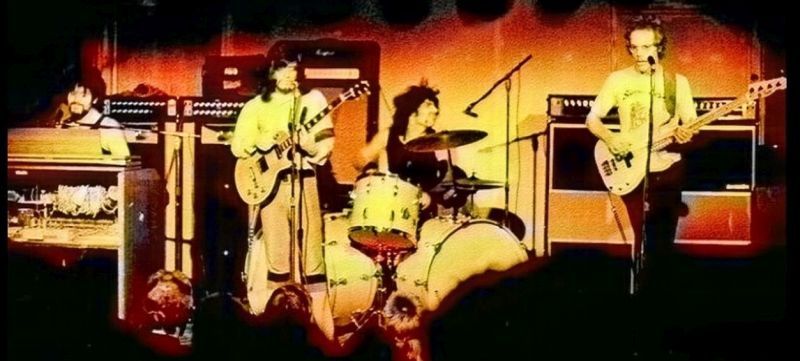 June 21st 
Vanilla Fudge, James Cotton Blues Band, Loading Zone 
"The Vanilla Fudge practically invented 'heavy' rock, doing songs slow and loud, with plenty of Hammond organ and feedback mixed in with highly emoted R&B style vocals.  Bassist Tim Bogert and drummer Carmine Appice were very well-recorded, and their thunderous attack was transformational for English musicians, particularly or members of the yet-to-be-formed Led Zeppelin.  The Fudge had released a heavy rock version of the Supremes You Keep Me Hanging On (the album version of which was 7 minutes long), and the effect was enormous.  In America and England, musicians everywhere realized you could turn one kind of music into another." (All Music)
September 1968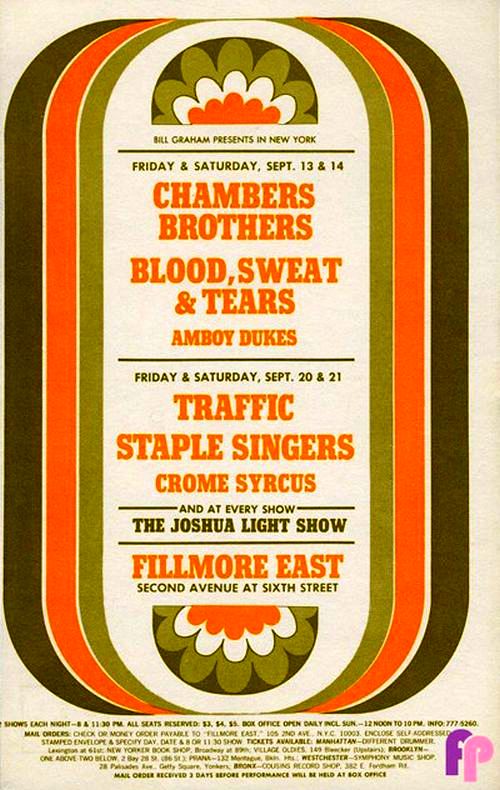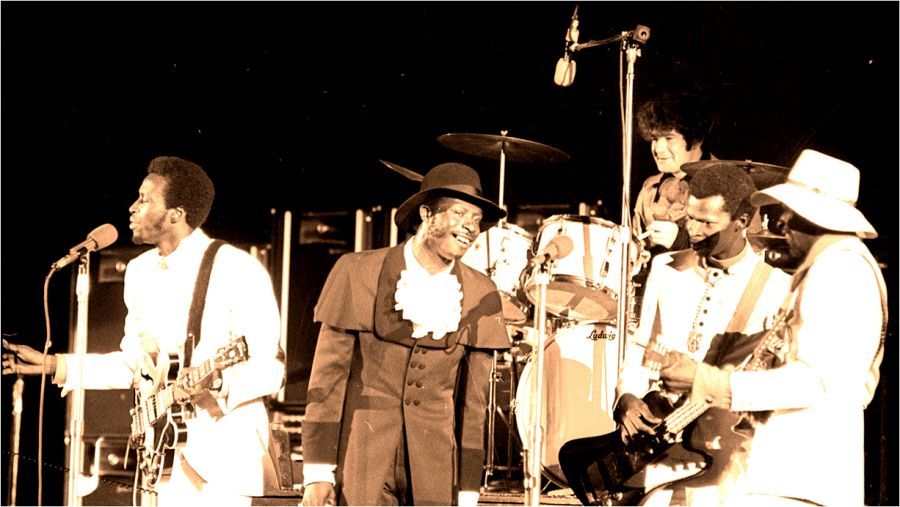 The Chambers Brothers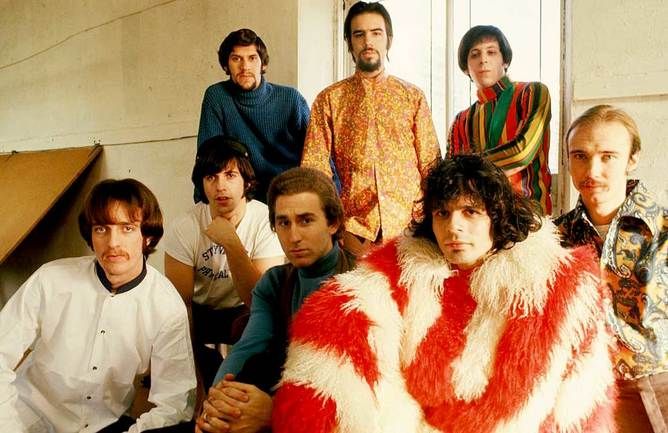 Blood Sweat & Tears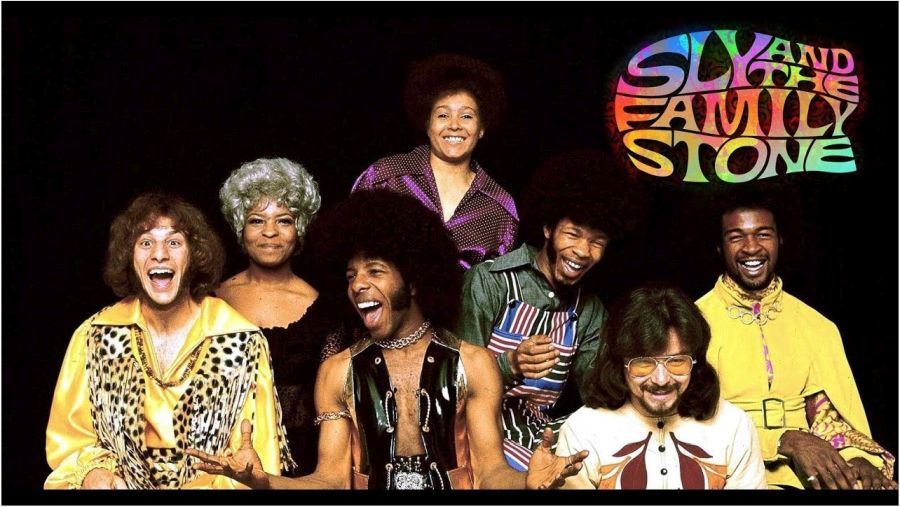 Oct. 4th & 5th 1968 Sly & The Family Stone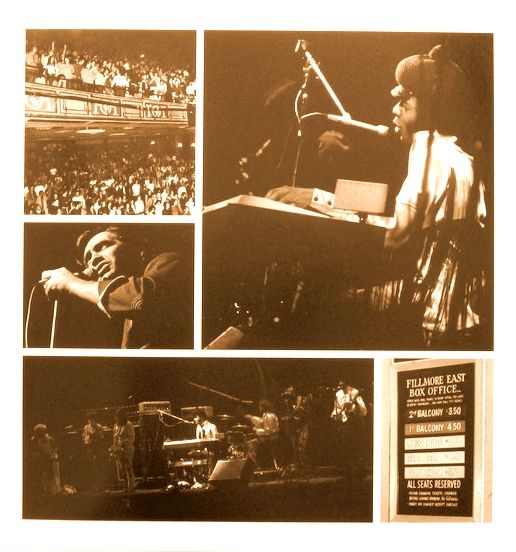 For whatever reason, Bill Graham didn't see what other people saw in Sly and The Family Stone. Initially he wasn't won over by their unique brand of dance music. As a result, he was reluctant to book Sly Stone and his band. Eventually, though, Bill Graham was persuade to go and see Sly and The Family Stone live. This changed his mind. 
Sly and The Family Stone in full flight were a musical powerhouse. Their fusion of soul, funk and psychedelia was winning friends and influencing people. They certainly won over Bill Graham. So much so, that Bill Graham booked Sly and The Family Stone to open for Eric Burdon and The Animals at four concerts a the Fillmore East in October 1968.
From the moment Sly and The Stone strike up Are You Ready, they're in the funkiest of grooves. They work their way through Colour Me True, Won't Be Long, We Love All (Freedom) and a medley of Turn Me Loose, I Can't Turn You Loose. By then, Sly and The Family Stone have won over the Fillmore East. While they were just the support band, they were more than making an impression. Closing the show, were two tracks from Life, Chicken and Love City. As Sly and The Family Stone walked of the stage of The Fillmore East, it was to a standing ovation.
When Sly and The Family Stone opened their late show, it was with two different tracks. M'Lady from Life opened the show, before they turned their attention to Don't Burn Baby from Dance To The Music. Then Sly and The Family return to Colour Me True and Won't, Be Long. From there, they drop in St. James Infirmary, which was already a staple of Sly and The Family's live show. Somehow, Sly and The Family were matching, and sometimes, surpassing the quality of the early show. They were on a mission. 
It was the perfect time to drop in their medley of Turn Me Loose, I Can't Turn You Loose, and then Dance To The Music. By now, everyone in The Fillmore East seems to be on their feet. Now that Sly and The Family Stone have them where they want them, they close the show with Music Love and finally, a medley of Life and Music Lover." (dereksmusicblog.com)
October 18th & 19th 1968 - Jeff Beck, Tim Buckley, Albert King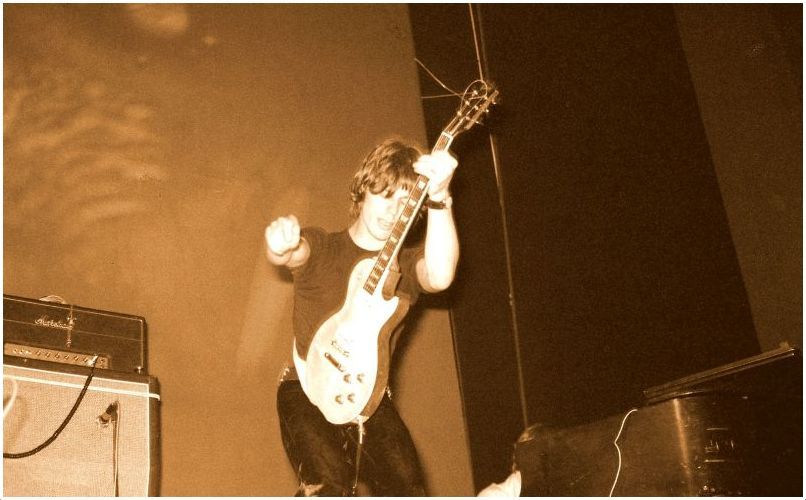 Jeff Beck hitting the groove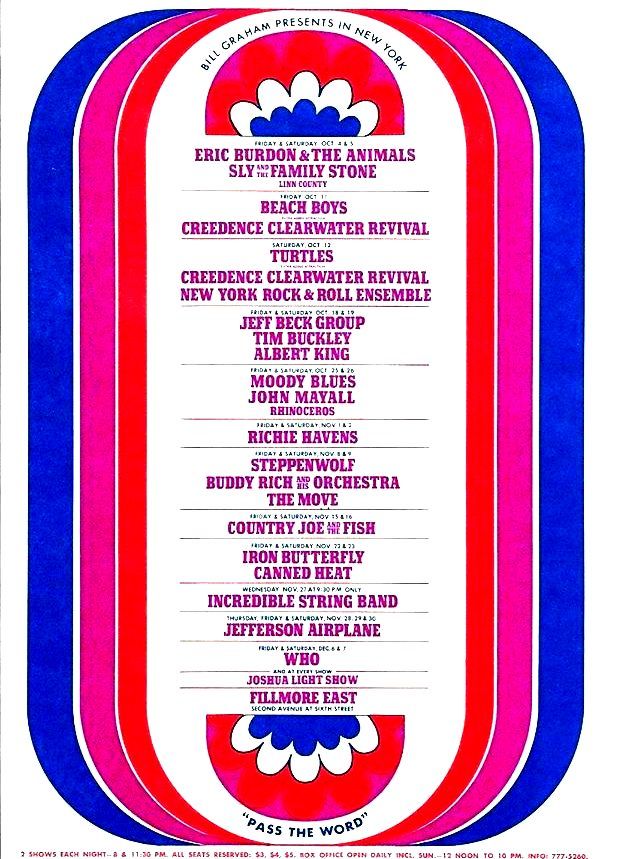 Oct / Nov 1968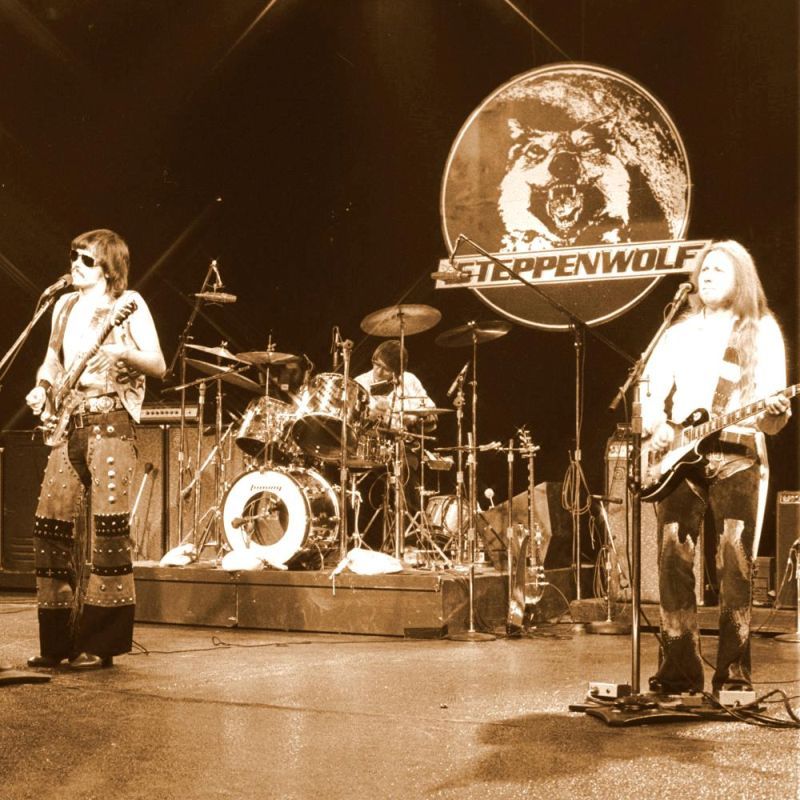 November 9th 1968 - Steppenwolf, Buddy Rich, Children Of God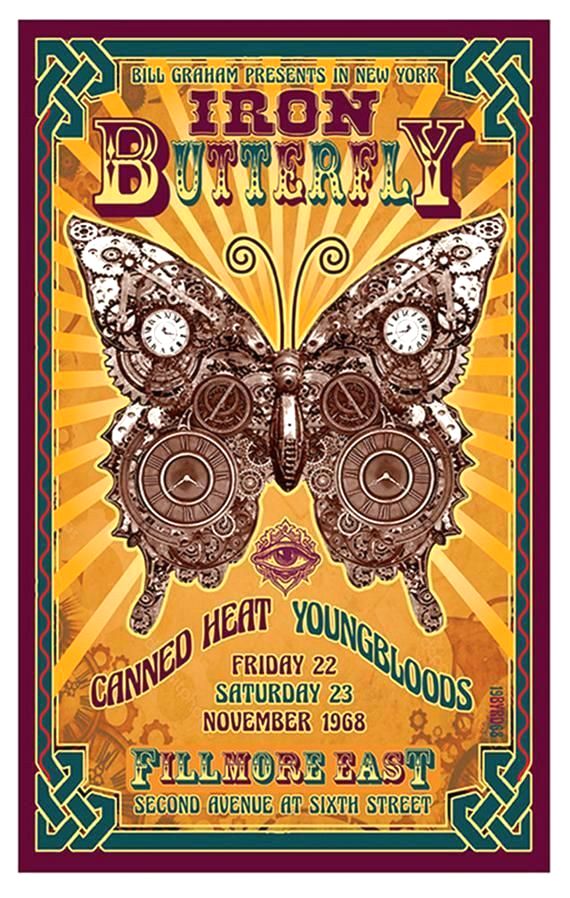 November 22nd & 23rd
Iron Butterfly, Canned Heat & The Youngbloods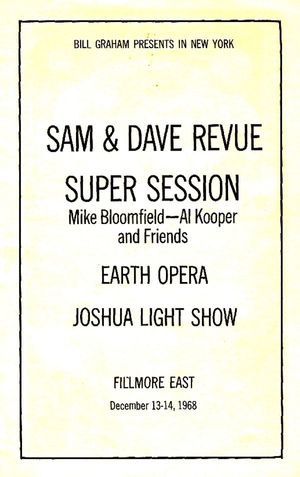 "It was a Friday, two weeks after my 20th birthday. I'd started playing bass about a year-and-a-half before, rock and blues. More recently, I'd fallen deeply in love with soul music, Otis Redding, above all. Otis had died almost exactly one year before and I regretted that I would never get to see him live. But my other Stax/Volt favorites, Sam & Dave, were playing that night at the Fillmore East, which had opened in February of that year. No way was I going to miss this show. 
As I recall, I went by myself, walked up to the box office and bought a ticket, which cost around $4. I sat somewhere in the middle of the orchestra and settled in for the show, a triple bill, like most Fillmore concerts.  
The opening act was Earth Opera, a Boston band which starred then-unknowns Peter Rowan and David Grisman. I don't remember a thing about their set. 
But the second act was a different story: Super Session with Al Kooper and Mike Bloomfield. At first I was a bummed out that Stephen Stills, who played on the first Super Session album, was not present, but I was still psyched to hear Kooper and Bloomfield. I was a big Al Kooper fan from his work with the Blues Project. And from the moment I fell in love – hard – with the Paul Butterfield Blues Band, Bloomfield was one of my guitar favorites. And I had witnessed Kooper and Butterfield on stage together once before at what turned out to be an historic event: Bob Dylan's 1965 concert in Forest Hills (the one where a riot broke out). 
Not far into the Super Session set, Bloomfield stepped up to the microphone and, as I remember it, told a story about encountering this musician from Texas – 'the baddest motherfucker' – the night before at a Manhattan rock club, Steve Paul's The Scene. And then Bloomfield introduced Johnny Winter. 
A wraith-like figure in black, the better to set off his milk white skin and flowing corn silk hair, walked across the stage. The band went into a blues number. Johnny pulled out a harmonica and started to wail. Absolutely killer. 
The next song, B.B. King's It's My Own Fault, kicked off with a Bloomfield solo. When it was time for the vocal – surprise! –  not Kooper, not Bloomfield, but Winter started to sing. Oh. My. God. How was all that sound coming out of this freak's stick figure body? 
And then he picked up a guitar and started to play. You have to imagine the context to appreciate the impact of this audacious unknown. He wasn't just playing taking a solo, he was daring to follow the great Mike Bloomfield – and more than holding his own. Stunning. Was this skeletal apparition the next blues/rock guitar god?
On that night in 1968, the Fillmore audience was blown away by Kooper and Bloomfield and especially Johnny Winter, who came riding out of nowhere like an albino vision of a wild west gunslinger. But the show was far from over. Unbelievably, it got even better. Sam & Dave came onstage backed by a huge band featuring two drummers and about a dozen horn players, as if hellbent on blowing away the Fillmore hippies, a far different crowd than their usual audience. And it worked. Sam & Dave's combination of fiery vocals and exuberant showmanship won over the Fillmore as surely as Otis conquered the Monterey International Pop Festival.  Suffice to say, I got far more than my four dollars worth at the Fillmore."  (thekatztapes.com)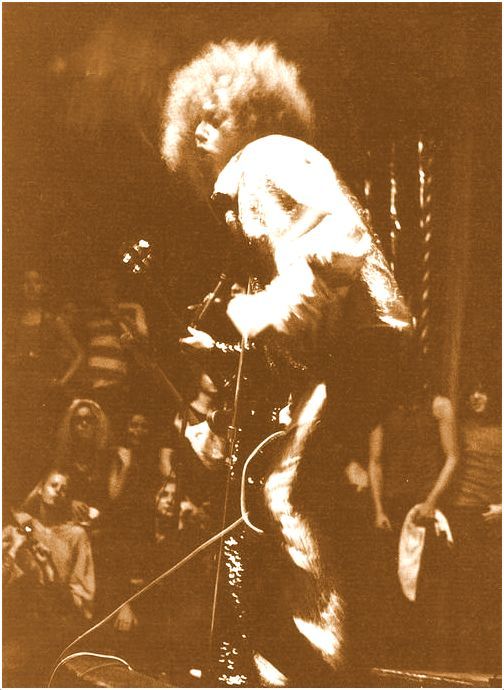 December 18 - MC5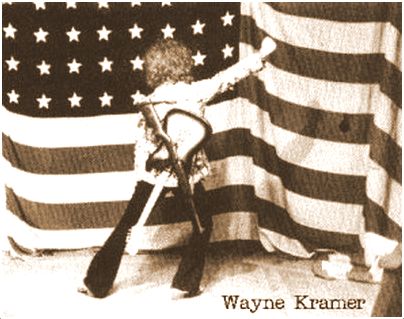 Wayne Kramer shares his memories of the show he and his band, the MC5, played at the Fillmore East:  "Elektra Records wanted to present their new acquisition. The MC5, to New York City with a big bang. It was a bang too, but not the one they had in mind. A climate existed in the Lower East Side of Manhattan where a group of militant radicals called the 'East Village Motherfuckers' had forced promoter Bill Graham to let them use the Fillmore on Wednesday nights. Community Nights was what they called them. Anyhow, we went in and played a free and unadvertised Wednesday night show for our comrades in the Community. The gig went down fine and a good time was had by all. 
The following Wednesday, Elektra rented the Fillmore and did a huge radio promotion with ticket giveaways on the air and all the accompanying hoopla. The Motherfuckers were pissed off about losing their night and demanded Graham give up free tickets for them and their peeps. Graham was not the kind of guy to back down to intimidation, so he stood out in front of the theater and held the Motherfuckers off with sheer heart and moxie. For his bother, some Motherfuckers beat him with a chain and broke his nose. Graham, in his delirium, thought MC5 singer Rob Tyner was the chain wielder, and promptly banned the MC5 from working at either Fillmore, or, for that matter, any other venue he controlled. He also used his considerable influence to make sure that we didn't work for any of his friends in the promotion business either. 
Meanwhile, as all this is going down out front, the band is on-stage trying to do our big NYC debut show. The stage wings were crowded with Motherfuckers waiting for us to give the word to burn the place down. Of course we weren't about to give any such command and their anger started to turn on us. I tried my brush back technique and got little in the way of working room. Tough crowd. We finished our set and escaped to the dressing room while the motherfuckers and the street maniacs tried to run out the door with our gear. Our crew valiantly battles to hold on to our stuff and the greatest blunder in record business tactics imaginable happens: two limousines show up to carry the band back to the hotel. The revolutionaries saw red! "Limos!" The symbol of capitalist imperial-ism. Limos. The Motherfucker women were screaming and weeping about how we had sold the revolution out. They were smashing our records against the Cadillac limos tail fins. Crying at the top of their lungs: 'Bastards! Pigs! Phonies! Sell-outs!' 
 I stopped in the street as the guys ran for the cars. I knew I had to straighten this out ASAP. This was bad, bad, bad. They got it all wrong. They didn't understand. I need to fix this. So there I stood, in the middle of an angry mob trying to explain White Panther/MC5 political theory, while Motherfuckers are agitating the speed freaks and street nuts into taking swipes at me with their knives. Finally, two Motherfucker lieutenants pick me up and cover me with their bodies to get me out of the crowd and down Second Avenue to safety. Not a giant riot, but a sure thrill for my young ass."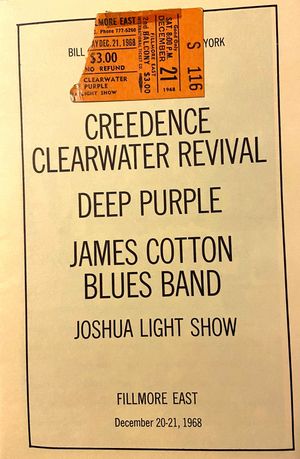 December 31 New Year's Eve
Chambers Brothers, Mother Earth, Joshua Light Show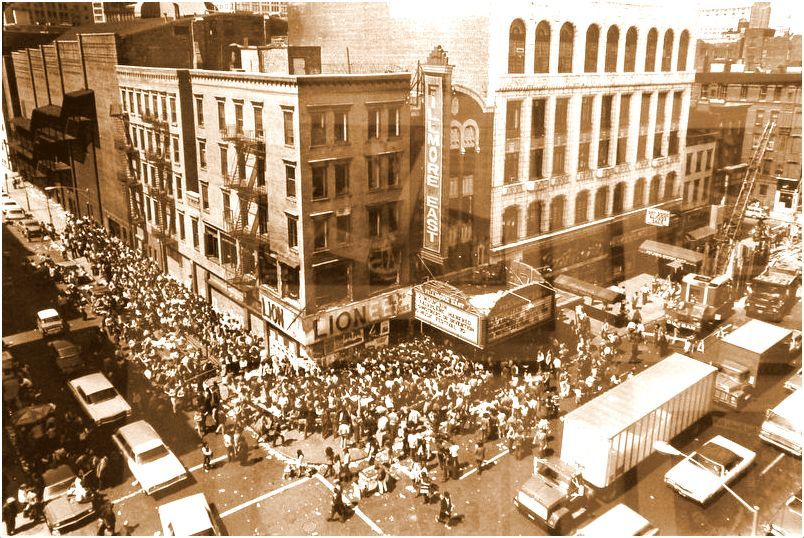 I came across this article about the Fillmore East that was written by a fella named Charlie Finch.  He describes his experiences at Bill Graham's fabled music venue:
"Oh to be 16 again, dangling your legs over the balcony rail at the Fillmore East, a big bag of weed on your lap, your longhaired, free-loving babe snuggling your shoulder, and a sheet of water-pure windowpane acid in the pocket of your flannel shirt. On stage, the most beautiful woman in the world, Grace Slick, leans against an amp, intoning her immortal Bear Melt while the oil-based mandalas of Joshua Light bounce around her. Bliss! 
Just remembering the bills I saw at Bill Graham's East Village pleasure palace sends flashbacks up my spine: The Dead, Love and the Allman Brothers; The Mothers of Invention and the Youngbloods; The Kinks and the Byrds. Of course, there were the phenomenal Jefferson Airplane concerts that were always followed the next day by an even longer, better, more cosmic, free set in Central Park. And who can forget those weird Fillmore opening acts: Sea Train, The Sons of Champlin, Stone the Crows and a guy named Chris who played gongs with various parts of his body and always opened for the Airplane? 
Fillmore habitués were divided into two classes: Airplane freaks (like yours truly) and Deadheads. Each liked and respected the other's group, attending each others' gigs, but there were differences. For Airplane freaks, Ms. Slick was Alpha and Omega, her searing voice and long dark hair riding the chuggachuggachugga of Jack Casady and Jorma Kaukonen. Marty Balin and Paul Kantner took stage turns as her consort. The Airplane had a driving sexuality and a commitment to the ethic of free love that drove a true acidhead couple to the heights of ecstasy. 
The Dead's main icon at the time was not so much Jerry Garcia as that ultimate biker Ron McKernan (a.k.a. Pigpen). Pigpen had a gravelly voice, no commercial potential and was a primo stagehog. Deadheads, a bit alienated and often unable to get laid, strongly identified with Pig's sense of danger and self-destruction. Yet it cannot be denied that the Dead made their best music in 1967-69, with the immortal discs Anthem of the Sun and Aoxamocoa (pronounced "Wazamozoa"). These records, along with the Dead's best tune, Dark Star, were the Kant and Kierkegaard of LSD philosophy. Who was St. Stephen, anyway? (He was Stephen Gaskins, the head of a Memphis cult which supported itself by marketing molasses.) The Dead philosophy embodied the acceptance of mortality and timelessness: 'he knows he has to die' is the main refrain of Anthem. The Angels, the leather, the menacing Pigpen turned each Dead gig into a crystal ship moving towards the heart of darkness. 
Dead concerts put the green-shirted staff of the Fillmore East on red alert, though these ushers were lambs compared to today's steel-brained club bouncers. The biker fraternity hung around the Fillmore's bathrooms looking to pick up badges of courage: a knife fight or an overdose. At the Airplane concerts, the johns were reserved for nymphettes and free love. 
The dominant dude at the Fillmore East was the Brooklyn-born ex-crony of Frank Sinatra, Bill Graham, who seemed to cross the country as if by magic from his West Coast clubs, Fillmore West and Winterland, on any given weekend.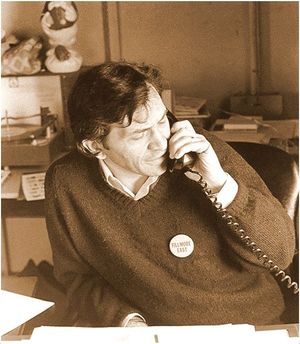 Graham argued with audiences from the stage, checked crowds at the door and engaged in harangues with those protesting the high price of tickets ($4!). One-time performance pioneers Julian Beck, Judith Malina and the Living Theater attempted to turn the Fillmore East into a free theater, only to have Graham drive them out in defense of his right to make a profit. But, the Fillmore had no drug busts, there was always a doctor in the house and vibes were good. The intimate lower balcony and steep cheap seats put everyone on top of the stage. Graham even provided cute little programs, which are probably worth a fortune in flea markets. 
In many ways the crowd was the show. Frank Zappa habitually sent most of his band members, like Native American drummer Jimmy Carl Black, into the aisles for the duration, dancing and choogling. Banana of the Youngbloods brought young girls on stage to tinkle his piano, and Pigpen used to leap into the first row. As most of the audience used psychedelics, contact highs were common. No fear of sex, no burnout, just free love. Instead of old winos, beautiful 14-year-old girls in beads and shawls, just in from the coast, panhandled in the lobby." (www.artnet.com)

1968 Concerts @ The Fillmore East 
MARCH
08 - Big Brother and the Holding Company, Tim Buckley, Albert King Lights: Joshua Light Show, 
22 / 23 -  Doors, Ars Nova, Crome Syrcus, Joshua Light Show 
29 / 30 - Richie Havens, Troggs, United States Of America, Joshua Light Show 
APRIL
05 / 6 April 1968 - The Who, Buddy Guy, Free Spirits, Joshua Light Show 
12 / 13 April 1968 - Butterfield Blues Band, Charles Lloyd, Tom Rush, Joshua Light Show 
19 / 20 April 1968 - Mothers Of Invention, James Cotton, Joshua Light Show 
26  / 27 April 1968 - Traffic, Blue Cheer, Iron Butterfly, Joshua Light Show 
MAY
03 / 04 May 1968 - Jefferson Airplane, Crazy World Of Arthur Brown Lights: Joshua Light Show 
10 May 1968 - Jimi Hendrix, Sly & Family Stone Lights: Joshua Light Show 
11 May 1968 - Autosalvage, Group Therapy, Joyfull Noise Lights: Joshua Light Show 
17 / 18 May 1968 - The Byrds, Tim Buckley, Foundations Lights: Joshua Light Show 
24 May 1968 - Ravi Shankar, Alla Rakha 
25 May 1968 - Country Joe & The Fish, Blue Cheer, Pigmeat Markham Lights: Joshua Light Show 
31 May 1968 - Moby Grape, Fugs, Gary Burton Quartet Lights: Joshua Light Show 
JUNE
01 June 1968 - Moby Grape, Fugs, Gary Burton Quartet Lights: Joshua Light Show 
02 June 1968 - Bill Cosby, Janice Nian, Frankie Dunlop & Maletta Lights: Light By Pablo 
05 June 1968 - Incredible String Band, , WBAI-fm Benefit,  
07 / 08 June 1968 - Electric Flag, Quicksilver, Steppenwolf Lights: Joshua Light Show 
14 / 15 June 1968 - Grateful Dead, Jeff Beck, Seventh Sons Lights: Joshua Light Show 
21 June 1968 - Vanilla Fudge, James Cotton, Loading Zone Lights: Joshua Light Show 
22 June 1968 - Georgie Fame, James Cotton, Loading Zone Lights: Joshua Light Show 
JULY
19 / 20 July 1968 - Jefferson Airplane, H.P. Lovecraft
AUGUST
02 / 03 August 1968 - Big Brother and the Holding Co., Staple Singers, Ten Years After, Joshua Light Show 
SEPTEMBER
09 / 10 September 1968 - Joan Baez and ? 
13 / 14 September 1968 - Chambers Brothers, Blood Sweat And Tears, Amboy Dukes, Joshua Light Show, 
20 / 21 September 1968 - Traffic, Staple Singers, Crome Syrcus, Joshua Light Show 
27 / 28 September 1968 - Country Joe & Fish, Ten Years After, Procol Harum  
OCTOBER
04 / 05 October 1968 - Eric Burdon & The Animals, Sly & The Family Stone, Linn County, Joshua Light Show 
11 October 1968 - Beach Boys, Creedence Clearwater Revival, Joshua Light Show 
12 October 1968 - Turtles, Creedence Clearwater Revival, NY Rock & Roll Ensemble, Joshua Light Show 
18 / 19 October 1968 - Jeff Beck, Tim Buckley, Albert King Lights: Joshua Light Show 
25 / 26 October 1968 - Moody Blues, John Mayall, Rhinoceros Lights: Joshua Light Show 
27 October 1968 - Skip James, David Peel, Happy & Artie Traum, Pete Seeger, The Pennywhistlers, John Beecher, Jerry Jeff Walker (Benefit for "Sing Out") 
NOVEMBER
01 / 02 November 1968 - Richie Havens, Quicksilver, The McCoys, Joshua Light Show 
08 / 09 November 1968 - Steppenwolf, Buddy Rich, Children Of God, Joshua Light Show 
15 / 16 November 1968 - Country Joe & The Fish, Joshua Light Show 
22 / 23 November 1968 - Iron Butterfly, Canned Heat, The Youngbloods, Joshua Light Show 
27 November 1968 - Incredible String Band Lights: Joshua Light Show 
28 / 29 / 30 November 1968 - Jefferson Airplane, Buddy Guy, Chuck Davis Dance Co. Lights
DECEMBER
04 December 1968 - Duke Ellington, NY Rock & Roll Ensemble 
05 December 1968 -  H. Rap Brown/ Bernadine Dohrn, Herbert Marcuse, Carl Oglesby/ Pete Seeger 
06 / 07 December 1968 - Country Joe & The Fish, Fleetwood Mac, Kusama's Self-obliteration, Joshua Light 
13 / 14 December 1968 - Sam & Dave Review, Super-Session, Earth Opera,  Joshua Light Show 
20 / 21 December 1968 - Creedence Clearwater Revival, Deep Purple, James Cotton Band, Joshua Light 
27 / 28 December 1968 - Butterfield Blues Band, Crazy World Of Arthur Brown, Super Session, Sweetwater 
29 December 1968 - Walter Carlos / Ars Nova, Good Earth / Amer. Brass Quintet, Ny R N' R Ensemble,
31 December 1968 - Chambers Brothers, Mother Earth Lights: Joshua Light Show
---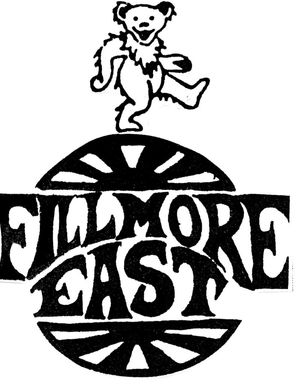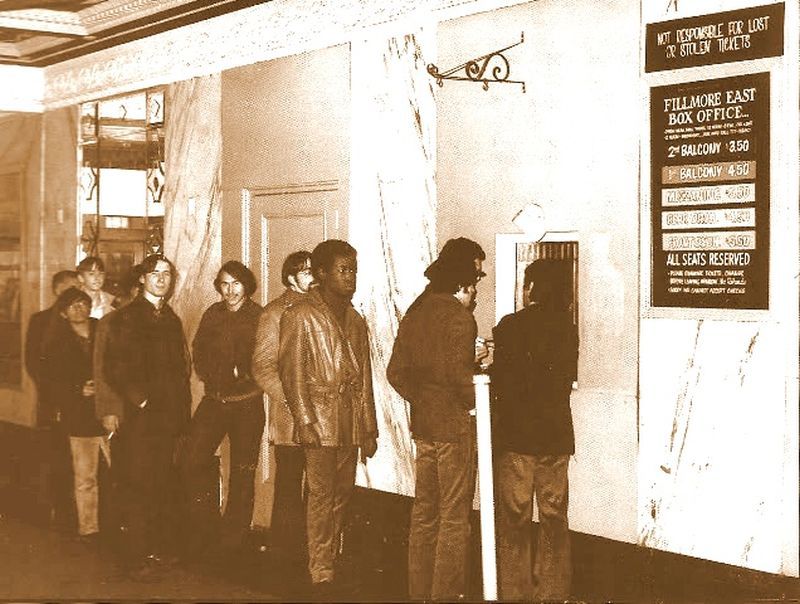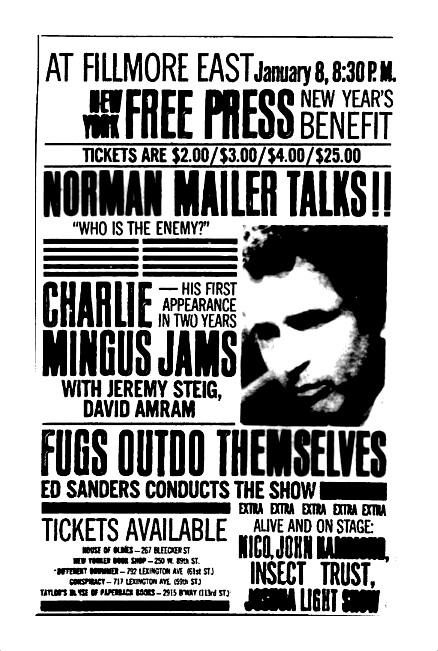 January 8th, 1969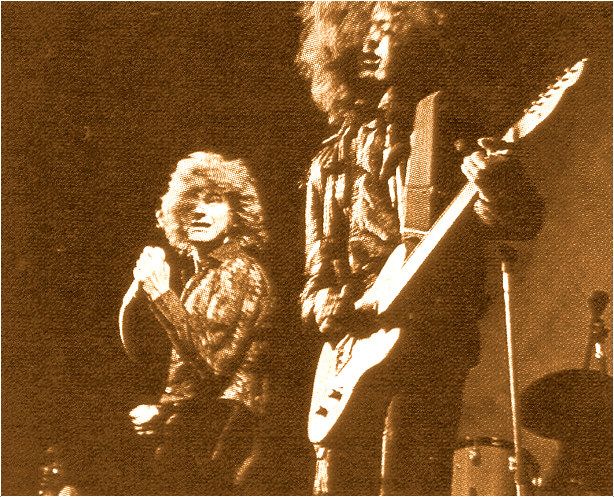 January 31, 1969  Led Zeppelin
"Led Zeppelin is by far one of the best groups on the scene today. In the short time they've' been together, they have had phenomenal success in both personal appearances and record sales in the U.S. Within a few weeks, their LP is in the top twenty on the national charts and is still climbing rapidly. Their first concert at the Fillmore East in NY several weeks ago brought the roof down. 
Their opening number at the Fillmore was the Train Kept a Rollin, an old Yardbird's tune. (Incidentally, Jimmy played on the original version recorded by Lord Sutch about four years ago.) It really got things rolling as they proceeded to create a total sensual experience in sight and sound. Dazed and Confused resembles a musical battle as Plant's shrill cries and Page's piercing tones mimic and answer each other in perfect time. Jimmy switched to acoustical guitar for his solo, Black Mountain Side. Everyone left the stage, all the lights dimmed except for one spotlight on Jimmy seated on a chair. This was the only moment of the concert that it remained completely silent. The audience seemed mesmerized watching him. Again they broke into a hard rock number with Communication Breakdown. Their version of You Shook Me was exceptional. Plant's vocal on How Many More Times and Babe, I'm Gonna Leave You was nothing short of SUPERHUMAN. UNBELIEVABLE!!!! I Can't quit You Babe was done in a slow, grinding blues tempo with Page breaking into another solo. Drummer Bonham was then given the stage for his extraordinary solo which lasted about 15 minutes and their seats. Their last song was Season of the Witch and it set the listeners into a frenzy. 
It was definitely one of the most exciting shows I've ever seen.  They left NY to do a tour of the states. This is a group that has to be seen!" (Denise Kelley, World Countdown, Feb. 1969)
"On the strength of Led Zeppelin's debut LP on Atlantic, we dragged ourselves off a sickbed to venture down to the East Village rock showcase to see what they were like in person. It would make an interesting story indeed to be able to say that after hearing them perform, we were dancing in the aisles and subsequently ran all the way home. Suffice to say that the thought entered our mind, and though the spirit was willing, the flesh was weak. 
In other words, through the Zeppelin album is very, very good, the group in person is even better and the excitement they generate hasn't been felt in the Fillmore since the last appearance of Big Brother & the Holding Company. 
Vocalist Robert Plant falls into the Terry Reid class (a nice class indeed), but the group's musical talents are in a class by themselves and the combination of the two can only indicate super-stardom. A subtle hint of the group's quickly growing status can be found in the fact that while their album had only been out a week and a half, fully half the audience was familiar with it. Need we say more?"  (Cashbox / Feb. 1969)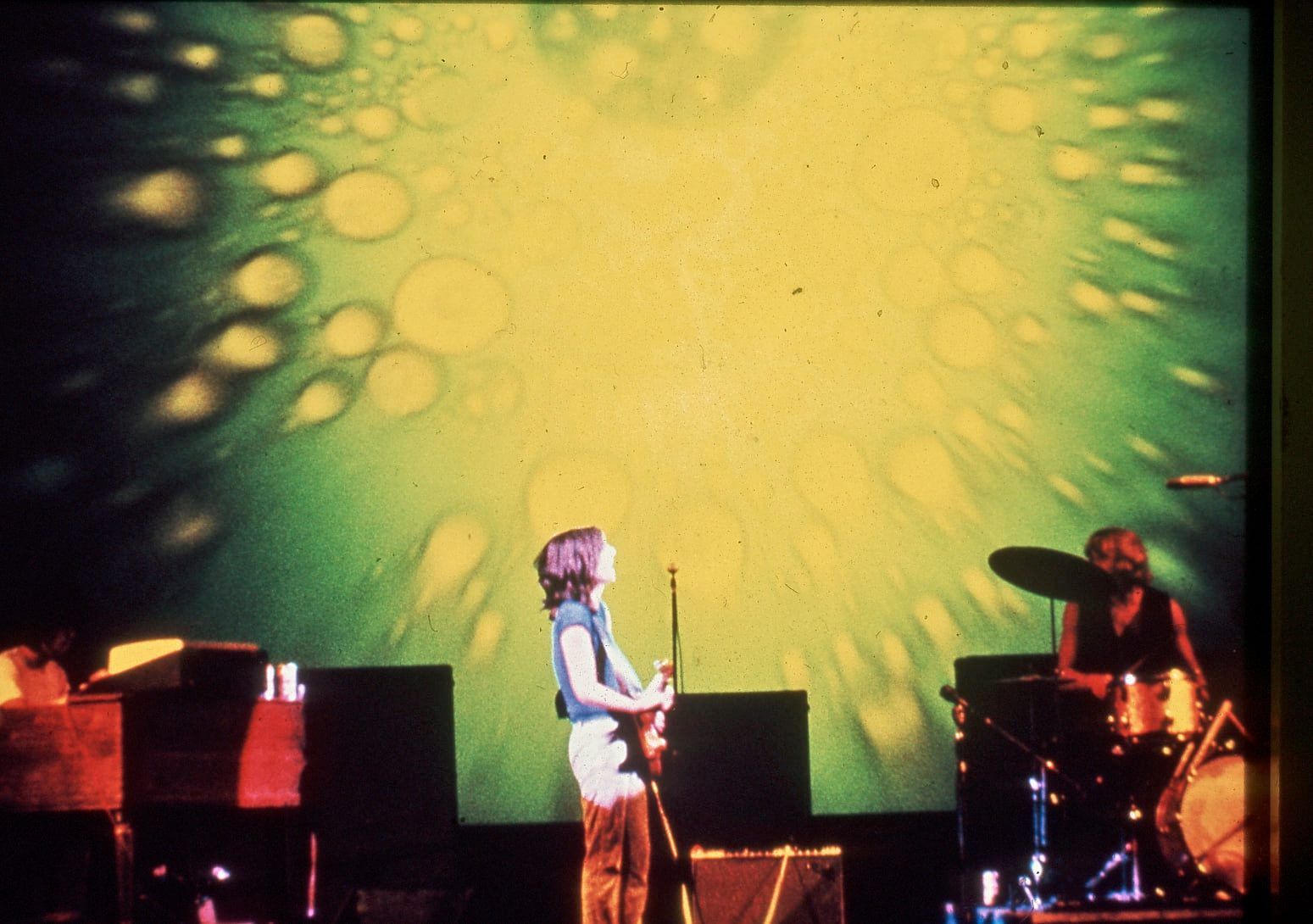 January: Terry Reid opening for B.B. King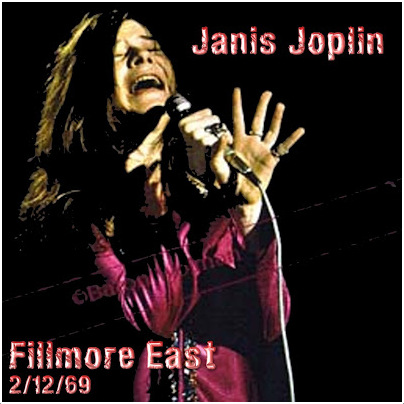 February 12, 1969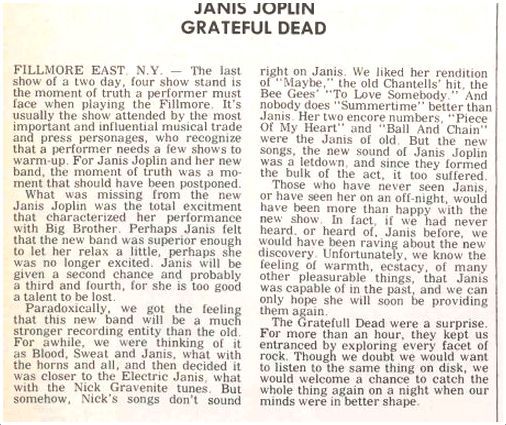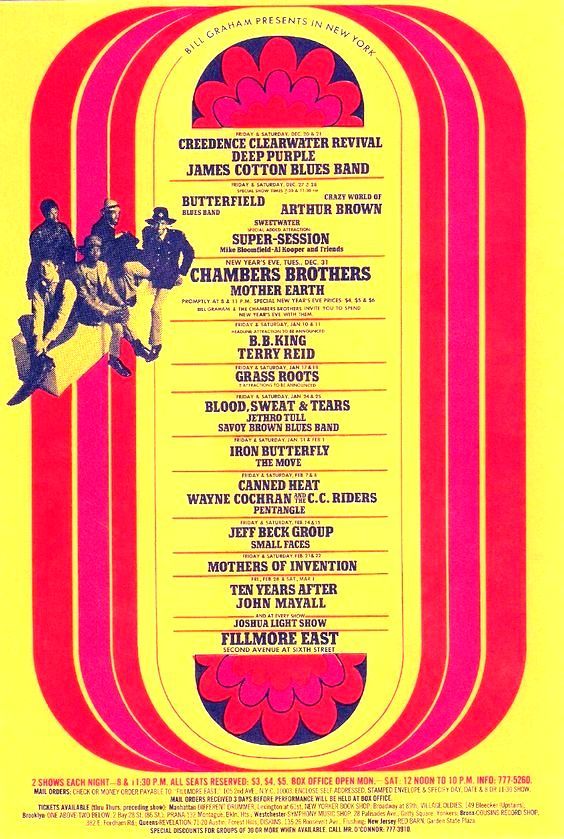 January 24th & 25th
Blood Sweat & Tears
Jethro Tull
Savoy Brown Blues Band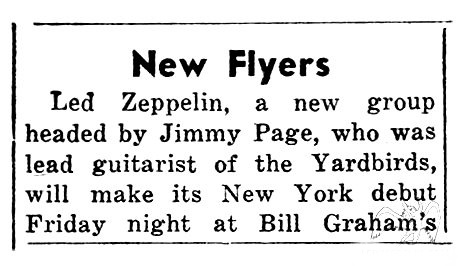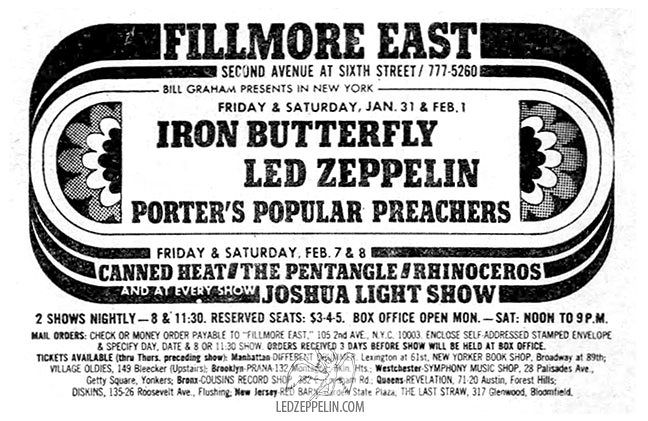 On February 1st 1969,
Led Zeppelin debuted at the Fillmore East,
opening for Iron Butterfly
"An opening set for Iron Butterfly and a very intense and show stealing one at that! Zeppelin was infinitely better than the Butterfly as this set amply shows. Robert's voice in all of its high pitched, amazing 1969 glory and the band playing as well as ever thus far in their short time together. Jimmy is on fire! 
As expected, Led Zeppelin destroyed the audience at the Fillmore East last weekend. Second show Friday night they remained onstage for 90 minutes of absolutely incredible musicianship up and down the entire blues scene. 
The group's success here - their first album swung into both charts this week with sales figures well over 100,000 - was marred only by the fact that John Bonham, 21-year-old drummer had to return to England suddenly after his small child (Jason) had an accident that required stitches in his head. But he flew back in time for the Zeppelin's concert's in Chicago at the weekend." (J. Harris, NME, Feb. 1969)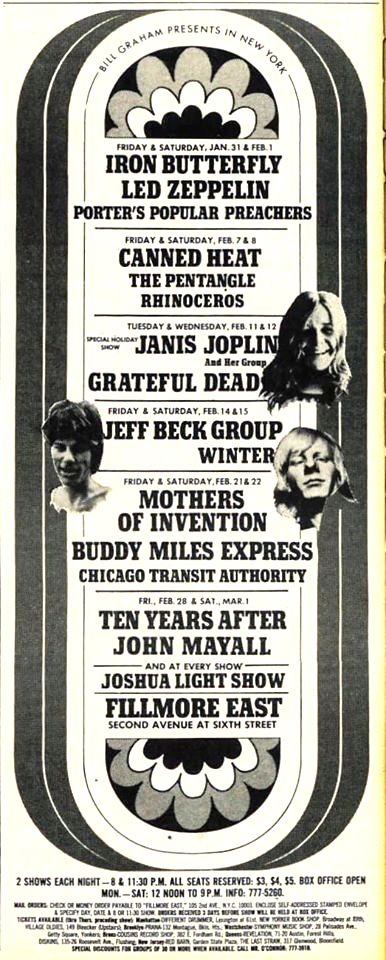 Feb. 15th 1969
Chuck Berry
Winter. Savoy Brown, Aorta

Joshua White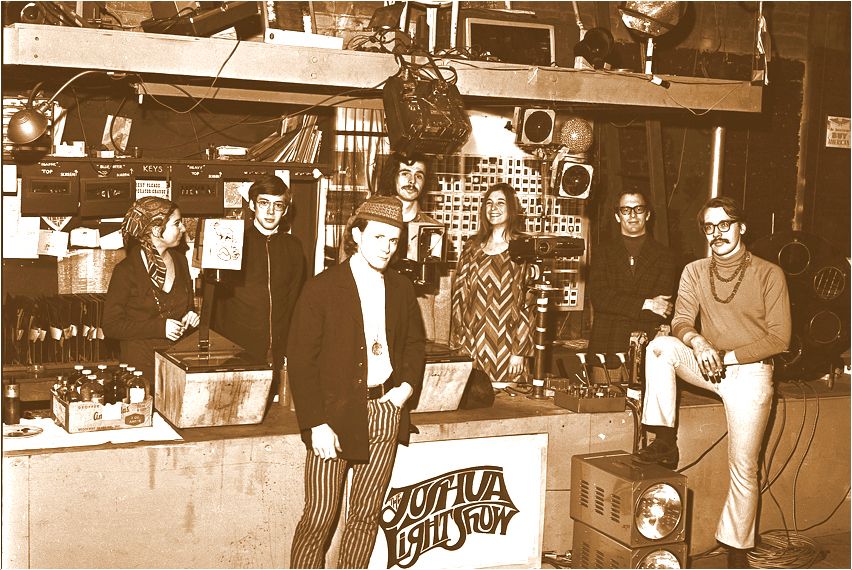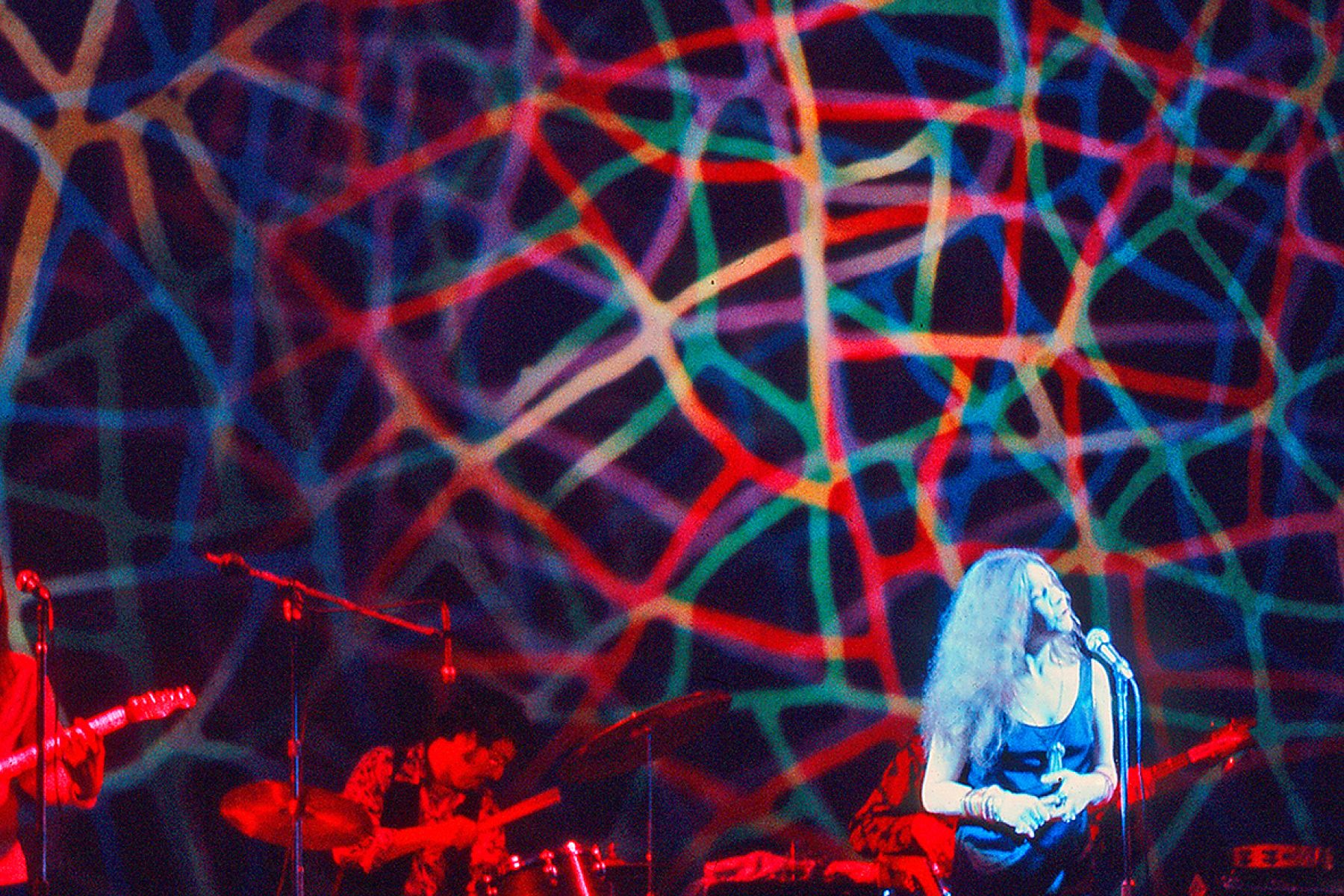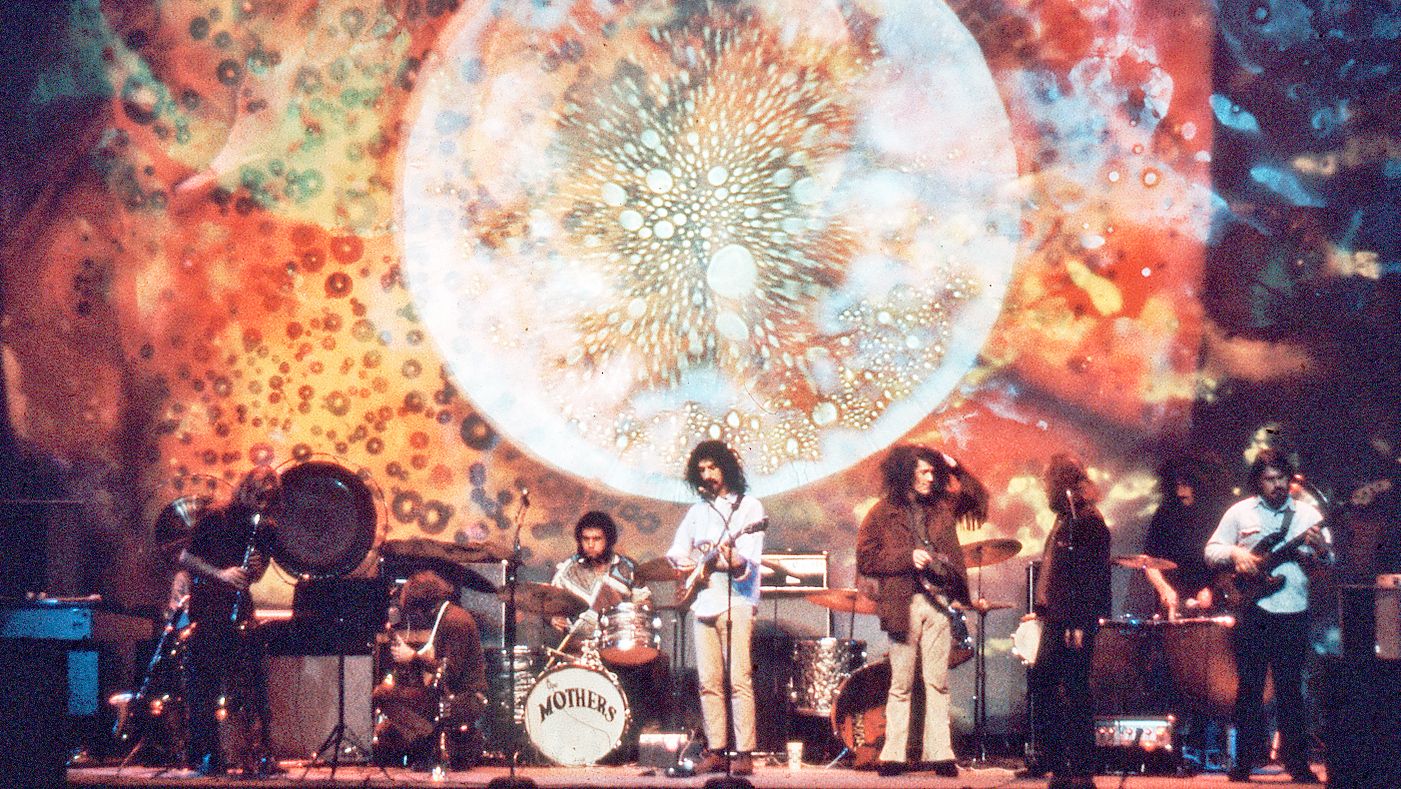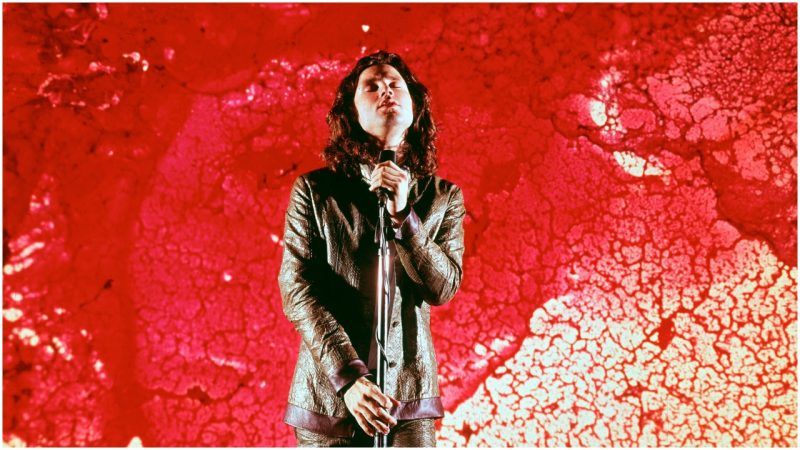 Joshua Light Show
"Writing for the New York Times in a 1969 article titled 'You Don't Have to Be High,' Barbara Bell reported on her sojourn to Bill Graham's Fillmore East rock club on freaky Second Avenue, where she saw the Joshua Light Show produce 'Mondrianesque checkerboards, strawberry fields, orchards of lime, antique jewels, galaxies of light over a pure black void and, often, abstract, erotic, totally absorbing shapes and colors for the joy of it—each a vision of an instant, wrapped in and around great waves of sound . . . first-nighters stagger out dazzled, muttering to themselves about amoebas in colored water.' 
Such associative attempts at articulating the character of psychedelic light shows were not uncommon. Visual music historian William Moritz wrote that, in its finest instantiations, light shows constituted 'a living art work of organic complexity considerably more interesting, challenging and satisfying than any of the flat, static art styles of the past, including painting and the traditional fictional cinema.' Curator Christoph Grunenberg has written that of the scores of light shows that arose in the mid-to-late 1960s, the Joshua Light Show was 'the most complex and sophisticated.' 
The original members of the Joshua Light Show were resident artists at the Fillmore. From March 8, 1968, until the venue closed in on June 27,1971, the group performed multiple shows every weekend for up to a total of ten thousand people, receiving nearly equal billing to such acts as the Who, the Doors, the Grateful Dead, Janis Joplin, the Jimi Hendrix Experience, Albert King, Chuck Berry, and Iron Butterfly. Joshua White, who had studied electrical engineering, theatrical lighting, and magic-lantern techniques at Carnegie Tech and filmmaking at the University of Southern California, where he made a number of stop-motion and direct animation shorts, founded the group. The JLS consisted of six to eight members during its initial run, with the most stable lineup including White, Tom Shoesmith, and Bill Schwarzbach, who met at Columbia University while studying theatrical lighting and electrical engineering; Cecily Hoyt, a photographer and painter; and Jane Ableman, an art student. 
The group employed a panoply of image-making apparatus to achieve diverse visual effects: three film projectors, two banks of four-carousel slide projectors, three overhead projectors, hundreds of color wheels, motorized reflectors made of such materials as aluminum foil, Mylar, and broken mirrors, two hair dryers, watercolors, oil colors, alcohol and glycerin, two crystal ashtrays, and dozens of clear glass clock crystals. White and his cohort designed a rear-projection system, situated roughly twenty feet behind the Fillmore stage, where several tons of equipment was arrayed on two elevated platforms. 
The conventional seated theater setup of the Fillmore, however, meant the group focused their efforts on a single screen rather than attempt to establish a West Coast or discotheque-style overall light environment. Using eight 1,200-watt airplane landing-strip lights to project imagery onto a twenty-by-thirty-foot vinyl screen, JLS built their shows from four elements. The first involved the projection of pure colored light through various handmade and modified devices. The second element was concrete imagery, which included film footage shot by the group, hand-etched film loops, segments from commercial cinema, and, eventually, closed-circuit video, which was used to project enlarged images of the musicians performing onstage in real time. The group's collection of concrete imagery also included hand-painted slides, slides containing geometric patterns, historical art slides featuring paintings by Goya and Manet, and slides consisting of text such as the line attributed to both Warhol and McCluhan, 'Art is anything you can get away with.'" (www.joshualightshow.com)
"The Joshua Light Show was now an integral part of the Fillmore East experience.  As  well as providing an exciting visual accompaniment to the bands, it also started screening cartoons between the sets of music.  A particular favorite was a trippy 1935 cartoon called The Sunshine Makers, featuring elves who bottled beams of sunlight.  In the cartoon, the bottles would be given out to people who then drank from them, which caused each imbiber to start singing and dancing." (John Glatt, Live at the Fillmore East and West, Lyons Press)
The Sunshine Makers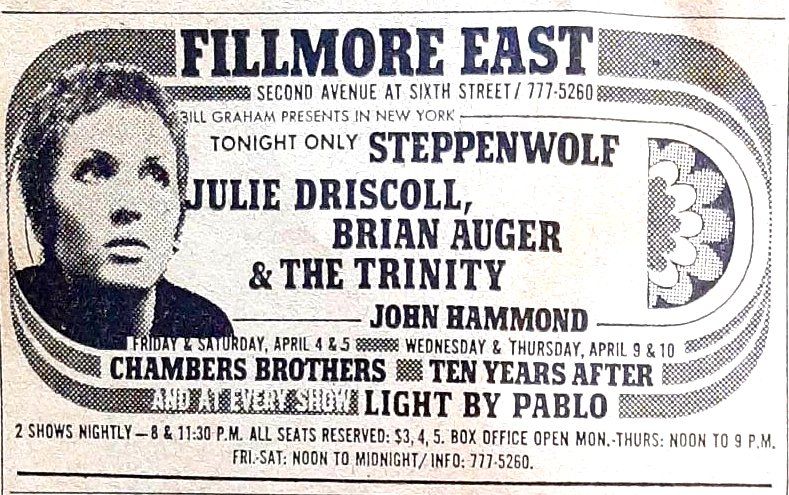 March 28th & 29th 1969 
-Steppenwolf, Julie Driscoll, Brian Auger And The Trinity, John Hammond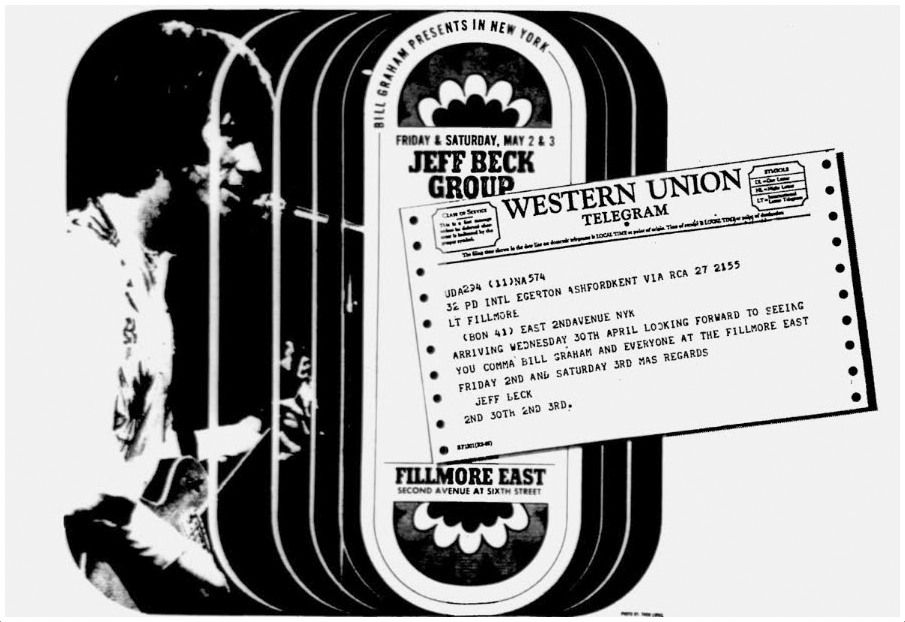 May 2nd & 3rd
Jeff Beck, Joe Cocker & The Grease Band, NRBQ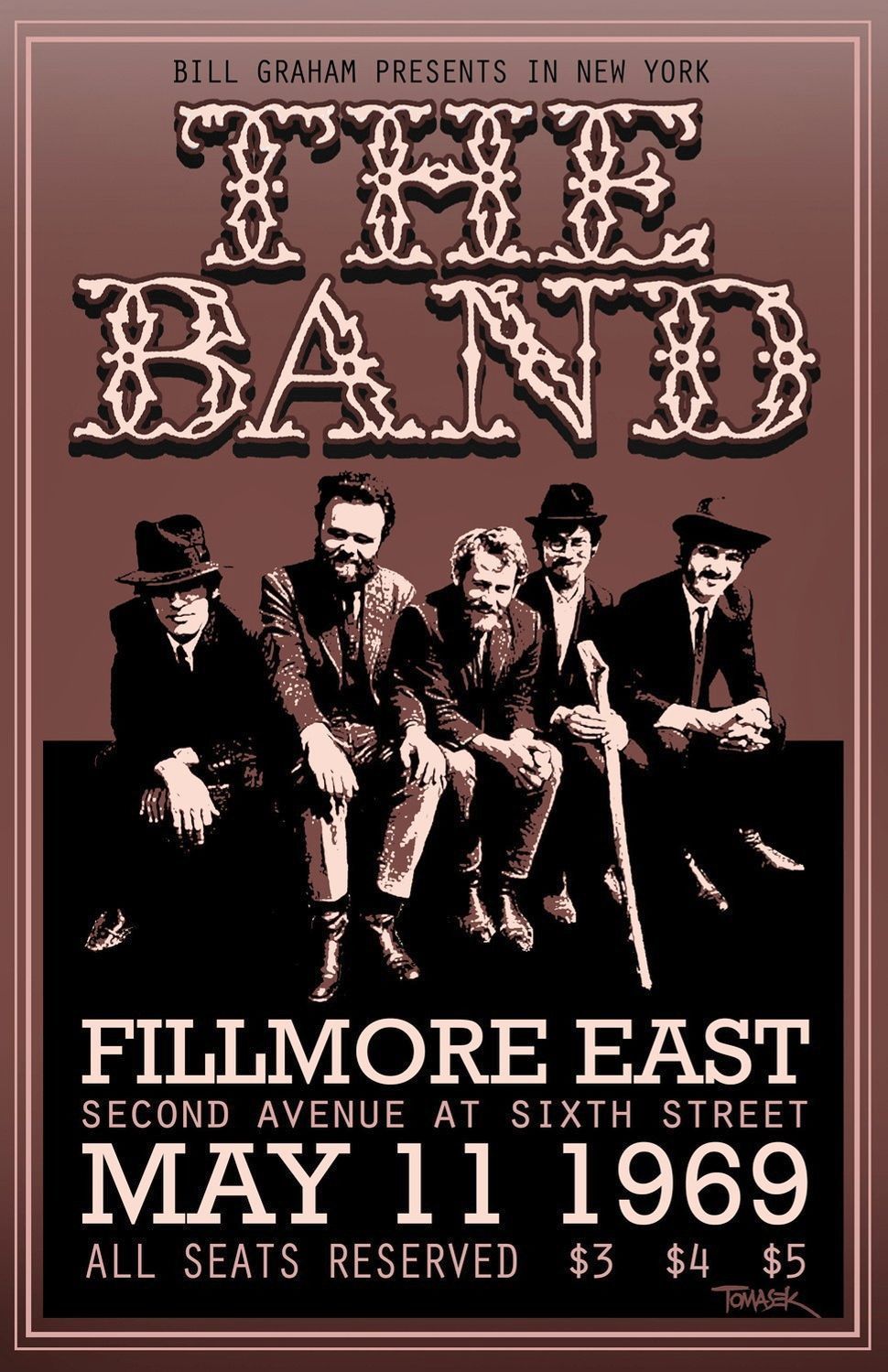 May 11 1969
The Band
The Band finally made their East Coat debut at the Fillmore East in May.  Performing an hour long set, The Band played most of the songs from their debut album Music From Big Pink and introduced those songs as mountain music. The crowd was so excited by The Band's performance that they demanded three encores.
"We played four sold-out shows at the Fillmore East on Second Avenue in Manhattan. Cat Mother and the All-Night Newsboys opened, and the audience was with us from the minute we stepped onto the stage in what we described in the press as 'suits and ties'. These were actually dark western-cut clothes, string ties, and black boots, plus assorted hats from Richard's collection. We tuned in the dark for a moment - the light show had been given the night off - the lights came on, and the New York audience began to scream. Standing ovation. Looming over the Lowry organ, Garth looked like a biblical prophet in his untrimmed black beard. We were very tightly rehearsed, because we wanted the performance to sound like the records. We stayed close to those arrangements and didn't stretch it out. We did music from Big Pink - Tears of Rage,  This Wheel's on Fire, Caledonia Mission, - and we couldn't believe the wild response. We mixed these up with Get Up Jake, (from the California sessions), the Four Tops' Loving You Is Sweeter Than Ever, (Richard sang great on a nod to our Motown fandom), Little Birds. 'Levon's Dad taught us this one," Robbie announced. 'We hope you like country music here in New York.' Wild, stomping applause." (Levon Helm, This Wheel's On Fire)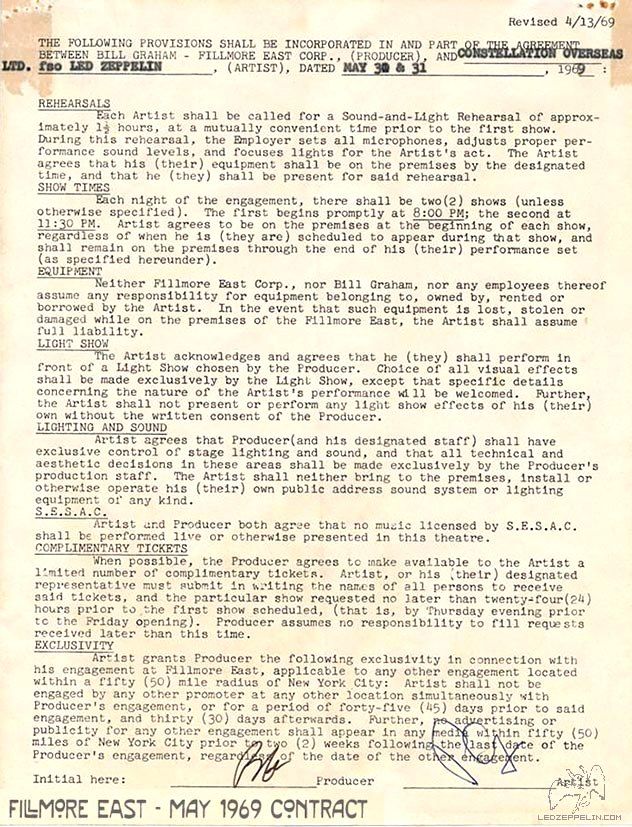 Led Zeppelin May 1969 Fillmore East Performance Contract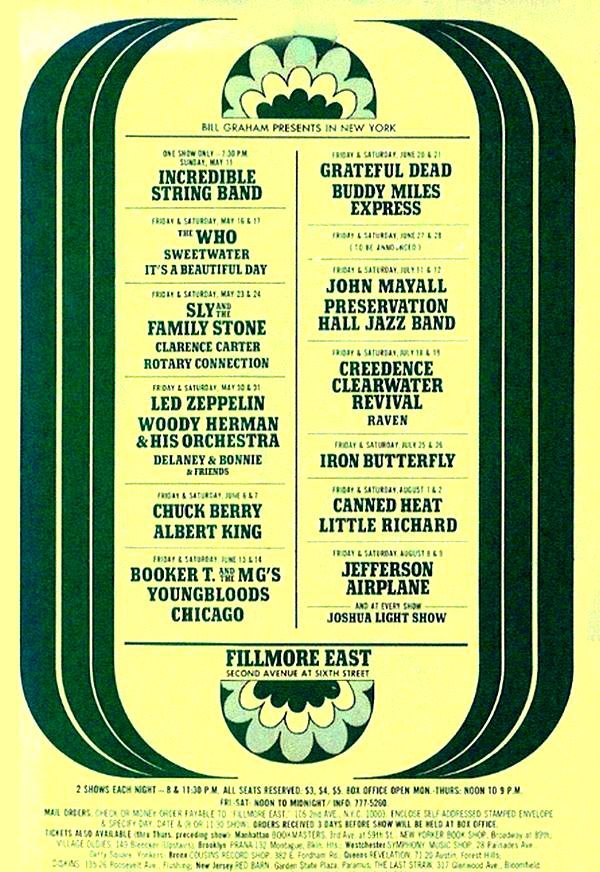 1969 Summer Schedule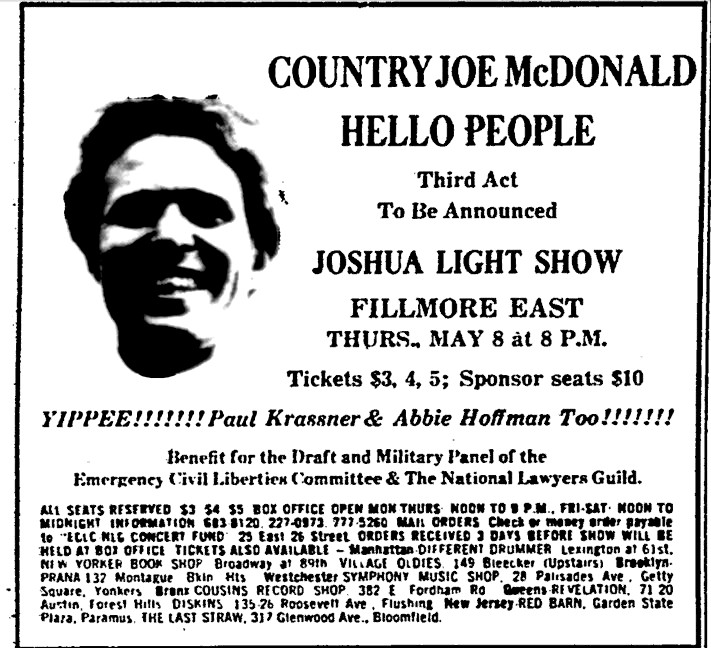 May 8th 
Country Joe and the Fish, Children of God, Hello People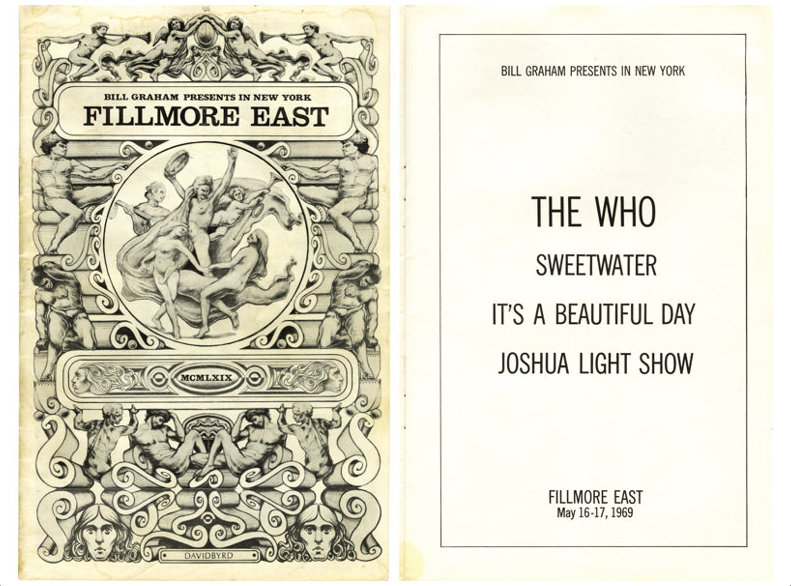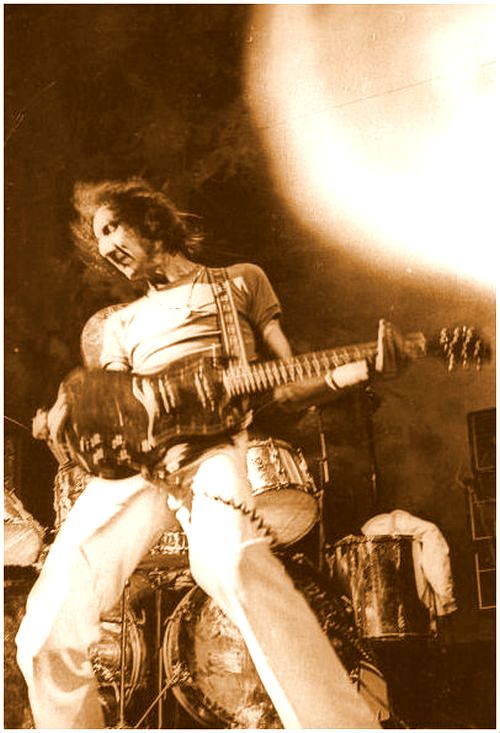 May 16 - 17 1969
The Who perform their rock opera, Tommy
"On Friday, May 16, The Who premiered Pete Townshend's new Rock Opera Tommy at the Fillmore East, the day before its US release. 'On the opening night I was more excited than usual,' recalled Townshend, 'and we were bullish that we'd have a good show.' To get in the mood, each band member had a bottle of brandy backstage, as well as another on Keith Moon's drumhead for refreshments during the performance.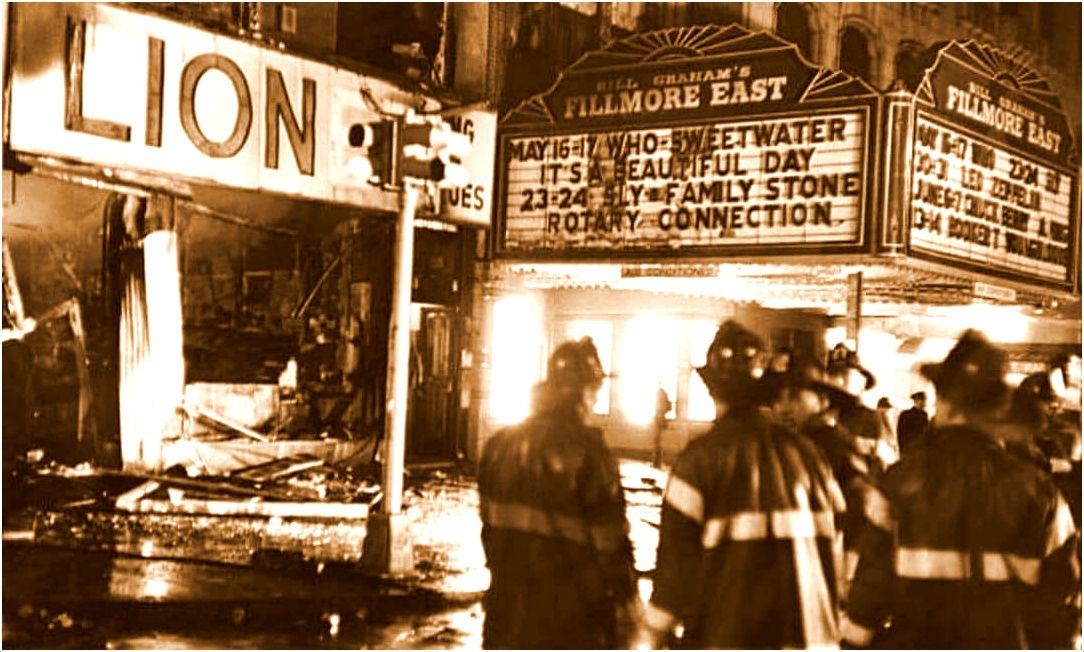 Toward the end of their first show, somebody hurled a Molotov cocktail into the Lion Supermarket that shared a wall with the Fillmore East. As firefighters arrived to put out the three-alarm blaze, fire chiefs reassured Bill Graham there was no imminent danger to his audience. So he decided to wait until the end of Tommy before evacuating the theater. Fillmore East usher Allan Arkush smelled smoke and then looked outside to see flashing lights and firemen all over Second Avenue. The focus in the theater was on The Who and the energy of their performance was lifting everyone.' Suddenly a plain-clothed tactical force detective appeared from the wings at the right of the stage and tried to grab the microphone out of Roger Daltrey's hands, yelling, 'Give me the mike!' Without missing a beat, Townshend lined up a kick to the detective's testicles with his Doc Martens. 'He came from nowhere,' said Arkush, 'and Townshend kicked him in the balls. Somebody from the stage crew grabbed him and dragged him off and the entire audience jumped to its feet. It was positively a Roman spectacle.' As more police raced toward the stage, The Who carried on playing as if nothing was happening. The audience thought the thickening smoke inside the theater was all part of the show.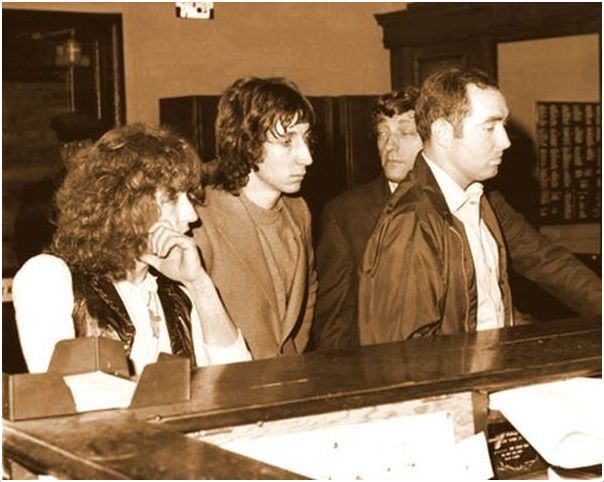 Pete Townshend getting booked for assaulting NYC detective 
during a Fillmore East show
After they finished Tommy with that fantastic note the audience went crazy. Then The Who just counted off and lit into 'Summertime Blues.' Finally, Bill Graham managed to get Townshend's attention and went onstage to tell him about the fire next door. 'And I could see them whispering,' said Arkush, 'and The Who kind of brought it way down. It was like a rocket ship turning off its boosters and the audience is standing there panting.' Then Graham went to the microphone and was so cool. He said, We have a little problem. He announced that the ushers were going to clear the theater until it was safe to return, and then The Who would finish the set. 'That building was empty within three minutes,' said Arkush. 'And of course there was no late show, as the smoke was really too thick in the theater.' Later that night, Townshend was charged with assaulting a police officer, and a warrant was sworn out for his arrest. The next morning he turned himself in, spending a few hours in the tank until Bill Graham bailed him out. On Saturday and Sunday nights, The Who were back at the Fillmore East, playing four more sensational shows. 
A couple of weeks later, a New York City court fined Townshend $75 for a misdemeanor. On June 17, The Who played the first of three nights at the Fillmore West. This time Pete Townshend told Bill Graham they would play only one show a night instead of two. 'But he was intractable,' said Townshend. 'We made our first set very short as a challenge to his so-called authority, so he had a disgruntled audience on his side, too.' Finally, Graham backed down, and The Who never played more than one show a night for him again." (John Glatt, Live at the Fillmore East and West , Lyons Press)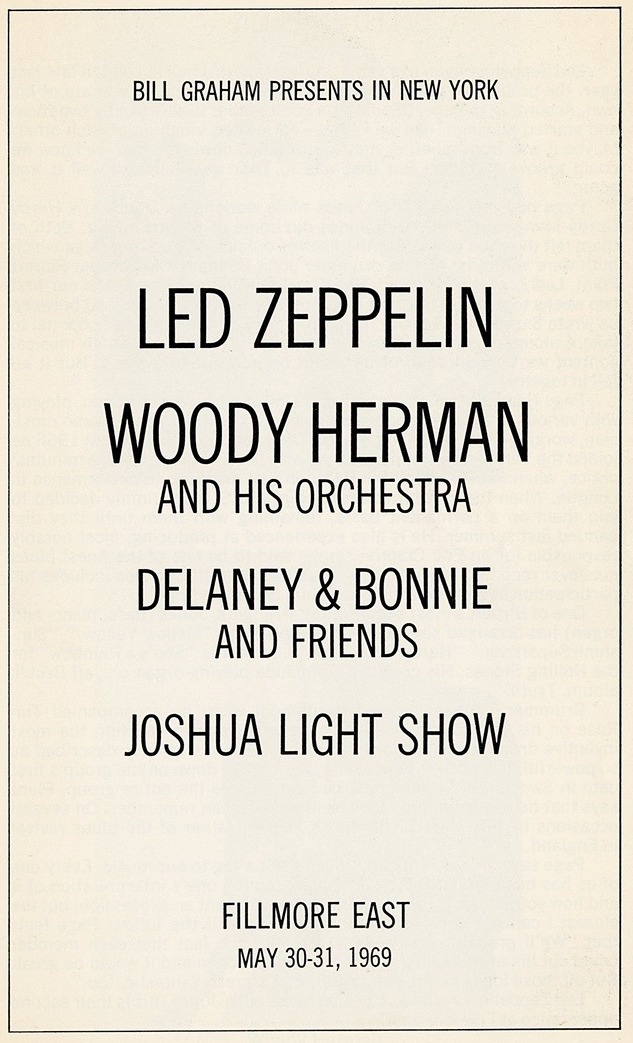 May 30th & 31st 1969 
Led Zeppelin, Woody Herman & His Orchestra, Delaney & Bonnie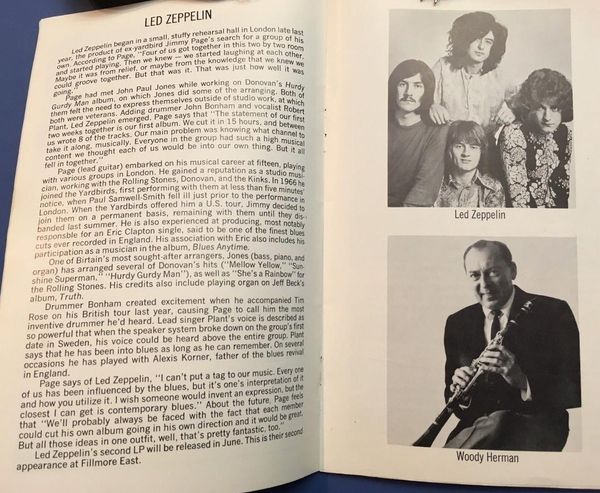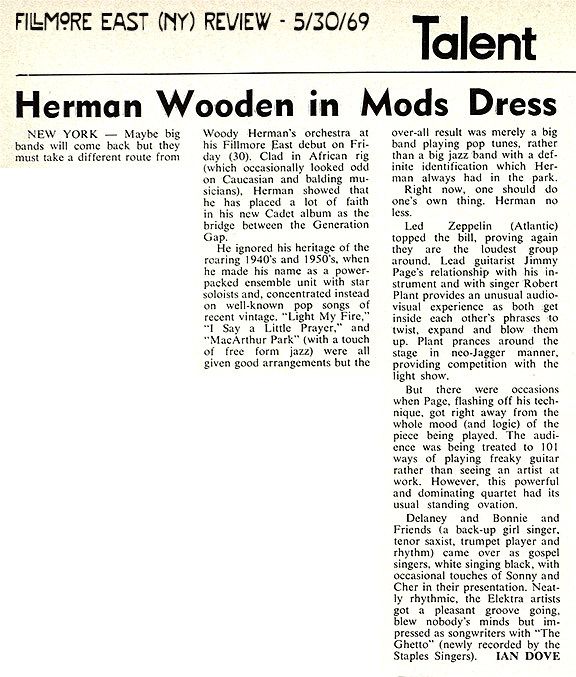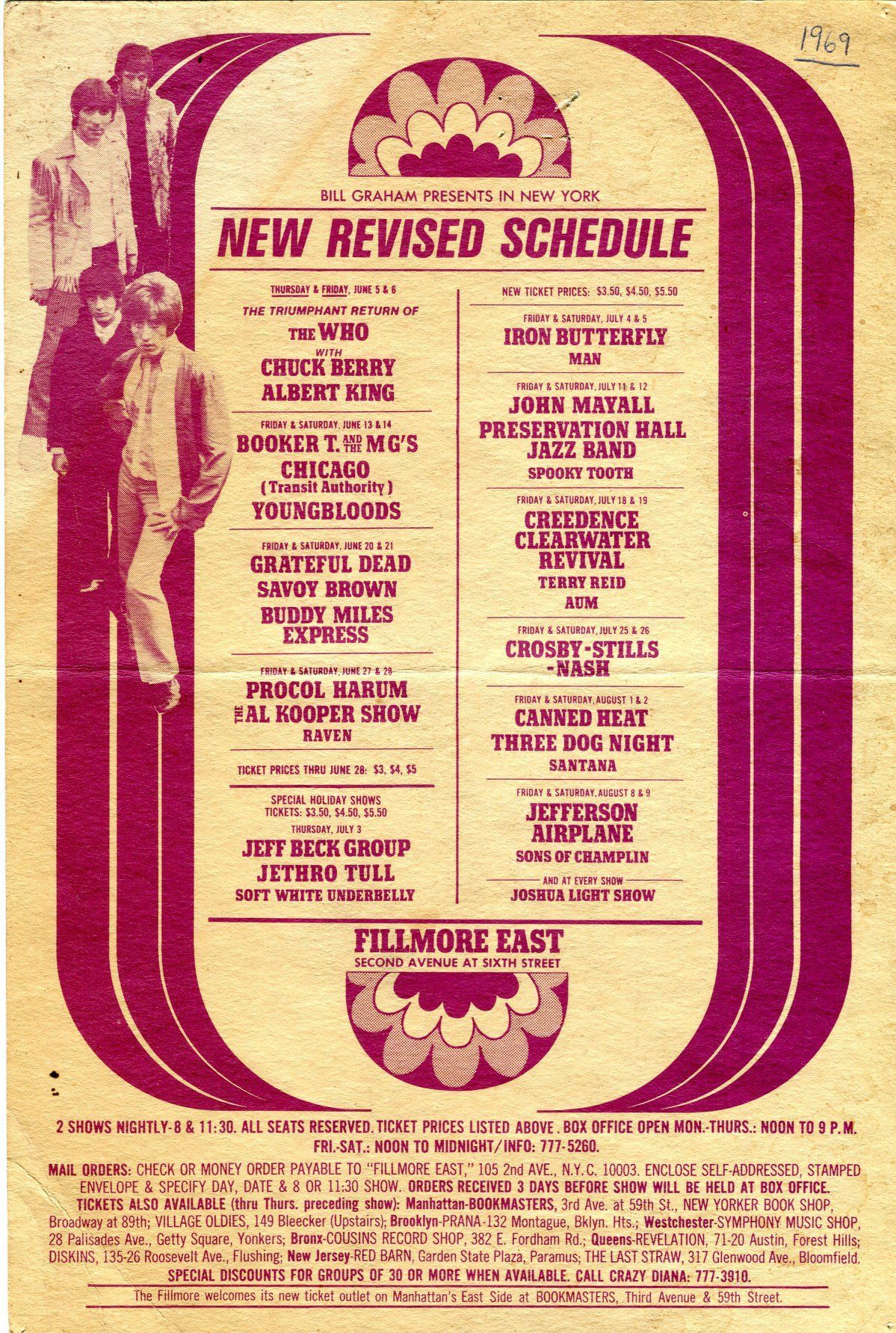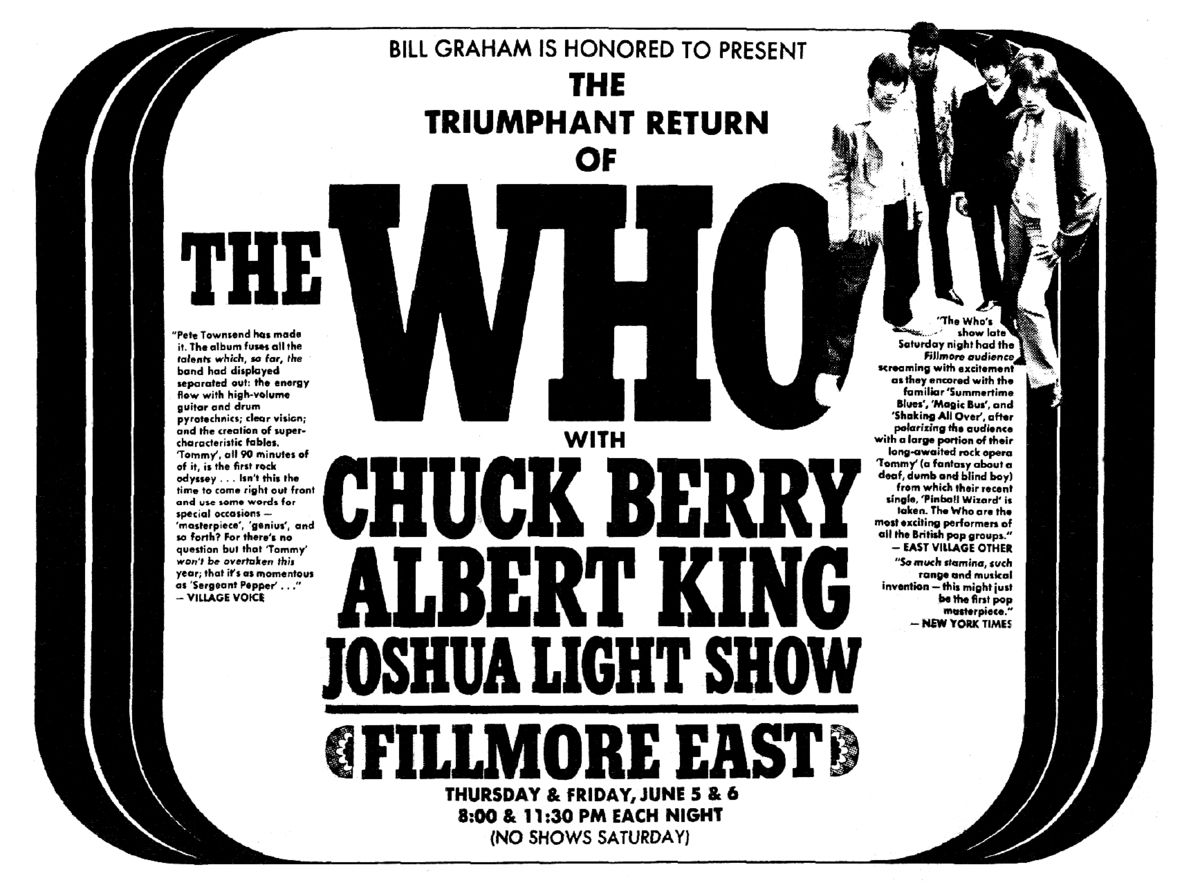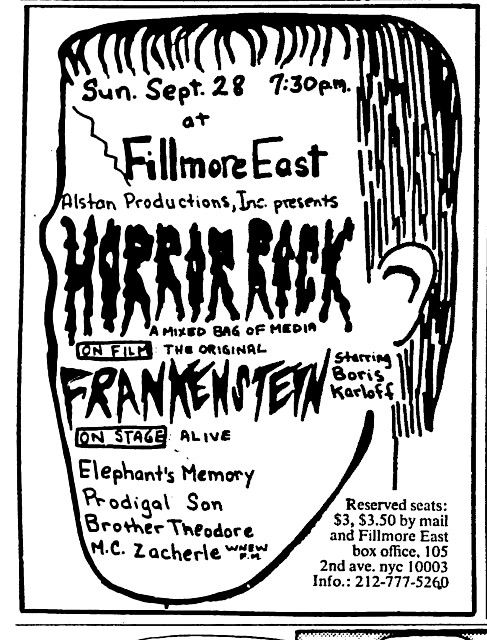 September 29 - Horror Rock Fest
"Horror Rock" fest with Elephant's Memory, Prodigal Son, Brother Theodore, and a screening of Frankenstein, all MC'd by Zacherle!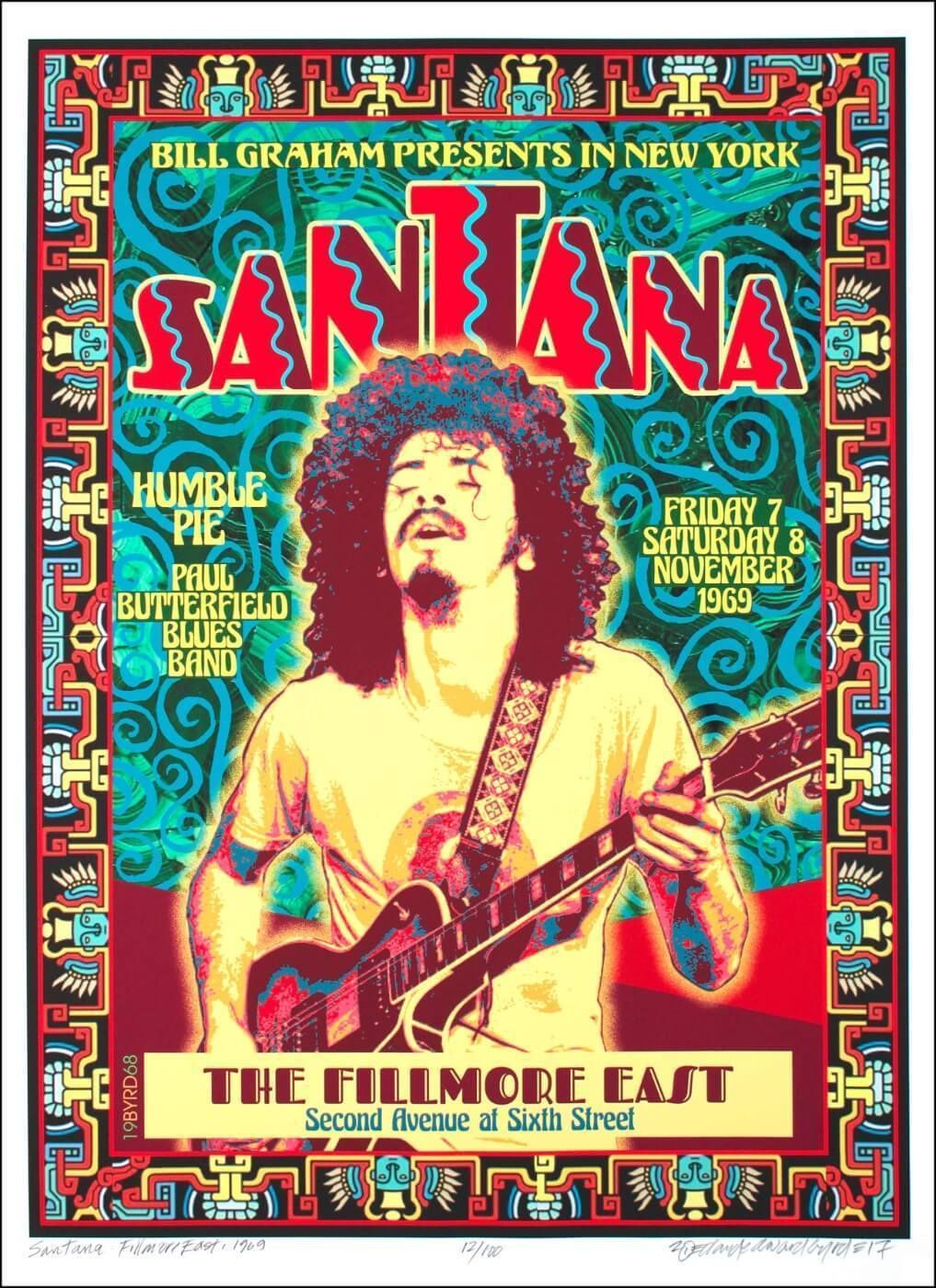 November 7 & 8
Santana
Humble Pie
Paul Butterfield Blues Band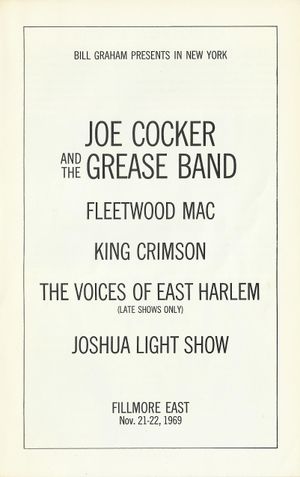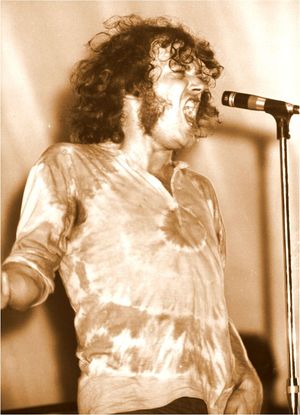 November 21st & 22nd
Joe Cocker & His Grease Band,
Fleetwood Mac, King Crimson, Voices Of East Harlem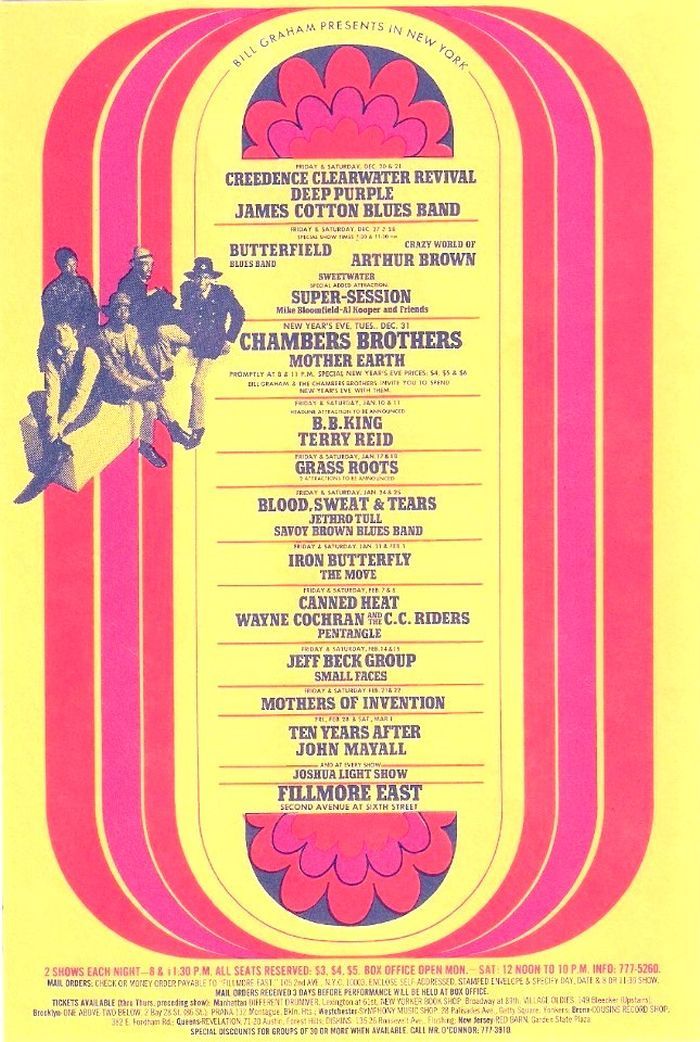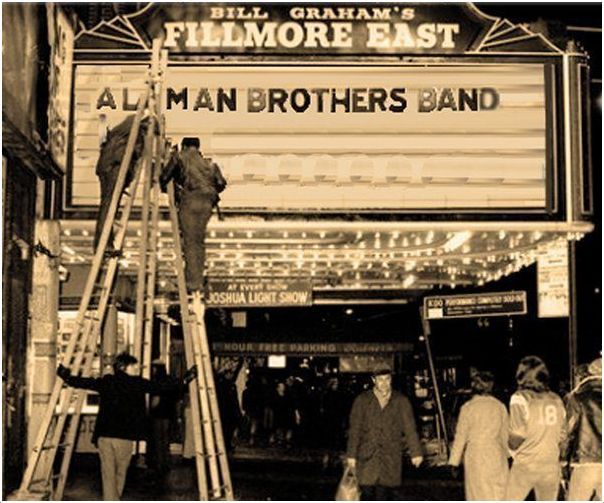 December 1969 Allman Bros first show @ The Fillmore East
December 29 - The Nice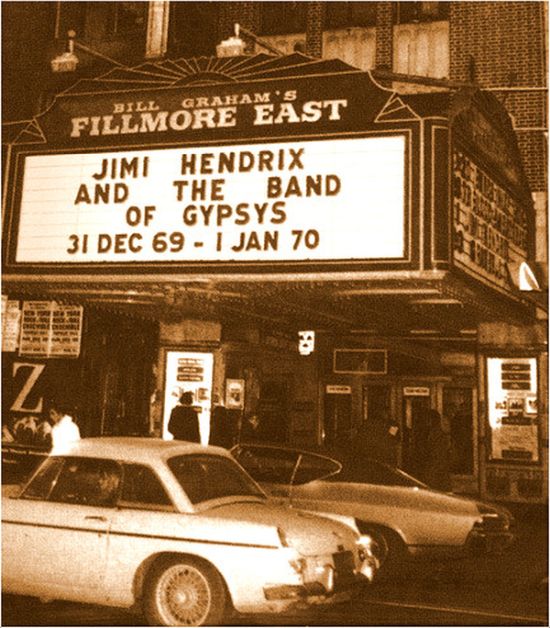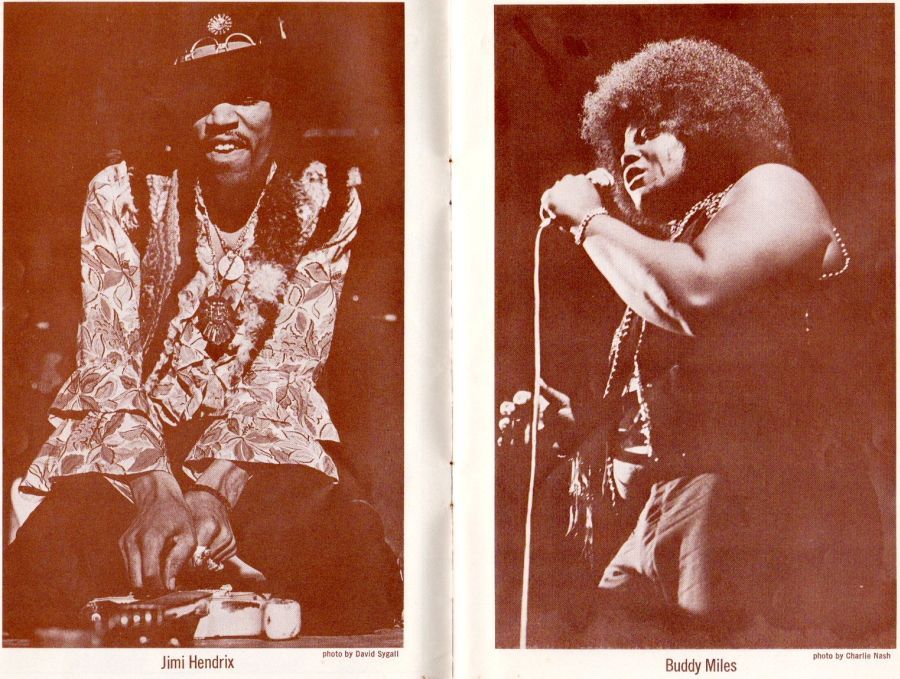 "Fillmore East, New York Two Shows Prior to their two concerts later that evening, Jimi Hendrix and his Band Of Gypsys held an afternoon sound check and rehearsal at the Fillmore East. Later that evening, before a sold out crowd of 2,639, Hendrix rang in the New Year and new decade with two unforgettable performances. The evening's festivities opened with a spirited set by the Voices Of East Harlem, an enthusiastic young gospel ensemble. With the anticipation of the sold out Fillmore audience heightened to fever pitch, Hendrix led his trio through a scintillating, seventy-five minute opening performance. None of the eleven songs presented had yet to grace an Experience album. In the place of signature songs like Purple Haze and All Along The Watchtower were confident renditions of Izabella and Hear My Train A Comin'. At midnight, Kip Cohen, the venue's master of ceremonies, rang in the new year and decade buffeted by Guy Lombardo's Auld Lang Syne. Never one to be upstaged, Jimi and company greeted the joyous house with their own inspired reading of the holiday staple. For Amalie Rothschild, the Fillmore East's house photographer, the experience was an unforgettable one. 'Then there was the countdown at midnight. It was the countdown that was a real scream. We're talking about the end of the Sixties. December 31, 1969 turning into January 1, 1970–.A new decade. This was significant. After all, we were living through it and we knew that the Sixties were the Sixties. We had this big countdown on the Joshua White light show screen with this big clock 10, 9, 8, 7, 6…and everybody is yelling together. Then the light show screen pulls up and everybody is on stage–all the crew and the musicians. Hendrix, who is now on stage, launches into this amazing rendition of Auld Lang Syne and I filmed it. This was history in the making. You could not miss this. His performance was just so inspired. It was just terrific and I can't find the words to describe it.'  Later that night, Hendrix retreated to The Café Caliph (previously known as The Café Au Go Go) in Greenwich Village where he joined The James Cotton Blues Band on stage for a jam." (jimihendrix.com)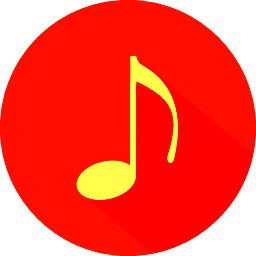 December 31 - Jimi Hendrix
In the last Fillmore East playbill of 1969, there were messages
from various artists who had performed at the venue:
"The hangups of 1969 can kiss my behind!" (Jimi Hendrix)
"It's a groovy thing to look forward to the future!" 
(Roger McGuinn of The Byrds)
"My hope for the new decade is this: may the dove rest." (Bill Graham)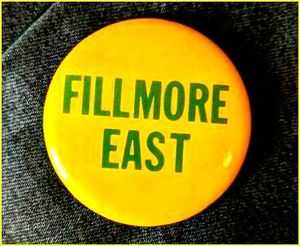 1969 Concerts @ The Fillmore East 
January
10 / 11 January 1969 - B.B. King, Winter w/ Johnny Winter, Terry Reid, Joshua Light Show  
17 / 18 January 1969 - Buddy Rich, Grass Roots, Spirit Lights: Joshua Light Show 
24 / 25 January 1969 - Blood Sweat & Tears, Jethro Tull, Gay Deperados Steel Band, Joshua Light Show 
31 January 1969 - Iron Butterfly, Led Zeppelin, Porter's Popular Preachers, Joshua Light Show 
February
01 February 1969 - Iron Butterfly, Led Zeppelin, Porter's Popular Preachers, Joshua Light Show 
07 / 08 February 1969 - Canned Heat, Pentangle, Rhinoceros, Joshua Light Show 
11 / 12 February 1969 - Janis Joplin, Grateful Dead. Joshua Light Show, 
14 / 15 February 1969  - Sam & Dave, Winter, Aorta, Joshua Light Show,
21 / 22 February 1969  - Mothers Of Invention, Buddy Miles Express, Chicago Transit Authority
28 February 1969  - Ten Years After, John Mayall, Slim Harpo, Joshua Light Show
March
01 March 1969  - Ten Years After, John Mayall, Slim Harpo, Joshua Light Show
07 March 1969  - Buffy Sainte-Marie, Ian & Sylvia, Great Speckeled Bird 
08 March 1969  - Vanilla Fudge, Amboy Dukes, Sirocco, Light By Pablo
14 / 15 March 1969  - Procol Harum, Pacific Gas & Electricity, Collectors, Light By Pablo
21 / 22 March 1969  - Creedence Clearwater Revival, Spirit, Aynsley Dunbar Retaliation, Light By Pablo  
28 / 29 March 1969  - Steppenwolf, Julie Driscoll, Brian Auger And The Trinity, John Hammond, Light By Pablo
April
04 / 05 April 1969  - Chambers Brothers, Hello People, Elephant's Memory, Joshua Light Show
09 / 10 April 1969  - Ten Years After, The Nice, Family, Joshua Light Show
11 / 12 April 1969  - Blood Sweat And Tears, Jethro Tull; Albert King, AUM, Joshua Light Show  
18 / 19 April 1969  - Butterfield Blues Band, Foundations, Savoy Brown, Joshua Light Show
25 / 26 April 1969  - Joni Mitchell, James Cotton, Taj Mahal, Joshua Light Show
27 April 1969  - Incredible String Band, Joshua Light Show
May
02 / 03 May 1969  - Jeff Beck, Joe Cocker & The Grease Band, NRBQ, Joshua Light Show
08 May 1969  - Country Joe and the Fish, Children of God, Hello People  
09 May 1969  - The Band, Cat Mother & Allnight Newsboys, Joshua Light Show
16 / 17 / 18 May 1969  - The Who, Sweetwater, It's A Beautiful Day, Joshua Light Show
23 / 24 May 1969  - Sly & The Family Stone, Clarence Carter, Rotary Connection, Joshua Light Show
30 / 31 May 1969  - Led Zeppelin, Woody Herman & His Orchestra, Delaney & Bonnie, Joshua Light Show
June
06 / 07 June 1969  - Chuck Berry, Albert King, Joshua Light Show
13 / 14 June 1969  - Mother of Invention, The Youngbloods, Chicago, Joshua Light Show
20 / 21 June 1969  - Grateful Dead, Buddy Miles Express, Joshua Light Show
July
03 July 1969  - Jeff Beck Group, Jethro Tull, Soft White Underbelly
August
08 / 09 August 1969  - Jefferson Airplane, Joe Cocker & Grease Band, Spontaneous Sound
September
26 / 27 September 1969  - Country Joe & The Fish, Grateful Dead, Sha Na Na,  Joshua Light Show 
28 September 1969 - Horror Rock, Elephant's Memory and a screening of Frankenstein
October
03 / 04 October 1969  - Chuck Berry, John Mayall, Elvin Bishop Group, Joshua Light Show  
10 / 11 October 1969  - Vanilla Fudge, Dr. John The Night Tripper, Joshua Light Show
17 / 18 October 1969  - Spirit, Kinks, Bonzo Dog Band, Joshua Light Show 
20 21 / 22 / 23 / 24 / 25 October 1969  - Who, King Crimson, AUM,  Joshua Light Show
31 October 1969  - Mountain, Steve Miller Blues Band, Move, Joshua Light Show
November
07 / 08 November 1969  - Santana, Butterfield Blues Band, Humble Pie, It's A Beautiful Day, Joshua Light Show
14 / 15 November 1969  - Johnny Winter, Chicago, Blodwyn Pig, Joshua Light Show
21 / 22 November 1969  - Joe Cocker & His Grease Band, Fleetwood Mac, King Crimson, Voices Of East Harlem, Joshua Light Show
26 / 28 / 29 November 1969  - Jefferson Airplane, The Youngbloods, Joseph Eger's Crossover
December
05 / 06 December 1969  - Jethro Tull, Grand Funk Railroad, Fat Mattress, Joshua Light Show
12 / 13 December 1969  - Richie Havens, Nina Simone, Joshua Light Show,
14 December 1969  - Incredible String Band, Joshua Light Show
19 / 20 December 1969  - Byrds, Nice, Sons Of Champlin, Dion, Joshua Light Show 
26 / 27 / 28 December 1969  - Blood Sweat And Tears, Appaloosa, Allman Brothers, Joshua Light Show 
31 December - Jim Hendrix Band of Gypsys, Voices Of East Harlem, Joshua Light Show
---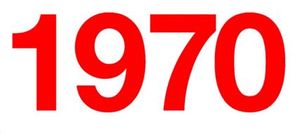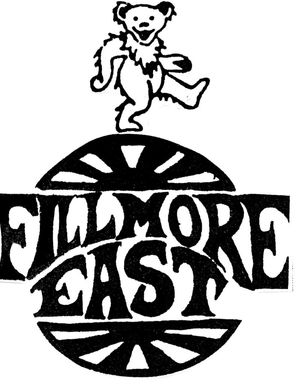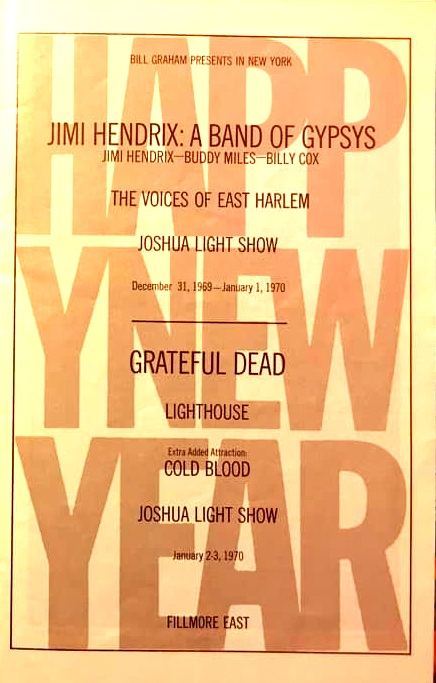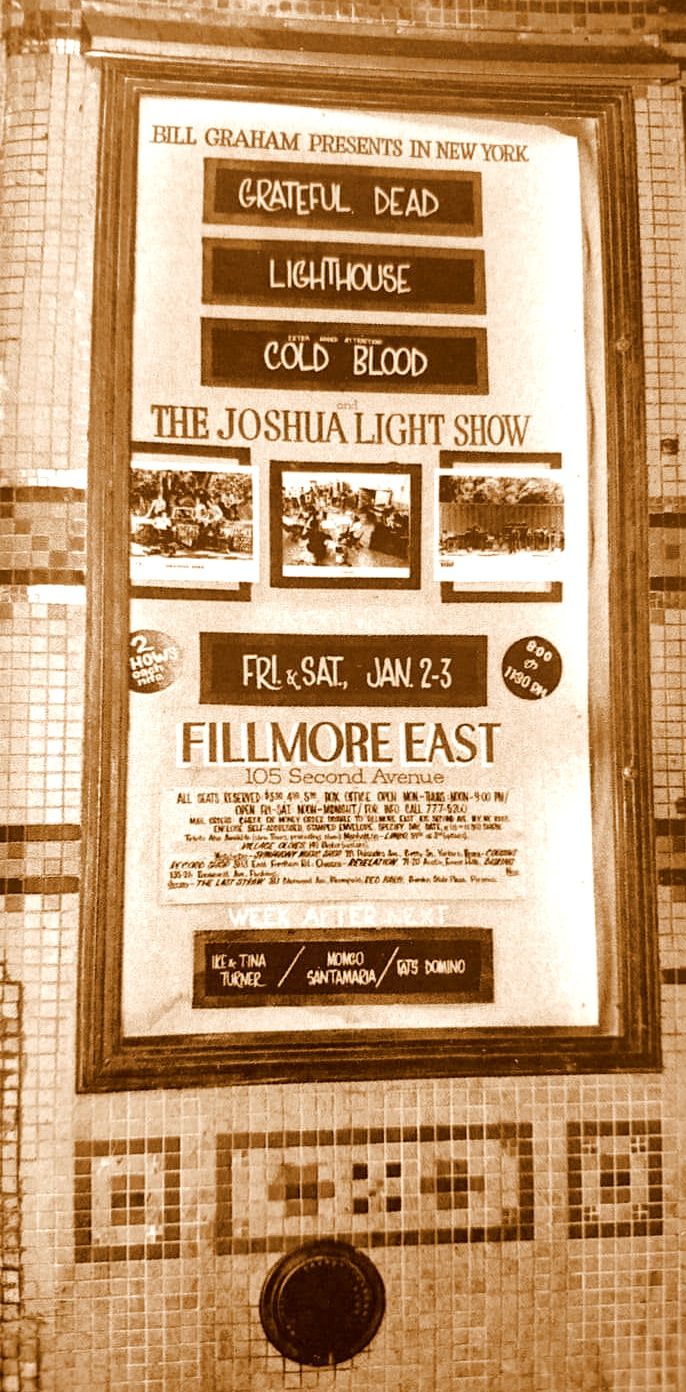 The Grateful Dead in support of the new album, Live Dead, played two nights on January 2nd & 3rd to kick things off in 1970.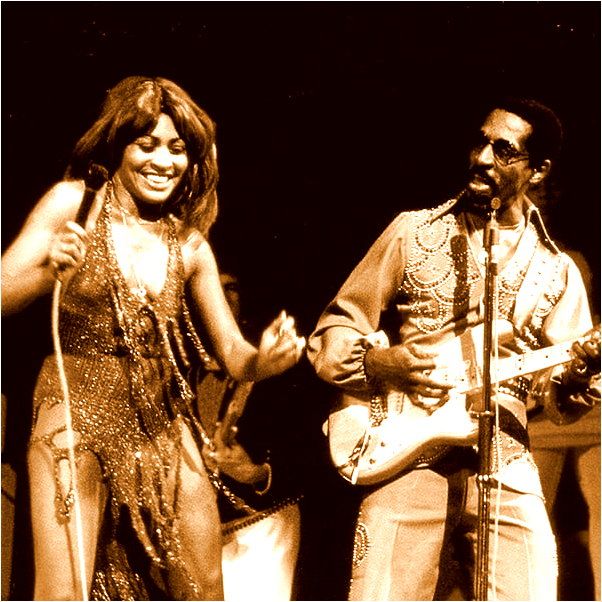 9th & 10th January
Ike & Tina Turner, Mongo Santamaria, Fats Domino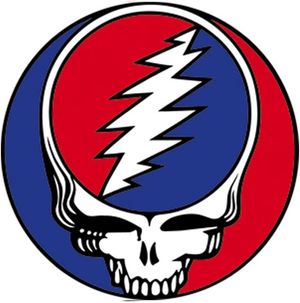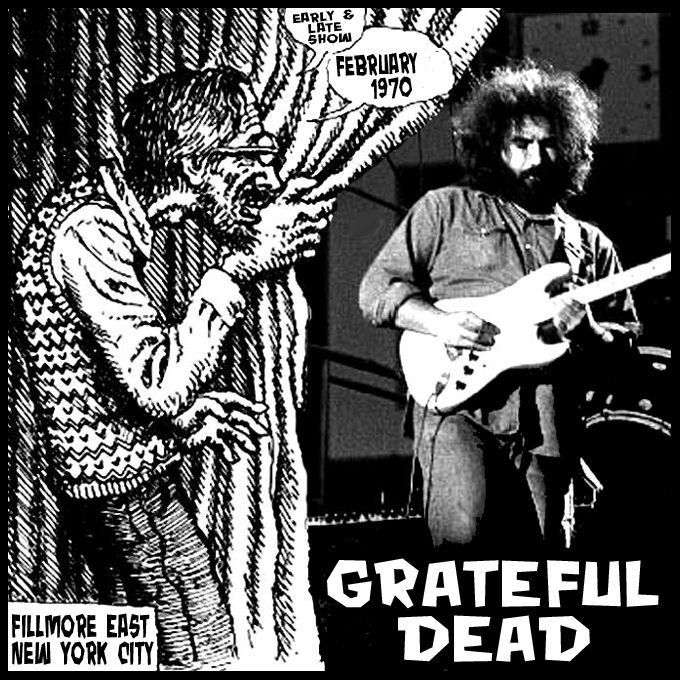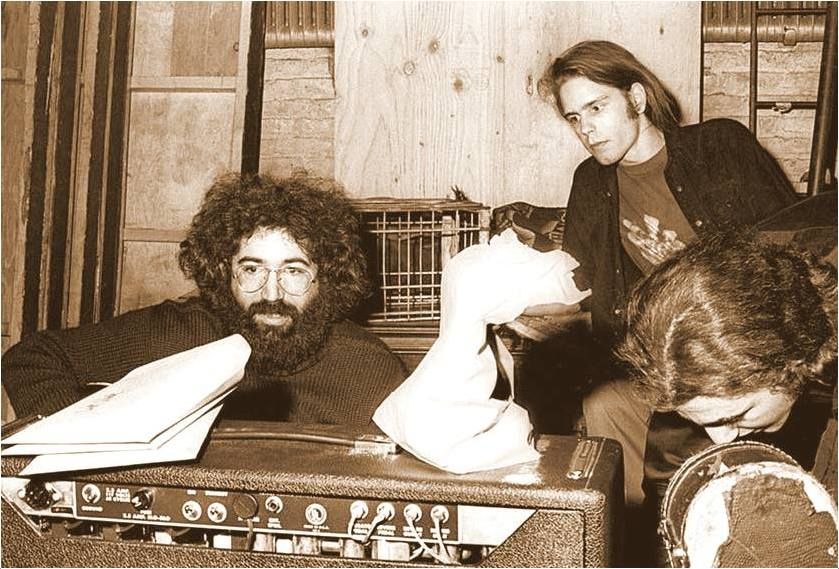 Garcia & Weir in the their dressing room
February Grateful Dead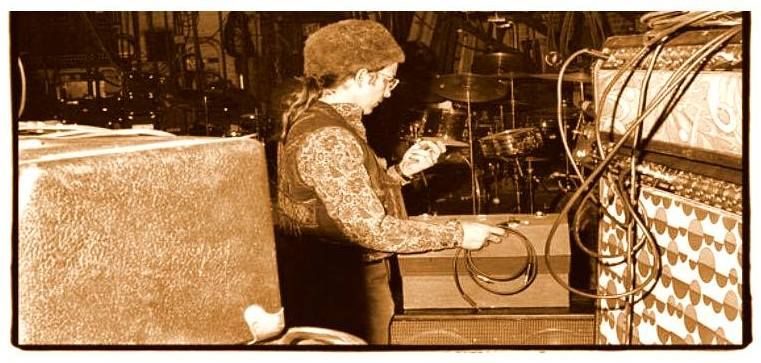 "Bear" aka Owsley, doing sound for the Grateful Dead @ The Fillmore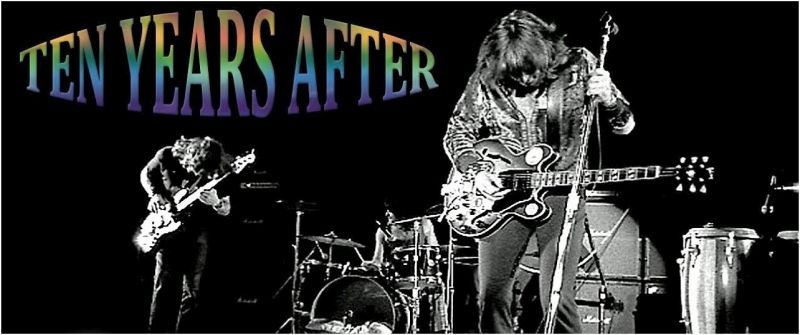 26 February - Ten Years After, Zephyr, John Hammond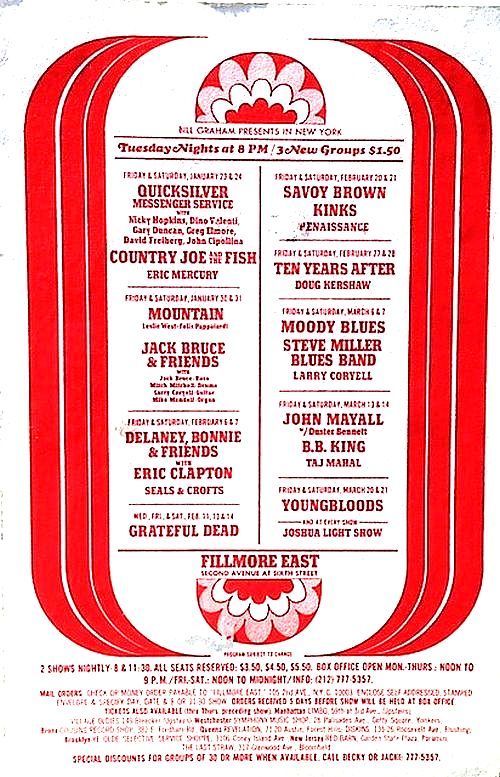 January thru March Schedule 1970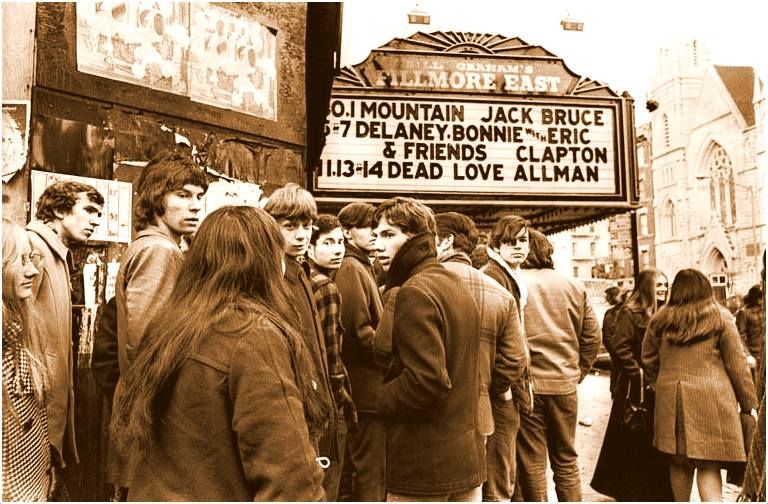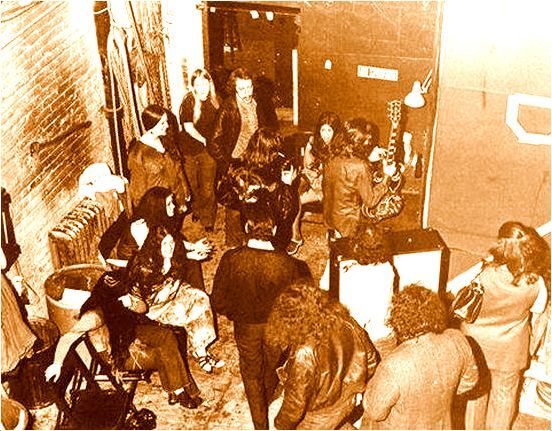 Back Stage @ the Fillmore East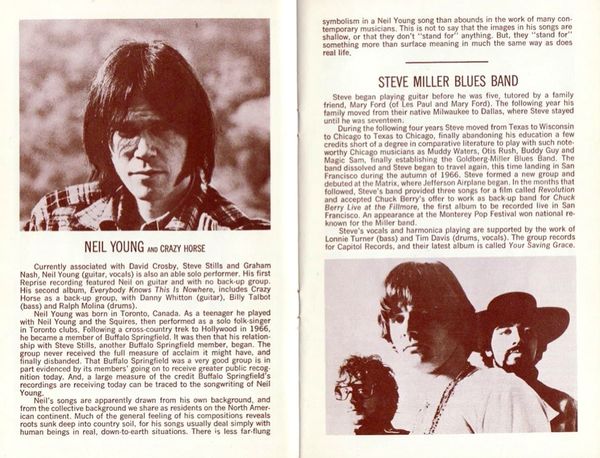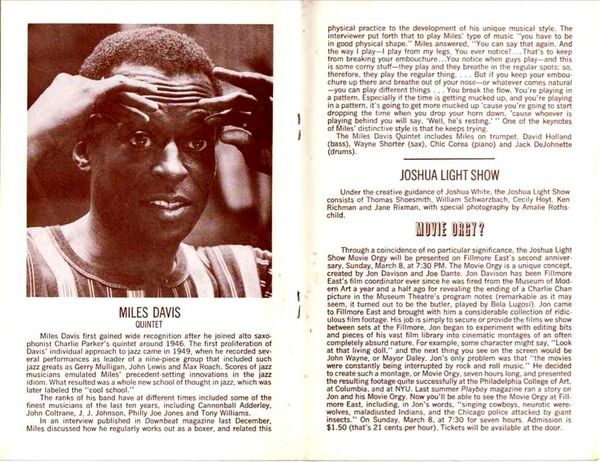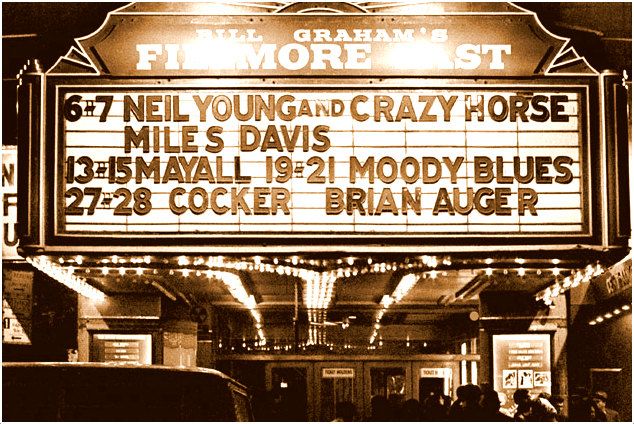 March 7th  Neil Young & Crazy Horse
March 1970, Young and Crazy Horse went on tour to support Everybody Knows This Is Nowhere (1969).  Young played four shows at the Fillmore East on March 6 and 7, each show consisting of a solo acoustic set and an electric set with Crazy Horse.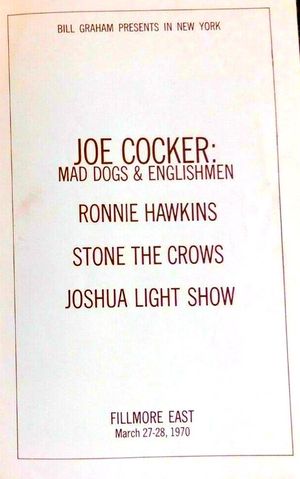 March 27th & 28th
Joe Cocker Mad Dogs & Englishmen, Ronnie Hawkins, Stone The Crows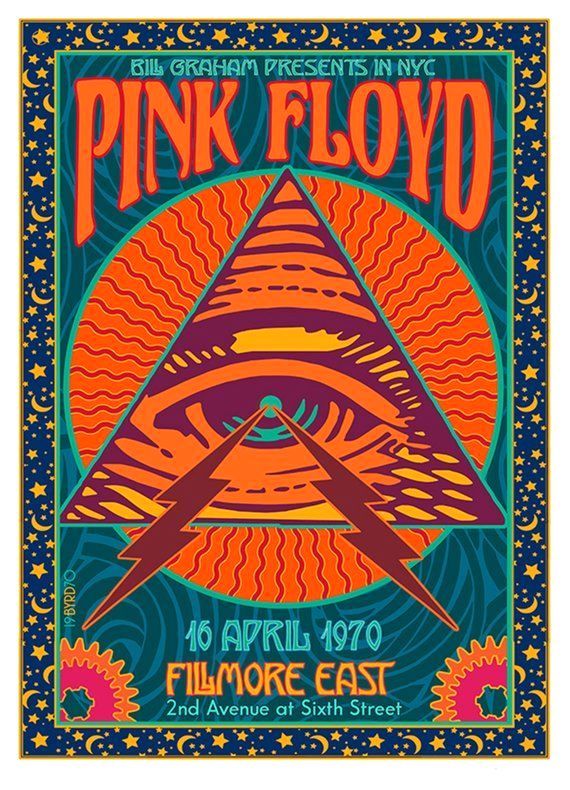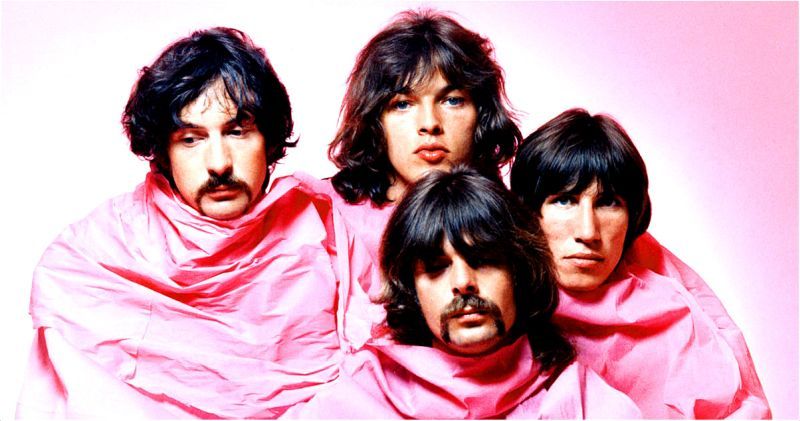 April 16 Pink Floyd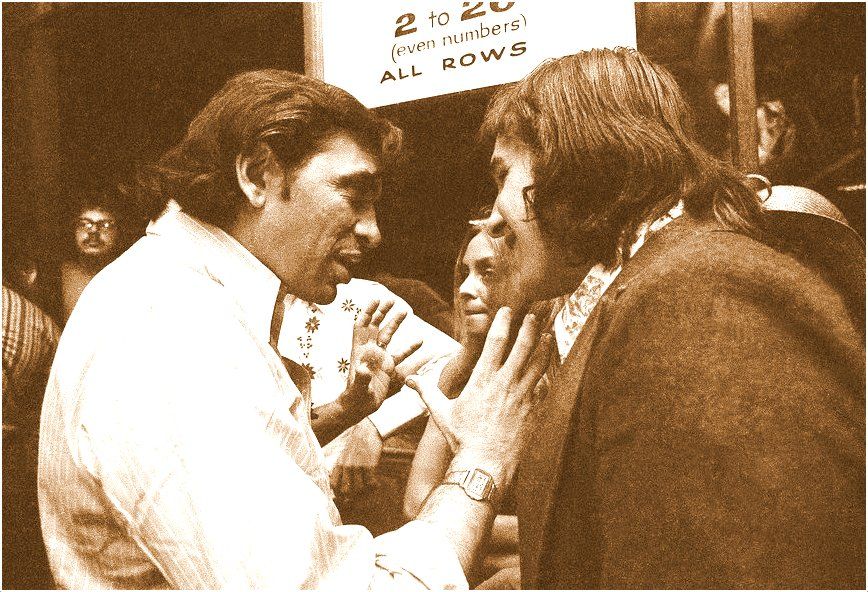 May Schedule 1970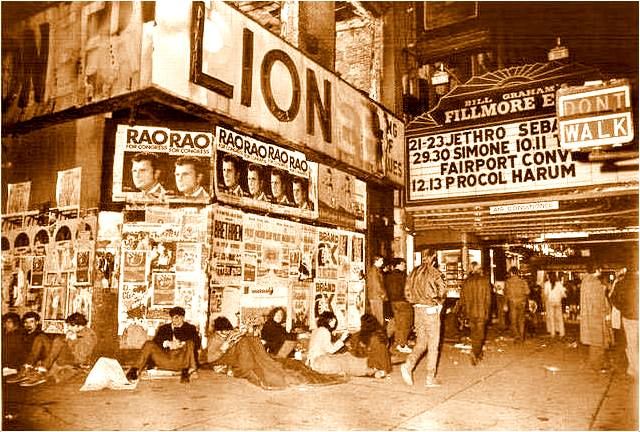 Fans online to score tickets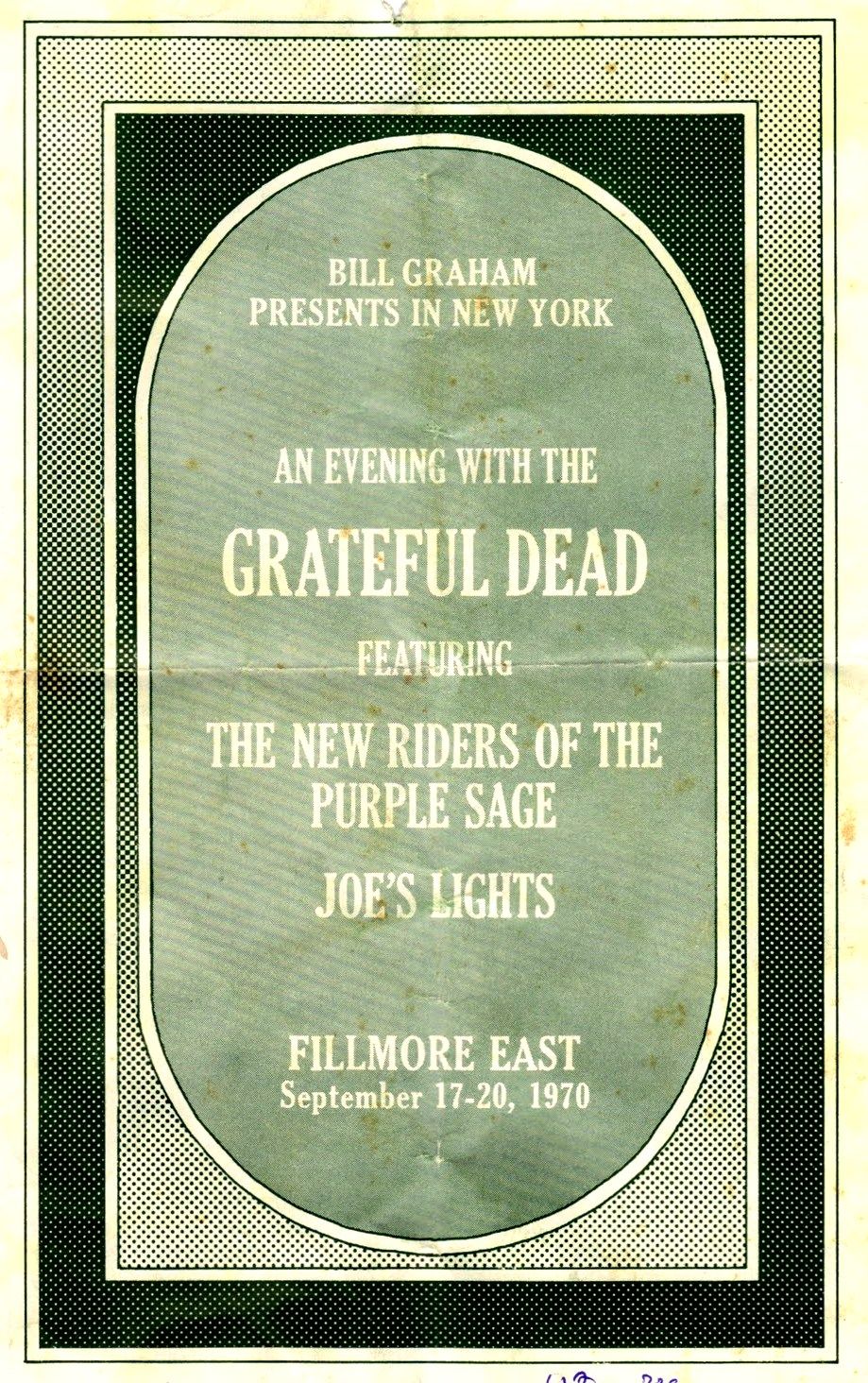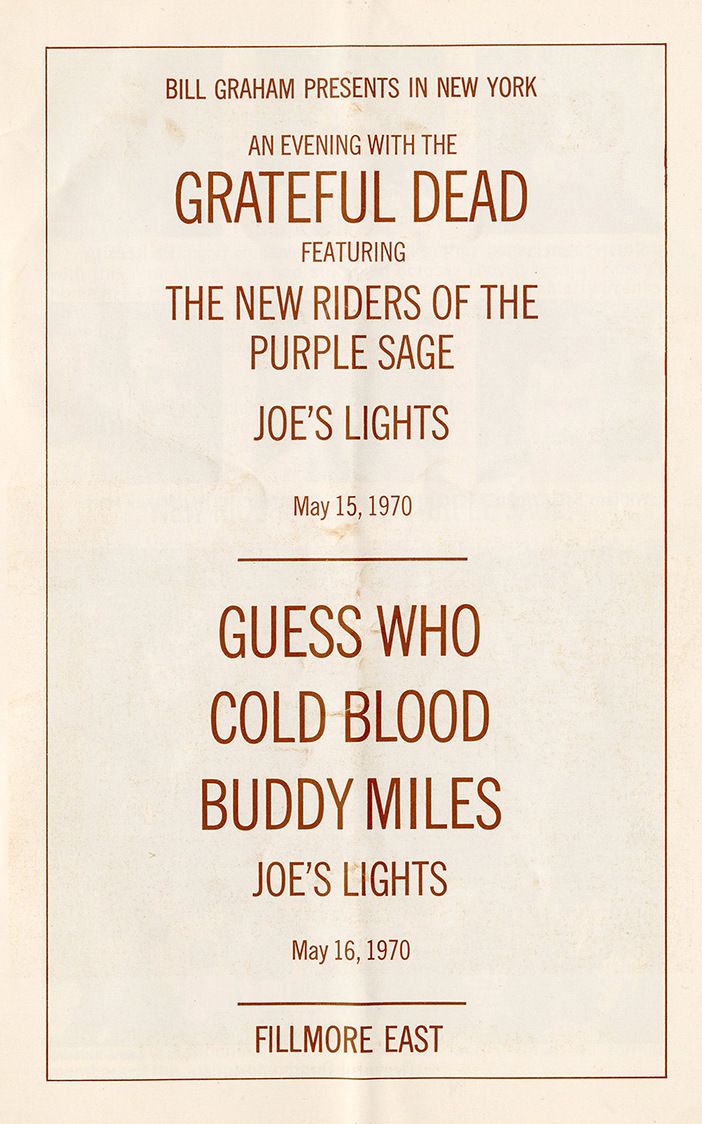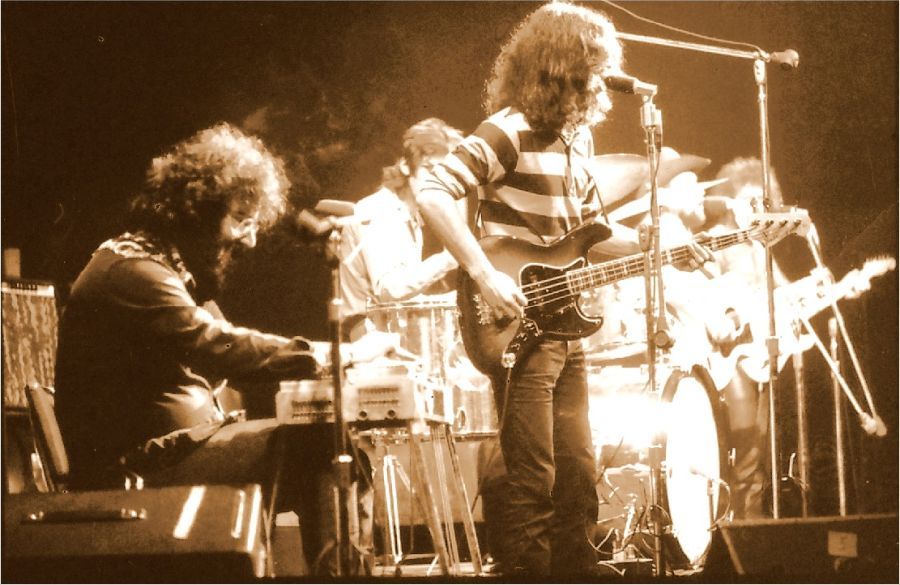 Grateful Dead & New Riders of the Purple Sage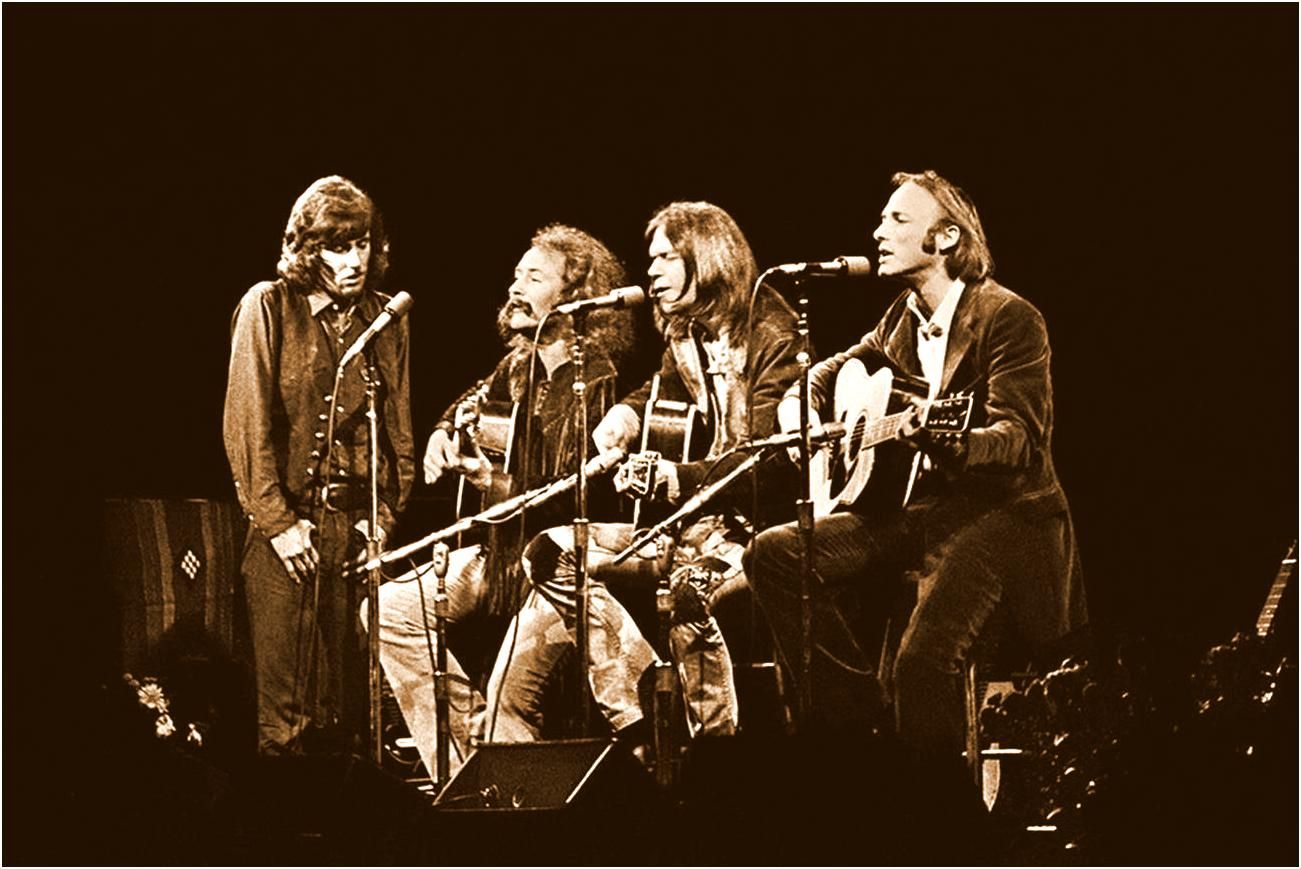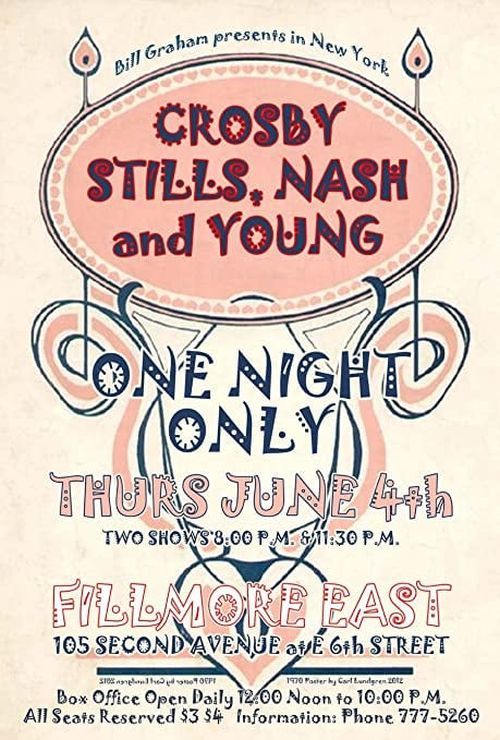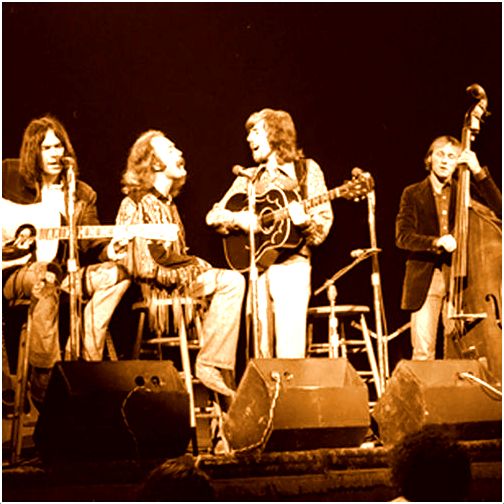 June 6th, 1970 - Crosby, Stills, Nash & Young
"By 1970, Crosby, Stills, Nash & Young were being feted by many as America's answer to the Beatles thanks to their combination of tender folk balladry and socially conscious rock. When they finally booked a run of shows at the Fillmore East that summer, demand for tickets was off the charts. Fans lined the block four deep the night beforehand just to get their hands on one. Though they may have rubbed the Fillmore East crew the wrong way with their demands to block the Joshua Light Show and bring in their own sound equipment, the results onstage spoke for themselves. The sets were broken down into two portions, electric and acoustic, and each man was allowed their own time in the limelight to show what they could do. After the final performance on the final night, the audience simply refused to leave, so Graham himself went to the band and begged them to do an encore. Crosby demanded cash before they would agree to go on again, so the promoter started slipping $100 bills under the door. When he reached eight, they finally acquiesced and went out for one more song." (Rolling Stone magazine)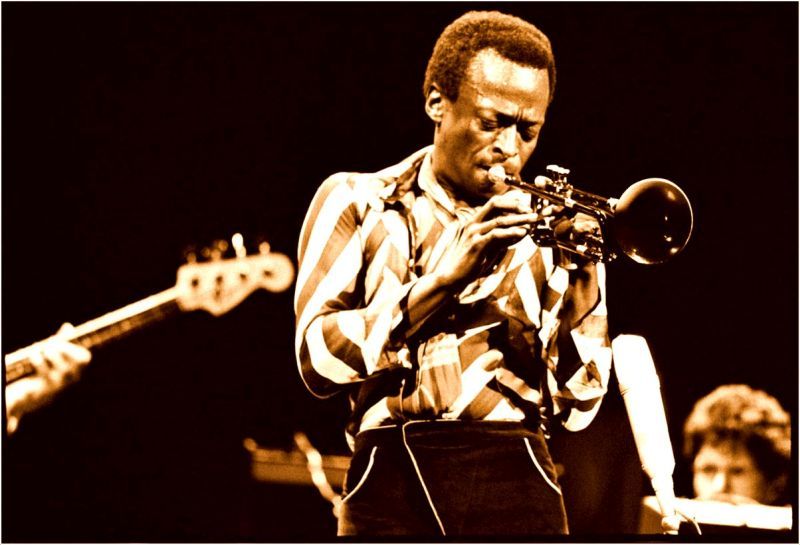 17 / 18 / 19 / 20 June 1970 - Laura Nyro, Miles Davis Quintet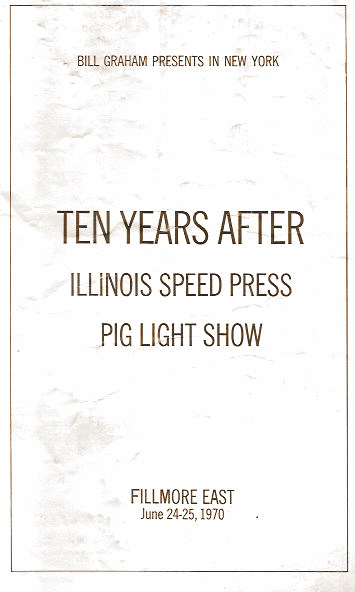 June 24th & 25th 
Ten Years After
Illinois Speed Press & Catfish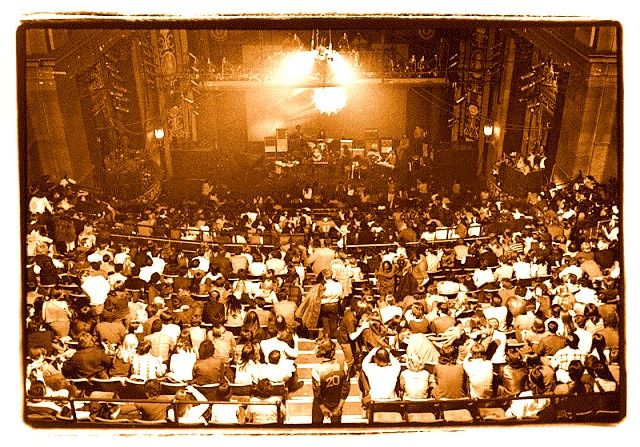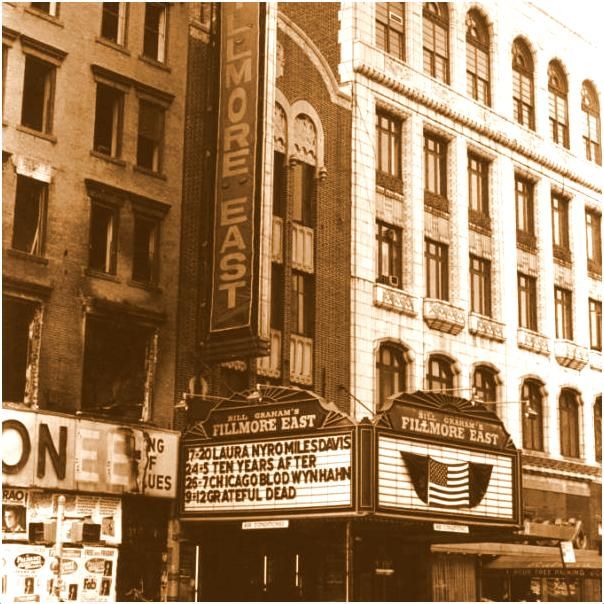 09 / 10 / 11 July 1970
Grateful Dead, New Riders Of The Purple Sage
Suddenly things began to change in the rock music business.  After Woodstock, bands began to play larger venues that paid them more money.  In an editorial, Variety stated that more and more acts , along with the vast increase in pay for a performance, began to demand a wide variety of perks.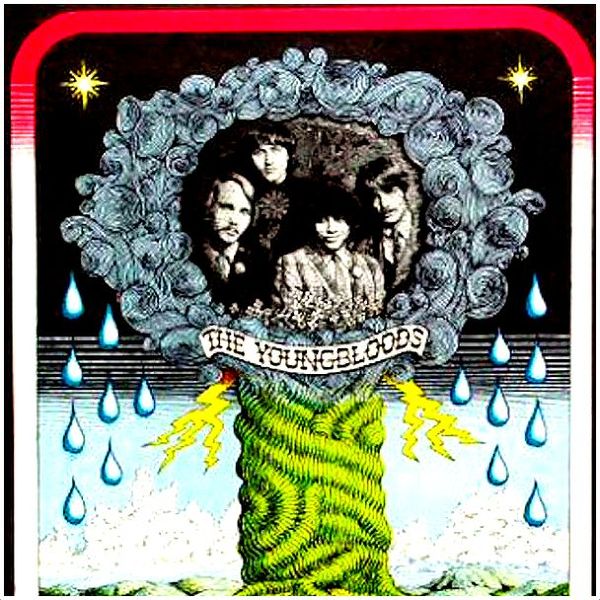 August 21st & 22nd
The Youngbloods, Blues Image, Tim Hardin

August 28th & 29th
Savoy Brown, Fleetwood Mac, Fairport Convention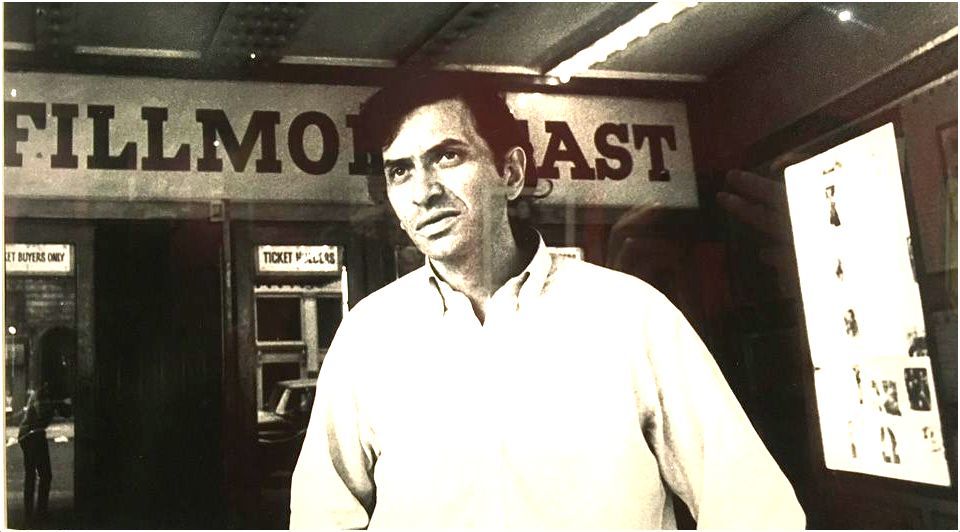 "On June 27, Bill Graham took out a full-page advertisement in Billboard magazine announcing that both his Fillmore venues were fighting for survival. The ad warned that managers, agents, and rock bands were pricing themselves out of the theater concert business. 'Economics have taken the music from the clubs," stated Graham, "from the clubs, ballrooms and concert halls to the larger coliseums and festivals.'  And he warned that his twin temples of rock were in imminent danger, as there were not enough major acts to replace the ones now playing the bigger venues like Madison Square Garden. 'Once one got to the Seventies,' said Kip Cohen (manager of Fillmore East), 'there was a big shift and things got harder and uglier. There was a change. A change in the music. A change in the audience. A change in the attitude.' Cohen said that the Fillmore venues could no longer compete with the bigger venues that paid the artists far more money and satisfied their increasingly inflated egos. 'We had something to sell for three years,' he said, 'and then it was not something that we could sell anymore. Could we sell it to the audience? Yes. But not to the artist.'" (John Glatt, Live at the Fillmore East and West, Lyons Press)
SEPTEMBER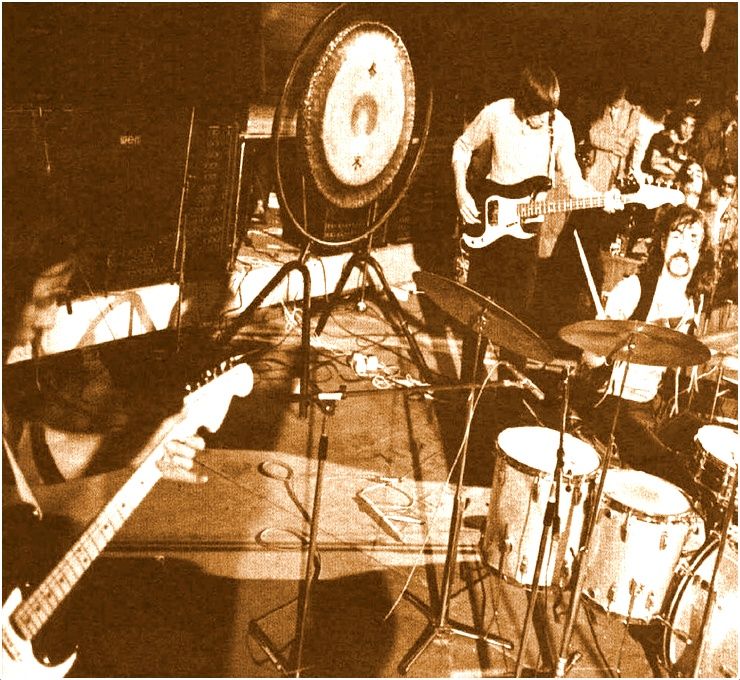 September 27th Pink Floyd
Albert King
Van Morrison
The Byrds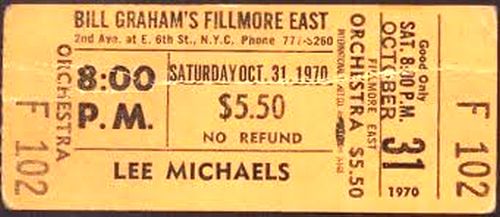 NOVEMBER
November 18th / 19th Traffic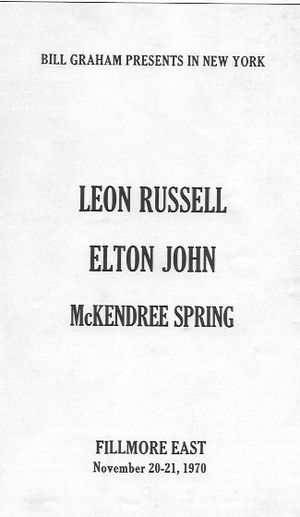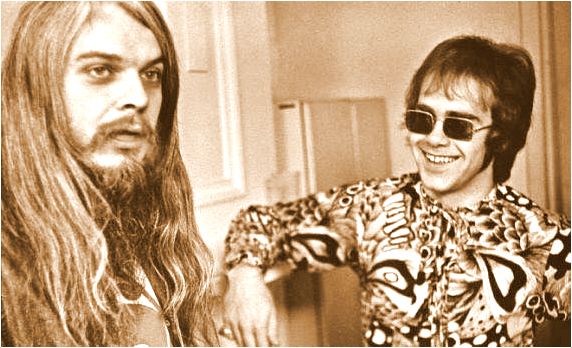 November 20th & 21st 
Leon Russell, Elton John, Mckendree Spring
"Elton John performed four shows on Nov. 20-21, 1970 at New York's Fillmore East, and something magical happened. Folk-rockers McKendree Spring opened the show, followed by John and then Russell, who topped the bill. Promoter Bill Graham booked John at Russell's suggestion. 
'I've never worked for anybody who's as professional as Bill Graham or his staff,' John told Rolling Stone. 'It's the musician's dream gig. If you don't make it at the Fillmore West or the Fillmore East, no matter what the audience is like, you'll never make it anywhere. Bands take it for granted they're playing the Fillmore. They don't think about the fact that they're getting the best PA system, the best sound and the best lighting. The lighting is just incredible.' 
John was joined by Russell for a nine-minute-long jam following "Burn Down the Mission," with Russell on guitar."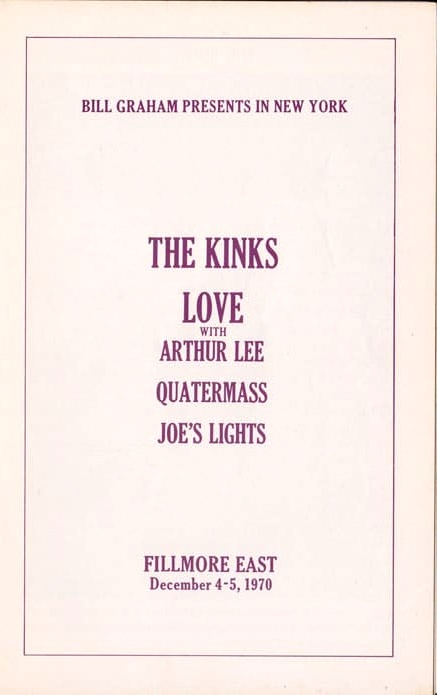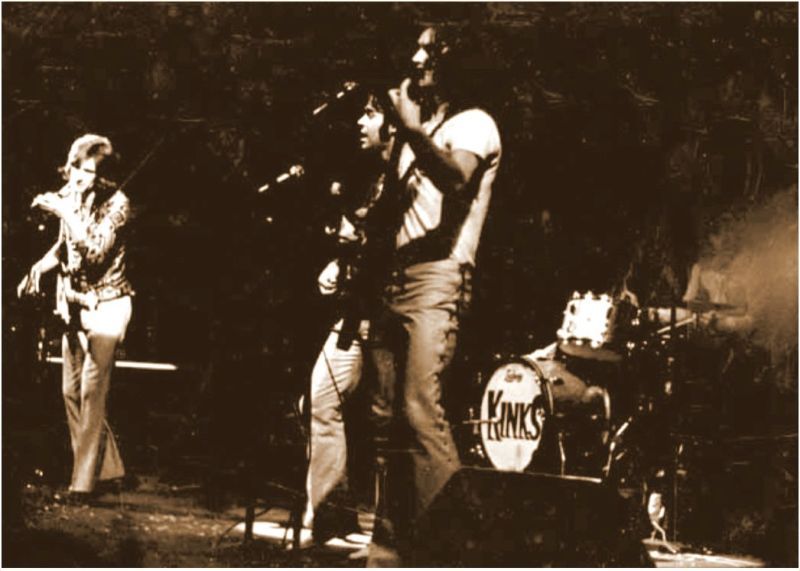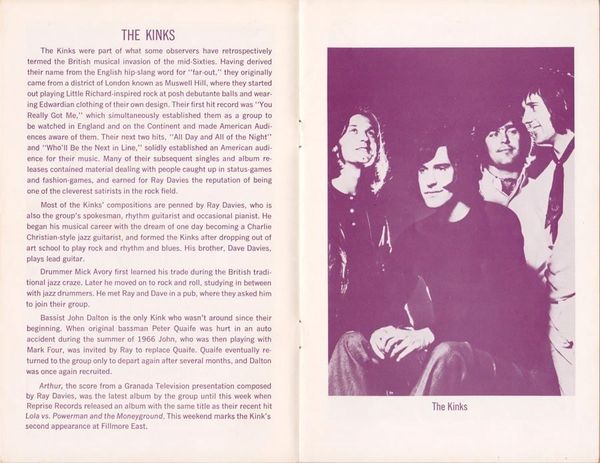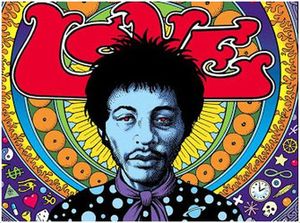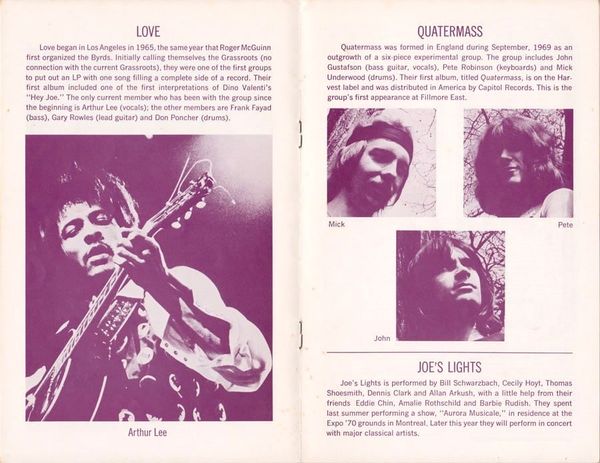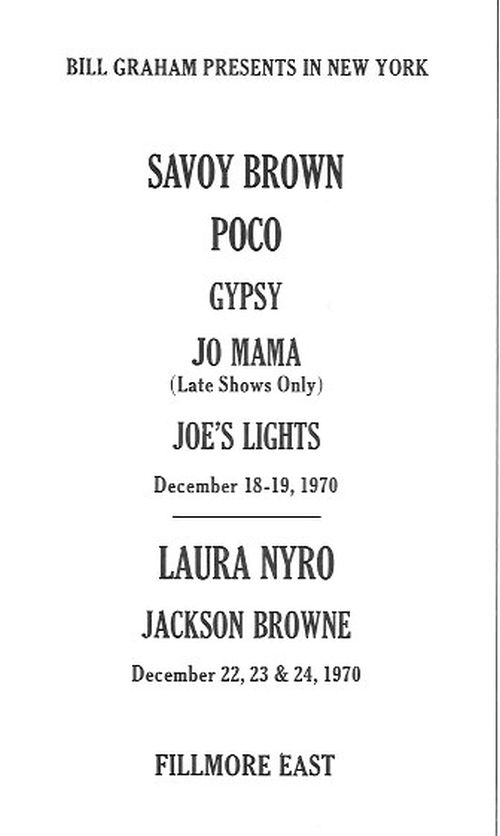 18 / 19 December 1970 - Savoy Brown, Poco, Gypsy / Jo Mama, Joe's Lights 
22 / 23 / 24 December 1970 - Laura Nyro, Jackson Browne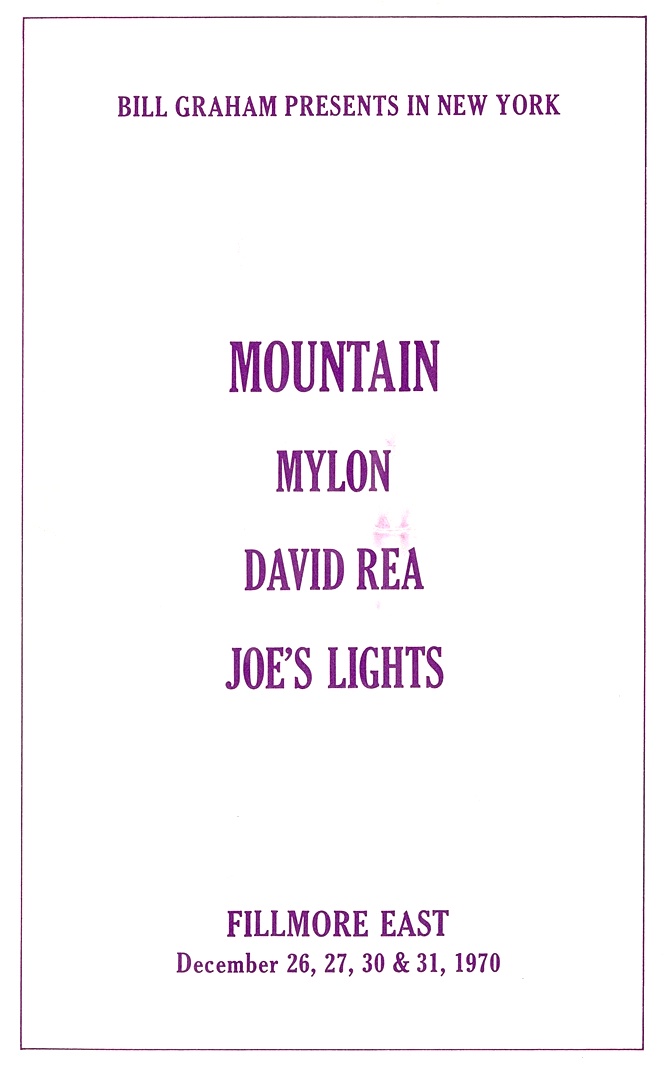 26 / 27 / 30 / 31 December 1970 - Mountain, Mylon, David Rea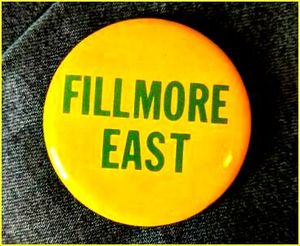 1970 Concerts @ The Fillmore East
January
01 January 1970 - Jimi Hendrix, Voices Of East Harlem,  Joshua Light Show 
02 / 03 January 1970 - Grateful Dead, Lighthouse, Cold Blood,Joshua Light Show
09 / 10 January 1970 - Ike & Tina Turner, Mongo Santamaria, Fats Domino, Joshua Light Show
16 / 17 January 1970 - Santana, Catfish, Joshua Light Show
23 / 24 January 1970 - Quicksilver, Country Joe & The Fish, Eric Mercury, Joshua Light Show
30 / 31 January 1970 - Mountain, Jack Bruce & Friends, Joshua Light Show
February
06 / 07 February 1970 - Delaney, Bonnie & Friends, Wilbert Harrison, Seals And Crofts, Joshua Light Show
11 / 13 / 14 February 1970 - Grateful Dead, Allman Brothers, Love, Joshua Light Show
20 / 21 February 1970 - Savoy Brown, Kinks, Renaissance / Noonan, Joshua Light Show
22 February 1970 - Ravi Shankar, Notes: w/ Zakir Quereshi - Tabla, Dr. Ashoka Ray - Tambora
26 February 1970 - Ten Years After, Zephyr, John Hammond Lights: Joshua Light Show, 
27 / 28 February 1970 - Ten Years After, Doug Kershaw, Zephyr, Joshua Light Show
March
06 / 07 March 1970 - Neil Young & Crazy Horse, Steve Miller Blues Band, Miles Davis, Joshua Light Show
13 / 14 / 15 March 1970 - John Mayall, B.B. King, Taj Mahal, Joshua Light Show
19 / 20 / 21 March 1970 - Moody Blues, Lee Michaels, Argent, Joshua Light Show 
27 / 28 March 1970 Joe Cocker Mad Dogs & Englishmen, Ronnie Hawkins, Stone The Crows, Joshua Light Show
April
03 / 04 April 1970 - Quicksilver Messenger Service, Van Morrison, Brinsley Schwarz, Joshua Light Show
05 April 1970 - Tom Paxton, Fraser & Debolt, Joshua Light Show
10 / 11 / 12 April 1970 - Santana, It's A Beautiful Day, American Dream, Joshua Light Show
16 April 1970 - Pink Floyd, Joshua Light Show
17 / 18 April 1970 - Ray Charles, Dizzy Gillespie, Mongo Santamaria, Joshua Light Show
23 / 24 / 25 / 26 April 1970 - Incredible String Band, Stone Monkey Mime Troupe
May
01 / 02 May 1970 - Mountain, Blodwyn Pig,  Joshua Light
06 / 07 May 1970 - Jefferson Airplane, Manfred Mann Chapter 3, Wilbert Harrison, Headlights 
08 / 09 May 1970 - Mothers Of Invention, Insect Trust, Sea Train, Joe's Lights
10 May 1970 - Music Festival '70, Notes: Satellite Colorcast From London 3pm Live, 8pm Delayed, 
15 May 1970 - Grateful Dead, New Riders Of The Purple Sage, Joe's Lights, , 
16 May 1970 - Guess Who, Cold Blood, Buddy Miles, Lights: Joe's Lights, 
21 / 22 / 23 May 1970 - Jethro Tull, Clouds, John Sebastian, Joe's Lights
29 / 30 May 1970 - Nina Simone, Mongo Santamaria, Joe's Lights
June
02 / 03 / 04 / 05 / 06 / 07 June 1970 - Crosby Stills Nash & Young, Taylor & Reeves
10 / 11 June 1970 - Traffic, Fairport Convention, Mott The Hoople, Joe's Lights
12 / 13 June 1970 - Procol Harum, Rhinoceros, Seals & Crofts, Joe's Lights
17 / 18 / 19 / 20 June 1970 - Laura Nyro, Miles Davis Quintet
24 / 25 June 1970 - Ten Years After, Illinoise Speed Press,  Pig Lights, 
26 / 27 June 1970 - Chicago, Blodwyn Pig, Jerry Hahn Brotherhood, Pig Light Show
July
09 / 10 / 11 / 12 July 1970 - Grateful Dead, New Riders Of The Purple Sag, Pig, Midnight Show
11 / 12 July 1970 - Preservation Hall Jazz Band, Notes: 8pm Show,
24 / 25 July 1970 - Hot Tuna, Leon Russell, Rig, Pig Lights
31 July 1970 - Grand Funk Railroad, Pacific Gas & Electric, Blood Rock, Pig Lights
August
01 August 1970 - Grand Funk Railroad, Pacific Gas & Electric, Blood Rock, Pig Lights
05 August 1970 - Jethro Tull, Cactus, Pig Lights
08 August 1970 - Small Faces w/ Rod Stewart, Blodwyn Pig, Chicken Shack, Pig Lights
10 / 11 / 12 August 1970 - Santana, Voices Of East Harlem, Ball 'N Jack, Pig Lights
14 / 15 August 1970 - Procol Harum, Country Joe McDonald, Toe Fat, Pig Lights
21 / 22 August 1970 - The Youngbloods, Blues Image, Tim Hardin, Pig Lights
28 / 29 August 1970 - Savoy Brown, Fleetwood Mac, Fairport Convention, Pig Lights
September
11 / 12 September 1970 - Byrds, Delaney & Bonnie & Friends, Great Jones, Pig Lights
17 / 18 / 19 / 20 September 1970 - Grateful Dead, New Riders Of The Purple Sage, Joe's Lights
23 / 25 / 26 September 1970 - Allman Brothers, Van Morrison, The Byrds, Captain Candlepower Lights
27 September 1970 - Pink Floyd
October
02 / 03 October 1970 - Johnny Winter, Buddy Miles, Tin House
09 / 10 October 1970 - John Mayall, It's A Beautiful Day, Flock, Captain Candlepower Lights
12 October 1970 -  Rock Relics Auction
16 / 17 October 1970 - B.B. King, Butterfield Blues Band, Elvin Bishop, Joe's Lights
23 / 24 October 1970 - Derek & The Dominos, Ball 'N Jack, Humble Pie, Joe's Lights
30 / 31 October 1970 - Lee Michaels, Cactus, Juicy Lucy, Pig Lights
November
06 / 07  November 1970 - Albert King, N Y Rock N' Roll Ensemble, Flying Burrito Brothers, Pig Lights
10 November 1970 - Rod Stewart & Small Faces, Black Sabbath, Pig Lights
13 / 14 November 1970 - Frank Zappa & Mothers Of Invention, Sha Na Na, JF Murphy & Free Flowing Salt
18 / 19 November 1970 - Traffic, Cat Stevens, Hammer, Joe's Lights
20 / 21 November 1970 - Leon Russell, Elton John, Mckendree Spring, Captain Candlepower Lights
26 / 27 / 28 November 1970 - Jefferson Airplane, Buddy Guy-Jr. Wells Band, Headlights
29 November 1970 - Incredible String Band
December
04 / 05 December 1970 - The Kinks, Love w/ Arthur Lee, Quatermass, Joe's Lights
11 / 12 December 1970 - Canned Heat, Allman Brothers, Dreams / Toe Fat, Joe's Lights
14 December 1970 - Virgil Fox, Joe's Lights
18 / 19 December 1970 - Savoy Brown, Poco, Gypsy / Jo Mama, Joe's Lights
22 / 23 / 24 December 1970 - Laura Nyro, Jackson Browne
26 / 27 / 30 / 31 December 1970 - Mountain, Mylon, David Rea, Joe's Lights
---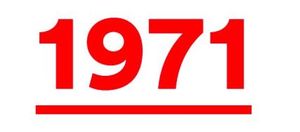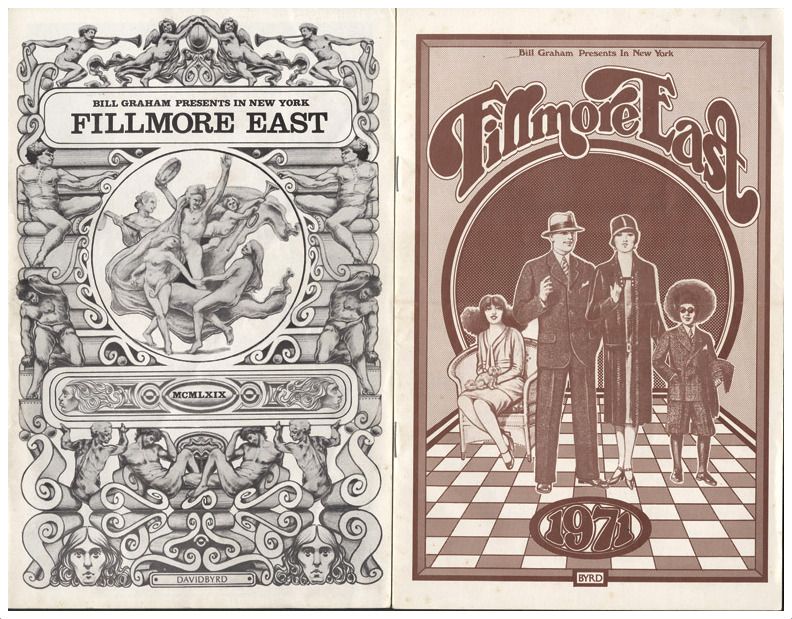 By the time 1971 came around, Bill Graham was thinking of calling it quits. Much to his surprise, all of the bands that he had promoted suddenly decided to only perform at bigger venues.
"The new heavy sounds of acts like Alice Cooper and Black Sabbath were not doing it for Graham. The crowds, too, had changed, Graham complained. He had no interest in booking shows at Madison Square Garden. He shut the Fillmore East down in June 1971 with a three-night run headlined by the Allman Brothers Band, joined on the closing evening by an all-star cast that included Country Joe, Mountain, and the Beach Boys." (The Gothamist)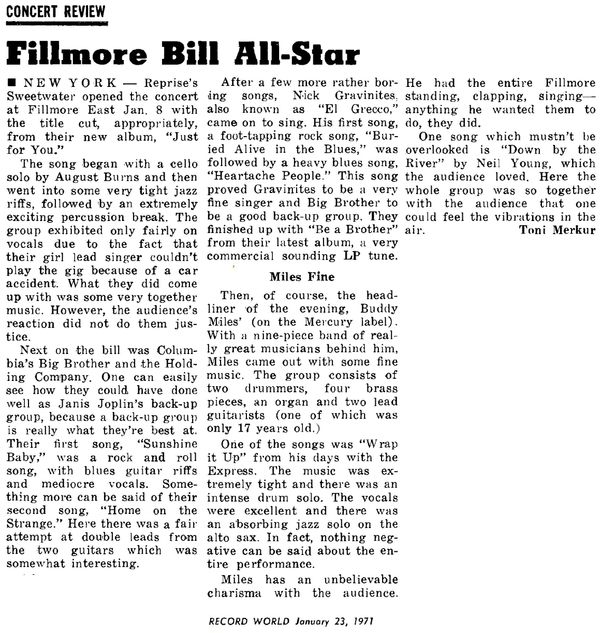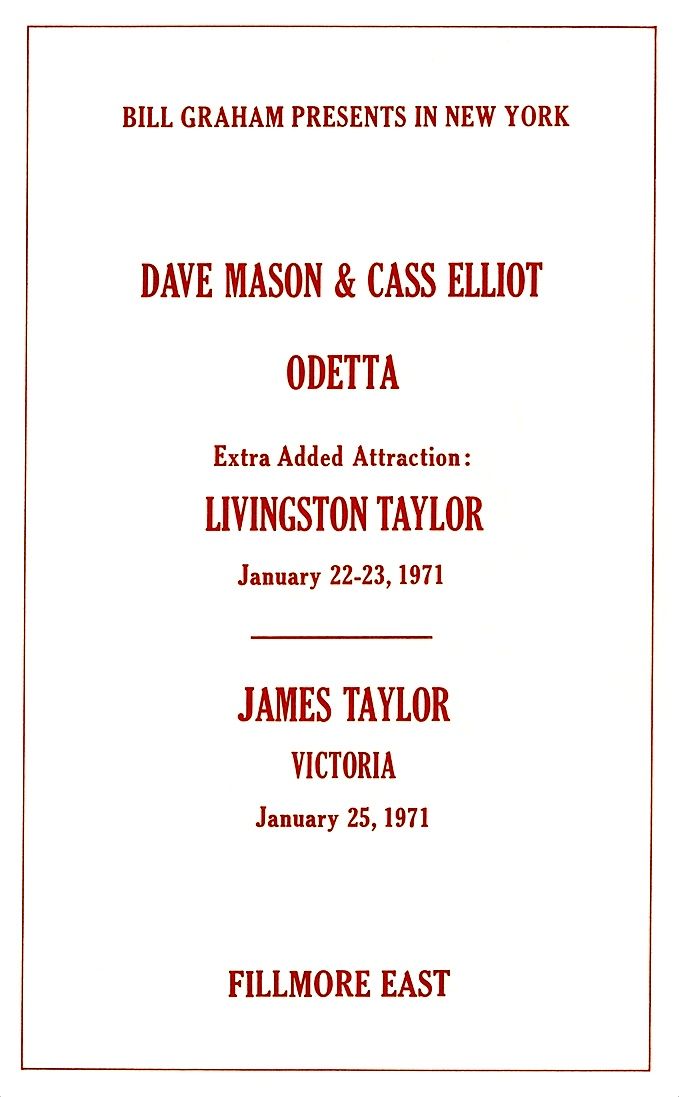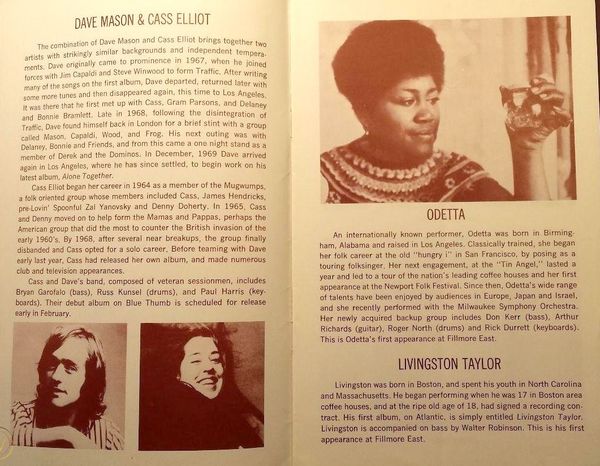 January 22nd & 23rd 1971
Dave Mason & Cass Elliot, Odetta, Livingston Taylor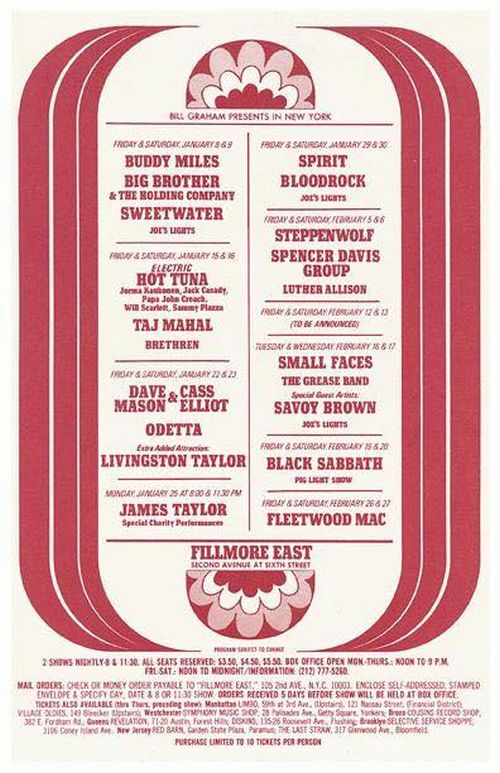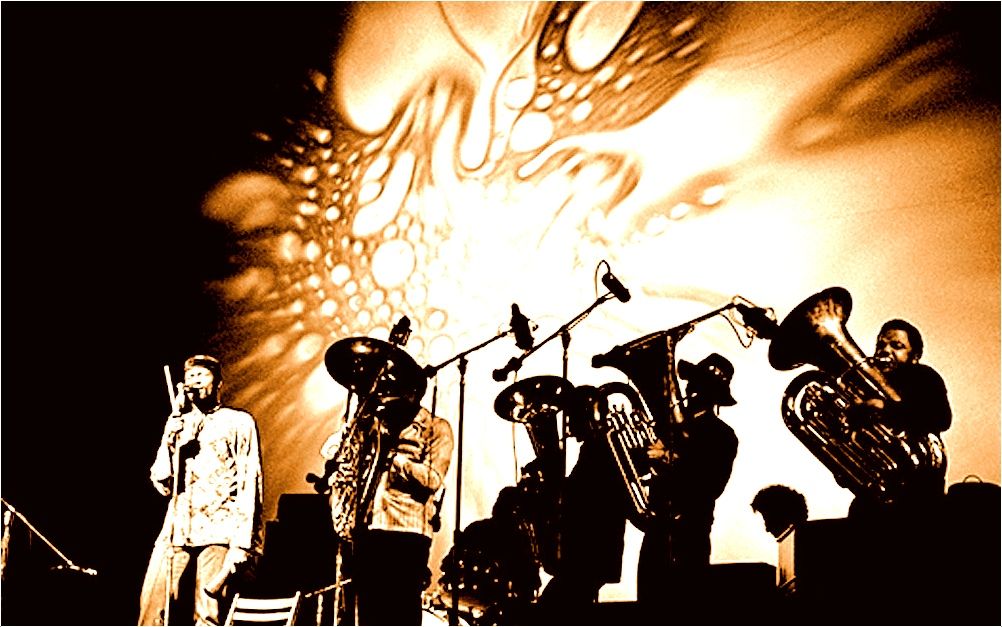 February 11th 1971 Taj Mahal, Roberta Flack, Leon Thomas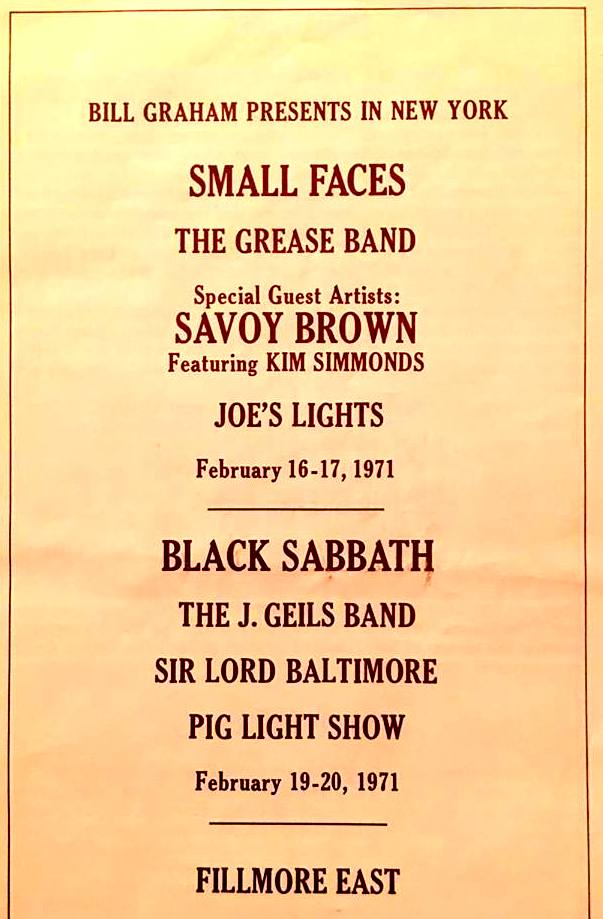 Small Faces 1971 aka Faces with Rod Stewart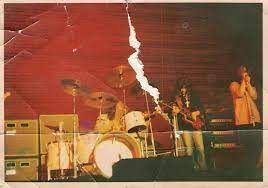 Black Sabbath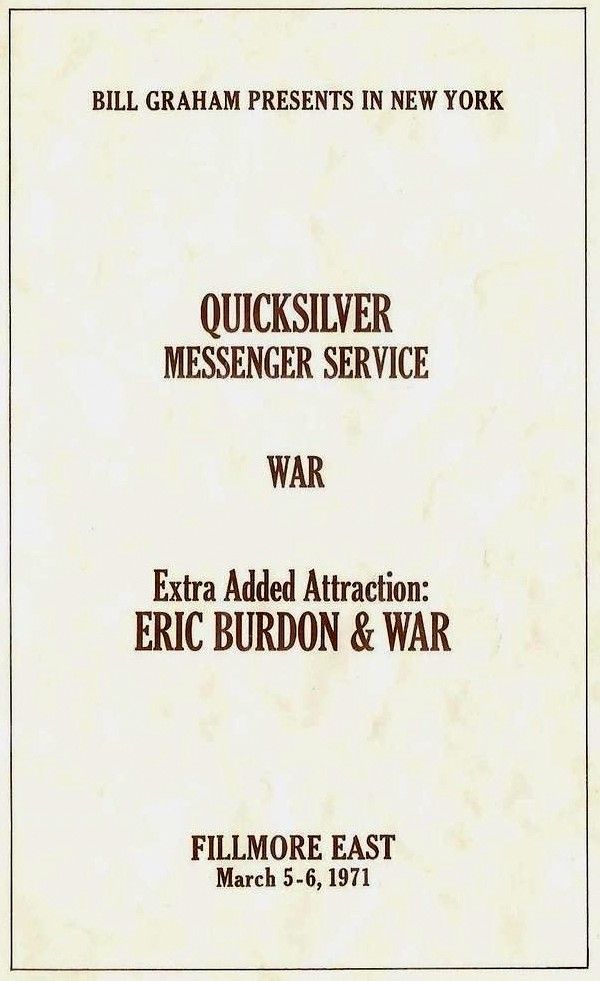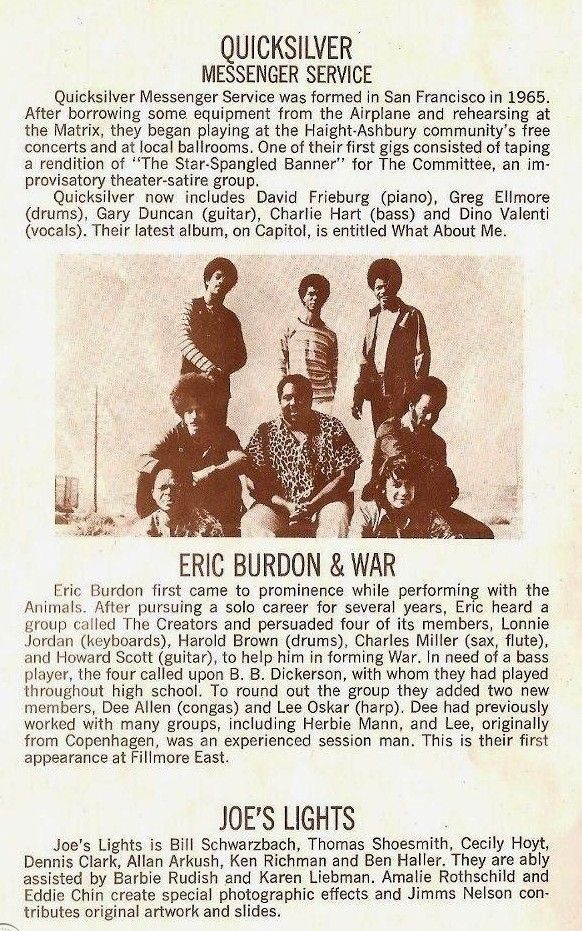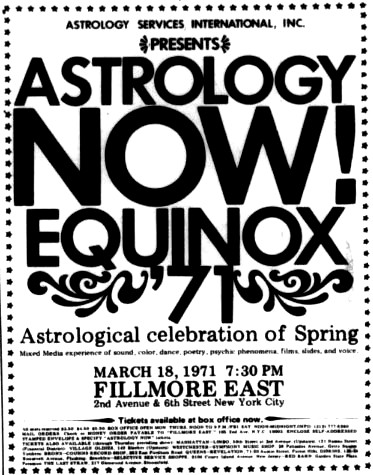 March 18th Astrology Now

March 21st Spring For Lowenstein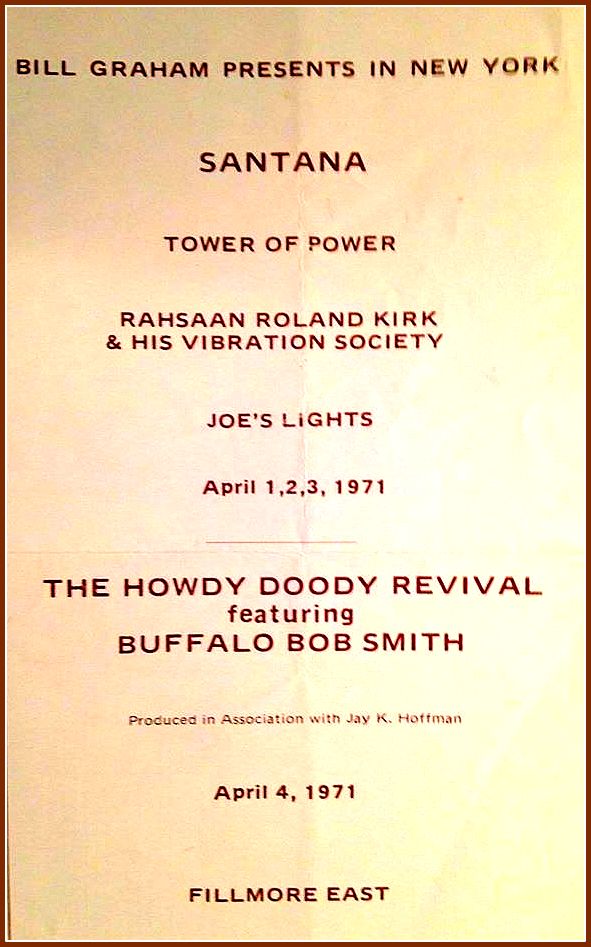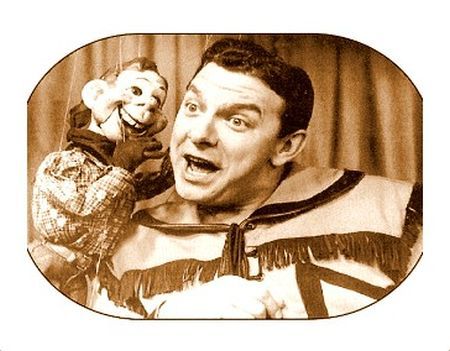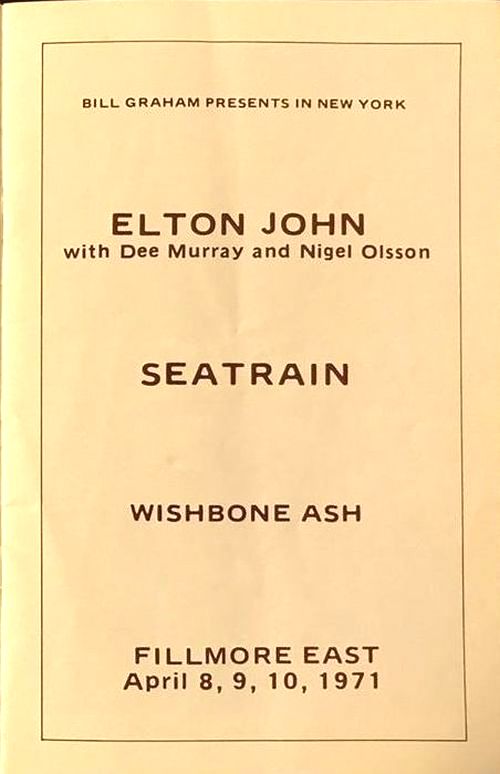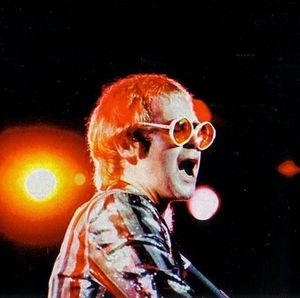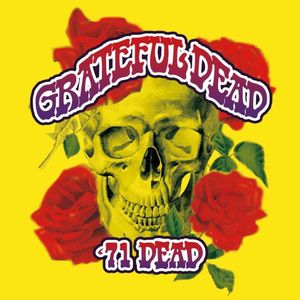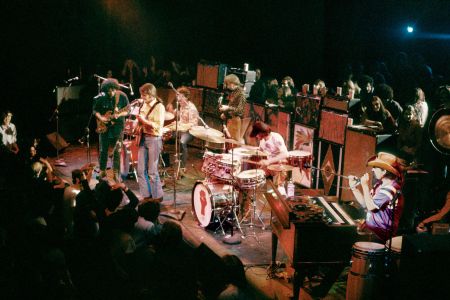 Grateful Dead April 25, 1971
"By 1971, The Grateful Dead had firmly established the Fillmore East as their New York City base of operations. But as the saying goes, all good things must come to an end. The Fillmore East would be shuttered by the end of the summer, but not before one last run of Dead shows. The five-night run would serve as the band's last hurrah at Bill Graham's legendary East Village venue... 
The band wastes no time and dives right into a roaring Truckin' to open the show. It's a crisp, early version of this Dead classic to-be that was barely a year old at the time. It would also serve as the opener for three other shows during this Fillmore run. After requesting some cranking up of the monitors, Jerry Garcia then leads the group through Loser, carrying over the alt-country psychedelic vibes established earlier by the New Riders. A short, but hauntingly beautiful guitar solo from Garcia highlights this one. The collective mood then gets lifted in a major way with Hard To Handle. The charismatic Pigpen, who has several shining moments during this show, takes the lead on vocals in his signature, blues-riddled style. Garcia and drummer Bill Kreutzmann seem to take turn raising the fervor and intensity which yields a hearty early jam...
...the show resumes with Me And Bobby McGee, this time with Bob Weir leading the way on vocals.  Afterwards Weir shouts out some more friendly advice to the monitor guy before Cold Rain And Snow lifts off.  Garcia's agressive guitar tone and the thunderous bass notes from Phil Lesh give this always emotional number a little something extra.  This sets the stage for Pigpen to take charge once more, this time with harmonica in tow for The Rub.  This Lightnin' Hopkins song, also known as Ain't It Crazy, would only be played 13 times by the Dead, properly shelved for good after Pigpen's passing.
Weir then gets back on the mic for Playin' In The Band, another soon-to-be Dead classic. It's essentially just a run through of the composed portion, with no jam to speak of with the song still in its nascent stage. Garcia then notes that 'we used to do this song acoustically' before an uptempo rendition of Friend Of The Devil takes place. 
The first set then wraps up with a few already established staples of the Grateful Dead's live catalog. The instrumental segue between China Cat Sunflower and I Know You Rider is near-seamless, with Garcia delivering a flurry of emotional guitar fills on the latter. Casey Jones then drives the Fillmore crowd off to intermission, capping off a whirlwind first set. Garcia and Weir both take it upon themselves to advise everyone they'll return shortly. 
The Dead kick off the second set at the Fillmore in grand fashion with a supercharged Morning Dew. Steadily progressive rhythms supplied by Lesh and Kreutzmann secure the framework for another Garcia guitar solo that drips with emotion, much to the crowd's delight. After a quick run through Beat It On Down The Line, it's Pigpen's turn again as he and his harp rip through a cover of the bluesy Next Time You See Me.
Pig then gets back behind the organ for Bertha, another fresh tune at the time, debuted only months ago. This clears the deck for Sugar Magnolia. Garcia has the wah effect on full blast for this one, almost overpowering everything else. After some more griping about the in-house monitors, the Dead's cover of Smokey Robinson and The Miracles' Second That Emotion smooths everything over. It would the fourth performance of this song that the band only ever played five times – all in April of 1971. 
But this would not be the cover selection that blows the doors off the second set. That honor belongs to the Good Lovin' that follows, sung in Pigpen's signature style and immediately supplemented with a majestic drum solo from Kreutzmann. As the wave of Drums begins to recede, a loose form of Good Lovin' reemerges, spurred on by Pigpen and his improvisational crooning. With the rest of the band fully locked in behind him, this sequence sees the Dead at their full powers and steals the show." (nysmusic.com)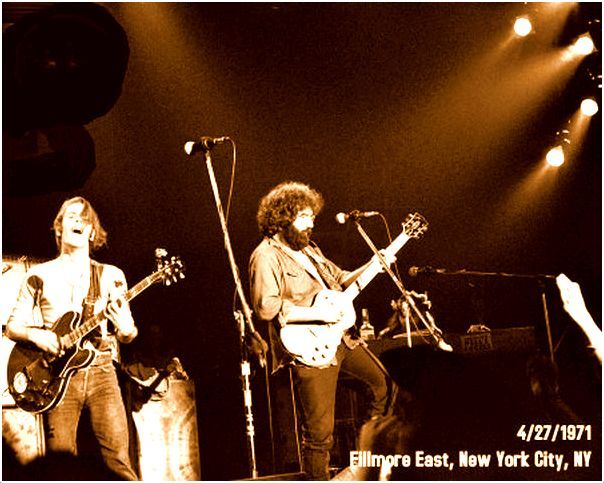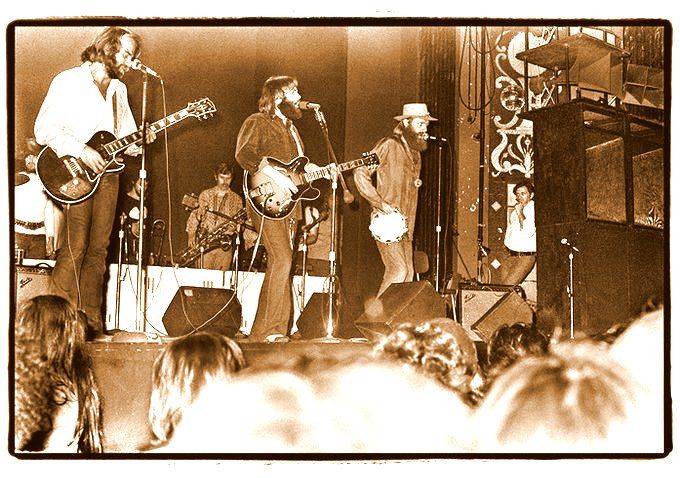 April 27 The Grateful Dead & The Beach Boys Jam
"In 1971 at the Fillmore East in New York, the Grateful Dead welcomed pop-rock behemoths The Beach Boys to the stage for a special jam session. It was an everyday occurrence for fans of The Grateful Dead, picking up special guests with the ease of wind picking up grains of sand, the band were experts in welcoming stars to their stage. Even by 1971, with the band still in their comparative infancy, the Dead were more than happy to welcome some huge names to share the stage with them, including The Beach Boys. 
Though the crowd would let out a half-moan following Jerry Garcia's announcement that 'We got another famous California group, it's the Beach Boys,' they would soon be shown why exactly Garcia was so pleased to introduce the hugely influential band. Deadheads are loyal to their group, and the rumbles of discontent were certainly short lived as the other giants of the West Coast made their way across the country to bolster the arsenal of their Californian pals.
The Beach Boys were not as revered for their innovative style back in 1971 as they are today. Back then they were kind of square and represented, at the very least, an estuary of the mainstream, which to Deadheads at the time, was unthinkable. They had topped charts and broken records, they had written a heavy catalogue of pop tunes, and despite the seminal album Pet Sounds, the group were not considered in the realms of cool. But The Grateful Dead knew better. 
The Beach Boys may not have been the subversive cultural phenomenon that the Dead had become through their live shows, but the Cali band still had heaps of value to their work, and they were determined to show it. Without Brian Wilson, the group took to the stage alongside the Dead and by the end of the show had the whole audience on their side. It's a testament to the kind of players Carl Wilson, Dennis Wilson, Mike Love, Al Jardine and Bruce Johnston are that they could keep up at all. 
The stage was set at New York's iconic Fillmore East and had seen the Dead already perform two shows of their scheduled five-night run. The previous evening on April 26th the band had been joined by Duane Allman, whose own band, The Allman Brothers, had opened for the Dead the year earlier at the venue. But for the 17th they had something really special planned. 
The band were well into their set before they invited the California band out. They had already treated the audience to fan-favorites such as 'Bertha', 'Hard To Handle', and 'Sugar Magnolia', which meant the audience was duly sated. The group had just wound down the countrified 'Dire Wolf' when Garcia made the announcement.
With the band now swelled to a chunky 10 piece arrangement, (the Dead line-up at the time was Garcia, Bob Weir, Phil Lesh, Ron McKernan and Bill Kreutzmann) there was a lot of people to organize on stage. Rather than try to play one another's songs they decided the best thing to do would be to rely on the oldies. The two bands ripped through the Coasters' 'Searchin' as well as the Robins' 'Riot in Cell Block #9', following which the Dead left the stage and let The Beach Boys takeover awhile, keeping the fans happy as they did. 
If you ignore Mike Love's desperate attempts to be "hip" by retelling a story about getting stoned with Buffalo Springfield the performance is pretty tight. Of course, without Brian Wilson, The Beach Boys were never quite at full tilt, yet their renditions of 'Help Me, Rhonda,' 'I Get Around' and 'Good Vibrations' were all welcomed with open arms. 
By the end of 'Help Me, Rhonda' the Dead had begun to re-enter the stage for two more songs with the Cali band. As well as taking on a cover of Merle Haggard's 'Okie from Muskogee' they finished the night with a rendition of Chuck Berry's 'Johnny B. Goode'. And this crazy night with The Grateful Dead was later brought to a close." (Far Out magazine)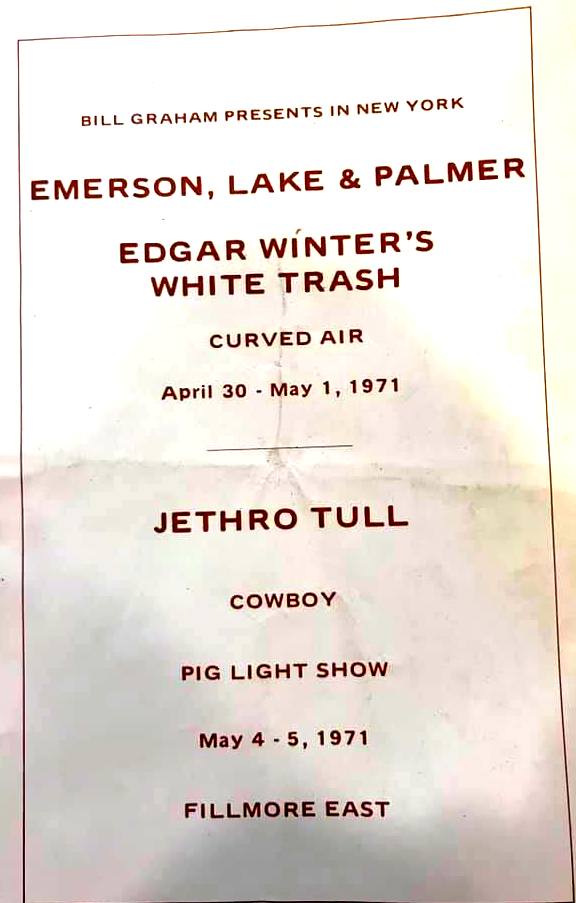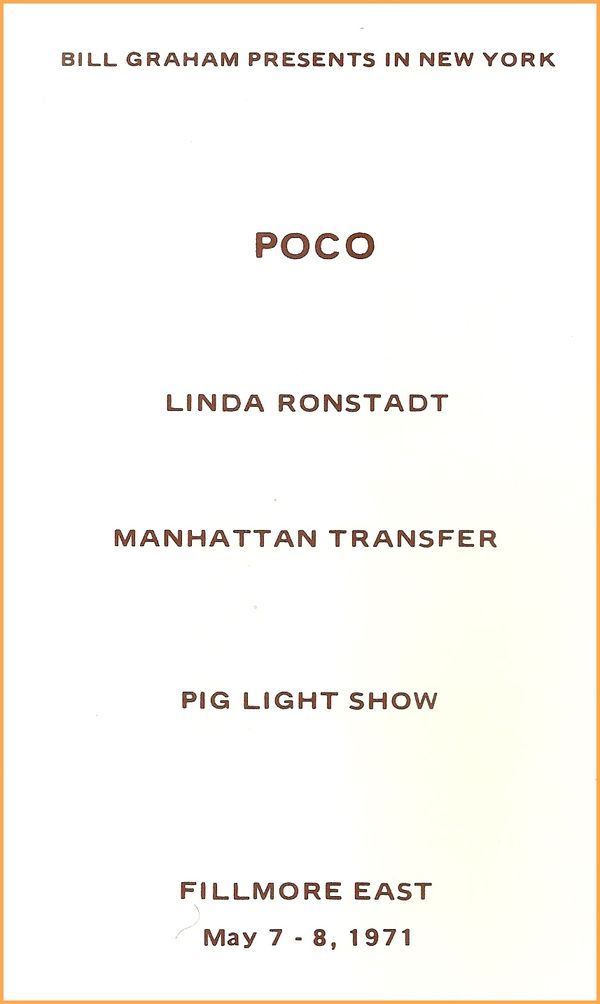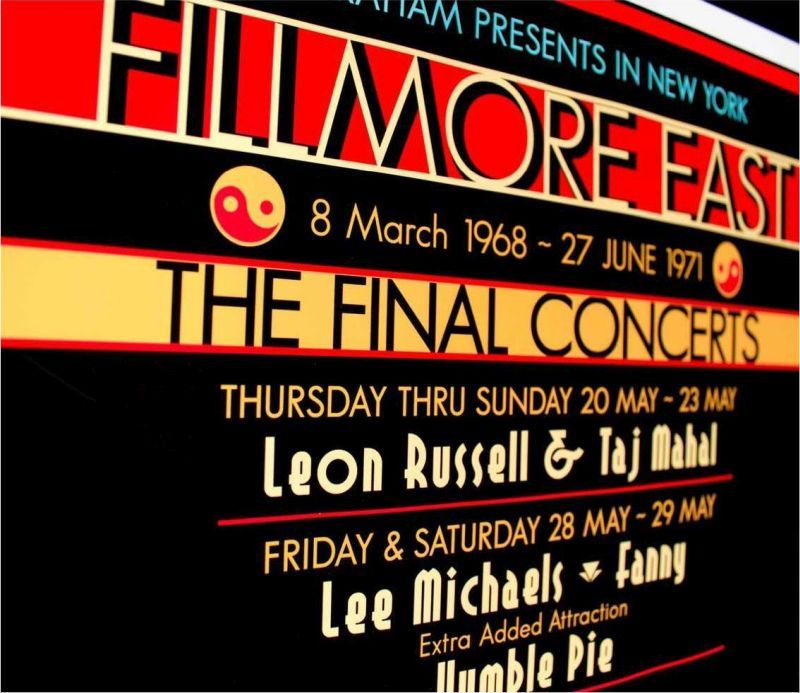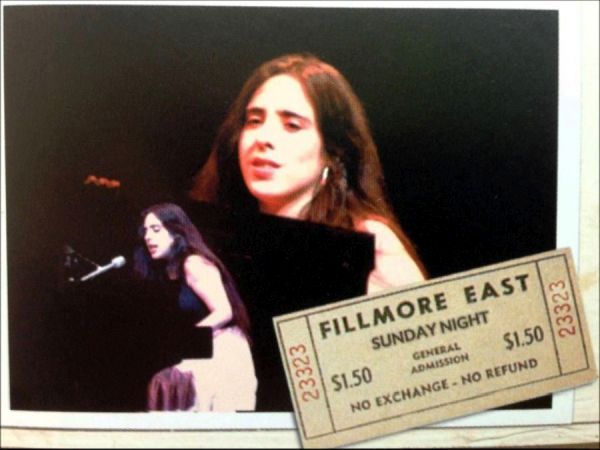 May 30th Laura Nyro, Spencer Davis & Peter Jameson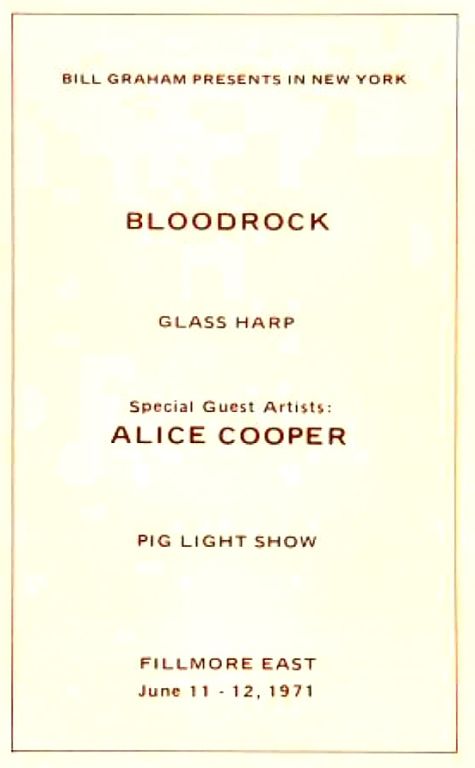 June 11th & 12th Blood Rock, Alice Cooper, Glass Harp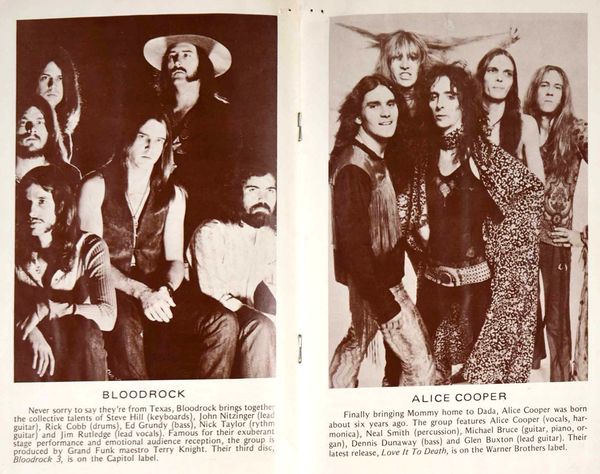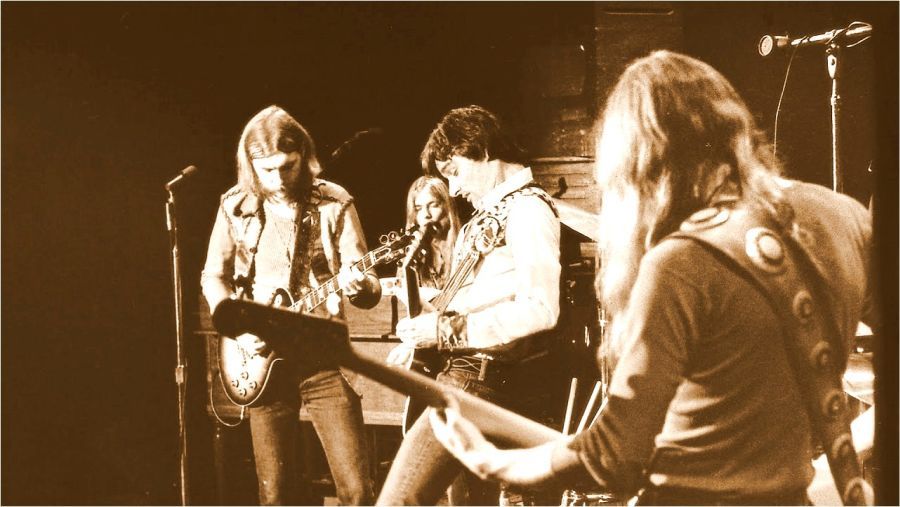 By the summer of 1971, Bill Graham was officially fed up with the asking prices for the acts he did book were borderline cost-prohibitive. Eventually, Graham decided to close the Fillmore East. 
Since Graham wanted the Fillmore East to go out in style, he booked The Allman Brothers to play for the Fillmore East's audience one final time.  On June 27th, this memorable show lasted into the early morning hours.
Dickie Betts: "'That was a special show, We played until daylight that morning. I remember it was dark in there, and when they opened the door, the sun about knocked us down. We didn't realize we had played until seven, eight o'clock in the morning. Bill Graham just let us rattle and nobody said, 'We gotta cut the time.' It was just a really free kind of thing."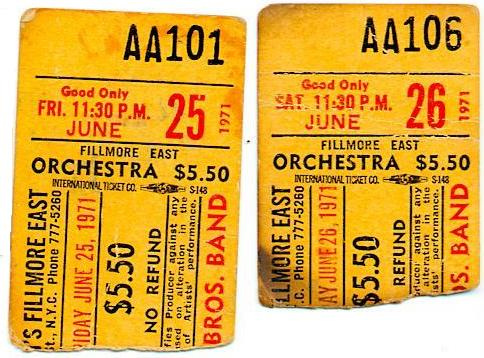 "'We played for roughly seven straight hours with everything we had,' drummer Butch Trucks remembered. 'The feeling was just so overwhelming that I just started crying. Then we got into a jam, I think it was 'Mountain Jam,' that lasted for four straight hours. Nonstop. And when we finished, there was no applause whatsoever. The place was deathly quiet. Someone got up and opened the doors and the bright morning sun came pouring in." (John Glatt, Live at the Fillmore East and West, Lyons Press)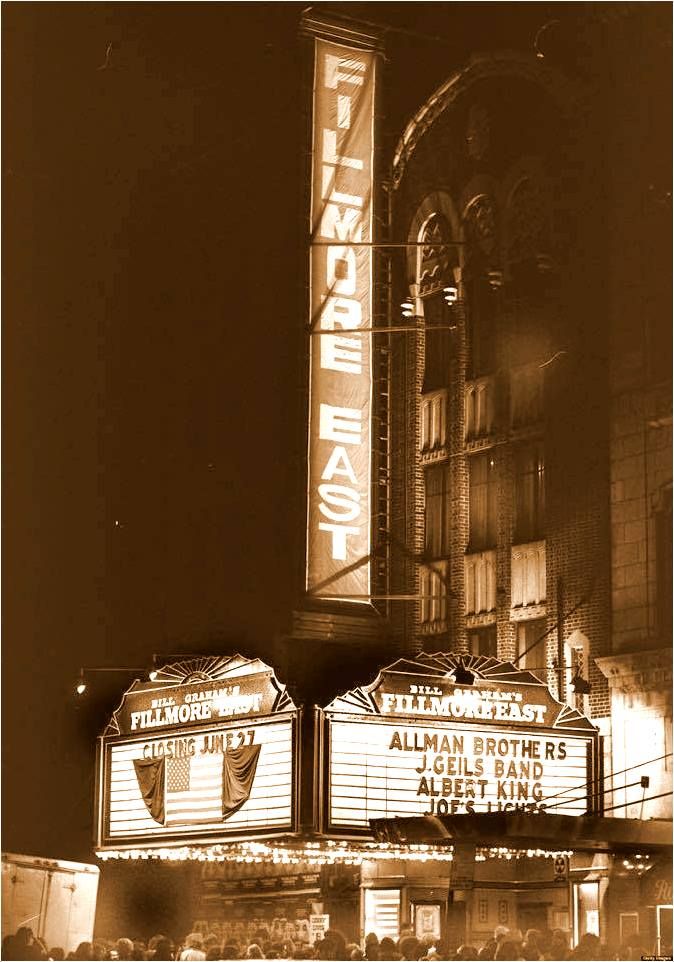 "The last night at the Fillmore East. It's been called The Holy Grail of Allman Brothers Band shows. The night the fan who shouted, 'Play all night!' on the live Fillmore East album got his wish. Dickey has been quoted as calling it the best show they ever played. The fact that there are no known recordings of this show only adds to the mystique. If you were there, you heard it. If you weren't, you can only listen to shows from that era and imagine one that went on for hours, ending with a stupendous jam. Kirk West says, 'they had the recording equipment there but no one turned it on.' Can you imagine? The closing concert at the Fillmore East and no one recorded it?! Perhaps, locked away in some secret vault in the Bill Graham organization, lies a tape, waiting for the right moment to surface. Or perhaps it's in some fan's attic, long forgotten, oxide slowly turning to dust with the memories.
Going to a concert was so much more than just going to hear a band. It was a group social event. Five or six friends jammed into a car, passing food and refreshments around, playing tapes, singing along, journeying to Deepest Darkest New York City! 
After seeing a couple of shows, the Allmans became my favorite band. I loved their albums but nothing matched seeing them live. To me there was music, and then there was the Allman Brothers Band. No other band's music reached out and grabbed my heart and soul the way the Allmans' did. I felt like they touched my emotions, the very center of my being, directly and personally. When Duane played a solo, I knew exactly what he was feeling. 
I enjoyed other concerts, but they were just artists belting out their hits, impressing us with their musical talent, getting us on our feet, dancing and yelling. But none of them made me close my eyes tight and feel the emotions jamming in my brain, down my spine, clenching the muscles in my legs, right into the soles of my feet. No other musicians made me feel so connected to their souls as they played. It was like the difference between acting and living. Other bands seemed to be aware of the fact that they were on a stage and making music. The Allmans seemed to be living and feeling the things they were playing right there in front of us. 
We went to a lot of shows, indoors and out, but our favorite spot by far was Bill Graham's Fillmore East. The Fillmore was a concert hall in the old tradition, seating only a few thousand people. There was a balcony and three sections of theater-style seats. The Fillmore staff allowed us to bring in our own munchies, and we always had a mix of healthy food and junk food: brownies, apples, carrots, cookies, you name it. 
The ushers at the Fillmore kept busy running around the theater shining flashlights on people flaunting the 'no smoking' laws, but there was always plenty of olfactory evidence that the cigarette lighters were winning the battle with the ushers. The Fillmore had wonderful acoustics, something sadly missing from most concert experiences these days. Who decided that rock music sounds fine in amphitheater sheds, football stadiums, and gymnasiums, anyway? It's great that the Brothers still play real theaters like the Beacon and the Warfield even though they could make more money filling a 20,000 seat amphitheater. 
The Fillmore East was nestled in New York's East Village, where the real hippies moved when Greenwich Village went commercial. You couldn't walk a block in the East Village without getting hustled for dope or spare change. It was downright seedy, even by New York's standards. But traveling in a group of five or six, we were probably relatively safe. And on concert nights, the streets were full of other kids streaming in from the suburbs, all trying to look like they lived in the East Village. 
The NY music scene was hot; we were proud of it, and we took it for granted. And so we couldn't have been more surprised that day in early spring '71 when we heard  the news: 'You won't believe this: Bill Graham's closing the Fillmore!'  Impossible! Bill Graham and the Fillmore were synonymous with rock concerts at their finest. Why on earth would he quit? The news reports over the next couple of weeks told the story of a burned out, jaded Bill Graham who was weary of the hassles of rock concert promotion. The bands were demanding more money, which he felt would price them out of the market (imagine what he would say about some of last summer's ticket prices!). He said the crowds were getting unruly and were less knowledgeable and selective about the music. He thought they were just "yelling for more" no matter how the music sounded. 
Slowly it sunk in that this was for real, and that there would soon be a 'last night at the Fillmore.' We got the news of the final stand: there would be four public concerts, a late and early show each night, on Friday and Saturday, June 25 and 26th; and then an invited guests only private concert on June 27th that would be broadcast over the radio. The bands for the public shows would be: Albert King, the J. Geils Band, and headlining, the Allman Brothers Band. Talk about mixed emotions . . . the joy of seeing the Brothers honored as the last band to play the Fillmore East, mixed with the sadness of seeing the place closing down. Well, if the Fillmore had to close, at least we would be closing it down hittin' the note. 
There was no Ticketmaster in those days. We just mailed in a ticket request to the Fillmore and got us four seats for the last public show, the late show on the 26th . . . in the fifth row on the left! How we got such good seats by mail order, we'll never know, but I'm sure we dipped well into our good karma bank that day. 
We went to the Fillmore twice that week; the first time we saw Rick Derringer, Albert 
King and BB King. I believe Johnny Winter was scheduled but canceled out and Albert was recruited at the last minute. 
Since we had reserved seats, there was no giant rush to be first in line for the late show. We wandered up and hung out with a few thousand soul-mates under the old-fashioned, lit up marquee advertising the last shows. The side doors opened and out poured the early show crowd, a satisfied look on their faces. We knew that soon the front doors would open and it would be our turn to pass into the magical world of music at the Fillmore East for the very last time. 
The Fillmore always gave out a program guide at the door, another nice touch dropped by most venues long ago. It was usually printed in brown on white glossy stock. Tonight the cover was gold. We filed inside and waving our prime tickets, 
swaggered past several sets of helpful ushers, all the way up to the fifth row. Duane 
would be standing right in front of us in a couple of hours! What great seats! 
Now the excitement began to seriously mount. Rock music piped over the loudspeakers whet our appetite for the show to start as the theater filled with other lucky hippies, freaks, and young punks from the suburbs like us. The late show was scheduled to start around 11 PM. 
The lights went down in the house and on came the spots to highlight Albert King taking off on a powerful set of electric blues. Although I don't recall specifics, I do remember thinking that he played pretty much the same set he had played earlier that week. I was not very familiar with his work back then, but between Albert and B.B. King I was developing a taste for the masters of the blues. The roots of the Allmans' music were unmistakable. 
After Albert's show, the stage hands came out and got things ready for the J. Geils Band. The J. Geils band delivered over an hour of sizzling, flashy rock and roll. These guys clearly knew that this was a special night. We wanted their show to go on forever, but the real reason we were there that night couldn't start until they finished. They went out in a blaze of rock and roll guitar and harp glory, and the house lights came up again. It was the roadies turn on stage, and now the excitement really began to build. We had seen the Allmans enough times that we recognized most of the roadies. Once they took over the stage it felt like the Allmans show had started at long last. 
We drifted into conversation and time sped by. Then the audience noticed that the roadies had left the stage; all the equipment was set up, but the house lights were still on. Rhythmic applause, shouts of 'come on!' and 'let's go!' filled the air with energy and anticipation. When a song on the PA ended, the noise from the crowd would swell to a peak, and then another song started . . . now I was saying it: 'Come on! It's time to start the show!' 
Then, in mid-song, the house lights went down. Folks, I'm sure you know the feeling; we had just witnessed two excellent musical performances, but now the real excitement and magic were in the air. 
The noise of the crowd was building to a feverish pitch . . . shadows moving across 
stage . . . a couple of riffs on the drums . . . then a spine tingling shot from a slide guitar . . . yesss! That sweet magical sound was here again, a wide grin spread across our faces . . . the Hammond B 3 sang out in the dark . . . a scale from the bass . . . then it got quiet. A lone spotlight followed Bill Graham onto the stage. Even Bill was caught between the emotion of closing down his concert hall and the excitement of introducing a band he had come to love. He spoke for a minute . . . 'and now, the Allman Brothers Band!' and the energy of 'Statesboro Blues' lifted us out of our seats. The stage was lit up in the blaze of floods, the light show was swirling and pulsing behind Butch and Jaimoe, and we were up and clapping and hollering! No gathering of converted sinners had it over this crowd, we were going to make our last show at the Fillmore a night to remember.
Duane's solos were dominant. Dickey's were shorter but always riveting and poignant. As the night progressed, and the songs got longer, Dickey made it clear that he was worthy of sharing the title 'lead guitarist' with Duane. The pace eased with 'Stormy Monday,' a showcase for Gregg's gripping vocals and soul searing work on the Hammond. Gregg switched to his electric piano for 'One Way Out,' and Duane and Dickey traded searing solos that sent the crowd into a frenzy. 
Dickey's solo skills shone again on the long version of 'You Don't Love Me' as he led the band through changes, taking the song far afield from the original theme and then bringing it back home again. The band joined in for a strong finish at the very end of Duane's 'Joy to The World' licks, and all the lights went out except for a white beam striking the rotating mirror ball and sending splinters of light dancing around the hall. Through practically the entire concert, Bill Graham stood in the wings, on the right side of the stage, peering at the band intently, absorbed in the music. We were used to seeing Bill pop out at that side of the stage for a few minutes during many Fillmore shows, but we had never seen him stand there for most of a show, looking so focused the whole time. At some point the band cruised into a long and flowing version of 'Dreams.' I'll never forget that other-worldly, twelve note descending sequence repeated over and over again.  It seemed to go on for hours. I'll never forget the image of Duane bent over his guitar playing those magical scales and transporting me wherever concert goers go when they've heard the best there is to hear. 
I got to watch as the band launched into a lengthy version of 'Whipping Post,' which segued into an even longer 'Mountain Jam.' Everyone except Butch and Jaimoe left the stage at the midpoint of 'Mountain Jam' for the extended drum solo. Ever wonder why the drummers, who seem to be using the most energy by far, have to work without a break while everyone else heads out for a smoke?! 
Sometime around five in the morning, Duane stepped up to the microphone and announced, 'Well, we've played all our material . . . so we're just gonna jam!' And jam they did . . .  I had never been to any concert before or since where the headline band jammed for hours. The light show finally stopped and that crazy mirror ball just ran on forever. 
Even this incredible show finally had to come to an end. We had all gotten our second wind sometime around 4 AM and were wide awake and grooving when it wound down and ended between 6:30 and 7:00 AM.
I asked Butch to recall anything he could from that night, and one of his memories is how it came to a close: 'I remember that when we finished playing there was no applause and the audience, all smiling broadly, just got up and quietly filed out. Also Duane walking off stage, dragging his guitar, shaking his head saying 'Goddamn, it's like leaving church.'
And file out we did . . . no pushing and shoving, no rush to leave. I looked back over my shoulder as we neared the door; the open door that led us into broad daylight! I knew it was late (early?), and wouldn't have been surprised to see the sky growing light, but this was way past dawn. We had entered the theater before midnight, in total darkness. The echoes of what we had just witnessed rang through our heads as we scanned the buildings lit by the morning sun. I remember very clearly the feeling of walking two feet off the pavement. I never knew where that expression came from until that morning outside the Fillmore East. We found our car, smiles still plastered broadly across our faces, and drove quietly home. 
But I've never found a tape of the show that went all night long on the real last night at the Fillmore East."
(Rowland Archer, The Night They Closed The Fillmore Down)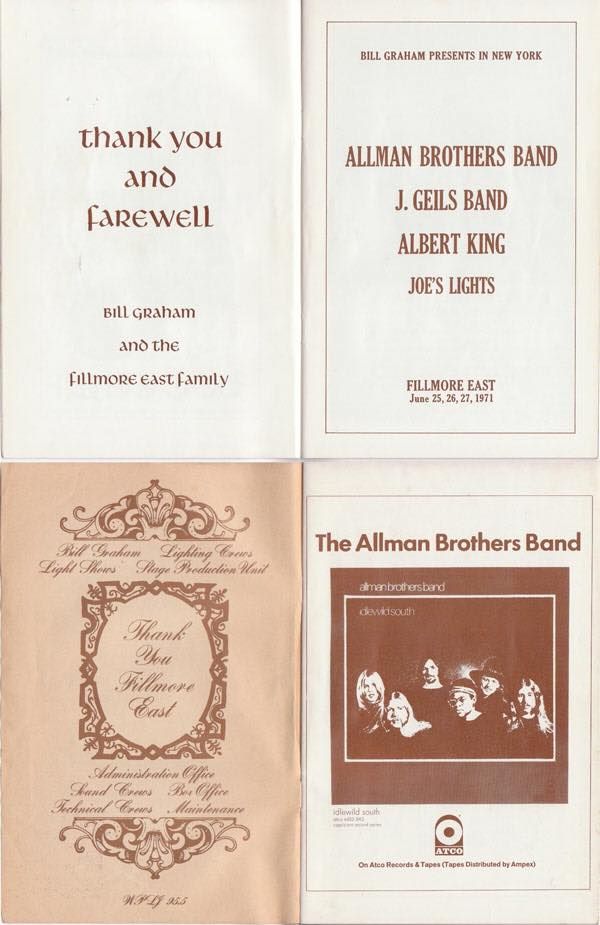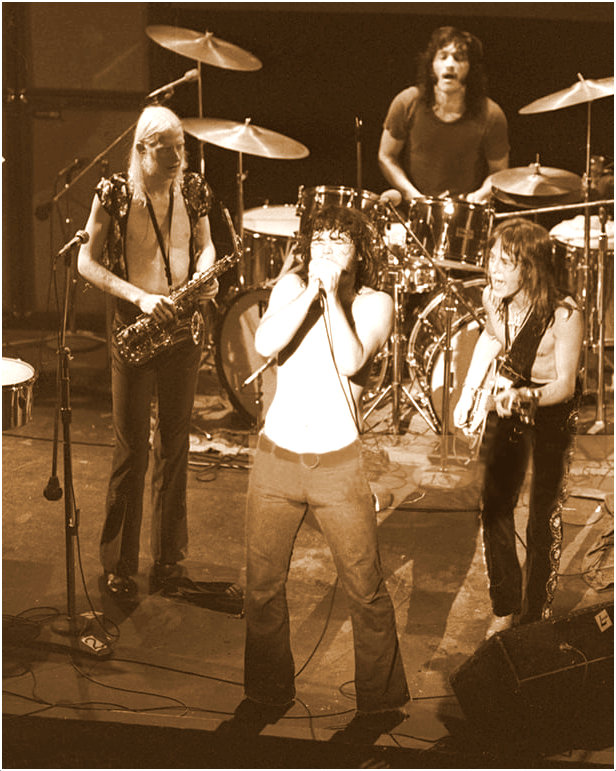 Edgar Winter's White Trash
Closing Night of The Fillmore East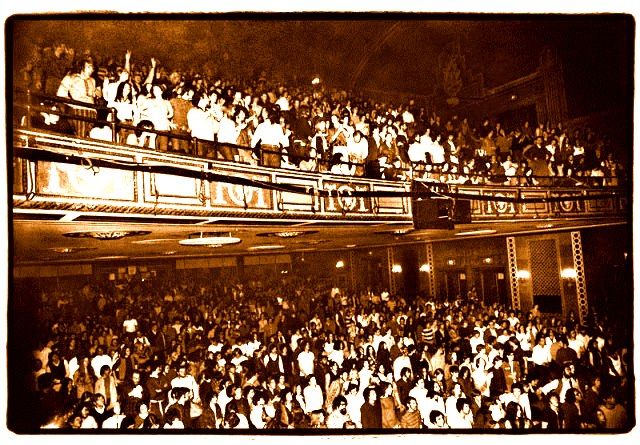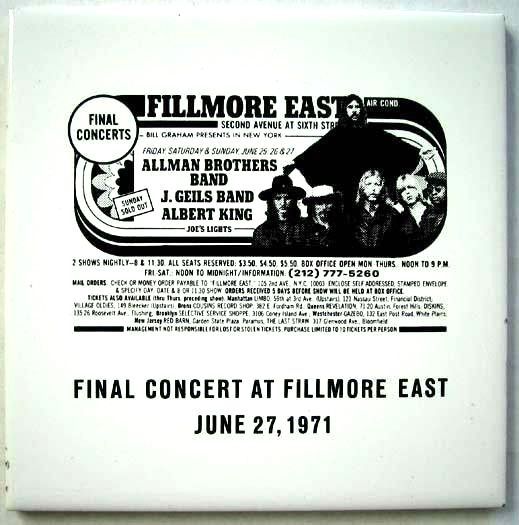 As a parting gift from Bill Graham
Each person who worked at the Fillmore East
received a commemorative tile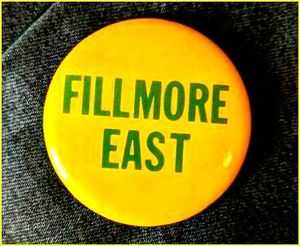 1971 Concerts @ The Fillmore East
January
08 / 09 January 1971 - Buddy Miles, Big Brother & the Holding Company & Holding Co., Sweetwater
15 / 16 January 1971 - Hot Tuna (electric), Taj Mahal, Brethren
22 / 23 January 1971 - Dave Mason & Cass Elliot, Odetta, Livingston Taylor
25 January 1971 - James Taylor, Victoria, Notes: 2 Shows.  "Special Charity Performances"
29 / 30 January 1971 - Spirit, Blood Rock, Cowboy, Joe's Lights
February
05 / 06 February 1971 - Steppenwolf, Ten Wheel Drive w/ Genya Ravan, Luther Allison
11 February 1971 - Taj Mahal, Roberta Flack, Leon Thomas, , 
12 / 13 February 1971 - Chambers Brothers, Taj Mahal, Spencer Davis & Peter Jameson, , 
16 / 17 February 1971 - Small Faces, Savoy Brown w/ Kim Simmonds, Grease Band Lights: Joe's Lights
19 / 20 February 1971 - Black Sabbath, J. Geils Band, Sir Lord Baltimore Lights: Pig
26 / 27 February 1971 - Fleetwood Mac, Van Morrison, Freeway Lights: Joe's Lights
28 February 1971 - Gordon Lightfoot, Happy & Artie Traum
March
05 / 06 March 1971 - Quicksilver Mess Service, Eric Burdon & War
11 / 12 / 13 March 1971 - Johnny Winter And, Allman Brothers, Elvin Bishop
18 March 1971 - Astrology Now
19 / 20 March 1971 - Cactus, Humble Pie, Dada Lights: Pig, 
21 March 1971 - Spring For Lowenstein, George Segal, MC, Notes: Benefit: Theo Bikel, Dick Benjamin, Jim Bouton, Betty, Comdon, Ben Gazzara, Barry Grey, Adolph Green, Buck, Henry, Tom Lehrer, Mitch Miller, Phyliss Newman, Jerry, Orbach, Tricia O'[neill, Paula Prentiss, Scott Jarvis(1776),, Stiller & Meara, Robert Vaughn, Peter Yarrow
26 / 27 March 1971 - Richie Havens, Mark/Almond, Paul Siebel / Michael Grando, Notes: Michael Grando On Late Show Only
April
01 / 02 / 03 April 1971 - Santana, Tower Of Power, Rahsaan Roland Kirk & Vibration Society Lights: Joe's Lights, 
04 April 1971 - Howdy Doody Revival, w/ Buffalo Bob Smith
05 / 06 April 1971 - Humble Pie,  Edgar Winter's White Trash, Cactus, Tin House Lights: Joe's Lights 
08  / 09 / 10 April 1971 - Elton John, Sea Train, Wishbone Ash
12 / 13 / 14 / 15 April 1971 - Mountain, Mylon, T. Rex, Joe's Lights, 
16 / 17 April 1971 - John Mayall, Boz Scaggs, Randall's Island, Joe's Lights, 
20 April 1971 - Ten Years After, J. Geils Band, Joe's Lights, , 
21 April 1971 - Elton John, James Taylor, Richie Havens, , 
23 / 24 April 1971 - Procol Harum, Winter Consort, Teegarden & Van Winkle, Joe's Lights, 
25 / 26 / 27 / 28 / 29 April 1971 -  Grateful Dead, New Riders Of The Purple Sage Lights: Joe's Lights, , 
30 April / 01 May 1971 - Emerson Lake & Palmer, Edgar Winter's White Trash, Curved Air
May
04 / 05 May 1971 - Jethro Tull, Cowboy Lights: Pig
07 / 08 May 1971 - Poco, Linda Ronstadt, Manhattan Transfer, Lights: Pig, 
14 / 15 May 1971 - Free, Mott The Hoople, Mandrill, Lights: Pig
20 / 21 / 22 / 23 May 1971 - Leon Russell, Taj Mahal, J.f. Murphy & Salt Lights: Joe's Lights, 
28 / 29 May 1971 - Lee Michaels, Humble Pie, Fanny, Lights: Joe's Lights, 
30 May 1971 - Laura Nyro, Spencer Davis & Peter Jameson
June
05 / 06 June 1971 - Frank Zappa & Mothers Of Invention, Hampton Grease Band, Head Over Heels
09 June 1971 - Byrds, Mckendree Spring, Eric Anderson, Elton John turned up and played a few songs after the late show. 
11 / 12 June 1971 - Blood Rock, Alice Cooper, Glass Harp, Lights: Pig Lights 
18 / 19 June 1971 - B.B. King, Moby Grape, Grootna, Joe's Lights, 
24 June 1971 - Johnny Winter And, Edgar Winter's White Trash
25 / 26 June 1971 - Allman Brothers, J. Geils Band, Albert King, Joe's Lights, 
27 June 1971 - Allman Brothers, J. Geils Band, Albert King, Joe's Lights, Notes: Also: Country Joe McDonald, Edgar Winter's White Trash, Mountain, Beach Boys. Last Show At Fillmore East
---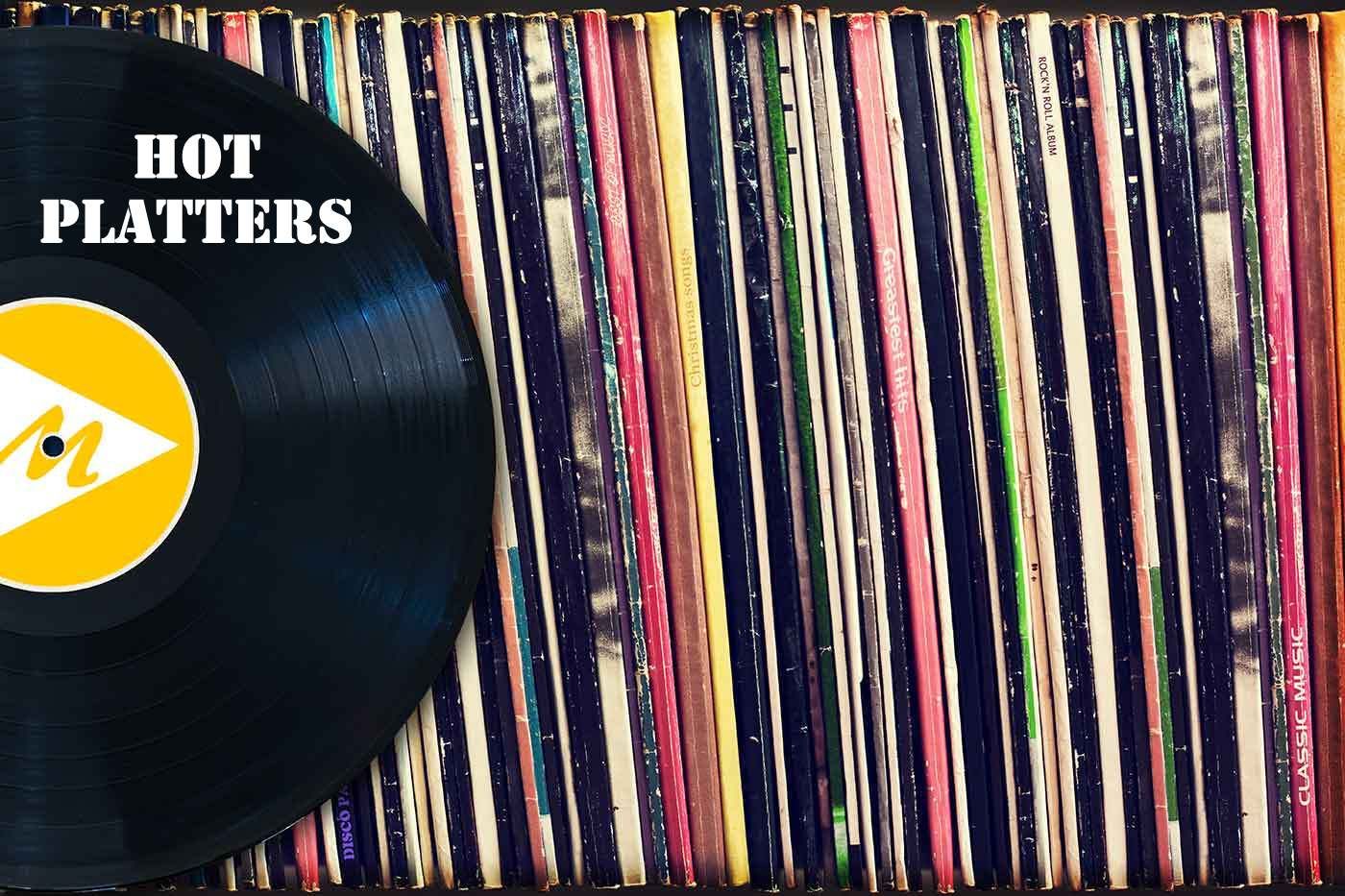 Here's a list of some of the historic live albums
that were recorded @ the Fillmore East
1968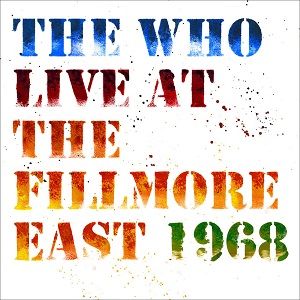 April 6th The Who – Live at the Fillmore East 
Two CD set, recorded April 6, 1968 (released 2018 on Polydor Ltd.
"Listeners long familiar with the Leeds song sequence will find the blunt opener here, Eddie Cochran's "Summertime Blues," along with two more of the latter singer's numbers, "C'mon Everybody" and a punishing, punch-drunk "My Way." Roger Daltrey's proto-punk sneers spit venom. Moon's drumming pounds away in his inimitable style: part surf, part soul, all pounding propulsion. In between these fine covers, the album features some of the band's best songs. 
I Can't Explain erupts in a raw, less winsome manner, but the grit does not wear off its delicate core. Happy Jack proves suitably unhinged; I'm a Boy and John Entwistle's ditty Boris the Spider get affectionate roughhousing from the amplified band. 
Separating My Generation here from not only its stuttering single origins four years before but the rock opera which would sprawl across their subsequent tours and live LPs, Townshend's arena rock ambitions tear up the confines which Fillmore East embodied. These symbols of an intimate counterculture audience seemed by 1968 a less amenable setting for harder, louder, more flamboyant music. 
This engaged attitude extends into the showpieces. "A Quick One, While He's Away" sets up the template for a more complicated integration of tunes and styles into a longer piece. Hearing the Who start to tinker with song structure shows their confidence, honed by touring and heightened by their determination to break down limits in length, volume and intelligence conventionally limiting what rock music could achieve. They stretch dynamics in intensity and emotion, preparing for the next decade's claim as top live band in the world.
Within the capacious half-hour of My Generation which finishes the Fillmore East appearance, one hears the impending transition to stadiums. Townshend's testing out how his guitar can bridge instrumental gaps, and knit together themes and melodies. The band and singer prove their stamina. Their next appearances in America will abandon crowded concert halls and occupy echoing circles of concrete. Arenas await!" (spectrumculture.com)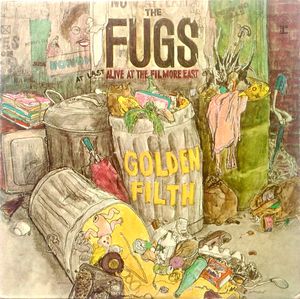 June 1st The Fugs – Golden Filth Alive at the Fillmore East 
Recorded June 1, 1968 (released on LP 1970, on CD as part of the Rhino Handmade 3-CD set, Electromagnetic Steamboat 2003) 

October 4th & 5th Sly and the Family Stone 
Live at the Fillmore East (released 2015) 
"When Sly & the Family Stone seized Manhattan's Fillmore East for a two-night, four-set stand in October 1968, the sonically and socially advanced band was just starting to cook. Earlier in the year, Dance to the Music became their first charting single, a Top 10 pop hit. They were pushing their third album, Life, so the repertoire was still rather limited. As detailed in this liner notes, the Epic label intended to assemble an album from these performances, but the plan was ditched once Everyday People -- the first single from Stand!, still months away from hitting shelves -- took flight and went to number one. That smash was issued only a month after the gigs, but the band didn't preview it on-stage, at least not the way the sets are documented here. Live at the Fillmore East October 4th & 5th, 1968 contains a representation of all four sets. Each one must be at least close to complete, as they're between 40 and 65 minutes in length, and contain some flubs and the working out of some technical issues. Despite playing roughly the same songs each set while knowing that they were being recorded, the band continually switched up the sequencing of the set lists -- M'Lady was placed up front and saved toward the end, for instance -- and the musicians played loose enough to allow for some spontaneity and variable interaction. The band's vitality, as they continually stomped through material from all three albums, is no surprise. Material from the first album and Dance to Music are played with equal levels of conviction. Sly's demeanor is consistently fervent and poised. The whole gang is at the top of their game. What's truly revelatory is that each set featured a Sister Rosie Stone-fronted version of Won't Be Long, a song popularized seven years earlier by Aretha Franklin and the Ray Bryant Combo. It wallops each time, particularly so on the first night's early set." (All Music)
1969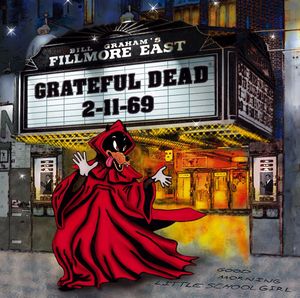 February 11, 1969 Grateful Dead Live at the Fillmore East 
A double cd of the early and late shows on February 11, 1969 as the opening act to Janis Joplin's New York debut as a solo star. Released on Grateful Dead/Arista in October 1997.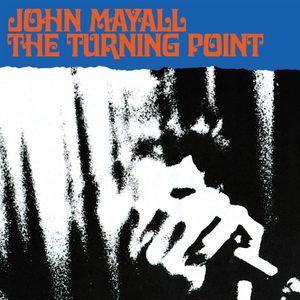 July 12, 1969 - John Mayall - The Turning Point
When John Mayall was starting another band after the break-up of the Bluesbreakers in May 1969,[4] he decided to have a band that would play "low volume music" – or music without "heavy lead guitar and drums".  The performers on the album were Mayall on vocals, harmonica, a slide and a Fender Telecaster guitar, a tambourine, and mouth percussion, Jon Mark on acoustic guitar, Steve Thompson on bass, and Johnny Almond on tenor and alto  saxophones, flutes, and mouth percussion.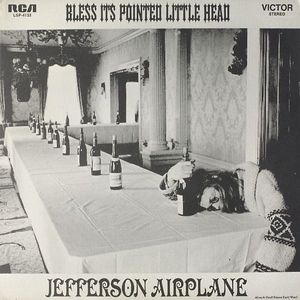 November 28 / 29 / 30 Jefferson Airplane Bless Its Pointed Little Head
Bless Its Pointed Little Head is a live album by Jefferson Airplane recorded at both the Fillmore East and West in the fall of 1968 and released in 1969. Four of the songs on the album were recorded at the Fillmore East. The performances emphasized their vocal harmonies and revealed a harder rocking group. Guitar and bass lines were more in-depth in their construction, revealing complex instrumentals.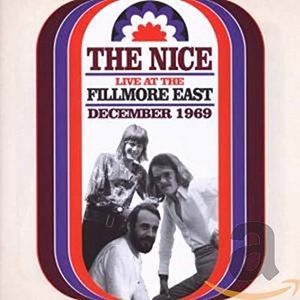 The Nice – Live at the Fillmore East December  19 - 20 1969 
Tony Stratton-Smith, the manager of The Nice, wisely recorded a good deal of their live work during this period, and an amazingly high percentage of it has proved worthwhile listening, including these tapes from two shows at the Fillmore East from December 19 and 20, 1969 (shows on which they were billed alongside the Byrds, the Sons of Champlin, and Dion). And what makes the tapes even more astonishing is that these performances date from a period after Keith Emerson had made the decision to abandon the group -- but there's no sign of less than 100 percent effort or total cohesion in what is heard on this set. These tapes also demonstrate just how far the group had come since its spring 1969 U.S. tour -- whereas the best of the work from their earlier Fillmore shows (released on the group's third Immediate album) shows a band starting to seriously redefine conventional song structures, on this set of performances the Nice are opening out much of their material even further, and scratching it out wide enough to drive a tank through musically -- and at times, that's what they come close to doing. Not all of what they attempt works -- the more expansive rendition of Bob Dylan's "She Belongs to Me" included here was probably great to see as a performance, but it doesn't hold up as well as the more concise interpretation that it received in the spring 1969 show, and ultimately it's a slight disappointment when compared to that earlier version. Even that track is worth hearing.
1970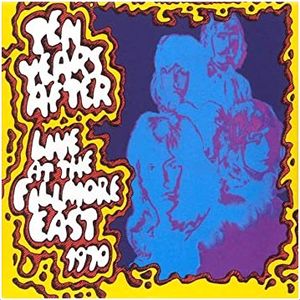 February 27th & 28th Ten Years After – Live at the Fillmore East 
"This superbly recorded double disc (the original engineer was Eddie Kramer, best-known for his work with Hendrix) captured over a weekend worth of dates in February 1970 at the venerable New York City venue catches the Brit boogie quartet at the peak of their powers. These shows were sandwiched between their triumphant Woodstock set and the release of Cricklewood Green, generally considered the band's best work. They find the group primed through years of roadwork, as well as obviously excited to be playing in front of an appreciative N.Y.C. crowd. Kicking off with one of Bill Graham's patented individual-member intros, the group winds their way through the ominous riff of "Love Like a Man." Mixing extended and rocking versions of blues standards -- like Sonny Boy Williamson classics Help Me and Good Morning Little Schoolgirl, as well as Willie Dixon's Spoonful -- with two Chuck Berry covers and some nuggets from their own catalog, Ten Years After burns through this show with enormous energy and infectious enthusiasm. Alvin Lee and his flying fingers stay firmly in the spotlight, but the remastered sound is so immaculate you can finally appreciate the contributions of the other, generally overlooked TYA members: Chick Churchill on keyboards and especially Leo Lyons' fluid bass work, along with Ric Lee's jazzy drums. The songs shift into overdrive on the jams -- the longest of which pushes I Can't Keep From Crying Sometimes to 20 minutes -- and amazingly stay interesting for the majority of that time thanks to Lee's sense of flashy dynamics, as he quotes liberally from Hendrix and Cream licks. Detailed liner notes from drummer Lee describe the scene, not only in terms of Ten Years After, but also of the musical camaraderie of the time. Some of this is almost embarrassingly dated -- the drum solo-laden "The Hobbit" is particularly guilty, as are the often-interminable guitar gymnastics -- and the Chuck Berry numbers might have been live crowd-pleasers but don't add much to the originals. Still, this is the best Ten Years After concert album (of the three in the catalog), and proves just how vibrant these boogie boys could be when inspired by the crowd and each other on a perfect night." (All Music)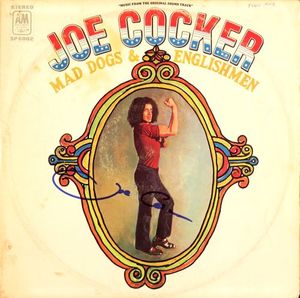 March 27th & 28th - Joe Cocker Mad Dogs & Englishmen
Mad Dogs & Englishmen: The Complete Fillmore East Concerts, documenting the entire four shows (on six discs) performed on Friday, March 27 and Saturday, March 28, 1970 at New York City's Fillmore East.
Vincent Canby's review in the New York Times in March 1971 described it as "a record of the tour featuring Cocker, the young extraordinarily talented, British blues singer, and the largely American entourage (band, choir, friends, wives, children, groupies and a single dog named Canina) that accompanied him. The entire group numbered almost 40 people, most of whom were on stage during most of the performances, making for what seems to have been extremely cheerful and friendly chaos."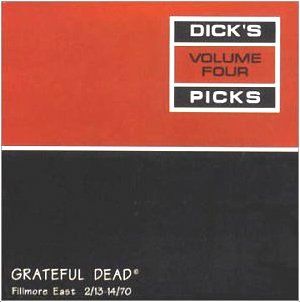 2/13–14 Grateful Dead – Dick's Picks Volume 4
"A three-disc set of additional tracks from both nights, February 13–14, 1970, 'the Dead's most memorable appearance at the Fillmore East, and shows consistently ranked by Deadheads as among the 5 best live tapes ever'. The 30-minute 'Dark Star' is considered one of the best ever performances of this legendary Dead improvisational theme. Released in March 1996 on Grateful Dead Records." (wikipedia)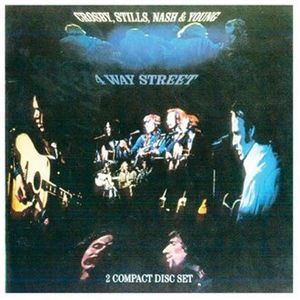 2nd, 3rd, 4th, 5th, 6th & 7th June 
Crosby Stills Nash & Young, Taylor & Reeves
4 Way Street. A double album, partly recorded at this venue during a six-night run in early June 1970, and released in April 1971 on Atlantic.  4 Way Street was recorded in June and July 1970, during the group's tour in support of its massive second album, Déjà Vu, and was taped at New York's Fillmore East, The Forum in L.A., and the Chicago Auditorium.  The album topped the Billboard 200 albums chart for one week starting on May 15th, 1971, displacing Janis Joplin's Pearl, before it was knocked out of the top spot by the Rolling Stones' Sticky Fingers. All told, 4 Way Street spent 13 weeks in the Top 10. The 1992 CD reissue added an additional 35 minutes to the set. To date, 4 Way Street has sold over four million copies in the U.S. alone.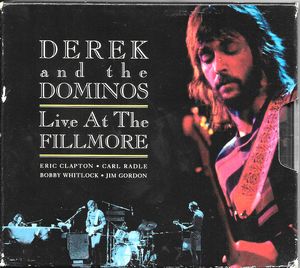 October 23rd - 24th Derek & the Dominos – Live at the Fillmore
The set-list contains eight Derek and the Dominos songs (six from the album Layla and Other Assorted Love Songs, plus "Roll It Over" and "Got to Get Better in a Little While"), three tunes from Clapton's first solo album (on which the other three band members had played), and one song from two bands to which Clapton had previously belonged ("Presence of The Lord" from Blind Faith; and a different arrangement of Robert Johnson's song, "Crossroads" that Clapton had previously covered with Cream).
"The Derek And The Dominos live recordings are from the Fillmore East in New York City on 23 and 24 October 1970 and capture the band in all their, at times, rampant glory and at others that laid back Southern soulfulness that Messrs Radle, Whitlock and Gordon brought to the band." (udiscovere.com)

November 7th Flying Burrito Brothers
Flying Burrito Brothers – Authorized Bootleg: Fillmore East, N.Y., N.Y. Late Show, Nov 7, 1970 (CD, Feb-2011, Hip-O Select)  
"The Fillmore East show captured on this Authorized Bootleg occurred on November 7, 1970, not long after Gram Parsons and Chris Ethridge left the Flying Burrito Brothers and were replaced by Rick Roberts and Bernie Leadon. Head Burrito Brother Chris Hillman rounded out this lineup with Byrds drummer Michael Clarke and legendary steel guitarist Sneaky Pete Kleinow, all of which means that while this lineup lacked the star power of Parsons, it nevertheless packs considerable musical punch, the band sounding assured, in no way suggesting it's a group whose lineup is in flux. Apart from a few covers -- the storming closer Six Days on the Road, the instrumental Dixie Breakdown, and a nicely grooving Willie and the Hand Jive -- and the Roberts original Feel Good Music, the set list is culled entirely from the first two Burrito albums, slightly emphasizing faster material that suits a band whose playing is as propulsive as a motorcycle. And that's the truly distinctive thing about this performance: its sheer velocity. The Burrito Brothers play like they have something to prove, hitting the chords harder on the rockers and never mellowing on the ballads. For those who love the 1972 live LP Last of the Red Hot Burritos, this is arguably a bit better; for anybody who tends to write off the post-Parsons Burritos, it's a revelation." (All Music site)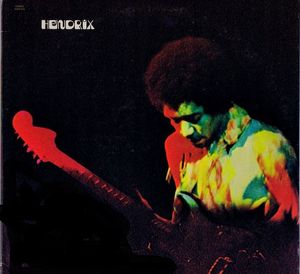 Jimi Hendrix – Band of Gypsys (1970)
"Band of Gypsys was the only live recording authorized by Jimi Hendrix before his death. It was recorded and released in order to get Hendrix out from under a contractual obligation that had been hanging over his head for a couple years. Helping him out were longtime friends Billy Cox on bass and Buddy Miles on the drums because the Experience had broken up in June of 1969, following a show in Denver. This rhythm section was vastly different from the Experience. Buddy Miles was an earthy, funky drummer in direct contrast to the busy, jazzy leanings of Mitch Mitchell. Noel Redding was not really a bass player at all but a converted guitar player who was hired in large part because Hendrix liked his hair! These new surroundings pushed Hendrix to new creative heights. Along with this new rhythm section, Hendrix took these shows as an opportunity to showcase much of the new material he had been working on. The music was a seamless melding of rock, funk, and R&B, and tunes like Message to Love and Power to Love showed a new lyrical direction as well. Although he could be an erratic live performer, for these shows, Hendrix was on -- perhaps his finest performances. His playing was focused and precise. In fact, for most of the set, Hendrix stood motionless, a far cry from the stage antics that helped establish his reputation as a performer. Equipment problems had plagued him in past live shows as well, but everything was perfect for the Fillmore shows. His absolute mastery of his guitar and effects is even more amazing considering that this was the first time he used the Fuzz Face, wah-wah pedal, Univibe, and Octavia pedals on-stage together. The guitar tones he gets on Who Knows and Power to Love are powerful and intense, but nowhere is his absolute control more evident than on Machine Gun, where Hendrix conjures bombs, guns, and other sounds of war from his guitar, all within the context of a coherent musical statement. The solo on Machine Gun totally rewrote the book on what a man could do with an electric guitar and is arguably the most groundbreaking and devastating guitar solo ever. These live versions of Message to Love and Power to Love are far better than the jigsaw puzzle studio versions that were released posthumously. Two Buddy Miles compositions are also included, but the show belongs to Jimi all the way. Band of Gypsys is not only an important part of the Hendrix legacy, but one of the greatest live albums ever." (All Music)
1971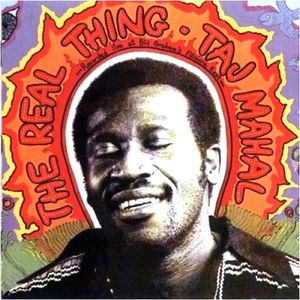 February 13th Taj Mahal – The Real Thing
"Taj Mahal followed up Giant Step/De Ole Folks at Home (1969) with another double-LP concert platter whose title pretty much sums up the contents. The Real Thing (1971) is drawn from a mid-February run of shows at the Fillmore East in New York City where he, Spencer Davis, the Chambers Brothers, and Roberta Flack, among others, shared the bill. Taj is supported by an interesting extended aggregate with a brass section consisting of Joseph Daley (tuba/horn/trombone), Bob Stewart (horn), and a pair of former Charles Mingus band members, Earl McIntyre (horn) and Howard Johnson (horn). While at times they tend to overpower the usually intimate nature of the performances, that is certainly not the case for the majority of the arrangements. The opener, Fishin' Blues, is a solo with Mahal accompanying himself on banjo. Ain't Gwine to Whistle Dixie (Any Mo') is significantly lengthened from the form found on Giant Step (1968) as it stretches nearly nine minutes and allows plenty of room for interaction, offering up a spirited fife interlude from Mahal. In addition to providing an overview from his back catalog, The Real Thing contains a few new compositions. The full ensemble gets a workout on the funky Sweet Mama Janisse and the toe-tappin' rural flavor of the instrumental Tom and Sally Drake is lightly augmented by a sole tuba -- presumably that of Johnson. Sleepy John Estes' Diving Duck Blues arguably submits the most successful incorporation of brass, sporting a driving, full-throttle rhythm and soulful interpretation." (All Music)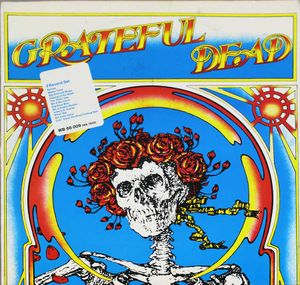 March 26th to 29th Grateful Dead
(self-titled album Aka Skull & Roses)
Grateful Dead – Grateful Dead a.k.a. Skull And Roses. A live double album of which 7 of the 11 tracks, were recorded at the Fillmore East, during their March 26 to 29, 1971 run, when they were supported by the New Riders Of The Purple Sage. Released on Warner Bros. in October 1971.  Grateful Dead is an album by rock band the Grateful Dead. Released in October 1971 on Warner Bros. Records, it is their second live double album. Although published without a title, it is generally known by the names Skull and Roses (due to its iconic cover art) and Skull Fuck (the name the band originally wanted to give to the album, which was rejected by the record company). It was the group's first album to be certified gold by the RIAA.  When the band submitted "Skull Fuck" (a contemporary euphemism for "blow your mind") as the album title, it was rejected by the record label. Ultimately the agreement was made that the album would be published without the title appearing anywhere on the record labels or cover artwork. Though the band refers to the album by this title, and it has long been known to fans (through interviews with band members, the Deadhead network and other outlets), the alternate, descriptive title "Skull & Roses" developed among distributors, music buyers and reviewers as a graphic incipit from the cover artwork.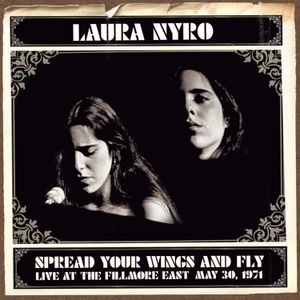 May 30th Laura Nyro 
Spread Your Wings and Fly:
Live at the Fillmore East (released 2004) 
 Bill Graham hired Laura Nyro to headline one of the last shows he'd present at his fabled New York City venue the Fillmore East in the spring of 1971. This recording of that performance (just the singer and her piano) remains a stellar example of Nyro's talents and charms. Nyro exuded charisma regardless of what she sang.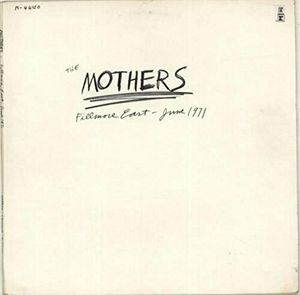 Frank Zappa's Mothers – Fillmore East June 1971 (released 1971)
"Fillmore East – June 1971 captures the Mothers of Invention at the peak of their second incarnation. The band had gone through changes since its formation in 1965, and as the original version fell apart, Frank Zappa put together a new, and often more chaotic, lineup in 1970. This group included Mark Volman and Howard Kaylan (aka Flo and Eddie) from the Turtles, who had recently disbanded. 
Recorded live over two nights at the Fillmore East, just two months before its release in August 1971, Fillmore East – June 1971 is really more of a theatrical rock 'n' roll comedy routine than it is a straight-up concert LP. Things start off straightforward enough with The Little House I Used to Live In but soon dives head first into the comedic end of the pool. It's mental slapstick set to music as The Mud Shark tells the infamous tale involving members of Vanilla Fudge, Led Zeppelin, an enthusiastic groupie and an aquatic creature. 
Later, the exaggerated doo-wop-meets-gospel-brunch rock 'n' roll of What Kind of Girl Do You Think We Are is both heartfelt and sarcastic. 
Zappa leads the band through a mini opera of sorts throughout the album, armed with musical chops and stacks of jokes. That juxtaposition of the musically intricate and the lyrically juvenile is fully on display in Bwana Dik: 'I've got the thing you need / I am endowed beyond your wildest Clearasil-spattered fantasies', Kaylan sings over typical Zappa complexity. 
'It's almost too innocent and stupid to be filthy', Kaylan told Goldmine in 2002. 'I think Frank was wise, using us to do that, because we were lovable buffoons – we weren't those street creeps to be feared that he had worked with before. We're just pussycats up there, so to hear us do some of those things, it's obviously a joke. It took some of the harshness away from it, and it made even Zappa's caustic humor appear palatable -- not only to those people who knew us in the audience, but to those who didn't...We were still nonthreatening.' 
Flo and Eddie perform a piece called  that pokes at contemporary pop stars as it slowly turns toward filthy groupie exploitation ('We are not groupies! Roger Daltrey never laid a hand on me!'). By song's end, general mayhem breaks out as a twisted version of the Turtles' Happy Together. 
Even though it's not part of Fillmore East – June 1971, one of the concert's encores featured a special appearance by John Lennon and Yoko Ono. That performance would later turn up as part of Lennon's Sometime in New York City album under the title 'Live Jam'. 'We spent about four days with John, putting all the stuff together for that one night at the Fillmore', recalled Volman. 'When the thing came out on John's album, Frank was very upset. John and his compadres had gone in and redone the tracks...They hadn't re-recorded them, but they took out the essence of those songs, vocal parts that were imperative to the music and the movements. It caused a real riff between John and Frank.' 
Fillmore East – June 1971 came packaged in a simple white sleeve with a handwritten title, giving it the look of a bootleg. All these years later, it remains an exciting, freewheeling and musically intriguing romp that shows off this edition of the Mothers in all their gory glory." (ultimateclassicrock.com)
---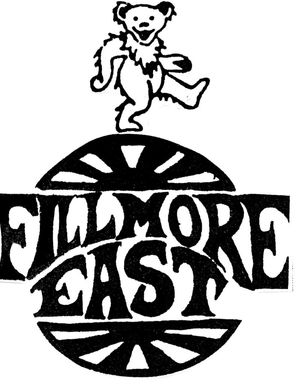 "Many concert promoters keep a low profile. Theirs is mostly a backstage job, dealing with the mundane: contracts and equipment, schedules and security, advertising and accounting. Yet those tasks are essential to building any live music scene. 
Bill Graham — the promoter who got started in hippie-era San Francisco, opened the Fillmore East in New York City in 1968 and went on to present concerts worldwide — was by no means self-effacing. He made himself America's best-known rock promoter from the 1960s to the 1990s. 
In the late 1980s, when Graham presented annual New Year's Eve arena concerts by the Grateful Dead, he would take to center stage at midnight in costume. As a young man he had wanted to be an actor; he got bit parts in Apocalypse Now and Bugsy, typecast as an agent and a gangster. Graham carved himself such an outsize public role that after his death, in a helicopter accident after a concert in 1991." (Jon Pareles, NY Times)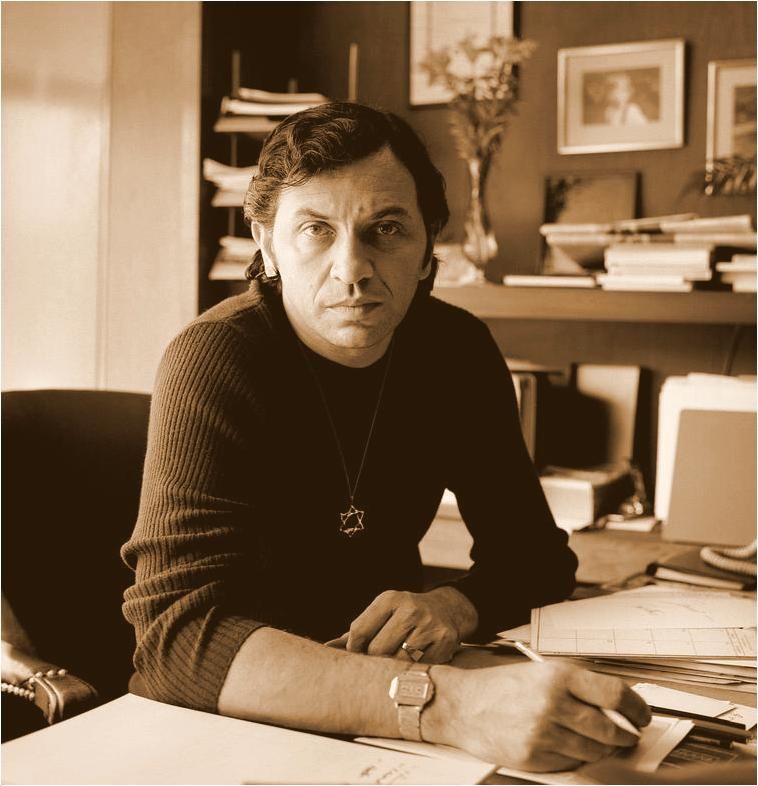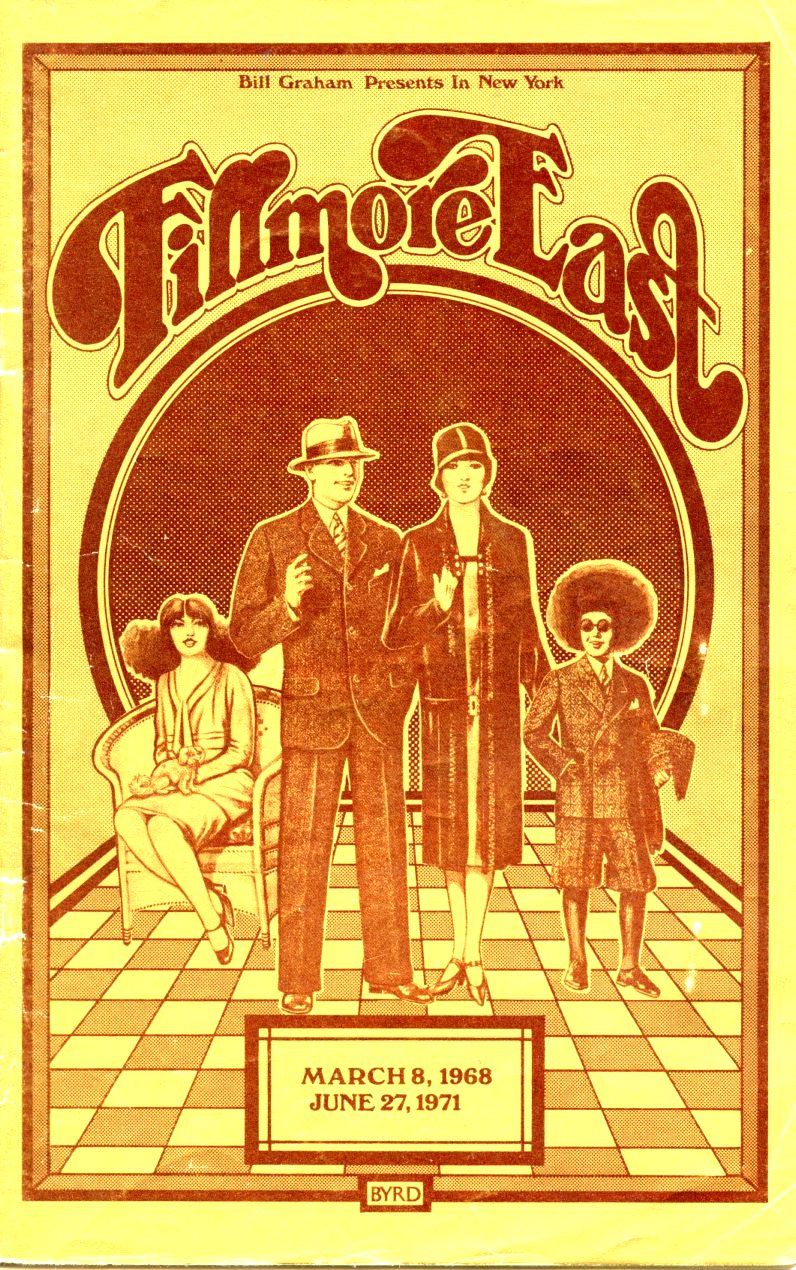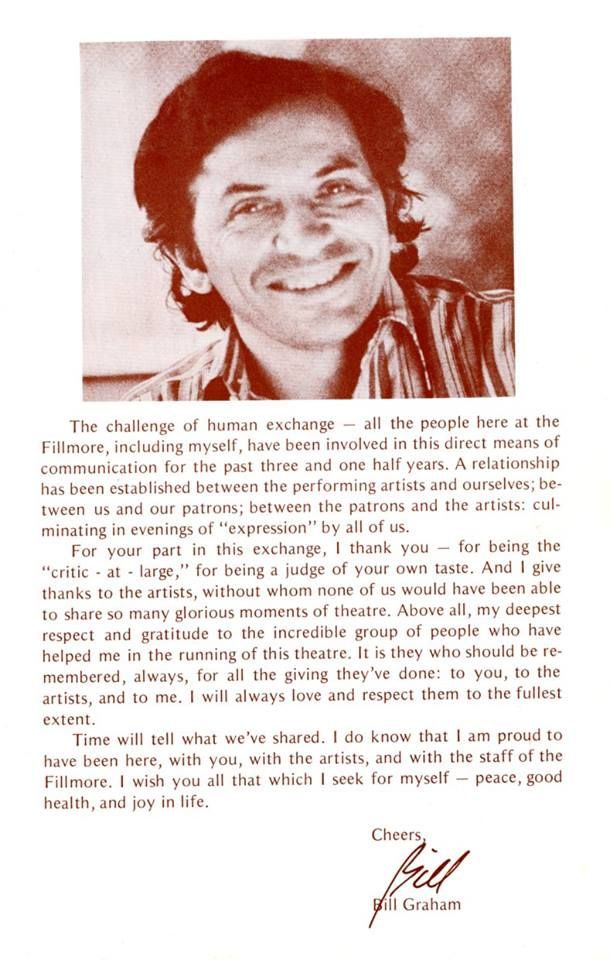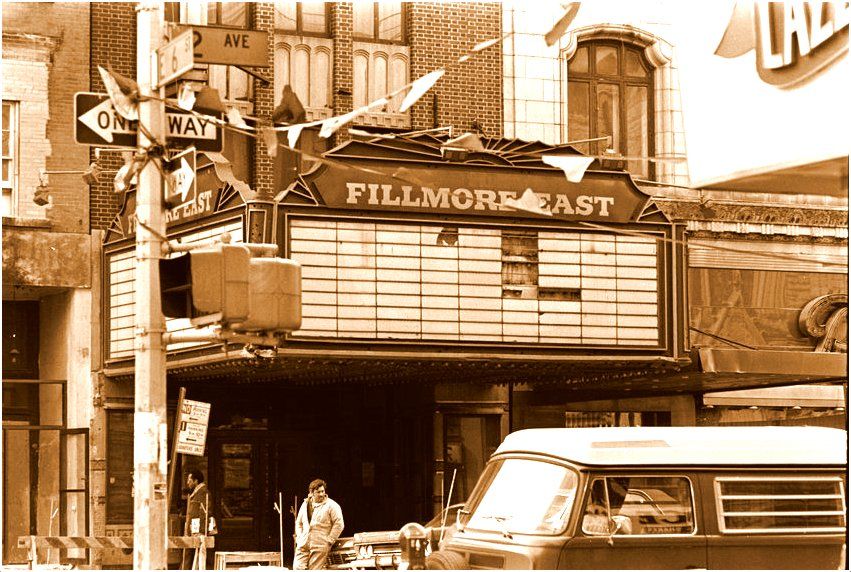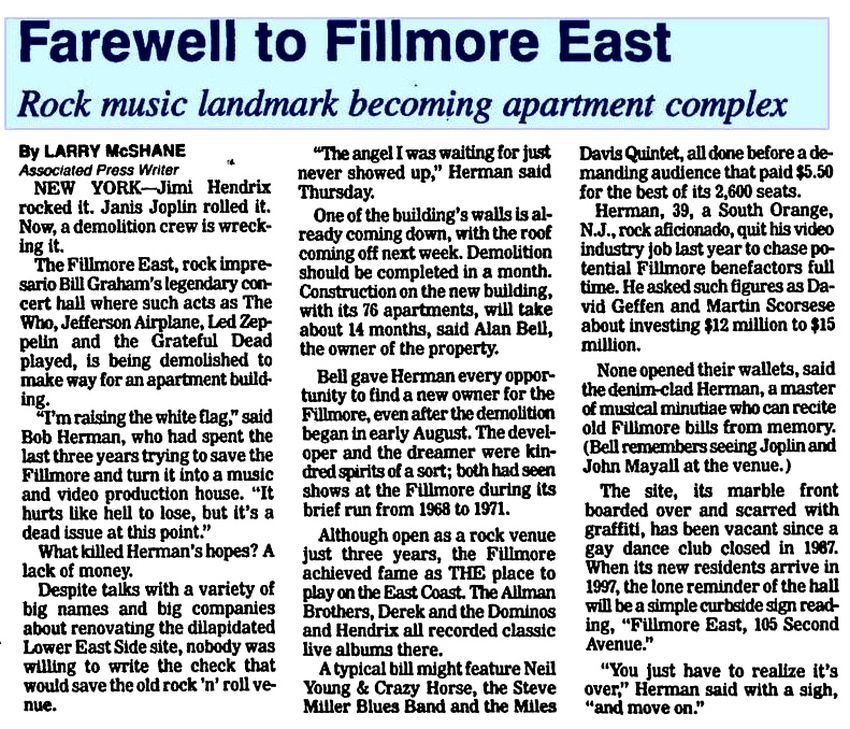 Today the Fillmore site is an Apple Bank, only a small plaque and mosaic street pole on the corner commemorate the site's history. It wasn't until several years ago that a plaque was finally installed commemorating the legendary site.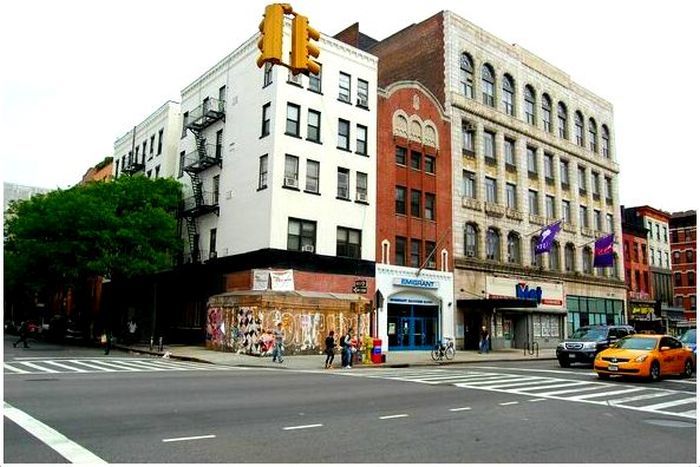 Former Location of Fillmore East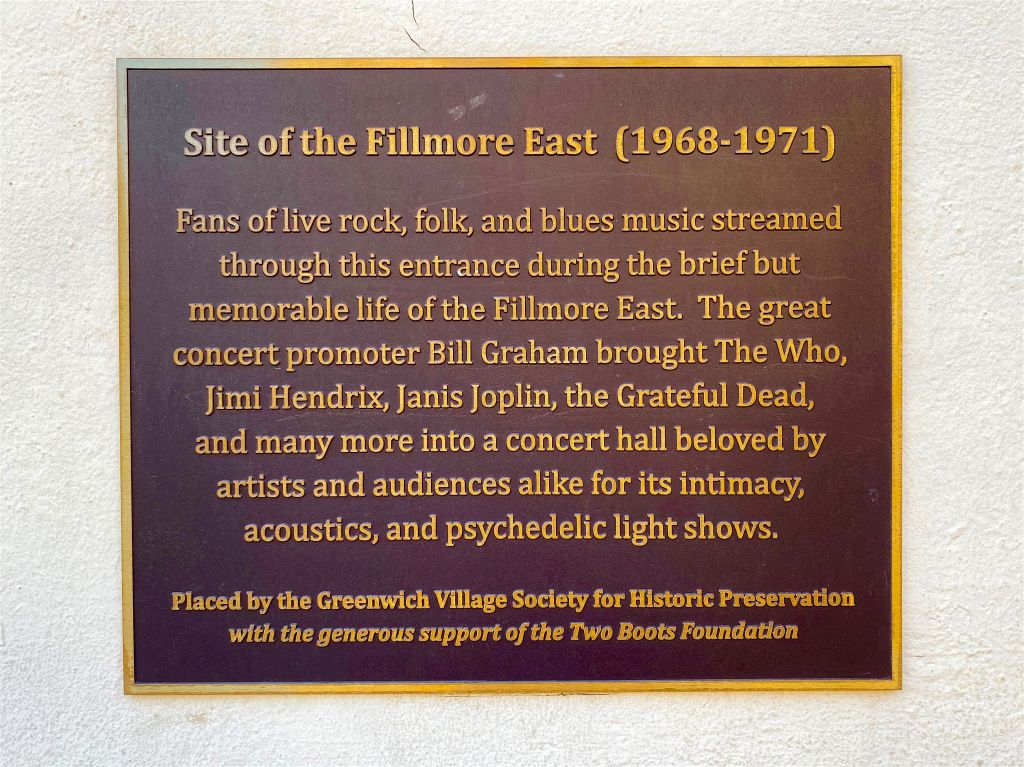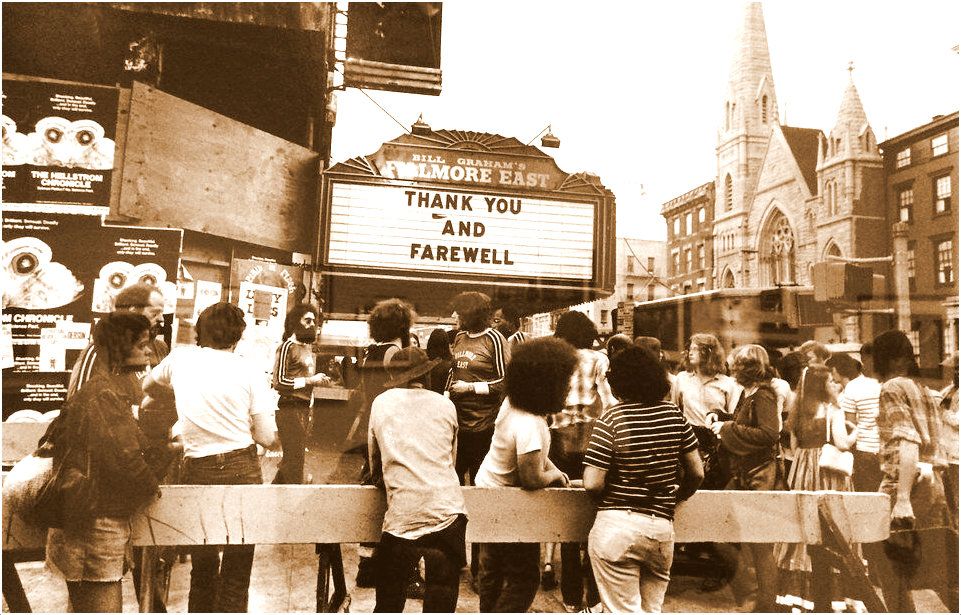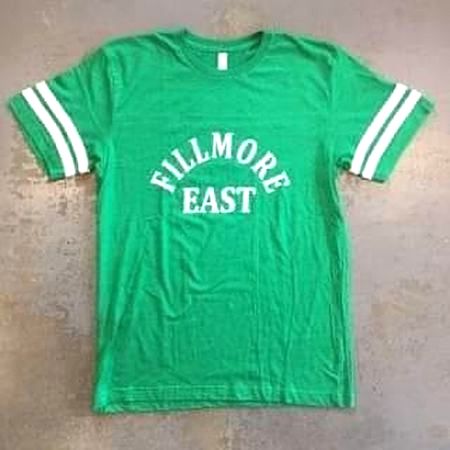 "It was Bill Graham who steadily introduced more complex production into performances, and who encouraged intricate artwork for show posters. His attention to detail was unparalleled as he continued to work on bigger events throughout his career. The shows took things outside the box, with unique pairings like Miles Davis and the Grateful Dead. Only someone like Bill Graham would have had the vision to put a show like that together in the 1960s, and he continued that mindset for countless shows in his storied career." (Live For Live Music)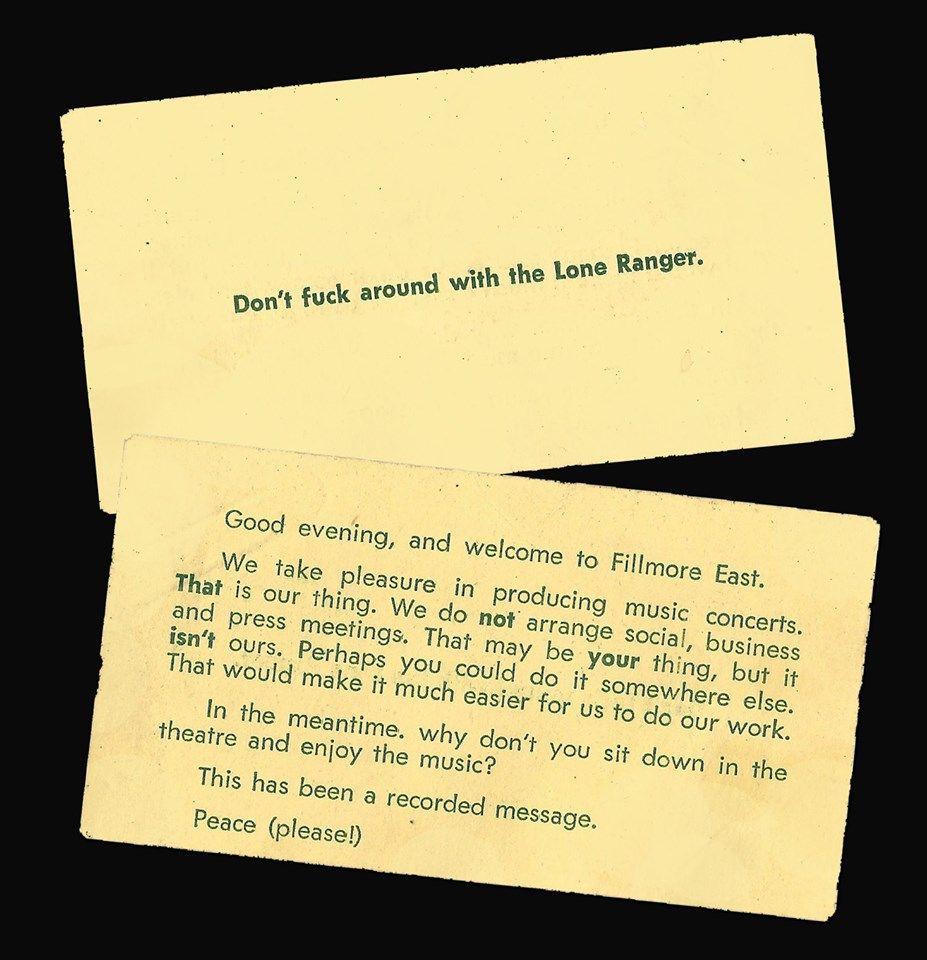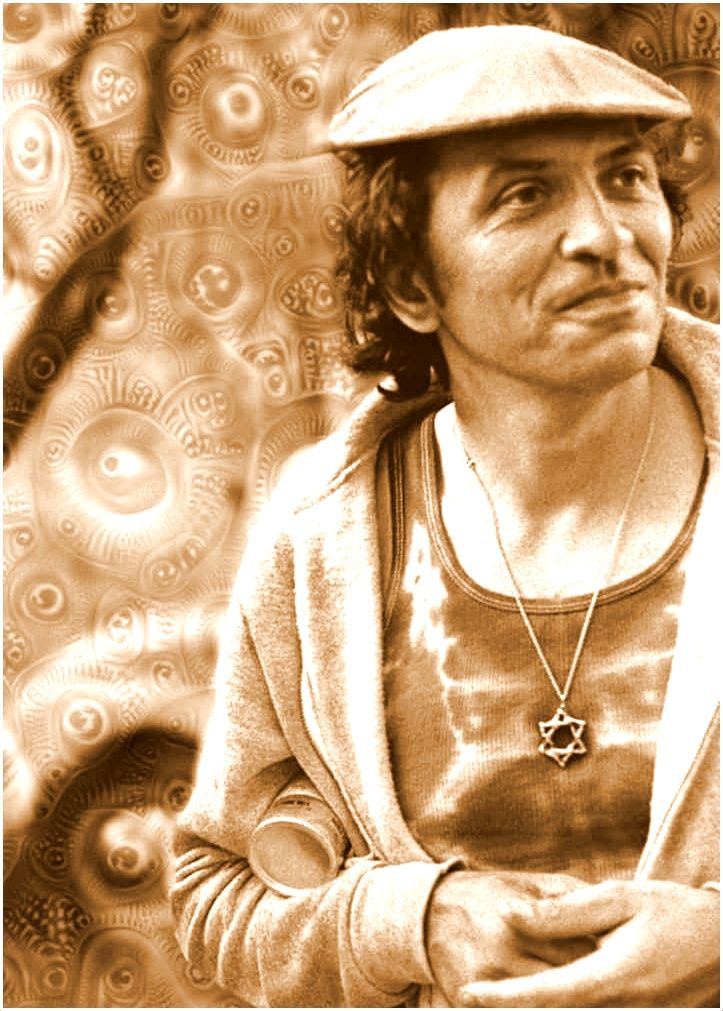 From the New York Historical Society: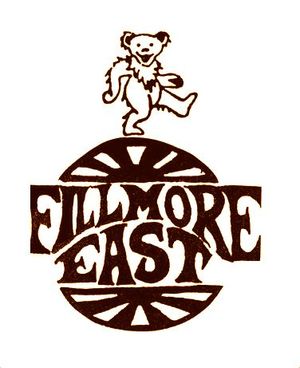 The Legacy of the Fillmore East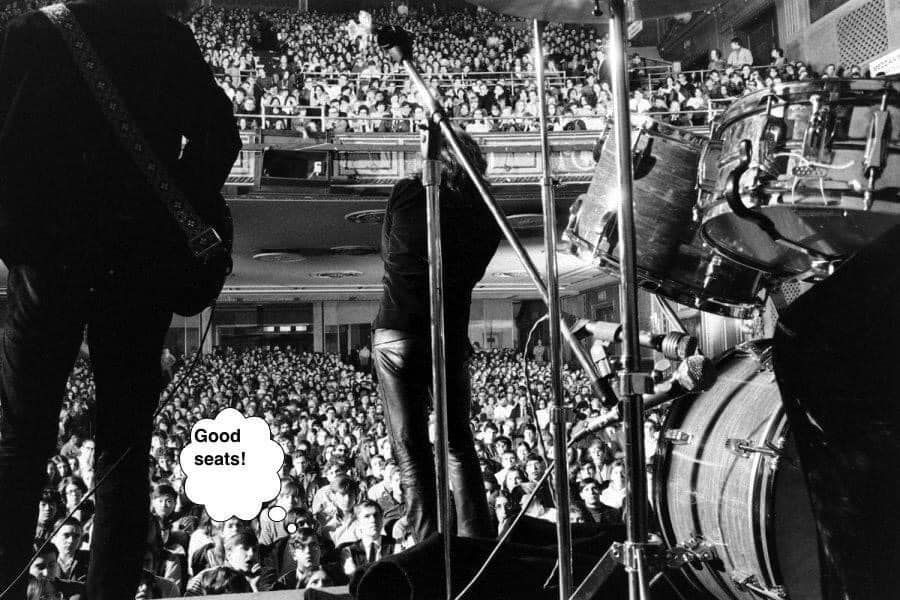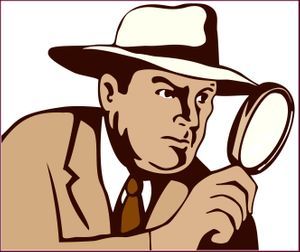 FURTHER INVESTIGATION
NY Historical Society: Fillmore East Exhibit
Q&A with Lightmaster Joshua White
Facebook Fillmore East Archives Group
Live At The Fillmore East & West
---


---