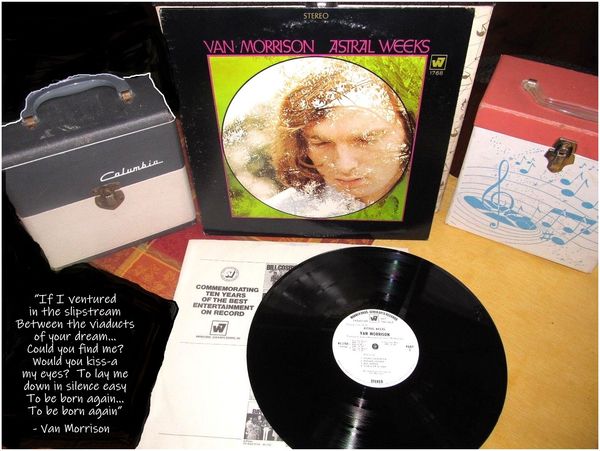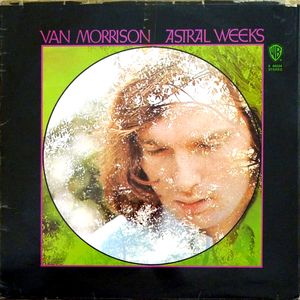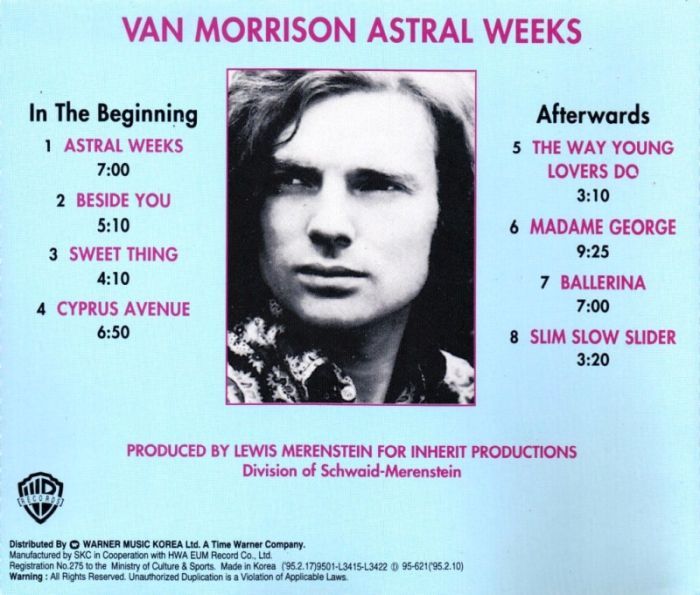 Release Date: November 29, 1968 Warner Bros Records
When I got out of bed his morning, I suddenly realized that 53 years ago Van Morrison's Astral Weeks album was released.  Looking back on those days, I vividly recall hearing this album for the first time when my brother Rob brought it home while on his college break.  Listening to Astral Weeks for the very first time was a life-changing moment that captured my imagination.  To this day I find the Astral Weeks album to be a musical talisman.  
Morrison described the song Astral Weeks as being: 'like transforming energy, or going from one source to another with it being born again like a rebirth. I remember reading about you having to die to be born. It's one of those songs where you can see the light at the end of the tunnel and that's basically what the song says.' Morrison told Steve Turner that he was working on the song back in Belfast in 1966 when he visited painter Cecil McCartney who had drawings on astral projection stated that his visit to the paint was what inspired him to name the album Astral Weeks.
Journalist Brian Hinton wrote the following in a review of the song: 'All is uncertain, this spiritual rebirth a question still, not a statement, and Van equates his move to a new world — both America and that of love— with a sense of being lost, 'ain't nothing but a stranger in this world'." (Wikipedia).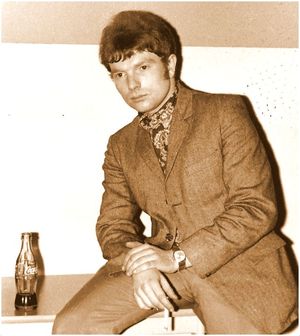 A young Van Morrison
"When Van Morrison first began to sketch the songs that would become his 1968 masterpiece Astral Weeks, he was temporarily back in Belfast but itching to go west. Though he was still in his early 20s, he was already a music-industry veteran: The anarchic, raw-throated dynamo had been the front-man of the influential (if only semi-successful) garage rock band Them, most notable for popularizing the Morrison-penned classic Gloria, a proto-punk standard that would later be interpolated by everyone from the Doors to Patti Smith.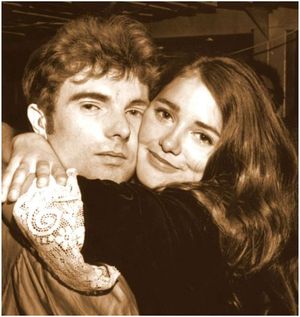 Van Morrison & Janet Planet
Shortly before Them broke up, they toured America, and it was at a gig in San Francisco that Morrison met Janet Rigsbee, a 19-year-old model who happened to be attending her very first rock concert that night. 'I looked at him, he looked at me, and it was alchemical whammo,' she later recalled—a description of falling in love as good as any poet's. They were inseparable for the rest of the tour, but the band's work visas were not extended, and so Morrison and his bandmates reluctantly returned to Ireland. He moved back in with his parents, bought a reel-to-reel, and spent his days fumbling with some new songs that were suffused with transcontinental longing and the spiritual ennui of being aimless and 22 years old." (The Ringer)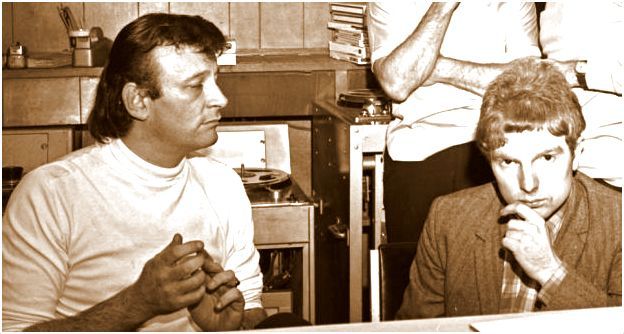 Producer Bert Berns & Van Morrison
"Morrison had been aimless in Belfast after dissolving his affiliation with his band, Them. He was offered a recording contract by an American music producer named Bert Berns, a man described by his own biographer, Joel Selvin, as reeking of 'Pall Malls, cheap cologne, and hit records'. Berns was a hitmaker; he wrote Twist and Shout,"' and Them had recorded his song Here Comes the Night."' Morrison barely read the contract before signing it. That's how he wound up in New York, living with his girlfriend, Janet Rigsbee, in a series of cheap hotels while he worked on tracks for Berns's label, Bang Records. 
But things between Berns and Morrison soon soured. At 22, Morrison thought of himself as a singing Irish poet. Berns, meanwhile, wanted to ride the late-'60s wave of psychedelia, and he released Morrison's debut solo album under the title Blowin' Your Mind!—with a cover sporting trippy fonts and patterns, and a photograph of a visibly sweaty Morrison, clearly meant to convey that the drugs had just kicked in. 
Morrison was furious. It was a cheap marketing ploy meant to sell him as something he decidedly was not. Worse, he was still broke, even though Brown Eyed Girl was a huge success. Morrison and Berns argued constantly over royalties. Then, on December 30, 1967, Berns—his heart weakened by childhood rheumatic fever—died of a heart attack at just 38 years old. After the death of Berns on December 30, 1967, Morrison found himself in a contract dispute with Berns' widow Ilene; among other things, Morrison was barred from performing on stage or recording in the New York area. Morrison was already annoyed because he had had no say in the release of Blowin' your Mind! in September 1967 and had only found out about it when a friend called to say that he had purchased it in a store.
It turned out Bang Records had some unsavory connections, and now that Berns was dead, Morrison's main contact at the label was Carmine Wassel DeNoia. Wassel was an even less forgiving boss than Berns. One night, Wassel visited Morrison at the King Edward Hotel, where Morrison and Janet were staying. They were already anxious: Morrison's papers were not wholly in order, and he was worried he'd be deported. Also, Morrison was severely intoxicated. Wassel asked about a radio he had given Morrison, which now appeared to be broken. Morrison's temper flared up, worsened by the booze, and Wassel put an end to his incomprehensible Gaelic swearing by smashing Morrison's Martin acoustic guitar over his head." (From Astral Soujourn, Ryan Hamilton Walsh, Boston Magazine 2015)
Morrison was out of sorts after Bert Berns died due to a heart attack because he still owed the label one more album.  He was worried that some of the mafia characters were going to take revenge so he grabbed his acoustic guitar along with Janet Planet and went into hiding in the Cambridge area of Boston.  Basically, Morrison was broke and on the run in an effort to avoid any further obligations with the Bang Records label.  It was during his time in Boston that Morrison decided he no longer wanted to perform "electric" music; his artistic outlook was to create an acoustic jazz-like sound.  Morrison rounded up some local players in Boston and began performing at small clubs.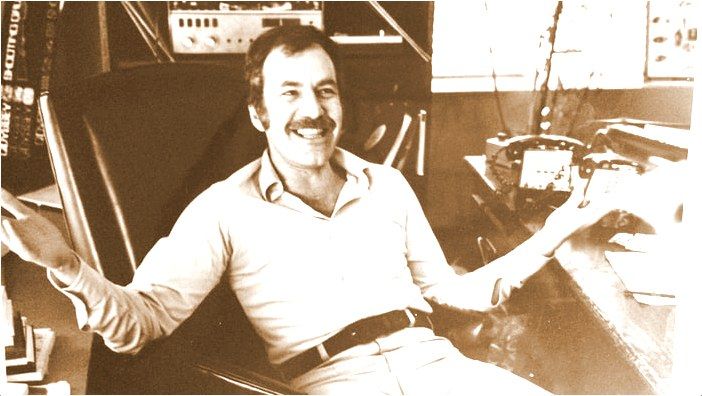 Lewis Merenstein (Producer of the Astral Weeks album)
"After a few weeks, Morrison went to meet a producer named Lewis Merenstein at Ace Recording Studios, across from Boston Common. At the time it was one of the few professional studios in Boston. In a 2008 interview, Merenstein said, 'my whole being was vibrating…I knew I wanted to work with Van at that moment."  One of the members of Van's band at this time remembers Merenstein telling Morrison that 'I think you're a genius, and I want you to make a record for Warner Brothers.'" (Ryan Hamilton Walsh, Boston Magazine 2015)
At the time, Warner Bros. had a deal with Inherit Productions, the production arm of Schwaid-Merenstein, which was founded by manager Bob Schwaid (who worked for Warners Publishing) and producer Lewis Merenstein. Merenstein received a call from Warner Bros. to see Morrison in Boston, and related how eight or nine producers had gone to hear Morrison, thinking they were going to hear Brown Eyed Girl only to find that 'it was another person with the same voice'. Merenstein first heard Morrison play at Ace Recording studio and recalled that when Morrison played the song Astral Weeks for him, 'I started crying. It just vibrated in my soul, and I knew that I wanted to work with that sound.' While Merenstein was visiting Morrison, Schwaid set to work on resolving Morrison's contractual troubles.
Still legally bound to Bang Records, Morrison would yet have more issues with them in the future. For the time being, Schwaid managed to free him from those obligations, under several conditions.  First, Morrison had to write and submit to Web IV Music (Bert Berns's publishing company) three original compositions per month over the course of one year. Morrison fulfilled that obligation by recording thirty-six nonsense songs in a single session. Such action risked legal reprisals, but ultimately none transpired. Morrison then had to assign Web IV half of the copyright to any musical composition written and recorded by Morrison and released as a single within one year from 12 September 1968. That demand became a moot point when Warner Bros. refrained from releasing any singles during that time, as no single was released from Astral Weeks. Finally, Morrison had to include two original compositions controlled by Web IV on his next album. Morrison fulfilled that demand with two of his own compositions, Madame George and Beside You, although the versions subsequently released were vastly different musically from the original versions recorded with Bang.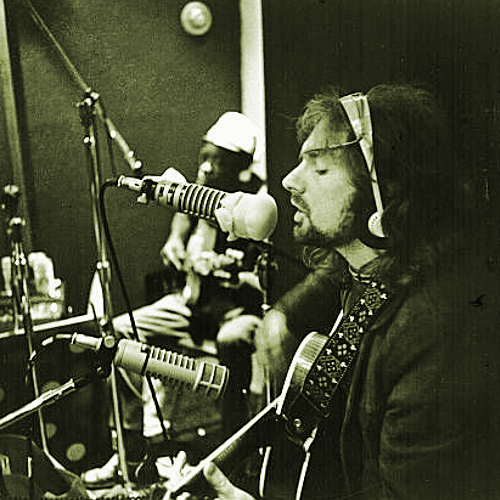 Van Morrison recording Astral Weeks in Century Sound Studios
"Fast forward to 25 September 1968. Morrison, 23, and already in retreat from pop stardom, stands in the center of Century Sound Studios in midtown Manhattan. Now, though, newly signed to Warner Brothers, he was intent on reinvention.  Strumming gently on an acoustic guitar, he begins to sing the first of several strange, stark songs he has been recently performing in small venues on the east coast to general disinterest.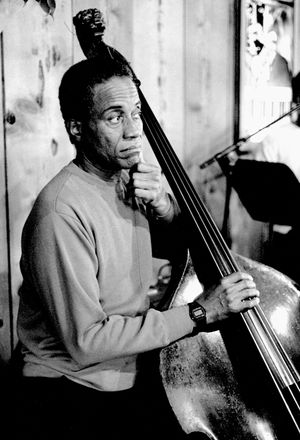 Richard Davis (Bassist)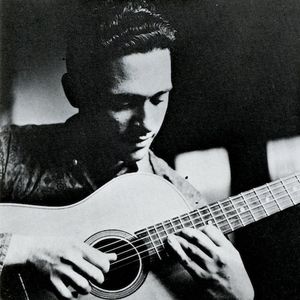 Jay Berliner (Guitarist)
"1968 brings us to perhaps the best known, and certainly the most celebrated recording that Jay Berliner has been associated with. Morrison brought the songs he played in his acoustic live sets and gave the musicians little, if any, instructions. Berliner remembers: 'What stood out in my mind was the fact that he allowed us to stretch out. We were used to playing to charts, but Van just played us the songs on his guitar and then told us to go ahead and play exactly what we felt. I played a lot of classical guitar on those sessions and it was very unusual to play classical guitar in that context.' With such a talent pool Morrison could not be more satisfied: 'The songs came together very well in the studio. Some of the tracks were first takes. But the musicians were really together. Those type of guys play what you're gonna do before you do it, that's how good they are'.
One of Jay Berliner's finest performances on this excellent album is on Beside You, a song that starts with a great introduction by Berliner on classical guitar. You can clearly feel that the gifted guitar player is improvising here, following Morrison's singing. Morrison described it as 'the kind of song that you'd sing to a kid or somebody that you love. It's basically a love song. It's just a song about being spiritually beside somebody.'" (Music Afionado blog)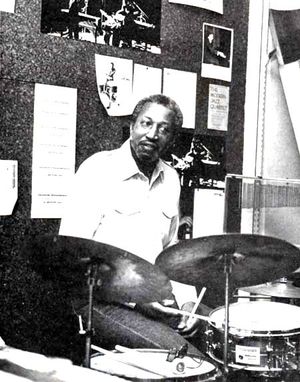 Connie Kay (Drums)
Around him, listening intently, are gathered three jazz musicians of the highest calibre: bassist Richard Davis, who had played with the likes of Miles Davis and Sarah Vaughan, guitarist Jay Berliner, best known for his work with Charles Mingus, and drummer Connie Kay, a member of the esteemed Modern Jazz Quartet. They had been assembled, alongside arranger Larry Fallon, by producer Lewis Merenstein, who on first hearing the songs had immediately sensed that they would not work in a rock setting." (The Guardian Nov. 2008, Sean O'Hagan, Is this the best album ever made?)
"Richard Davis proved, perhaps, to be the most pivotal instrumentalist during these sessions. 'If you listen to the album, every tune is led by Richard and everybody followed Richard and Van's voice,' says Merenstein. 'I knew if I brought Richard in, he would put the bottom on to support what Van wanted to do vocally, or acoustically. Then you get Jay playing those beautiful counter-lines to Van.' Davis was not impressed by Morrison, but not out of disdain or any preconceived notions, but rather because Morrison's professional comportment generally did not meet Davis's expectations. 'No prep, no meeting,' recalls Davis. 'He was remote from us, 'cause he came in and went into a booth… And that's where he stayed, isolated in a booth. I don't think he ever introduced himself to us, nor we to him… And he seemed very shy…' Drummer Connie Kay later told Rolling Stone that he approached Morrison and asked 'what he wanted me to play, and he said to play whatever I felt like playing. We more or less sat there and jammed.' Morrison's impression of the sessions was 'The songs came together very well in the studio. Some of the tracks were first takes...the musicians were really together. Those type of guys play what you're gonna do before you do it, that's how good they are.' He told Ritchie Yorke that only two tracks recorded during the sessions did not make it to the album. 'One was about Jesse James and the other about trains. They were both just basic blues numbers. That's why they didn't fit in with the album.'
The recording engineer for the album, Brooks Arthur, remembered the sessions in 2009: 'A cloud came along, and it was called the Van Morrison sessions. We all hopped upon that cloud, and the cloud took us away for awhile, and we made this album, and we landed when it was done.' In a Rolling Stone interview in 1972, Morrison told John Grissim, Jr.: 'I was really pretty happy with the album. The only complaint I had was that it was rather rushed. But I thought it was closer to the type of music I wanted to put out. And still is, actually.'"
THE DAY THE RECORDING SESSIONS BEGAN (September 25, 1968) 
Excerpted from Astral Weeks by Ryan H. Walsh. March 2018 Penguin Press. 
"The studio filled up with Merenstein's chosen team: Davis on bass, Jay Berliner on guitar, Connie Kay on drums, and Warren Smith Jr. on vibraphone — all respected jazz musicians. (A New York flute player who appears on two tracks goes unnamed in the liner notes, and none of the musicians can recall who it was.) In the control room, Brooks Arthur, the engineer and owner of Century Sound Studios, manned the boards, while Merenstein stood behind him. Payne and Kielbania sat on the couch, watching. It was dusk as they tuned up their instruments; most of them had already worked a session or two earlier that day. Consulting his work diary from that year, guitarist Jay Berliner notes he had just recorded jingles for both Noxzema and Pringles potato chips before showing up to start working on one of the most celebrated albums of all time. There was no project title yet; Berliner's gig diary merely says "Van Morrison." None of the musicians had heard of him before. 
Berliner remembers the unusual way the band was introduced — or not introduced — to the star of the project. 'This little guy walks in, past everybody, disappears into the vocal booth, and almost never comes out. Even on the playbacks, he stayed in there.' The other musicians confirm this. Davis, now retired and living in Wisconsin, focuses on what he found important about the sessions. 'Well, I was with three of my favorite fellas to play with, so that's what made it beautiful. We were not concerned with Van at all, he never spoke to us.' 
Van's default mode of noninteraction was familiar to his Boston bandmates, but this level of shyness was extreme. 'He seemed spaced out...as though he was in a lot of personal pain.' Perhaps, in the presence of players who were part of the Modern Jazz Quartet or Charles Mingus collaborators, Morrison simply became overwhelmed by nerves. His old producer Bert Berns had always had too many ideas; now, in the company of a producer who just wanted to let things happen naturally, the freedom could have been disorienting. Berliner swears the singer's isolation booth was full of some kind of smoke (Berliner claims Morrison called it vegetable weed), but no one else has this exact recollection.  'I didn't know what he was doing in there!' Davis says. 
Perched on a stool, Morrison clutched his guitar, opened the binder of his new songs that Janet Planet had collated for him, and waited for Brooks Arthur to hit record. For the session musicians, this was just another gig, but for Morrison, it must have felt like the last chance to breathe life into his faltering career — to be born again, as the title track proclaims. It is a point of contention whether lead sheets or chord charts were provided, but Davis believes Morrison just strummed the song and sang it from the booth once or twice, with the musicians improvising their parts on top of his composition minutes later...
That a group of players who had been knee-deep in ad- jingle-land hours before then pivoted to create the singularly beautiful music found on Astral Weeks seems incredible, but by all accounts this was actually the case. Guitarist Jay Berliner's schedule was so flanked by commercial work, in fact, he joked that he could have mistaken the session for another advertising job. 'Astral Weeks, I mean, what a long jingle and what are we selling here, exactly?'...Morrison's new compositions called for takes that could stretch beyond nine minutes. Much of what ended up on the album was often an edit of a much longer jam. Jay Berliner finds this plausible, and recalls Lewis Merenstein at the control booth window smiling, rolling his hand in a 'keep going!' motion.
Madame George
That first night, they laid down Beside You, Cyprus Avenue and the epic Madame George, which hit the five-, seven-, and nine-minute mark in their final versions. Everyone was so pleased with the results that they started to talk about trying one more before calling it quits. 
When John Payne heard it was going to be Astral Weeks, a song he had been playing with Van live back in Boston, he began to loudly campaign for permission to perform. 'John was basically crying when I told him he wouldn't be on the album,' Lewis Merenstein recalls. 'I said, 'It's not anything to do with your playing, it's just not the concept I had.'  Payne said, with all the intensity of a young man recognizing the special opportunity before him, 'Please let me play on this song.' 
Merenstein finally gave in, and John Payne took a seat inside the live room. The twenty-two-year-old Harvard dropout and second cousin to poet Robert Lowell had just talked his way into a session with some of New York's best jazz musicians. Payne says. 'I thought I was hot stuff. I was a little nervous, but mostly I was just excited because I had been playing with him and I knew I could do it.' By all accounts, the song that appears on the album is the very first take. 'The interaction between Jay Berliner and me playing off each other and the whole way Van was just there listening to it was just amazing,' Payne says.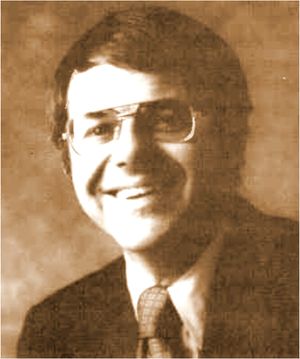 Joe Smith (Warner Bros. Records)
Six days passed between this first session and the next. Somewhere on Ninth Avenue, Warner Brothers' Joe Smith made the successful bagful of- twenty-grand drop-off to the sketchy associates of Bang Records which would release Van Morrison from any further obligations to Bang Records.
Also during this week, on the label's payroll and with nothing better to do, John Payne and Tom Kielbania (members of Morrisons band in Boston) took a personality test. Before they knew it, the two Bostonians found themselves taking a Scientology class. 'A new, and quite apparently phony 'religion' called Scientology is beginning to emerge from the lower depths," Women's Wear Daily reported a month before. "In the United States, it is still basically unknown except to cultists and a few curiosity seekers. But in recent days, subway posters have appeared in New York urging everyone: 'Step into the world of the totally free.'  Van Morrison wouldn't dabble in Scientology until the eighties (he thanked founder L. Ron Hubbard in the liner notes to 1983's Inarticulate Speech Of The Heart), but already had a deep interest in occult writing. 
Morrison had definitely written the song Astral Weeks by the time he and Kielbania had started reading a book about Scientology, the phrase itself had come to him even earlier — back in Belfast, where it popped into his head while staring at a painting by his friend Cecil McCarthy. The words suggest a time and a place; they roll off the tongue like an incantation, some long-lost relative of abracadabra or hocus pocus, slowly forgotten over centuries. 
'There were several paintings in the studio at the time,' McCarthy explained. 'Van looked at the painting and it suggested astral traveling to him.' The painting was new, but for Morrison, the concept of an astral plane was not. In the seventies, he told interviewers about strange incidents he experienced as a child — lying in bed with 'the feeling that I'm floating near the ceiling looking down,' and other 'amazing projections.' His out-of-body experiences as a boy help explain the obsession with youth that runs through Astral Weeks. In these songs, the singer longs to return to an age when the world functioned like magic. 'And I will never grow so old again,' he sings on the triumphant, Yeatsian Sweet Thing...in the epic Cyprus Avenue, the longing for youth takes on a more troubling form — what seems to be an adult yearning for a fourteen-year-old girl. The whole dreamlike plot of Madame George is filtered through 'a childlike vision leaping into view.' 
Astral Weeks album
Is it unusual for someone in his early twenties to already be so nostalgic for, and obsessed with, his youth? Around this time, Van Morrison gave Tom Kielbania a kind of clue: He was an only child. 'That bothered him,' Kielbania says. 'We were in some hotel room, just talking, and he said, 'You know, people shouldn't be allowed to just have one kid, because you miss out on a whole bunch of stuff. He thought that it was a terrible thing that happened to him.'
But writing Astral Weeks's lyrics wasn't necessarily so deliberate — indeed, it might have been the opposite. Fast-forward to 1986's No Guru, No Method, No Teacher, in which Morrison surprisingly echoed some of the imagery and phrasing from his breakthrough LP from 1968. The 'childlike vision' returns, as does the 'garden wet with rain' of Sweet Thing. When Morrison was asked how he wrote the song In The Garden, he answered, 'Oh yeah, I didn't write that. I was sitting in my flat one night and this voice said to me, 'Write this down,' and I pulled out the paper and I just wrote down what he told me, and that was the song.' Whether you find any validity in this kind of claim, what is certain is that Morrison himself believes some of his songs arrived fully formed, via a kind of automatic writing. Janet Planet insists that Van's writing style, circa 1968, involved a stream-of-consciousness transmission that he would record and edit down after playback. As he told writer Ritchie Yorke in 1979, 'I didn't know what some of the stuff on Astral Weeks was about until years later. . . . If the spirit comes through in a 'Madame George' type of song, that's what the spirit says. You have very little to do with it. You're like an instrument for what's coming through.'" (allthingsmusicplus.com)

From The Dark Forces Swing Blind Punches Blog
The above image --Merenstein on the left, Davis on the right-- was taken around the time of the 1968 recording sessions
"Following is the full transcript of an interview I conducted with producer Lewis Merenstein on 10/29/08 at an Upper West Side restaurant: I've long been obsessed with the remarkable free-form improvisational aspect of Astral Weeks; in particular, the way Richard Davis's bass intertwines so gorgeously with Morrison's voice on tracks like Beside You. Probably few other bassists on earth could've adapted so well to this situation and still projected so much of their personality. Davis is easily my favorite jazz bassist, and it's a joy to draw parallels between his '60s work with Andrew Hill, Eric Dolphy and others with what he does on the Astral Weeks album. 
Merenstein's insights re: the session--as well as re: Morrison's decision to revive the material--are fascinating and will definitely be of interest to any fan of the album, particularly jazz-minded ones. A producer's role isn't always an artistic one, but in the case of Astral Weeks, it definitely was essential to the way the record ended up. As Merenstein puts it, 'Richard was the soul of the album.'
Lewis Merenstein: My background was as a recording engineer. I'm from Baltimore, Maryland and when I came to New York, I got a job as a recording engineer and spent the first five years I'd say—four years—working at Nola Penthouse doing only jazz. We did all producer Tom Wilson's sessions. I engineered, so I had a marvelous education—in those days it was a small console, two tracks, so you either got it or you didn't. And jazz musicians during that period they could fall in and play; the contractual situations weren't so tight. That a guy came by the studio and you'd say, "Hey, come on," and they sat in: Benny Golson, Art Farmer, Thelonious Monk, on and on and on. At the time, nobody knew who was going to be well known later on. No one knew that Monk would be a legend. 
Interviewer: About what year was this? 
Lewis Merenstein: '50s, late '50s, when I moved to New York. This city had a lot of jazz, a lot more than it has now. Birdland, bigger venues; I know downtown has jazz places for young people, but it was a different energy; it wasn't as fast, didn't have as much computers. Records were still records. So I had an enormous upbringing working with those musicians. As a kid in Baltimore, I studied trumpet—not very well, I was never a great player but I loved music. 
Interviewer: So was Astral Weeks the first record you actually produced? 
Lewis Merenstein: No, I produced other ones before that. I produced Miriam Makeba, I produced Gladys Knight and the Pips, I produced a lot of rock acts—tremendous variety. 
Interviewer: Describe your first meeting with Van Morrison... 
Lewis Merenstein: Warner Brothers had contacted Bob Schwaid [Morrison's manager at the time], and he contacted me. And they had sent some producers, and they didn't know what he was talking about; people went up expecting to hear Brown Eyed Girl, because the year before he had a hit with that song on Bang Records and that's what he was last known for. So Joe Smith and Mo Ostin asked me to go up [to Boston] and listen to him. And I went up and it was at Ace Recording Studio at 1 Boylston Place, and there was Van Morrison, very timdly sitting on a stool and I came in very timidly sitting on a stool and he played! And the first tune he played was Astral Weeks. Thirty seconds into it, my whole being was vibrating, because having spent all that time with jazz players, when he was playing, I could hear—the lyric...I got right away; I knew he was being reborn. I heard 30 seconds, a minute and it went right through me, and I got the poetry of it. It was just stunning, and I knew I wanted to work with him at that moment. He went on and played more things, various tunes. And I guess everything was agreed on and he came back to New York, with Bob, who was going to manage him, who was picked to manage him and the other producers didn't hear it the way I heard it. 
My first thought was when I heard him I heard Richard Davis, because I used to use Richard in a lot of sessions. Van and I rehearsed— Warner Bros had a publisher's little recording studio up at Warner Brothers. It's a little place for songwriters to work, producers to work with artists. And we worked for a couple weeks, and he had, I think, been working in Boston and doing a lot of the material, so he knew his material well. I culled through it and chose what tunes I thought—in my mind I'm very conceptual, and I never asked him to discuss the meaning of any of his tunes. He's that kind of a person. We'd sit and have dinner together—you know, like what we're doing now—and we'd talk a lot. He had no idea what was going on. He basically didn't have a clue. 
I got Larry Fallon, who I worked with also; he's a jazz player, and he came in and wrote out chord sheets and got Richard involved. I said, 'Richard, it's got to really lay underneath him; you can't go and do notes with him because he's just going to sit and play his guitar and you've got to fill it.' We decided to get Connie Kay and Jay Berliner too and the other people we contacted, which I had worked with some of them before. And I said, 'Van, we're going in the studio.' And Van...he's got this personality; I don't want to over-describe it or under-describe it. I think he's a remarkable poet and all credit to him. As I said to someone else, something that's as timeless as this had to happen: It had to happen that it was me and not Tom Wilson that was sent up there. It had to happen that I heard the lyrics and knew what to do in my mind—or felt I knew what to do. I just—not to sound too metaphysical about it, but there was no way of avoiding that. I believe that's true of anything that's timeless. 
Anyway, we came down, and we went to Brooks Arthur's studio and Van, again, didn't really know what was happening. Larry had worked with him a little in the rehearsal studio, just went over the chords to make sure everything was right and went in the studio. Van had never worked with—I don't believe he had heard of the players we had, and it happened rather spontaneously. I knew what I wanted to do, Van got in a sort of an open booth, just a half-moon booth, with a mike, his guitar, vocal. Richard sat down and ran through a tune, and we did it. 
And for me, it was Richard all the way; Richard was the soul of the album. Richard was the heart and beat of it, which I knew he would be because, it was funny: Whenever I used Richard on sessions, you know sometimes you call sessions, musicians play, personalities come out. Whenever I had an important session, I'd call Richard. Richard was always there twenty minutes, half an hour early practicing. And when the other musicians would come in and see Richard, they knew they had to come up to top form. 
A lot of respect—it was just beautiful, just beautiful. I forget if we did one take, two takes, how many times I may have interrupted it and asked the band to soften it up a little bit and maybe move the tempo a little bit. Van had nothing to say. He just went and sang the song. That's primarily the way the album preceded. 
Interviewer: Some people said that the album wasn't recorded simultaneously.  You're telling me the entire thing was live?
Lewis Merenstein: Every cut on that album was done with Van and the basic group, live. What was overdubbed was the strings and the horns. That's it. Flute—there's a flute thing, but I don't even know if that was overdubbed. I know John Payne wanted to do it, the kid from Boston, and then I said no; I got somebody else, and then I finally said, 'Do the thing already.' And he was thrilled he did it. It was absolutely—in fact it was so live.
The funniest thing was that Warner Brothers, when they first heard the Astral Weeks album, didn't know what to make of it. They said, 'This is not Brown Eyed Girl.'  People didn't get it right way. I think Joe loved it—he was the president of Warner Brothers—and I think somebody else loved it, but they didn't know how to market it; it laid around for a year. I mean, I truly loved the album; I loved it, my heart loved it, I listened to it daily. Not so with most albums I produce, to that degree. Van's manager couldn't book the band because folks wanted to hear Brown Eyed Girl, and he wasn't working that Brown Eyed Girl thing anymore.
Van had his own band—John Payne was with him, people from Boston. I think he worked the scene; Bob got Van a gig at the Bitter End. People didn't get what was happening; that's not what they expected. Rolling Stone magazine, I think it was Ben Fong-Torres, called it the album of the year in 1968, and that's how it happened. He heard it, and heard it; he heard it. It's not an album that you put on and—some people hear it right away, and some people have to hear it a couple times.
People used to ask me, 'What is he talking about? Who's Madame George?' I said, It's beautiful, it's music—let it be whoever you want it to be. He was going with Janet Planet at the time—he may have been married to her or not—Ballerina, certain tunes. Even the album cover—Warner Brothers' designer listened to the album and he gave it a mystical feel; that was the nature of the album, which can't be explained, like any mystery you can't really explain it. There were more tunes recorded that weren't on the album; that was my choice. I labeled each side of the album as In the Beginning and Afterwards. I think Van was a little pissed at me for doing that. I said it felt like a beginning and afterwards when I sequenced the album. The last tune, Slim Slow Slider, I needed for time on the album. It sort of had the mood of 'We're over,' something was over. And what was over was actually those tunes in my mind. And working together we already worked a lot of the tunes for Moondance. They just didn't fit: In my mind they didn't work with Astral Weeks, which was really a rebirth kind of mystery. So I think those other tunes were bootlegged. I think Clinton had showed me a copy of four tunes I didn't use; they were meaningless, I never had a copy; I didn't care, they didn't mean much to me. 
The album had its normal trials and tribulations. As a tune is down, you may want to do a piece over. The strings were done at Mastertone Recording Studio on 42nd street. I engineered them. I knew the owner, so I was at the studio one night— engineered them, Larry wrote the strings, Van had comments about them, I had comments about them: where to put them, which tunes to use them on. I don't know how many people know that there's a cascading string line that goes down the left side of the speaker and up the right side of the speaker on Astral Weeks at the ending; listen, you'll hear the string line go down. Just little things, you know, touches of more—It was all done; it could have been Van, nothing. We didn't need horns, we didn't strings; it was done, the magic was done. There were just little compliments that were put on like the horns on The Way That Young Lovers Do. I wasn't thrilled about, but that's what we had in the arrangement. I thought it might have been less harsh, but it seemed to work. 
Interviewer: I think it's interesting that on Astral Weeks, I think there are elements of the record, like The Way That Young Lovers Do, it's a very jazzy feel in a traditional way. And I think there's another sense though on something like Beside You, it almost has more in common with the free-form jazz that was happening in the early 60s, more than it does with records that have an old-school singer with a jazz orchestra behind them. When you first heard those pieces did you have the more free-form jazz in mind? 
Lewis Merenstein: The only one I really had in mind was Astral Weeks, that I really heard. I started hearing them as we were going. I think what Larry did with the horns on The Way That Young Lovers Do...it was the one I wasn't really overjoyed with, as far as the harshness of the arrangements. It was very hard against everything else which was not so hard. It was really definitive, the way it pushed. It caused that tune to sound that way with the horns more than anything else. 
Interviewer: The thing that interests me most about the record is on pieces like The Way That Young Lovers Do some of the tunes have more of a repeating form. But like Beside You, it's almost like the bass is improvising along as the vocal line for the tune...and it's very free-form and it's unlike any other pop music in the way that it's presented. 
Lewis Merenstein: Well that's the form that Van presented it. Because Richard was underneath; he didn't create it. Van had to sing it that way, he had to present it that way, and Richard took the liberty of doing what he did underneath it. And the tunes that I liked, most of them had some, I guess it was a mystical romantic feeling to it after being born again. I mean that's the tunes I selected for the album. We didn't always agree. 
Interviewer: When you first heard Van Morrison playing the song, and you had this idea of maybe using Richard Davis, did you discuss that with Morrison? 
Lewis Merenstein: Well, I'm sure he didn't know who Richard Davis was. He hadn't worked in that world with pure jazz players. After this was all over, he tried to use Larry Fallon; it didn't work out. He tried to use Richard Davis; I think he flew Richard to London, but Richard never got a copy of the album, so it didn't work out. In fact Van is trying to do—There's an old saying that you can only step in the river one time. Well, Van is trying to something that can't be done...like reproducing Astral Weeks. He's not innocent; he was innocent one time, he can't be innocent twice, I mean, as far as I know. I mean you can be a born-again something or other, and change your way of life, go from one type of a life to another type, have a more orthodox life. I'm not saying humans can't change. But when he did Astral Weeks, he didn't even know that he had been born again. There was a poet that was loose there. It poured out. Think of it. Astral Weeks and Moondance and never again. Tons of albums, nothing equal to those albums. He is a marvelous poet, and he's written some incredible tunes; he's a marvelously gifted poet and artist. But when I went into Ace Studio, there was a little baby sitting there—he was timid. And I hate to say timid. I don't know what he was during Brown Eyed Girl, but when I met him, I felt like I had met some purely innocent person that was saying these words, and felt it, and didn't really fully get what he was saying. Get the poetry, the poetic—I don't want to just use a bunch of words: He got it, but as a writer he was speaking from his unconscious almost 
Interviewer: You don't communicate with Van much anymore? 
Lewis Merenstein: No, we had unfortunately—during Moondance, when we started working on it, he got a new manager, a woman up in Woodstock, and she wanted to break him out of every agreement. He didn't want to work with Bob anymore, simply because Bob didn't do anything with Astral Weeks and this woman manager, I forget her name, wanted to get him out of everything, even though we had pretty much selected the tunes for Moondance, we had rehearsed Moondance. We were having a debate whether he uses some of the players he found at Woodstock or Richard again and some of that again, but that would have been resolved without litigation. So we were moving ahead and litigation stopped how much I could participate. If anything, I could've called myself co-producer of the album, of Moondance, certainly a lot of work was done by Van and the group at Woodstock. My work would've been with total honesty, I would've wanted to get coproduction, which I could've had, they gave me the choice. At the time I was so upset with the whole thing, I think that's the title I gave myself, the title I chose. Because there was going to be a litigation. It was what we owned and Warner Brothers and Van owned, was three-way split on things. 
Interviewer: Back to the Astral Weeks sessions: You said there were chord sheets given to Richard Davis? 
Lewis Merenstein: Larry wrote just chords that the bands played, 
Interviewer: So you wrote them out? 
Lewis Merenstein: Yeah, just the chords. They were there for interpretation. 
Interviewer: Richard was sort of the leader of the thing, right? 
Lewis Merenstein: No, he was over there, the drummer that was there. Van was the leader, Van played. 
Interviewer: But Morrison never discussed what he wanted to do? He would just start playing and they would start playing? 
Lewis Merenstein: Larry would run the tune down once or twice. 
Interviewer: And so the other musicians would play without the vocal? 
Lewis Merenstein: No, with the vocal, they'd get a feel of where it was going. How it was going. 
Interviewer: But the arrangements— 
Lewis Merenstein: There were no arrangements. 
Interviewer: So it was pretty much spontaneous. 
Lewis Merenstein: It was totally spontaneous; the whole album was done, other than the strings and the horns was done free-from, spontaneous, not free-form, but spontaneous based on what Van was doing. If you listen very carefully you'll hear in most tunes, it's Van and Richard happening and drums everything moving it along. 
Interviewer: I heard there was an edit on "Slim Slow Slider," that there was a long instrumental section at the end. 
Lewis Merenstein: No! I faded it out; there may have been an edit, who knows. Whatever I took out, if there was something taken out, it was because it didn't have any relativity in my mind to what was done. Slim Slow Slider was just—of the tunes that were, I think four other tunes may have been cut that we were thinking about. Because in my mind we needed more time for the album and of them Slim Slow Slider had the best ending effect. Sort of sad, melancholy type ending. I don't remember honestly whether there was something cut out or not. 
Interviewer: Do you remember talking to him afterwards about whether or not he was satisfied or after the sessions or anything like that? 
Lewis Merenstein: We were already on to the Moondance album. I don't know, we just gave the album to Warner Brothers. I don't remember him having any comments. 
Interview: Richard Davis said there was absolutely no contact between Van and the musicians. 
Lewis Merenstein: None! Zero! When I say zero, I mean they didn't hang out. Take was over, there was a break, Richard and the guys went out to smoke a cigarette, grabbed a cup of coffee. They weren't Van's band. 
Interviewer: So there was no direction you sensed coming from him, so you took control and did it your way? 
Lewis Merenstein: The direction was him singing and playing—that was where I followed. That's why it came out the way it did. If I would've gone somewhere else, it wouldn't have came out the way it did. So there obviously was a direction from somewhere in the sky. I don't want to sound to existential, but there was Van, and that was it; there was no band. We didn't talk about going out and finding a band that was gonna play Madame George. That was a tune that he had when he was on Bang Records. Nobody knew what to do with Madame George. That wasn't a new tune he wrote for the album.  I just knew it was beautiful and I felt good. I felt real good. Having been a recording engineer working with people, I can pick out, I wish this was mixed a little different—you know, I stood behind Brooks and tried to balance it properly. I was totally in love with it—I loved it, it was beautiful. It was stunning and it still is to this day. To this day I'm so moved by that track. It is what it is. It's a timeless piece.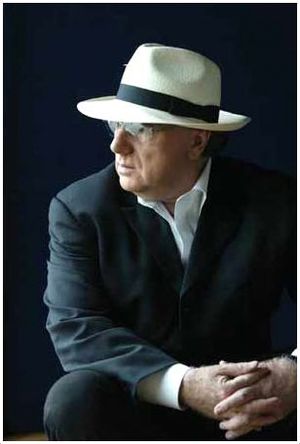 LA Times Music Blog Van Morrison Interview 2008: 
"Interviewer: What, if any, contact has there been with Richard Davis and Jay Berliner (or Kay before his death in 1994) over the years? 
Van Morrison: Connie Kay called me a lot over the years, on a regular basis. He was the drummer on Tupelo Honey and Listen to the Lion. He is also on several recordings I did in the '80s, numbers I have not released yet. Connie was the best drummer I have run across yet. The original arranger, Larry Fallon, kept in touch with me over the years, but we had lost contact with him, unfortunately. He was a great arranger. He seemed to understand this music -- which is rare and is not easy to do. I was in touch with Richard a few times over the years. 
Interviewer: Did these songs emerge more or less fully formed lyrically and melodically, or did you spend considerable time reworking, shaping and editing them during the live performances that led up to the recording session? 
Van Morrison: Well, I had already written Ballerina, in 1966...if this tells you anything, and the poetry written on the backside of the Astral Weeks album cover was an excerpt from something else I had written prior to that! Matter of fact, thinking back, I had previously recorded Madame George and Beside You well before the '68 Warner release, for Bang Records. But the arrangements were nothing like what I had in mind for those songs. I had also previously played versions of a few of the songs Live at the Catacombs club in Boston well before going in and making what became the Astral Weeks recordings that ended up as the record. We made that record straight through finally like I wanted them, without stopping. We did it my way in the studio that day.  So, yes it took a very long time and a lot of thinking and arranging and hard work to structure these songs like I wanted them, like I envisioned them in my head. That was the hardest work, but then I found out I then had to work through the people in the music business, and then the people that come around as a result that you are in the music business, and that was even harder, but in a different way. All for the sake of making my music, my song. 
Interviewer: Do you connect differently now with the Astral Weeks material, and what is it about these songs that make them feel like they exist outside of time? I've talked to some musicians who say they didn't understand the real meaning of some of their songs until years later; that their music reached beyond their intellectual understanding of themselves at the time. 
Van Morrison: Astral Weeks songs were written over a period of time -– some early 1966 -- and evolved musically. They are timeless works that were from another sort of place -- not what is at all obvious. They are poetry and mythical musings channeled from my imagination.  The songs are poetic stories, so the meaning is the same as always -- timeless and unchanging. The songs are works of fiction that will inherently have a different meaning for different people. People take from it whatever their disposition to take from it is. It is like Tolkien's "Hobbit" -- the hobbit is what it is. I doubt he would change what the stories [are] just because time went by.  Astral Weeks are little poetic stories I made up and set to music. The album is about song craft for me -- making things up and making them fit to a tune I have arranged. The songs were somewhat channeled works -- that is why I called it Astral Weeks.
Interviewer: Were you always a spiritual seeker? 
Van Morrison: Of course. How could I be a musician or write poetry if I am not?"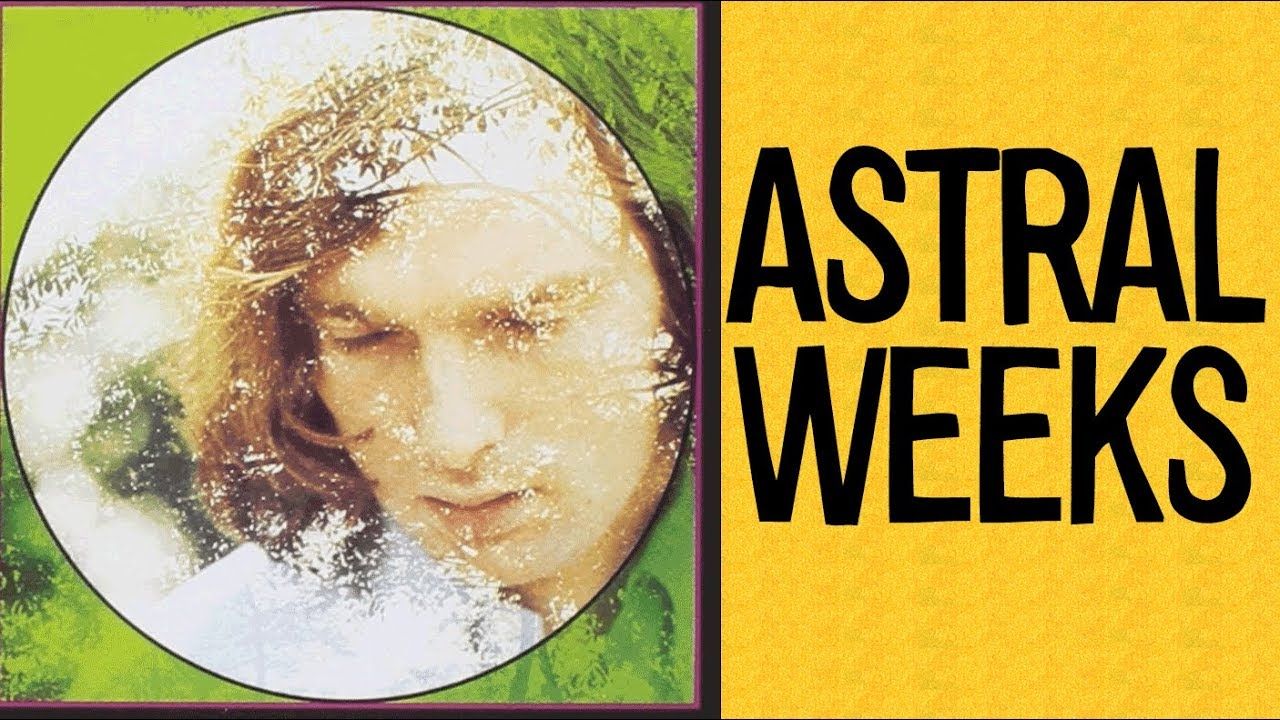 "In a way, Van Morrison has grappled with those same themes ever since. For a long time, his albums were about the great quest for home, the search for a place to belong, be that a tradition or a belief system or an actual landscape. In his songs he has drawn on Romanticism and esoteric theosophy, and evoked the names of John Donne and WB Yeats, TS Eliot and Seamus Heaney. On Astral Weeks, though, there is no questing. He is simply there, transported by his words and his voicing of them. No one in popular music, including Van Morrison himself, has since come close to that exalted place ." (The Guardian Nov. 2008, Sean O'Hagan, Is this the best album ever made?)
Lester Bangs
Astral Weeks 
by Lester Bangs 
from "Stranded" (1979) 
"Van Morrison's Astral Weeks was released ten years, almost to the day, before this was written. It was particularly important to me because the fall of 1968 was such a terrible time: I was a physical and mental wreck, nerves shredded and ghosts and spiders looming and squatting across the mind. My social contacts had dwindled to almost none; the presence of other people made me nervous and paranoid. I spent endless days and nights sunk in an armchair in my bedroom, reading magazines, watching TV, listening to records, staring into space. I had no idea how to improve the situation and probably wouldn't have done anything about it if I had. 
Astral Weeks would be the subject of this piece – i.e., the rock record with the most significance in my life so far – no matter how I'd been feeling when it came out. But in the condition I was in, it assumed at the time the quality of a beacon, a light on the far shores of the murk; what's more, it was proof that there was something left to express artistically besides nihilism and destruction. (My other big record of the day was White Light/White Heat.) It sounded like the man who made Astral Weeks was in terrible pain, pain most of Van Morrison's previous works had only suggested; but like the later albums by the Velvet Underground, there was a redemptive element in the blackness, ultimate compassion for the suffering of others, and a swath of pure beauty and mystical awe that cut right through the heart of the work 
I don't really know how significant it might be that many others have reported variants on my initial encounter with Astral Weeks. I don't think there's anything guiding it to people enduring dark periods. It did come out at a time when a lot of things that a lot of people cared about passionately were beginning to disintegrate, and when the self-destructive undertow that always accompanied the great sixties party had an awful lot of ankles firmly in its maw and was pulling straight down. so, as timeless as it finally is, perhaps Astral Weeks was also the product of an era. Better think that than ask just what sort of Irish church webbed haunts Van Morrison might be a product of. 
Cypress Avenue 1970 Fillmore East, NYC
Three television shows –  A 1970 NET broadcast of a big all-star multiple bill at the Fillmore East. The Byrds, Sha Na Na, and Elvin Bishop have all done their respective things. Now we get to see three of four songs from a set by Van Morrison. He climaxes, as he always did in those days, with "Cyprus Avenue" from Astral Weeks. After going through all the verses, he drives the song, the band, and himself to a finish which has since become one of his trademarks and one of the all-time classic rock 'n' roll set-closers. With consummate dynamics that allow him to snap from indescribably eccentric throwaway phrasing to sheer passion in the very next breath he brings the music surging up through crescendo after crescendo, stopping and starting and stopping and starting the song again and again, imposing long maniacal silences like giant question marks between the stops and starts and ruling the room through sheer tension, building to a shout of "It's too late to stop now!," and just when you think it's all going to surge over the top, he cuts it off stone cold dead, the hollow of a murdered explosion, throws the microphone down and stalks off the stage. It is truly one of the most perverse things I have ever seen a performer do in my life. And, of course, it's sensational: our guts are knotted up, we're crazed and clawing for more, but we damn well know we've seen and felt something. 
Cypress Avenue 1974 Winterland, San Francisco
1974, a late-night network TV rock concert: Van and his band come out, strike a few shimmering chords, and for about ten minutes he lingers over the words "Way over yonder in the clear blue sky / Where flamingos fly." No other lyrics. I don't think any instrumental solos. Just those words, repeated slowly, again and again, distended, permutated, turned into scat, suspended in space and then scattered to the winds, muttered like a mantra till they turn into nonsense syllables, then back into the same soaring image as time seems to stop entirely. He stands there with eyes closed, singing, transported, while the band poises quivering over great open-tuned deep blue gulfs of their own. 
Van Morrison is interested, obsessed with how much musical or verbal information he can compress into a small space, and, almost, conversely, how far he can spread one note, word, sound, or picture. To capture one moment, be it a caress or a twitch. He repeats certain phrases to extremes that from anybody else would seem ridiculous, because he's waiting for a vision to unfold, trying as unobtrusively as possible to nudge it along. Sometimes he gives it to you through silence, by choking off the song in midflight: 'It's too late to stop now!' 
It's the great search, fueled by the belief that through these musical and mental processes illumination is attainable. Or may at least be glimpsed. 
When he tries for this he usually gets it more in the feeling that in the Revealed Word – perhaps much of the feeling comes from the reaching – but there is also, always, the sense of WHAT if he DID apprehend that Word; there are times when the Word seems to hover very near. And then there are times when we realize the Word was right next to us when the most mundane overused phrases are transformed: I give you 'love,' from Madame George. 
you're probably wondering when I'm going to get around to telling you about Astral Weeks. As a matter of fact, there's a whole lot of Astral Weeks I don't even want to tell you about. Both because whether you've heard it or not it wouldn't be fair for me to impose my interpretation of such subjective imagery on you, and because in many cases I don't really know what he's talking about. he doesn't either: 'I'm not surprised that people get different meanings out of my songs,' he told a Rolling Stone interviewer. 'But I don't wanna give the impression that I know what everything means 'cause I don't. . . . There are times when I'm mystified. I look at some of the stuff that comes out, y'know. And like, there it is and it feels right, but I can't say for sure what it means.' 
I haven't got the slightest idea what that 'means,' though on one level I'd like to approach it in a manner as indirect and evocative as the lyrics themselves. Because you're in trouble anyway when you sit yourself down to explicate just exactly what a mystical document, which is exactly what Astral Weeks is, means. For one thing, what it means is Richard Davis's bass playing, which complements the songs and singing all the way with a lyricism that's something more than just great musicianship: there is something about it that more than inspired, something that has been touched, that's in the realm of the miraculous. The whole ensemble – Larry Fallon's string section, Jay Berliner's guitar, Connie Kay's drumming – is like that: they and Van sound like they're not just reading but dwelling inside of each other's minds.
Fact: Van Morrison was twenty-two – or twenty-three – years old when he made this record; there are lifetimes behind it. What Astral Weeks deals in are not facts but truths. Astral Weeks, insofar as it can be pinned down, is a record about people stunned by life, completely overwhelmed, stalled in their skins, their ages and selves, paralyzed by the enormity of what in one moment of vision they can comprehend. It is a precious and terrible gift, born of a terrible truth, because what they see is both infinitely beautiful and terminally horrifying: the unlimited human ability to create or destroy, according to whim. It's no Eastern mystic or psychedelic vision of the emerald beyond, nor is it some Baudelairean perception of the beauty of sleaze and grotesquerie. Maybe what it boiled down to is one moment's knowledge of the miracle of life, with its inevitable concomitant, a vertiginous glimpse of the capacity to be hurt, and the capacity to inflict that hurt. 
...the beautiful horror of Madame George and Cyprus Avenue is precisely that the people in these songs are not dying: we are looking at life, in its fullest, and what these people are suffering from is not disease but nature, unless nature is a disease.  A man sits in a car on a tree-lined street, watching a fourteen-year-old girl walking home from school, hopelessly in love with her. I've almost come to blows with friends because of my insistence that much of Van Morrison's early work had an obsessively reiterated theme of pedophilia, but here is something that at once may be taken as that and something far beyond it. He loves her. Because of that, he is helpless. Shaking. Paralyzed. Maddened. Hopeless. Nature mocks him. As only nature can mock nature. Or is love natural in the first place? No Matter. By the end of the song he has entered a kind of hallucinatory ecstasy; the music aches and yearns as it rolls on out. This is one supreme pain, that of being imprisoned a spectator. And perhaps no so very far from "T.B. Sheets," except that it must be far more romantically easy to sit and watch someone you love die than to watch them in the bloom of youth and health and know that you can never, ever have them, can never speak to them. 
Madame George is the album's whirlpool. Possibly one of the most compassionate pieces of music ever made, it asks us, no, arranges that we see the plight of what I'll be brutal and call a lovelorn drag queen with such intense empathy that when the singer hurts him, we do too...The beauty, sensitivity, holiness of the song is that there's nothing at all sensationalistic, exploitative, or tawdry about it; in a way Van is right when he insists it's not about a drag queen...it's about a person, like all the best songs, all the greatest literature. 
The setting is that same as that of the previous song – Cyprus Avenue, apparently a place where people drift, impelled by desire, into moments of flesh-wracking, sight-curdling confrontation with their destinies. It's an elemental place of pitiless judgment – wind and rain figure in both songs – and, interestingly enough, it's a place of the even crueler judgment of adults by children, in both cases love objects absolutely indifferent to their would-be adult lovers. Madame George's little boys are downright contemptuous – like the street urchins who end up cannibalizing the homosexual cousin in Tennessee Williams's Suddenly Last Summer, they're only too happy to come around as long as there's music, party times, free drinks and smokes, and only too gleefully spit on George's affections when all the other stuff runs out, the entombing winter settling in with not only wind and rain but hail, sleet, and snow. 
What might seem strangest of all but really isn't is that it's exactly those characteristics which supposedly should make George most pathetic – age, drunkenness, the way the boys take his money and trash his love – that awakens something for George in the heart of the kid whose song this is. Obviously, the kid hasn't simply "fallen in love with love," or something like that, but rather – what? Why just exactly that only sunk in the foulest perversions could one human being love another for anything other than their humanness: love him for his weakness, his flaws, finally perhaps his decay. Decay is human – that's one of the ultimate messages here, and I don't by any stretch of the lexicon mean decadence. I mean that in this song or whatever inspired it Van Morrison saw the absolute possibility of loving human beings at the farthest extreme of wretchedness, and that the implications of that are terrible indeed, far more terrible than the mere sight of bodies made ugly by age or the seeming absurdity of a man devoting his life to the wobbly artifice of trying to look like a woman. 
You can say to love the questions you have to love the answers which quicken the end of love that's loved to love the awful inequality of human experience that loves to say we tower over these the lost that love to love the love that freedom could have been, the train to freedom, but we never get on, we'd rather wave generously walking away from those who are victims of themselves. But who is to say that someone who victimizes himself or herself is not as worthy of total compassion as the most down and out Third World orphan in a New Yorker magazine ad? Nah, better to step over the bodies, at least that gives them the respect they might have once deserved. where I love, in New York (not to make it more than it is, which is hard), everyone I know often steps over bodies which might well be dead or dying as a matter of course, without pain. and I wonder in what scheme it was originally conceived that such an action is showing human refuse the ultimate respect it deserves. 
There is, of course, a rationale – what else are you going to do – but it holds no more than our fear of our own helplessness in the face of the plain of life as it truly is: a plain which extends into an infinity beyond the horizons we have only invented... it's no wonder that Morrison's protagonist turned away from Madame George, fled to the train station, trying to run as far away from what he'd seen as a lifetime could get him. And no wonder, too, that Van Morrison never came this close to looking life square in the face again..."   (Lester Bangs, Stranded Da Capo Press 2007)
---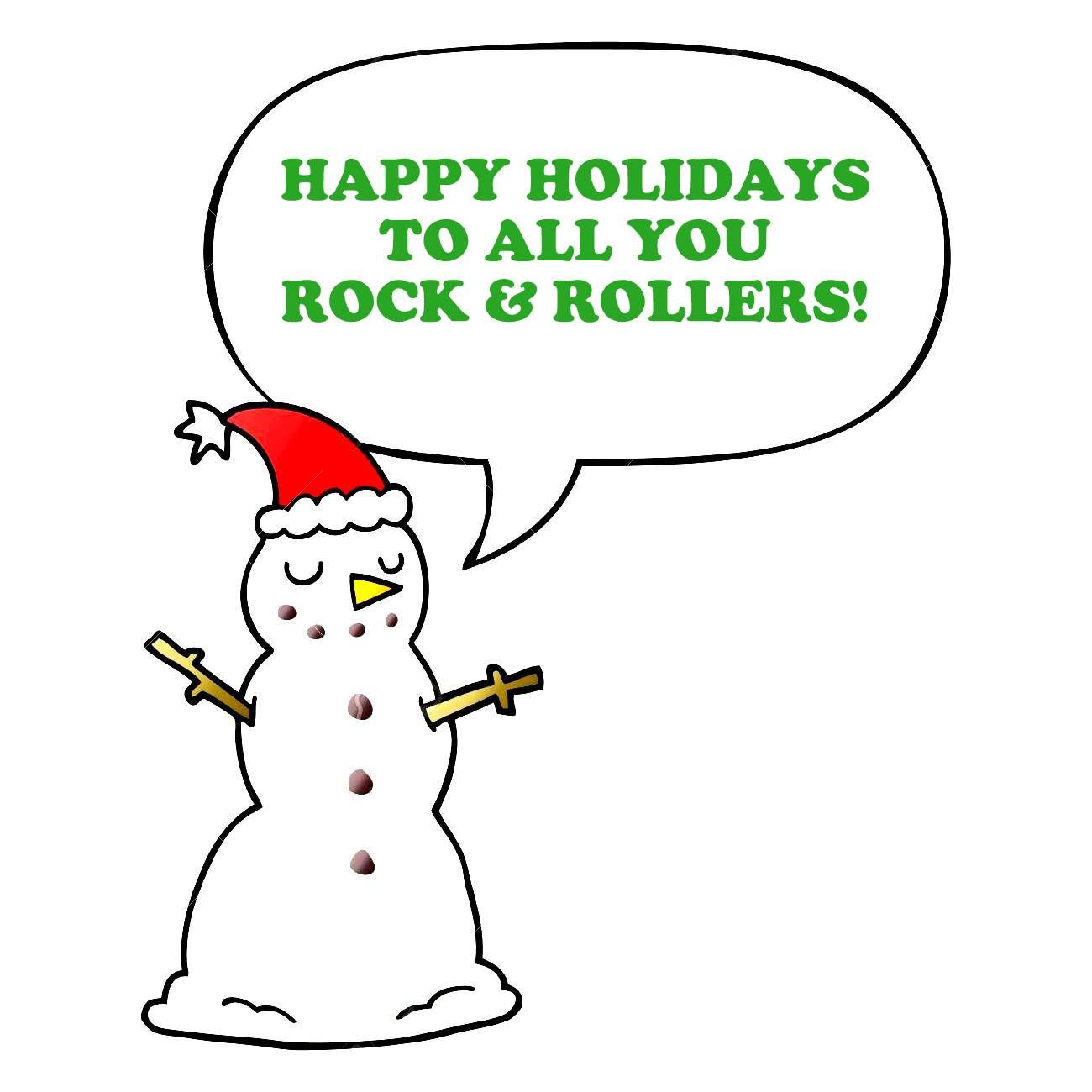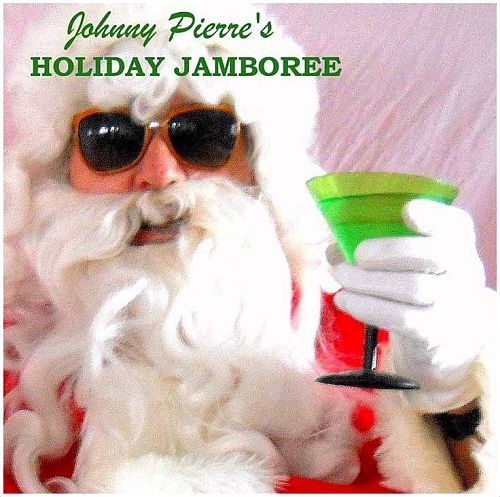 ---